This avocado pesto pasta is a fresh way to make a very simple pasta dish for dinner or lunch.  With just a few simple ingredients thrown into a food processor, including fresh basil and spinach, this meal can be ready in 20 minutes or less.  It's a perfect combination of  hearty (thanks to the pine nuts and pasta) and refreshing (you can *almost* taste summer in the basil).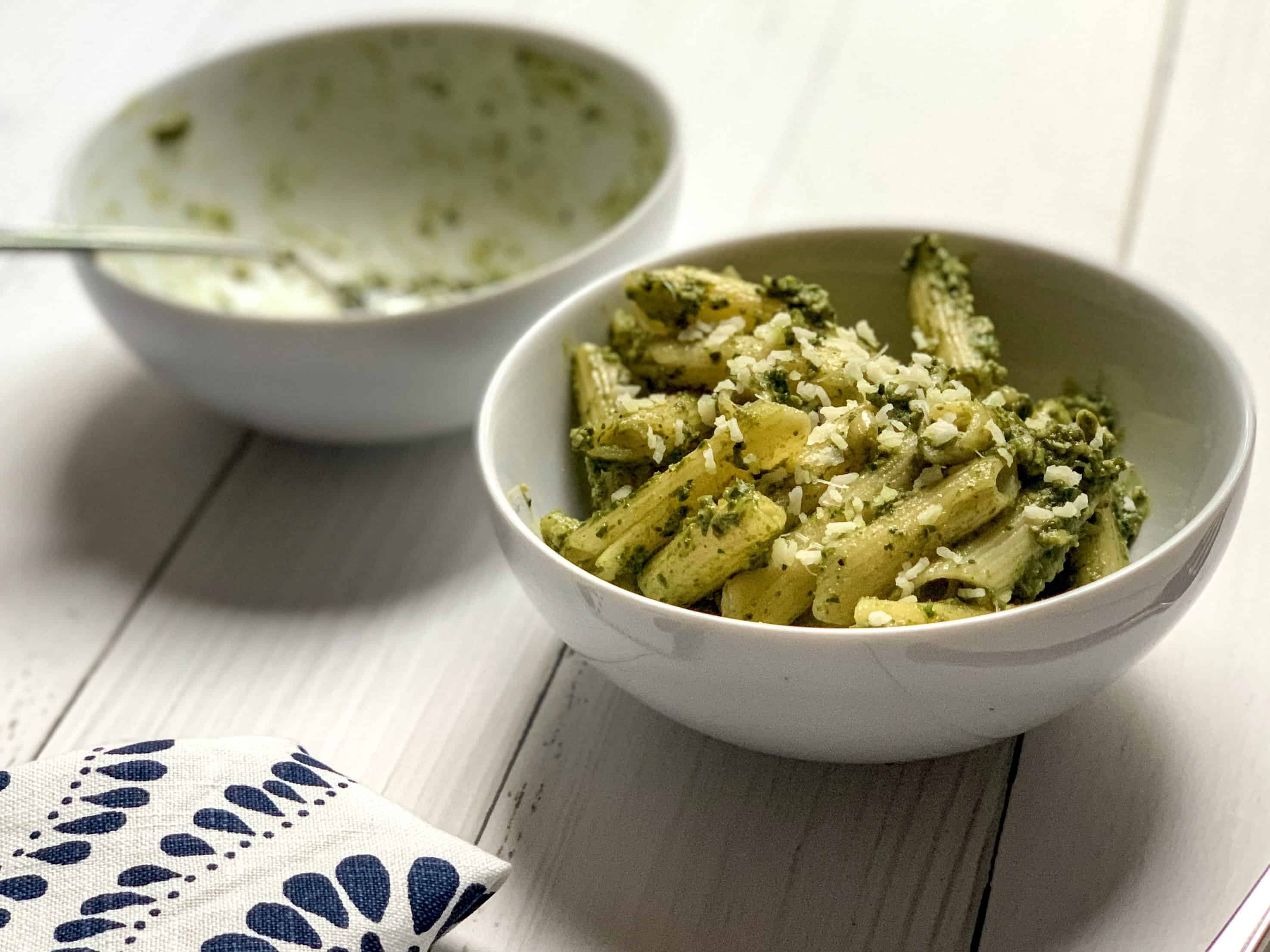 Anyone else watching Tidying Up with Marie Kondo on Netflix?  I'm on episode 5, and I'm hooked.   When Marie Kondo's book The Life Changing Magic of Tidying Up came out two years ago, I knew I'd have no time to actually read it and was hoping for TV series — and BAM!  Here it is.  Marie Kondo is not only the most gracious, non-judgmental person ever, but she seems to genuinely find joy in tidying up.  I like her concept — if an item sparks joy, keep it.  If it doesn't, thank it for its service and chunk or donate.  The first episode features a young family with two kids around C and B's age.   Seeing all of their accumulated junk really hit home as I looked around our living filled with toys and random other things not where they belong.  It's inspired me to be on a tear while we've had a couple of snow days.  So far, I've gone through my closet and kitchen pantry…but there's just so much more.  The basement remains a perpetual dumping ground, and I need to fix that.
I don't like that she doesn't emphasize what you use to organize though.   She has people put ties in shoe boxes and that kind of thing…which seems like more junk and clutter to me.  I suppose it is nice that she's not snobby about pushing people to buy expensive organizational systems, and I really appreciate their featured families aren't wealthy people in ridiculous homes who could afford to hire someone to hang their purses individually in their walk-in closets.  They're just regular people in regular spaces trying to make it work.  I think that's why it's become such a sensation.   I also wish Marie Kondo would discuss how to not buy so much to begin with…which would eliminate the need to do so much tidying on the back end.  That's my problem.  I wonder how we end up with all of this junk in our house.  We need to stop it from the beginning and not even bring it in to the house.
Anyway, back to what you're actually here for: the pesto is packed with some good nutrients, from the avocado and spinach in particular, so you can feel good about putting this in your body and getting your daily iron, potassium, fiber, and Vitamins A and C.  We like to add some parmesan and/or red pepper flakes.  Like me realizing Marie Kondo has a TV show: BAM!  You've got yourself a fabulous meal for meatless Monday (or add shrimp or chicken…I ain't scurred).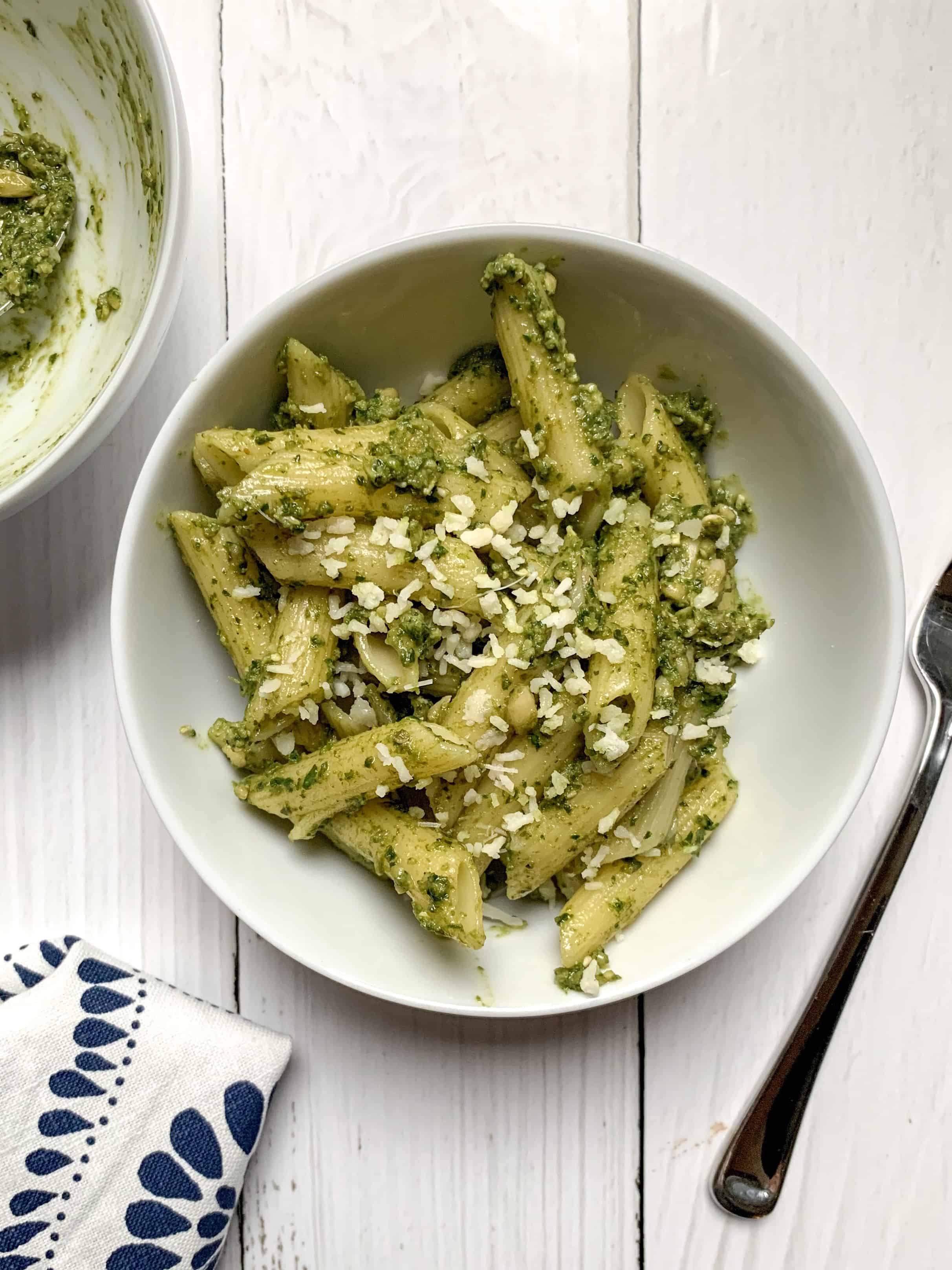 Thanks to the lemon juice, the avocado pesto holds up well the next day, too.  I put a scoop on my plate and just ate it with my salmon and vegetables to use it all up.  I haven't attempted to do Day 3…because I really think two days is the limit.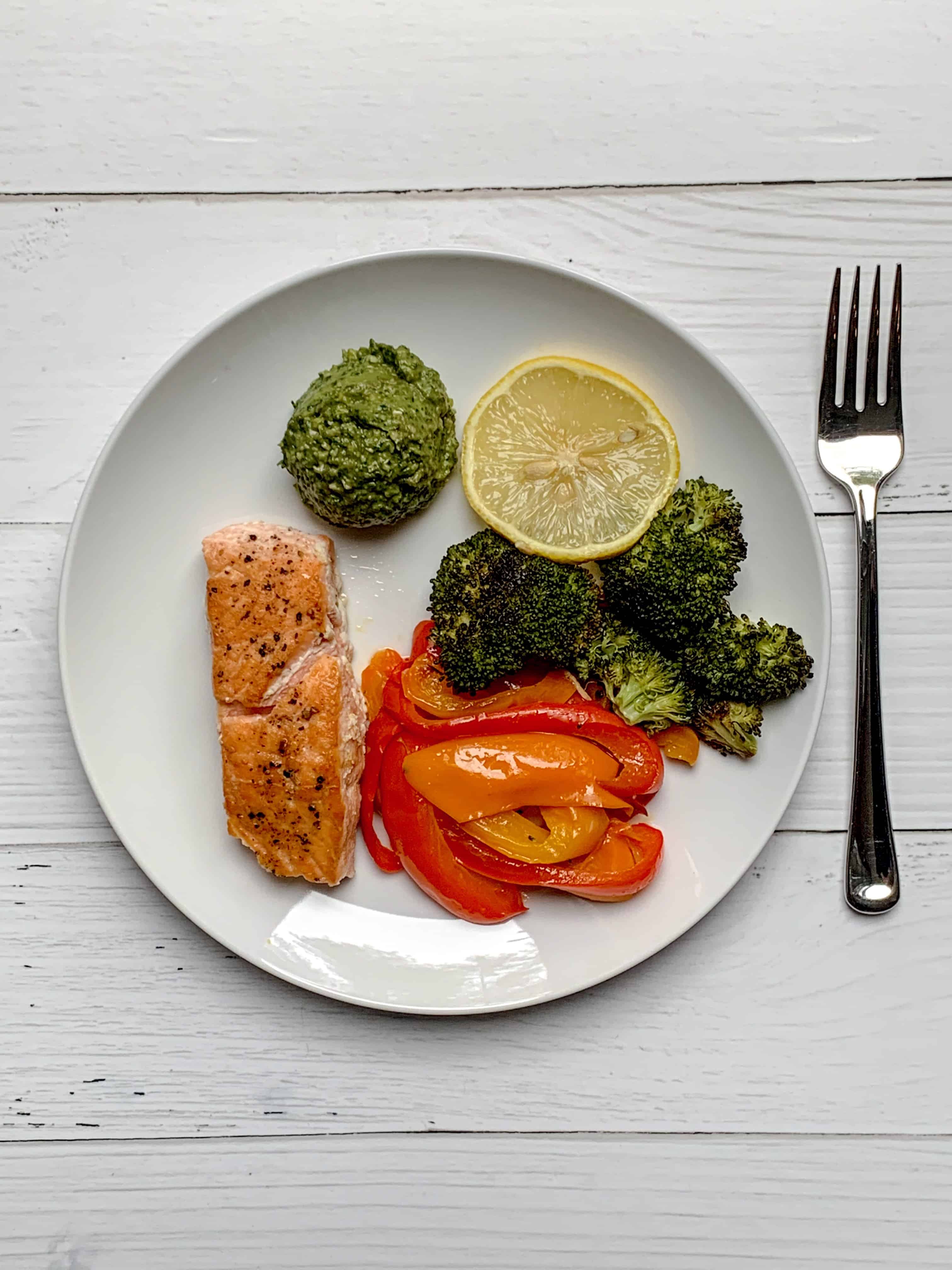 I'll just be over here eating this avocado pasta and asking myself if inanimate objects bring me joy.  Don't worry about me…
Active Time: 10 minutes
Total Time: 20 minutes
Yields: 4-6 servings
Ingredients:
1 lb. pasta of your choice (but I usually do half the pasta though and use the rest of the avocado pesto the next day)
1 whole avocado
handful of fresh basil (8-10 leaves)
2 cups spinach leaves
juice from 1/2 lemon
1/3 cup pine nuts
1 clove garlic
1/4 tsp salt
1/8 tsp pepper
2 tablespoons olive oil
1/4 cup Parmesan cheese, grated (optional)
Directions:
Bring a medium-sized pot of salted water to a boil.  Cook your pasta al dente.  Drain. Transfer to a bowl.
While pasta is cooking, combine avocado, basil, lemon juice, pine nuts, garlic, salt, pepper, and spinach leaves in food processor.  Process on high until fully mixed.  Slowly add enough olive oil to reach your preferred consistency.
Toss pasta with your avocado pesto.  Garnish with parmesan cheese and/or red pepper flakes before serving.