Today was the first day of true "organized" activities for the kiddos.  I took B to her first ballet class and John took C to soccer.  Apparently, C fared much better than B.  They wouldn't let me watch or stand near her room.  Instead, I had to eaves drop on all of the dance moms in the lobby until the 45 minute class was over ("Yeah...like, I don't know how Lexi will do but I hope she can go at least 6 times a week and improve her technique.  Her arabesque is just, like, total trash.")  This forced separation makes perfect sense, but it's really hard when your two year old is looking at you with teary, red eyes and begging you to "Come in, Mommy!  Come in!"  When all of the kids came out in a line to meet their parents, B was first in line, which can only mean one thing: she was standing at the door the entire time.  C, on the other hand, was the oldest and biggest kid in his soccer class, so according to my friend, the lesson was mostly C kicking the ball down the field while a gaggle of other little kids followed behind.  I'm sure the other parents loved that.  Balance, people.  It's all about balance.  Everyone made it out safely though, with minimal permanent damaged sustained.
This week's meals have been a little lackluster because we've just been adjusting to the start of the school year.  We did a lot of baked chicken that was then used in a variety of ways, and we indulged in Shake Shack twice.  Oops. (And as I'm typing this C mentioned Shake Shack while he's in his own world playing, so our frequent patronage this week made quite an impression apparently).  We're getting back on track this week though.  Let's talk about salmon.  This is a salmon recipe you need to stick in your rotation.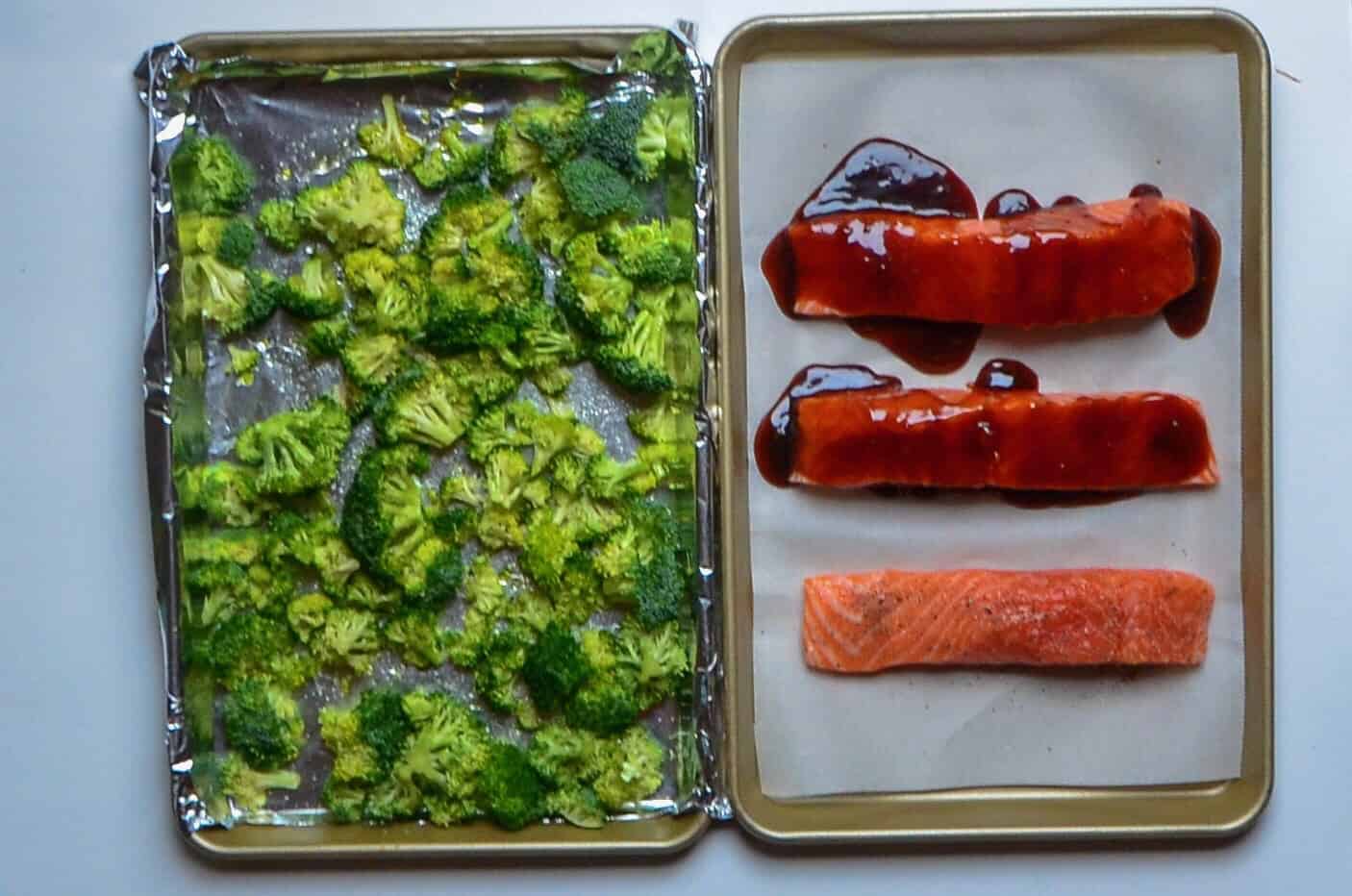 We do a lot of plain salmon (with just salt and pepper) that's truly amazing.  When you're tired of that though, this salmon is a great alternative.  It kicks it up a notch by adding some bold, Asian flavor without having to marinate.  Ain't nobody got time for that.  As you can see from the pictures, we can't get either kid to try the salmon with the teriyaki sauce (even though they love these sticky sesame wings).  I guess it's a matter of baby steps.  This sauce is made by mixing some soy sauce, grated garlic and ginger, lemon juice, brown sugar (TINY bit) and sesame oil with some cornstarch and water to thicken.  You'll bring the mixture to a boil then reduce the heat for a few more minutes.  Rub it all over your fresh salmon, and BAM!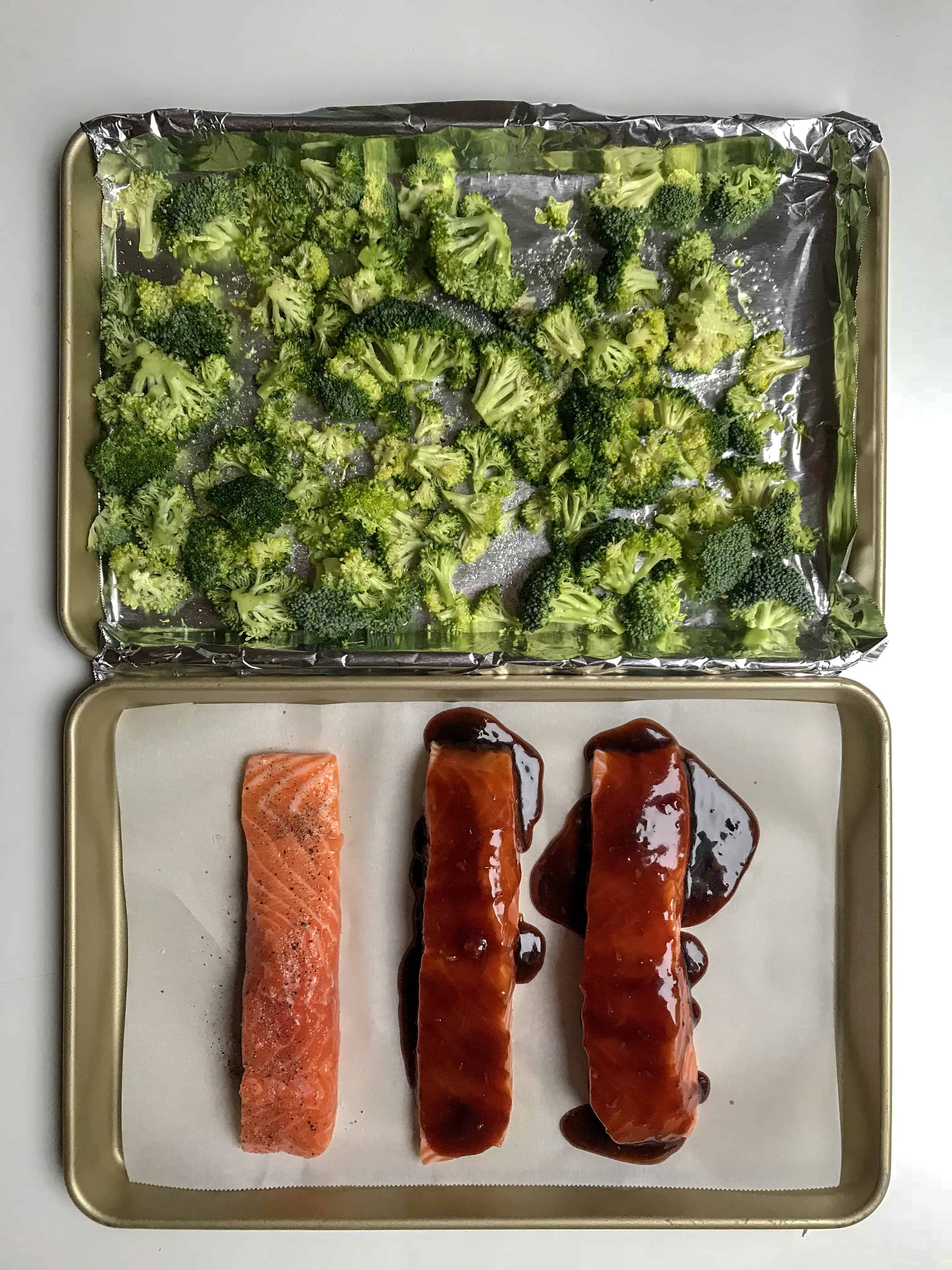 Roasted broccoli is the only way to go, too.  Massaging some olive oil on the broccoli makes it nice and crispy when it comes out.  These half sheet pans from Williams Sonoma are the best, by the way.  We do a lot of "side-by-side" dinners like this and try to time it so that everything comes out at the same time.  I rarely put food directly on these bad boys.  I just toss the aluminum foil away and don't have to do any scraping.  Because again, ain't nobody got time for that.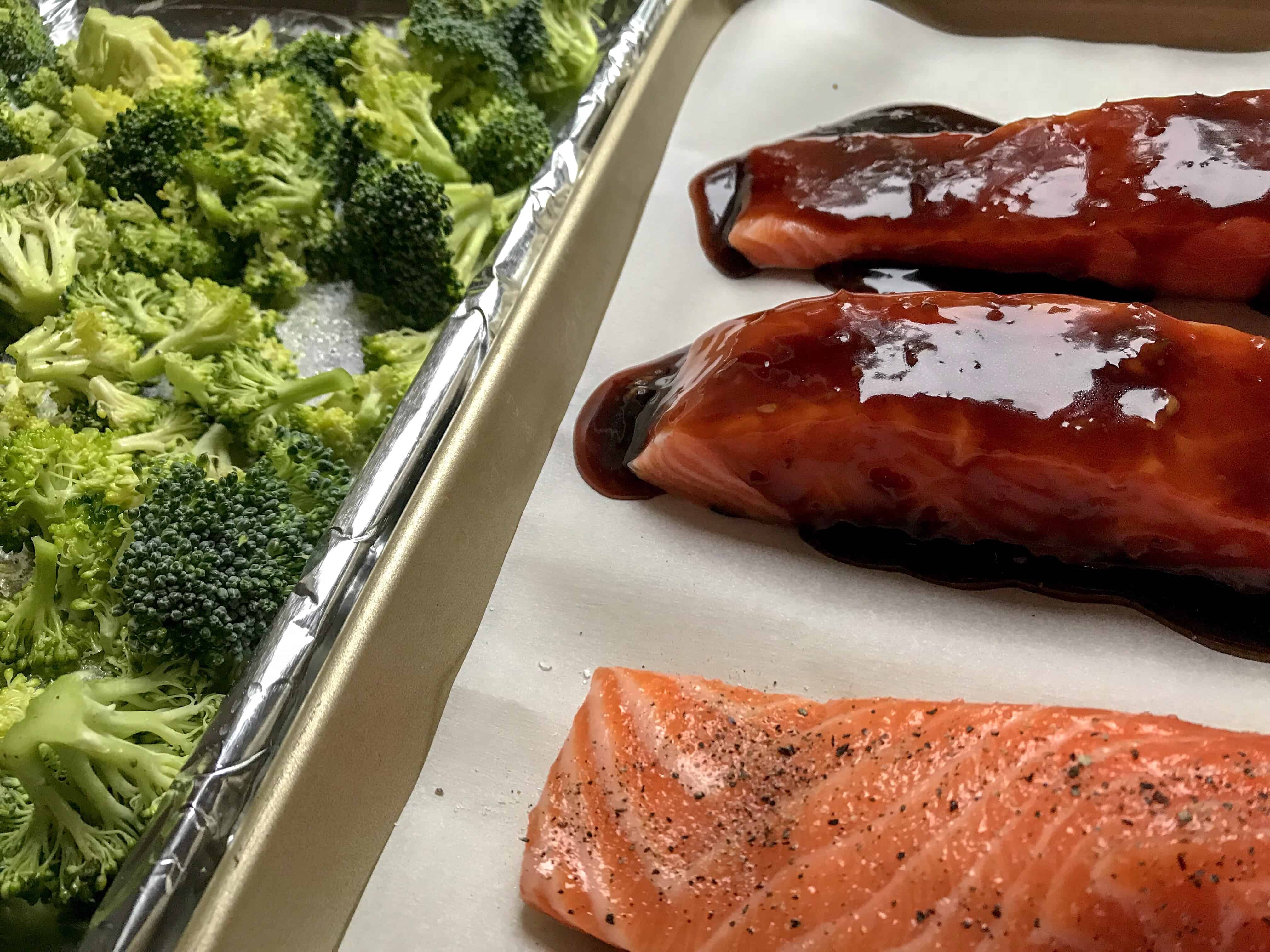 Yessss....GET.  IN.  MY.  BELLY.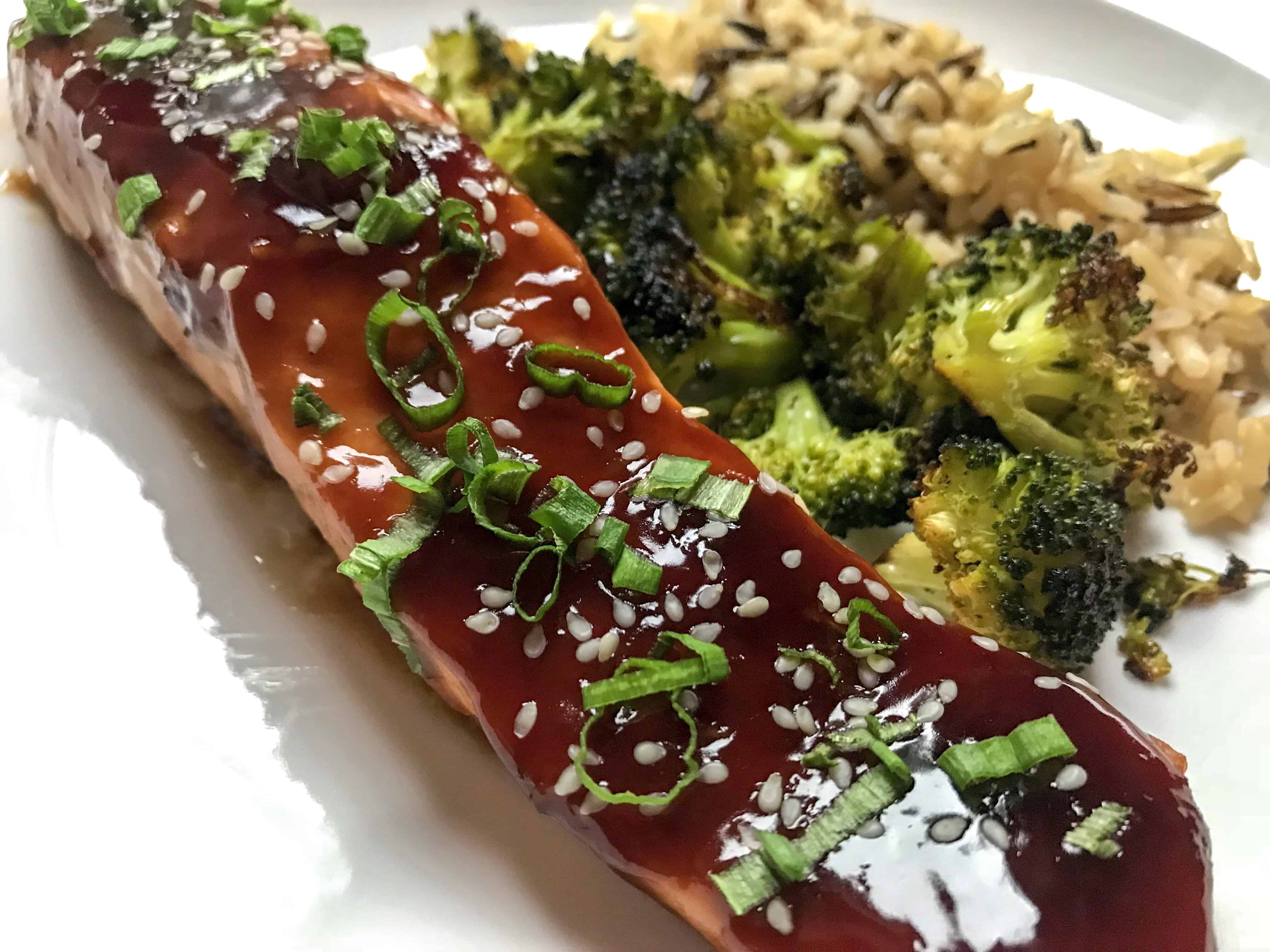 Yields: 4 servings
Active Time: 15 minutes
Total Time: 30 minutes
Ingredients:
For garnish
1 tbs scallions, sliced
1 teaspoon sesame seeds
Directions:
Preheat oven to 400 degrees. Line two ½ sheet pans with parchment paper or aluminum foil.  Arrange the broccoli on one, fillets (skin side down) on the other.  Rub olive oil, salt and pepper on broccoli, and put in preheated oven for 30 minutes.
Meanwhile, in a small bowl, whisk together the water and cornstarch.  Set aside.
In a small saucepan, whisk together the brown sugar, soy sauce, lemon juice, garlic, ginger, and sesame oil. Slowly whisk in cornstarch slurry into the mixture.
Heat teriyaki sauce over medium high heat until it comes to a boil. Reduce heat to a gentle boil for 1-2 2 minutes.  Mixture should start to thicken slightly.  Remove from heat.
Remove 2 tablespoons of the sauce and save for later. Pour remaining sauce over the salmon fillets. Bake for about 16-18 minutes or until salmon is flaky and cooked through.
Brush the top of the salmon with the reserved sauce.  Top with green onion and sesame seeds.
Serve with rice if you'd like.  Or put over a salad!  Eat plain?
Enjoy!