Nutella gives life. We all know that. And what better comfort food is there than waffles? These classic waffles are the perfect combination of crispy on the outside while still being fluffy on the inside, and when accompanied by a simple strawberry sauce and Nutella whipped cream that can both be pulled together in under 10 minutes, you've got yourself the ultimate breakfast or brunch to enjoy with others.
It's February, y'all. Which means we can survive this short month and make it to March. I've always said since the kids were born that God gave me babies born in March and April so I can use the two worst months of the year to plan for their birthdays and keep my mind occupied. And even though I've been actively thinking about C's birthday party, I haven't made much progress because his mind changes as much as his mood changes (and that's a lot). So far, he wants Transformers to be incorporated somehow, but I need to brush up on my Transformers knowledge. I've been skimming Kara's Party Ideas for some inspo. I'm still mourning this being the first birthday party that he doesn't want something cutesy, like fire engines or Paw Patrol like he's had in the past. My little man is growing up...sniff sniff.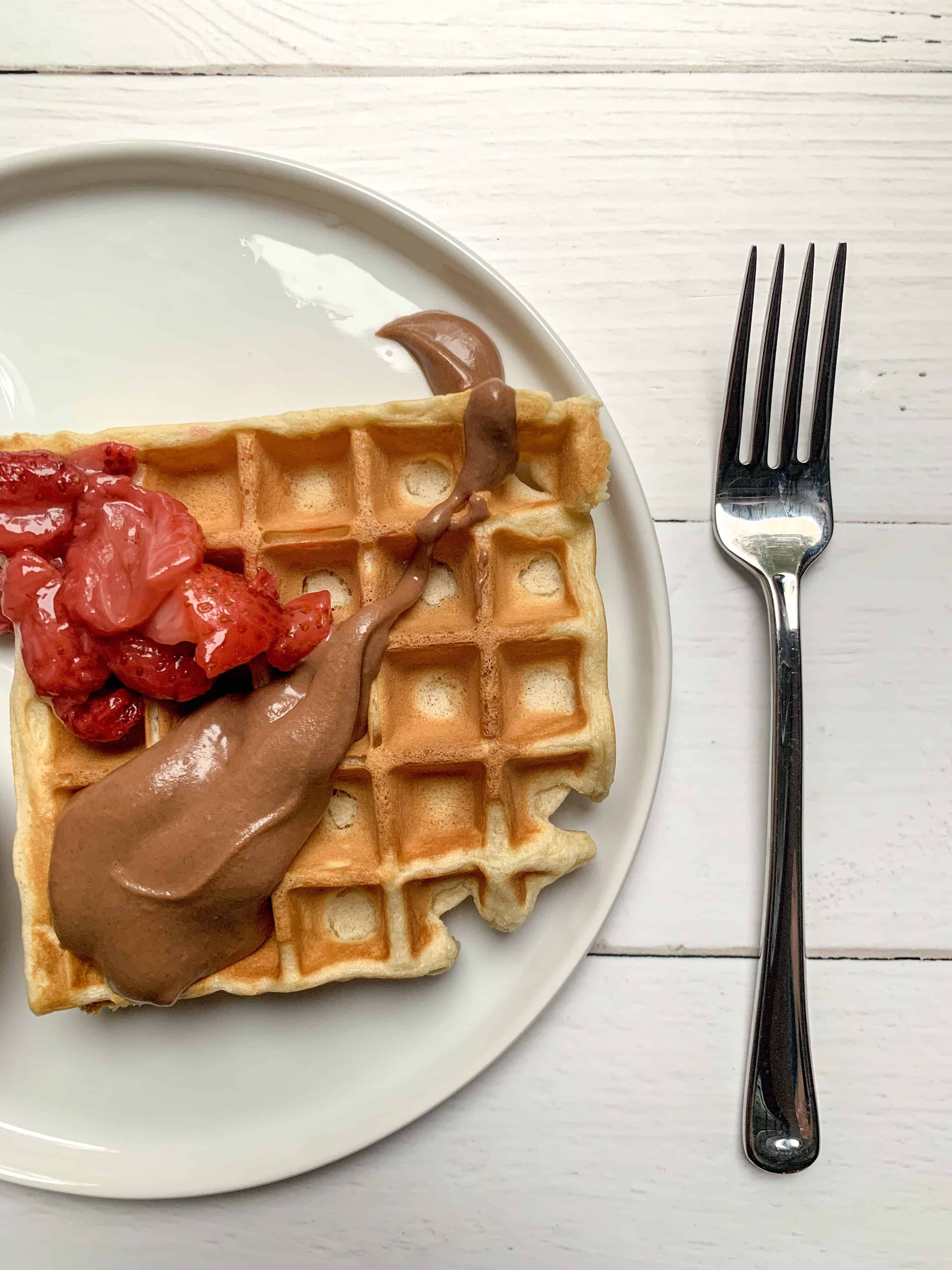 To get us through these next few weeks of cold, give these waffles a try this weekend. I've made them twice in the last week. Once to celebrate my best friend's 34th birthday and a second time to freeze for a friend who's fixin' to have her second baby (yay!). They freeze really well (see my note below the recipe) so you can make a double-batch and freeze a ton to save for the hectic weekday mornings. I do that a lot to keep our sanity. The strawberry sauce and Nutella is clearly optional, but why would you pass them up? You want to heat up the strawberries just enough to loosen them up a bit not to create a liquidy sauce. The maple syrup does a nice job at doing this without using refined sugar, and makes the waffles sweet enough to where you really don't need any additional maple syrup (at least IMHO). You could easily make these waffles with blueberries or raspberries, too. I'm always a fan of using what you have.
Last pro tip: don't forget to rinse your bowl with really cold water before whipping the heavy cream. It helps the whipping cream get maximum volume and have a nice, soft texture. You'll also want to keep your whipping cream in the fridge until you're about to use it. You don't want to start with it at room temperature here.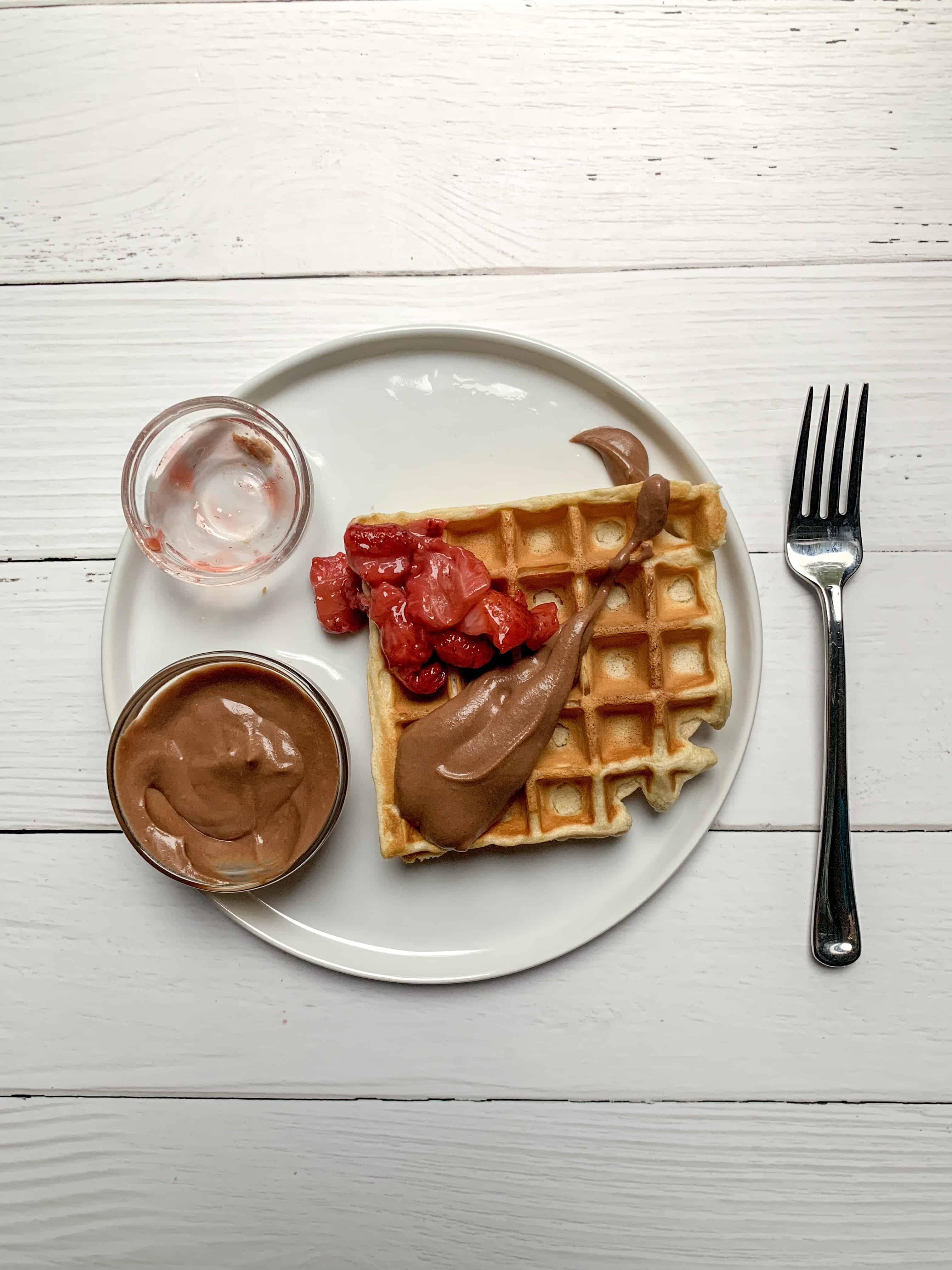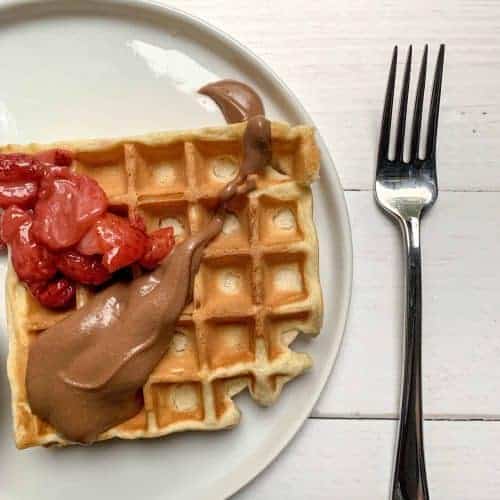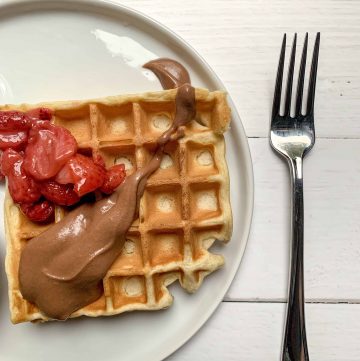 Crispy Waffles with Nutella Whipped Cream
These crispy but fluffy-on-the-inside waffles are the perfect breakfast, and with a whipped Nutella topping...now you're talking!
Print
Pin
Rate
Ingredients
For the waffles:
2

cups

all-purpose flour

1

tablespoon

sugar

4

teaspoons

baking powder

1

teaspoon

salt

1 ½

cups

milk

warmed

2

eggs

3

tablespoons 

butter

melted

1

teaspoon

vanilla extract
For the strawberries and Nutella whipped cream:
1

package of strawberries

1 16 oz. container, sliced

2

tablespoons

pure maple syrup

¾

cup

Nutella

1

cup

heavy whipping cream
Instructions
For strawberry sauce: Place sliced strawberries in a medium sauce pan over medium heat.  Add maple syrup and simmer for about 5 minutes until strawberries loosen up and produce a bit of syrup.

Take off the heat.  Let sit until your waffle is ready.

For Nutella whipped cream: Rinse bowl of stand mixer with very cold water.  Dry out.

Pour heavy whipping cream into bowl and beat on high with whisk attachment.

Gradually add in Nutella spoonfuls at a time while whipping cream.  Beat mixture until soft peaks form.  Mixture will not be stiff but should still be light and airy.

For the waffles: Preheat waffle iron.

In a large bowl, combine the dry ingredients (flour, sugar, baking powder, and salt).

In a small bowl, warm the milk and butter in the microwave (about 25 seconds until butter is melted and milk is warm but not bubbling).   Whisk in eggs and vanilla extract.

Pour wet ingredients into the dry ingredients and stir until just blended.  Don't over stir...it's okay if there are lumps.

Using a measuring cup, ladle waffle mixture into waffle iron and cook until waffles are a golden brown.Serve immediately with strawberries and Nutella whipped cream or freeze for later.
These waffles freeze really well, so if you find yourself unable to eat the 10 or so waffles this recipe produces (and this depends on the size of your waffle iron, of course), just stick individual waffles into a Ziploc bag and freeze for up to 3 months!
Enjoy!
xox