This past week, John and I went to a lawyer who specializes in estate planning.  But what "estate" do you have, Kathryn?  My thoughts exactly.  We don't have a Ferrari parked in our townhouse parking lot, and we certainly don't have overseas accounts from all the cash I'm raking in teaching.  Hell, we can barely pay our children's daycare tuition around here.  When you're married to a risk manager, these are the things you are forced to do lovingly do for each other after 4 years of harassment.  The lawyer chick was so matter-of-fact when she'd talk about all of these awful scenarios, too.  One of the scenarios was literally that we're both dead, our children have a trust but one of them is a drug addict.  How do you want to proceed before they can access your money?  Ummm….one of my children is still in diapers and the other one still can't wipe his own butt properly, and you want me to think of them as drug abusers?  Then she'd just look over at us casually with her legal pad in front of her and wait for a response.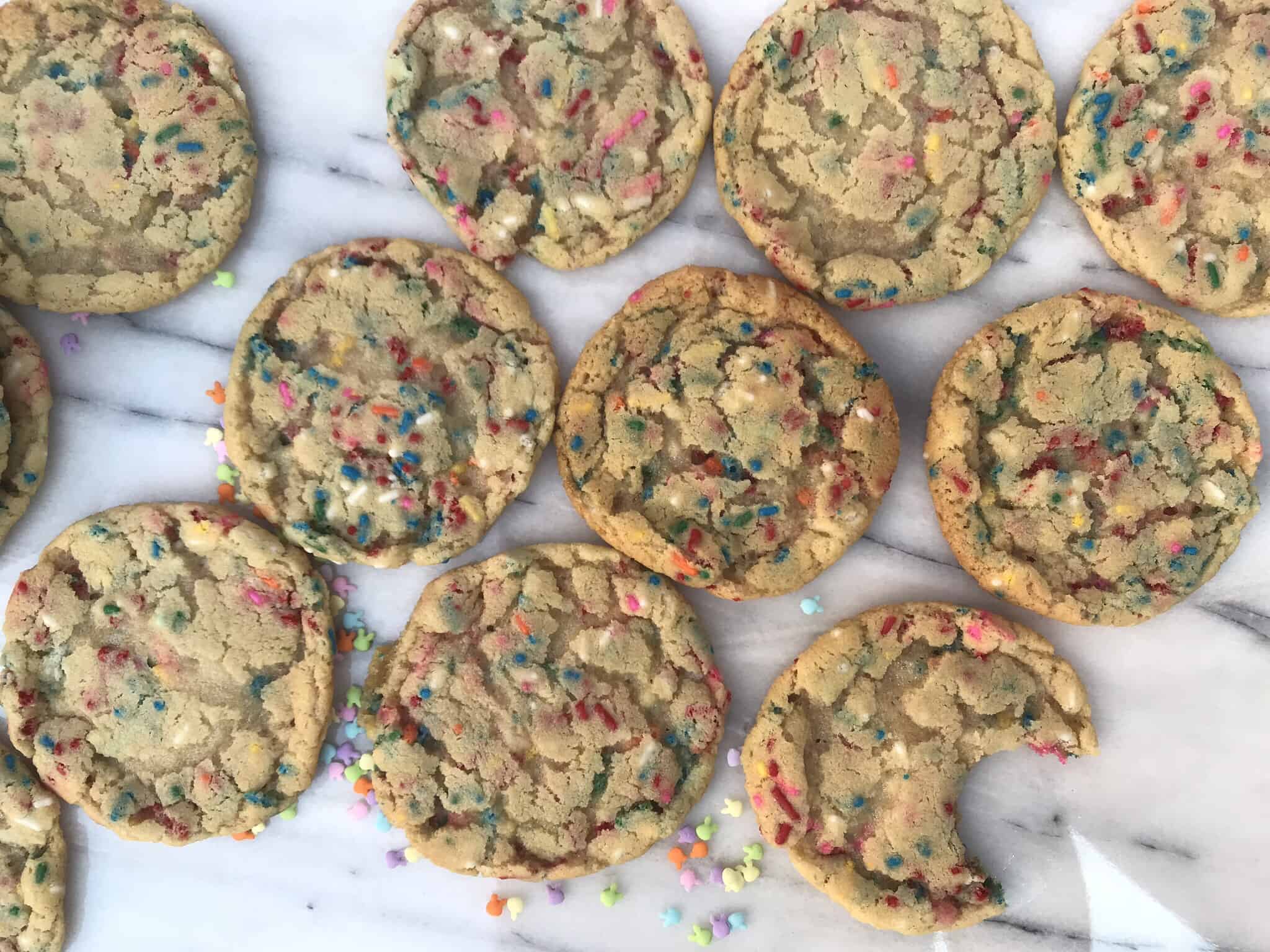 With all of that said, I needed to make something fun and a little more light-hearted all while hugging my babies until they squealed for me to stop.  What inanimate object makes you smile more than cookies and sprinkles?  Put sprinkles IN your cookies and it's a winning combination. These cookies bring you back to your favorite childhood cake but in cookie form.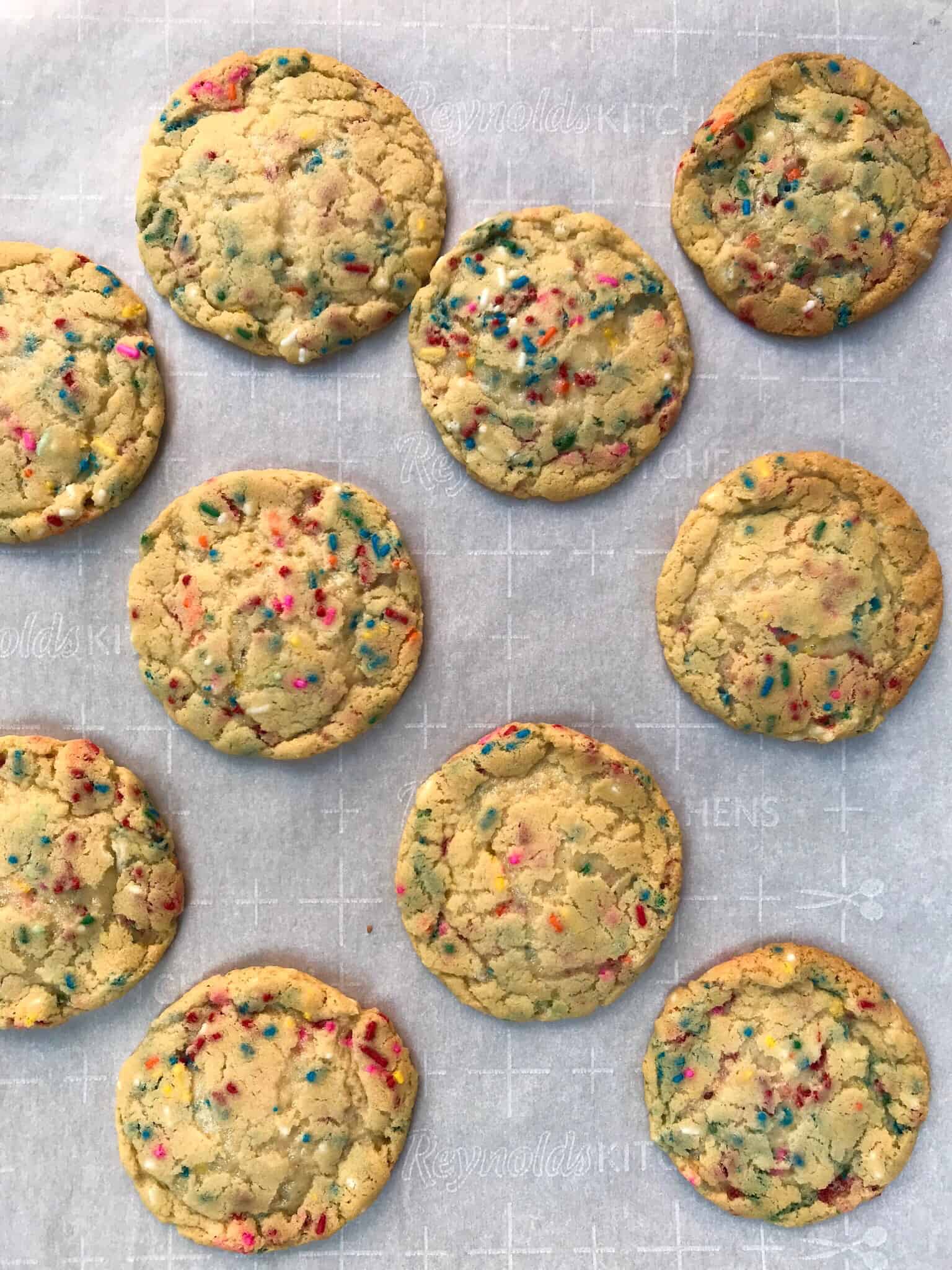 I'm really glad we are hoping for the best but planning for the worst, but I'm more glad I'm going to forget about this and eat some funfetti cookies with my babies.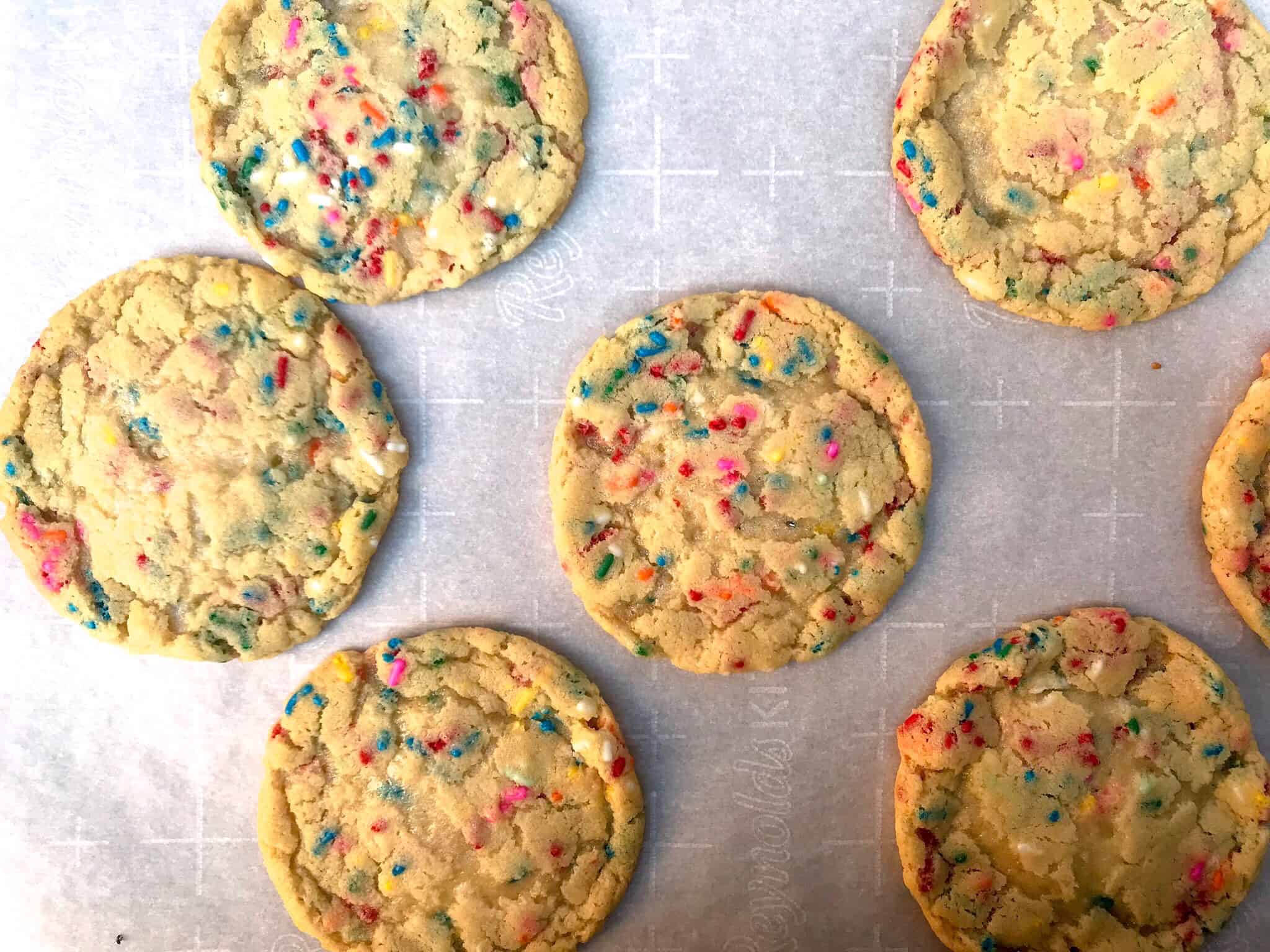 Hope you enjoy these, too when you need a random reason to celebrate.  Just being here is a celebration!
And 'scuse the sprinkles.  I ran out of the regular ones and had to opt for bunnies instead.  Easter came early!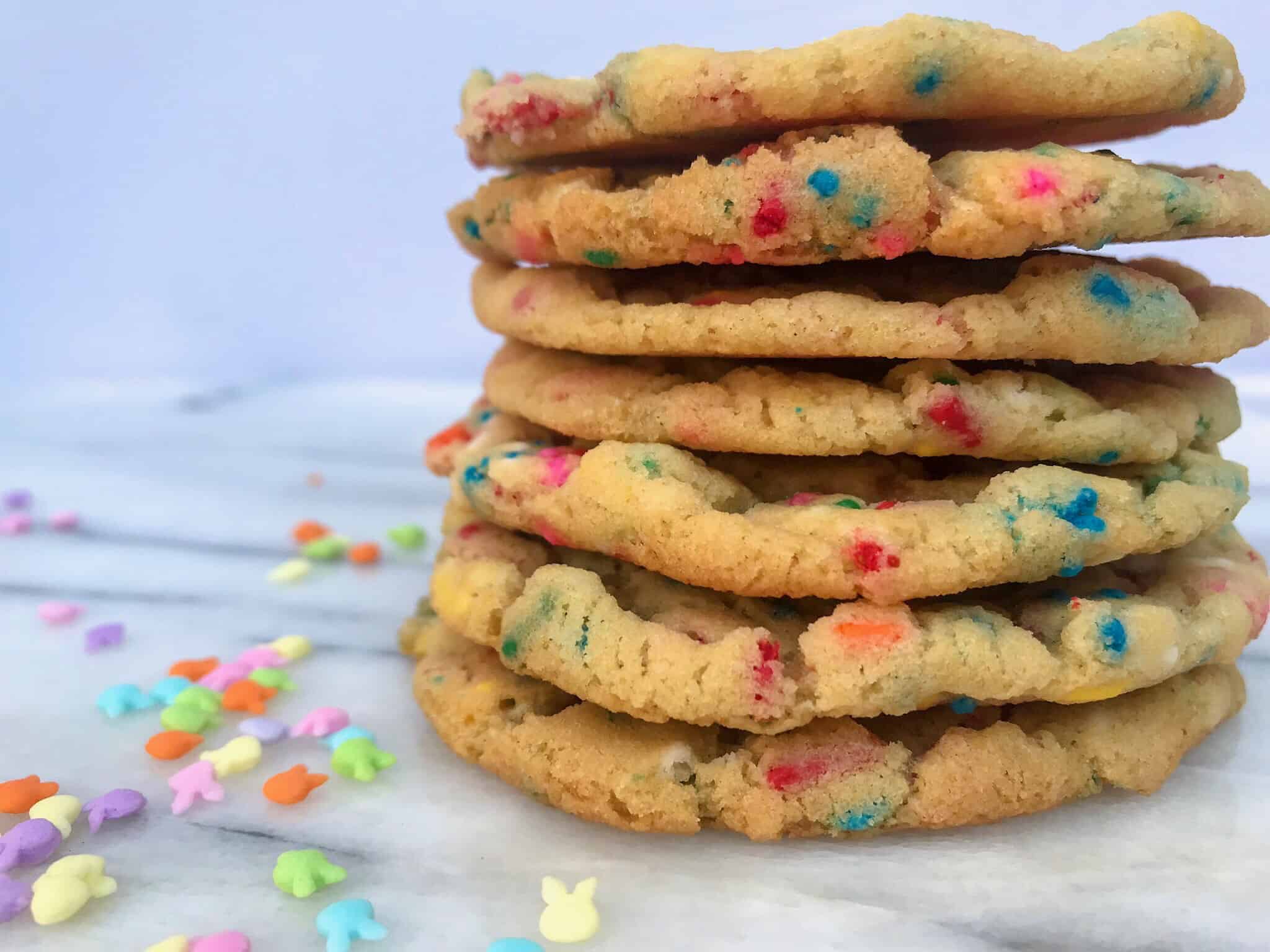 Ingredients:
10 tablespoons (140 gm) unsalted butter, at room temperature
1 cup (200 gm) sugar
½ cup (100 gm) brown sugar
2-1/2 teaspoons clear vanilla extract*
1 large egg
2 cups (260 gm) all-purpose flour
1 teaspoon baking soda
¾ teaspoon salt
½ teaspoon cream of tartar
1 cup (160 gm) rainbow sprinkles
Directions:
Preheat the oven to 350 degrees. Prepare sheet pans by lining them with silicone baking mats or parchment paper.
In a large mixing bowl or the bowl of a stand mixer, cream the butter, sugar, and brown sugar on medium speed until light and fluffy, about 2 minutes. Scrape the sides of the bowl and add the vanilla and egg, beating on low until incorporated. Add the flour, baking soda, salt, and cream of tartar, and beat on low speed just until the dry ingredients are combined. Scrape the sides of the bowl and add the sprinkles. Beat just until combined.
Scoop out 1-1/2 tablespoon sized scoops (I use a medium cookie scoop) and roll each dough ball briefly in your hands to smooth out the rough edges of dough. Place on the prepared baking sheets 2 inches apart. Bake in the preheated oven for about 10 minutes, or until the tops of the cookies have just begun to crack and the edges are set. Allow to cool on the sheet pans for about 5 minutes before removing to a cooling rack to complete cooling.
*I used regular vanilla extract and the cookies were still delicious.  I'm going to make them soon with the clear vanilla because I bet the color would be a little more vibrant and more like traditional funfetti cake we all know and love, but in a pinch, use what you got!
This recipe comes straight from the amazing blog Wood and Spoon.