What happened to the parfait? They're the forgotten dessert…and I think this is a travesty. I'm going to blame McDonald's for the parfait's lack of popularity. When they made that yogurt and fruit parfait…BOOM! They weren't cool anymore. I'm here to tell you that the parfait LIVES ON though in our hearts, minds, and kitchens. Parfaits are easy to assemble, require no baking (awesome in these hot summer months), and can look very impressive despite how easy they are to make. They're also not very sweet and rely on the fruit as the sweetener. And if Chrissy Teigen had parfaits at her baby shower for Luna, then damnit! They're cool.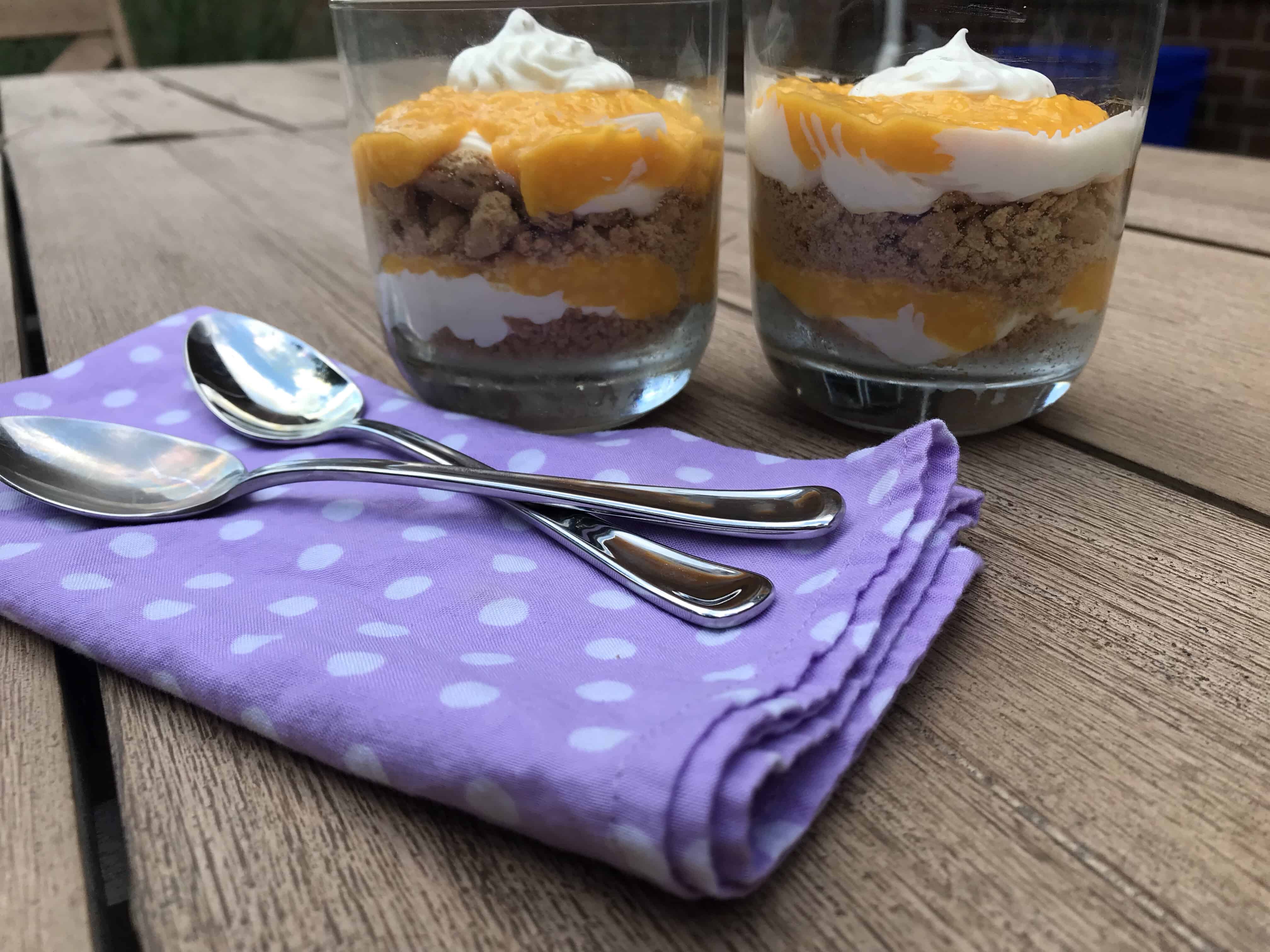 Speaking of forgotten desserts — what could be better than having the forgotten parfait paired with another forgotten fruit — the mango. There's something about mango that is so refreshing, and it reminds me of being on a tropical island drinking, and I like that. Mango's also cheap when it's in season (now!) and so tasty to eat by itself or in something like this.
Even if I can't enjoy this parfait while I'm sitting in a tropical paradise, I'll settle for right where I am, eating this parfait while binge-watching Southern Charm.
Total Time: 10 minutes
Serves: 2-4 (depending on your glasses)**
**Side Note: I could imagine putting this parfait in those small, tall dessert shot glasses. It would probably make about 10 of those…and they'd be super cute.
Ingredients
9 graham crackers, divided (one of those three packs of graham crackers that come in a package)
1 c. heavy whipping cream
6 oz. cream cheese, room temperature
2 mangoes, peeled and pitted
Directions
Process 2 of the graham crackers and 1 tbs of melted butter in a food processor until in fine crumbs. Press into two glasses (I used regular low-ball glasses, and this really only makes 2-4 cups, depending on how many layers you want).
Process the rest of the graham crackers until crumbs.
Remove the mango pit and skin. Place the mango in a food processor and pulse until pureed.
Meanwhile, whip the room temperature cream cheese until it's fluffy (about 10 minutes). Remove the cream cheese and place in medium-sized bowl.
Whip the whipped cream on high until soft, fluffy peaks form. Slowly fold the whipped cream into the cream cheese (similar to what you'd do for a mousse).
Pipe the mango and cream cheese/whipped cream mixtures in two pastry bags or use spoon, alternating cream cheese mixture over a graham cracker crust until you have as many layers as desired.
Enjoy!