It's chili season...and I just want to dive into a vat of this chili and stay because it's so cold outside.  I didn't even get a chance to acclimate to colder temperatures because we just skipped fall altogether.  I also remember saying the same thing about summer, so I'm pretty sure Mother Nature just needs some time to herself to recharge a little bit.  Oh, and sound regulations and policies that prevent our ozone layer from rapidly deteriorating.  That, too.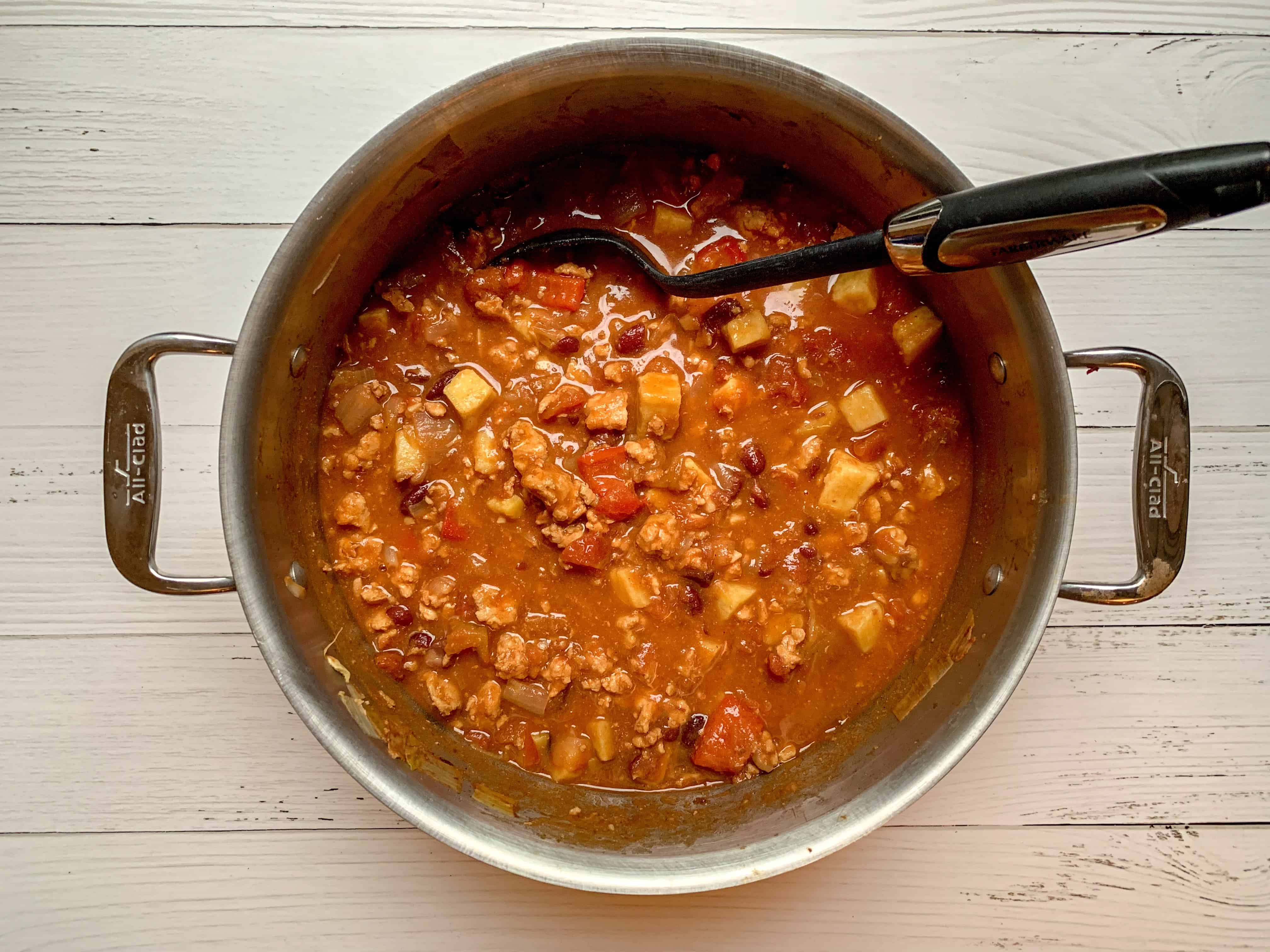 Speaking of recharging and deteriorating, John and I are going away to Miami soon.  It seems like we haven't traveled in forever, but that's not true.  John and I have totally been spoiled with three trips away this year (this'll be our third) just the two of us.  I'm so excited and relieved to have some time to myself in the hot sun and to have a conversation with my husband, but I'm also going to miss these two crazies terribly.
It's been a particularly difficult few weeks.  Part of it is because of the weather limiting our ability to go outside after dinner and burn some energy off and enjoy the fresh air.  The kids already feel a little more cooped up, and so do I.  Part of it is B being an absolutely crazy two year old and C being an emotional roller coaster of a four year old.  B is sassy and demanding (example: right now she's screaming "Mommy!" from the top of her lungs in her crib at 9 pm) and needs to be always with me and held.   Whether it's being on my lap while I"m using the bathroom (every.  time) or watching me cook on the counter while she eats uncooked pasta, she's always right there.  C is so kind, sweet, and helpful some afternoons when we get home and a total wreck on other days.  He's what I imagine a Stitch Fix box to be like -- sometimes you want it all and sometimes you're... shall-we-say... "less than enthused."
Don't get my wrong.  They're the cutest, and I really do love motherhood most days.  But on the days when I feel myself about to lose it and my shoulders are up to my ears, I hear the voices of certain people inside my head: "You're going to miss this so much soon" or "They grow up so fast so enjoy every moment, even these."  Those are both very true statements (same thing people said when they were newborns and, of course, I wish I could go back to so many parts of having tiny babies), but these phrases just make you feel guilty for not loving every single moment and instead wanting your children to go to bed at 6:30 pm so you can have a glass of wine and two desserts  Look, it doesn't make me a bad person.  It just makes me a tired mom.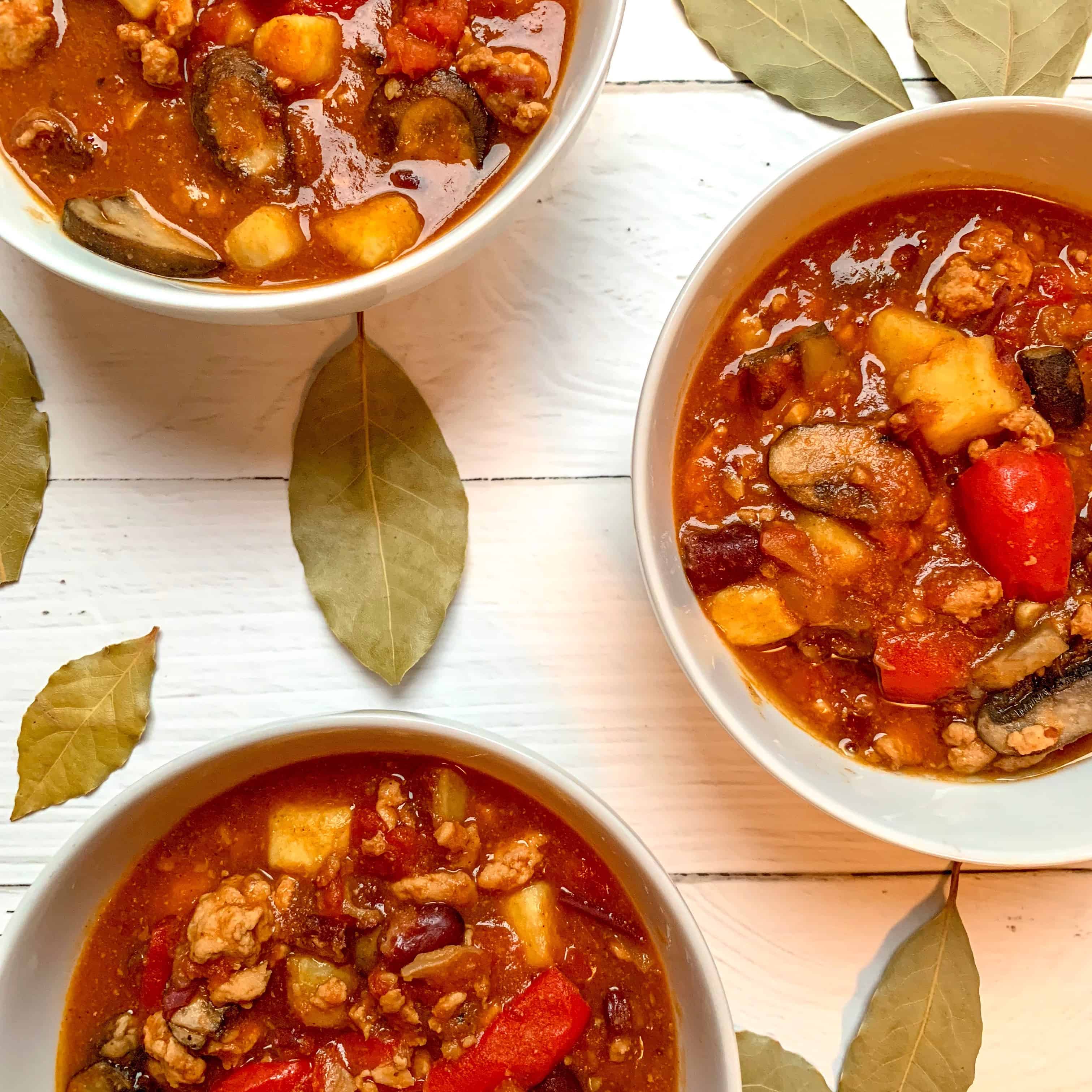 So here's to all the moms (or human beings in general) out there who need a break.  While this chili won't give you the kind of break you need and deserve, at least you can stretch this cooking adventure out for three solid meals.  That's two meals you don't have to worry about.  And that's almost as good as a vacation, right?!
Ingredients:
1 large yellow onion, diced
1 leek, cut (only white and light green part)
2 lbs. ground turkey, dark or white
3 cloves garlic, minced
1 package mushrooms, sliced
1 green bell pepper, diced
1 Tbs. tomato sauce
1 can red kidney beans, drained
1 large sweet potato, peeled and cut in ½-inch cubes (about 3 cups)
2 28-oz. cans diced tomatoes, undrained (get fire-roasted if you want some additional kick)
2 Tbsp. chili powder
1 Tbsp. ground cumin
½ tsp. ground chipotle or ancho chili powder (if you like some spice)
1-3 cups chicken broth (depending on how thick you like your chili)
2 bay leaves
1 large sweet potato, diced
2 tsp. sea salt
½ tsp. black pepper
Directions:
In a very large pot over medium heat, cook the leeks and onions for 3-4 minutes until onions start to turn translucent, then add garlic and cook for another minute.  Add the ground turkey and cook until cooked through.  Add bell pepper and mushrooms and cook for a couple more minutes.
Add the tomato sauce and cook for another minute.  Add kidney beans and diced tomatoes.  Add spices (chili powder, cumin and ground chipotle or ancho chili powder, and bay leaves).  Add chicken broth until you have a sufficient amount of liquid (sometimes I skip chicken broth altogether and have a heartier chili).
Add diced sweet potatoes and bring chili to a boil for 5-10 minutes.  Salt and pepper as needed.
Reduce heat to a simmer and cook an additional 30 minutes (or up to 1.5 hours) with the lid on.
Serve with fun things like avocado, cheese, jalapenos, corn bread...the options are endless.  For Day 2 of our chili meal, I usually mix it up by either eating it with some whole wheat pasta, noodles, or rice, or just add some other toppings to try to spice things up a little bit.
Enjoy!  And can I just tell you how happy some of y'all have made me when you text, call, message me that you made something and it was delicious?!  LOVE IT.  Keep it coming! xox