Look who's baaaaaaaaaaaaack! And I'm back with this baked rosemary lemon chicken... a meal that'll take 5 minutes of prep and 30 minutes of total cooking time. Because by now you should know I'm all about the fast, healthy meals (and indulging in all the unhealthy treats along the way, too...duh).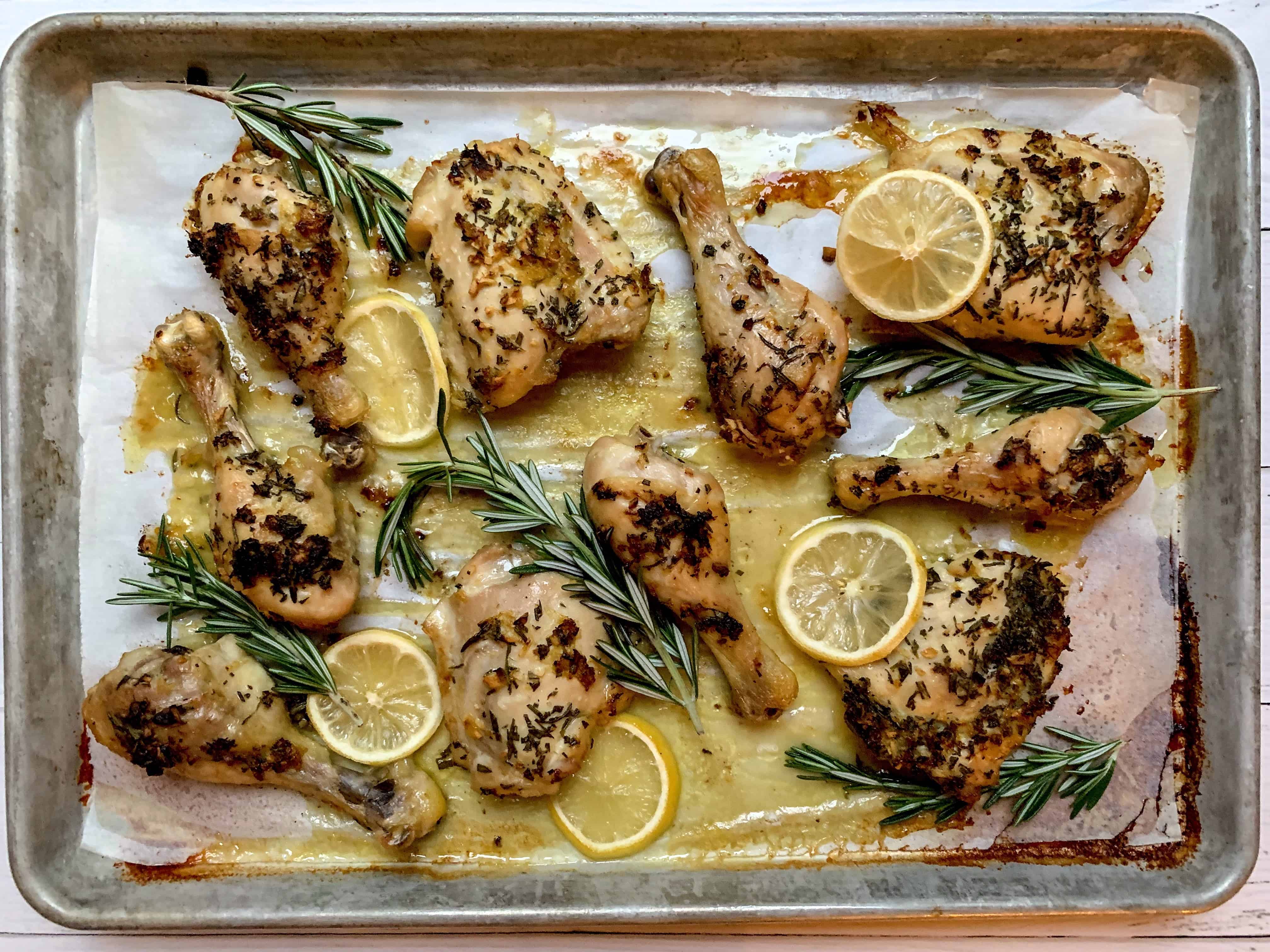 Where did I go, you ask? Well, it's a long, complicated story, but the gist is that these last 5 weeks have been hellish. I decided that at 34 years old, it was not okay to continue having my primary care physician be the nurse at CVS Minute Clinic. I actually needed to establish a relationship with a doctor...at a practice...whom I trusted and could do more than give me an antibiotic. So off I went to see a doctor (who's actually a NP) for my annual 10 year physical. She did routine blood work, which revealed high ferritin levels that indicate my body is storing iron for some reason. After a ton more blood work that revealed nothing, my NP sent me to a hematologist, who ran even more tests. Those tests also revealed normal levels of everything else. The next step is an abdominal scan next week to see if there's iron stores on my liver that may not have been revealed in the genetic blood testing. Hopefully after all is said and done, they will know whether or not I'm just a freak of nature or I need to be treated for this storage of iron. Either way, I am mentally and physically exhausted from this process. More doctors, more tests, more waiting, and the worry, worry, worry. Even though I'm not finished with the process, I'm so thankful all of these tests I have taken have come back normal. So grateful.
With everything going on, I haven't felt much like writing because it would have seemed disingenuous, but I'm excited to be back in the kitchen and sharing recipes with you all. I have several recipes to post soon.
Now back to the good stuff: This baked rosemary lemon chicken is a 4 ingredient meal because salt, pepper, and olive oil don't really count, do they? Perfect weeknight meal.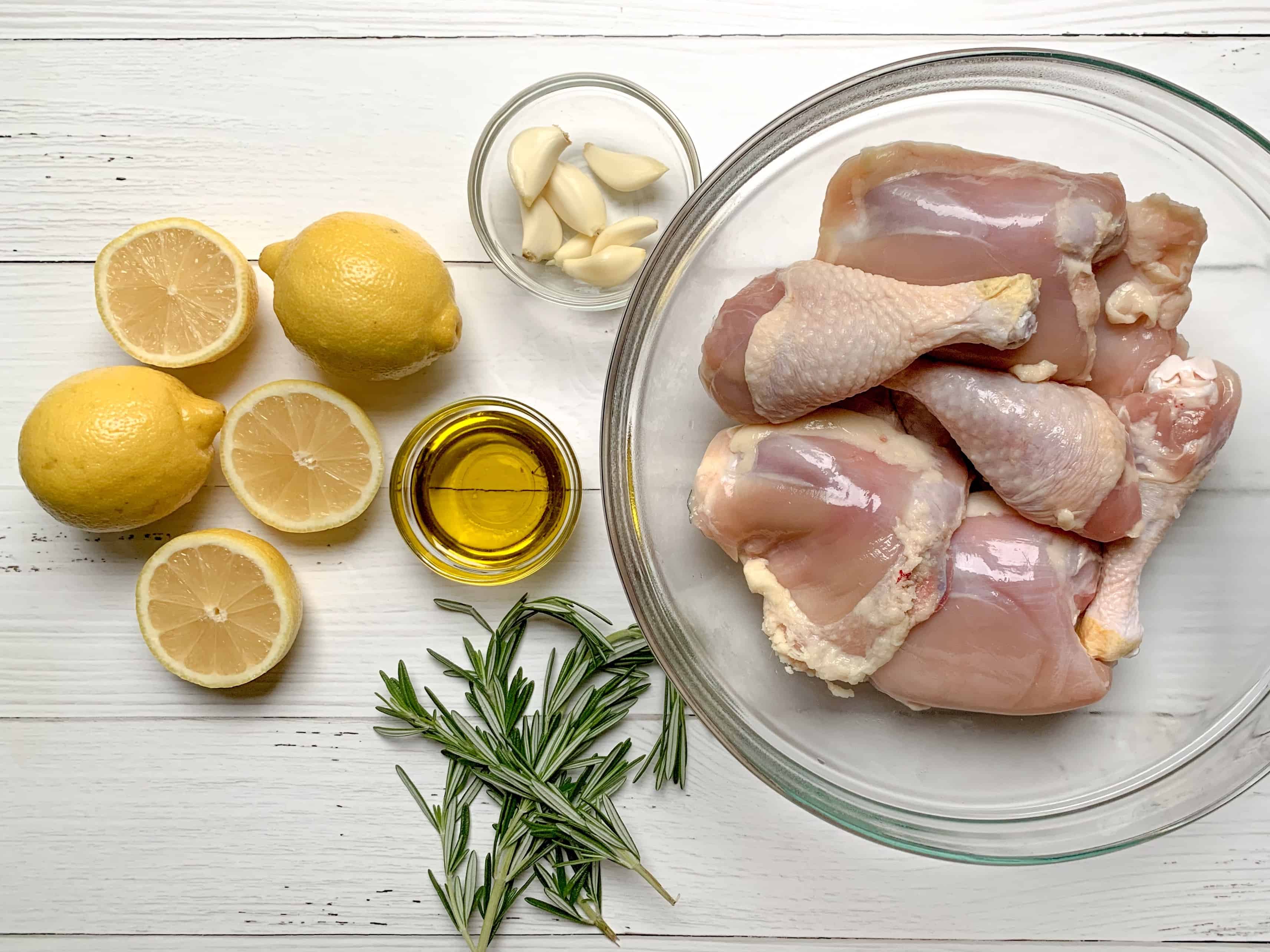 Throw all of the ingredients into a bowl and coat all sides of the chicken.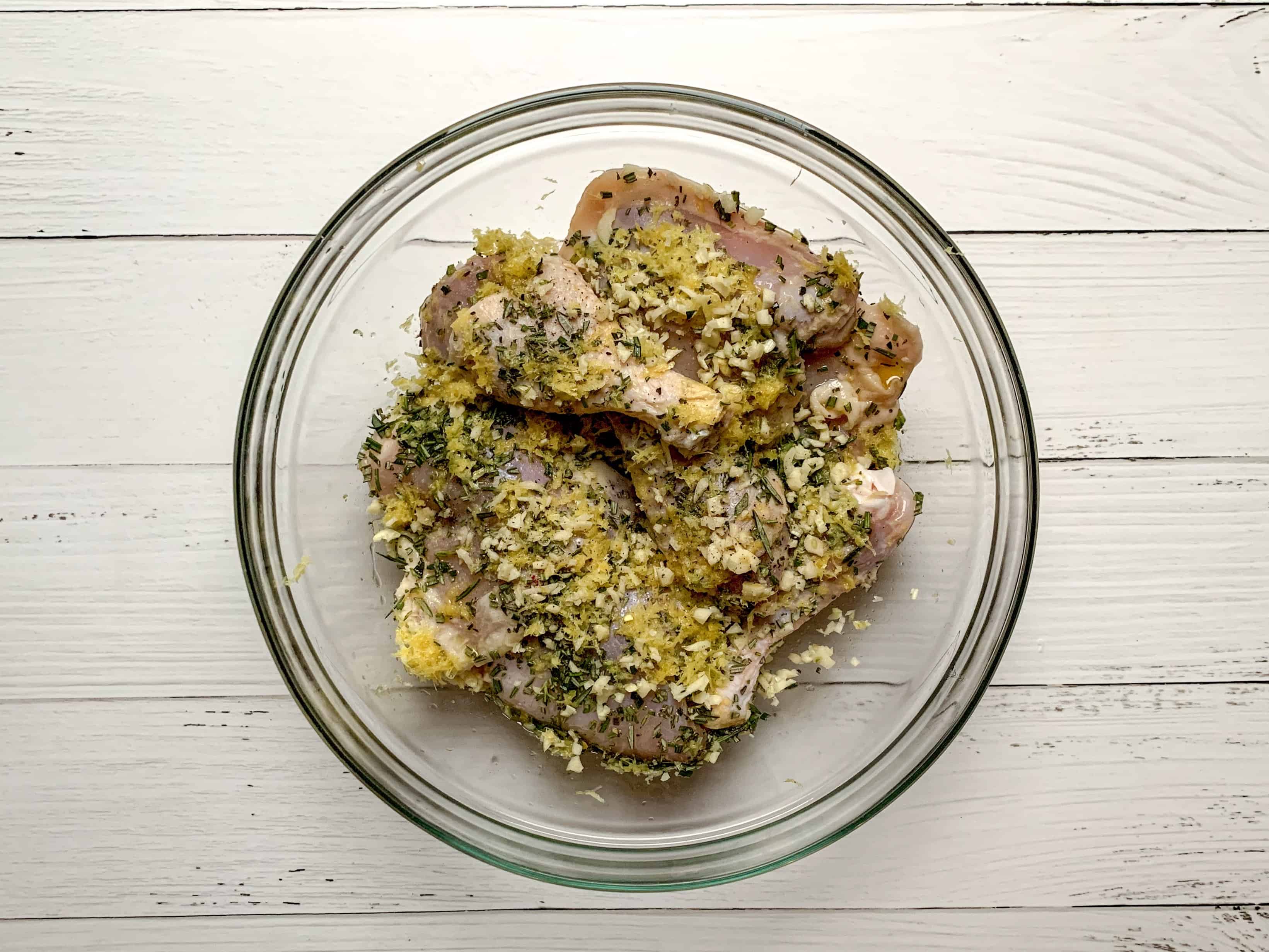 Lay the drumsticks and thighs (or whatever chicken pieces you prefer...I just think this recipe is personally better with the smaller cuts) on a sheet pan covered in parchment paper and toss in the oven for 30 minutes. Then put on an episode of Blaze for your kids so you can clean up from last night's dinner.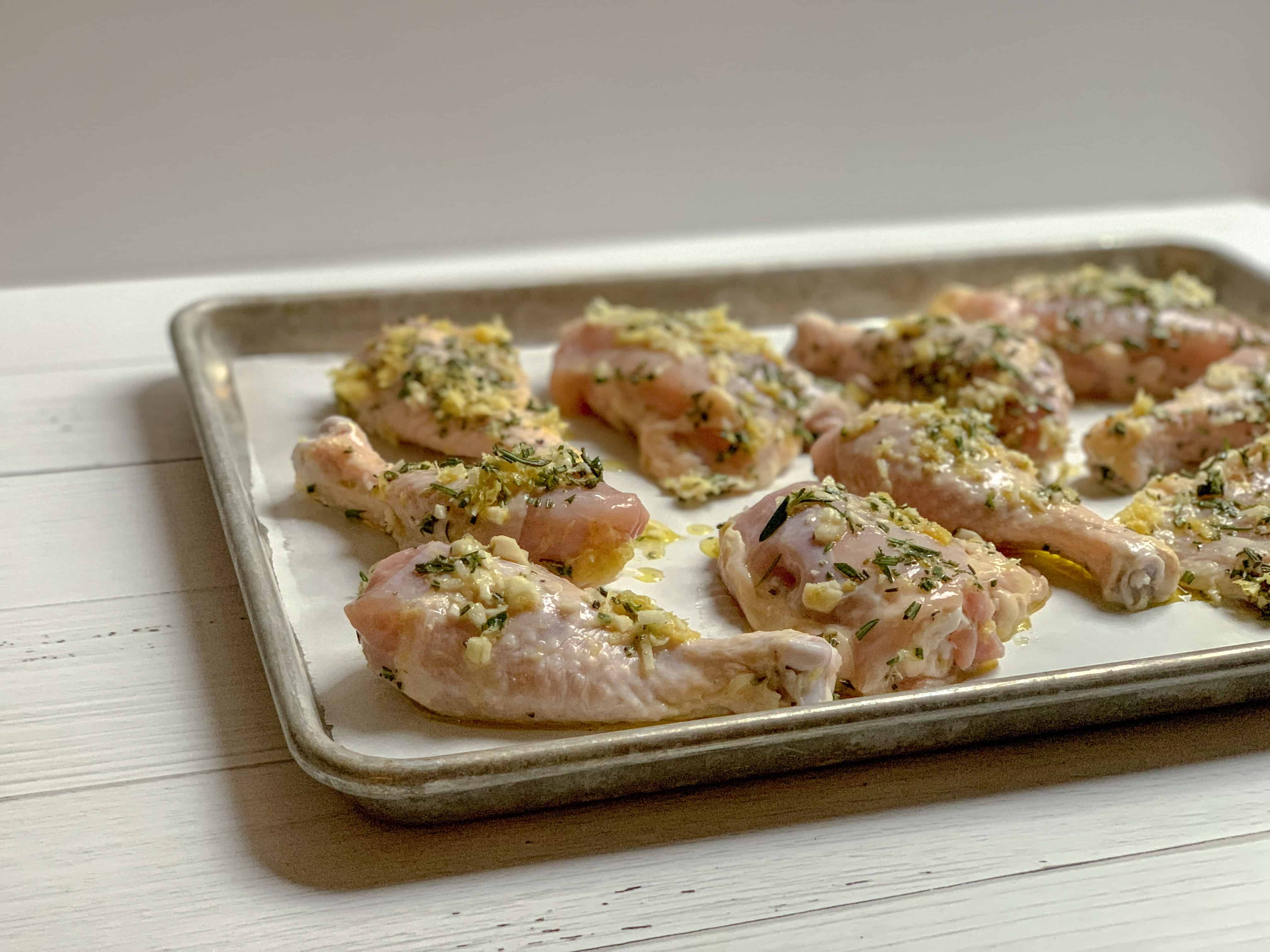 You can add some rosemary sprigs and lemon slices to make it look pretty if you're having people over for a casual dinner. Otherwise, you should definitely forget about making it pretty and focus on the eating. It's delicious with a little added lemon juice and olive oil when it comes out of the oven.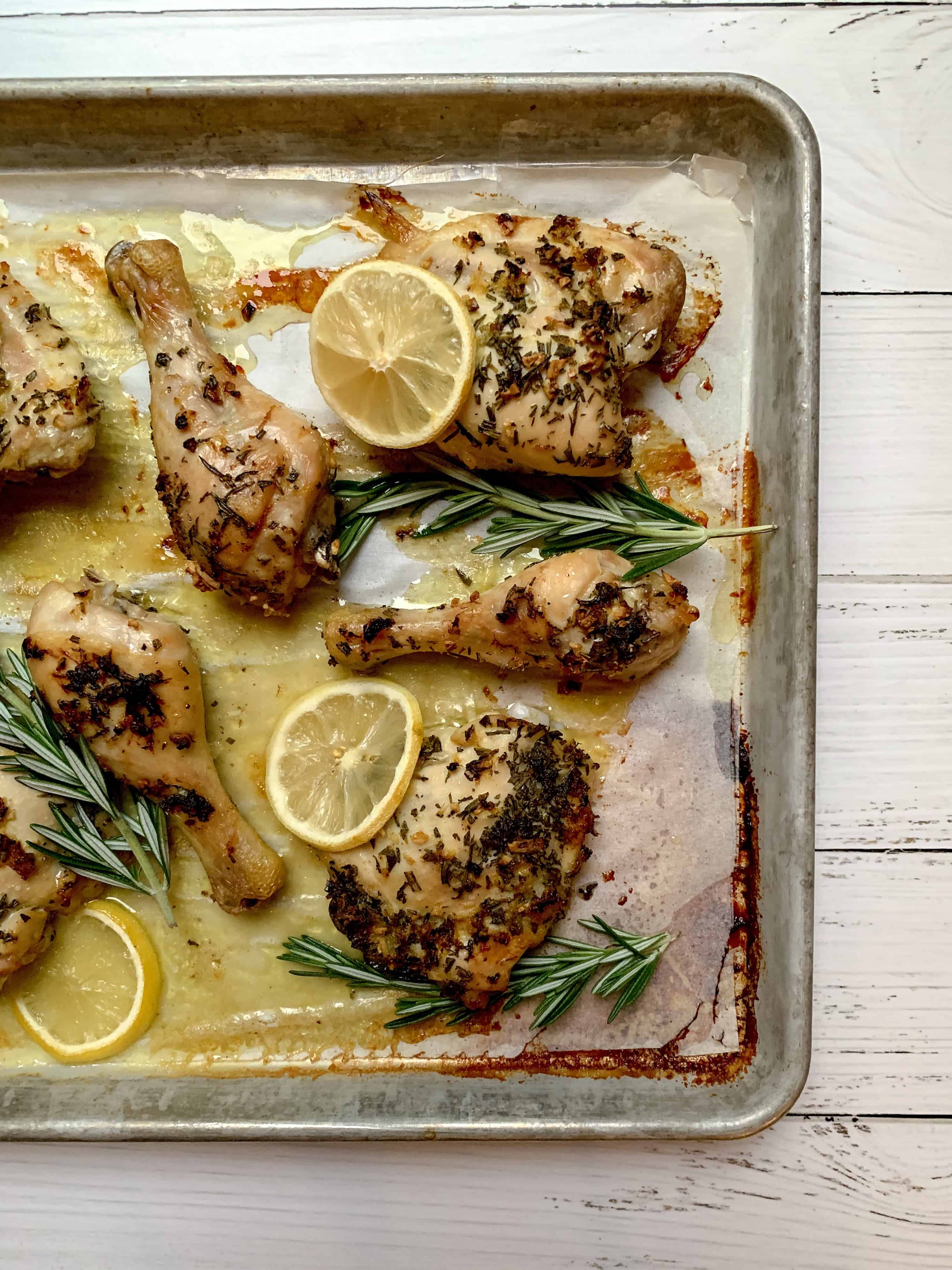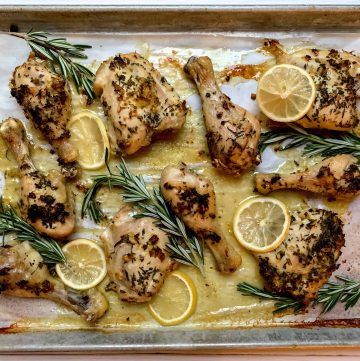 Ingredients
1

lb.

chicken drumsticks

1

lb.

chicken thighs

2

tablespoons

fresh rosemary

finely chopped

2

garlic cloves

minced

1

teaspoon

lemon zest

2

tablespoons

fresh lemon juice

2

tsp.

salt

¼

teaspoon

pepper

3

tablespoons

olive oil
Instructions
Preheat oven to 375 degrees and line a large baking tray with parchment paper.

In a large bowl, combine rosemary, garlic, lemon zest, lemon juice, salt, pepper, and olive oil. Add the chicken and rub all over with rosemary mixture. Place chicken on baking tray, coating the chicken with any remaining rosemary mixture.

Bake for 30 minutes (flipping halfway through) or until chicken is cooked through.

Drizzle with a bit of olive oil and lemon juice before serving.
Love y'all!
xox