This rose sauce recipe is a luxurious upgrade from your basic marinara sauce thanks to a bit of cream and will only take you about 20 minutes.
Homemade pasta sauce is one of those things that you picture in your mind taking all day. And don't get me wrong -- I'm sure those kinds of pasta sauces exist and I'd love to eat them, but I don't want anything to do with making them.
A good jar of Rao's marinara sauce is always stocked in my pantry in case of emergency (and there are lots of those days). There's something so satisfying about taking those extra 20 minutes to make your own rose pasta sauce from scratch though.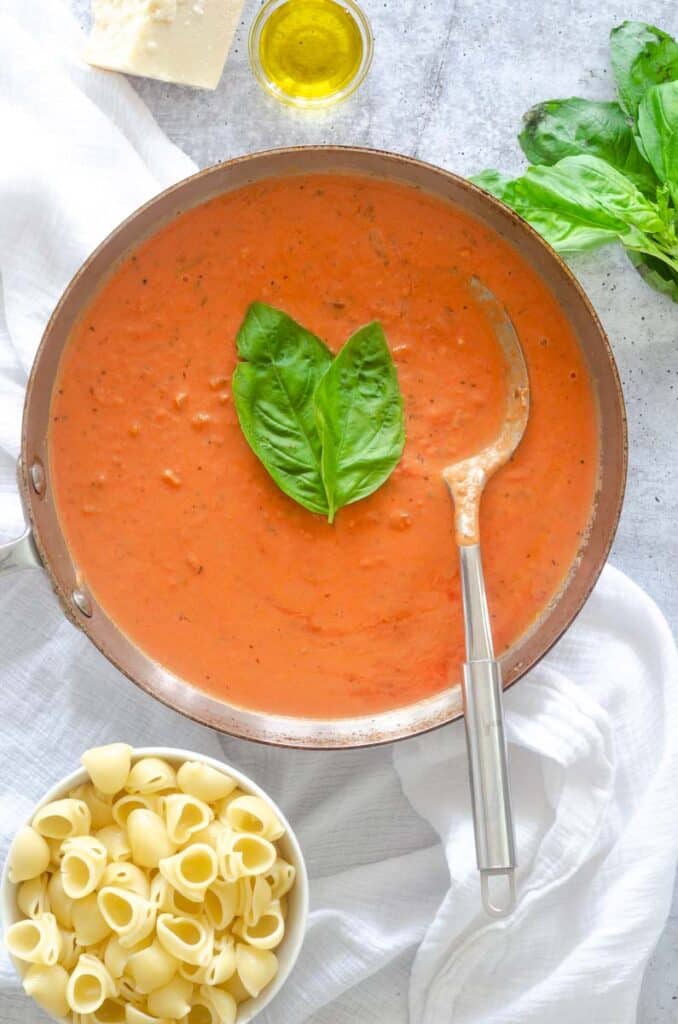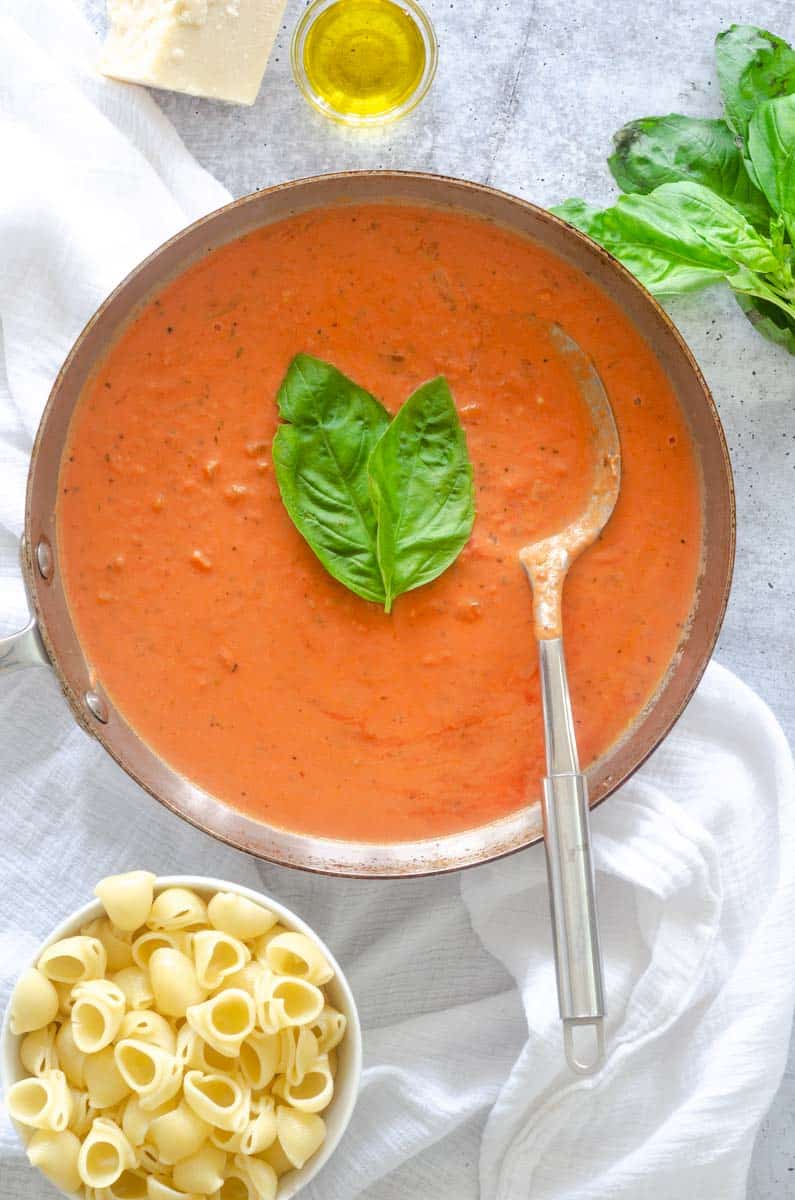 What is Rose Sauce?
Rose pasta sauce is basically your traditional marinara sauce but with added cream at the end for a much richer, luxurious sauce. It's good with all kinds of pasta -- from penne to ravioli and everything in between.
People call this pasta sauce different things. We used to live right next door to Gregorio's, and they had a rose pasta sauce tossed with ravioli, and it was so darn good. That's my frame of reference, but others may call it:
Rose pasta sauce -- what I'm calling it here because I don't know what else to call it and the neighborhood Italian joint calls it that
Pasta pink sauce or pink pasta sauce -- I'm a little partial to this name because it's something my 5 year old would call it.
Penne rosé (this is the same thing but using penne, which seems to be the most common pasta used)
Italian pink sauce -- very obvious and straight to the point.
Simple Ingredients, Delicious Rose Pasta Sauce Recipe
Here are the ingredients you'll need to make this rose pasta sauce:
onion - 3 onions are pictured but that's only because I only had tiny baby onions to use)
garlic
Italian seasoning
red pepper flakes
crushed tomatoes - I prefer with added basil for extra flavor, but you can use regular crushed tomatoes and add a teaspoon of dried basil, too)
olive oil
heavy cream
salt + pepper - II forgot to include in my pictures below...oops!
That's all. You probably have al of these things in your refrigerator right now. What are you waiting for?!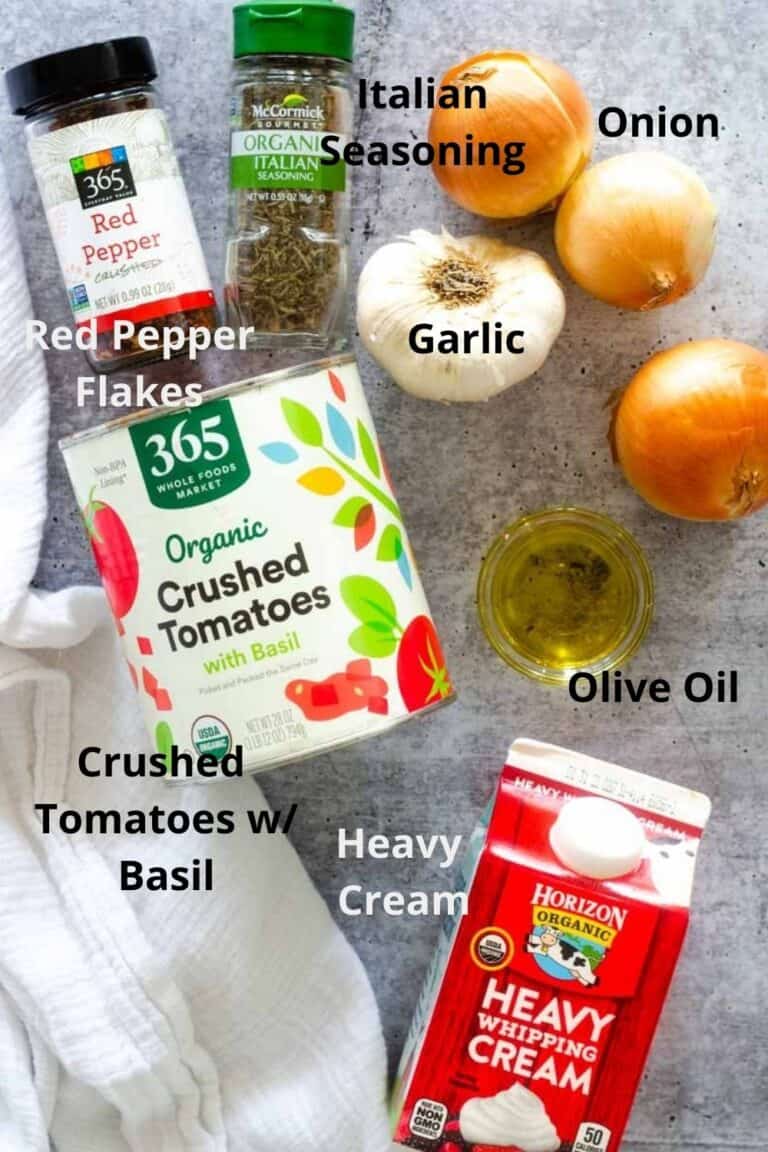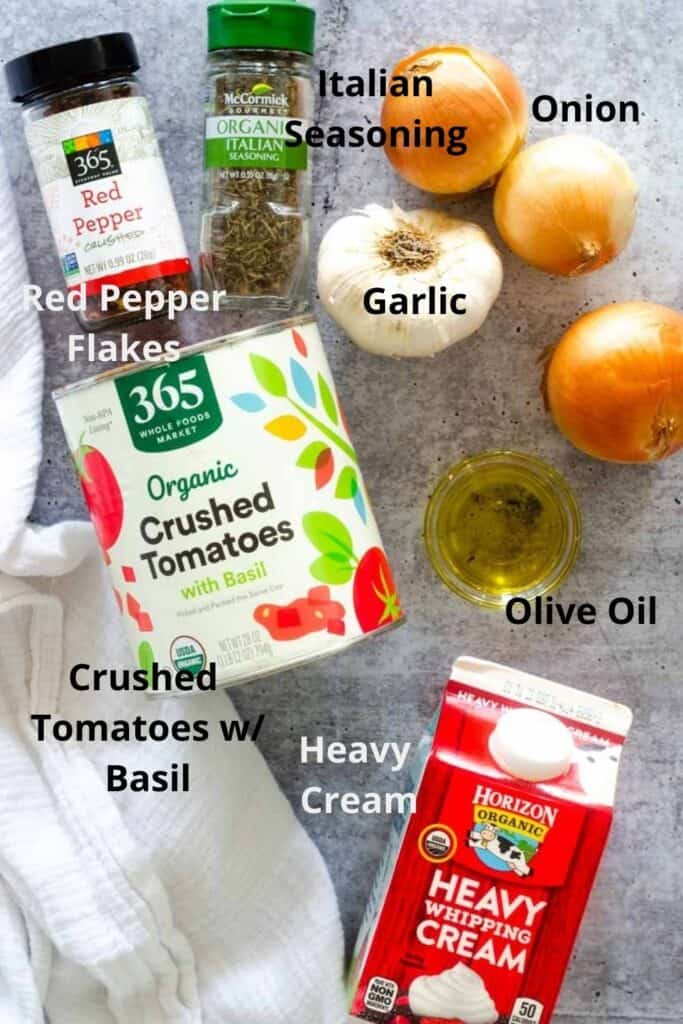 How to Make Rose Sauce
These easy "hot-to" steps will ensure your pasta sauce is pasta-ready in about 20 minutes. I've also included some tips that you may find helpful!
Step 1: Get your onions tender.
Sauté onions over medium heat with some olive oil. Some people use butter instead of olive oil for an even more luxurious, creamy base.
Step 2: Add the spices.
And by spices I mean a generous amount of salt, pepper, Italian seasoning, red pepper flakes, and dried basil (if you don't have crushed tomatoes with added basil like I had)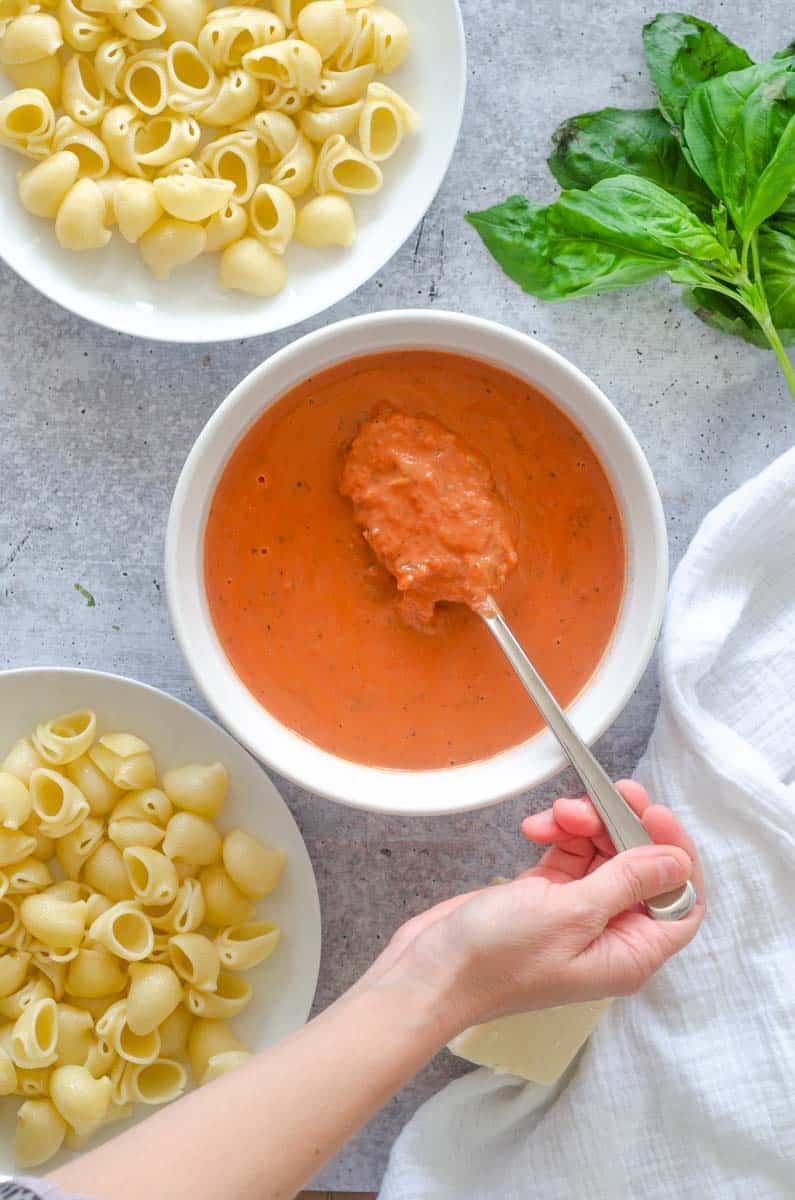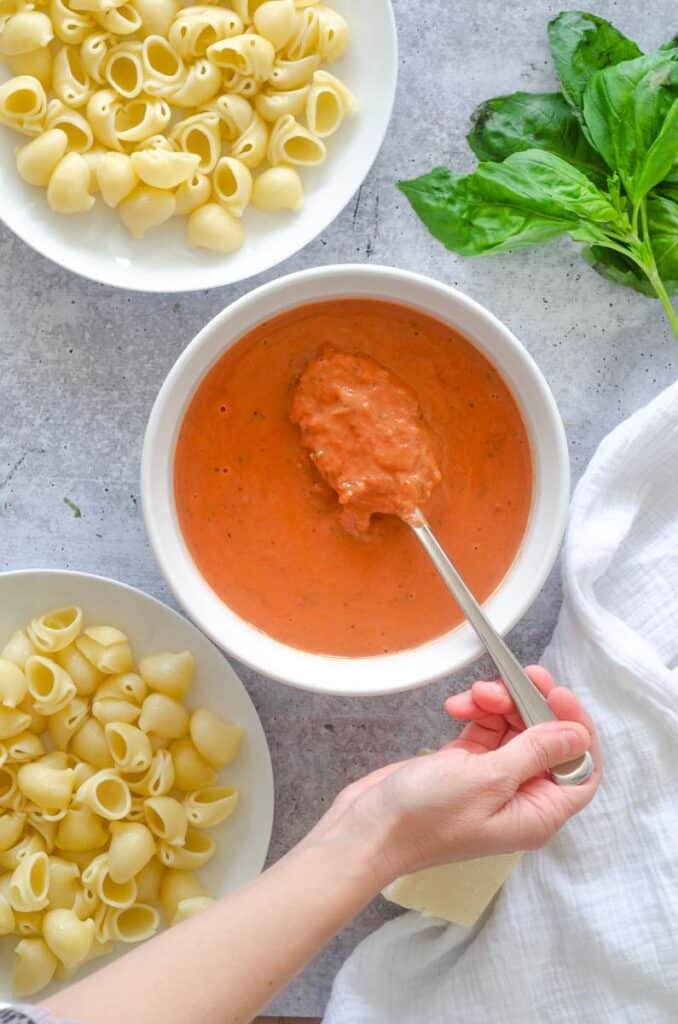 Step 3: Add tomatoes and let simmer.
Next, you'll add your crushed tomatoes and water and bring to a gentle boil. Once the sauce is barely boiling, immediately lower to a simmer and cover for 15-20 minutes. This step is essential to breaking down some of the acidity in the tomatoes. A lot of people will add a pinch of sugar here. If you are sensitive to tomatoes, I would definitely do that. Otherwise, I find sugar unnecessary.
Step 4: Add heavy cream at the very end and serve.
Take the sauce off the heat, stir in your cream and immediately toss with your favorite pasta! I personally like campanelle or something similar with my rose sauce because it has those tiny crevices where sauce gets stuck.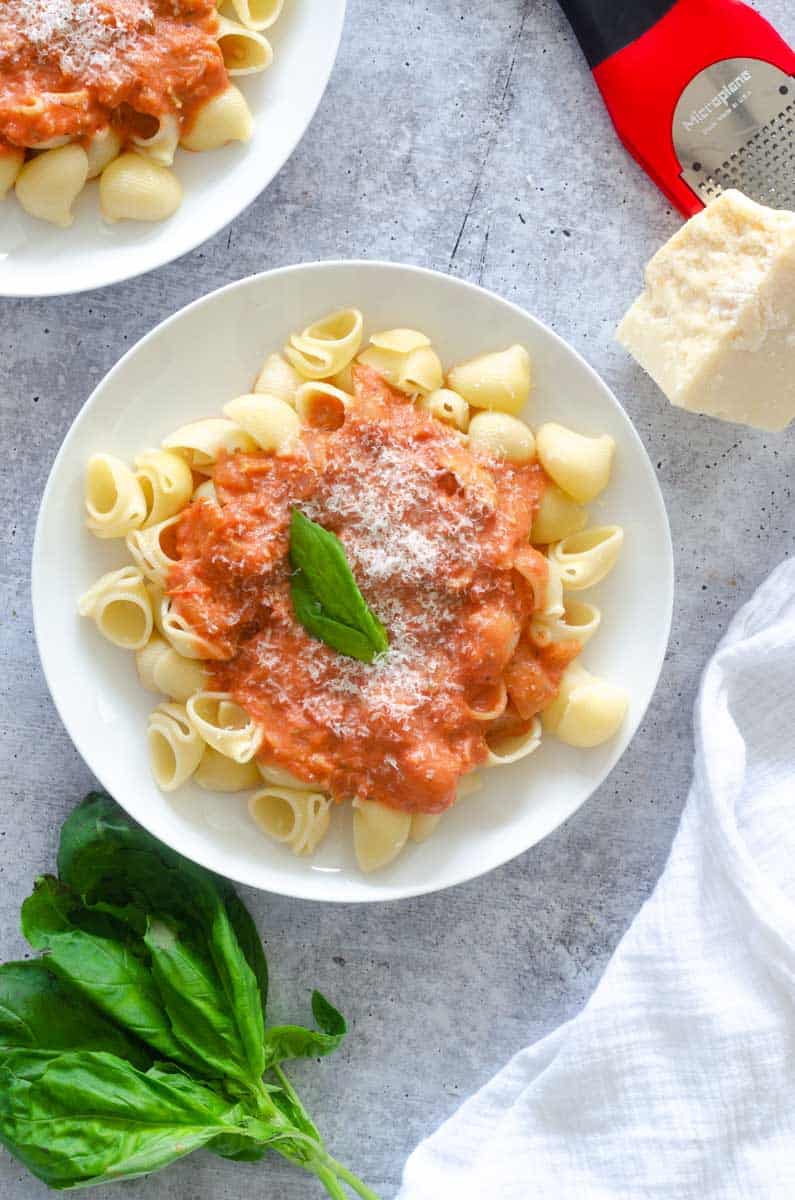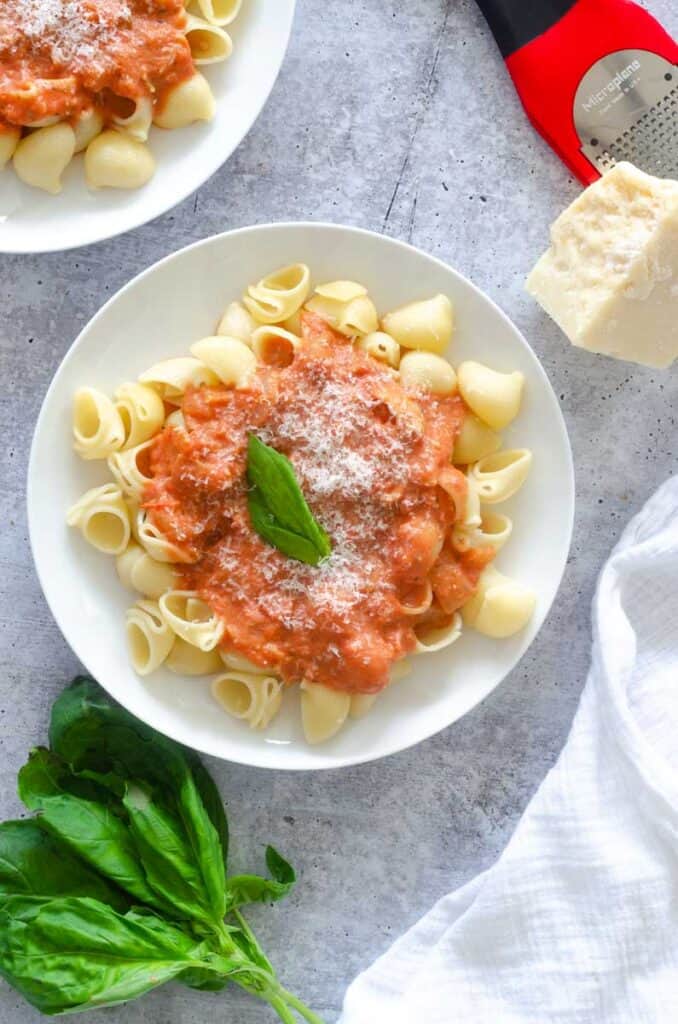 Customize Your Pasta Sauce
This pink rose pasta sauce is delicious just tossed with pasta and some fresh grated parmesan cheese or with a protein. Some of my favorite proteins include:
Pan-Seared Chicken Breast -- Once cooked, I thinly slice the chicken breast and fan out on the plate over the pasta. It's very filling and looks pretty.
Shrimp -- Shrimp is simple to cook directly in the boiling sauce for about 2 minutes just before serving.
Dutch Oven Pulled Pork -- Pulled pork is delicious in pasta, too! The versatility of this pork makes this recipe a fan favorite.
Storing Leftovers
I prefer to store rose sauce and pasta separately if possible. Store sauce in an airtight container in the refrigerator. The sauce will stay fresh for 3-4 days.
I have never tried to freeze this sauce, but I would imagine you wouldn't have a problem despite there being cream in it. Just make sure your store in two freezer bags in case of spillage. Take as much air out as possible before laying the rose sauce flat in the freezer. The sauce will keep in the freezer for up to 3 months.
Is Rose Sauce the Same as Vodka Sauce?
Yes, this sauce is very similar except this pink pasta sauce doesn't use the special ingredients of vodka.
What is Pink Sauce Made Out Of?
Rose Sauce is made out of crushed tomatoes, onions, garlic, Italian spices, and a touch of heavy cream.
Substitutions and Variations
Heavy cream substitutions. Feel free to sub for half and half or whole milk. The pasta will not be as rich and creamy, but it will do in a pinch.
Add vegetables. This sauce is delicious as is tossed in the pasta. You can always add squash, broccoli, peas, asparagus, and so many other vegetables for some added nutrition.
Add protein. Add chicken, shrimp, pork, whatever meat you'd like.
Make it vegan or dairy free. You can also use coconut milk instead of heavy cream to make the sauce silky and smooth.
Check Out These Other Pasta Favorites
xox,
kathryn
As always, if you make anything from the blog, be sure to let me know! I love hearing from you in the comments on this post below or find Worn Slap Out on Facebook, Instagram, or Pinterest!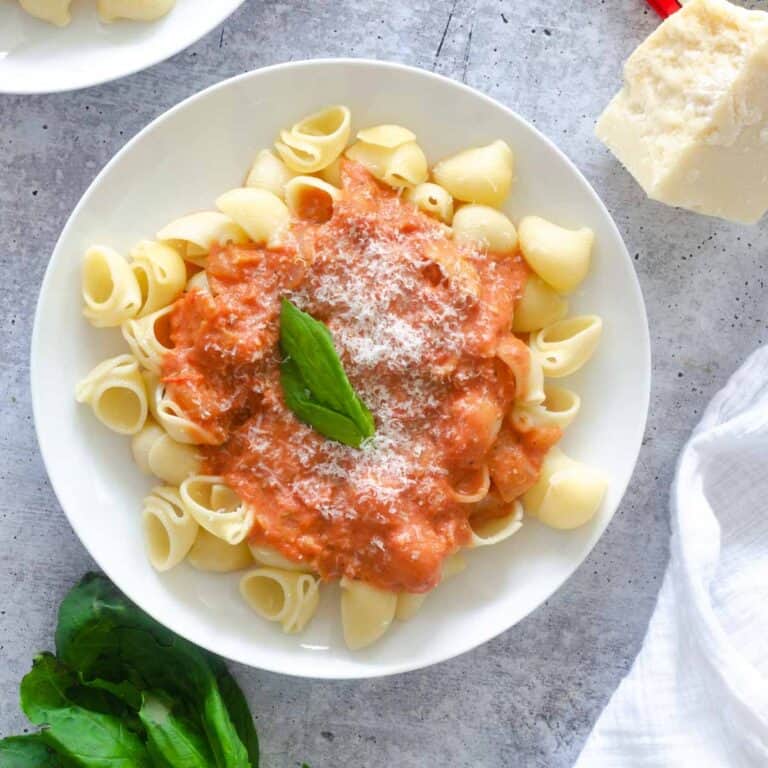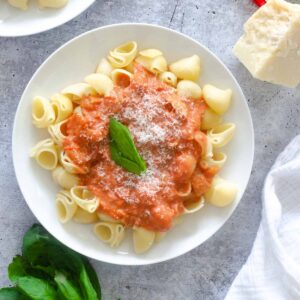 Rose Sauce Recipe
This rose sauce recipe is a luxurious upgrade from your basic marinara sauce thanks to a bit of cream and will only take you about 20 minutes.
Print
Pin
Rate
Ingredients
2

Tablespoons

olive oil

1

yellow onion, chopped

½

teaspoon

salt

4

cloves

garlic, minced

2

teaspoons

Italian seasoning

¼

teaspoon

red pepper flakes

1

28 oz can

crushed tomatoes* (preferably with basil)

¼

cup

heavy cream

¼

teaspoon

black pepper
Instructions
Place olive oil in a large frying pan or Dutch oven over medium heat. When pan is heated, add onions and cook until translucent, about 5-7 minutes. Add salt.

Add garlic and cook for another minute until fragrant. Add Italian seasoning, red pepper flakes, and stir.

Add crushed tomatoes and ¼ cup of water (and more if it seems too thick) and bring to a gentle boil. Reduce heat to a simmer, place lid on saucepan, and let simmer for 15-20 minutes.

Remove sauce from the heat. Stir in heavy cream and plenty of fresh cracked pepper. Toss with your favorite pasta and fresh parmesan and basil. Serve immediately.
Notes
*Either buy crushed tomatoes with basil or get a can of regular crushed tomatoes and add 1 teaspoon of dried basil to the recipe.
Storage and Reheating Instructions: This sauce lasts in the refrigerator at least 3-4 days. Store in an airtight container and reheat in a saucepan over medium heat until hot.