Using economical pork shoulder, this easy dutch oven pulled pork recipe goes right into the oven after braising -- and makes the juiciest, moistest pork that can be used for so many meals!
Pork is one of my favorite meats. Not only is it so versatile depending on what spices you use and what you cook it with, but it's super economical for a family on a budget and can we just pause and talk about the fat on pork? It's so darn delicious I have trouble not eating all of it (hellooooo, pork chops!).
This recipe may not necessarily be so quick, but this is truly one of the easiest meals you can make. It requires about 10 minutes of "hands-on" time, where you're braising the meat on all sides to create a nice, brown sear, then you're letting the pork do its magic thanks to the dry rub, pork's natural fat, and the steam bath the pork receives in the dutch oven for 3 hours. I may not have a smoker, but oooooooh weeeeee the dutch oven can do the trick.
When the pork comes out of the oven, it's incredibly juicy and tender -- whether you use bone-in or boneless pork shoulder. And once it's cooked, you can make the pork last all week, using it to make BBQ sandwiches or sliders, throw it with some pasta, eat it plain, or freeze any remaining pork for later.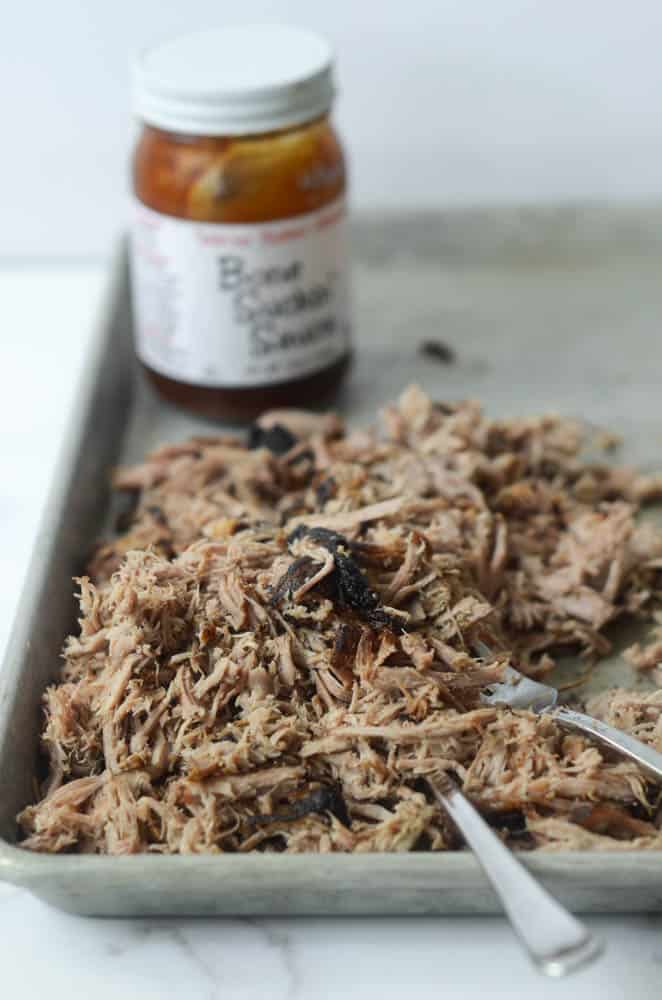 What Kind of Cut Do You Need to Make Pulled Pork?
Pork shoulder is the way to go for pulled pork. You'll often see pork shoulder referred to as pork butt, but the cut isn't actually from the butt of a pig. It comes from the well-used shoulder of a pig, so slow roasting is essential to making sure the meat tenderizes and is not tough.
Pork is an amazing meat -- because not only is it delicious, but it's also super affordable. I got a 3 pound pork shoulder (this one happened to be boneless) last week for $10, and it fed us for two dinners and a lunch for a family of four.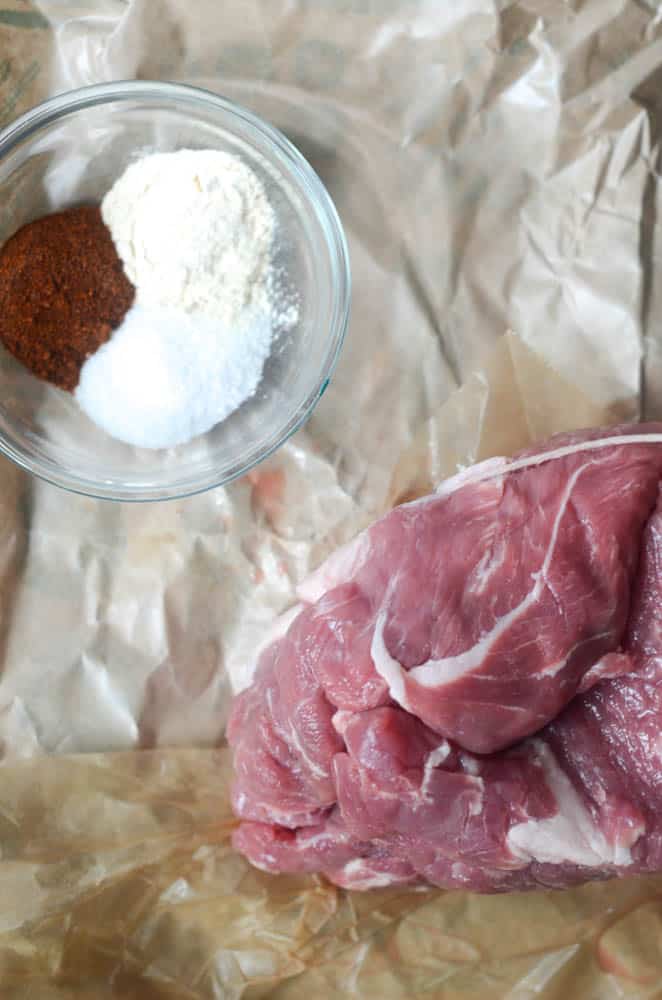 Ingredients You Need
pork shoulder (bone-in or boneless0
olive oil
salt
paprika, regular or smoked
garlic powder
sweet onions (I will 10 out of 10 times recommend Vidalia onions)
water
Pulled Pork in the Oven: Covered or Uncovered?
You definitely will want to cover the Dutch oven using your heavy lid. This makes an airtight seal that will allow the pork to steam on top of the onions.
How to Make Dutch Oven Pulled Pork
First, combine all of your spices in a small bowl. Rub spices all over the pork shoulder. Pork needs a lot of salt, so don't be shy now, ya hear? (1st picture)
Second, crank your Dutch oven to medium-high heat on the stove with olive oil. Once it's sufficiently hot, sear the pork on all sides for 3 minutes on each side. (see 2nd picture)
Next, Take the pork out, place halved onions on the bottom so it acts as a rack and adds so much flavor to your meat, place pork back on top, then cover Dutch oven with its lid and stick in the oven for 3 hours. (see pictures 3 and 4)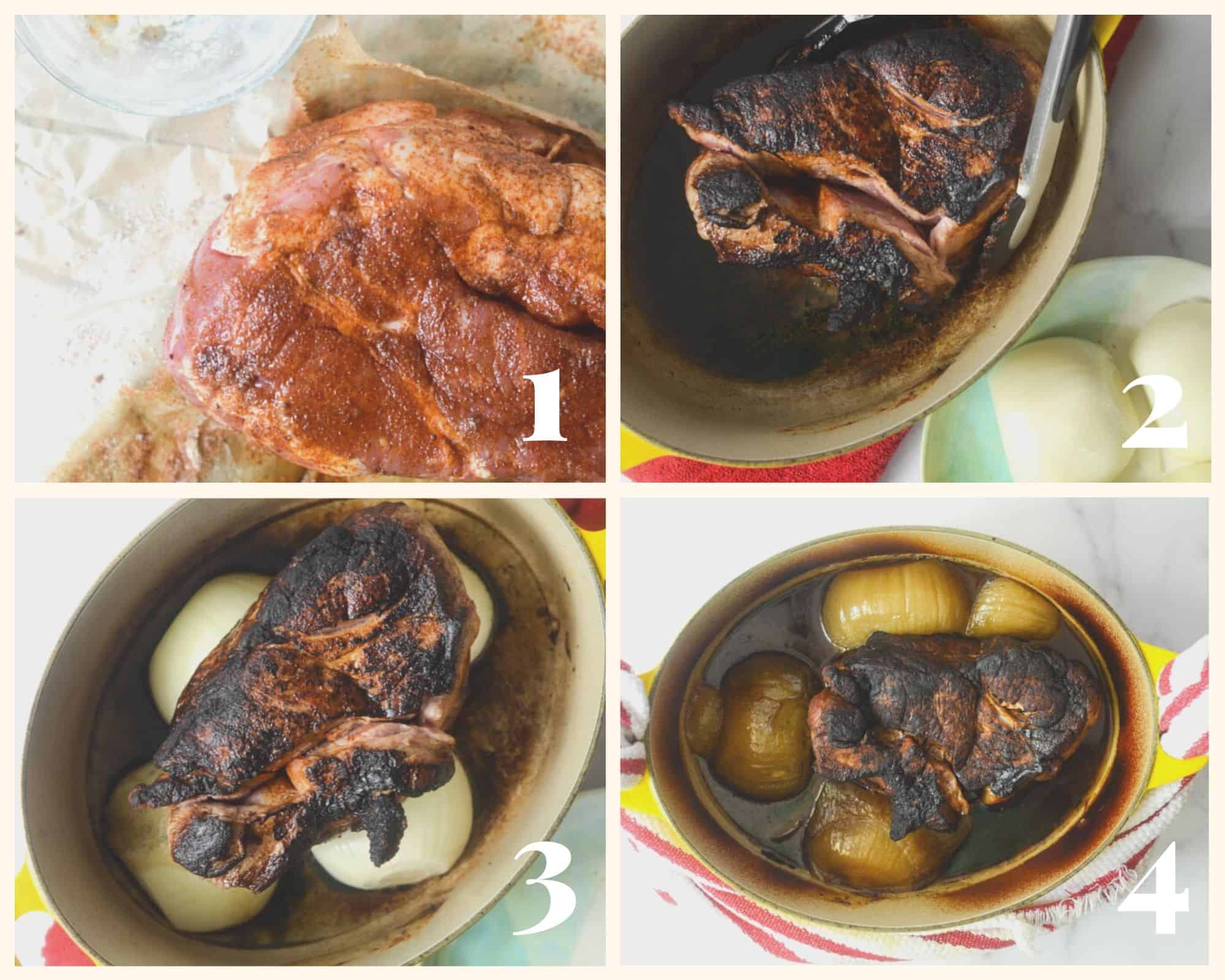 As soon as the pork comes out of the oven, place the pork on a rimmed baking sheet and shred with a fork.
Pulled Pork in the Slow Cooker vs. Dutch Oven?
This question really boils down whether or not you like the edges of the pork to be seared. You can definitely do this pork in a slow cooker, but I much prefer the taste of the pork in the Dutch oven after having seared the meat. You get random bites that are deliciously crunchy and mimic a slow-roasted pork you'd find in a Southern barbecue pit.
Tips for the Juiciest, Tenderest Pork
Don't trim too much fat. Unless your pork shoulder is riddled with fat, I don't really do a lot of trimming to my pork shoulder. Most pork shoulders you'll buy at the grocery store are already sufficiently trimmed. Keeping some of the fat on is essential for the pork to remain juicy and tender.
Shred pork while its still hot. This is more to make it easy on you, but you'll want to shred the pork right away. It falls apart so easy when it's still piping hot.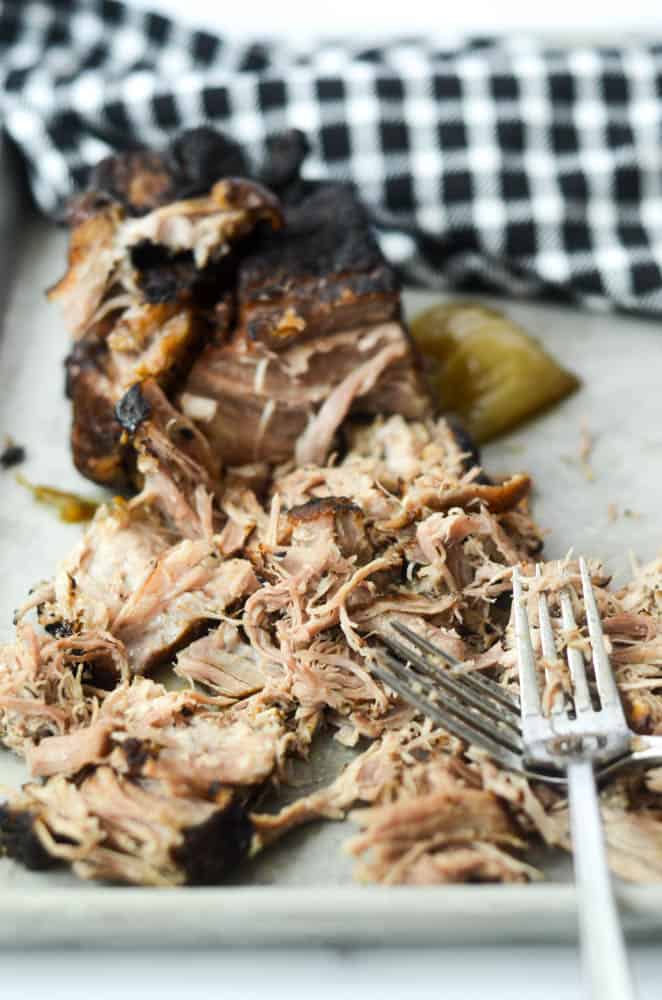 Ways to Use Your Pulled Pork
BBQ Pulled Pork Sandwiches or Sliders. Clearly, one of my favorites is to use this pork to make BBQ pulled pork sandwiches or sliders. Simply combine the pulled pork with your favorite warmed BBQ sauce, mix and combine. The pulled pork on a brioche bun is just incredibly delicious.
Italian Pork Ragu. Go Italian with this Pork Ragu with Semolina Gnocchi. While I wouldn't do this on a normal weeknight, it's an awesome quarantine meal or weekend meal.
Pulled pork tacos. Self-explanatory -- they're delish.
Freezing Your Pork
Want to triple this recipe because you found a 9 pound pork shoulder? Great! (Side note: you can also cut your pork into segments if the whole thing doesn't fit in your dutch oven).
This Dutch oven pulled pork is one of the best meats to freeze. When the pork is cooled off, stick the pulled pork in freezer-safe plastic bags (I usually do as much in each bag as I would want to heat up for a family dinner) and stick in the freezer for up to 3 months.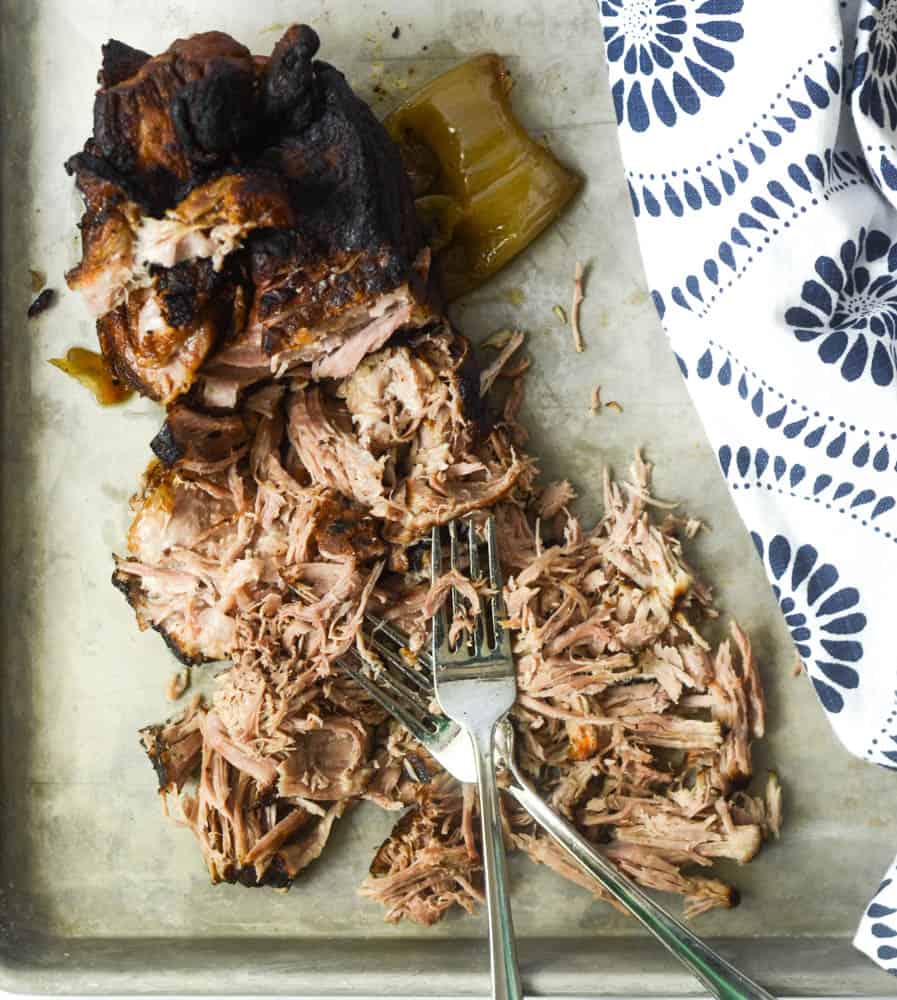 xox,
kathryn
As always, if you make anything from the blog, be sure to let me know! I love hearing from you in the comments on this post below or find Worn Slap Out on Facebook, Instagram, or Pinterest!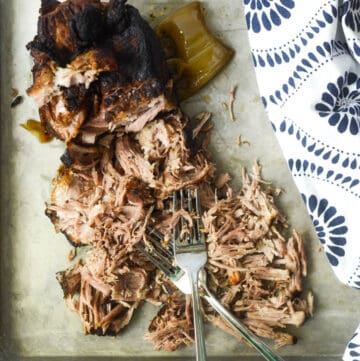 Versatile Dutch Oven Pulled Pork
Using economical pork shoulder, this easy dutch oven pulled pork recipe goes right into the oven after braising -- and makes the juiciest, moistest pork that can be used for so many meals!
Print
Pin
Rate
Ingredients
3

pound

pork shoulder, bone-in or boneless

4

Tablespoons

olive oil

1

tablespoon

salt

1

tablespoon

paprika,

regular or smoked

1

Tablespoon

garlic powder

2

large sweet onions,

halved

½

cup

water
Instructions
Preheat oven 300 degrees. In a small bowl, combine salt, garlic powder, and paprika. Rub spice mixture all over pork.

With Dutch oven on medium-high heat, heat olive oil. When pan is very hot (when drop of water sizzles), sear one side of pork for about 3 minutes until meat is browned. Repeat searing on other side of pork for 3 minutes as well as the top and sides. Take pork out of dutch oven, place onion halves and water at the bottom, add pork back on top of onions. Put lid on.

Bake at 300˚ for about 3 hours or until pork is cooked through. It should fall apart when shred with a fork. Remove pork shoulder from Dutch oven, place on rimmed baking sheet, and use two forks to shred pork immediately. Combine with your favorite BBQ sauce, eat plain, use in pasta dishes...the options are endless.