When you're craving a sweetgreen Harvest Bowl and can't get to one, here's your opportunity to make the salad at home. Chocked full of kale, warm wild rice, sweet potatoes, apples, goat cheese, and almonds, this salad is tossed in a creamy and tangy balsamic dressing.
I'm a total sweetgreen fan girl, one of their OG customers, who used to take a mental health day to stroll down the streets of Georgetown just to see other people doing adulty things during the day while I was typically stuck between cinder block walls teaching the youth of tomorrow. Part of the routine was grabbing a salad from sweetgreen and eating it by myself somewhere near the Potomac...just being in total peace. Man, I miss those days!
I even reached gold status (remember when they used to have that loyalty program??!) and got some sweet sweetgreen swag, including a beanie that I'm pretty sure just had the word "kale" on it.
My favorite salad from sweetgreen is their Harvest Bowl, one of their OG salads. The salad is full of whole ingredients that are easy and delightful to make at home because once you do the chopping for one, you might as well make enough to last you the whole week.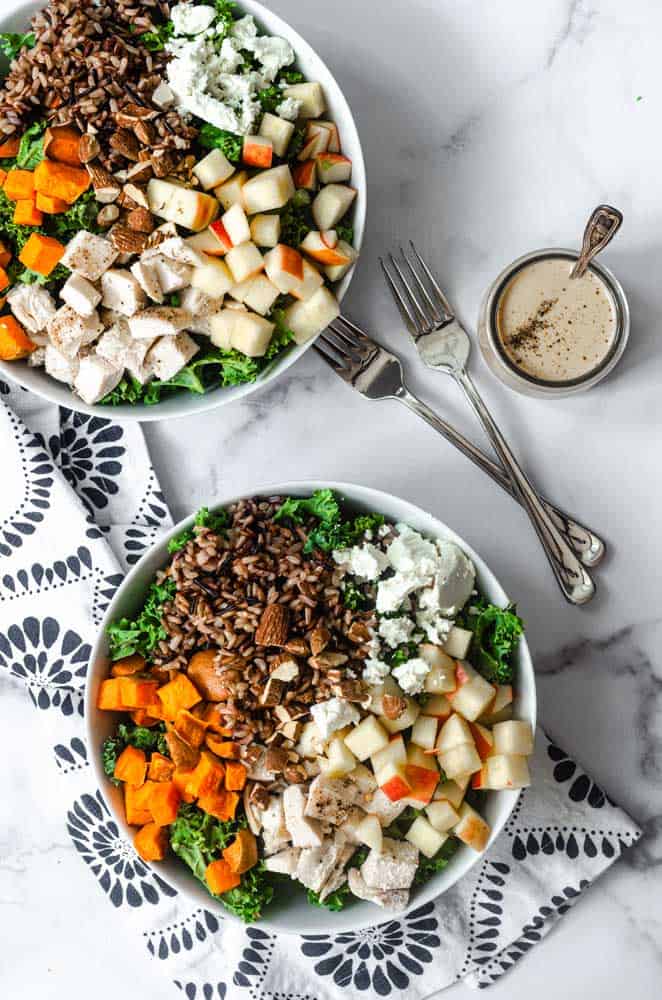 Sweetgreen: Do You Have One Yet?
For those unfamiliar, sweetgreen is a fast-casual salad chain that two Georgetown University students started right here in Washington, DC. The first-ever sweetgreen was located in the most adorable little shack on M Street in Georgetown, and the chain filled the need for a healthy fast food option. Now the restaurant has grown to more than 100 locations.
The Harvest Bowl Review
Sweetgreen's Harvest Bowl was my first love at Sweetgreen, and while I've tried several other salads that have all been delicious there, I always come back to the Harvest Bowl for a reason. It's a salad delicious in all seasons, so hearty so you're not hungry afterward, and contains the perfect combo of ingredients with varying textures. This is an essential component of any good salad. It's also got a killer balsamic vinaigrette dressing, which I'll talk about below.
The salad has the following ingredients tossed together with thin-cut pieces of kale:
kale
wild rice
cooked chicken breast
sweet potatoes
apples chopped
goat cheese (or cheddar is delicious, too)
almonds
The kale is kale. Kale leaves you feeling healthy and proud of yourself for consuming such leafy goodness. The wild rice is soft and warm, making the goat cheese get softer. Then you have the roasted sweet potatoes, which gives a nice hearty aspect to the salad. Then the apples and almonds finish off the salad with a nice crunch.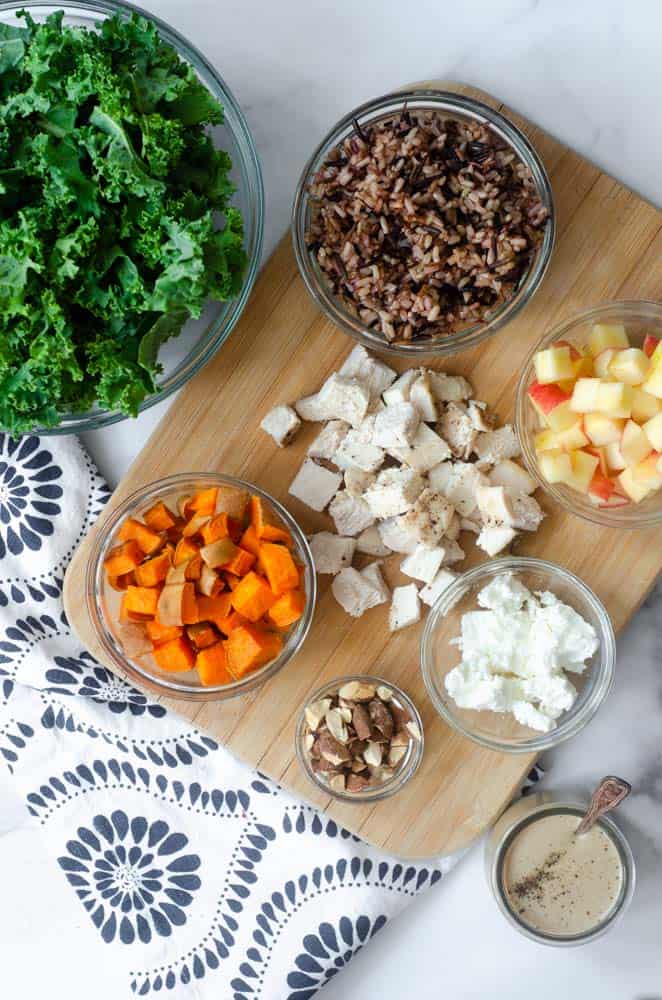 Sweetgreen Harvest Bowl Calories
I'm not a calorie counter by any means, but I know this is a popular question. According to sweetgreen's website, the Harvest Bowl has 705 calories.
Sweetgreen's Balsamic Vinaigrette Ingredients
I learned the hard way after having to be dairy free for my son when I was nursing that sweetgreen's balsamic vinaigrette is, indeed, NOT vegan (oops!). We all survived though. Somehow!
The key to the creaminess is Greek yogurt (0% fat because you want the dressing pretty thinned out). It's tangy and sweet -- and a little thicker than most vinaigrettes so it really coats all of your ingredients. It's the perfect dressing to tie everything together.
Aside from Greek yogurt, you'll need a good quality balsamic vinegar, Dijon mustard, honey, lemon, salt, pepper, and olive oil. The yogurt gives the dressing a creaminess that's unmatched, the Dijon a little kick, the honey some sweetness, and the lemon some freshness.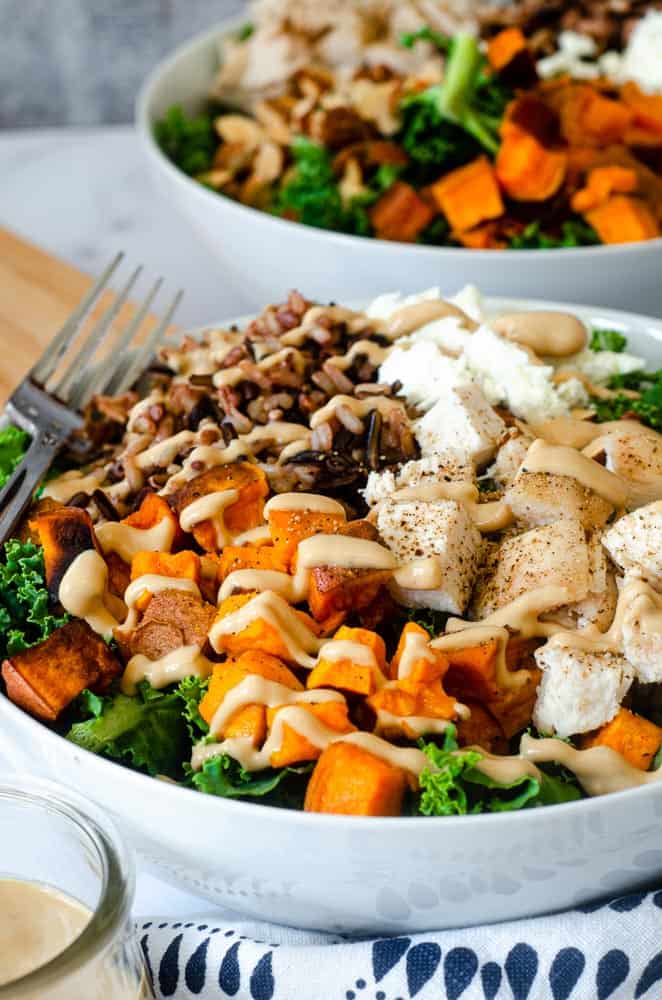 Other Favorite Salad Recipes You Don't Want to Miss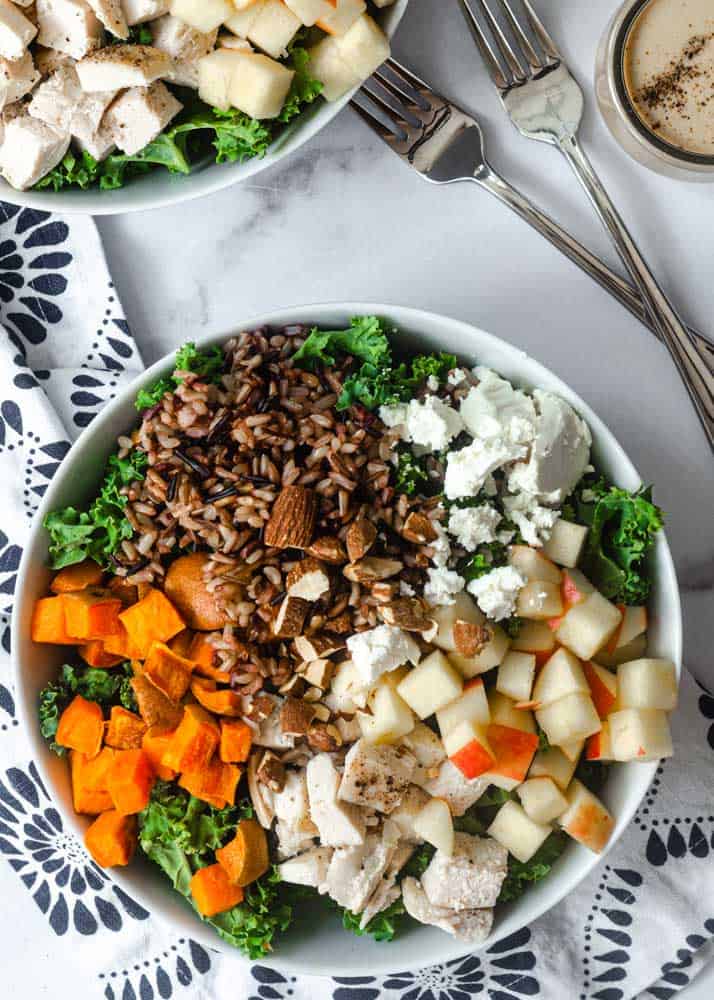 xox,
kathryn
As always, if you make anything from the blog, be sure to let me know! I love hearing from you in the comments on this post below or find Worn Slap Out on Facebook, Instagram, or Pinterest!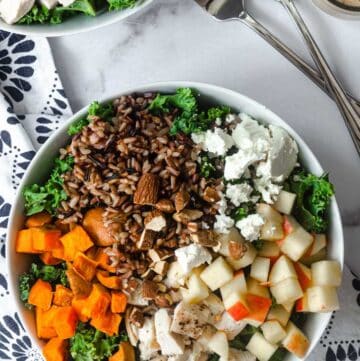 Sweetgreen's Harvest Bowl Recipe
When you're craving sweetgreen's Harvest Bowl and can't get to one, here's your opportunity to make the salad at home. Chocked full of kale, warm wild rice, sweet potatoes, apples, goat cheese, and almonds, this salad is tossed in a creamy and tangy balsamic dressing.
Print
Pin
Rate
Ingredients
For the salad:
8

cups

kale

deveined, washed and chopped

2

cups

wild rice

cooked

2

cups

chicken

cooked and cubed

1

cup

sweet potatoes

roasted in cubes

1

cup

apples

chopped

¼

cup

goat cheese

crumbled

¼

cup

almonds

chopped
For the dressing:
½

cup

plain Greek yogurt (I use 0% fat)

¼

cup

balsamic vinegar

1

teaspoon

Dijon mustard

1

teaspoon

honey

juice from half a lemon

¼

tsp.

salt

⅛

tsp.

freshly ground black pepper

2

Tablespoons

olive oil
Instructions
In a small bowl, combine all of the dressing ingredients except the olive oil. Using a whisk, slowly add the olive oil while whisking vigorously.

Combine all salad ingredients in a large bowl. Pour dressing over the salad, toss, and enjoy!
Notes
This salad is delicious to eat for the entire week. Double or triple the recipe to make for others. 
Add almonds and dressing later if storing to keep them crunchy.