This Blood Orange Upside Down Cake can use any fruit you want -- but this one uses the fresh citrus flavors from blood oranges on top of a vanilla cake with a syrupy glaze. It's like pineapple upside down cake, but even better.
Do you ever just wake up and think there's a cake you have to bake? This is the second time I've done this this month (the first being this Bailey's Chocolate Poke Cake from NYE).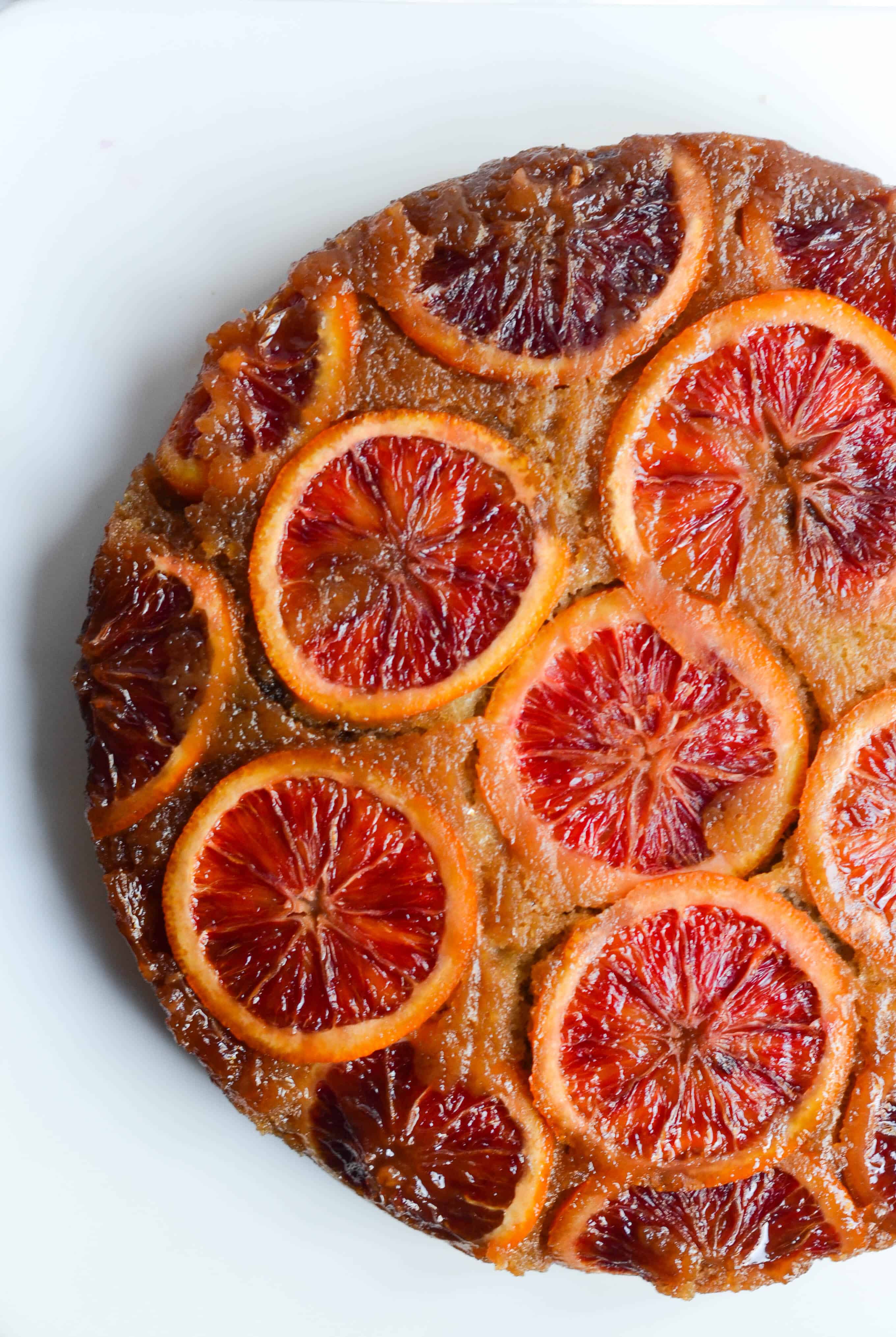 I've been reading about Little Plantation's Eat, Capture, Share photo challenge to stretch my photography skills (hers are just insane!), and the first challenge is citrus. I took pictures of all the citrus I had in the house -- grapefruit, limes, lemons, satsuma madarins, navel oranges, and blood oranges (so basically everything, right?!). None of the pictures turned out remotely good. Screw this, I thought. I'm baking something beautiful with these oranges and hence, there's a Blood Orange Upside Down Cake on the blog tonight.
'Tis the season for blood oranges
Blood oranges are so flavorful and winter is the only time to snag them. You can typically find blood oranges in the grocery store from December until February or March.
These oranges have a naturally red color thanks to anthocyanin. No artificial dyes or colors in this cake. A word of warning though: the vanilla cake mixed with the deep red juice from the blood orange makes for a golden, almost slightly green color of cake. This doesn't bother me in the least because I love olive oil cake which has the same hue, but if this bothers you, you can always add some pink food dye OR just leave out the juice entirely. Replace the juice with 1 teaspoon of orange zest to keep the citrusy flavor in the cake.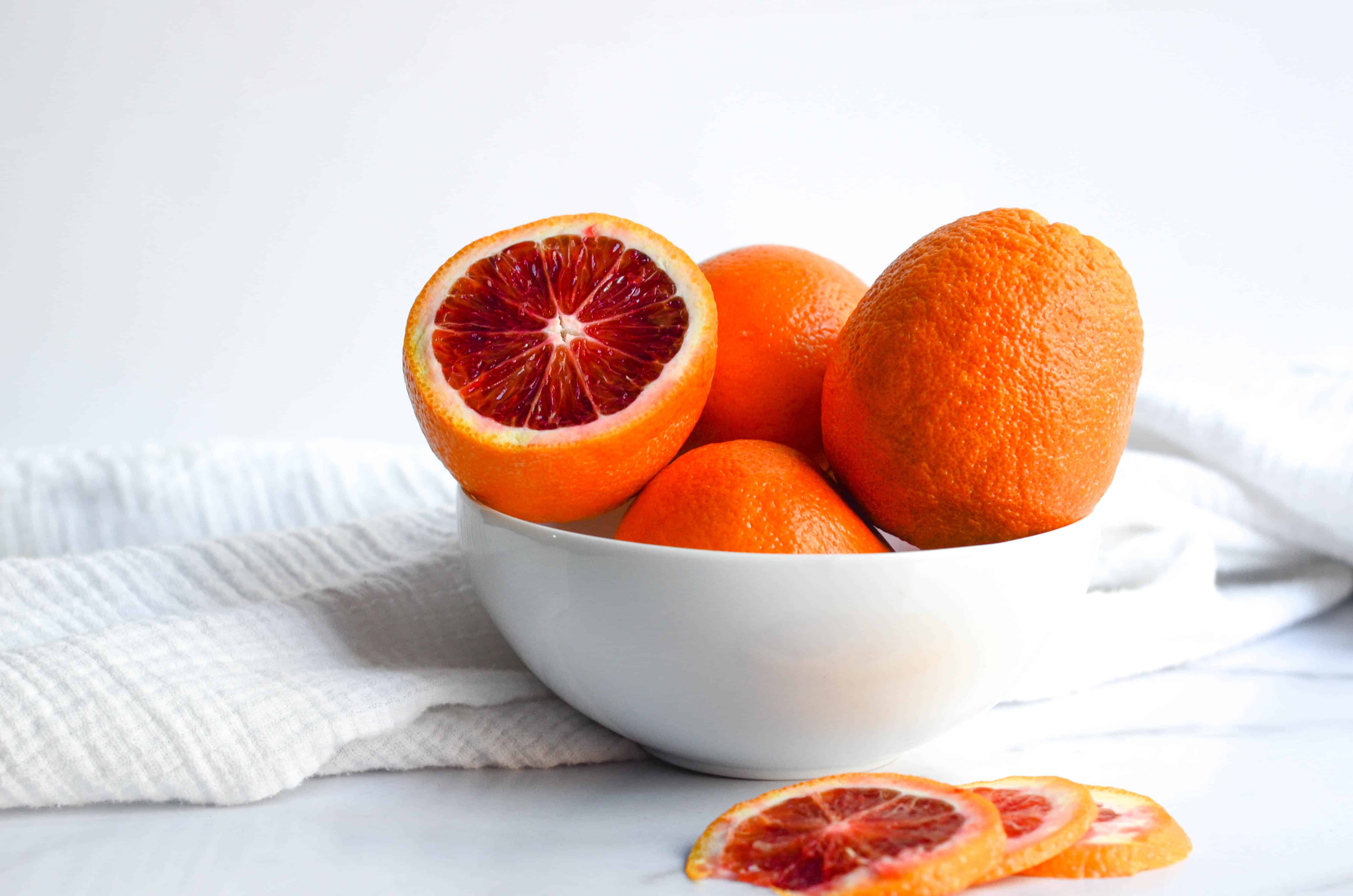 Use any Fruit for the Cake
This upside down cake recipe is incredibly versatile and can be used with any fruit you have on hand. The cake itself is a standard yellow cake recipe. You'll just substitute the blood orange juice for the juice and/or zest of the fruit of your choice. If you're wanting a pineapple upside down cake, use ¼ cup of pineapple juice and use pineapple slices on top, for example.
You could do an apple upside down cake, peach upside down cake (omg I love peaches!), pear upside down cake, banana upside down cake, you name it. All are equally as easy to make and again, follow the basic recipe below.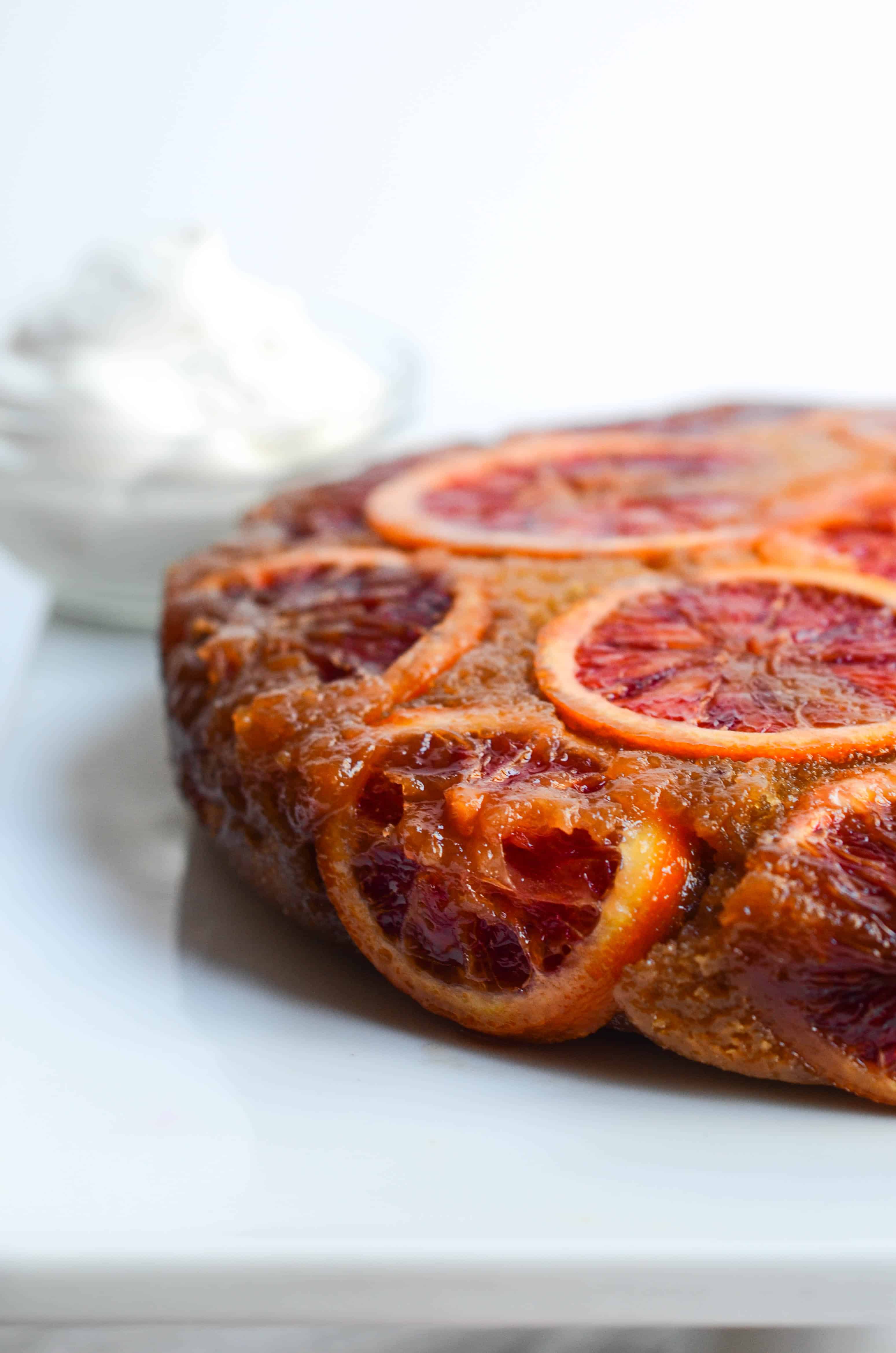 How to make a blood orange upside down cake
You've got 4 easy steps and voila, you've got yourself an upside down cake:
Grease and line 9" cake pan (that's at least 2" in height) with parchment paper. Spray or great parchment again. Pour melted butter and light brown sugar all over the bottom of the pan.
Place thinly sliced (⅛" thick) blood oranges on top of melted butter and brown sugar. Set aside.
In a large bowl, combine wet ingredients. In a medium size bowl, combine your dry ingredients. Stir dry ingredients slowly in to the wet ingredients until well combined.
Gently pour batter over blood oranges, making sure batter is evenly spread. Bake in the oven for about 40-45 minutes!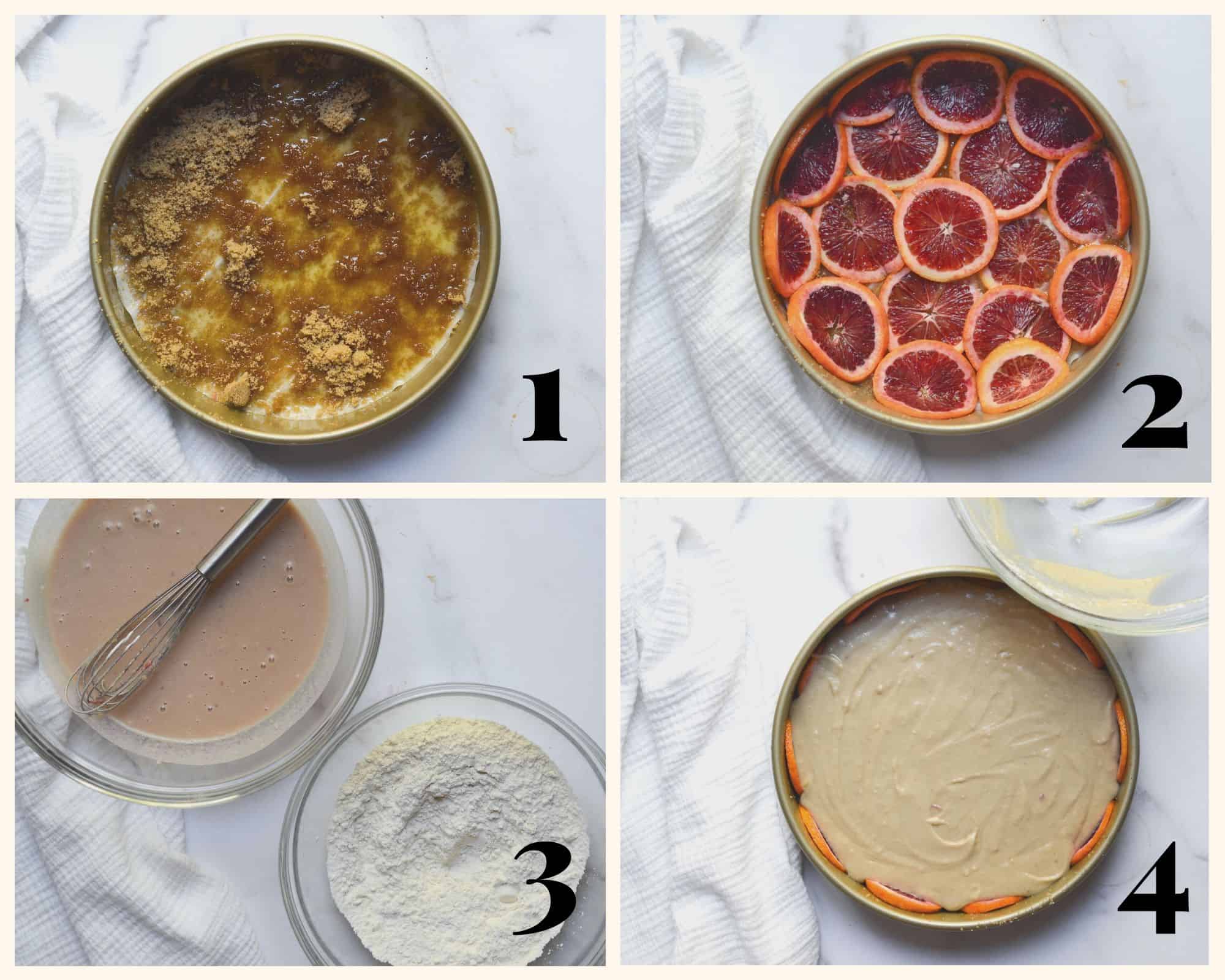 Flipping the Cake to Make it an "Upside Down" Cake
This may be the hardest part of this entire recipe because it's difficult to be precisely patient and wait EXACTLY 10 minutes -- NO SOONER OR LATER! I'm yelling because this is critical. If you flip your pan over too soon, the cake doesn't have time to set and the whole thing will come apart. If you flip your cake any later, the toppings will stick to the top of the pan and may not come out neatly.
I've found that 10 minutes is pretty much the magic time period to wait before flipping your cake onto a cake plate or flat platter.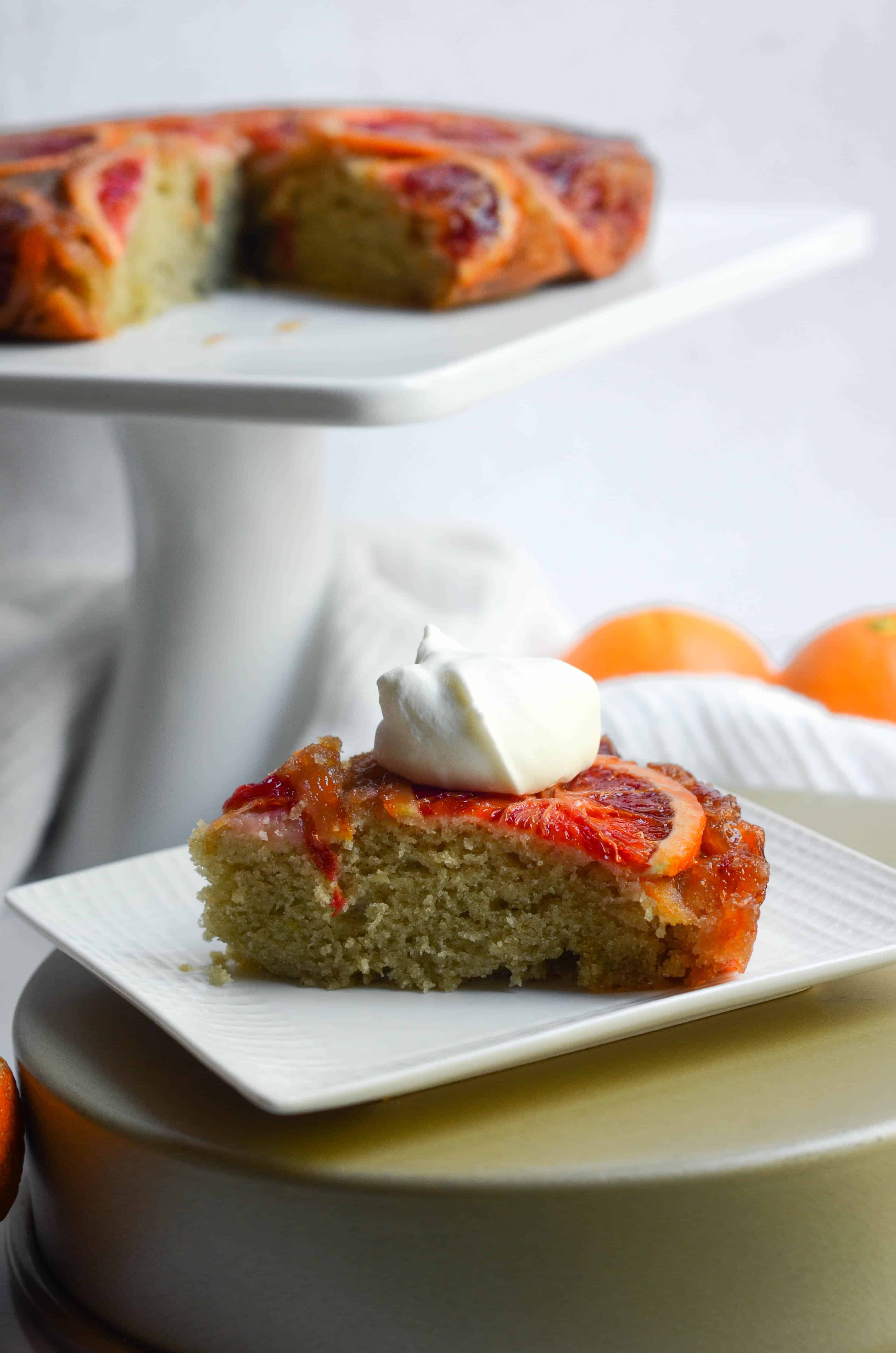 Other Recipes with Blood Oranges
Check out some of these other recipes using blood oranges if you find yourself loving them or in excess:
Here's some dinner inspo with blood oranges -- just roasting them with your chicken. Genius!
Blood Orange cocktails? With rosemary? Of course I need a cocktail to get me through the rest of winter.
Popsicles in the winter time? I'll try them!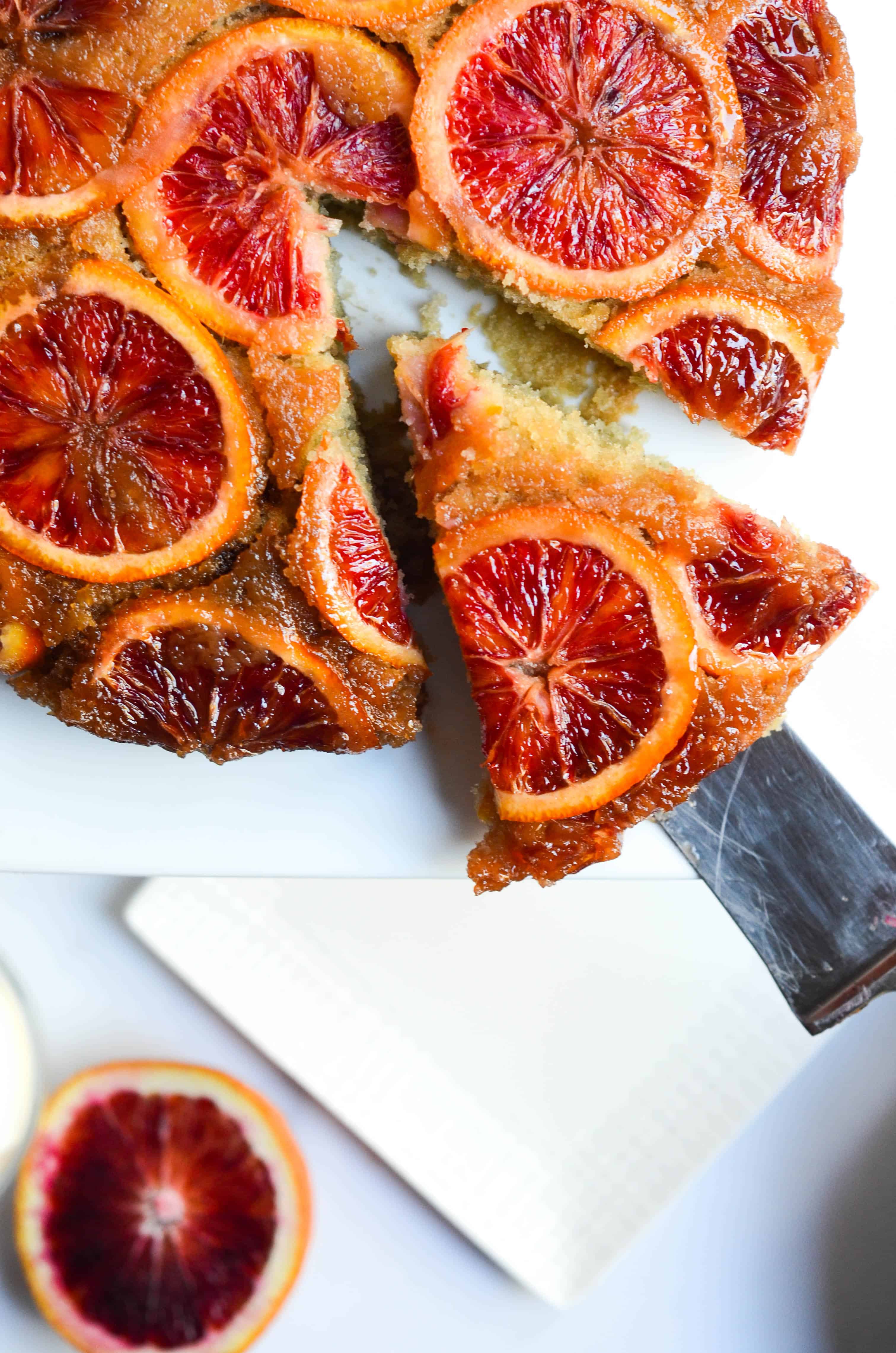 xox
kathryn
As always, if you make anything from the blog, be sure to let me know! I love hearing from you in the comments on this post below or find Worn Slap Out on Facebook, Instagram, or Pinterest!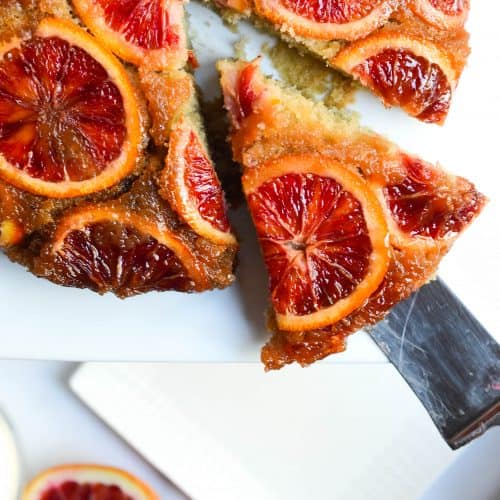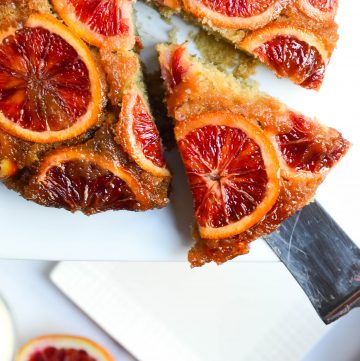 Blood Orange Upside Down Cake
This upside down cake can use any fruit you want -- but this one uses the fresh citrus flavors from blood oranges on top of a vanilla cake with a syrupy glaze. It's like pineapple upside down cake, but even better.
Print
Pin
Rate
Ingredients
For the topping:
¼

cup

unsalted butter, melted

½

cup

packed light brown sugar

2

blood oranges, sliced thin (about ⅛" thick)
For the cake
1 ⅔

cups

all-purpose flour

½

teaspoon

baking powder

¼

teaspoon

baking soda

½

teaspoon

salt

½

cup

unsalted butter, melted

¾

cup

light brown sugar, packed

¼

cup

granulated sugar

1

large egg

¼

cup

yogurt or sour cream

½

cup

milk (any kind)

2

teaspoons

pure vanilla extract

¼

cup

blood orange juice (from one squeezed orange)
For whipped cream
1

cup

heavy whipping cream
Instructions
Preheat oven to 350°F

For the topping: Make ¼ cup of melted butter into a cake pan with at least a 2" tall side. Sprinkle with ½ cup of brown sugar. Start in the middle and place blood orange slices overlapping each other all around the bottom of the pan. Set aside.

For the cake: In a medium bowl, combine flour, baking powder, baking soda, and salt. Set aside. In a large microwave-safe bowl, melt butter in the microwave. Whisk in both sugars until all clumps are broken up. Whisk in egg, yogurt, milk, orange juice, and vanilla extract until combined. Slowly add in dry ingredients until no lumps remain.

Gently spoon batter onto blood oranges resting in pan. Bake for at 40-45 minutes. If cake starts to bur halfway through, you can cover the pan with aluminum foil. Allow cake to cool for exactly 10 minutes.

Invert cake quickly on top of a cake stand or flat platter. Slice and serve with fresh whipped cream (to make: beat heavy cream in a stand mixer using whisk attachment until medium peaks form.
Notes
To take cake out of pan: Only wait 10 minutes before turning your cake upside down.  Any more time will cause the fruit to stick to the top of your pan and any sooner will not be enough time for the cake to set.
Strange instructions: Store wrapped in the refrigerator (once completely cooled) for 3 days.