Maryland born and bred, these are my husband's Maryland Baked Crab Cakes, using jumbo lump crab meat and very little filler!
I know I've written before how some of the dinner staples we enjoy are some of the hardest for me to write about because I feel like no words could do the meal justice or convey just how much I love the recipe. This recipe for Maryland Crab Cakes is not even my own -- it's my husband's -- but it's a favorite in our household. It's also one of the few times you'll catch me eating mayonnaise willingly (this cole slaw being one of the others).
This time the Southerner has to learn from a native Marylander to learn how to make the best crab cakes. I didn't say this was going to become the norm...I just said I'm listening to my husband for just this one recipe. Don't want anyone getting any ideas or anything.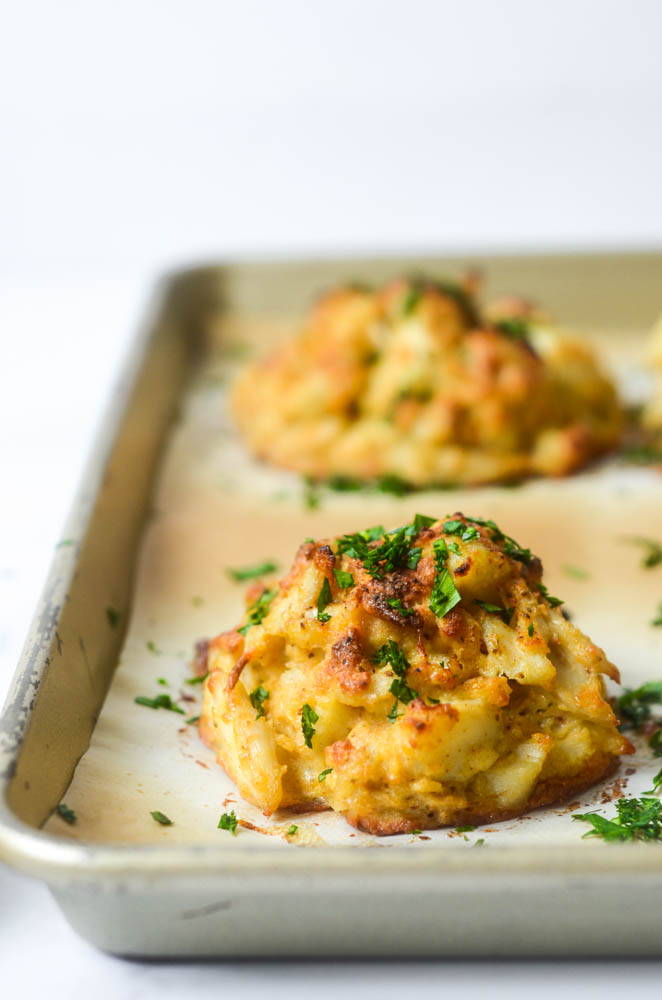 What makes a great Maryland crab cake?
Plenty of Old Bay. Old Bay is the official spice of Maryland and if it's actually not, then it should be. Do states have official spices?
Uses jumbo lump crab meat. These crab cakes use those big, off-white hunks of crab meat, not the little tiny pieces of crab meat. This is a serious crab cake.
Not a lot of filler. There's only ¼ cup of Saltine crackers used here -- no breadcrumb nonsense.
Large and in Charge. These crab cakes are formed in a dome-shape and are large and in charge. There's plenty of surface area for the edges to be crispy while the inside is tender.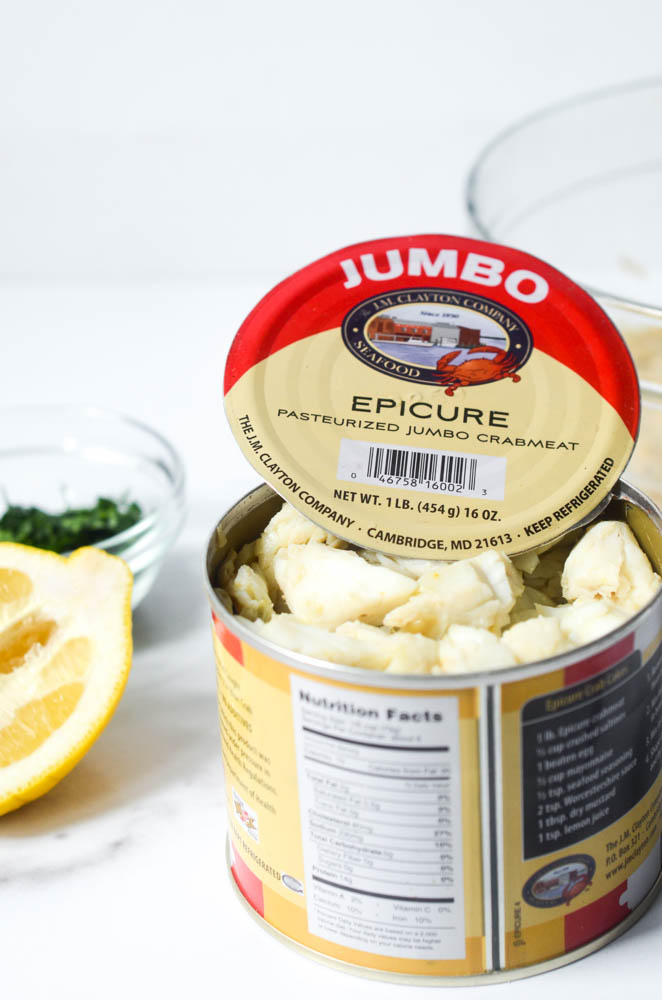 How to Make Crab Cakes with Canned Crab
It's as easy as throwing all of the ingredients in a bowl (minus the butter) then using your hands or a spoon to mix everything together.
Form medium-sized mounds (I like them with a dome instead of super flat...but that's, again, how my husband makes them. You do you.) in the palm of your hand. Transfer to a baking sheet. Add a stick of butter on top, sprinkle even more Old Bay on top of that...and HELLO! Into the oven they go for a few minutes before they bathe under the broiler for a couple more minutes to get the tops extra crispy.
How easy is this recipe?!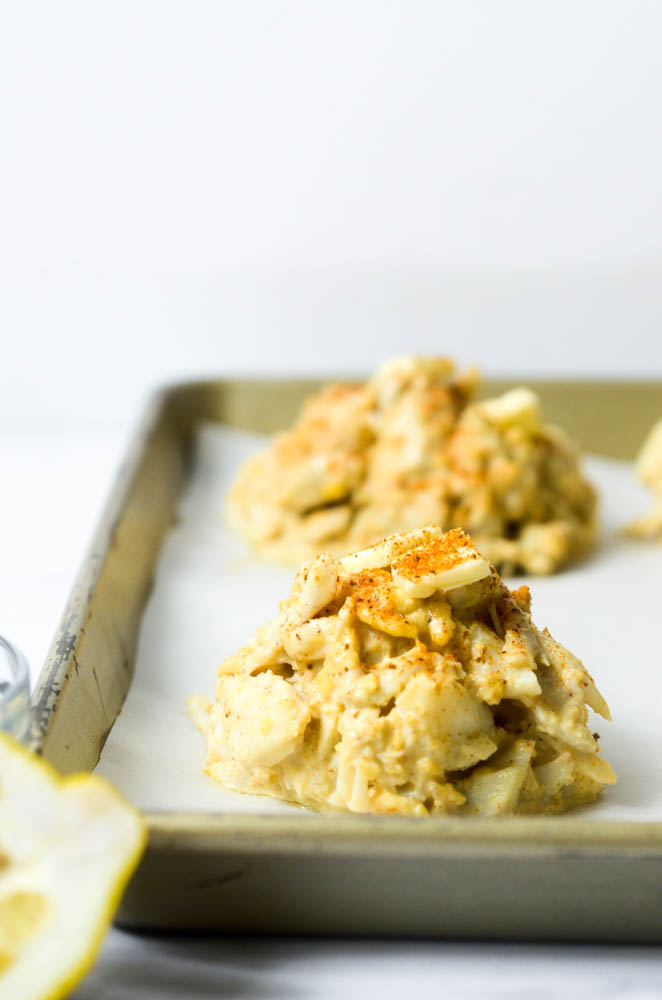 How to Keep Crab Cakes from Falling Apart
This is one of the most commonly asked questions -- and the answer is you don't! These crab cakes have very little filler (only ¼ cup of saltine crumbs), so when you form them into mounds, all the ingredients won't form perfectly formed cakes. They should barely just be shapeable in your hands and from your palm, slide them on your baking sheet.
If your crab cakes don't hold any shape whatsoever, no biggie. Throw the crab cake mixture in the refrigerator for at least 20 minutes before trying again.
Once the crab cakes are the in the oven, the heat will start binding the ingredients together, so you're left with a solid crab cake, not a pile of messy crab meat.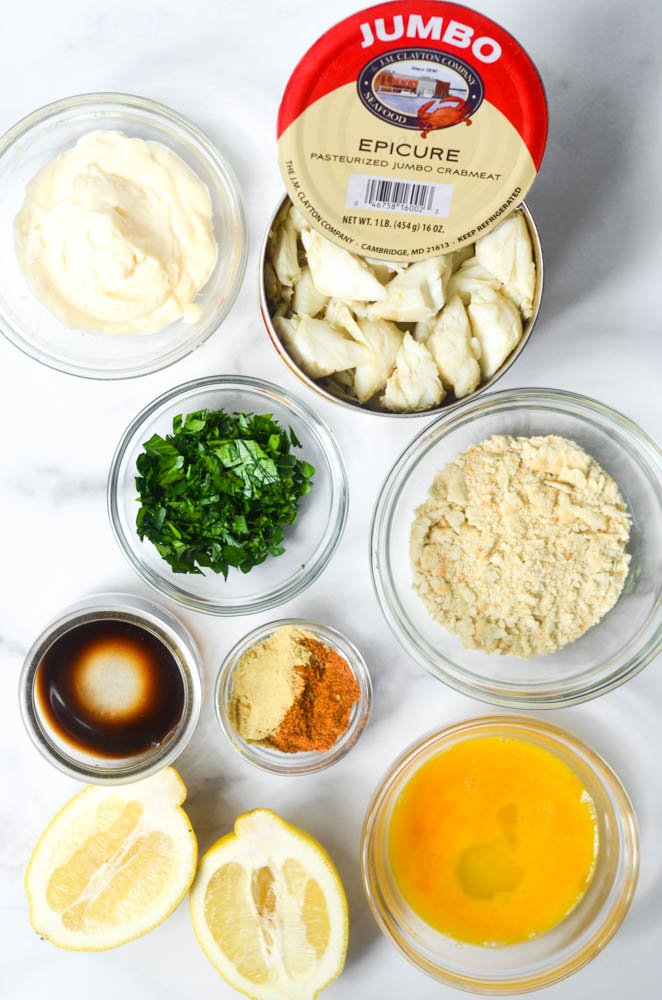 How Long Should You Cook Crab Cakes at 425˚F?
Bake them for 10 minutes and then stick them under the broiler for an additional 2-3 minutes.
What is the best meat to use for crab cakes?
Definitely use jumbo lump crab meat. Jumbo lump crab meat comes from the crab's fin muscles, so you need a lot of a crab's fin meat to make crab cakes. This is why this is the most expensive crab meat. It's also the most delicious though.
Jumbo lump crab meat gives you those big bites of off-white crab (not the grey stuff), which is the best part about the cakes. It's well worth the additional dollars. We get ours from Whole Foods -- right near the seafood counter.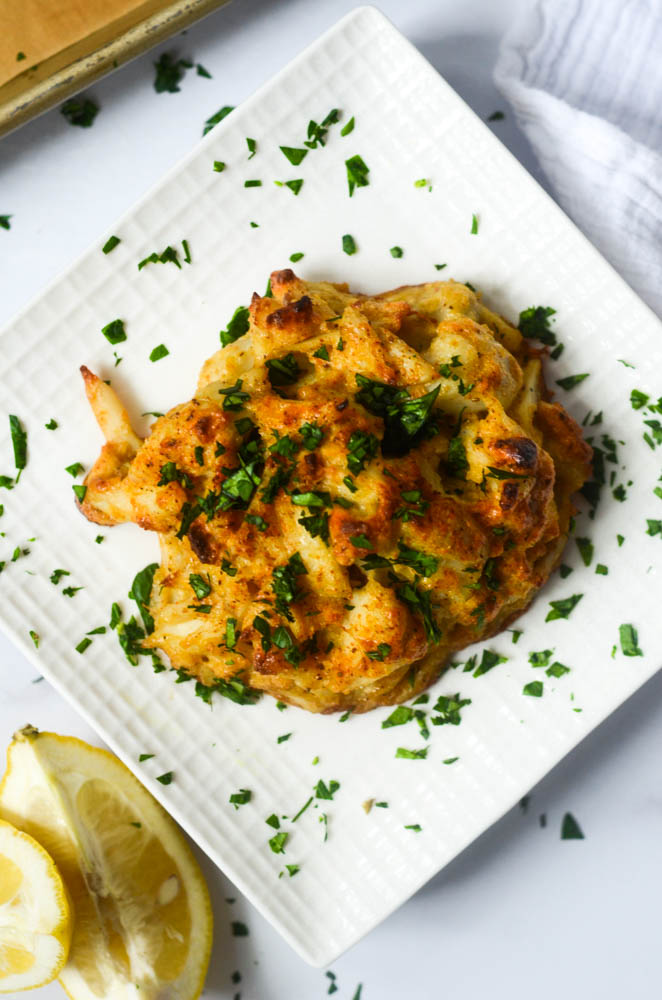 What to Serve Alongside
Wondering what to serve with your baked crab cakes? Corn is the most obvious and the most delicious crab cake dinner side, but there's so many: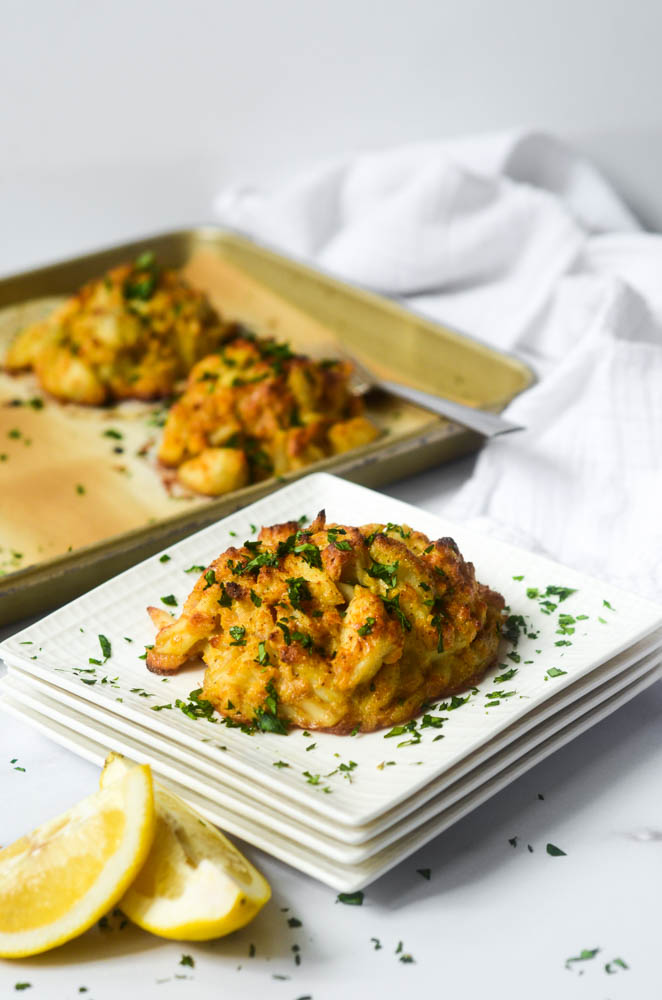 Let's soak up these last few days of summer!
xox,
kathryn
As always, if you make anything from the blog, be sure to let me know! I love hearing from you in the comments on this post below or find Worn Slap Out on Facebook, Instagram, or Pinterest!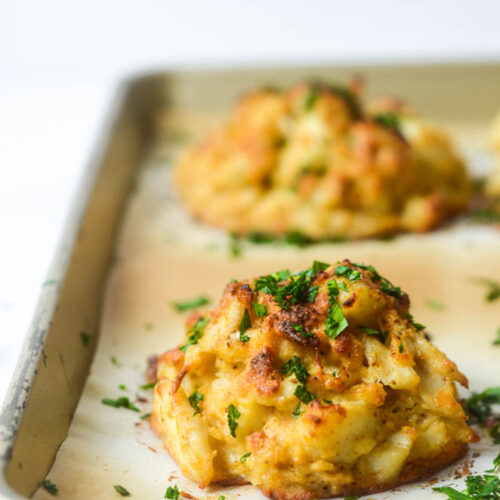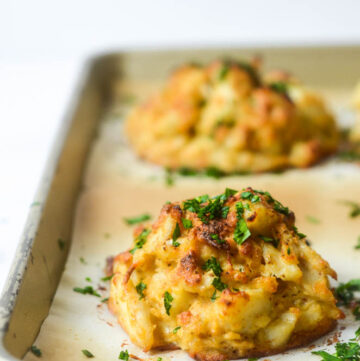 John's Maryland Baked Crab Cakes
Maryland born and bred, these Maryland Baked Crab Cakes are my husband's secret recipe -- and obviously the best around!
Print
Pin
Rate
Servings:
5
large crab cakes
Ingredients
1

pound

jumbo lump crab meat

1

egg, beaten

2

teaspooons

Worcestershire sauce

1

teaspoon

dry mustard

2

Tablespoos

mayonnaise

2

teaspoons

lemon juice

1

Tablespoon

Dijon mustard

¼

cup

saltine crackers, crushed

1

Tablespoon

Old Bay, plus more for on top

1

Tablespoon

unsalted butter, sliced into 5 pads

parsley, chopped (optional for garnish)
Instructions
Preheat oven to 425˚ F. Line a baking sheet with parchment paper or aluminum foil for easy clean-up.

Add all ingredients except for the butter in a bowl. Mix with hands or spoon until all ingredients are combined. Form into 5 medium-sized mounds (the won't be too moldable because there's little filler -- that's okay. If you can't even form a mound without the cake falling apart, stick in the refrigerator for at least 20 minutes). Transfer each cake to baking sheet. Place pad of butter on top of each crab cake. Sprinkle additional Old Bay on top of the butter.

Bake for 10 minutes. Stick under the broiler for an addition 3-5 minutes. Let cool for a few minutes before serving! Enjoy!
Notes
Make Ahead: Make crab cakes (don't bake) the night before you're going to eat them. 
Leftovers: These crab cakes keep really well. Reheat in the microwave or place them back in the oven at 350˚ for about 15 minutes.