These pan seared lamb chops have a generous amount of rosemary and garlic, take 10 minutes, and are eaten right off the bone. They're our go-to weeknight dinner and one of our all-time favorite meals.
If you don't eat a lot of lamb, this is one of the greatest recipes to start with. These rosemary and garlic lamb chops require only 4 ingredients, are made in one pan, and is just one of the most delicious weeknight dinners imaginable.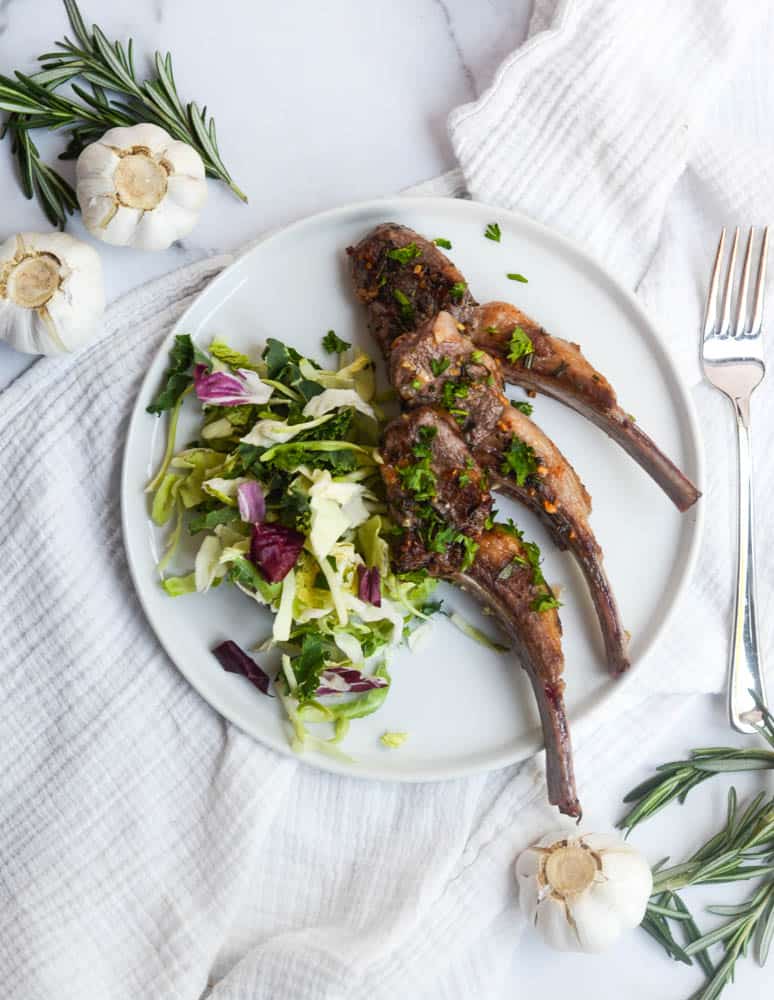 The lamb chops get a rosemary and garlic massage then are pan fried, starting with the fat side down to render the fat. This creates an incredibly flavorful lamb lollipop.
And did I mention easy clean up?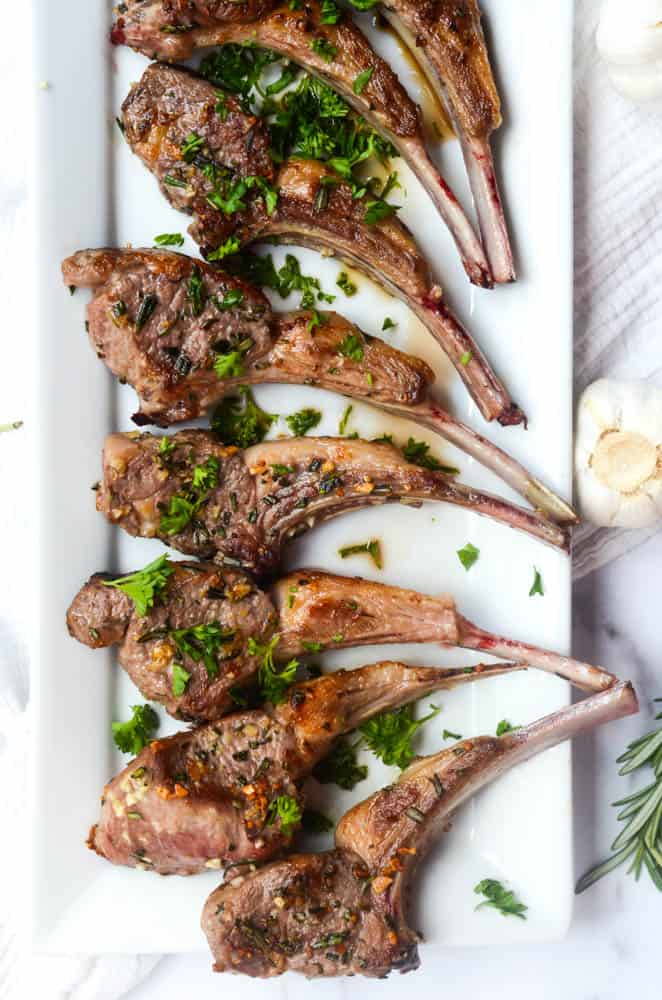 Guess who has the best lamb? The answer may surprise you.
I know Costco is the place to buy toilet paper, paper towels, and other random dry foods in bulk, but did you know they have the best New Zealand lamb racks around? The lamb is mouth-wateringly delicious, and we always pick up at least two racks every time we go (or get Instacart...because you know I have beef with the anxiety that Costco shopping produces).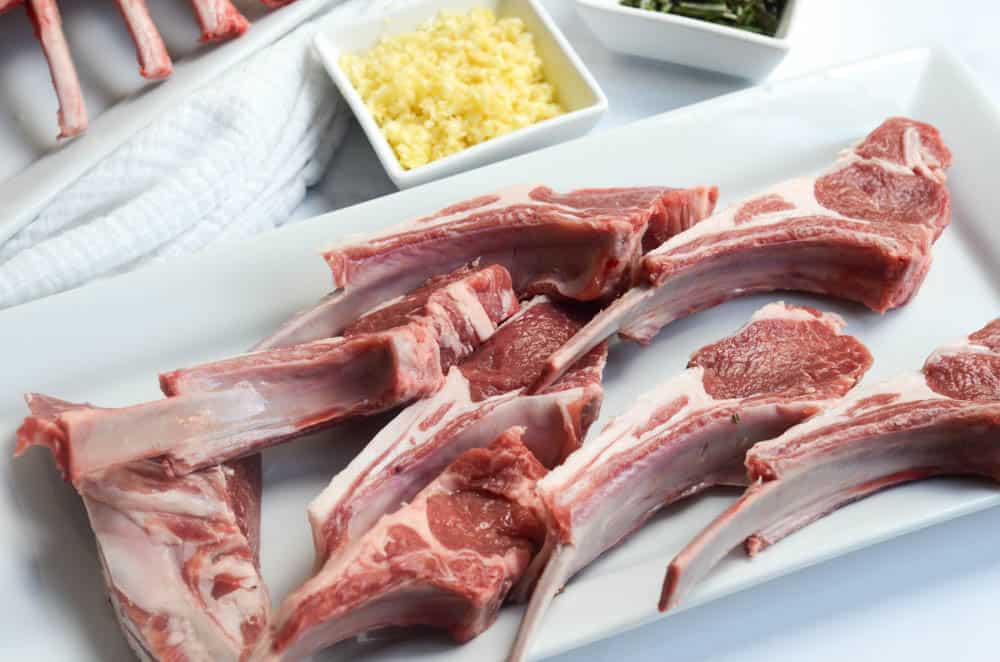 Simple is perfect
And simple these lamb chops are. Here are the ingredients you'll need:
2 racks of lamb (about 16 lamb chops)
olive oil
garlic
rosemary
salt and pepper
That's literally it. The key is to not be shy about coating the lamb chops in all of the ingredients though. 6 garlic cloves and 3 Tablespoons of rosemary may sounds like a lot, but it's really the key to making these lamb chops so flavorful.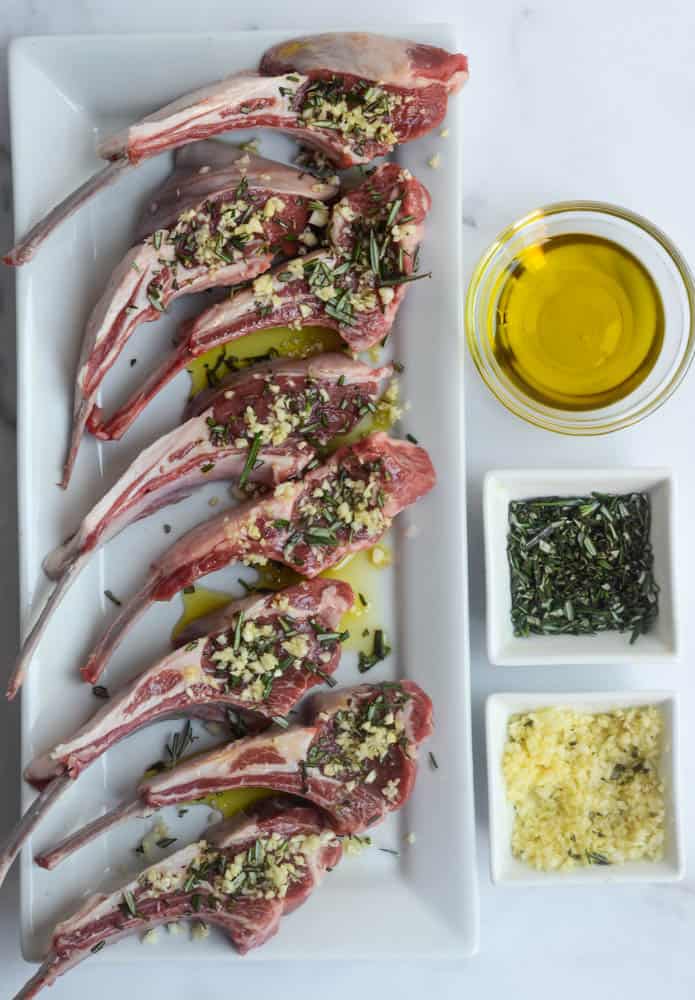 Rendering the Fat: Order Matters
When you pan fry your lamb chops in a non-stick skillet, there's no need to put any more olive oil down because the lamb chops already have olive oil all over them and, more importantly, you'll render out the fat by laying the lamb chops top side down. This means the bone will be sticking up and the chops will be laying upright. This makes some of the good fat melt to the bottom of the pan and makes the chops that much more flavorful.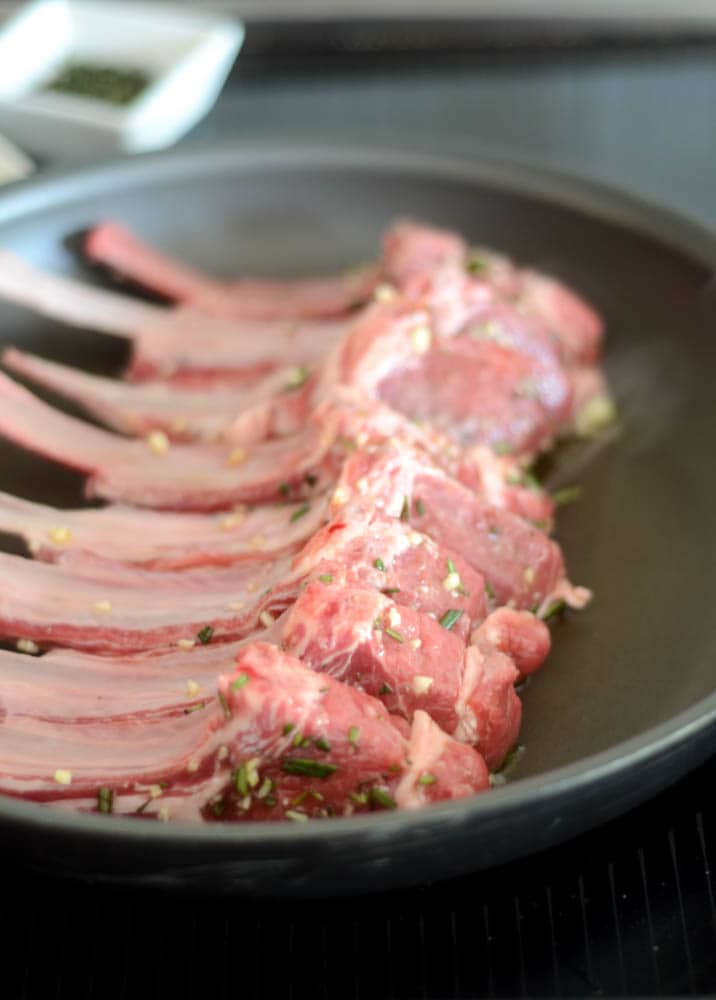 Once you've cooked lamb chops for 2-3 minutes, you'll then flip the lamb over and cook each side for 2-3 minutes each.
If you're doing the math, that's less than 10 minutes of cooking total.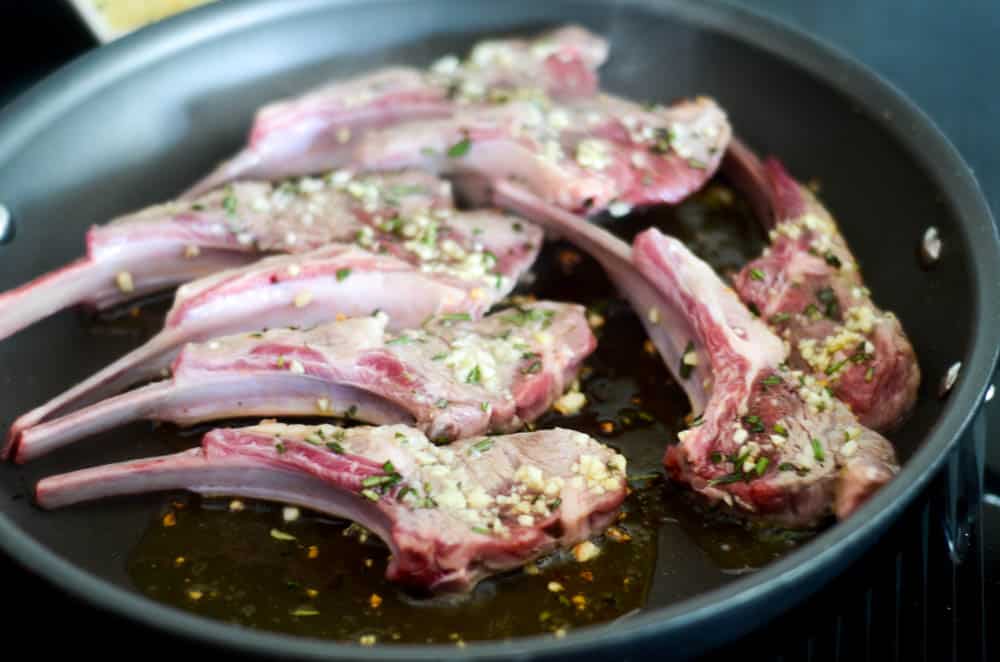 And you're done!
What to Eat With Your Pan Seared Lamb Chops
Try these sides to eat with your lamb: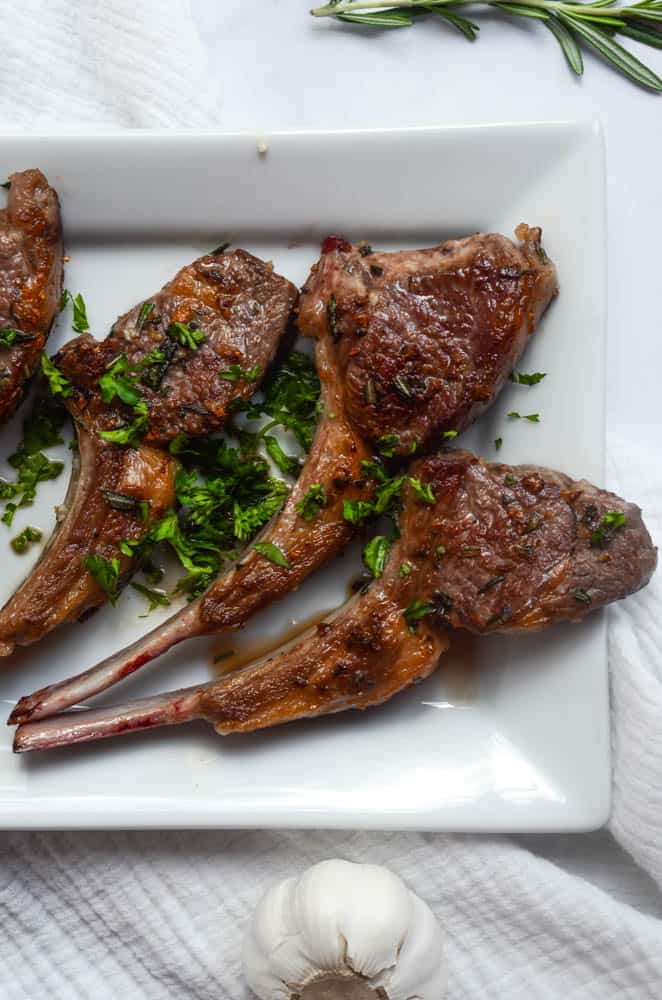 xox,
kathryn
As always, if you make anything from the blog, be sure to let me know! I love hearing from you in the comments on this post below or find Worn Slap Out on Facebook, Instagram, or Pinterest!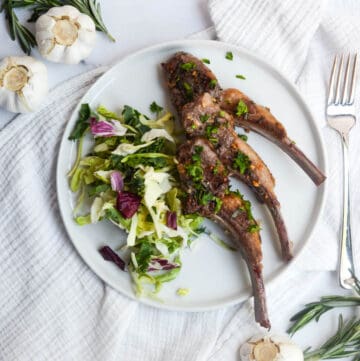 Pan Seared Lamb Chops with Rosemary and Garlic
These pan-seared lamb chops have a generous amount of garlic and rosemary, require one pan, take 10 minutes, and are eaten right off the bone. They're one of our favorite weeknight dinners!
Print
Pin
Rate
Ingredients
2

racks fo lamb, cut into chops

4

tablespoon

olive oil

6

cloves

garlic, minced

3

tablespoon

rosemary, finely chopped

salt + pepper
Instructions
Rub lamb chops with olive oil and press garlic and rosemary mixture on either side of the chops.

In a non-stick skillet over medium-high heat (wait until pan is sizzling hot), place lamb chops tops side down first (fat side) to render the fat. Cook for 2-3 minutes. Flip lamb chops over on their side and cook for another 2-3 minutes. Flip on other side for same 2-3 minutes.

Remove from pan and enjoy!
Notes
For medium/medium-rare lamb chops, you'll definitely want to only cook for 2 minutes per side (total of 6 minutes).  For medium to medium-well lamb chops, 3 minutes per side is perfect. 
Storage: Store lamb chops in refrigerator.  They'll be good for 3-4 days.