Chocolate pots de crème is a much-easier-than-it-looks French dessert that's a hybrid between a pudding and a custard. Inspired by DC's Le DIplomate, it's served with gently whipped cream and cocoa nibs. Chocolate lovers, unite!
It's almost summertime, y'all! That means so many things: trips to the pool, late, summer nights sitting outside watching the kids play, long walks to get ice cream, and...SOLICITORS.
Sweet, sweet solicitors.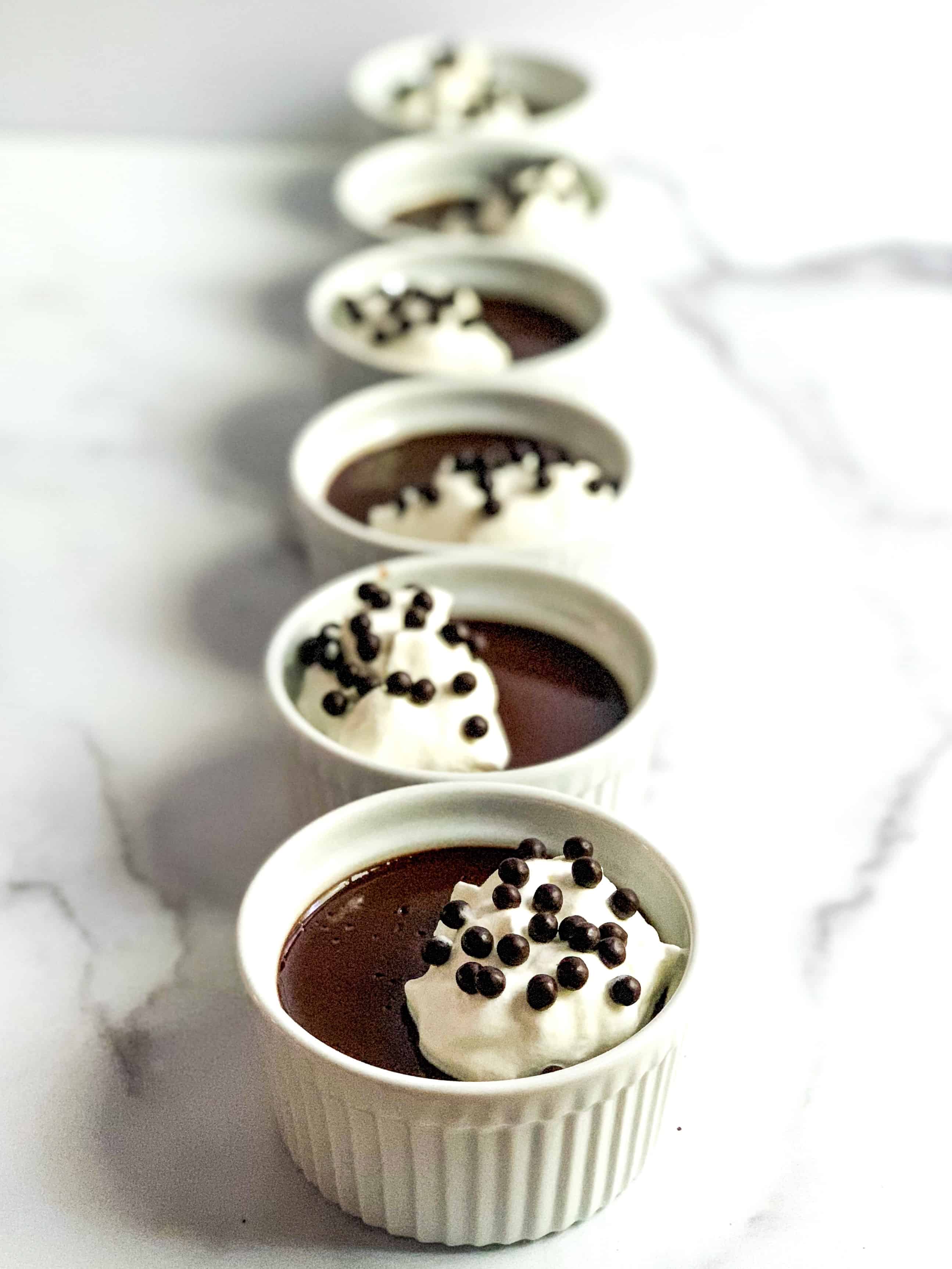 Why do solicitors pray on you during your happiest moments? The other night I was making pots de crème and a very friendly yet persistent man came to my door trying to convince me our roof and gutters needed to be replaced. I should have just said, "I'm busy! Sorry!" but my usual response no matter what they're trying to sell/present to me is, "My husband does that! No thanks!" and try to look even more frazzled than normal (which is not hard to do when you have two kids leeched onto you). It works. Let me tell you -- tried and true, baby. My husband does a lot of things. Sometimes he's a cable guy, landscaping crew, Jehovah's Witness, campaign worker, you name it. John does it all.
This clearly has nothing to do with my recipe today other than I was making this when solicitors came by...but this weather sure brings on the crazy. Let's cut to the chase though: you need to make pots de crème ASAP.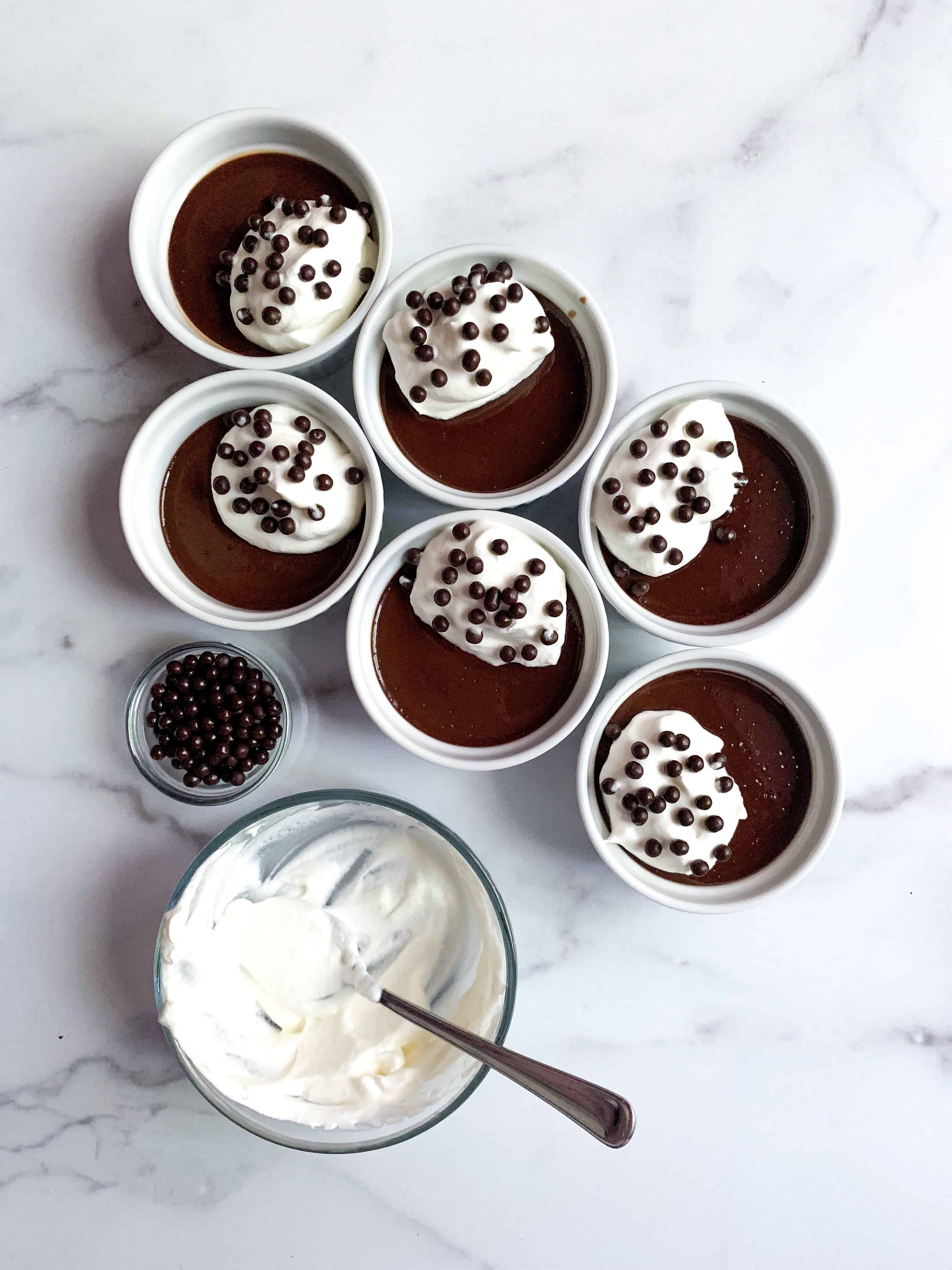 What are pots de crème ?
Pots de crème (aka pots of cream) is basically a fancy pudding or custard originating in France. It's more of a custard than pudding though because it uses egg yolk instead of cornstarch as the thickening agent.
I first had chocolate pot de creme at our favorite French place in DC -- Le Diplomate. You can barely get a table there, but when you do, you order everything on the menu that's slathered in cream and butter, wear pants with an elastic waistband, and go for it. They serve the most amazing pot de creme topped with a generous amount of gently whipped cream and coca nibs, so naturally I'm going to do the exact same. I buy my cocoa nibs here at Sur la Table.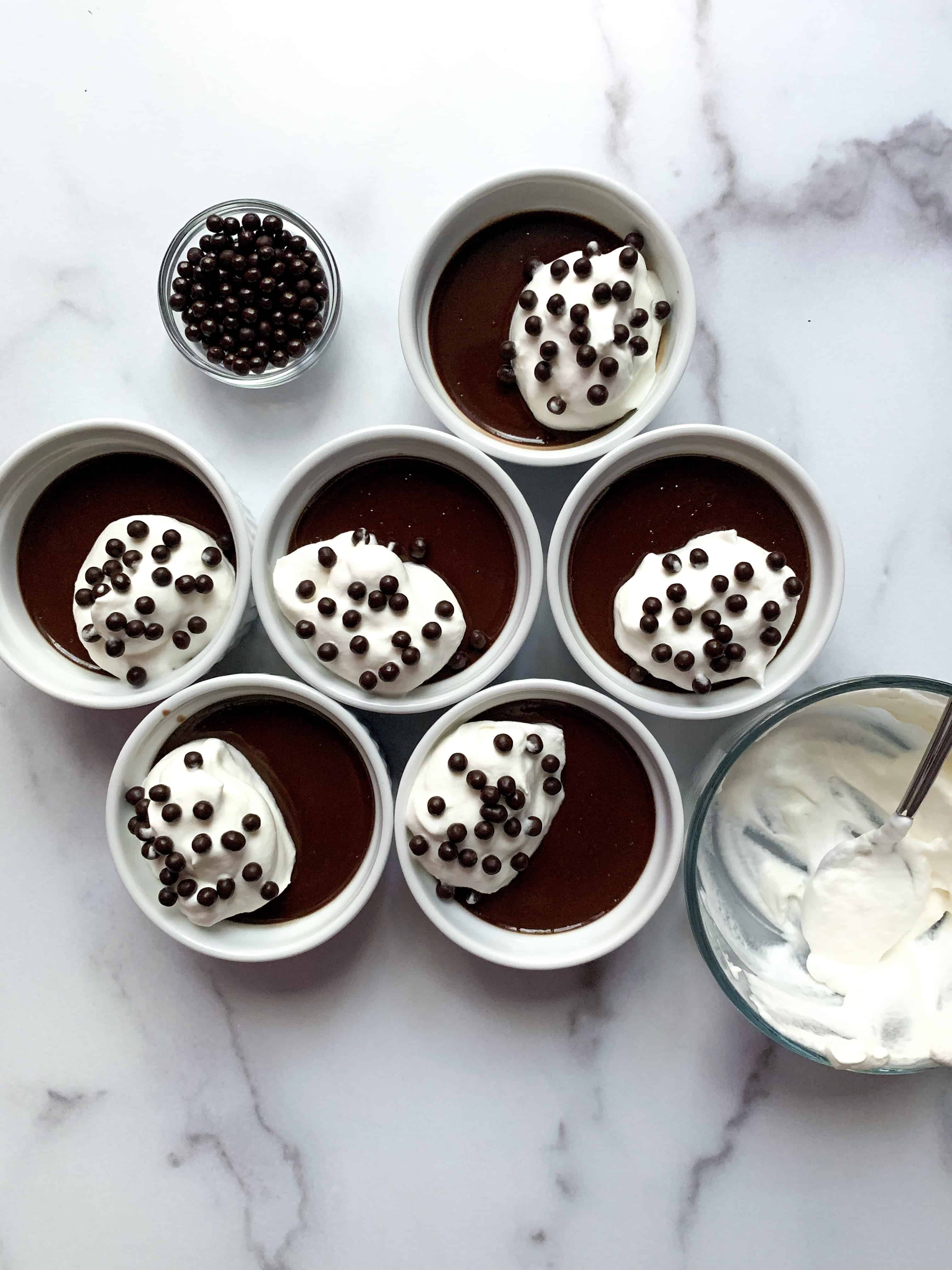 How long does it take to make and do I need any special equipment?
It takes less than 10 minutes of active time - which is kiss-the-fingers worthy. Once it comes out of the oven, it'll need about 30 minutes to cool and another 3 hours to firm up in the refrigerator, so it's not a dessert you can eat immediately...but it's effortless to actually make. Just plan ahead.
There is no special equipment. I repeat there is no special equipment (unless, of course you don't own ramekins, and then I supposed you do need special equipment). You need 4-6 ramekins (depending on how much chocolatey goodness you want each person to have) and a 9x13 baking pan.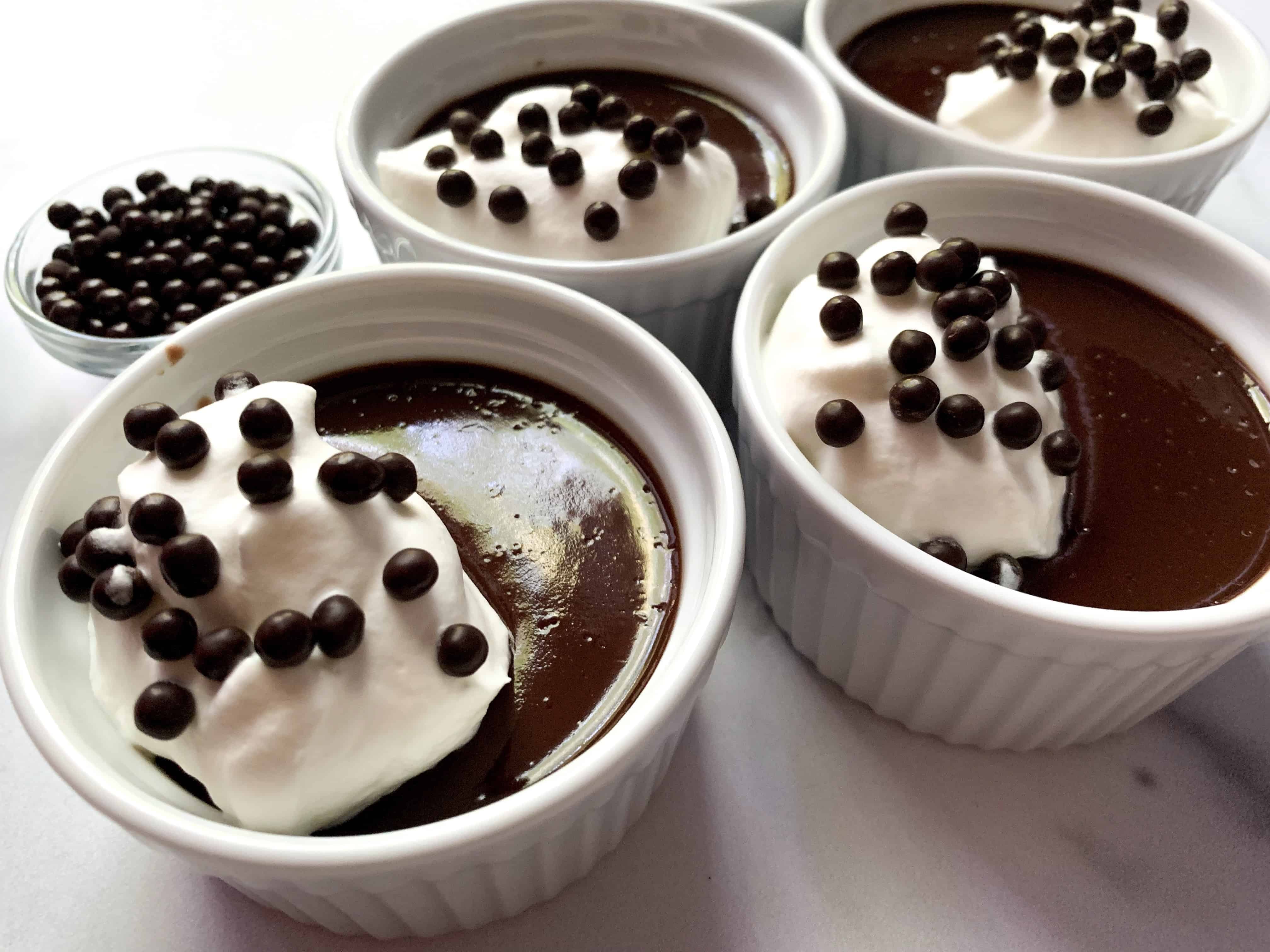 Hope you enjoy!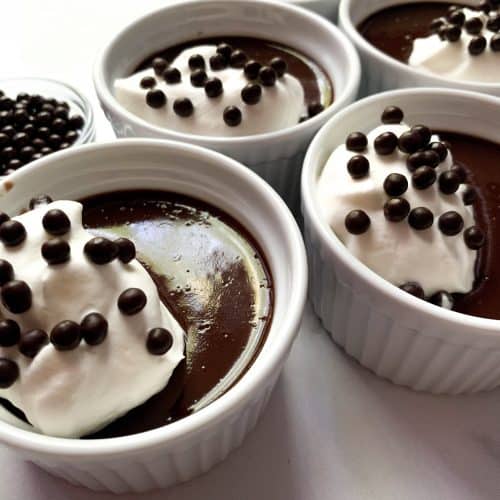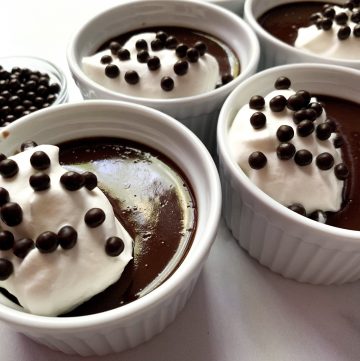 Chocolate Pots de Crème
Imagine if a mousse, pudding, and custard all had a baby together in Paris. That's chocolate pots de crème: smooth, creamy, and full of chocolatey goodness.
Print
Pin
Rate
Ingredients
For the chocolate mixture
1 ½

cups

heavy cream

½

cup

whole milk

5

ounces

semi-sweet chocolate, cut into small pieces

4

egg yolks

2

tablespoon

sugar

⅛

tsp

salt
For the whipped cream
½

cup

heavy cream

½

tsp

vanilla extract

2

tsp

sugar
Instructions
Preheat oven to 300 degrees F. In a medium-sized sauce pan, bring 1 ½ cups heavy cream and milk to a boil. Remove from heat and whisk in chocolate until smooth.

In a medium-sized bowl, whisk together the yolks, sugar and salt. Whisking constantly, pour the melted chocolate mixture slowly into the yolk mixture. Strain combined mixture through a small sieve into another bowl.

Divide mixture between 4-6 oven-safe ramekins. Set cups in a 9x13 baking pan, pouring hot tap water into the pan coming about halfway up the ramekins. Cover pan with foil and cut small holes all around the foil with a knife.

Place baking pan in center rack of oven and bake for 30-35 minutes or until chocolate just starts to barely set. Transfer ramekins to a wire rack until cool. Put ramekins in refrigerator for at least 3 hours before serving.

To make whipped cream: place heavy cream and vanilla extract in a large bowl with whisk attachment, slowly adding sugar. Beat until medium-stiff peaks form. Once chocolate is cooled in refrigerator, garnish chocolate with whipped cream and chocolate beads and serve.
If you make anything from the blog, be sure to comment below or tag me in your creation on Insta @wornslapout!
xox