It's Monday morning, and all I can think about is this chocolate cake. This cake is just everything. There's not much to say about it other that it's an "OMG-if-you-are-a-cake-fiend-(like-me)-and-need-your-fix,-I really-don't-think-there-is-anything-better-out-there" kind of cake. I take back any other chocolate cake recipes I may have posted in the past. I was wrong, and I apologize. It won't happen again.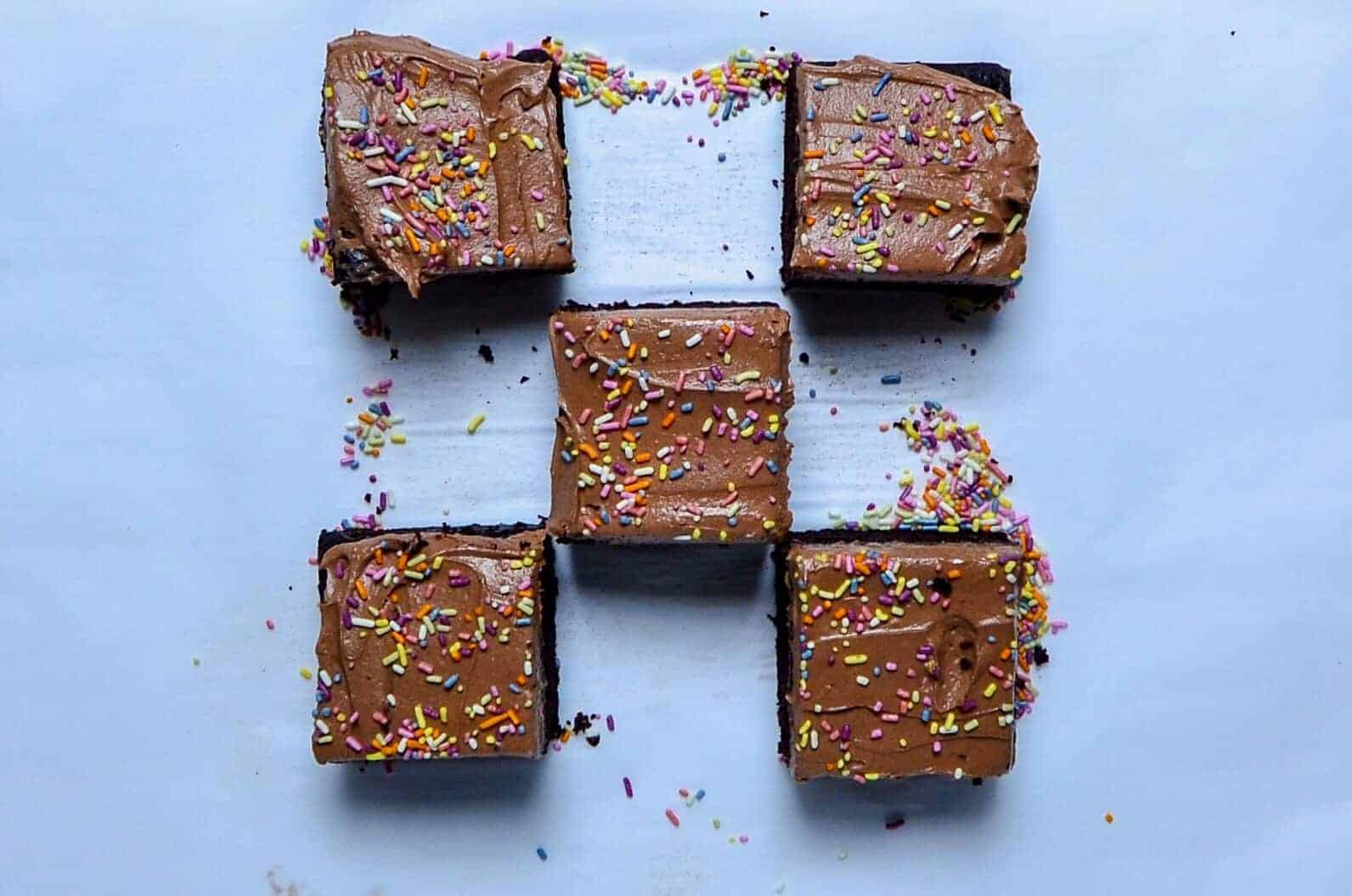 Seriously though -- this cake is so chocolatey and delicious...dare I say the word MOIST?! This frosting tastes like Georgetown Cupcake's milk chocolate frosting...but now I don't need to pay their prices to enjoy it. It's loaded with all the butter you could possibly want (or need for that matter) and is just so worth the 98734 calories.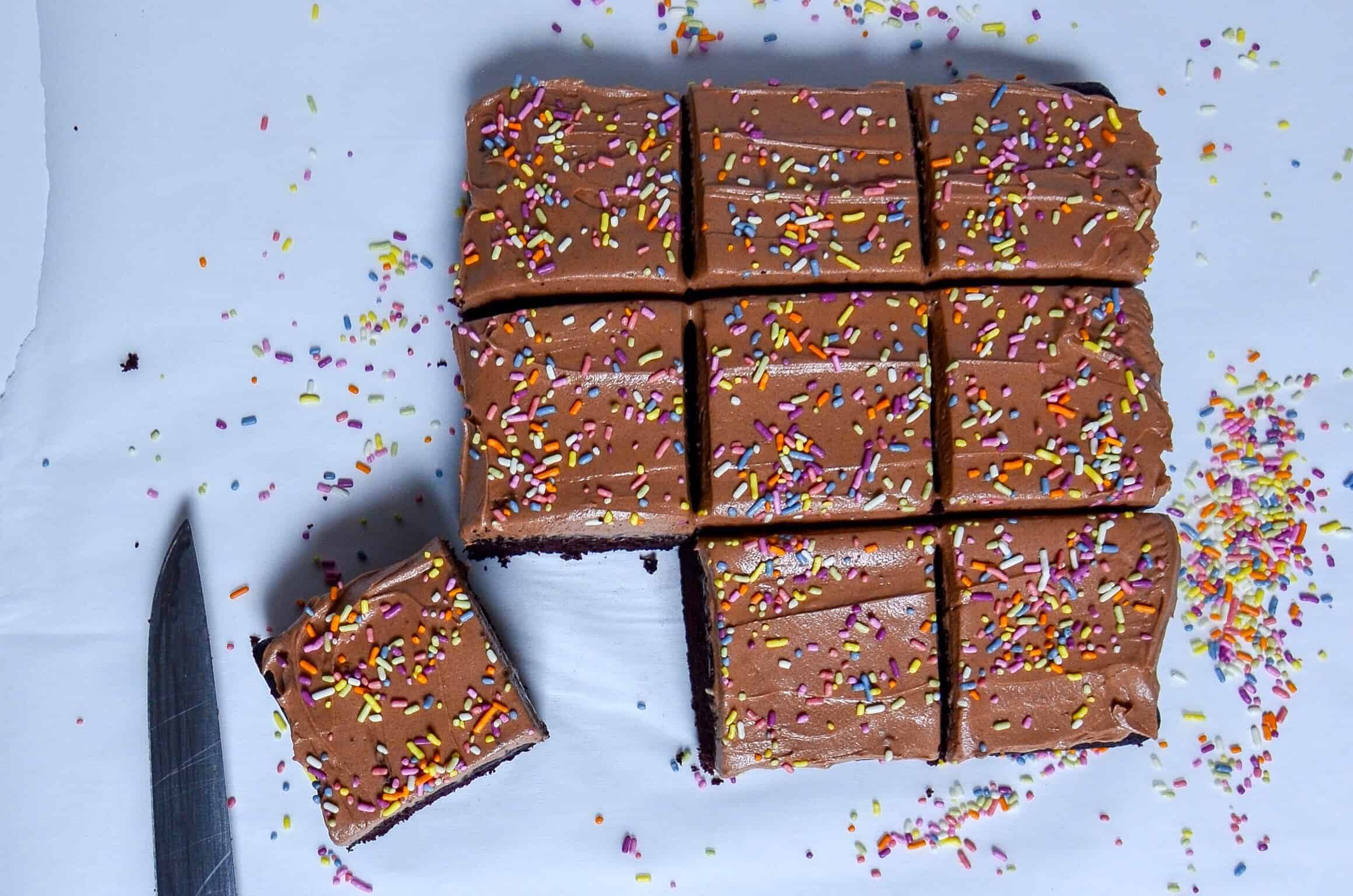 Sarah Kieffer, whose recipe this comes from, calls it her chocolate snack cake, but to me, it's more than that. I hope she will allow me the liberty to rename it the Chocolate Lifestyle Cake from here on out because it's more than a snack cake to me. I don't mean to over-hype this cake, so I should probably stop now, but it's just so damn good.
In other news, I'm working on my photography skills. Can you tell??! I have dusted off our Nikon we received as a very sweet (and oh so fancy!) wedding gift from some dear friends and am putting it to some good use. This cake was my first subject! (Did you notice the piece of cake that's turned the wrong way? Yep...that was my two year old trying to sneak the piece into her mouth before I saw, and I didn't realize it was turned. I also realized she dipped her fingers in the frosting in the first pic.)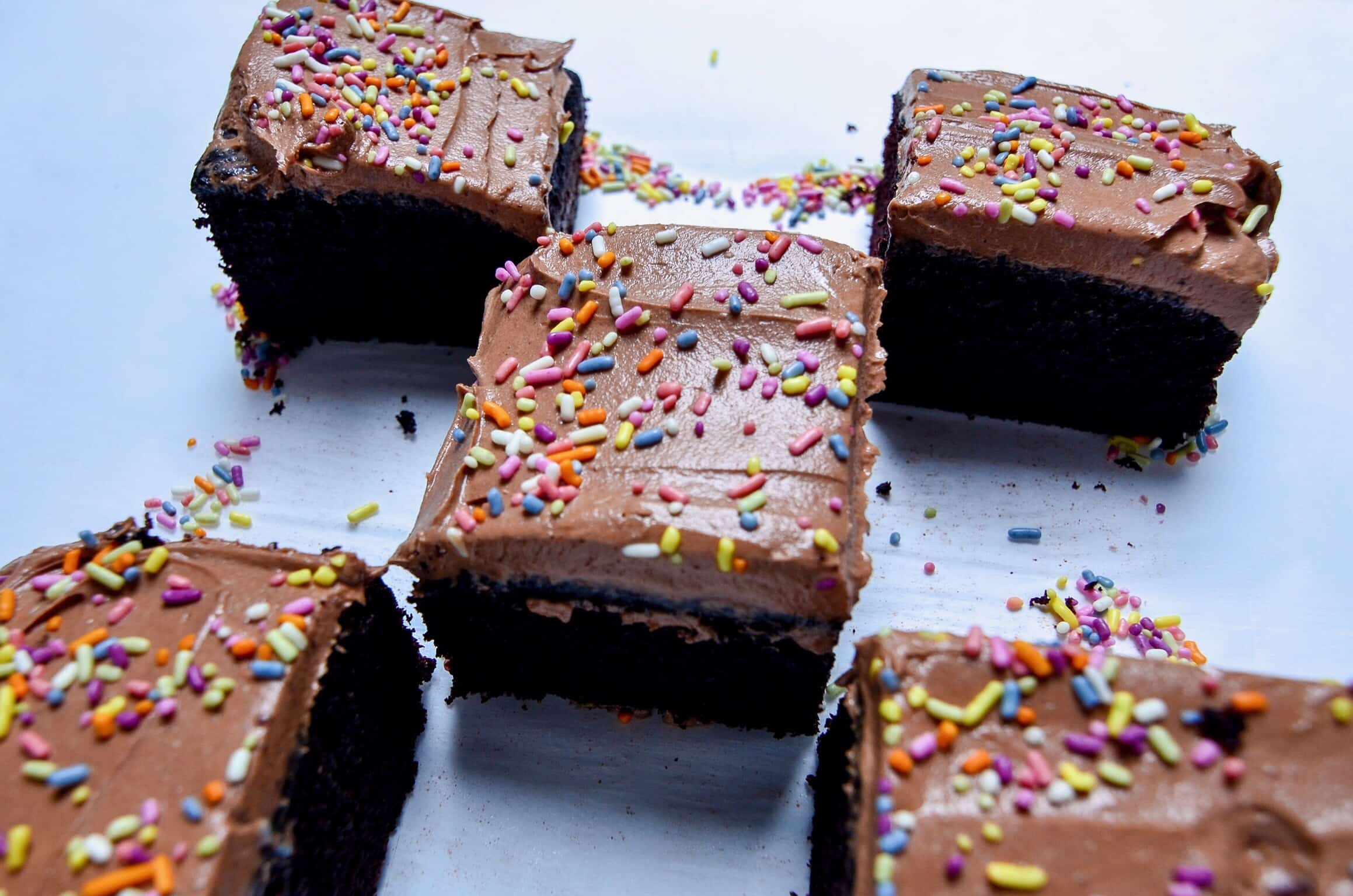 Recipe from The Vanilla Bean Blog.  Sarah is a baking idol of mine!  Check her out if you haven't already.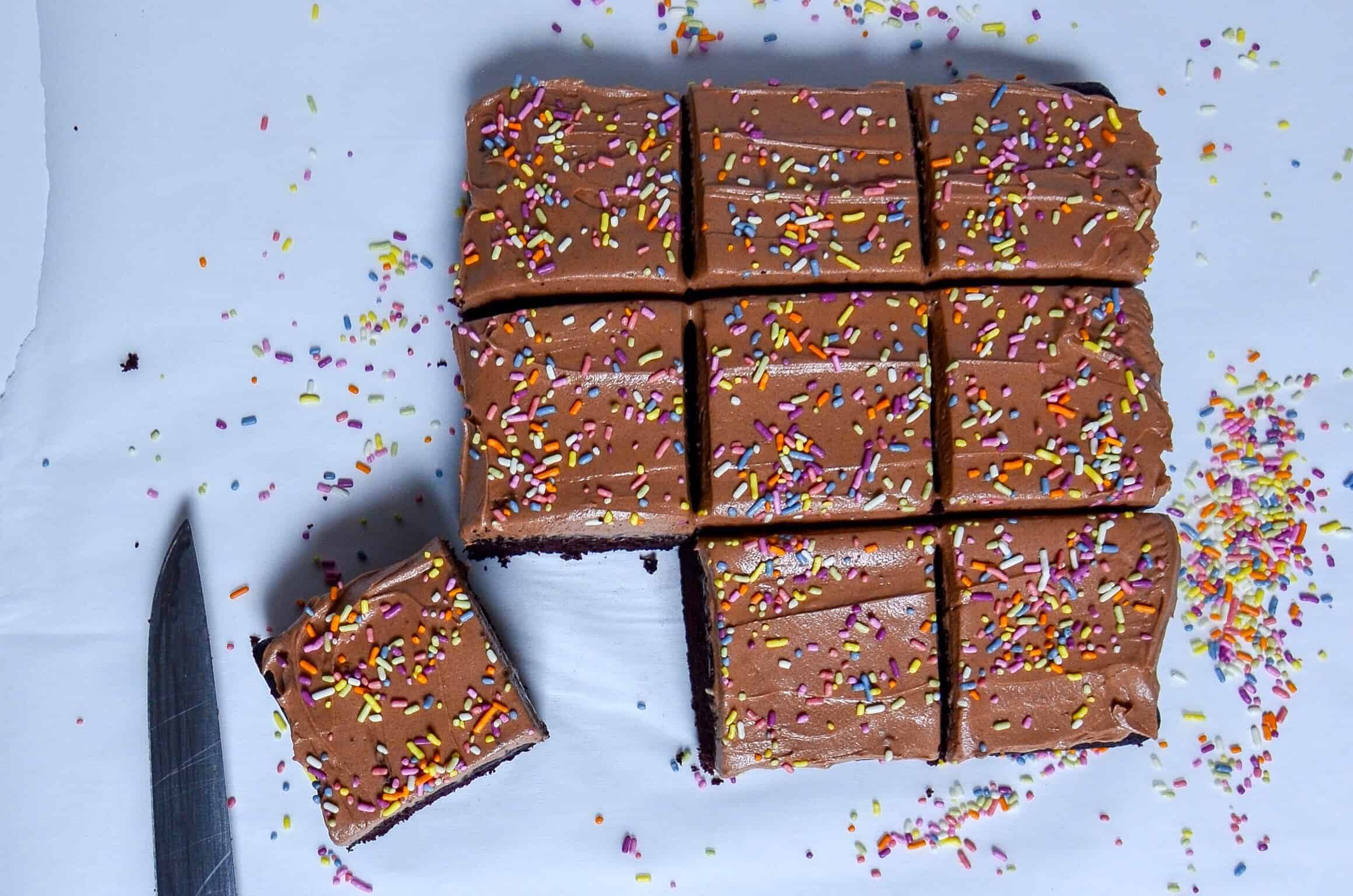 Ingredients
For the cake:
3

ounces

bittersweet chocolate

1

cup

hot water

½

cup

sour cream

½

cup

whole milk

½

cup

canola oil

3

large eggs

room temperature

1

teaspoon

pure vanilla extract

2

cups

all-purpose flour

2

cups

granulated sugar

¾

cup

Dutch process cocoa powder (I used the fancy stuff...Valrhona...and don't regret it one bit)

2

teaspoons

baking soda

1

teaspoon

baking powder

1

teaspoon

salt
For the chocolate buttercream:
8

ounces

semisweet chocolate, chopped

1 ½

cups

3 sticks unsalted butter, room temperature

1

teaspoon

pure vanilla extract

2

tablespoons

corn syrup

¼

teaspoon

salt

2

cups

confectioners' sugar

Sprinkles

if desired
Instructions
For the cake:
Adjust an oven rack to the middle position. Preheat the oven to 350F. Butter and flour two 8 by 2-inch square cake pans (I actually used a square and a 8" round) and line the bottoms with parchment paper.

Put the bittersweet chocolate in a small bowl. Pour the hot water over it and cover with a piece of plastic wrap. In a medium bowl or liquid measuring cup, whisk the sour cream, milk, canola oil, eggs, and vanilla.

In the bowl of a stand mixer fitted with a paddle, mix the flour, sugar, cocoa powder, baking soda, baking powder, and salt on low until combined. With the mixer running on low, slowly add the sour cream mixture. Increase the speed to medium and beat until combined, 20-30 seconds.

Whisk the chocolate and hot water together until completely smooth. With the mixer running on low, slowly pour the chocolate mixture into the batter and mix until just combined. Using a spatula, give the batter a couple of turns to make sure it is fully mixed.

Pour the batter evenly into the prepared pans. Bake 25-35 minutes, until a wooden skewer or toothpick comes out with the tiniest bit of crumb.

Transfer the cakes to a wire rack and let cool for 30 minutes. Turn the cakes out onto a half sheet pan lined with parchment paper, remove the parchment paper from the bottom of the cakes, and let the cakes cool completely upside-down (this will help deflate any doming). Once cool, the cakes can be wrapped in plastic and refrigerated overnight or frosted.
For the buttercream:
Put about 1 inch of water in a medium saucepan and bring it to a gentle boil.

Melt the chocolate in a heatproof bowl set over the pan of boiling water, being careful not to let the water touch the bottom of the bowl. Stir constantly until just melted and set aside to cool slightly.

In the bowl of stand mixer fitted with a paddle, beat the butter on medium until light yellow and fluffy, about 3 minutes. Add the vanilla, corn syrup, and salt and beat on medium until combined. Turn the mixer to low and gradually add the confectioners' sugar. Beat at medium, stopping to scrape down the sides of the bowl as necessary, until smooth and creamy, 2-3 minutes. Add the chocolate and mix on low speed until no streaks remain.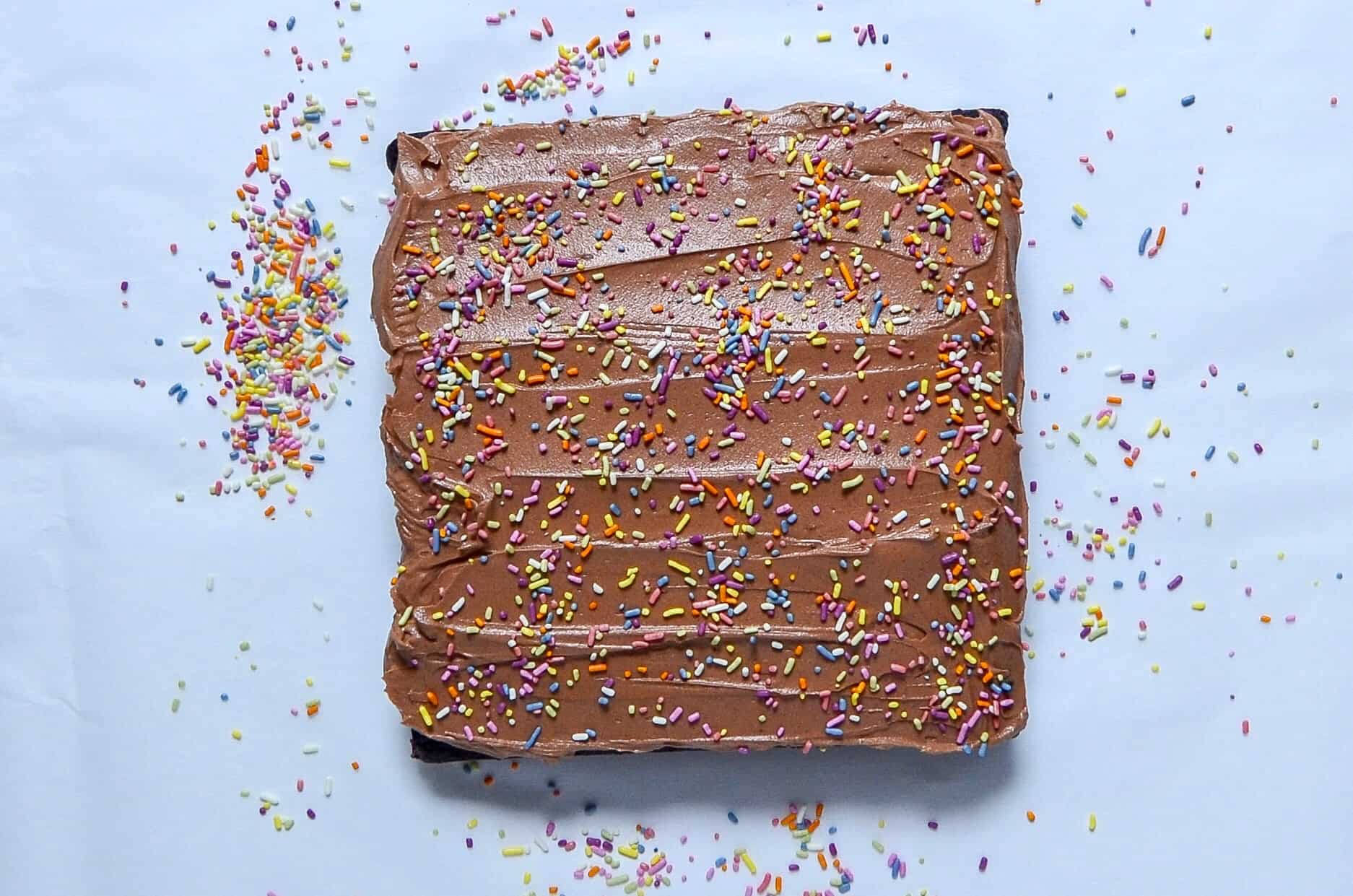 Is there anything left to say than just give this a try today?
And if you try it, use #WornSlapOut and let me know what you think!
xox