A few "secret ingredients" give this dark chocolate cake some serious depth and moistness. It's dairy free, so perfect for those with an allergy or intolerance or if you just don't have butter in the house. It's also easy, easy, so it's a great one to make with kids. Can you ever have too many chocolate cake recipes? We all know the answer to that question!
---
It was you and me versus the world, Connor.
For months.
And months.
There's the normal shock of becoming a mother, and then there's the shock of becoming a mother of a collicky baby, I have realized. These are two very different things. I had heard of colic before Connor was born. It's when a baby is a little fussy and uncomfortable, I thought. Nah. That's not even close to accurate.
Colic stole my joy in the first few months of Connor's life and left me with no peace. Ever. Connor cried all. of. the. time. Not just any cry...like a miserable, heart-breaking newborn cry to let you know he was absolutely miserable, and you have no power to make anything better for this little life you brought into the world. He cried, wriggled, and writhed in pain, his little arms and legs constantly flapping up and down. There's also the sleep deprivation that slowly robs you because collicky babies don't sleep. Connor slept in 45 minute increments if we were lucky, while my friends enjoyed 3 hour stretches (with some even enjoying the full night of sleep from the start...lucky souls!).
All of these things nearly sent me overboard. I literally had visions of getting in my car and driving far, far away. From all of it. Those were some dark, dark days that probably should have been treated as postpartum anxiety or depression, but I was too tired and too screwed up to even think about going to the doctor. Besides, Connor's doctors appointments occupied so much of those early days: the pediatrician, a new pediatrician, lactation consultant, allergist, pediatric GI specialist to name a few. All of these medical professionals told me vastly different things about the next course of action. Plus, once you have your 6 week appointment, the doctors spit you out ready for the next pregnant lady to walk in the door.
Breastfeed. It's best for your baby, especially collicky ones.
Oh my God! Why are you breastfeeding? He's allergic to your milk! Stop!
He has blood in his stool. It's a serious allergy.
No allergy. He just needs to grow out of this. Start him on solids early.
He's gaining too much weight too fast because he's overeating to comfort himself. You can't feed him on demand anymore.
Babies will eat the exact right amount they need. There's no such thing as overfeeding a baby.
He needs super sensitive, prescription formula. Put him on Neocate immediately.
No, he doesn't need formula. He needs you to be on a complete elimination diet.
Those conflicting words from the medical community still make my head spin thinking about them. When you combine sleep deprivation, screaming and crying (from both of us), and medical professionals that all tell you conflicting information, I was completely mentally and physically exhausted and had no ability to make decisions.
But once I got over the initial dark days, I knew I could cry all day everyday or I could step up to the plate with the singular determination every mother somehow finds within them to deal with things you didn't think you could deal with. That's when I decided it would be me and Connor versus the world.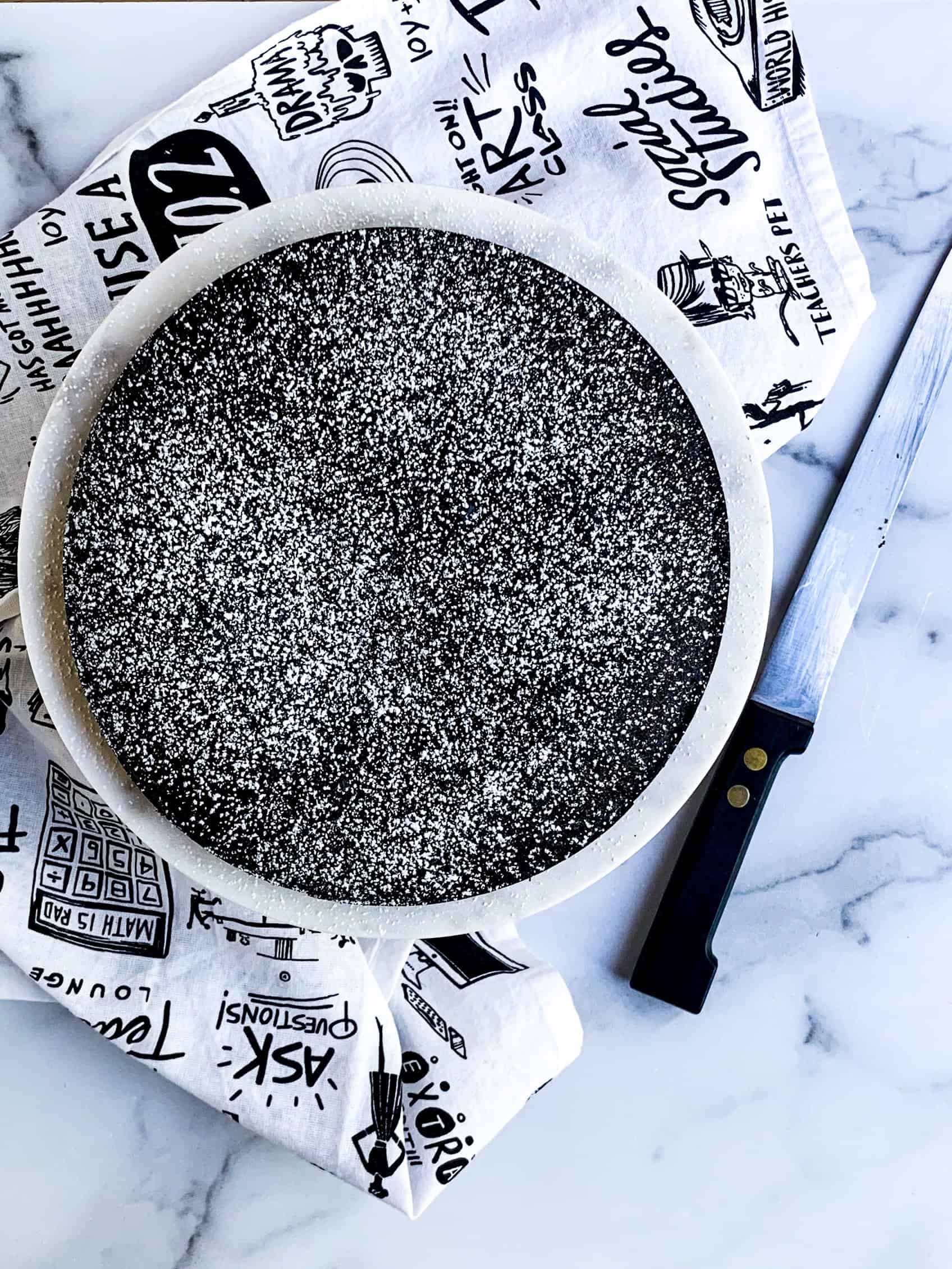 I took him off formula and completely changed my diet. No dairy. No beans or other inflammatory foods. No citrus fruits. No gluten. No corn. No seafood. No soy. No nuts. No caffeine. No eggs unless they were baked in something. No alcohol. When you have to sacrifice literally everything you have (your time to bounce and walk), your sleep, your patience, your diet...you start to go into this survival mode. Connor and I would be victorious. We'd come out on the other side.
This cake reminds me of a dairy-free chocolate cake my mother-in-law made for me during this crazy phase when all I wanted was chicken, macaroni and cheese, mashed potatoes, and a decadent dessert. The best part of Stella Parks's recipe is that it doesn't taste like it's missing anything. It tastes just like chocolate cake is supposed to taste with a bit more complex of a chocolate flavor thanks to the olive oil and graham-iness from the whole wheat flour. The original recipe notes you can use a cheaper and weaker olive oil if you're concerned about tasting too much of the olive oil. I use our Costco brand olive oil that's pretty strong, and it always turns out delicious.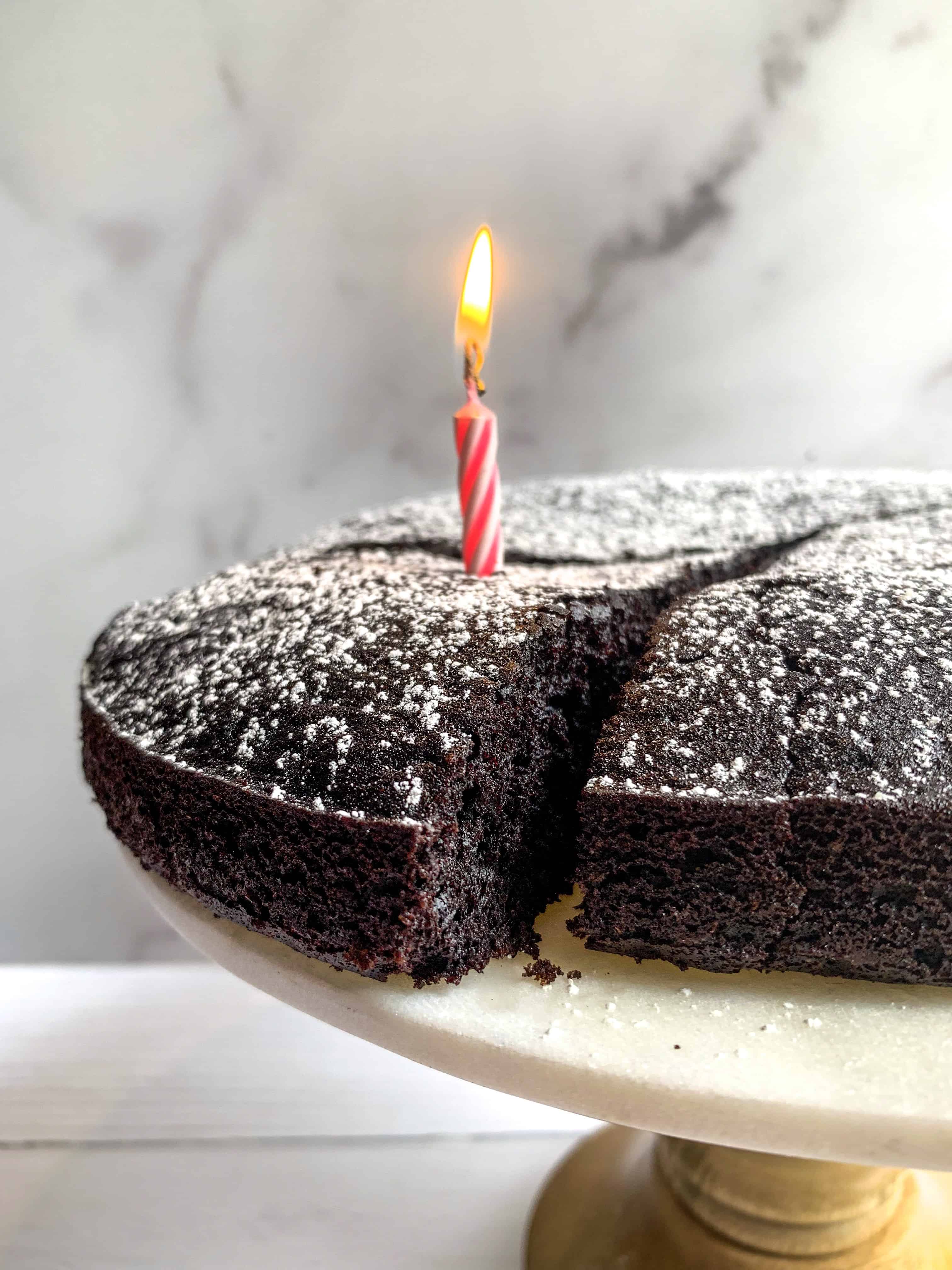 And you want to know how the story ends? Connor's digestive issues improved with time. Formula was better but not perfect. Breastfeeding was fine. Oatmeal cereal and the introduction of solid foods was helpful. I finally thought I. Can. Do. This. around the 9 month mark. Despite what so many doctors had said, it seemed his digestive system just developed slower than other babies and needed more time to kick into full gear. The crying stopped (for both of us). The sleep happened (for both of us). The wriggling and writhing stopped. I even spent two nights in Miami with John to celebrate my 30th birthday and was so sick of the elimination diet that I decided to eat whatever the hell I wanted. Turns out when I got home and fed Connor, he was just fine.
I try not to forget how tough and downright awful those first few weeks and months were. As time passes, the horrors begin to fade, and for a moment I don't think it was as bad as it really was. Time is funny like that.
This cake's for you, little man...when it was you and me versus the world.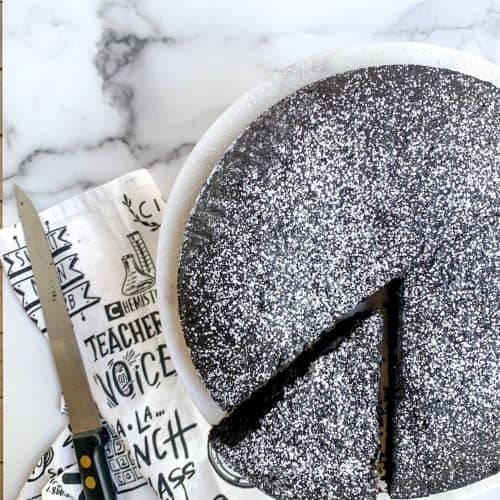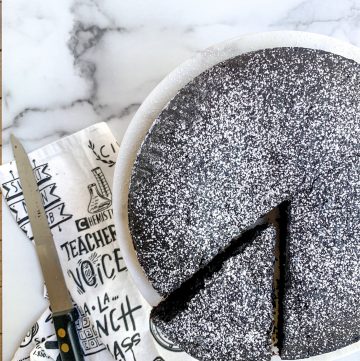 Dairy Free Chocolate Cake
A few "secret ingredients" give this dark chocolate cake some serious depth and moistness. It's dairy free, so perfect for those with an allergy or intolerance or if you just don't have butter in the house. It's also easy, easy, so it's a great one to make with kids. Can you ever have too many chocolate cake recipes? We all know the answer to that question!
Print
Pin
Rate
Ingredients
½

cup

light or dark brown sugar

½

cup

Dutch cocoa

shy ½

teaspoon

salt

¾

teaspoon

baking soda

⅔

cup

high quality extra virgin olive oil

½

cup

brewed black coffee

2

large eggs

1 ½

teaspoon

pure vanilla extract

½

cup

whole wheat flour

+ 2 Tbsp

2

tablespoon

powdered sugar

optional for garnish
Instructions
Getting Ready: Adjust oven rack to lower-middle position and preheat to 350°F (180°C). Line an 8- by 3-inch anodized aluminum pan with parchment (see our explanation and tutorial on how to cut a parchment round) and grease lightly with pan spray.

For the Cake: In a medium mixing bowl, combine brown sugar, Dutch cocoa powder, salt, and baking soda. Whisk until homogeneous, with no visible clumps of cocoa or baking soda (although a few lumps of brown sugar may remain), about 1 minute. Under-mixing will give the cake an uneven texture and rise, so don't rush this step.

Whisk in olive oil, brewed coffee, eggs, and vanilla. When mixture is smooth and well emulsified, add whole wheat flour and continue mixing only until combined. Scrape into prepared pan. Bake until cake is firm but your finger can still leave an impression in the puffy crust, about 25 minutes. (A toothpick inserted into the center should come away with a few crumbs still attached.)

Cool cake directly in pan for 1 hour, then run a butter knife around the edges to loosen. Invert onto a wire rack, peel off parchment, and place cake right side up on a serving platter or cake stand. Serve plain, with a sprinkling of powdered sugar, or with fresh fruit.