With a moist chocolate cake and simple glaze, these mini skull cakes are super spooky for any Halloween celebration.
If you would have told me in March that this junk would still be going on come Halloween, I think I would have definitely cried. Thinking about the holidays not being celebrated "as normal" would've been a huge blow to me early on. Not that I am happy we're not celebrating like normal now, but I've come to understand this junk will be with us for awhile. I had to change my attitude about how I was thinking about the future. The kids are happy. We can still celebrate. We can still interact with others despite keeping our distance. The future is uncertain but this is all temporary. Let's stay the course, stay healthy, and focus on the things we can control.
And talk about celebrating! Whoa doggie! We've been celebrating all week. I think I'm way more excited about this Halloween than in years past because I've been so intimately involved with every detail to make this holiday special, whereas most years there's a lot of events we attend that are already planned for us (school parties, parades, trick-or-treating, birthday parties...).
The whole idea for these skull cakes started because we've been learning all about the human body, especially our skeletal system, in Mommy Homeschool. We then made a large skull cake for our neighbor's birthday. Loved the cake recipe and was obsessed with how spooky the glaze made the cake but didn't love how hard it was to put together. The halves were so heavy that there was no amount of ganache that was going to glue the two pieces together evenly. I needed a smaller, more manageable pan to make for Halloween.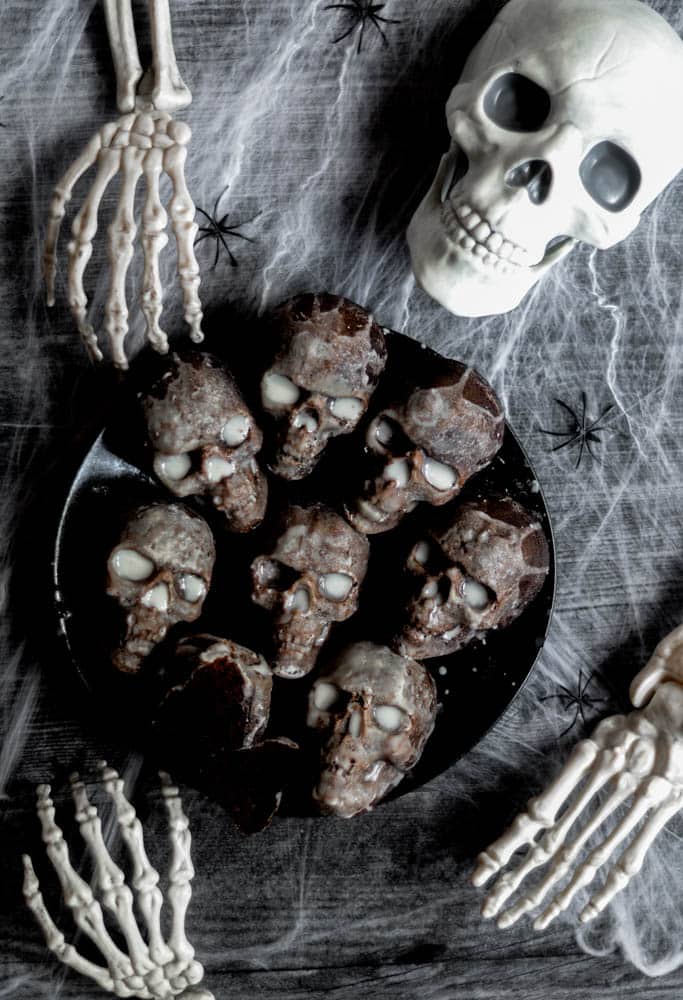 Hello to the Spookiest Mini Skull Pan Ever
I really don't encourage y'all to buy much of anything because I truly believe in a minimalist kitchen, but these mini skulls are so cute and the mini skull cakelet pan is such good quality. I AM IN LOVE. IN LOVE. This is not sponsored, but Nordic Ware always has high-quality ish. Yes, you're paying a decent amount for the pan, but it'll last far beyond the pandemic for many more Halloween celebrations.
The cakes aren't terribly mini (the skulls are almost 6" long) -- so even thought this recipe makes 12 skulls (2 batches), you'll likely have people that will want to split one.
To prepare the pan for the batter, make sure you spray AND flour the pan. This will ensure the skulls come out without any issue. The flour also creates a marbley, spooky effect when it gets into the crevices even without the glaze.
A Moist, Rich Chocolate Cake
The cake is similar to my chocolate bundt cake -- but slightly less dense. The cake doesn't rise as much either -- hence why you need to fill the skull cavities about 90% full. If you want to take a shortcut and use boxed cake mix, you probably could (though I haven't tried it). just fill the cavities about ¾ full because the boxed cake mix rises much more.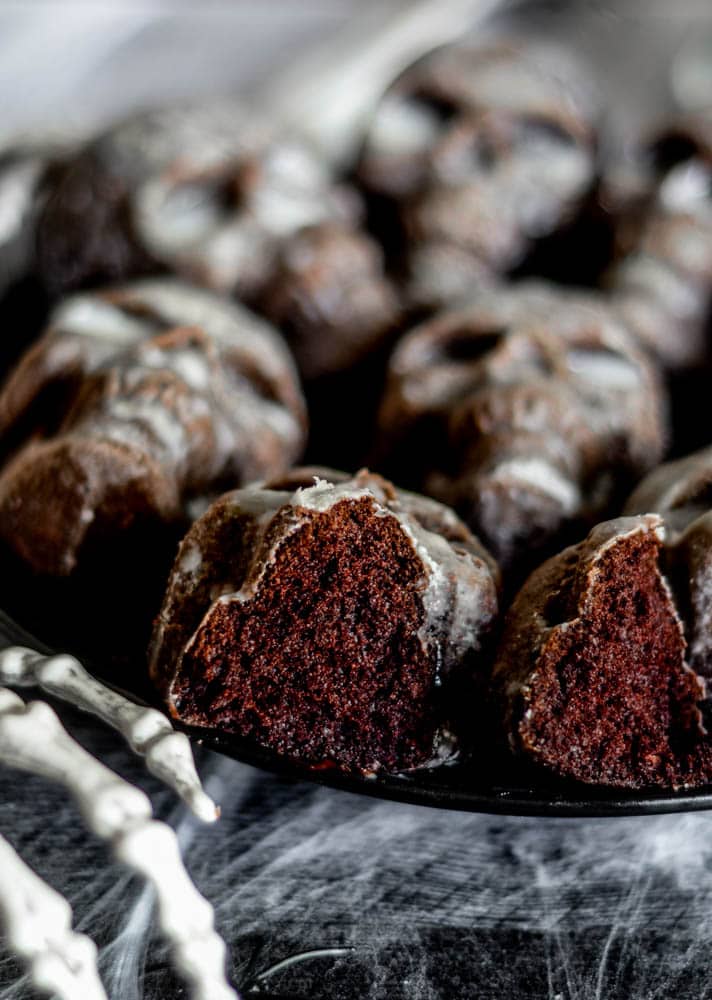 The Moment of Truth: Removing the Skulls from the Pan
Removing the skulls from the pan is really easy -- especially because you've also sprayed and floured the pan. My secret to remove the cake is to set the timer for 10 minutes from the moment the cake comes out of the oven to the moment you flip the pan over. It's just enough time to have the skulls cool down without giving them too much time to set (and then stick to the pan).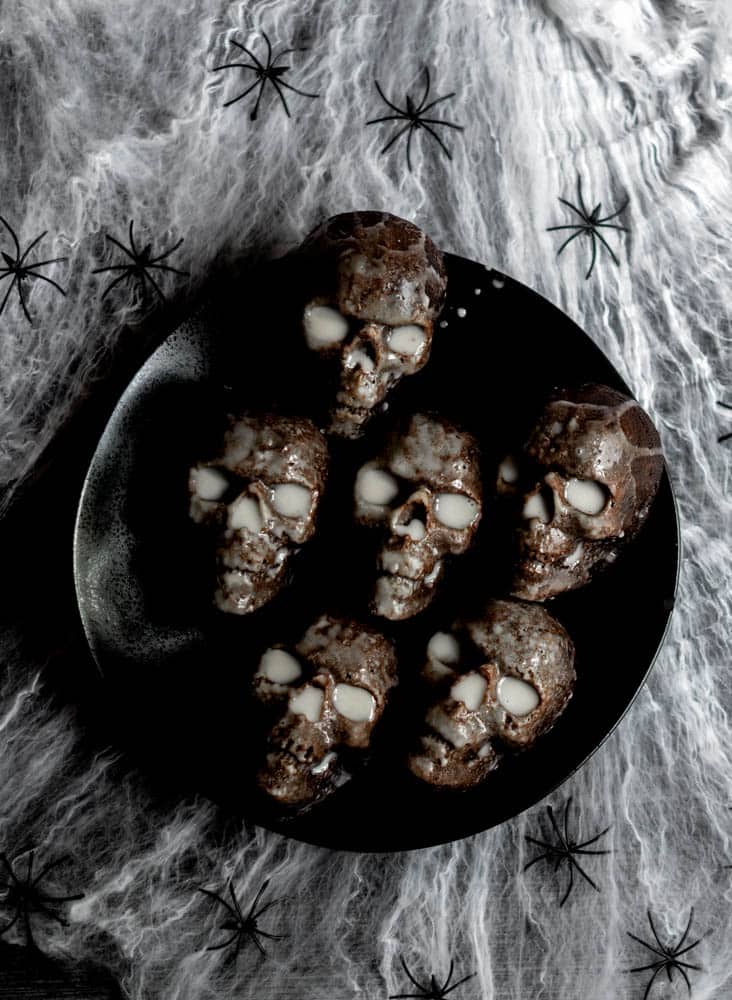 The Spooky Glaze
The powdered sugar glaze gets into all of the intricate crevices of the mold (those teeth!), making the skulls have this eery old-and-dead feeling to them. The glaze could not be easier. You need three ingredients that are whisked together:
powdered sugar
milk
vanilla extract
If you have clear vanilla extract, use that. If not, it's really not worth buying some. Regular vanilla extract gives the glaze a teeny tiny brown hue, but it's not a big deal. I used regular pure vanilla extract here, and I am happy with the results.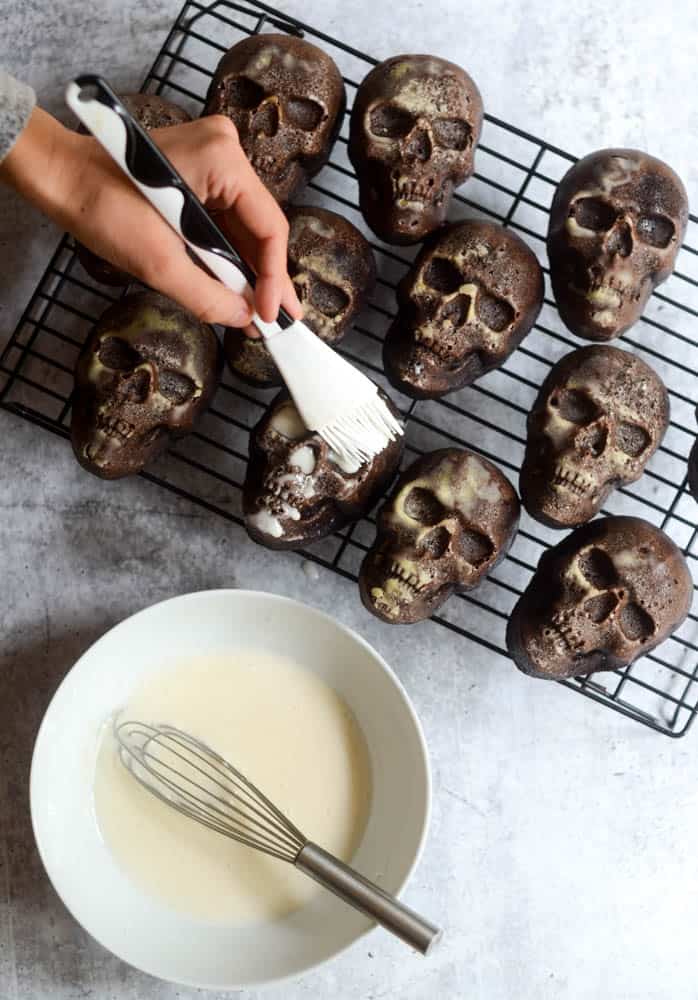 Happy, safe Halloween!
xox,
kathryn
As always, if you make anything from the blog, be sure to let me know! I love hearing from you in the comments on this post below or find Worn Slap Out on Facebook, Instagram, or Pinterest!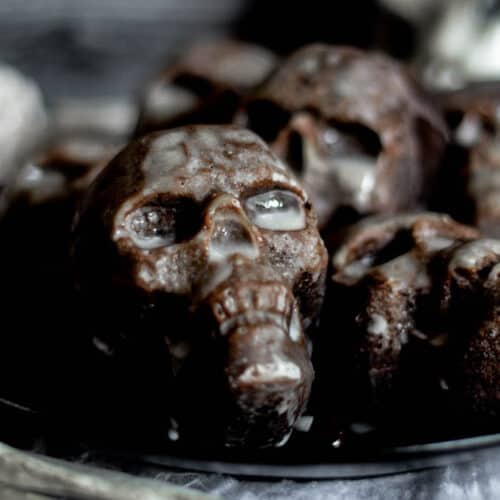 Mini Chocolate Skull Cakes
With a moist chocolate cake and simple glaze, these mini skull cakes are super spooky for any Halloween celebration.
Print
Pin
Rate
Ingredients
For the chocolate cake:
1 ½

cups

unsalted butter (3 sticks)

⅔

cup

cocoa powder

1

teaspoon

salt

1 ½

cups

water

3

cups

all-purpose flour

2 ½

cups

granulated sugar

2

teaspoons

baking soda

3

large eggs

¾

cup

sour cream

1

teaspoon

vanilla extract
For the glaze:
1 ½

cups

confectioners' sugar

3

tablespoons

milk

½

teaspoon

pure vanilla extract*
Instructions
Preheat oven to 350˚ F. Spray skull cake pan with non-stick cooking spray and flour well. Set aside.

In a small sauce pan, whisk the butter, cocoa powder, salt, and water over medium heat until butter is melted. Remove from the heat and set aside.

In a large bowl, whisk together the flour, sugar, and baking soda. Slowly add the chocolate mixture into the flour mixture while whisking. When batter is too thick, switch to a spoon. Add eggs, sour cream, and vanilla extract and mix until combined.

Fill skull cavities about 90% full (cake won't rise a huge amount). Bake for about 25 minutes or until a toothpick inserted into the middle of a skull comes out clean. Let skulls cool completely (about an hour) before glazing.

For the glaze, whisk together confectioner's sugar, milk, and vanilla extract in a small bowl. Generously brush glaze on cooled cakes and do a second or even third coat until the skulls are well coated (some of the glaze will be absorbed by the cake). Enjoy!
Notes
*Use clear vanilla extract if you have it. Otherwise, just use the regular stuff. Your glaze will be ever so slightly darker (which doesn't bother me in the least). 
Storage: Store these cakes in an airtight container in the refrigerator to keep fresh. Skulls will stay fresh for 4-5 days. 
As an Amazon Associate I earn from qualifying purchases. This comes at no charge to you. Thanks for supporting Worn Slap Out!