Bye, Chinese take out! This sweet and sour chicken requires absolutely no deep frying and can be made on a weeknight for an easy and delicious dinner the whole fam will love.
I got robbed with both pregnancies of mine.  I didn't really have any specific cravings.  I desperately wanted to be one of those women who sat up in bed in the middle of the night and was like, "HELP!  I need some chocolate ice cream with purple sprinkles like RIGHT.  THIS.  MOMENT!"  Naturally, John would have gone to the 24 hour CVS to hunt down some purple sprinkles because he's awesome like that.  Then he would have found me passed out on the couch snuggling my Snoogle.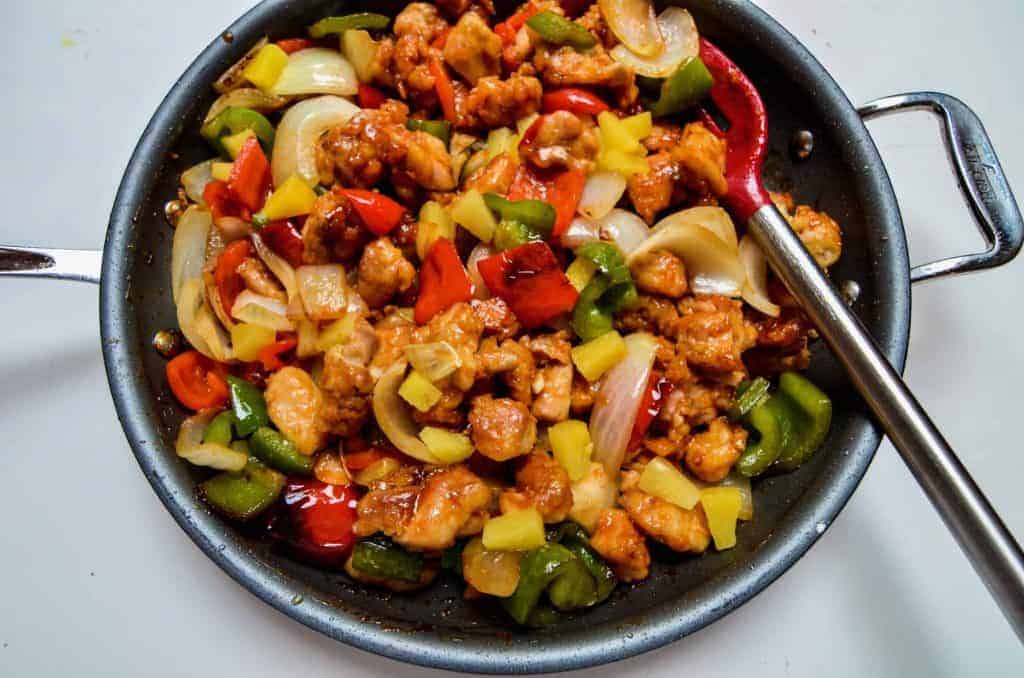 While I had food aversions in the first trimester (basically everything except for saltines), the closest I got to cravings was frozen yogurt and sweet and sour chicken from our favorite Chinese restaurant.  Not together...but I had a particular interest in having these two things more frequently.
The thing about Chinese food though -- good Chinese food is hard to come by.  Cooking Chinese food is also pretty intimidating because many of the food items are deep fried (no thanks) or requires other special equipment like a wok (nope).  This meal is also perfect because you can regulate how much sugar goes into it.  This sweet and sour sauce is not your typical bright red, corn syrupy stuff (which I do happen to love, by the way), but you wouldn't believe how much sugar and ketchup this restaurant-style sauce has in it. The sauce in this dish produces just enough to coat your chicken and vegetables and is so flavorful thanks to a combination of vinegars, soy sauce, and sugar.  The vegetables are cooked just enough until they're good and soft so you have some crunch, and the breading on the chicken doesn't get soggy and sad.  Finally, the pineapple seals the deal on the sweetness.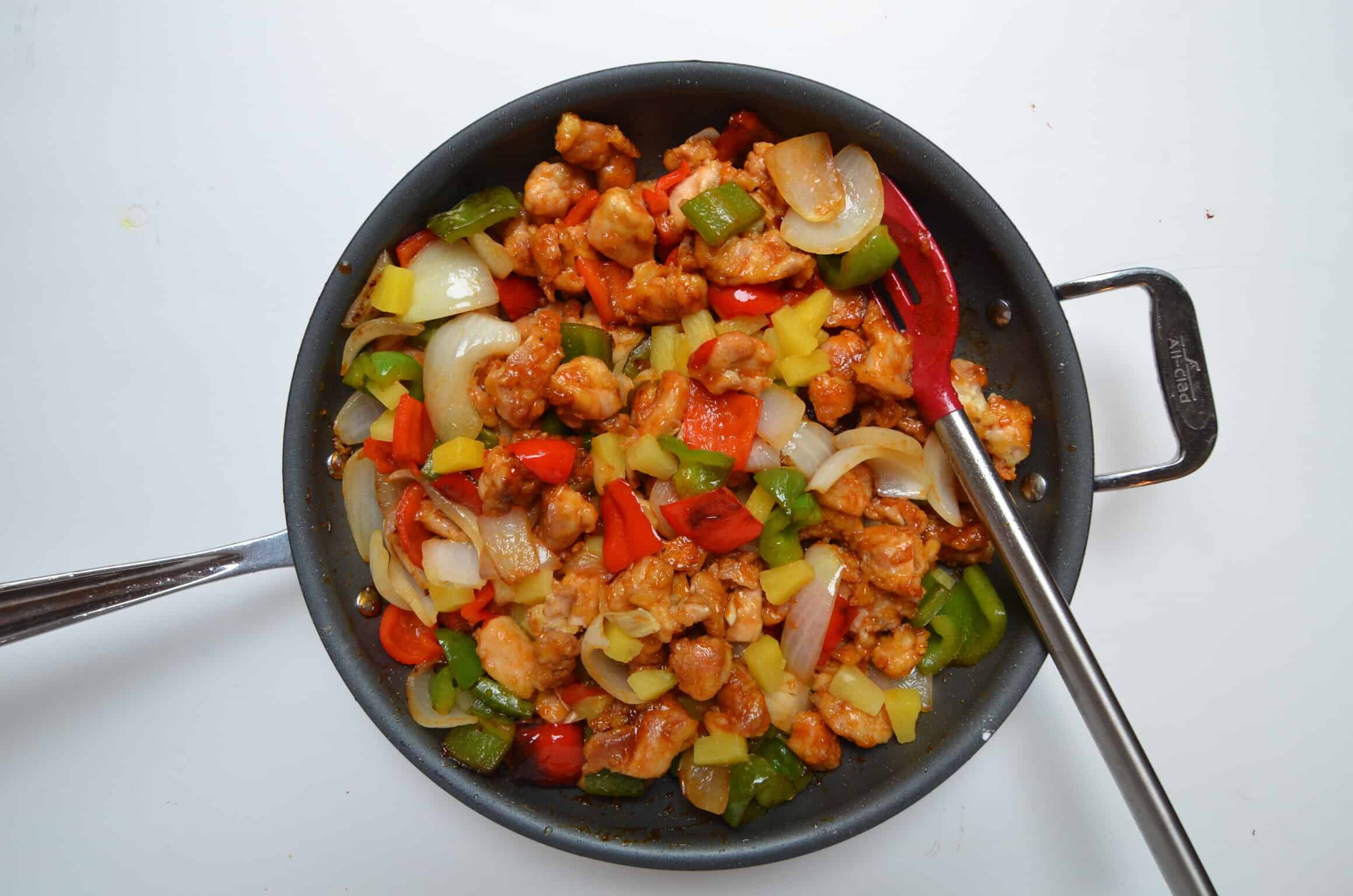 And as a total side note, I realized that soy sauce is, indeed, not gluten free. I feel so dumb that I didn't know that.
Yes, this is considered a "cheat meal" for John and outside the realm of what our meals typically look like, but it's way better than take-out.  That's my excuse.
I should also take this opportunity to publicly apologize to my husband for ferociously snacking on grapes when I'd wake up starving in the middle of the night during both pregnancies.  Grapes aren't the quietest thing to eat, especially when you shove 6 in your mouth at once, but I was large and in charge.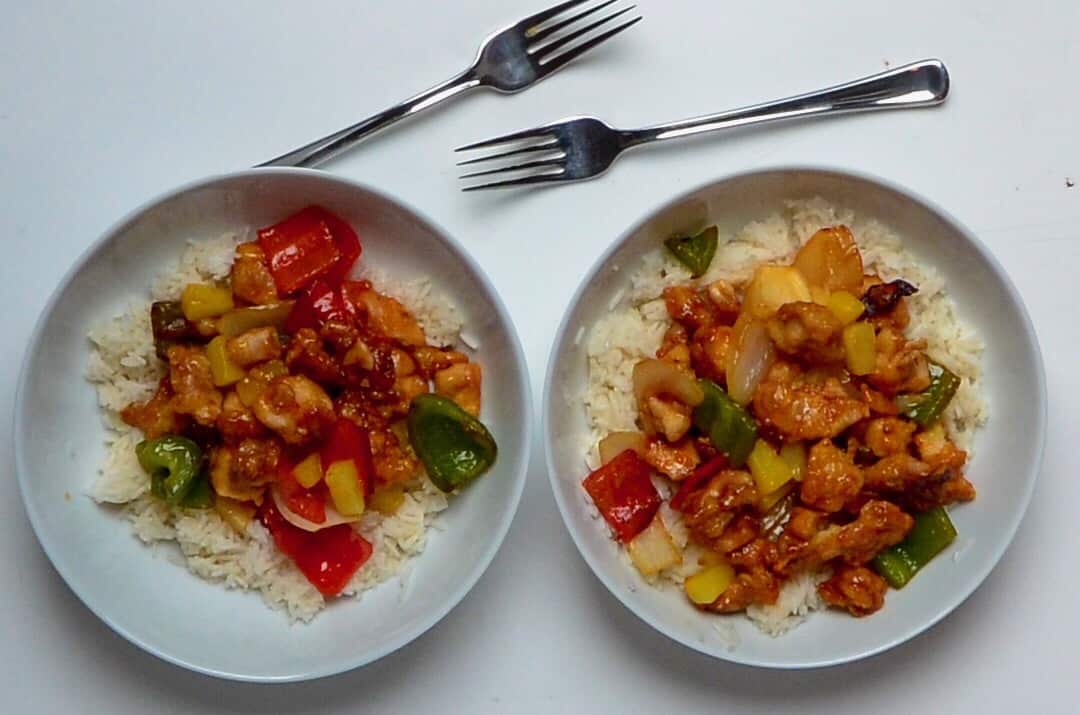 Now go make yourself some sweet and sour chicken and Netflix and chill!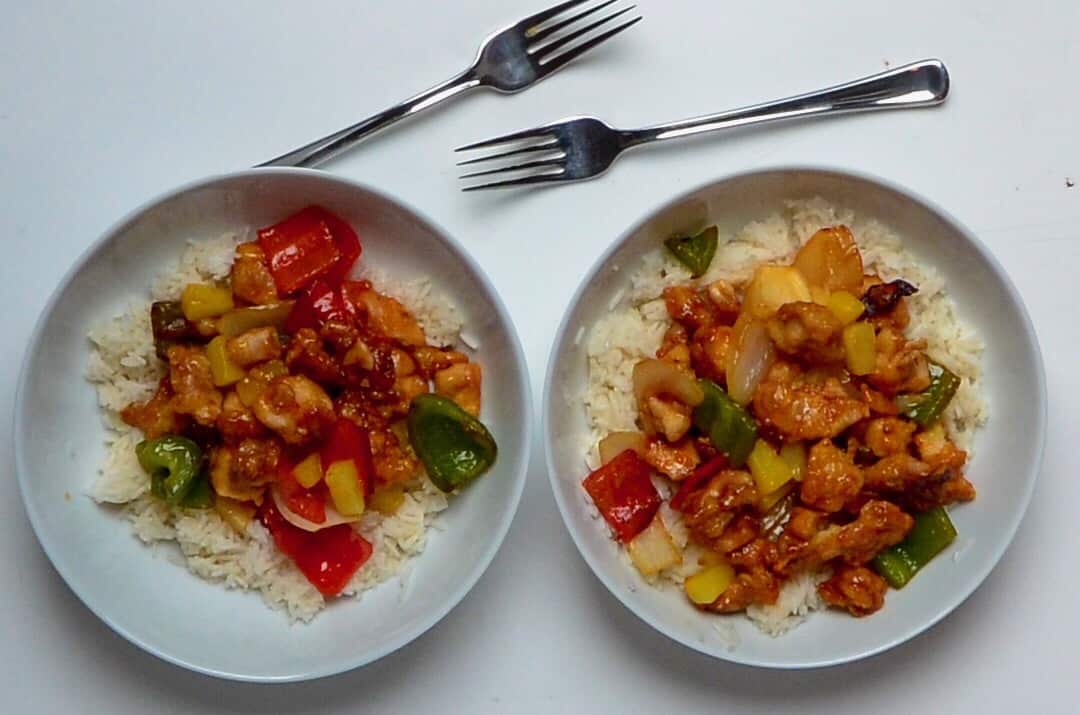 Serve hot over steamed rice.
Enjoy!
This recipe was adapted from Omnivore's Cookbook.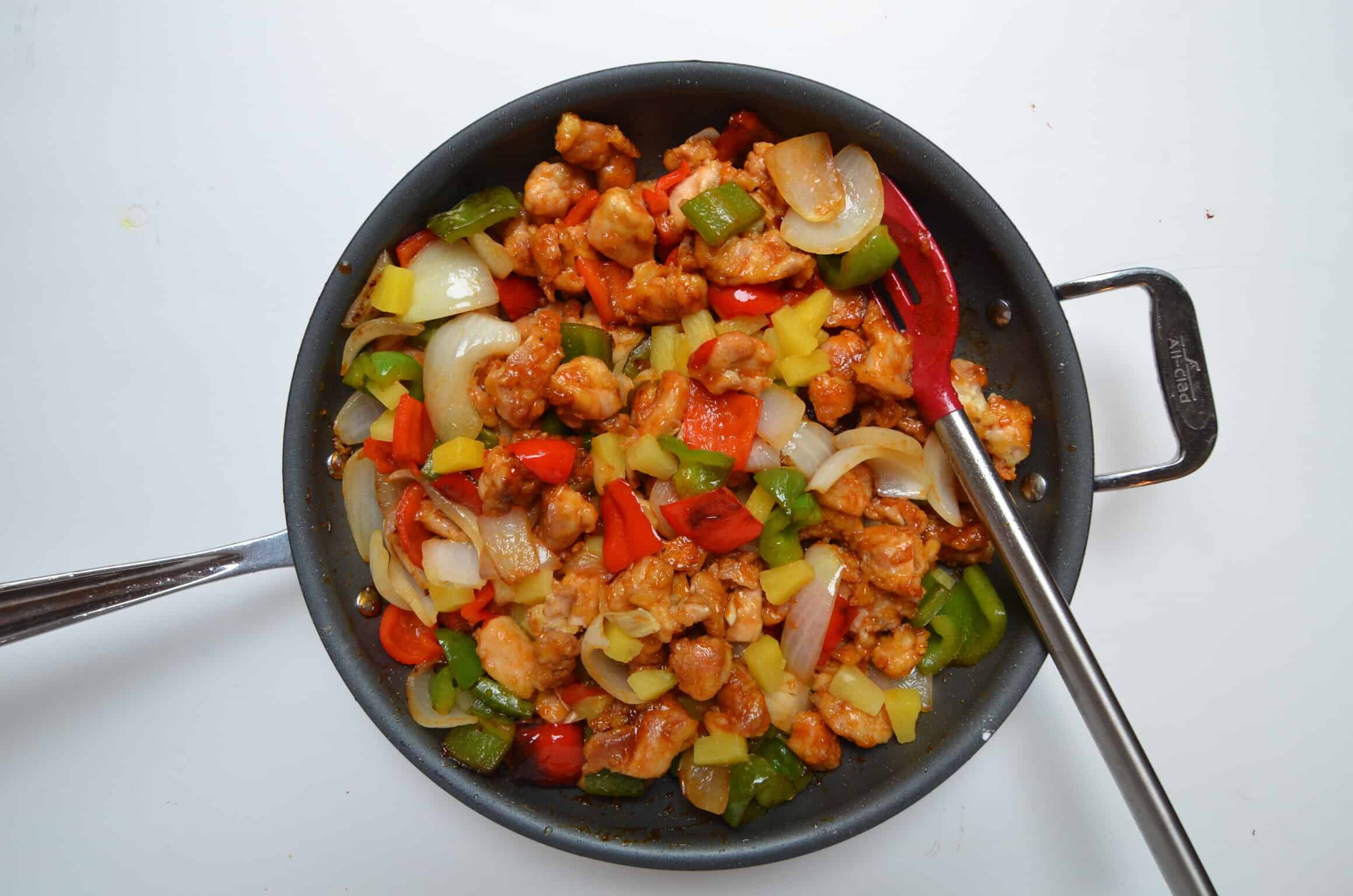 Sweet and Sour Chicken (without deep frying!)
Say goodbye to takeout Chinese food. This sweet and sour chicken is something you can easily cook on a weeknight that the whole family will enjoy...and it doesn't require deep frying!
Print
Pin
Rate
Ingredients
For the chicken:
1

pound

boneless skinless chicken thighs or breasts

cut to 1-inch pieces

1

tablespoon

vegetable oil

1

egg

beaten

½

teaspoon

salt

½

cup

cornstarch
For the sauce:
2

tablespoons

ketchup

2

tablespoons

dry sherry

2

tablespoons

rice vinegar

2

tablespoons

soy sauce

use GF soy sauce if you want/need

3

tablespoons

brown sugar

2

tablespoons

water

½

tablespoon

cornstarch
For the stir fry:
⅓

cup

vegetable oil

2

cloves

garlic

minced

2

teaspoons

minced ginger

1

small white onion

chopped

1

green bell pepper

chopped

1

red bell pepper

chopped

½

cup

chopped pineapple or pineapple tidbits
Instructions
Mix all the sauce ingredients in a small bowl and set aside.

Combine chicken pieces, vegetable oil, and salt in a big bowl. Mix well and let it rest for 10 to 20 minutes.

Add the beaten egg with the chicken and stir to mix well. Add cornstarch and stir to coat chicken until it forms a coating (not all of the cornstarch will stick to the chicken...that's okay)

Heat oil in a heavy skillet until hot and just starts to smoke.  Add chicken all at once and spread out into a single layer in the skillet. Separate chicken pieces with a pair of tongs.

Cook chicken for 2 to 3 minutes, or until the bottom turns golden. Flip to brown the other side, 2 to 3 minutes. Transfer chicken to a plate.

Turn the oven down to medium heat. You should still have 1 to 2 tablespoons oil in the pan. Add garlic and ginger. Cook and stir a few times then add the onions and peppers.  Cook for about 3-4 minutes until the vegetables are barely soft.  Place the vegetables on a plate.

Stir the sauce again to dissolve the cornstarch completely. Pour into the pan. Stir and cook until it thickens.

Add the chicken pieces and vegetables back, this time including the pineapple.  Stir to coat chicken and vegetables with sauce, about 30 seconds.

Serve hot over steamed rice.