This easy weeknight chicken stir fry is fast, easy, and healthy. Did I mention this is kid approved, too?!
Y'all. Last week was a crazy week after coming back from vacation, Easter, and then work chaos. John and I spent 1 night in the ATL celebrating our dear friends who tied the knot at the Old Courthouse in Decatur (which is the cutest venue ever) then headed down to Miami for 3 more nights of pure relaxation and doing whatever the hell we wanted to do. It was a true vacation as opposed to a trip. A trip is with kids. A vacation is not. I learned this very early on from a co-worker and truer words have never been spoken.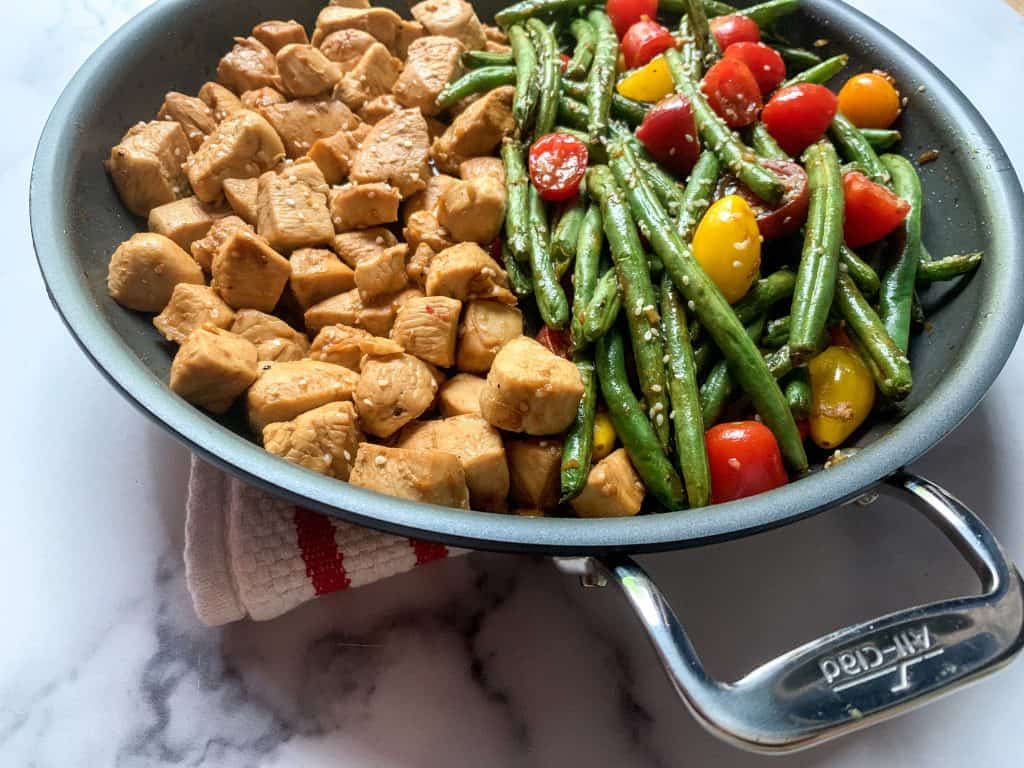 Then we got home. They should have like a 12 step program for easing you back into parenting after a brief hiatus. Something that allows you to have small doses with your children in very controlled environments. Kids just have no chill. They're ready to go and wonder what you're bringing to the table since you're back home. Little do they know, all I want to do is sit at the Delano pool sipping on a pina colada while eavesdropping on the stories of the rich and famous.
Regardless, the kiddos still wanted to eat dinner when we got home, so I needed to figure that out. I spent way too much at the grocery store because we had only butter and old cilantro in our refrigerator. I also didn't have a lot of time to meal prep on Sunday because of Easter, so I needed food that came with next to no prep. Enter this fast, weeknight chicken stir fry with green beans and tomatoes FTW. I've made this multiple times in the last few weeks because it's kid approved, healthy, and easy.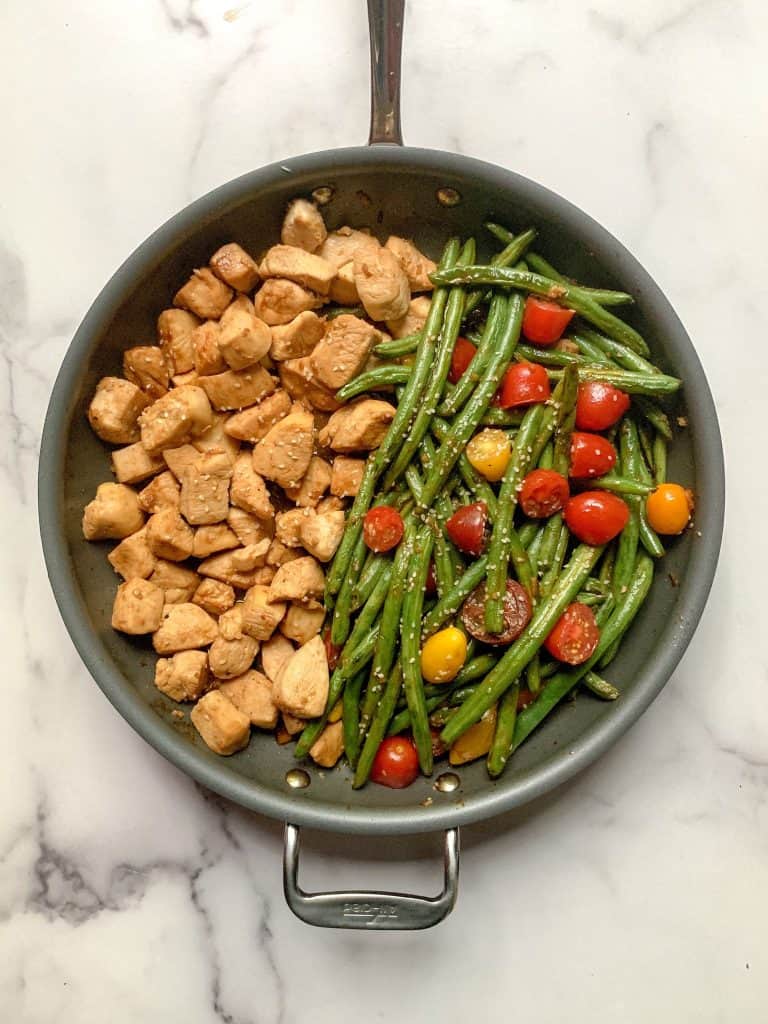 What makes this dish so weeknight friendly?
The sauce is uncomplicated and includes ingredients you likely already have in your refrigerator: soy sauce, juice from an orange, hoisin, pepper. garlic, red pepper, ginger. I've been dying to try Omnivore's Cookbook's homemade hoisin...but for the time being, I just use what comes in the jar at Giant or WF.
You're not tossing the chicken in corn starch and frying (which you could totally do...but just an unnecessary step in my rush to get everyone fed). I'm just pan searing the chicken (wish I could use cast iron on our induction top) in a frying pan.
You're using vegetables that need no prep. I buy the green beans already trimmed in a package at Whole Foods. And, of course, cherry tomatoes need no extra love. They're tossed in for the last 2-3 minutes while everything heats up. You could use whatever vegetables you have in your fridge though. This is the beauty of this meal -- can be flexible to eliminate food waste (yay!).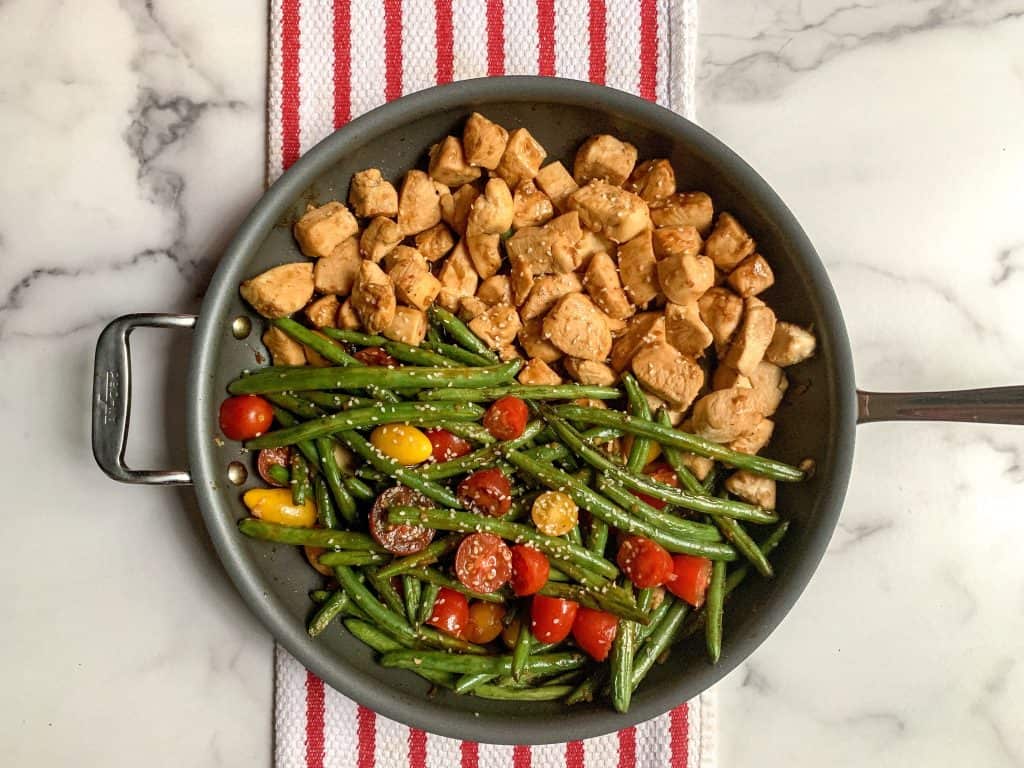 Some quick tips for making a solid stir fry:
Be prepared. Because you'll be frying in a fast and furious fashion (trying saying that 5 times fast), you need to have your vegetables and sauce ready to go. You can't spare a minute to get things together when you start stir frying.
Fry in small batches. If you have time, saute chicken and vegetables in smaller batches to really get a good crisp on them. If you dump your chicken in the pan all at once, you'll get a lot of chicken juices that'll crowd each other and that liquid won't give you a nice crispy sear. With that being said, most of the time I'm in too big of a hurry to bother with doing this myself.
Fry fast and furious. You really want to turn up the heat on a stir fry and cook vegetables quickly. Don't be afraid to have your pan smoke a little before adding vegetables. You know it's ready to go! When the green beans will become blistered with little dark spots...you know you're doing it right.
There are no conventions on vegetable usage. Use whatever vegetables you have leftover in the fridge. Seriously. Broccoli? Add it. Red peppers? Yes please! Stir frys are great ways to use up what you have...and you can really get some cool combos you never would have thought of when you're at the grocery store.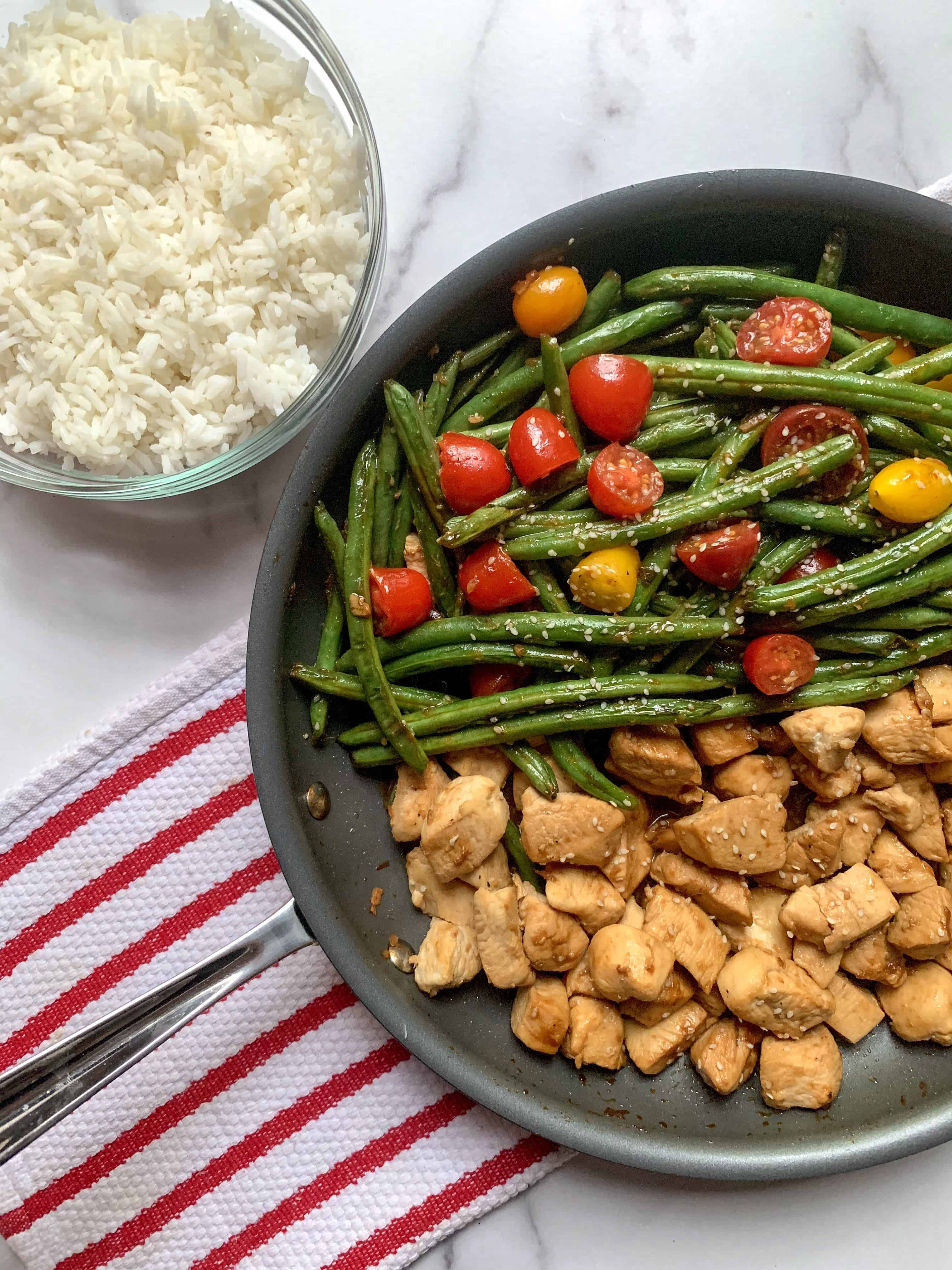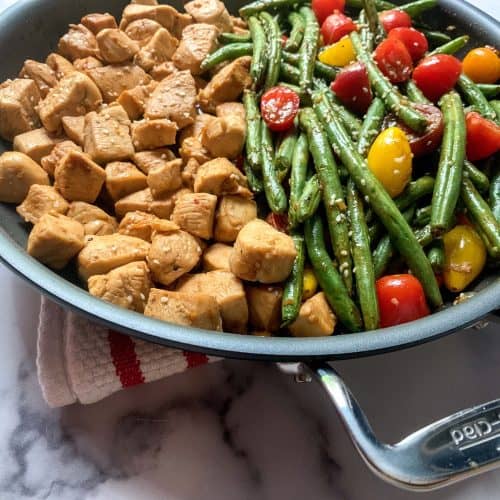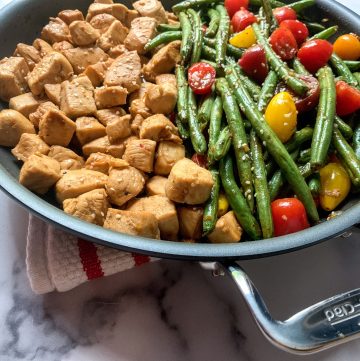 Easy Chicken Stir Fry with Blistered Green Beans
This easy chicken stir fry with blistered green beans is a perfect weeknight meal the whole family will love.
Print
Pin
Rate
Ingredients
1-1.5

pounds

chicken breasts, cut into 1 inch pieces

1

pound

green beans, trimmed

1

cup

cherry tomatoes

2

tablespoon

sesame oil

3

tablespoon

fresh ginger, grated

2

large garlic cloves, minced

¼

cup

soy sauce or coconut aminos

1

tablespoon

hoisin sauce

1

teaspoon

red pepper flakes

optional

2

tablespoon

fresh orange juice

you could easily use boxed OJ

fresh ground black pepper

to taste

sesame seeds, scallions, or cilantro

optional
Instructions
1. In a large skillet, heat up 2 tablespoon of sesame oil on medium-high heat. Add your chicken and cook until golden brown and cooked through. Remove chicken to a separate plate.

2. Turn heat to high (there still should be some remaining oil in the pan. If not, add 1 tablespoon more). Add green beans and cook until green beans become blistered with little dark spots (4-5 minutes).

3. Bring pan back to medium heat (this may take a few minutes because your pan will be very hot). Add garlic, ginger, soy sauce, orange juice and red pepper flakes (if using). Add chicken and green beans back to pan along with tomatoes, coating in the sauce until everything is back to being warm. Top with any additional items like cilantro, sesame seeds, or scallions before serving alone or with rice.
Enjoy!
xox