Super simple, delicious, and a much healthier alternative to fried chicken, these Baked Buttermilk Chicken Tenders are an easy dinner the whole family will love.
Fried chicken is one of my weaknesses when I'm back home in Georgia. You see, there's just not a lot of really good options up here for fried chicken except for maybe Central. And as much as I love some fried chicken, my stomach doesn't always agree though, so it's something I look forward to in small doses.
These chicken tenders satisfy my craving for fried chicken without all the extra fat and grease since these are baked and not fried. The chicken becomes so tender thanks to soaking the chicken in buttermilk and salt for several hours (I mean...time is all we have these days, right?!). The chicken is packed full of flavor from a combo of spices, and the chicken stays incredibly juicy and moist when it comes out of the oven thanks to a dense coating that holds in the moisture. What's not to love?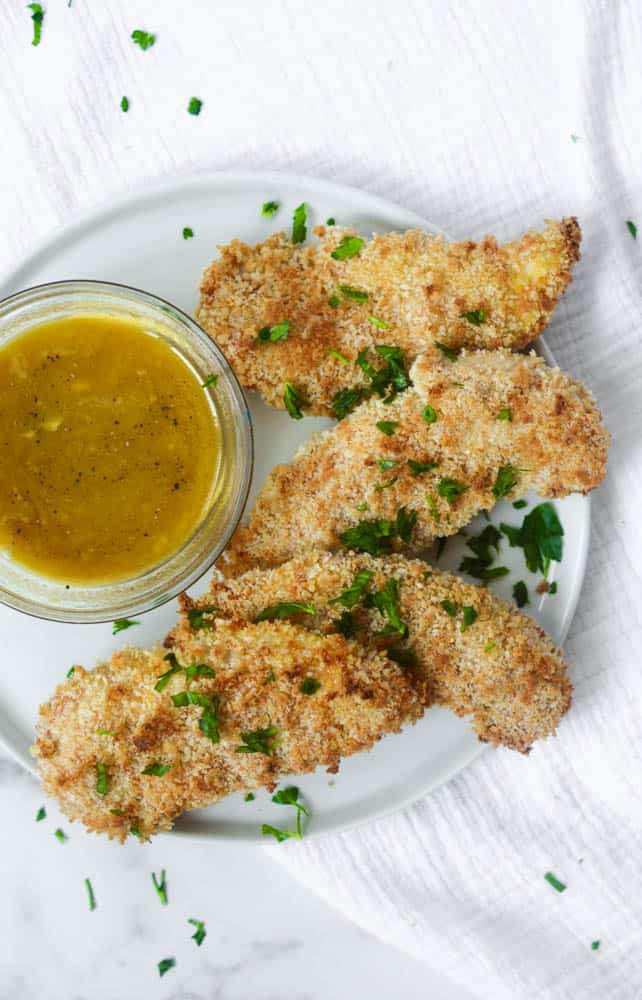 Ingredients You'll Need for Baked Buttermilk Chicken Tenders
chicken tenders (or cut each chicken breast into 3 or 4 strips)
buttermilk
eggs
flour
garlic powder
paprika (regular or smoked)
cayenne pepper
panko breadcrumbs
honey
Dijon mustard
salt + pepper
parsley (optional for garnishing)
Why Do You Soak Chicken in Buttermilk?
OMG because it makes your chicken so incredibly tender. Buttermilk has the ability to tenderize your chicken without making it tough like more acidic marinades tend to do -- like using a lemon juice, lime juice, or other highly acidic liquid.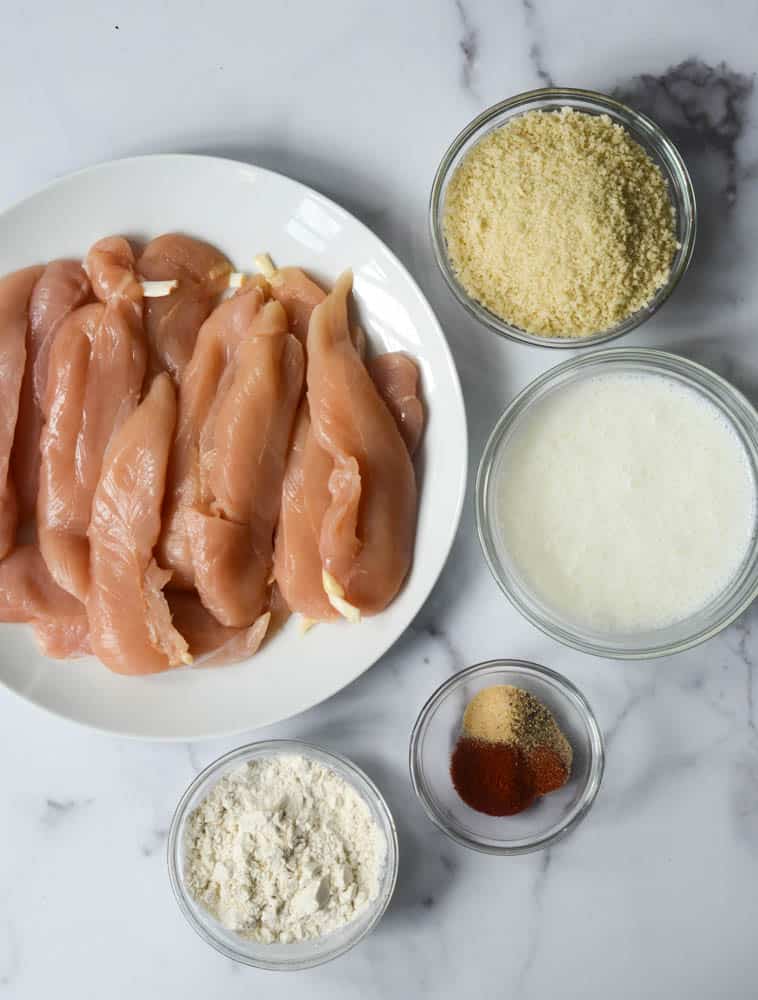 Do You Wash Buttermilk Off of Chicken?
No. You will just shake off any access (you'd be surprised how much of the buttermilk the chicken absorbs though) before dipping into your spiced flour mixture.
How Long Can Chicken Soak in Buttermilk?
Marinate for no more than 24 hours but at least 4-6 hours to reap maximum tenderness.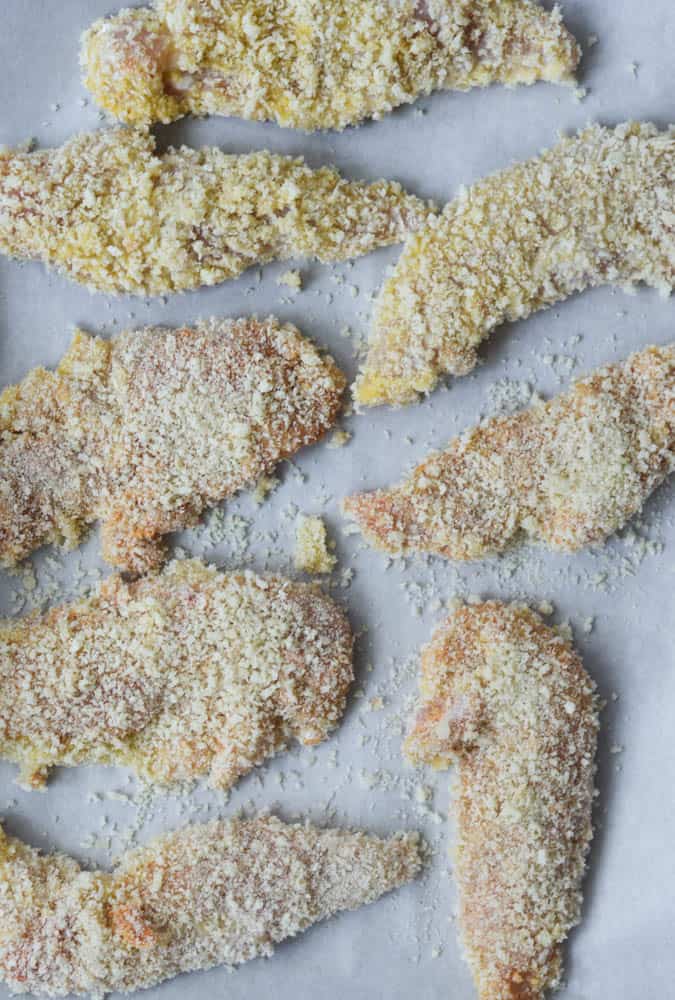 How Do I Use Buttermilk to Tenderize My Chicken?
Simply place the chicken tenders into a plastic bag with 1 cup of buttermilk and 1 Tablespoon of salt. Give it a good shake and then place in the refrigerate to sit for up to 24 hours, but ideally at least 6 hours.
How to Coat Your Chicken with Breadcrumb Mixture
This is a three step process. You'll coat your chicken in the following:
Flour and spice mixture. Make sure the whole piece of chicken is coated.
Egg mixture. This is just two eggs beaten.
Breadcrumbs. This last phase is vital. Don't be afraid to aggressively coat every single square inch of the chicken with breadcrumbs, pressing into the chicken to make sure you get as much of the breadcrumbs on the chicken as possible.
I like to use a different hand for the flour and egg mixtures than I do for the breadcrumbs so I can keep the assembly line moving pretty quickly.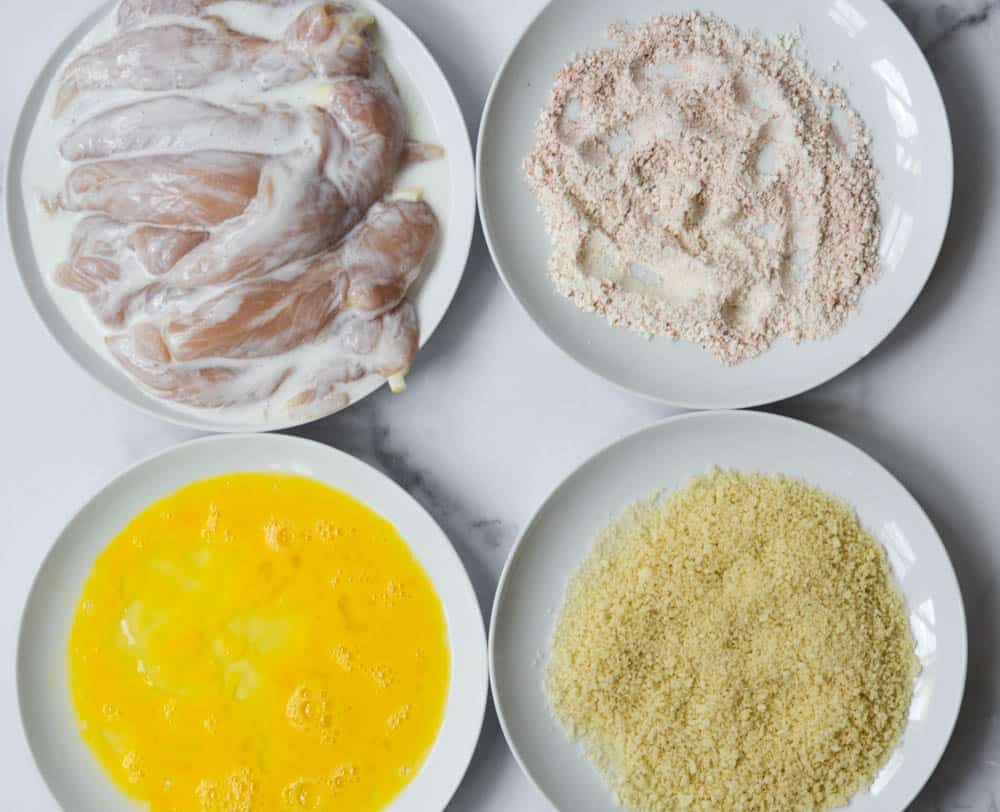 Tips for Making Healthier Chicken that's Still Crunchy
Baking doesn't mess up the crispiness of the chicken as much as you might think. Here are three secrets to having crunchy chicken without having to deep fry it:
Press the breadcrumbs into your chicken aggressively. Make sure the entire chicken is coated and you press even more breadcrumbs than you thought possible on the chicken. This'll help keep the moisture in as the chicken bakes.
Place your breaded chicken up on a baking rack before putting in the oven so the bottom doesn't get soggy (secret confession: I rarely actually do this because I'm too lazy to clean a rack and instead I put the chicken down on parchment paper).
Put your chicken under the broiler for the last 1-2 minutes of baking so the breadcrumbs have a blast of super high heat to finish crisping and getting super brown.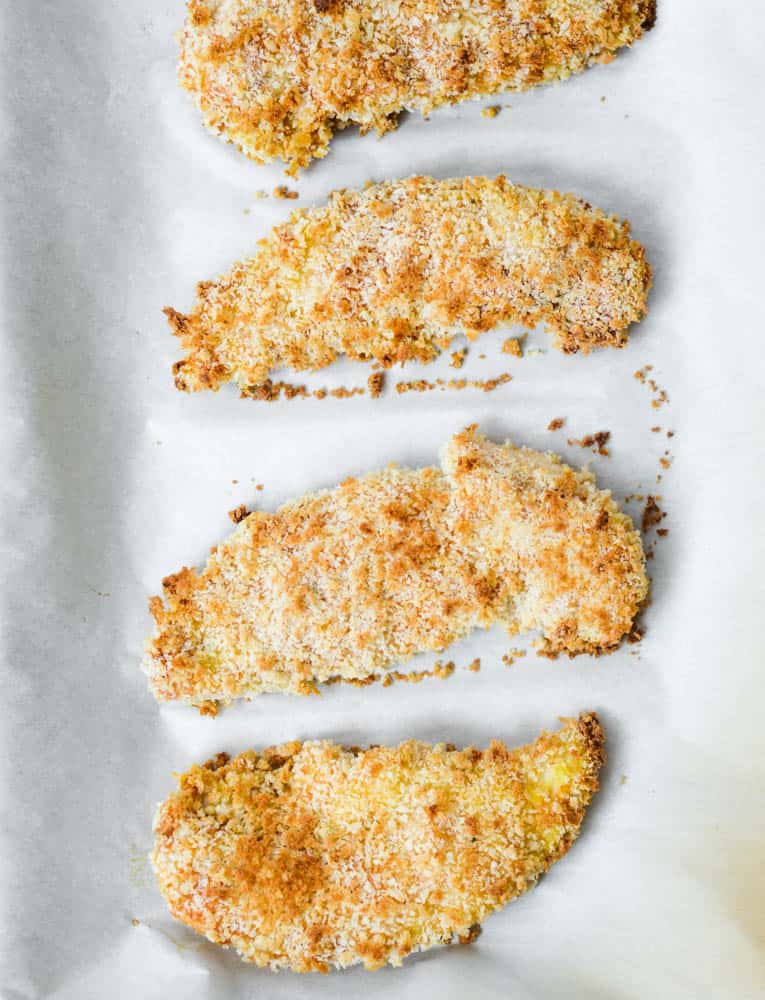 Side Dishes with your Baked Buttermilk Chicken Tenders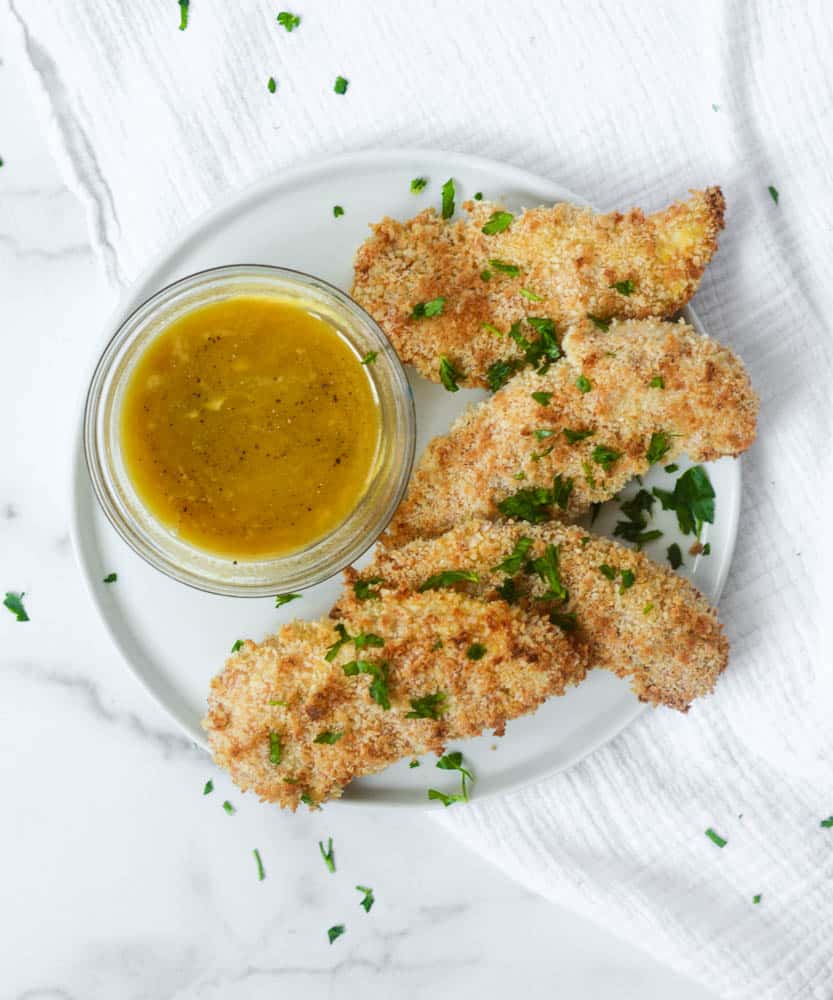 xox,
kathryn
As always, if you make anything from the blog, be sure to let me know! I love hearing from you in the comments on this post below or find Worn Slap Out on Facebook, Instagram, or Pinterest!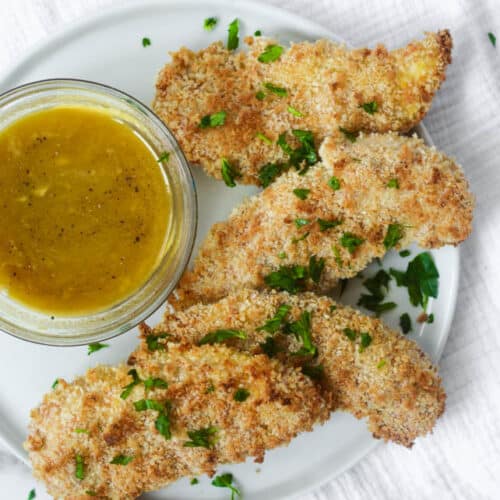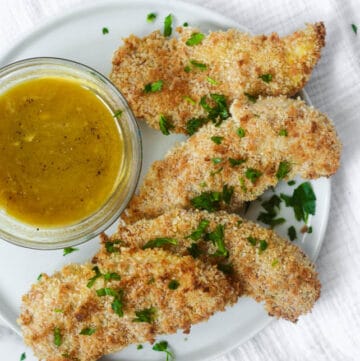 Baked Buttermilk Chicken Tenders
Super simple, delicious, and a much healthier alternative to fried chicken, these Baked Buttermilk Chicken Tenders are an easy dinner the whole family will love.
Print
Pin
Rate
Ingredients
For the marinade:
2

pounds

chicken tenders, about 12-14 tenders

1

cup

buttermilk

1

tablespoon

salt
Plate #1:
¼

cup

all purpose flour

½

teaspoon

garlic powder

½

teaspoon

smoked paprika

¼

teaspoon

cayenne

¼

teaspoon

pepper
For the honey mustard:
¼

cup

honey

¼

cup

Dijon mustard

salt + pepper
Instructions
In a large plastic bag, put in your chicken, buttermilk, and salt. Tightly seal and give it a good swish to make sure the chicken is coated. Let sit in refrigerator for at least 4-6 hours or up to 24 hours.

Heat oven to 375˚ F. Line a baking sheet with parchment paper or use a baking rack.

Prepare three separate plates. (Whisk flour with spices on first plate)

Take buttermilk soaked chicken out of bags, gently shaking off any excess buttermilk. Dip chicken in flour mixture first, then egg mixture, then firmly press breadcrumbs all over chicken until chicken is completely covered. Place on baking sheet.

Bake chicken tenders for 18-20 minutes or until chicken is cooked through. Place chicken under broiler for last 1-2 minutes to brown and crisp up.

Meanwhile, make your honey mustard by whisking together mustard, honey, and salt and pepper. Serve chicken fingers warm or at room temperature with honey mustard sauce.
Notes
These chicken fingers are best eaten when they come out of the oven, but they are also delicious 2-3 days later (they just don't retain as much of their crispiness).  
To reheat: I highly recommend putting them back in the oven at 350˚ for 15-20 minutes before eating as opposed to placing in the microwave.