These roasted parsnips are not actually french fries -- but they are deliciously crispy and just as addictive. They're so good my 5 year old devoured them, and that's a serious win in my book.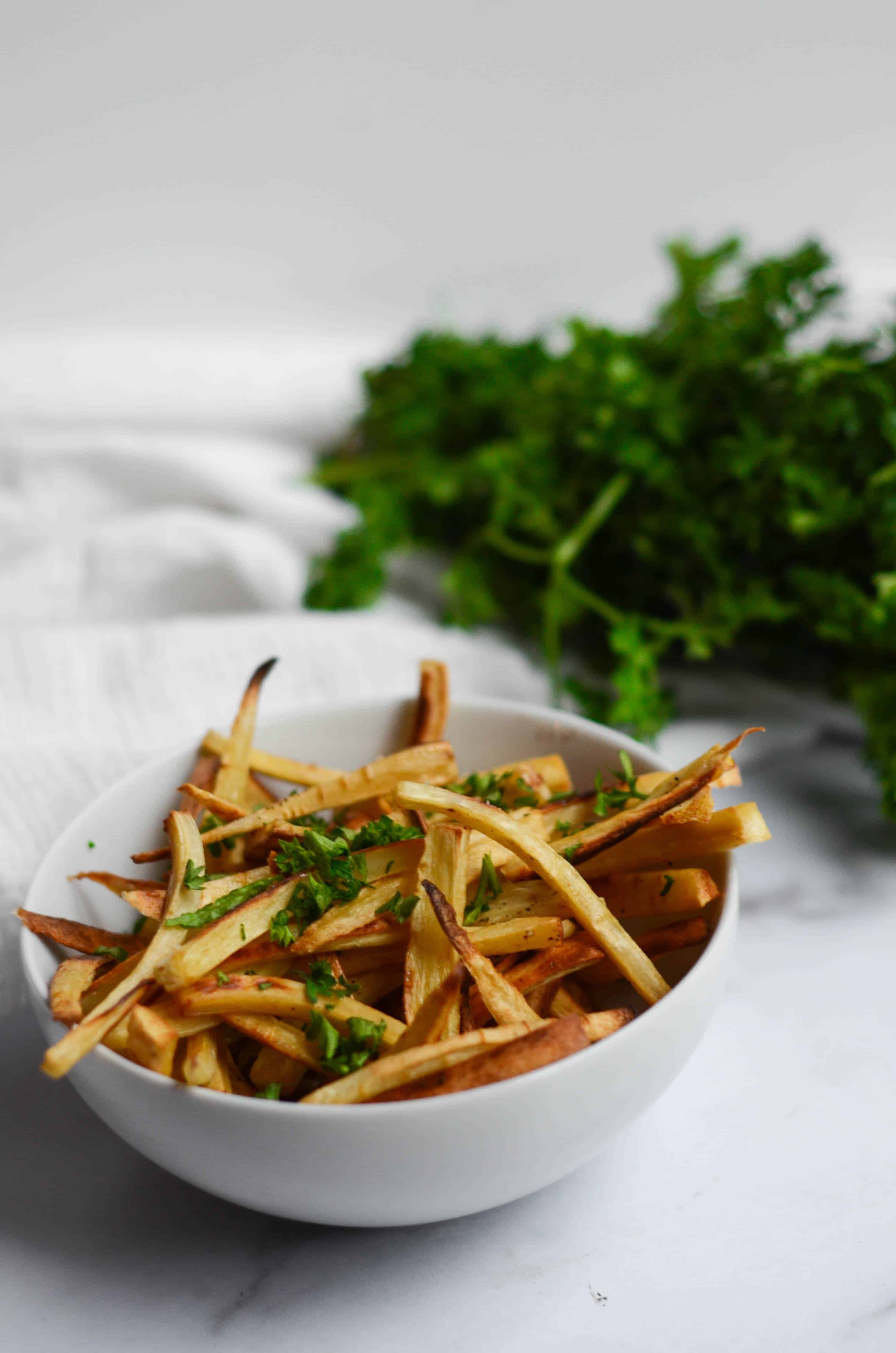 Sometimes kids surprise you. I'm not kidding when my 5-year old said these roasted parsnips were so delicious and continued to devour them for an after-school snack. After thinking, "What child is this?" my second thought was reaffirming how much I need to keep offering different types of vegetables to my kids -- and use a variety of preparation methods. You just never know what kids are going to go for. For example, my kids won't touch steamed broccoli with a 10-foot poll but absolutely loved crispy roasted broccoli. The younger one also loves crispy roasted chick peas. She pops those like popcorn. They also love rainbow roasted carrots and roasted brussel sprouts. Go figure.
These crispy roasted parsnips are no different. They're crispy on the outside, soft on the inside, and a little sweet. The thyme adds more flavor to the fries (mmm...like the herbed duck fat fries at Bourbon Steak), but you can always leave that off if your little people don't like anything green on their food (I would know!).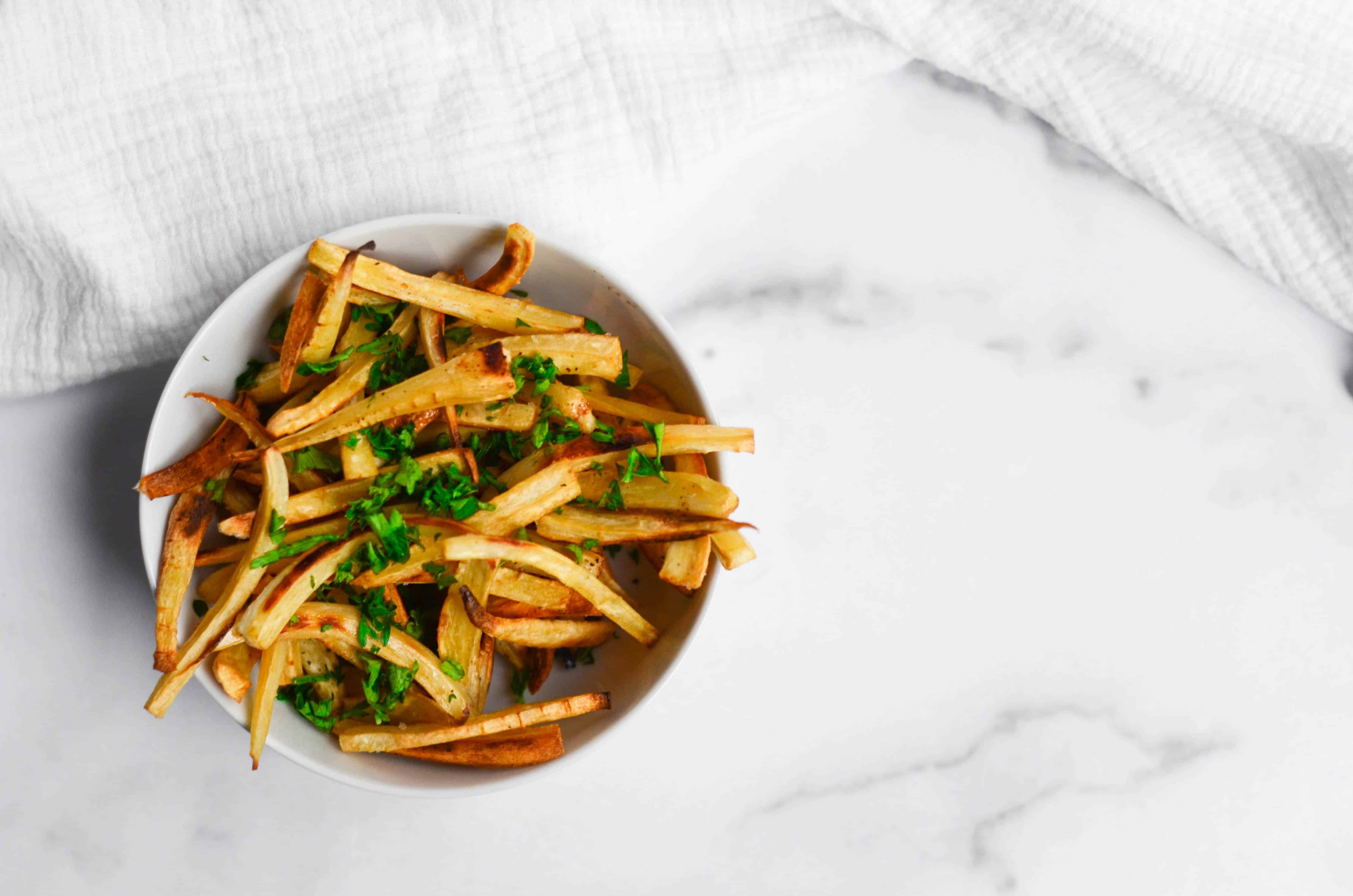 Roasting Parsnips
Now is the perfect time to make parsnips! If you've never eaten a parsnip, they're a root vegetable like a carrot. They look like white carrots, in fact and they are also decently sweet. The biggest difference between a carrot and a parsnip is that parsnips have more of an earthier taste -- and sometimes they can taste almost nutty. Here are two tips when working with parsnips:
Size matters. The skin is thicker than your average carrot usually, and the bigger the parsnip, the tougher the skin. While you don't always get a choice in these matters (the parsnips in our grocery store comes in a pre-packaged bag), the smaller you get the less tough the skin of the parsnips will be.
Peel parsnips well. For the very reasons mentioned in #1, make sure you peel the parsnips well so you avoid the tough, fibrous parts. Sometimes that'll require you to peel the parsnip twice OR sometimes you get baby parsnips and you don't have to peel as much because the skin is so thin. Just adapt peeling based on the size. Some people don't bother peeling their parsnips at all. I'm a peeler.
Don't crowd the sheet pan. It may be tempting, but don't crowd the parsnips because they won't get crispy if they're all on top of each other. It's okay if they're touching, but don't overlap them.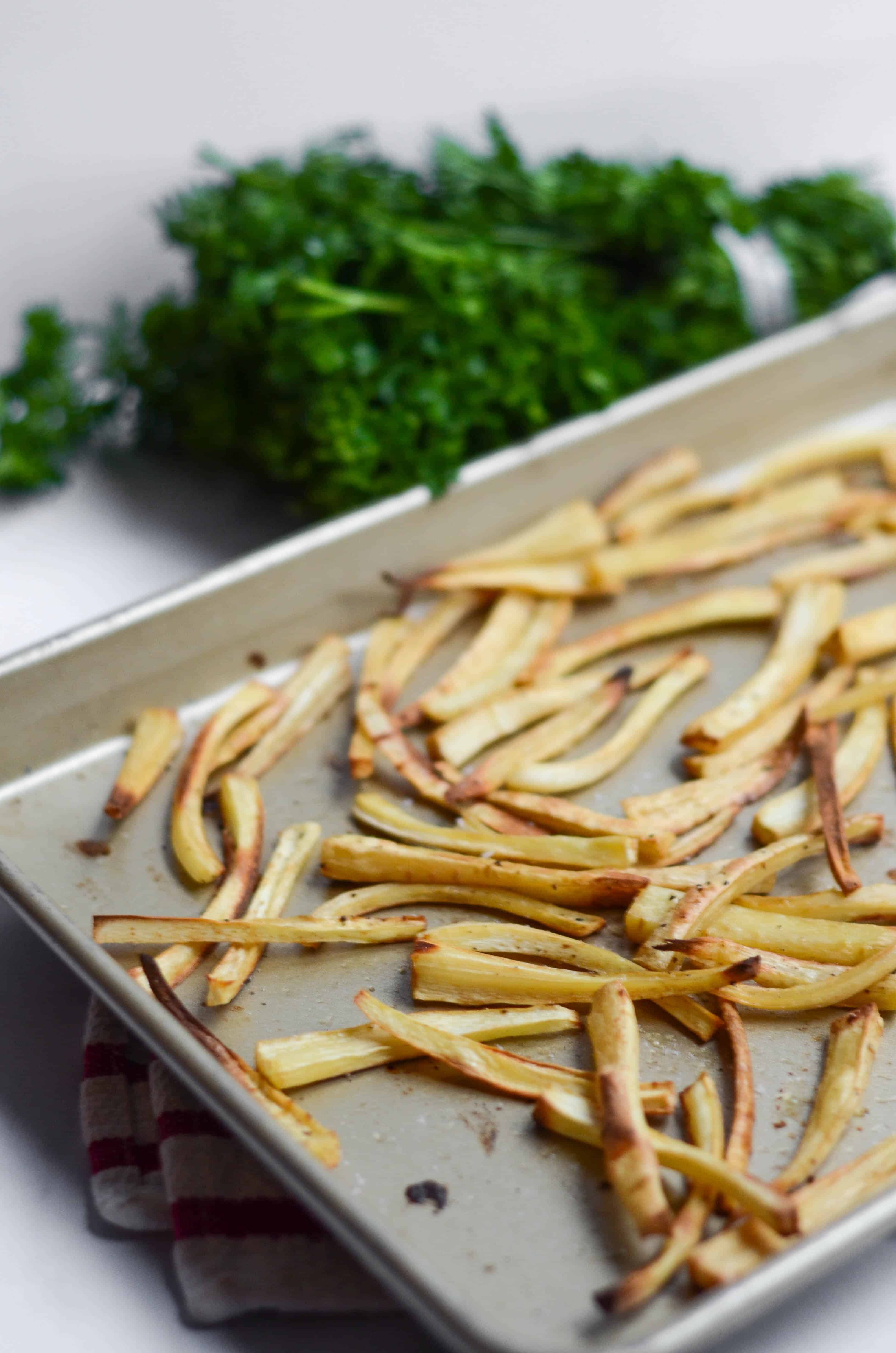 How to Cut Parsnips for Fries
Like carrots, parsnips get increasingly more narrow from the top of the parsnip to the bottom, so if you were to just simply cut them lengthwise, youd be left with a parsnip that won't cook evenly.
In order to have similar sized fries, you'll need to cut the parsnips in half in the middle to divide the thicker part from the more narrow part. Then, continue to cut both sides of the parsnip until you're left with ¼" thick pieces (that are roughly 4" in length). You'll have to cut the top pieces much more than the bottom pieces. Usually I cut the top in sixths or even eights and the bottom pieces in quarters or halves depending on their size.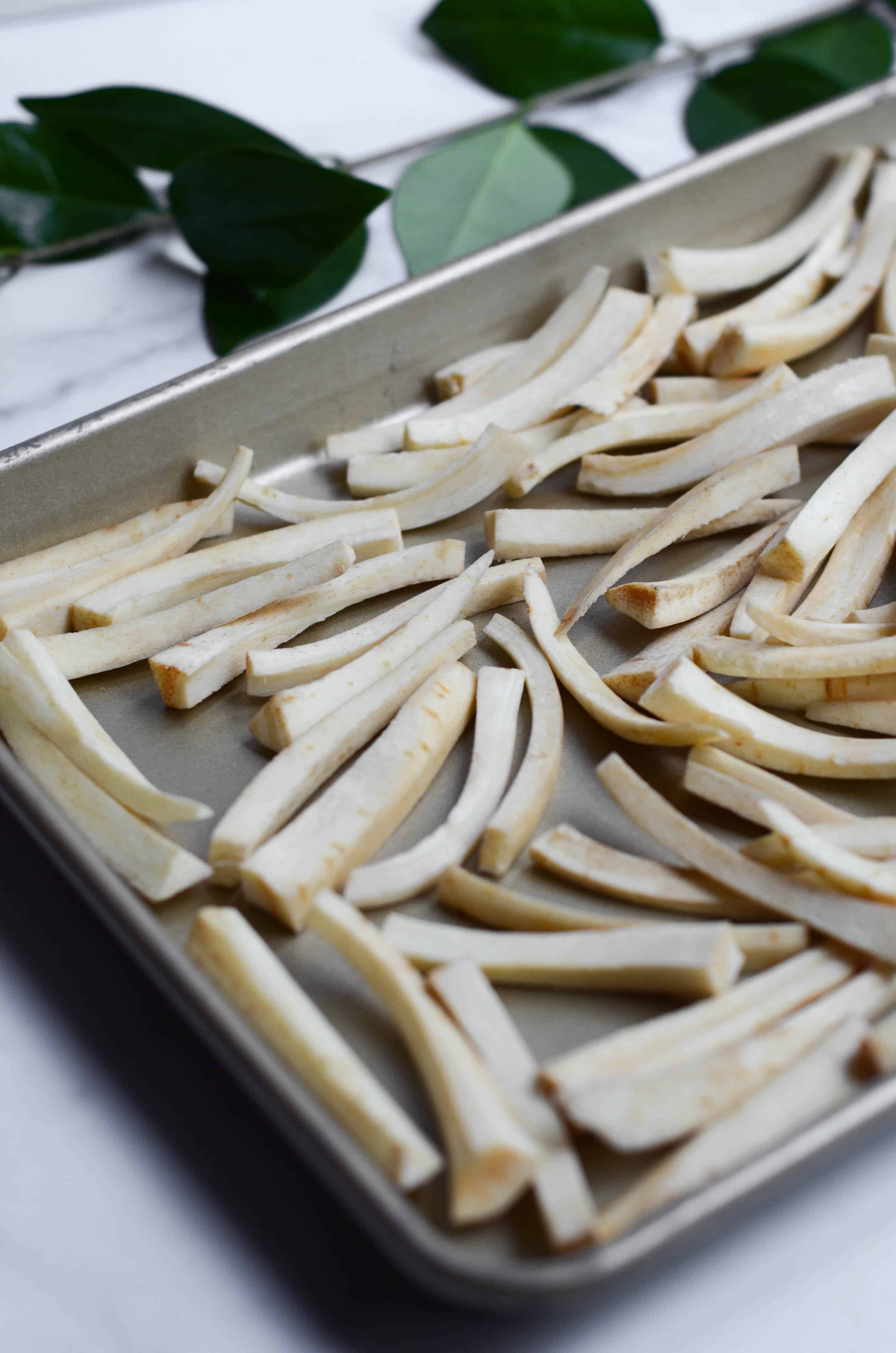 Other delicious parsnip recipes:
Interested in more parsnip recipes? Get your parsnip on and try some of these:
xox
kathryn
As always, if you make anything from the blog, be sure to let me know! I love hearing from you in the comments on this post below or find Worn Slap Out on Facebook, Instagram, or Pinterest!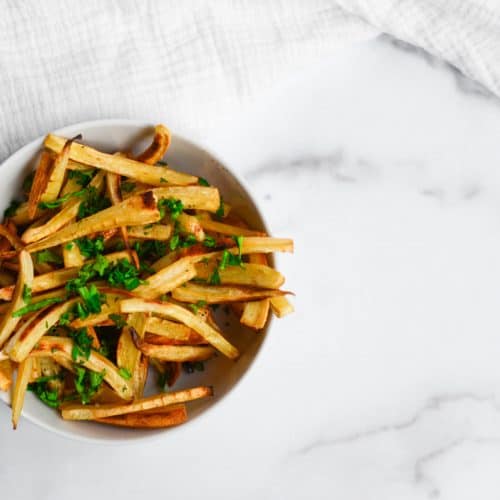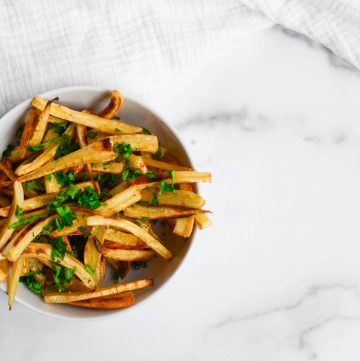 Ingredients
4-5

medium to large parsnips

2

tablespoon

olive oil

1

tablespoon

chopped thyme

½

teaspoon

salt

plus more to sprinkle at the end

¼

tsp

pepper

¼

cup

parsley, chopped

for garnish (optional)
Instructions
Preheat oven to 425 degree Fahrenheit. Line a baking sheet with parchment paper (this is just to save time on the clean-up).

Cut parsnips into 4" long strips no more than ¼" thick. Place parsnips on the baking sheet, coat them in olive oil, thyme, salt and pepper, then spread them out in an even layer as much as possible.

Bake for 20-25 minutes or until the edges start to get browned and crispy. Remove from the oven, sprinkle more salt (to taste) over them and parsley (optional) to garnish. Eat immediately.