Sweet and tart, this Cranberry Orange Sauce is so easy to make and is versatile enough to enjoy for days after the holidays in so many fun ways.
What's your favorite part of Thanksgiving (food-wise)? I'd be willing to bet your favorite part isn't the turkey. In fact, this year I want nothing to do with making a turkey that I ordered one fully cooked from Whole Foods for $59.99. I haven't eaten it yet obviously, but I can already tell you it's the best $59.99 I've ever spent. After all, Thanksgiving is a holiday where 1.) traditions reign supreme and 2.) the sides get a chance to shine. And boy do I love both! My favorite sides? I look forward to the basics: mashed potatoes, stuffing, and cranberry sauce. Call me #basic, but these simple sides just bring me back to my childhood.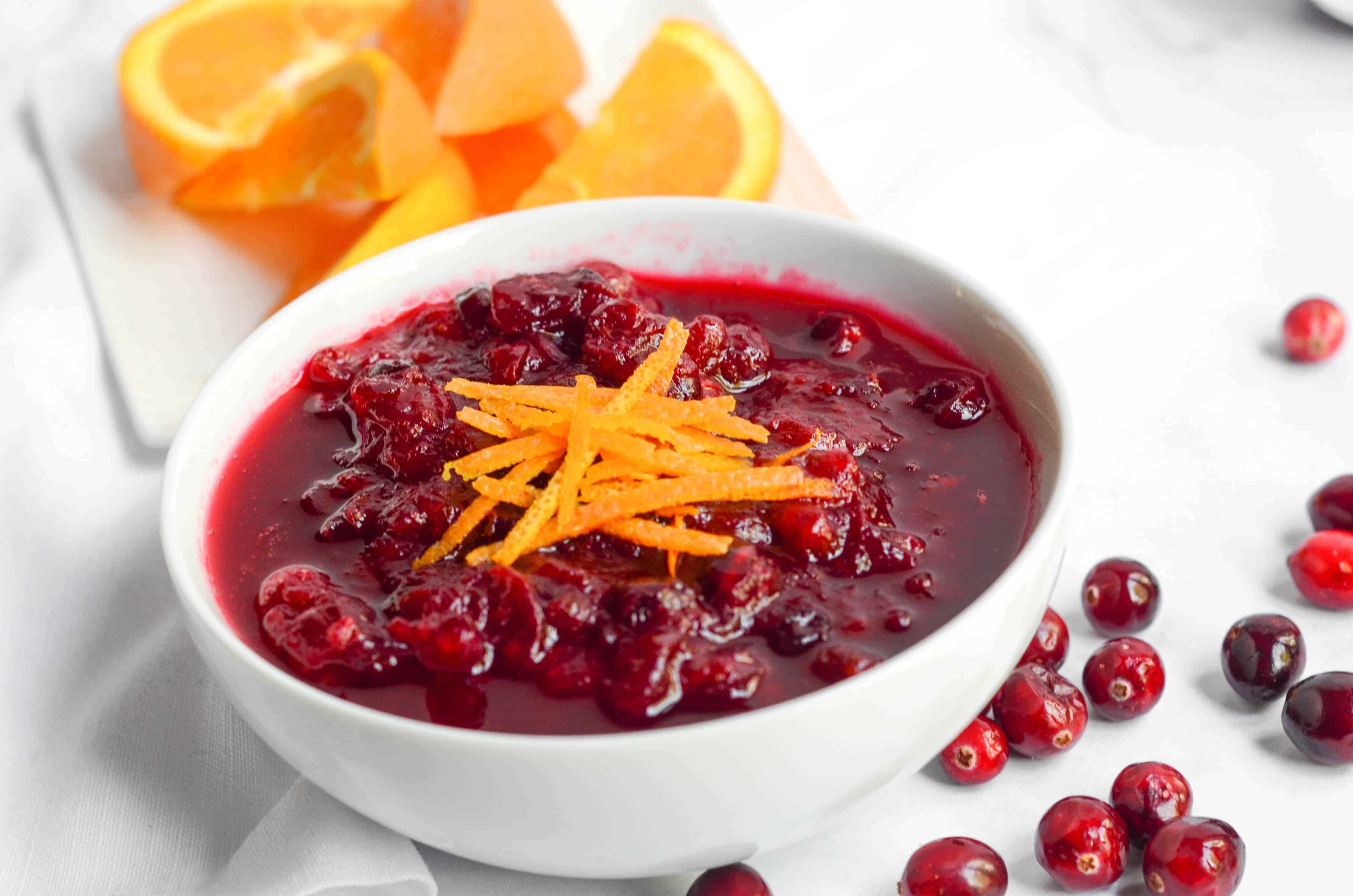 Canned cranberry sauce or not?
Actually, why choose? I have to have canned cranberry sauce on my table. Sorry. It's a holiday tradition that was started in my family since I can remember. We never had the "real" stuff. And I kinda fell in love with the tart, oddly textured canned cranberry sauce. However, later in my adult years I started appreciating the fresh stuff, too. This cranberry orange sauce is almost better the following days because you can use it in so many different fun ways, which I'll explain below.
I will admit this canned v. fresh cranberry sauce is quite the polarizing question though, so all the more reason to make sure you have both on your table this year. And while the can is as easy as a few twists with a can opener, this fresh cranberry orange sauce only takes 10 minutes total, so don't be discouraged if you want to give this a try.
How to make cranberry orange sauce
You'll just need a medium sauce pan set on medium heat. Combine all of the ingredients (cranberries, sugar, water, orange zest, and vanilla extract) into the pan and give it a good stir. Vanilla extract is my secret weapon. It really enhances the flavor of the cranberries and cuts down on the bitterness along with the sugar.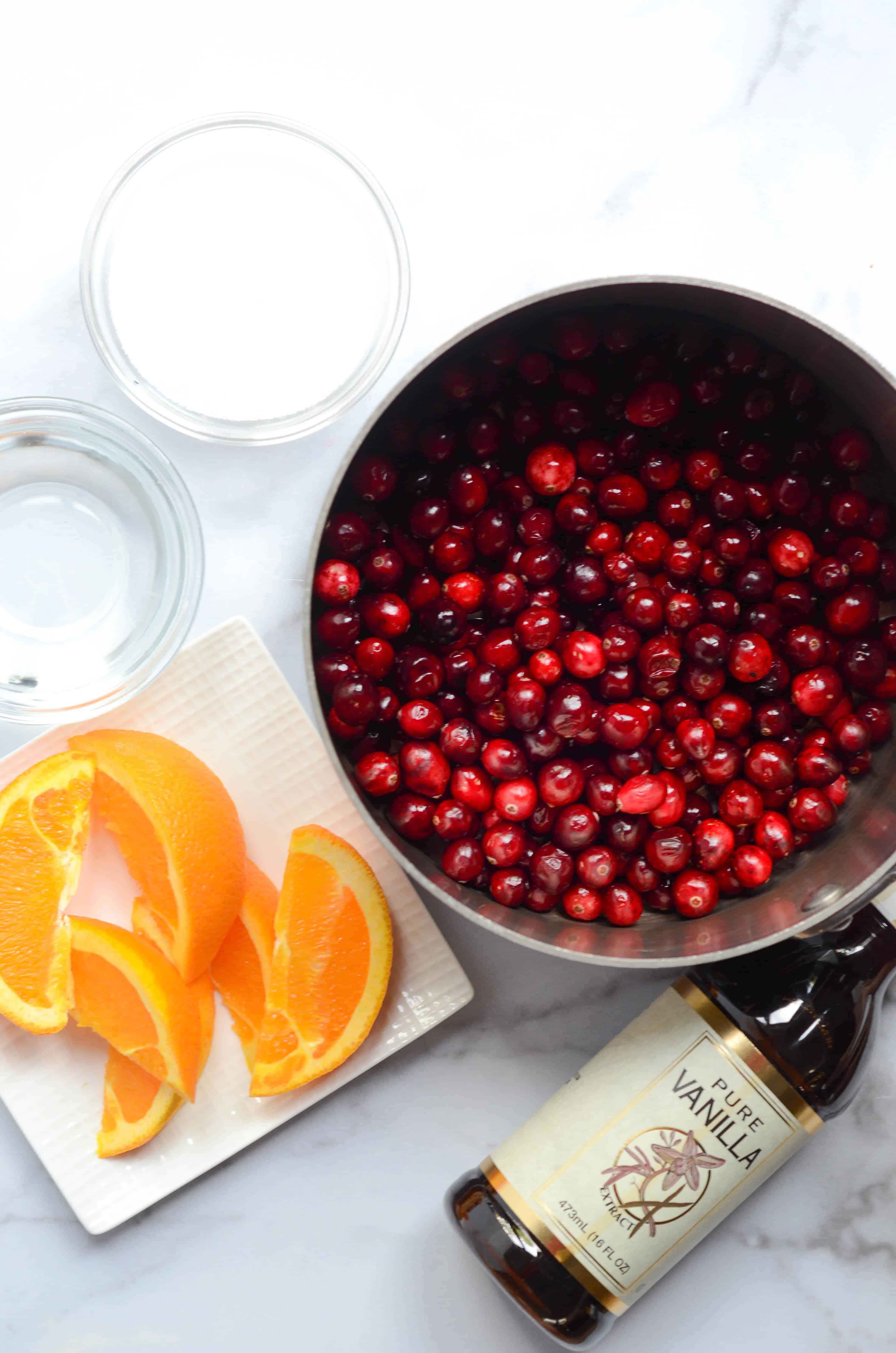 Then wait until the cranberries start to pop. It'll sound like popcorn as the cranberries burst open. Let the mixture boil for about 5 more minutes until the sauce thickens a bit. Then remove from the heat and let sit for another 10 minutes. The sauce will continue to thicken.
You can serve the cranberry sauce at whatever temperature you'd like (or have the time for). I like it hot, cold, or somewhere in between.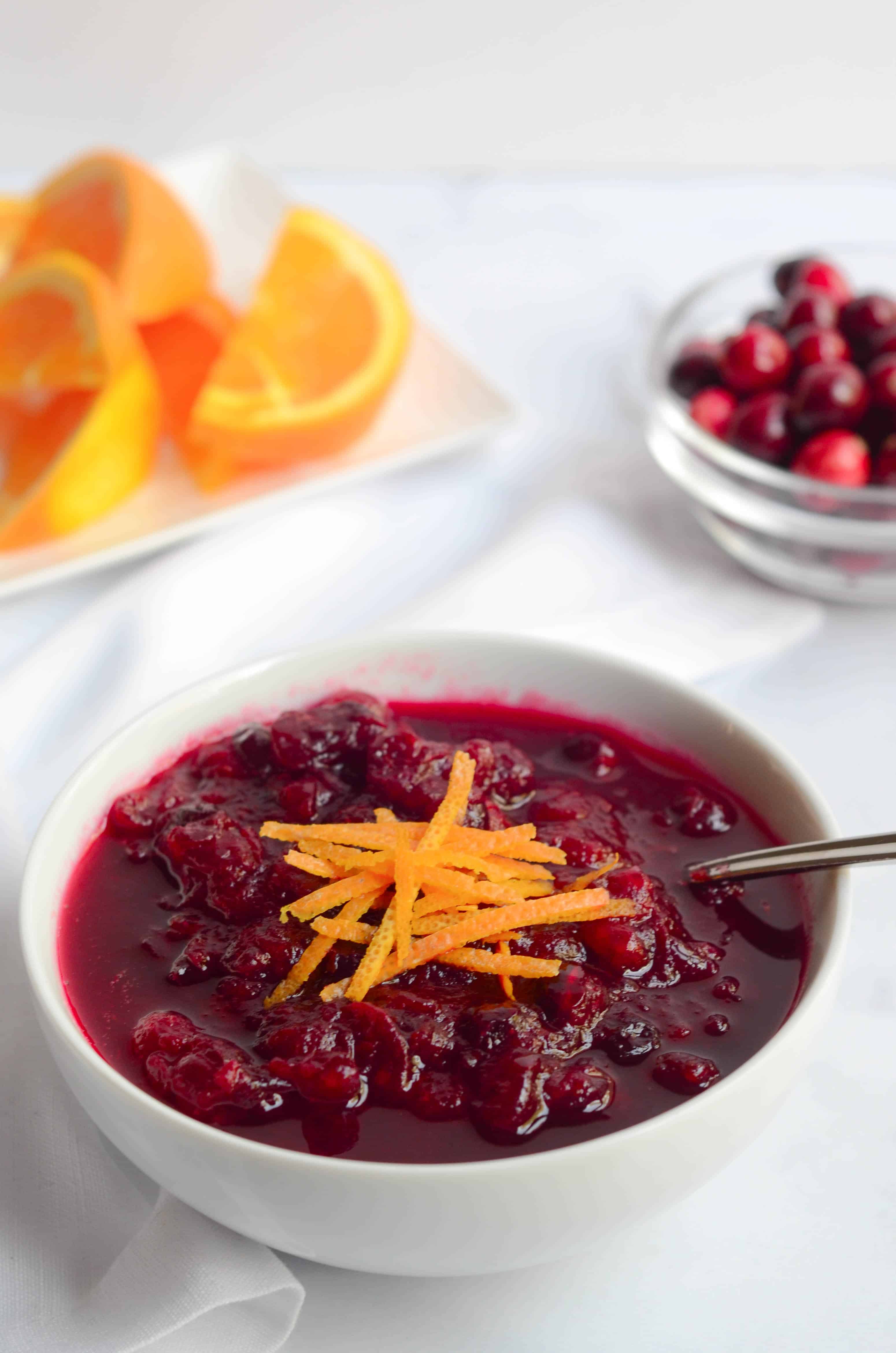 Other ways to use fresh cranberry sauce
Unless you're having a large gathering, chances are you're going to have lots of leftovers of everything at your table, including this fresh cranberry orange sauce. Don't panic. Here are some delicious ways I love to use the cranberry sauce days later:
On top of my fluffy pancakes. These are my go-to pancake and waffle recipes on weekend mornings.
Make a turkey or ham sandwich and sub mayo for the cranberry orange sauce. It's amazing, especially with stuffing also.
I'm definitely going to whip up a batch of homemade vanilla ice cream and swirl in the last spoonfuls of the cranberry orange sauce.
And thanks to the Washington Post, I've never thought of cranberry sauce going into rugelach or thumbprint cookies, but this is so obviously brilliant, I'm definitely going to give this a try.
They also recommend stirring in cranberry sauce into a stew to brighten the flavor. I'm totally intrigued.
Sweetgreen makes a delicious and festive cranberry vinaigrette recipe that'd be great for a winter salad.
Hope everyone has a very happy Thanksgiving!
xox
k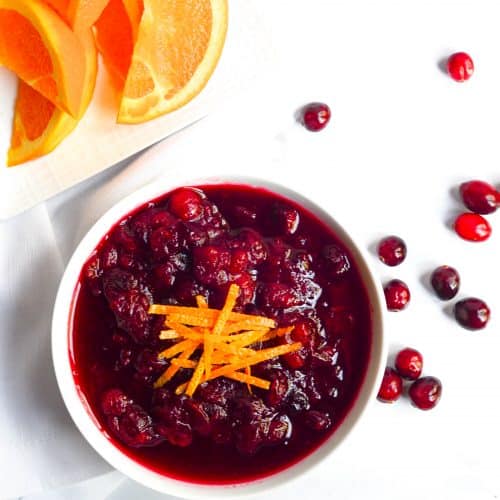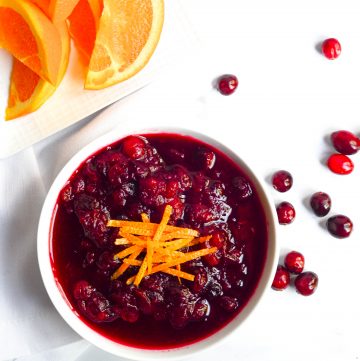 Easy Cranberry Orange Sauce
This easy cranberry sauce is tangy and sweet with a hint of citrus, perfect for your festive holiday table.
Print
Pin
Rate
Ingredients
1

12 oz. bag

fresh or frozen cranberries,

not dried though

½

cup

sugar

½

cup

water

1

orange, zested and juiced

⅛

teaspoon

vanilla extract
Instructions
Put all ingredients into a medium-sized saucepan on medium heat and stir. Let mixture come to a boil. The cranberries will start to burst open at this point. Let mixture boil for 5 minutes, then reduce to simmer for another 5.

When the juices start to thicken ever so slightly, remove from the heat and let rest for 10 minutes. Serve immediately or let it cool before sticking in the refrigerator until you're ready to use.
Notes
Serve hot immediately or let it cool and place in the refrigerator until you're ready to use. 
Storing cranberry sauce: This will stay fresh for 3-4 days in an airtight container.