This Cranberry Sparkler Cocktail is festive, fun, and totally delicious with a sprig of rosemary and a cinnamon and sugar rim. It's ideal for making for one or a crowd.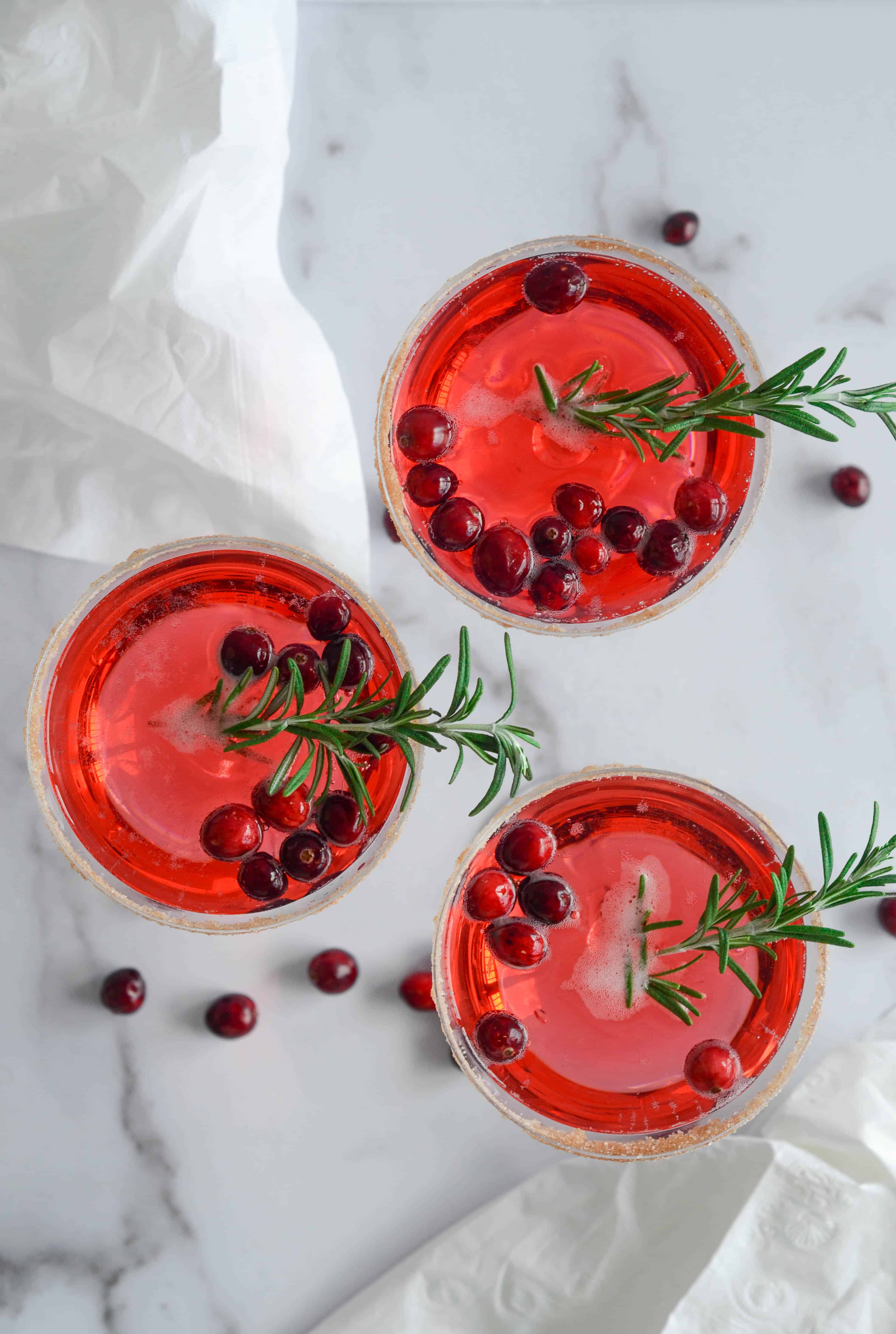 I'm declaring this week Cocktail Week. Not sure why other than it's an "OMG-how-is-it-already-December" kinda feeling. I'm not sure how Thanksgiving has already passed or how December is already upon us. Christmas in just over 20 days makes my head spin. We had a great, calm Thanksgiving at the beach this year though, so I shouldn't complain. It was just the four of us -- so there were absolutely zero expectations for the day. We relaxed, ate way too much turkey, stuffing, and cranberry sauce) and ventured out when we felt like it, and got some good snuggles in.
We did get to making a lot of these Cranberry Sparklers, too. These were our pre-Thanksgiving meal drinks. They're super festive from the red of the cranberries to the green of the rosemary, but they also taste delicious. If you don't love cranberry, you are definitely not excluded from loving this drink either because it's a very subtle flavoring. Just enough to give you a taste without overpowering your cocktail. After all, I want to taste my champagne or prosecco. Speaking of champagne or prosecco...
Prosecco v. Champagne: What's the friggin' difference?
Both prosecco and champagne are sparkling white wines. Champagne is produced from chardonnay, pinot noir, or pinot meunier grapes from the Champage region in France while prosecco is produced from the Veneto region (Italian) from glera grapes mainly.
I typically find proseccos to be a little sweeter than champagnes, so that's what I prefer to drink most of the time. The flavors of the grapes in prosecco and the flavors of the cranberry juice pair well together without one overpowering the other. Plus, prosecco is usually a bit cheaper. Double win.
No matter your choice of bubbly though, this drink is so, so easy to assemble.
Ingredients to make a cranberry sparkler
The ingredient list is super simple and you need about 2 minutes of your time to make: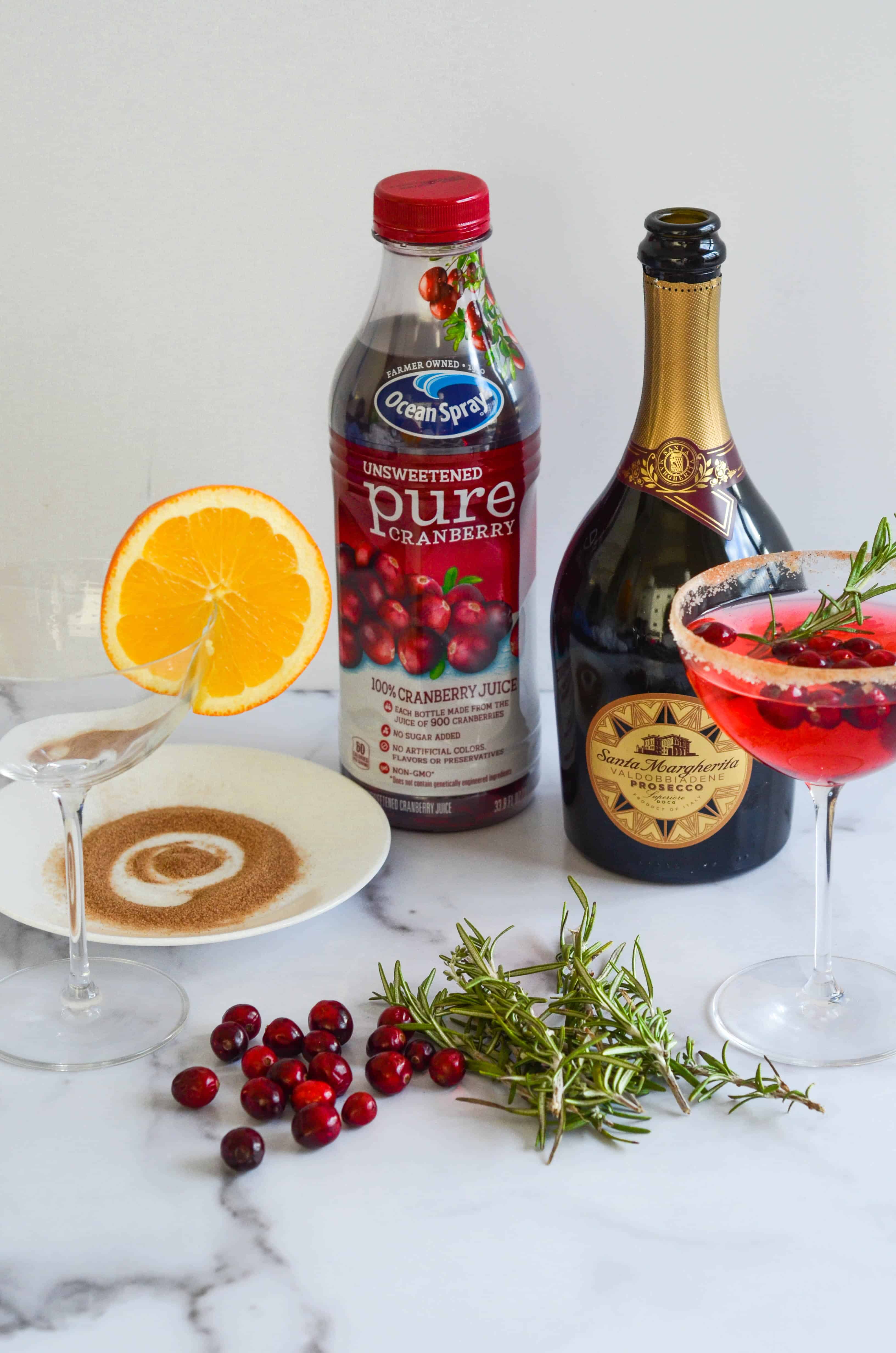 prosecco or champagne (whatever you prefer)
unsweetened cranberry juice (or you can sweeten it...so below)
rosemary sprigs (for garnish). I shouldn't say this is just for garnish though. It's like a Pimm's and Coke. Since getting introduced to Pimm's and Coke from my college boyfriend's sophisticated bartender friends (they seemed that way at the time, anyway), there's no way I can drink that beverage without a slice of cucumber on the rim. It's the ultimate summer drink when you smell the fresh cucumber with each sip. This sprig of rosemary has the same effect. It's a must.
fresh cranberries (for garnish). Okay, these add absolutely nothing to the drink but are there for aesthetics.
orange or lemon for lining the rim of your glass.
cinnamon and sugar mixture for the rim. Don't skip this step. It's super simple to line a wine glass with deliciousness, and it adds a lot of flavor with each sip. Take a look at this video for how to quickly line your rim. I use a lemon or orange because I always have one handy.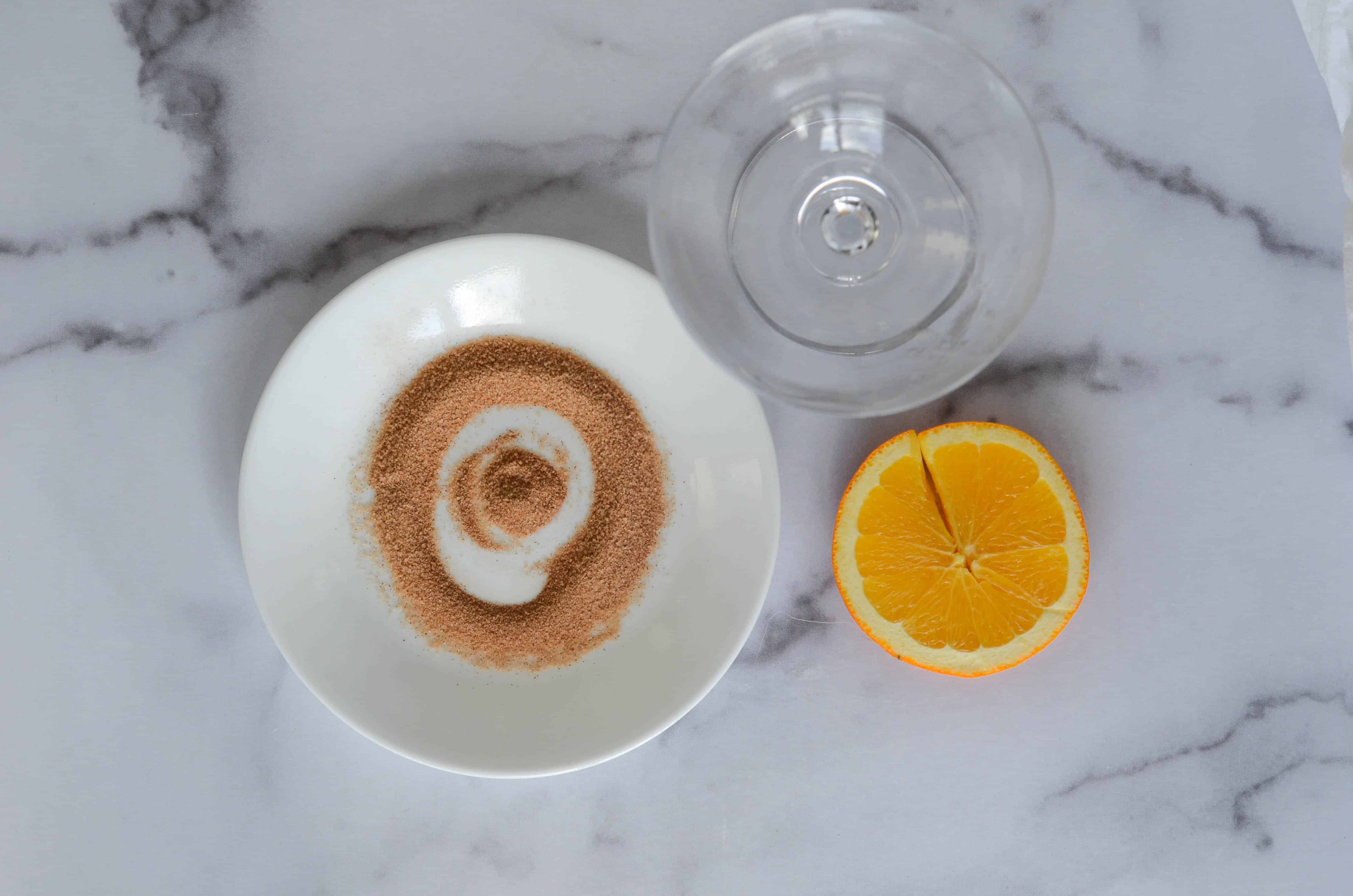 Like sweeter cocktails?
As I mentioned above, this cranberry sparkler uses unsweetened cranberry juice. I think it's the best cranberry juice to use in a cocktail because it gives you the delicious flavor without the unnecessary sugar. Prosecco is already on the sweeter side. You can buy unsweetened cranberry juice at any grocery store. It's usually right there with all of the other cranberry juice options (which are surprisingly vast! Holy cow! How many variations of cranberry juice can one have!).
With that said, if you're looking for a sweeter cocktail, substitute sweetened cranberry juice for the unsweetened kind. You can also add in 1 tablespoon of simple syrup per drink if you were looking for a super sweet cocktail.
Make this drink a mocktail
Not into alcoholic beverages? Under age? Maybe you're pregnant? (Ugh -- speaking of pregnant...it's the worst when people scrutinize your every drinking move when you're of child bearing age. Can we just agree that it's none of your business?! And, no. I'm not pregnant.) I enjoy a good mocktail. You can still feel like you're drinking but your liver doesn't hate you in the morning.
To make this cranberry sparkler cocktail non-alcoholic, substitute regular ginger ale instead of the prosecco or champagne and you've got yourself a delicious, alcohol-free beverage to enjoy.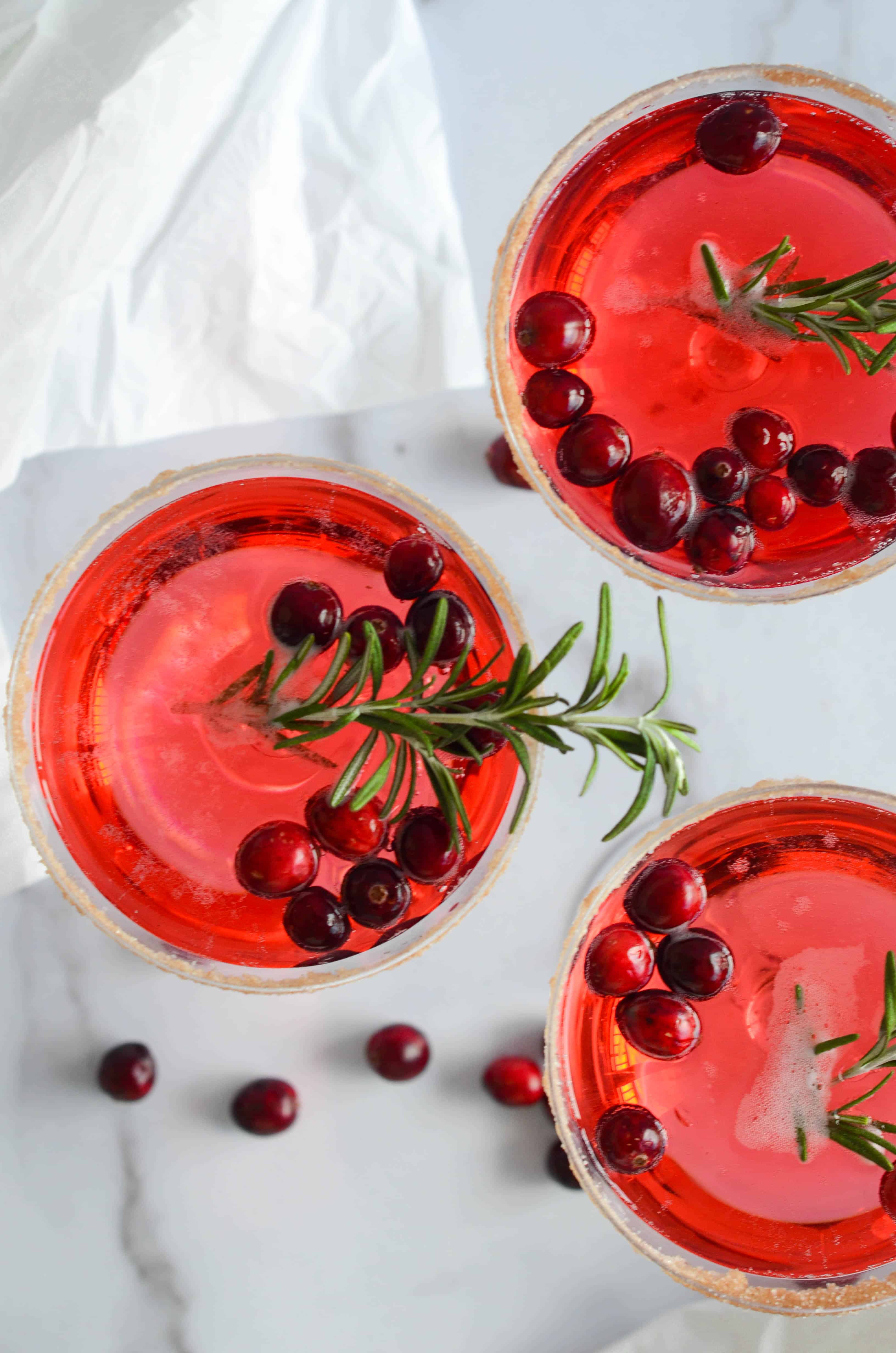 Other fun, festive cocktails
Maybe you're more of a gin drinker? Or rum? Or good ole classic vodka? Check out some of these other delicious cocktails that are great for the holiday season:
Let's finish our Christmas shopping, put up any last-minute decorations, visit with Santa...but let's have a drink first. We need it. We DESERVE it.
xox
As always, if you make anything from the blog, be sure to let me know! I love hearing from you in the comments on this post below or find Worn Slap Out on Facebook, Instagram, or Pinterest!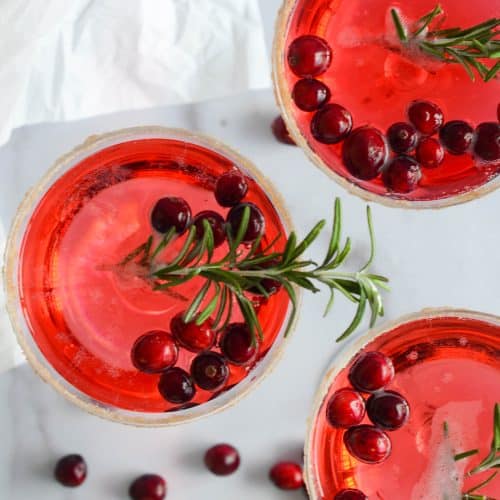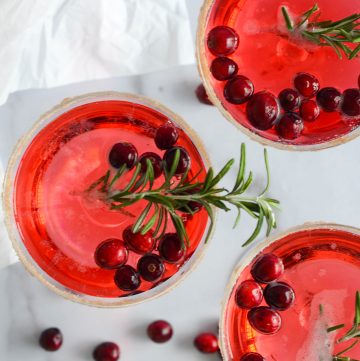 Cranberry Sparkler Cocktail with Cinnamon and Sugar Rim
Festive and fun, these refreshing cranberry and rosemary spritzers are the perfect holiday drink.
Print
Pin
Rate
Ingredients
1

bottle

prosecco or champagne

1

cup

unsweetened cranberry sauce

6

sprigs

rosemary

3

tablespoon

sugar

2

teaspoon

cinnamon

1

slice

lemon or orange

½

cup

fresh cranberries

optional for garnish
Instructions
Brush rim with flesh of lemon or orange. Mix cinnamon and sugar together on a small plate. Coat rim with cinnamon and sugar.

Fill glasses with prosecco or champagne then add dash of cranberry juice to taste.

Add fresh cranberries and top with rosemary sprig. Enjoy!
Notes
You'll notice there is no sweetener in this drink.  If you prefer sweeter cocktails, simply add 1 tablespoon of simple syrup to each glass and stir well.