These parmesan chicken tenders require a minimal amount of ingredients, including Italian bread crumbs and fresh grated parmesan, to create crunchy and flavorful chicken the whole family will love.
Up until recently, chicken tenders were the only meat I could find at the grocery store. Now, I could have cut up the chicken tenders and used them in just about anything, but I'm not that smart. Instead, my mind thought, "Oooh, how many different ways can I make chicken tenders my kids will eat?!"
The answer is actually a whole lot. (These Buttermilk Baked Chicken Tenders are one of my other favorites!)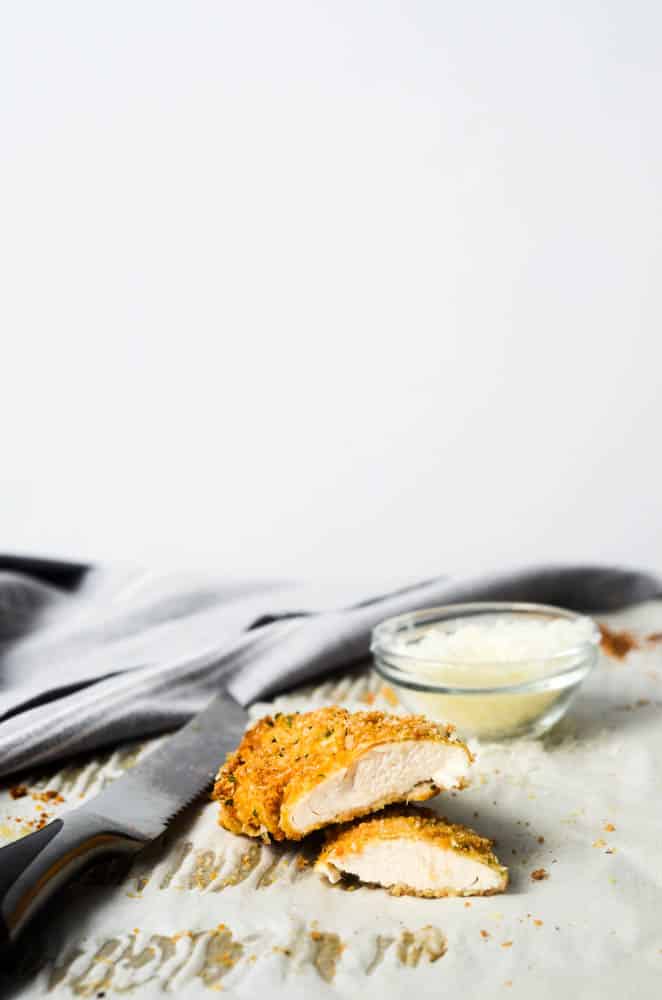 These Italian-style parmesan chicken tenders are a good ole staple recipe to always keep in your back pocket. There's absolutely nothing fancy about these guys, but there's a lot to love. You don't need any fancy ingredients to make a crunchy, flavorful chicken dinner that's yours in just over 20 minutes. And my favorite method - sticking something in the oven so you don't have to tend to it on the stovetop. Oh, yeah -- there's also that whole healthy part, too, since they're baked and not fried!
And who doesn't like that, quarantine or no quarantine?
Ingredients You'll Need
chicken tenders (or chicken breasts sliced into 3-4 strips per breast)
eggs
all-purpose flour
Italian breadcrumbs (hence, the Italian-style...I didn't say these were authentic!)
freshly grated parmesan cheese (definitely go with freshly grated parmesan instead of the stuff that's pre-grated. It makes a huge difference. I use my microplane for quickly grating cheese...and it's one of my favorite kitchen utensils ever)
salt + pepper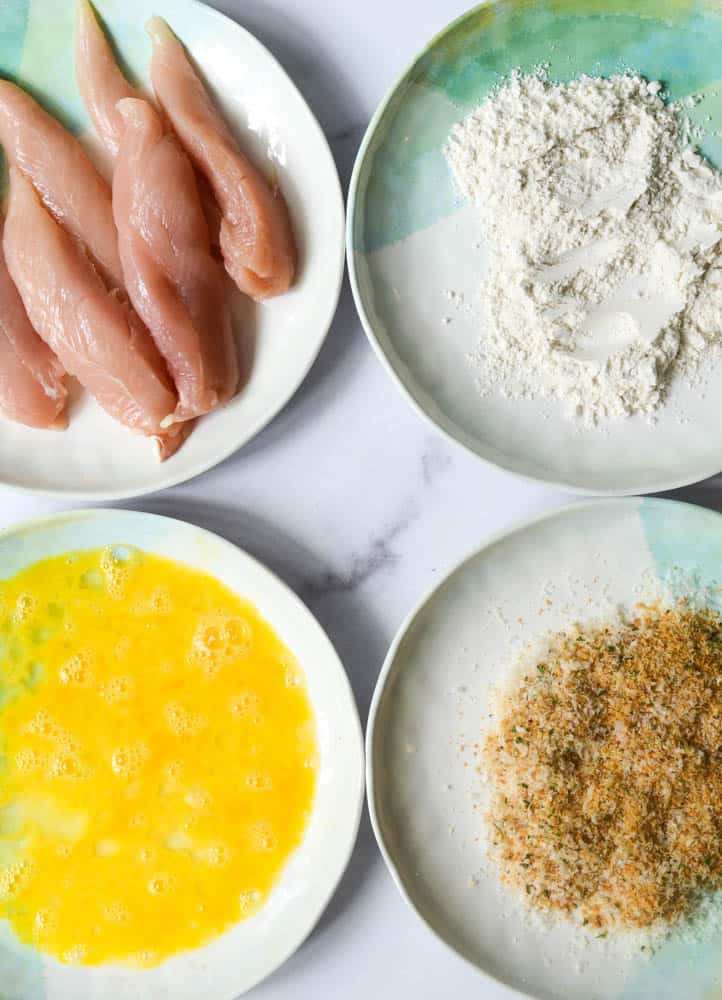 How to Make Crunchy Parmesan Chicken Tenders
Even though these parmesan chicken tenders are baked, they still can be nice and crunchy. Here are some tips:
Press the breadcrumbs into your chicken. Make sure the entire chicken tender is coated and then press even more onto the chicken. This'll help keep the moisture in as the chicken bakes and have an outer layer to make crunchy.
Place your breaded chicken up on a baking rack before putting in the oven so the bottom doesn't get soggy (secret confession: I rarely actually do this because I'm too lazy to clean a rack and instead I put the chicken down on parchment paper but you do you).
Put your chicken under the broiler for the last 1-2 minutes of baking so the breadcrumbs have a blast of super high heat to finish crisping up and browning.
Make These Parmesan Chicken Tenders Gluten Free
You can sub in almond flour instead of all-purpose flour and use gluten free Italian breadcrumbs. While I don't use almond flour for these chicken tenders, I always use my Aleia's gluten free breadcrumbs because these are truly the best breadcrumbs around (and this is in no way sponsored) regardless of whether you're gluten free or not.
Can you make these in an air fryer?
The answer is yes -- but since I don't have one, I'm relying on what friends have told me. They suggest putting the chicken tenders in the air fryer at 400˚ for about 12 minutes.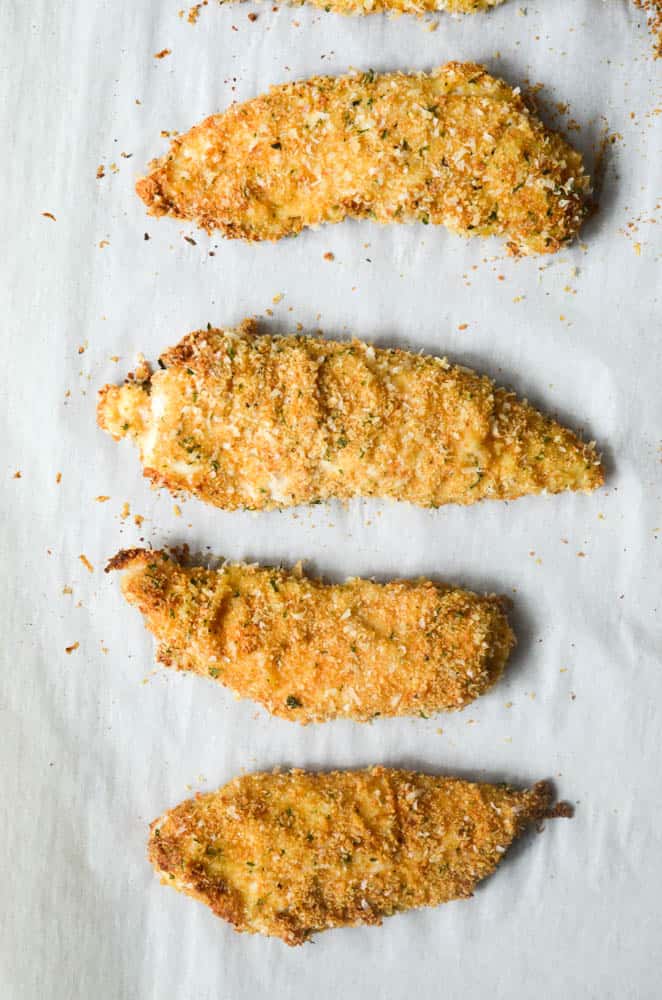 What to eat with your chicken tenders
How about a little side pasta? Or perhaps a caesar salad? Or maybe you're trying to go a bit healthier with a garden salad with balsamic vinaigrette. There are so many options!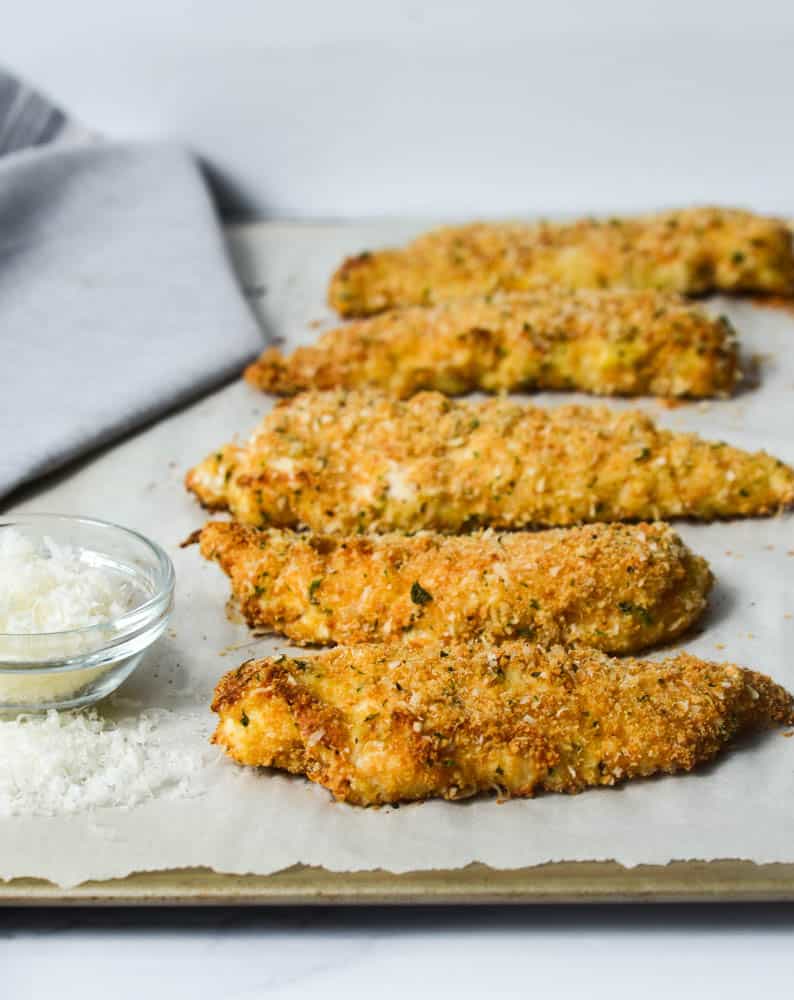 xox
kathryn
As always, if you make anything from the blog, be sure to let me know! I love hearing from you in the comments on this post below or find Worn Slap Out on Facebook, Instagram, or Pinterest!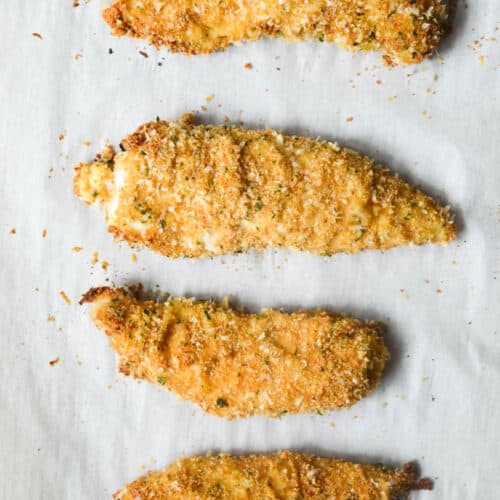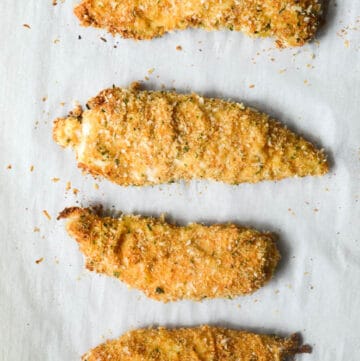 Crunchy Italian-style Parmesan Chicken Tenders
These parmesan chicken tenders require a minimal amount of ingredients, including Italian bread crumbs and fresh grated parmesan, to create crunchy and flavorful chicken the whole family will love.
Print
Pin
Rate
Ingredients
2

lbs

chicken tenders (or chicken breasts sliced 3-4 times)

2

eggs, lightly beaten

¼

cup

all-purpose flour

1 ½

cups

Italian breadcrumbs

1

cup

freshly grated parmesan cheese

salt + pepper
Instructions
Preheat oven to 375˚ F. Line baking sheet with parchment paper (or use baking rack). Set aside.

In 3 different bowls, place your flour, salt and pepper on first plate, beaten egg on second, and breadcrumbs and parmesan on third. Dip chicken fingers in flour first, then egg, then coat with breadcrumb mixture. Press breadcrumbs into chicken to make sure the chicken tenders are well coated. Place on parchment paper.

Bake for 18-20 minutes or until chicken is cooked through and tops are brown and crispy. If tops haven't gotten crispy, place under broiler for 1 minute.