Rainbow cakes make everyone happy. It's just a fact of life. This rainbow cake will make you extra happy because it uses boxed cake mix for the easiest (but still amazingly delicious!) way to make such a fun cake.
It's my birthday today, and I'm so thankful for another year around the sun. Another year to do good things. Another year to raise my babies. Another year to laugh and learn. I'm thankful for it all.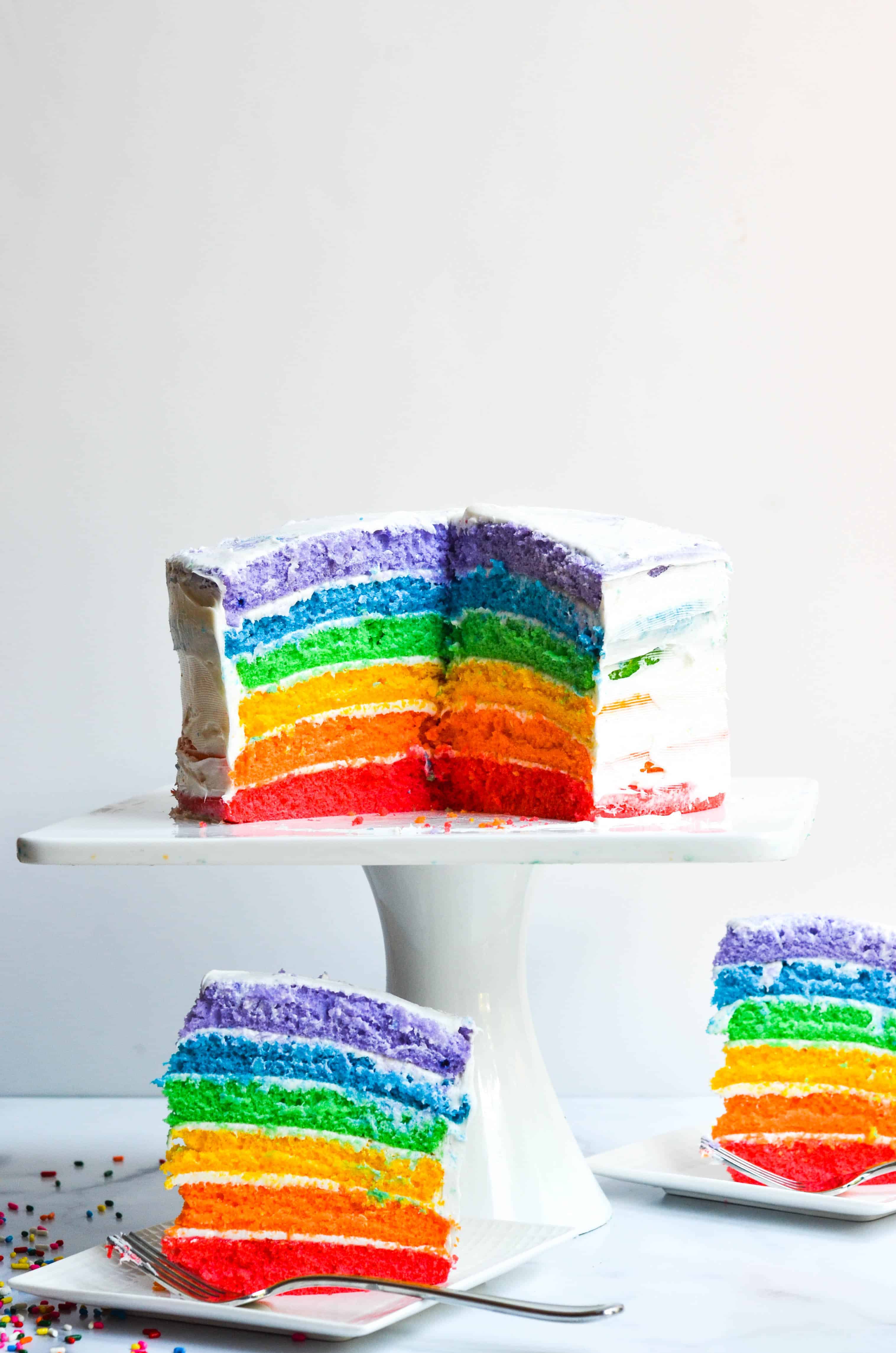 We've really been celebrating since yesterday. Connor set up a whole classroom in the basement, and he celebrated my birthday exactly how they celebrate in his Kindergarten class, except I got a smorgasbord of an iced cookie, fortune cookie, or ice cream from the play kitchen. We had a mystery reader (surprise! It was me!) to read The Book with No Pictures, which is a favorite in our household. I got to stand at the front of the class while my best friend and two children sang me happy birthday. Then I was presented with a drawing Connor had been working on all afternoon. Finally, as if there could be any cuter ways to celebrate a birthday, the teacher declared me the line leader (behind him, of course) to head back up the stairs to put jammies on and get ready for bed. That was a pretty solid birthday before my actual birthday, if you ask me.
This rainbow cake recipe is magical for toddlers, y'all.
The kids went nuts over this rainbow cake. It was like I had made unicorns and narwhals pop out from their dessert. It was magical! Bri also didn't get the memo about just looking at the rainbow cake. I told her to "just look" as I was taking photos and she had some confirmation bias and interpreted that as "just lick." She got to lick a brand new cake (thank God it was meant for us) and I got the cutest picture ever.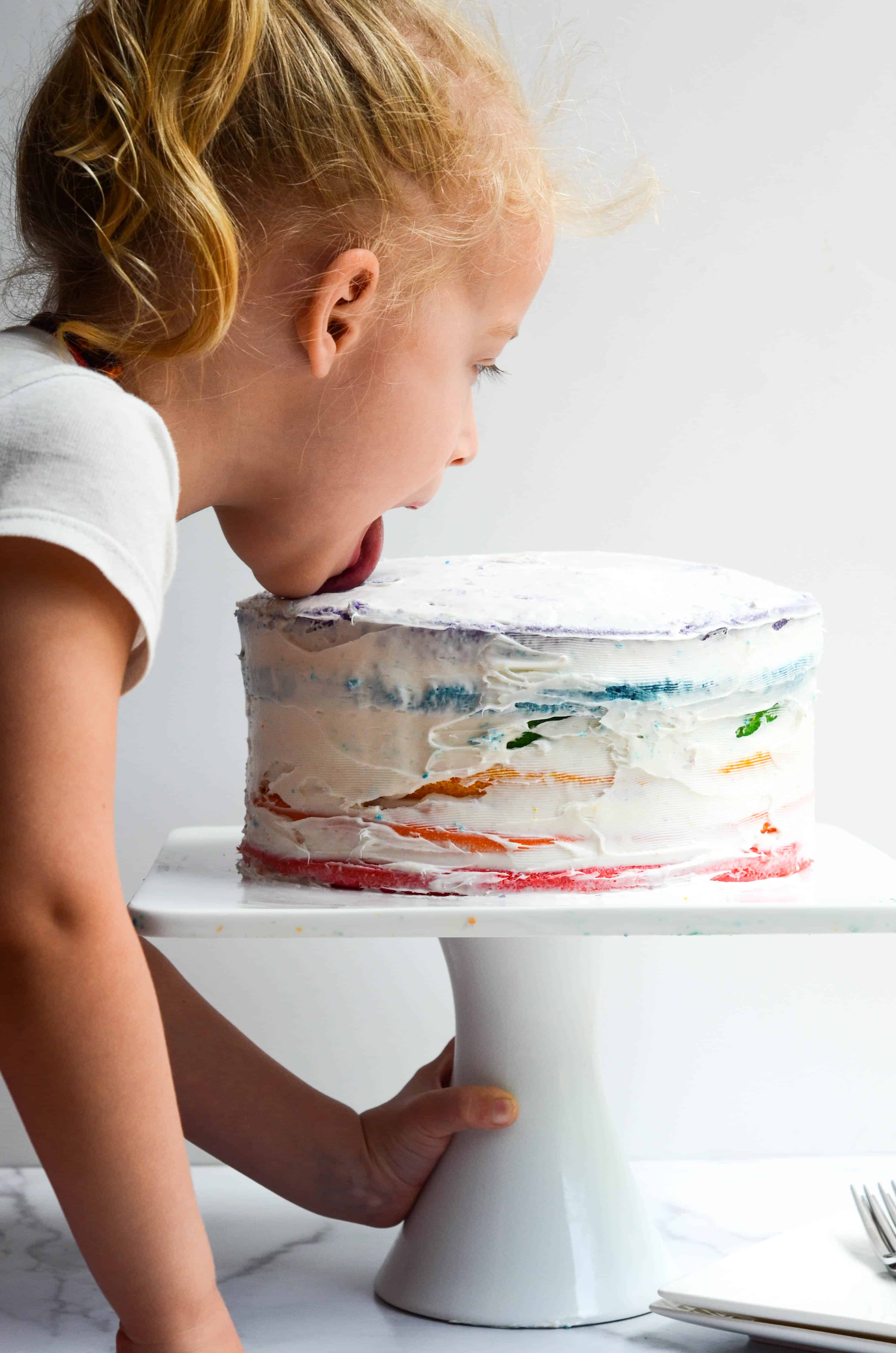 Don't be fooled though. 95% of the time when I'm snapping pictures, they look like this.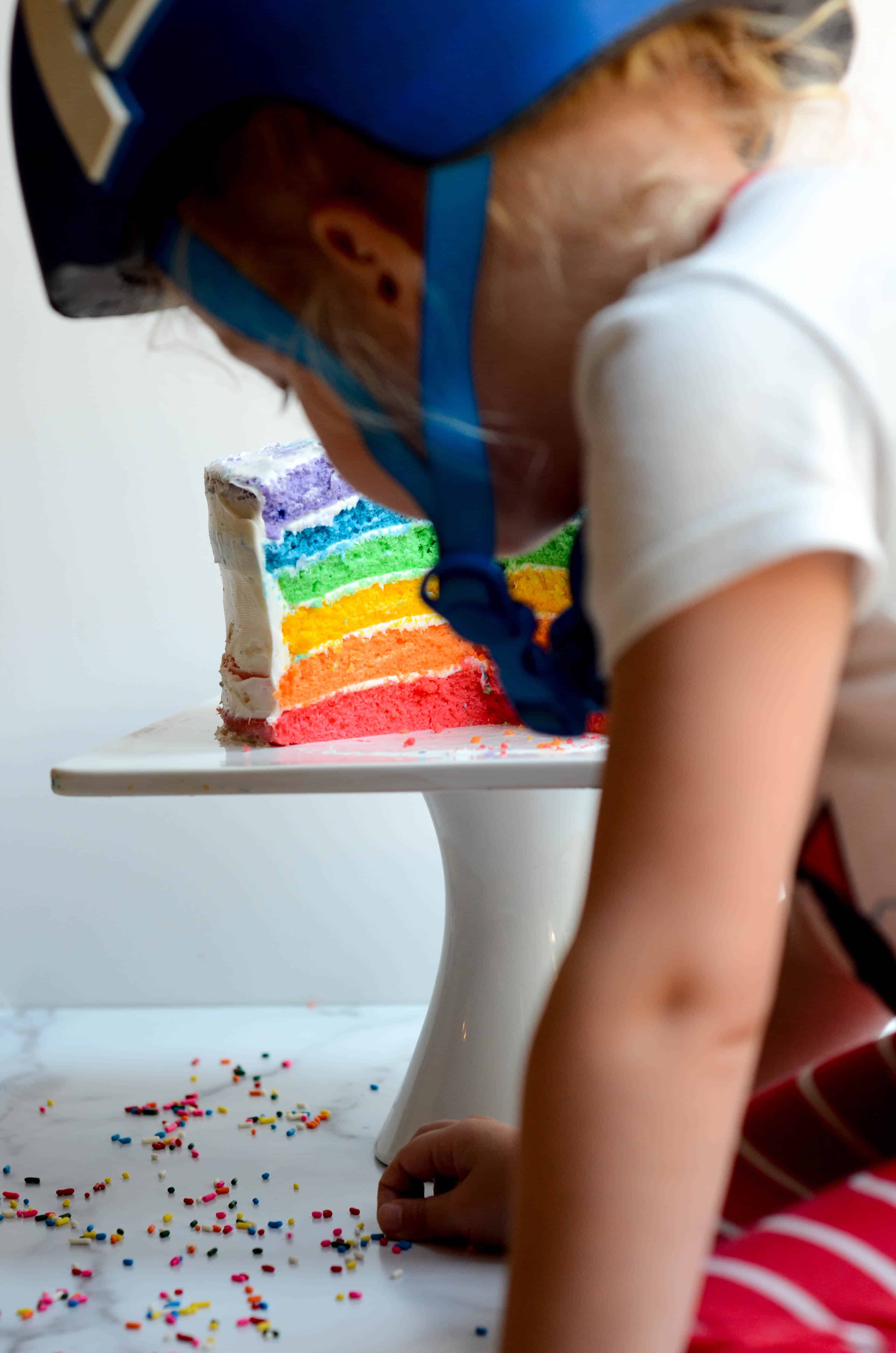 Let's chat about some of the basics so you feel confident in making this cake at home.
Hallelujah for rainbow cake using boxed cake mix.
This cake uses boxed cake mix. I'll say it again -- BOXED CAKE MIX! This cake cost me less than $10 to make. That's about $65 less than any rainbow cake you'd buy at a bakery, and it really doesn't take a lot of effort. Anytime I do something more complicated than making a regular ole cake, I always look for shortcuts because you're already going above and beyond. Cut yourself some slack.
Materials needed for this rainbow cake:
3 boxes of white cake mix. Any brand, any variety you prefer. I used Duncan Hines, but it doesn't really matter.
Gel-based food coloring. See below for more details but this is really necessary.
Six 8" cake pans. Don't worry if you only have two, no biggie. It'll just take you a lot longer because you'll have to bake in batches and wait for the cakes to cool. These ones are decently cheap though, so it's not too much of an investment if you're in the market for more cakes pans.
1 can of white frosting. Make sure you don't get cream cheese or vanilla. While those are delicious choices, they won't be that vibrant white color. Be sure to get the good ole white frosting.
OPTIONAL: A pastry bag and Wilton tip #4 is what I use to pipe a thin layer of frosting between each of the layers. You certainly could use a plastic bag that you cut off the end of to pipe on the cake. This just makes it neater and easier to do quickly for me.
The best food coloring to use
Let me start off my saying I don't use a lot of artificial colorings. My kids are exposed to all sorts of artificials dyes in all sorts of foods they eat at parties, at school, or in restaurants though, so to think that I'm going to eliminate artificial dyes from their diets entirely is just not something I stress about. I can manage the amount of artificial dyes I use when I'm cooking and baking. This is just not one of those times. However, you could definitely do a pastel rainbow cake using these natural food dyes if you aren't into the good gel.
If you're looking for the bright, bold rainbow colors though, you have to use gel. It's really the only way I've found to get those vibrant colors.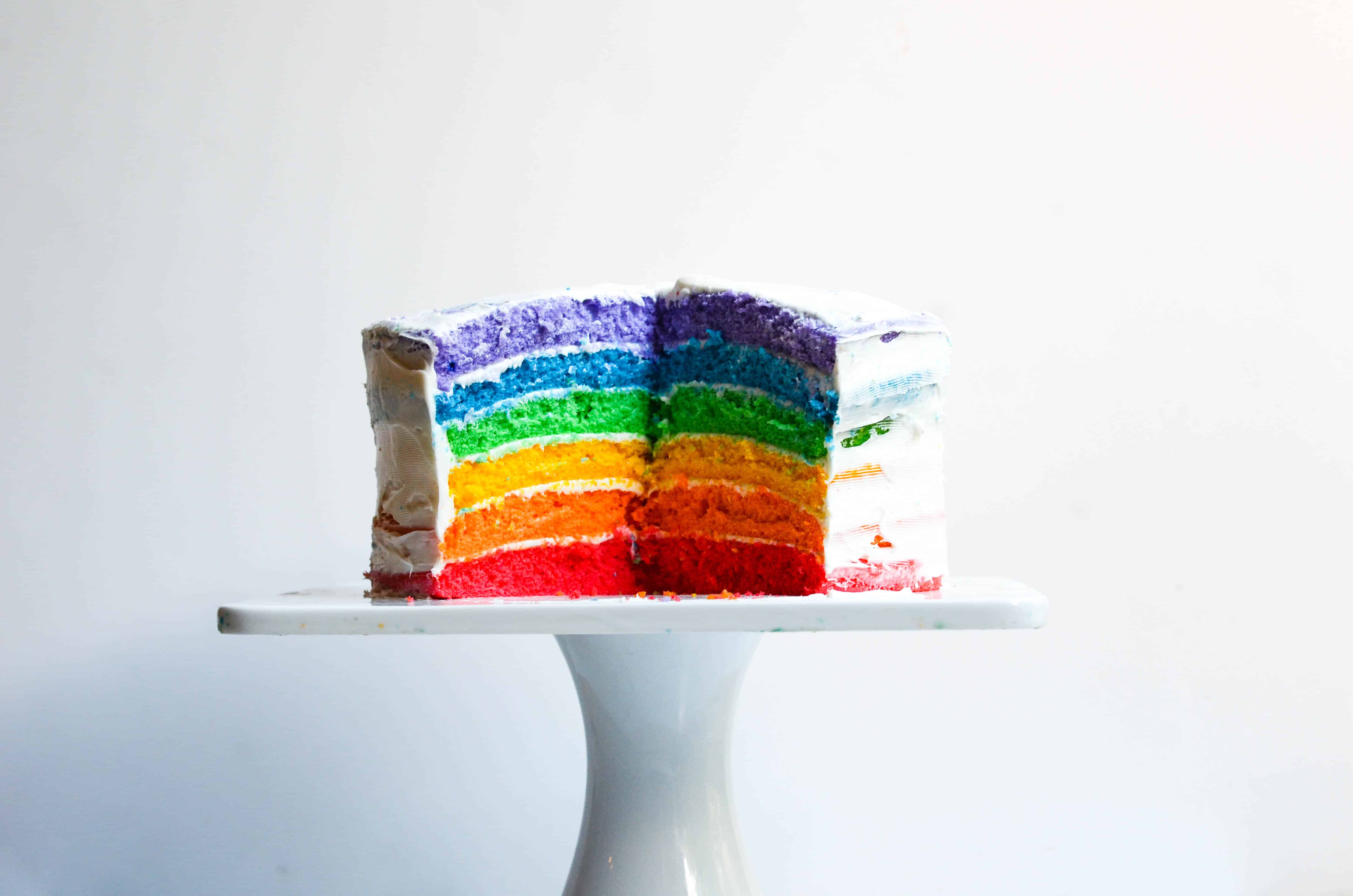 How to make a rainbow cake
Here are a few simple, step-by-step directions for making your easy rainbow cake from your boxed cake mix!
Step 1: Preheat your oven to 325 degrees F, and spray six 8" round cake pans with non-stick cooking spray and lining the bottoms of each pan with parchment paper. This is really necessary, as you'll want your layers to come out of the pan nicely so you can stack them, so do this now and get it over with.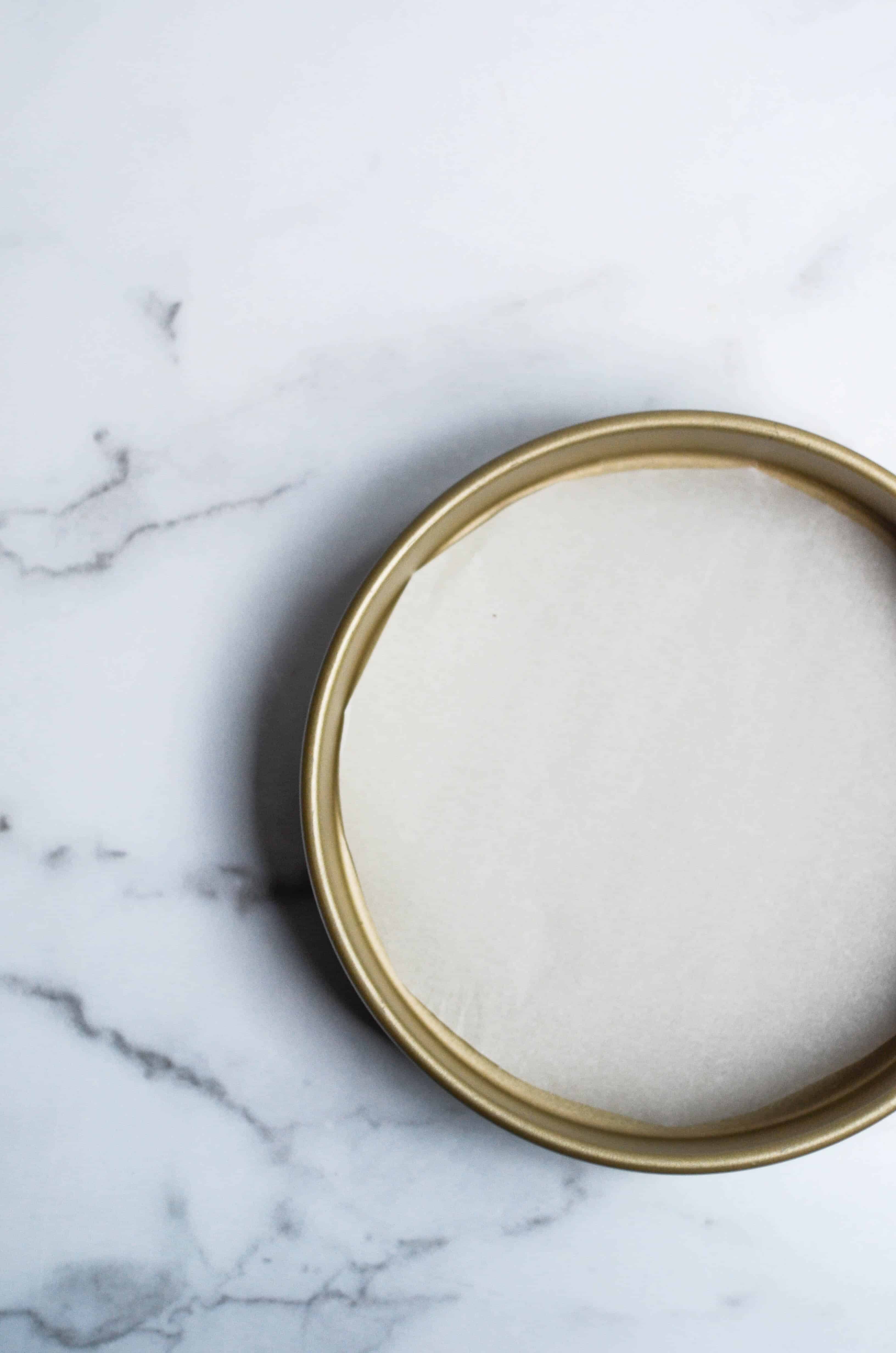 Step 2: Make your cake according to package directions. Get the biggest bowl you have in your house, and make a triple batch of your cake in that one bowl according to the package directions. There's no need to use a mixer. Just use a spoon. Seriously.
Step 3: Measure batter evenly into each of 7 bowls (yes, 7. I'll explain why in a second). Start with a cup of your cake batter in each bowl. Once the batter has been evenly distributed in each of the bowls, go for a second cup of batter in each. Depending on what boxed cake mix you use, you're looking at no more than 2 ½ cups of cake batter per bowl. This'll ensure you have even layers to your rainbow cake.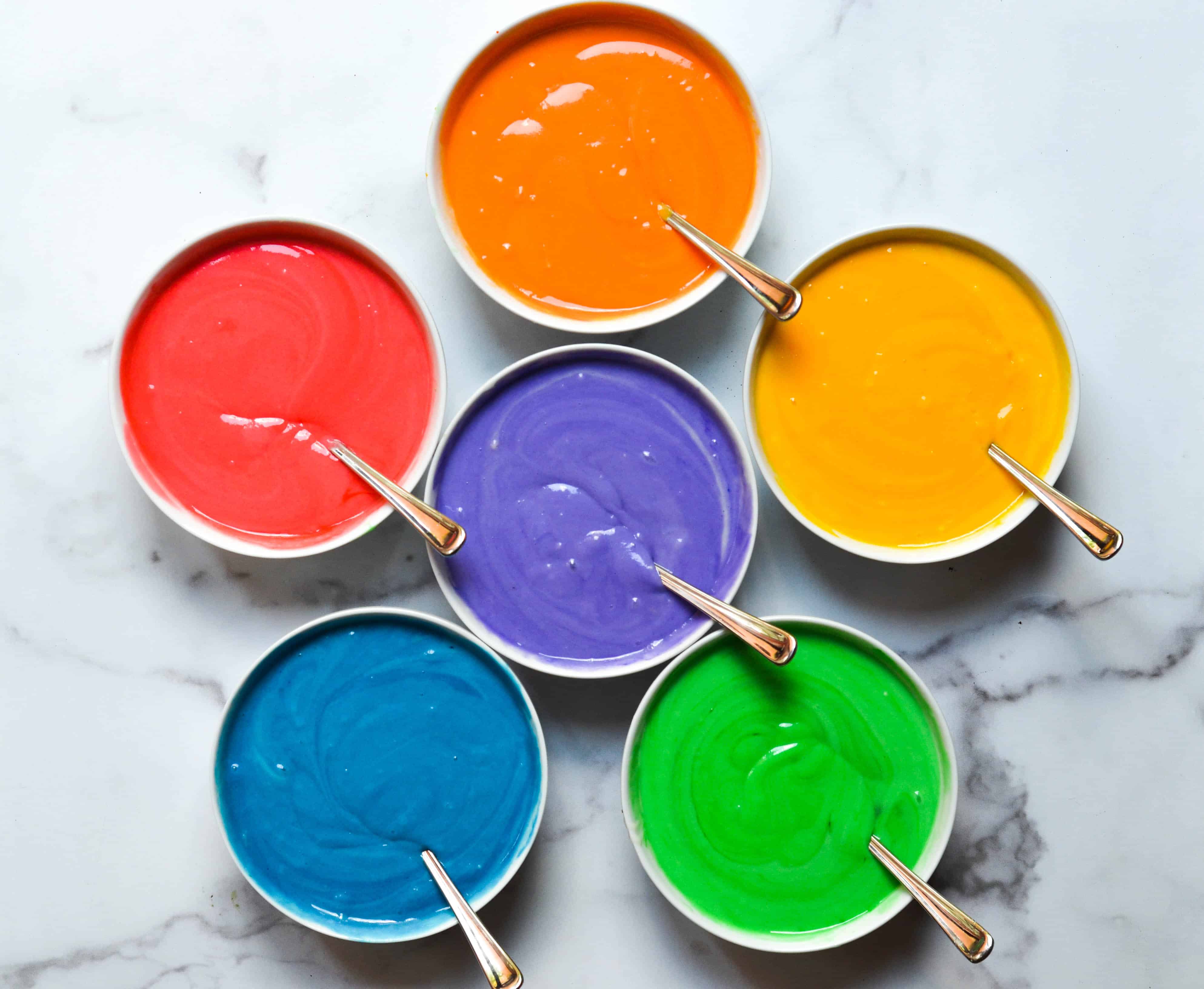 Step 4: Slowly add the food coloring gel with a clean toothpick little by little into each of the bowls. Don't forget the colors of the rainbow: ROY G. BIV (except we don't do indigo around here). It's easy to get the red, blue, and yellow to be vibrant, but once you start making purple (blue and red), green (yellow and blue), and orange (yellow and red), this'll get trickier. The good thing about the gel food coloring above is that it has most of these colors already mixed except the orange.
If you're using other gel food coloring, just make sure to go easy on the darker of the colors when you're mixing. Add a little bit of both colors (again, going especially easy on the dark one), and use a spoon to mix the frosting vigorously until well combined. Keep stirring until there are absolutely no streaks in the frosting. Then add more color as needed bit by bit.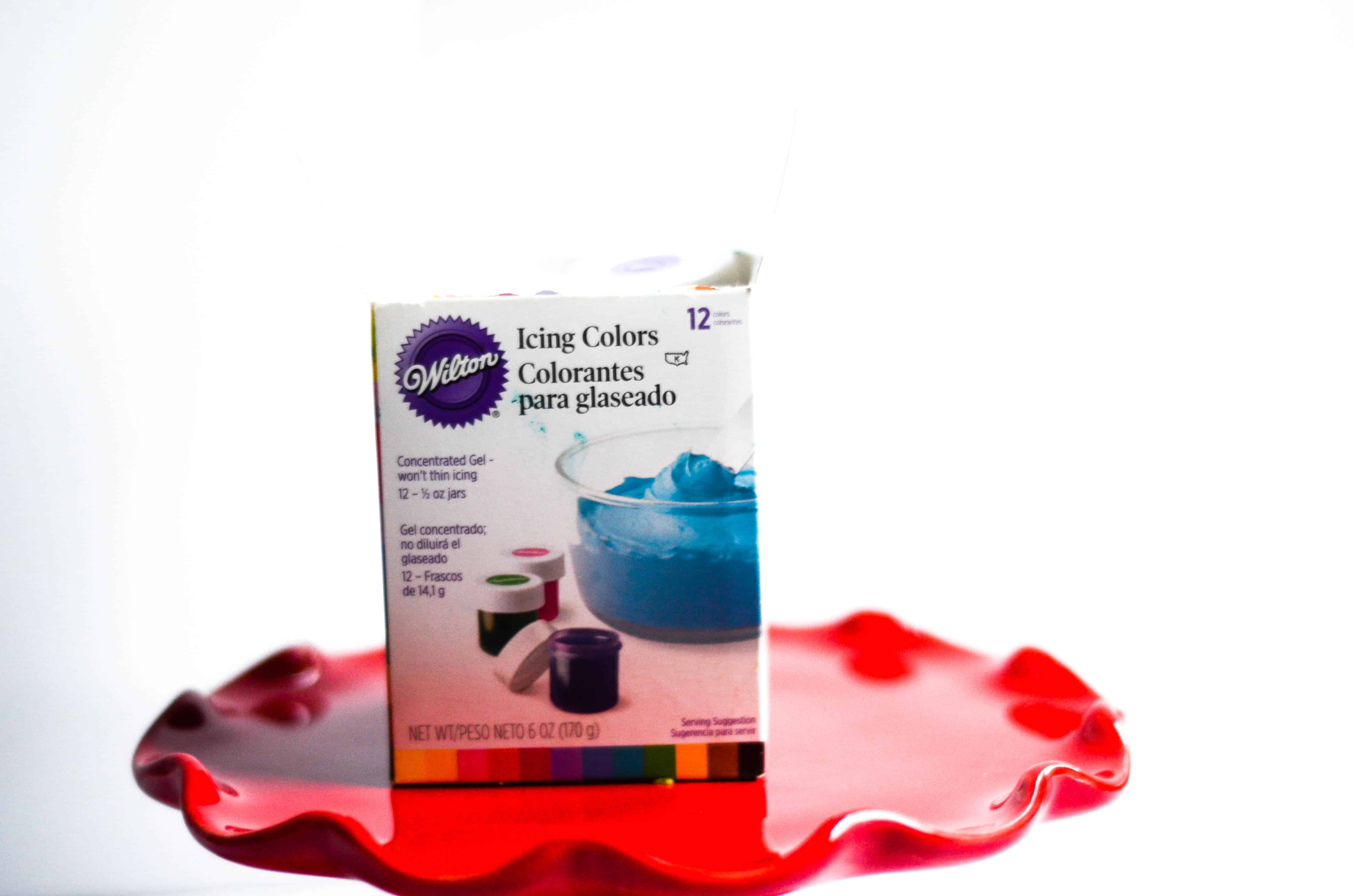 Why do you have this 7th bowl?
It's your "oh sh*t" bowl. When you mix colors, sometimes it's easy to make a mistake and put too much of one color. This happened to me when making the orange. I put too much red in initially. No biggie. You have a chance to try again because of this 7th bowl as a back-up.
Step 5: Pour batter into each of your 6 cake pans or do this step in batches and bake for only about 10 minutes for layer. Once a toothpick comes out clean, take it out of the oven. Let the cakes rest for 10-20 minutes before gently flipping over onto a cooling wrack. Cool completely before frosting.
Tips on frosting your cake
If you've been following me and have read my post for Homemade Strawberry Cake and Chocolate Zucchini Cake, you know that I am on an icing hiatus. And I'm predicting that hiatus won't be up for quire some time -- perhaps when the kids move out of the house?
That doesn't mean you can't have a beautiful cake though. I think it gives it a very rustic, beautiful quality, where you can kind of see the cake layers through the crumb coating.
Be sure to stick the cake in the refrigerator for 10-15 minutes before you put frosting on the layers then again after before you do the crumb coating. It just helps make sure you don't get crumbs in your icing and makes it much easier.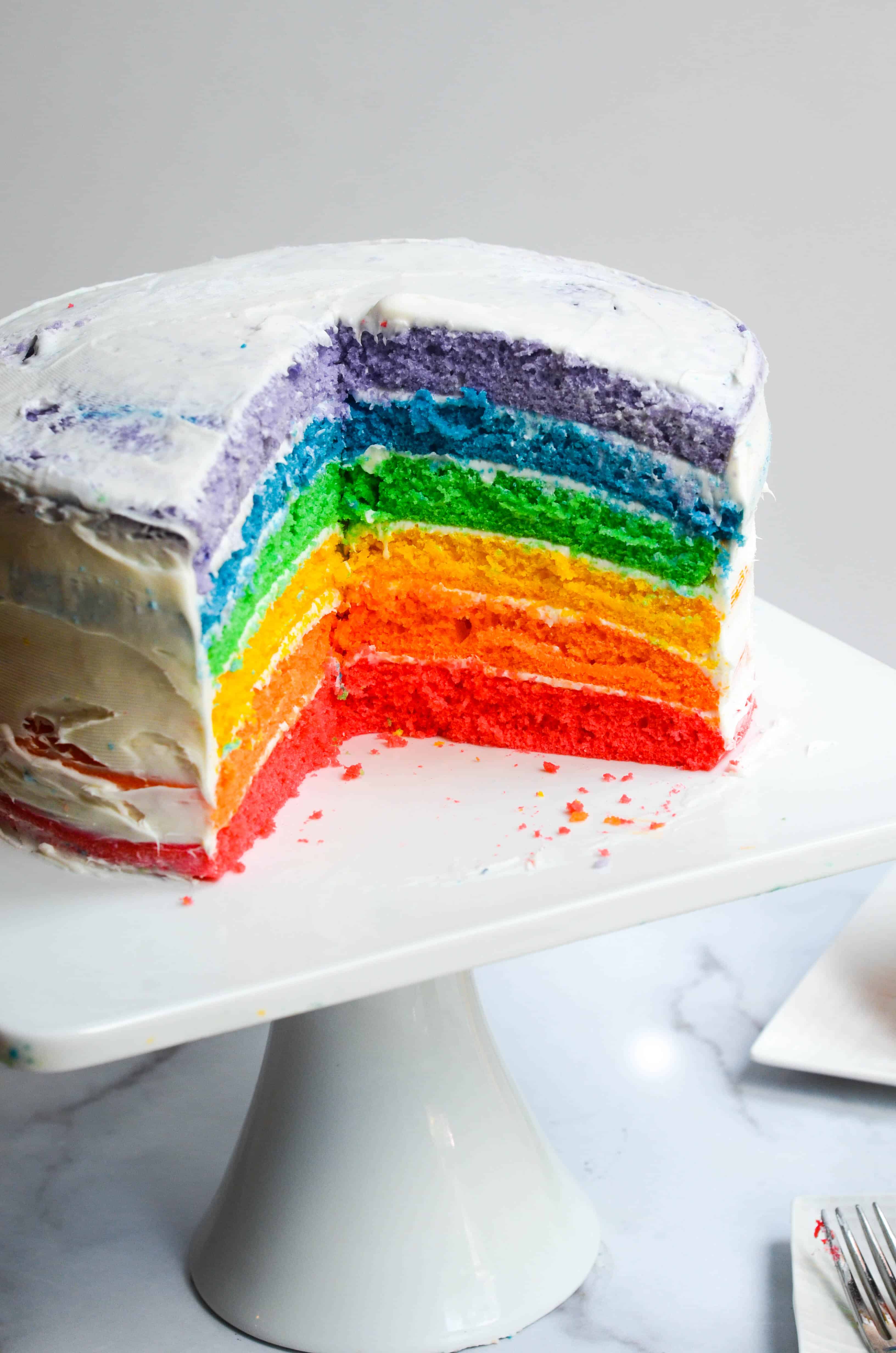 A final note
Don't be discouraged by something that seems more complicated. It just doesn't have to be so complicated. Let's relish in the fact that this rainbow cake with boxed cake mix is amazingly delicious and so darn pretty. We can better use that time for other stuff that's important in life. Ain't nothin' wrong with that now.
xox
kathryn
As always, if you make anything from the blog, be sure to let me know! I love hearing from you in the comments on this post below or find Worn Slap Out on Facebook, Instagram, or Pinterest!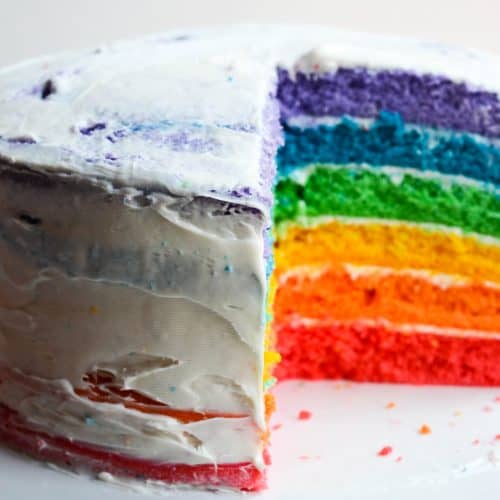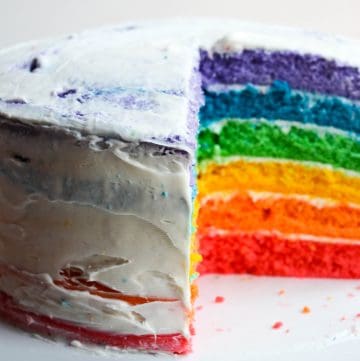 Rainbow Cake with Boxed Cake Mix
Rainbow cakes make everyone happy. It's just a fact of life. This rainbow cake will make you extra happy because it uses boxed cake mix for the easiest (but still amazingly delicious!) way to make such a fun cake.
Print
Pin
Rate
Ingredients
3

boxes

white cake mix, whatever brand you prefer

1

can

white frosting*

eggs, vegetable oil, water (as called for on your cake mix)

1

package

gel food coloring
Instructions
Preheat oven to 325 (or whatever package on cake mix calls for), and spray six 8" round cake pans with non-stick cooking spray line bottoms with parchment paper. Set aside.

In a very large bowl, make a triple batch of batter according to the package directions.

Measure batter evenly into each of 7 bowls, starting with a cup of your cake batter in each bowl and slowly adding the same amount to each. Add gel food coloring with a toothpick to each bowl until you reach your desired color. (The 7th bowl is there only in case you mess up with a color)

Pour batter into each cake pan and bake for approximately 10 minutes or until a toothpick inserted in the center comes out clean. Remove cakes from oven, let cool for 5-10 minutes, then quickly flip to a cooling rack to dry completely.

When cake is completely cool, place bottom layer (red) down on a cake plate or other flat surface. Add thin layer (about ¼") of icing on the inside of each layer using a pastry bag to make sure the layers stack nicely. Add next layer and frost again. Continue frosting each layer until you get to the top. Stick the cake in the refrigerator for 10 minutes then ice the outside of the cake with a light crumb coating. Stop at this point (like I've done) and enjoy it or put the cake in the refrigerator for another 10-15 minutes and frost the rest of the cake.
Notes
*For both the frosting, be sure to buy WHITE cake mix and frosting, not vanilla or yellow or cream cheese.  This'll ensure you're able to make your cake into the most vibrant color possible and so that your white icing pops.
Storing: Store cake at room temperature covered to maintain freshness.  The cake will be delicious 2-3 days later.