Who can resist a flavor-packed strawberry cake with strawberry cream cheese frosting with no artificial colors? Thanks to a couple of secrets, this cake is just that.
Y'all, summertime is here.
I have spent my first days of summer getting some work done here and there for school, taking my vacuum cleaner in to get fixed, cleaning the house, changing light bulbs...you know, the thrilling stuff. There has been a lot of fun had in the first full week of no school though. We've gone to Florida to visit my brother and sister-in-law, continued our morning or evening walks to get donuts or ice cream, stayed up past our bedtime, and straddled nap time with trips to the pool. I've also picked my DSLR back up and started taking pictures again, took myself on a date to the Mosaic district in Fairfax (awesome, by the way), lunched with friends that involved day-drinking (a personal fav), and perfected a few recipes that I'm excited to share with y'all.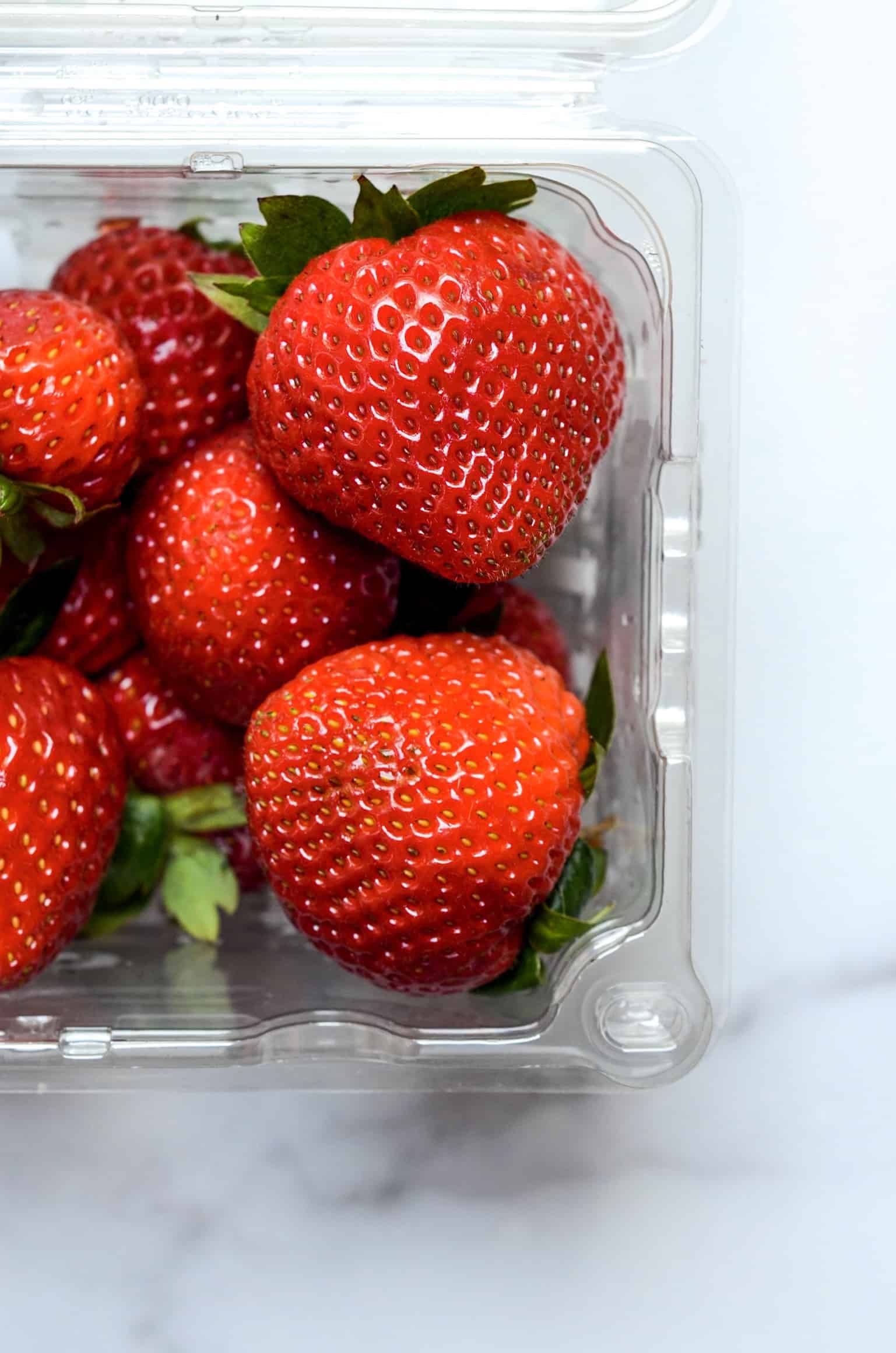 Summer = strawberries, no?
Strawberries, how do I love thee? Let me count the ways: in scones, ice cream, on pancakes, with Nutella, on these waffles, in salads, and certainly my favorite - in cake! We went strawberry picking two times this year, which is about 8 times too few but the dang season lasts for such a short period of time. There's nothing better than fresh-off-the-vine strawberries though. That deep, beautiful ruby red color on berries that are so naturally sweet is just not what you pick up in the grocery store. But that's what we have 90% of the year, so they do just fine.
I've made strawberry cake so many times in the last 6 weeks that I should probably take a little hiatus for a little bit before my family, co-workers, and neighbors get tired of the different variations. I tried many people's recipes for strawberry cake -- my favorites being Butternut Bakery's and Sally's Baking Addiction. Some were way too sweet, some way too soggy, some didn't even taste like the cake had strawberries in it at all.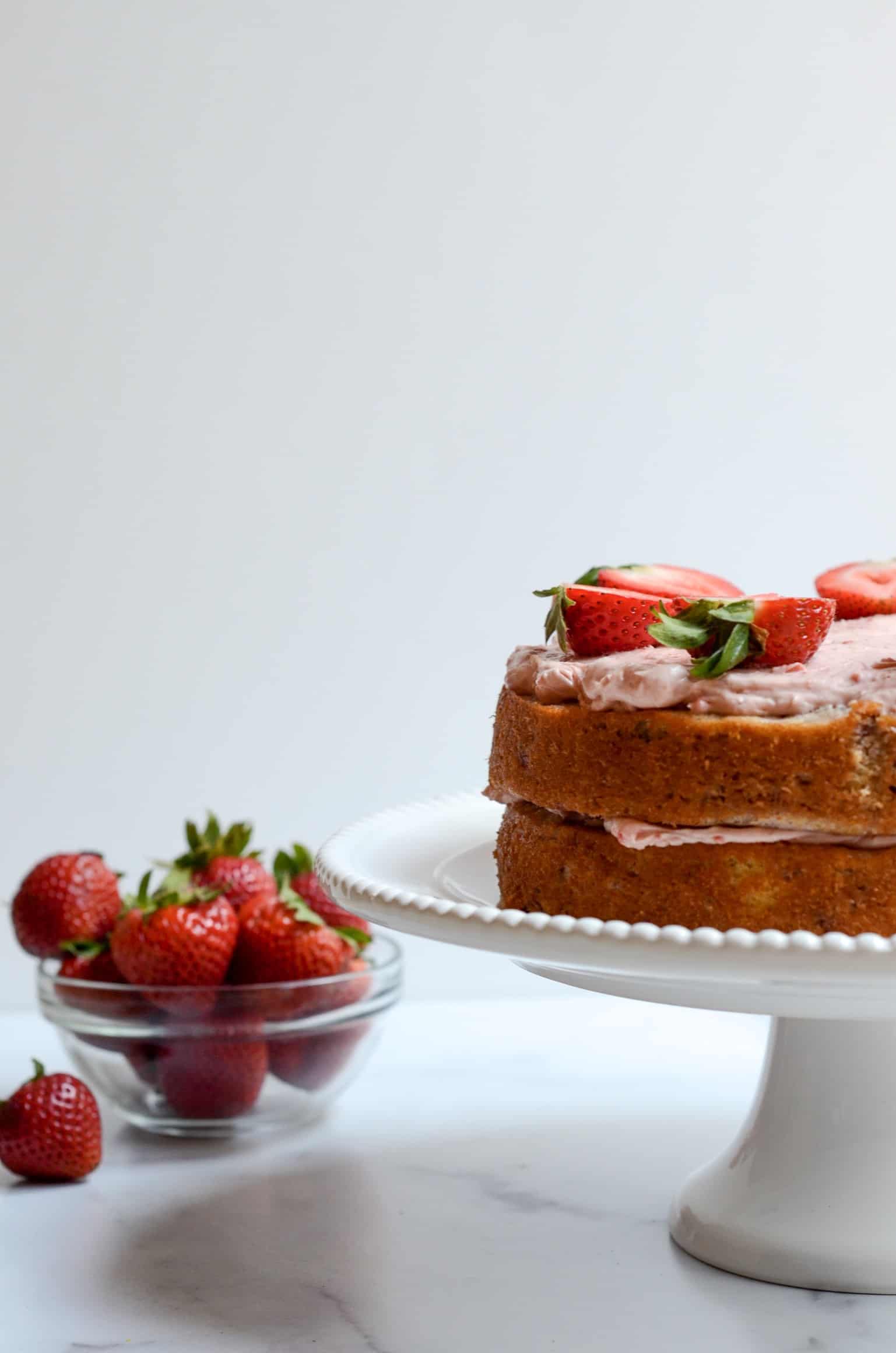 What makes this cake so special?
This cake is the mother of all strawberry cakes. This cake packs in the sweet, strawberry flavor without the cake becoming soggy. I've used Sally's Baking Addiction technique here to make this happen. Instead of putting pureed strawberries directly in the batter, I reduce the pureed strawberries until they essentially become a paste. This allows the strawberries to keep their flavor and lose all of that moisture. Such a simple concept but brilliant, right?
Cake flour is also key. It helps create a more light and airy cake when this could easily be a very dense cake with regular ole all purpose flour.
I swear. 10 out of 10 people who have tried this cake love it.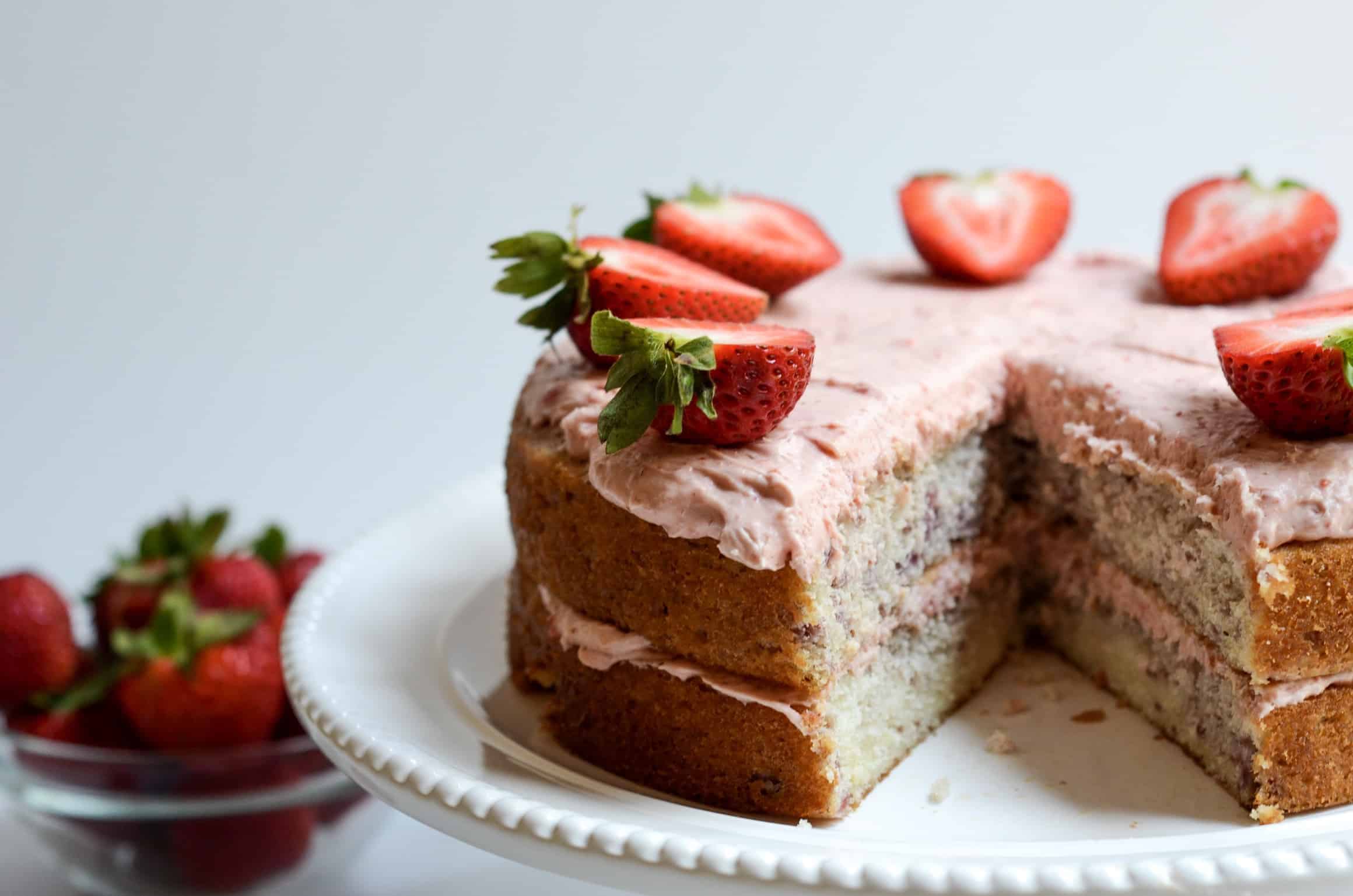 Let's chat about frosting.
This frosting, like the batter, has a true strawberry taste thanks to....wait for it...freeze-dried strawberries. That's right. Freeze-dried strawberries have no added sugar in them, so you don't have to worry about the frosting being overly sweet. Freeze-dried strawberries can be found at most any grocery store, you just have to search. They have them at Harris Teeter with the dried fruit and they have them at Giant in the organic aisle. Anyway, I put one and a half cups of freeze-dried strawberries into my food processor until they were a powder. This gives you the most beautiful, natural color for the strawberry cream cheese frosting as well as the best strawberry taste.
Also, I've decided that unless it's one of my people's birthdays, I'm not fully frosting a cake anymore. This cake is perfect to do naked. Don't even worry about a crumb layer. Let's be real -- ain't nobody got time for that. I'm a bit fan of taking shortcuts where you can find them, and this, my friend, is the ultimate cake frosting tip: Don't do it.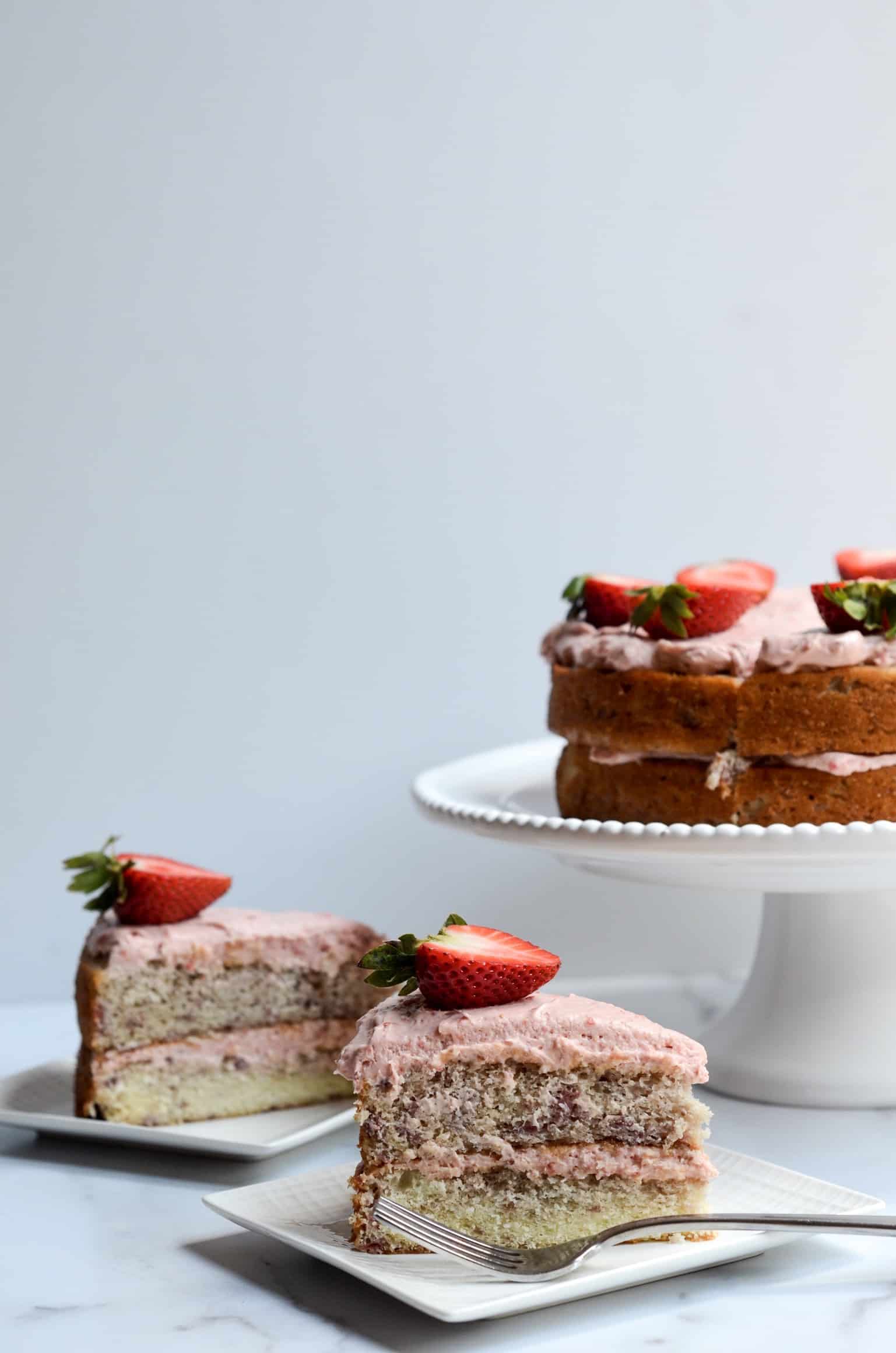 I love y'all. As always, if you make anything from the blog, be sure to leave a comment below or tag your creation on Insta @wornslapout!
xox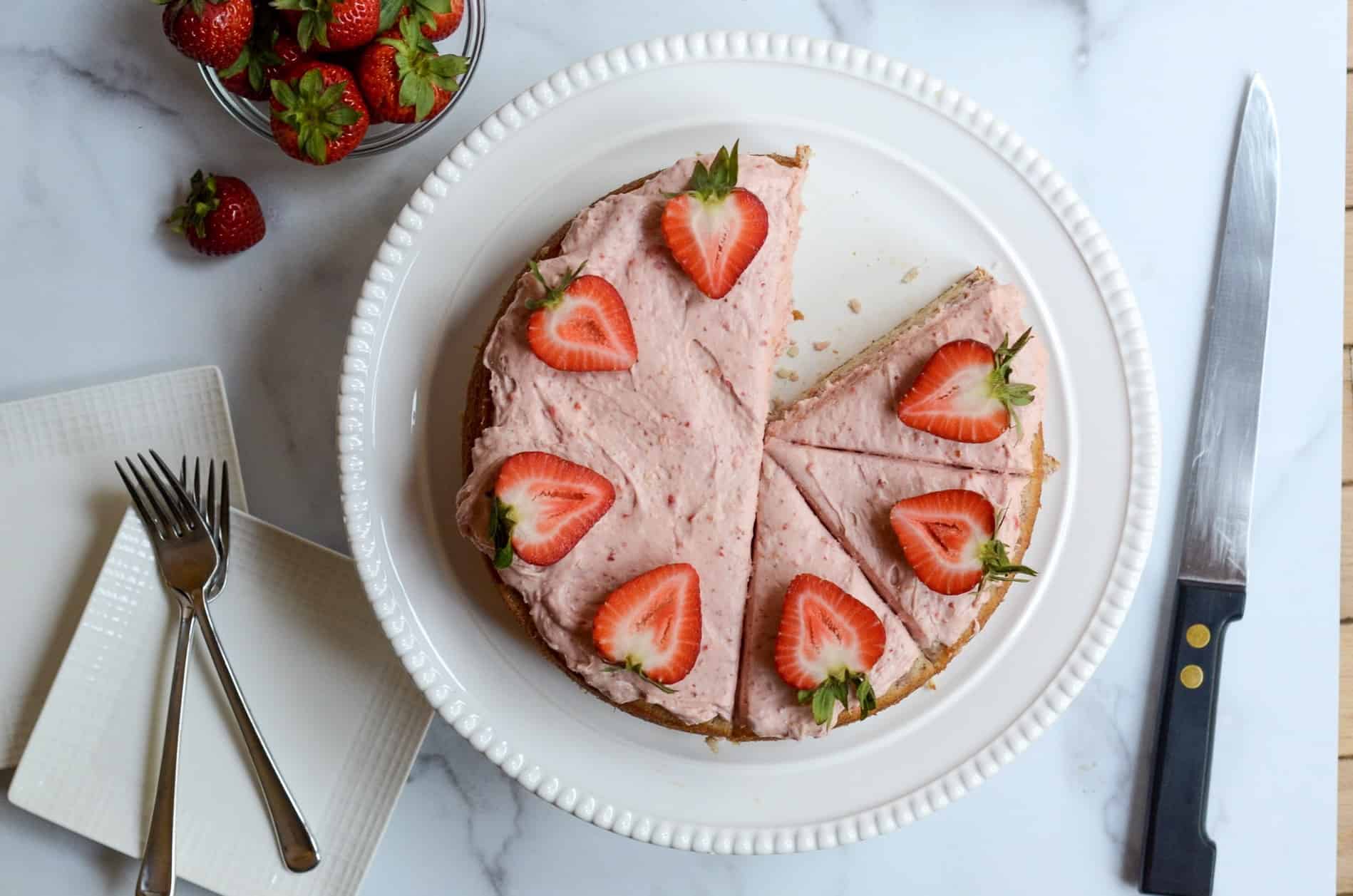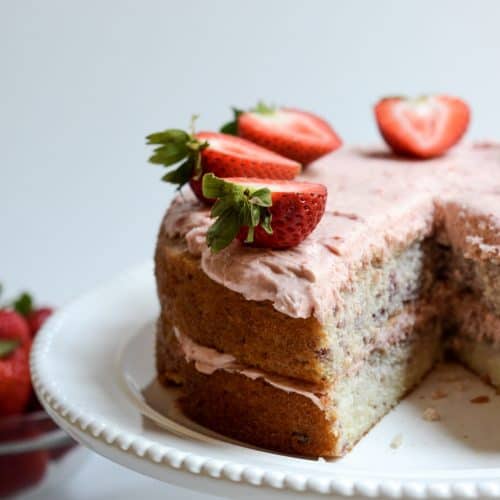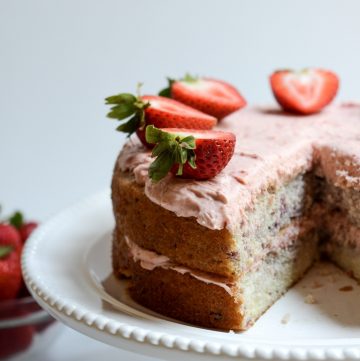 Homemade Strawberry Cake
Who can resist a flavor-packed strawberry cake with strawberry cream cheese frosting with no artificial colors? Thanks to a couple of secrets, this cake is just that.
Print
Pin
Rate
Ingredients
For the cake
2 ½

cups

sifted cake flour,

spoon & leveled

2

teaspoons

baking powder

½

teaspoon

baking soda

1 ¼

teaspoons

salt

¾

cup

(1.5 sticks) unsalted butter

softened to room temperature

1 ½

cups

granulated sugar

5

large egg whites

at room temperature

⅓

cup

sour cream or plain yogurt

at room temperature

2

teaspoons

pure vanilla extract

½

cup

whole milk

at room temperature

½

cup

reduced strawberry puree

see note*
For the Strawberry Cream Cheese Frosting
1 ½

cups

freeze-dried strawberries*

1

8-ounce block cream cheese

softened to room temperature

½

cup

1 stick; unsalted butter

softened to room temperature

3 ½

cups

confectioners' sugar

2

tablespoon

whole milk

1

teaspoon

pure vanilla extract

salt

to taste
Instructions
Make the reduced strawberry puree and stick in the refrigerator to cool completely. See note below.

Preheat the oven to 350°F. Grease two 9-inch cake pans and line with parchment paper.

Whisk the cake flour, baking powder, baking soda, and salt together. Set aside.

In a stand mixer or bowl mixer, beat the butter and sugar together on high until smooth and creamy, about 2 minutes. Scrape down the sides and bottom of the bowl as necessary. Beat in egg whites until combined, then sour cream and vanilla extract. Add dry ingredients on low until just incorporated. Then mix in milk and reduced strawberry puree slowly until just combined. Be care of over mixing here. Pour batter into two cake pans.

Bake for 22-25 minutes or until center is baked through. Allow the cakes to completely cool before frosting.

Meanwhile, process freeze-dried strawberries into a powder. Set aside.

In a stand mixer with the whisk attachment, beat the cream cheese for 1 minute on high until completely creamy. Add in butter, then confectioners' sugar, strawberry powder, and vanilla. Slowly add in milk tablespoon by tablespoon until you reach your desired consistency.

Place 1 cake layer on cake plate, put about half of the frosting on top of the first layer, cover with the second, then frost the top of the cake. You can always frost the entire cake if you'd prefer to not have the naked look. Refrigerate for about 30 minutes before slicing. so the frosting doesn't get runny

Cover leftover cake and store in the refrigerator.
Notes
Note: To make strawberry puree paste, reduce lightly pureed strawberries over low-heat for 40-45 minutes or until liquid is minimal.  You should have barely over ½ cup of strawberries when you're done.  Cover in an airtight container and stick in the refrigerator to cool.  
*Freeze-dried strawberries can be a little tricky to find, but they are at most grocery stores.  Safeway has it next to the organic dried fruits.  Harris Teeter has it in the dried fruit aisle.  Be careful you don't buy the strawberry fruits that are gummy.  You want the kind that are freeze-dried and will turn into a powder when processed.