So simple, so lemony and chewy, and rolled in powdered sugar, these Lemon Crinkle Cookies will become your favorite Christmas cookie to make...and they're different than your average Christmas cookie everyone brings to events.
Talk about being worn slap out -- the last 10 days has really kicked my butt.  Like a good whooping I used to get when I was little with a rolled up newspaper.  Around 9 am this morning, I thought it was the longest week ever and then realized it was only Tuesday. I thought the exact same thing last Tuesday. We can do this, y'all. We can do this.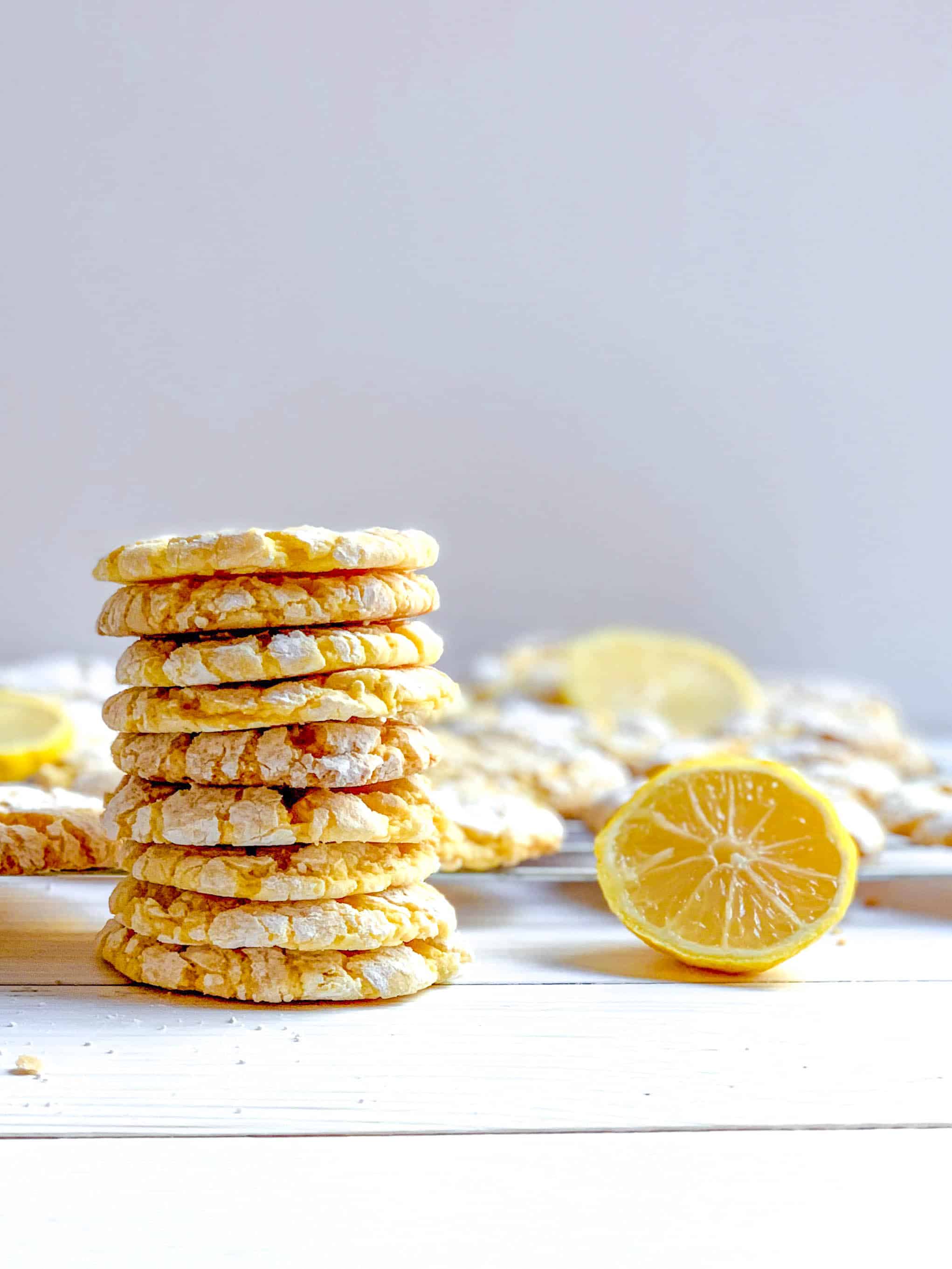 The embarrassingly easy cookie
We all need the help of some of these lemon crinkle cookies. These were a part of my grand plan to showcase my top 10 favorite Christmas cookies this holiday season...but I've only gotten to two so it may very well be the "2 cookies of Christmas" countdown this year (the last ones were these peanut butter blossom cookies).
Regardless, these cookies are not the usual ingredients you'll find on the blog (aka they're processed as sh*t) but in the millions of times I have made them, everyone always raves about them to the point where I feel guilty/kinda angry because these take no time, no brains, and use boxed cake mix (gasp!).  It's the same feeling you get when your guests only ask you how you cooked the green beans you totally bought at the hot bar at Whole Foods instead of all the other things you spent hours making.  That feeling, you know?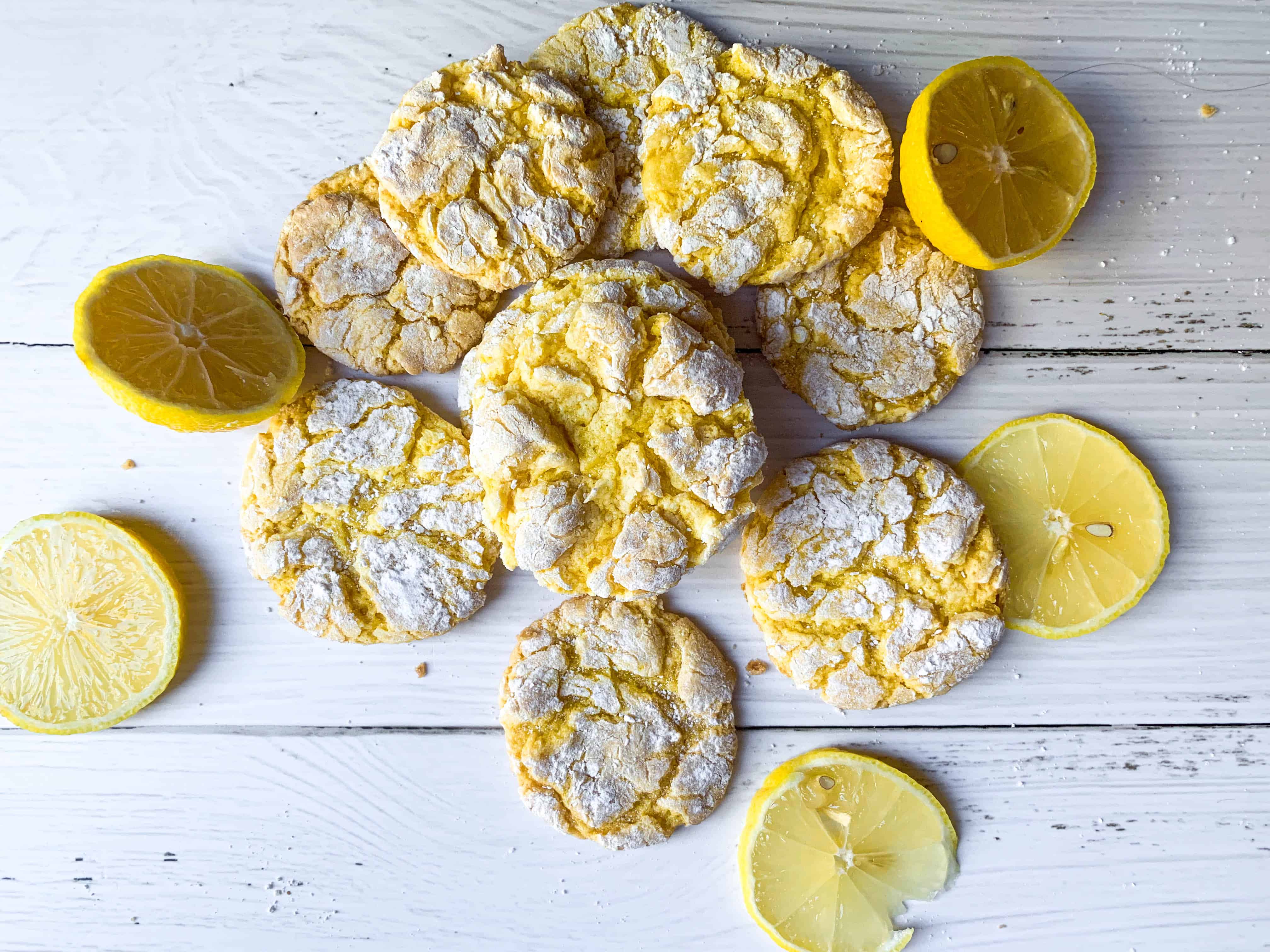 Ingredients to make lemon crinkle cookies
Are you ready for this? Here's what you need:
1 box of lemon cake mix
1 egg
2 cups Cool Whip thawed
½ cup powdered sugar
You'll combine the cake mix with one egg and a package of cool whip. Refrigerate. Then form little balls of dough with your palm, and roll that in powdered sugar. Bake and that's it.
These cookies come out so perfect looking and have a little crinkly top because of the powdered sugar they're rolled in. They're very soft, cake-like cookies but still hold their form very well. Make sure to put the dough in the refrigerator for at least 30 minutes before you make them because the dough is too soft to work with initially and you won't be able to roll perfect dough balls in the palm of your hand if the dough is too sticky.
These also work really well as gifts to other people. I've stacked these cookies neatly in a clear plastic bag and tied some fancy ribbon on top. Beautiful and easy.
Other cookies and treats you'll love
As always, if you make anything from the blog, be sure to let me know! I love hearing from you in the comments on this post below or find Worn Slap Out on Facebook, Instagram, or Pinterest!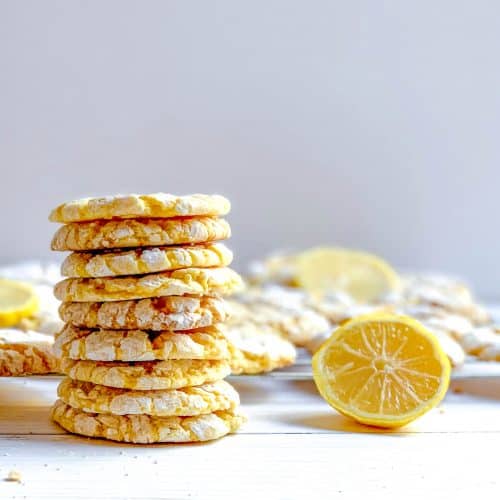 Lemon Crinkle Cookies
So simple, so lemony and chewy, these cookies will become your favorite Christmas cookie to make...and they're different than your average Christmas cookie everyone brings to events.
Print
Pin
Rate
Ingredients
1

box of lemon cake mix

1

egg

2

cups

Cool Whip

thawed

½

cup

powdered sugar
Instructions
Preheat oven to 350 degree.  In a large bowl, combine the lemon cake mix, egg, and 2 cups of the Cool Whip.  Stir until just combined.  Place the dough in the refrigerator for about 30 minutes for the dough to firm up.

Roll dough into 1 inch balls in the palm of your hand (you may want to put a little powdered sugar on your palms if dough is still sticky)*.  Then roll dough balls in powdered sugar and place on a lightly greased cooking sheet two inches apart from one another.

Bake for 8-10 minutes.  Allow to cool on a wire rack. Store in an airtight container.
Notes
Done.  Done.  And done. These cookies also keep really well -- and we still eat them 3-5 days after baking them.
*if you're giving them as gifts and stacking them, it's even more essential to have smooth, uniform balls, so you can eyeball it (like I do) or use a cookie scoop so they're all the same size. Keep rolling them in the palm of your hand until they are nice and smooth.