Soft, chewy, and oh so chocolatey, these Brown Butter Chocolate Chip Cookies need to be added to your baking list ASAP.
When I woke up this morning, it immediately felt like fall. It's funny how that works. Fall doesn't usually just creep in. It declares itself here and alive. Fall also makes me want to open every single cupboard and closet and clean the hell out of everything. Just me? I have already tossed 4 bags of trash out of this house and it's not even noon yet.
Fall also makes me excited for new, seasonal foods. There are apple and pumpkin desserts to be eaten, stews and soups to make, and fun holiday ideas to share with the kiddos. While these chocolate chip cookies aren't terribly seasonal, it's the smell of browning butter that screams fall to me because of the beginnings of toffee and caramel. And don't think browning your butter is optional -- it elevates the cookie so much.
I'm a firm believer there's a million amazing chocolate chip cookie recipes out there but y'all -- these are so freakin' good. Some recipes are healthier than others, some require more fuss like having the dough sit in the fridge for 72 hours, some are crispy and some are chewy. The bottom line is that all of them are probably delicious and need to get in my belly. I crafted these chocolate chip cookies to have some unique qualities though that make them a touch more special than your average CCC. These extra steps don't require much extra work and make the cookies that much more gooey, chocolatey and chewy. Good news, right?
Brown Butter is the Secret
It only takes an extra 5-6 minutes of your time to get the butter simmering in a pan until it's a beautiful amber color, so it's not like it's that crazy of an extra step. And I already mentioned how perfectly fall the smell of browned butter is. Don't be scurred.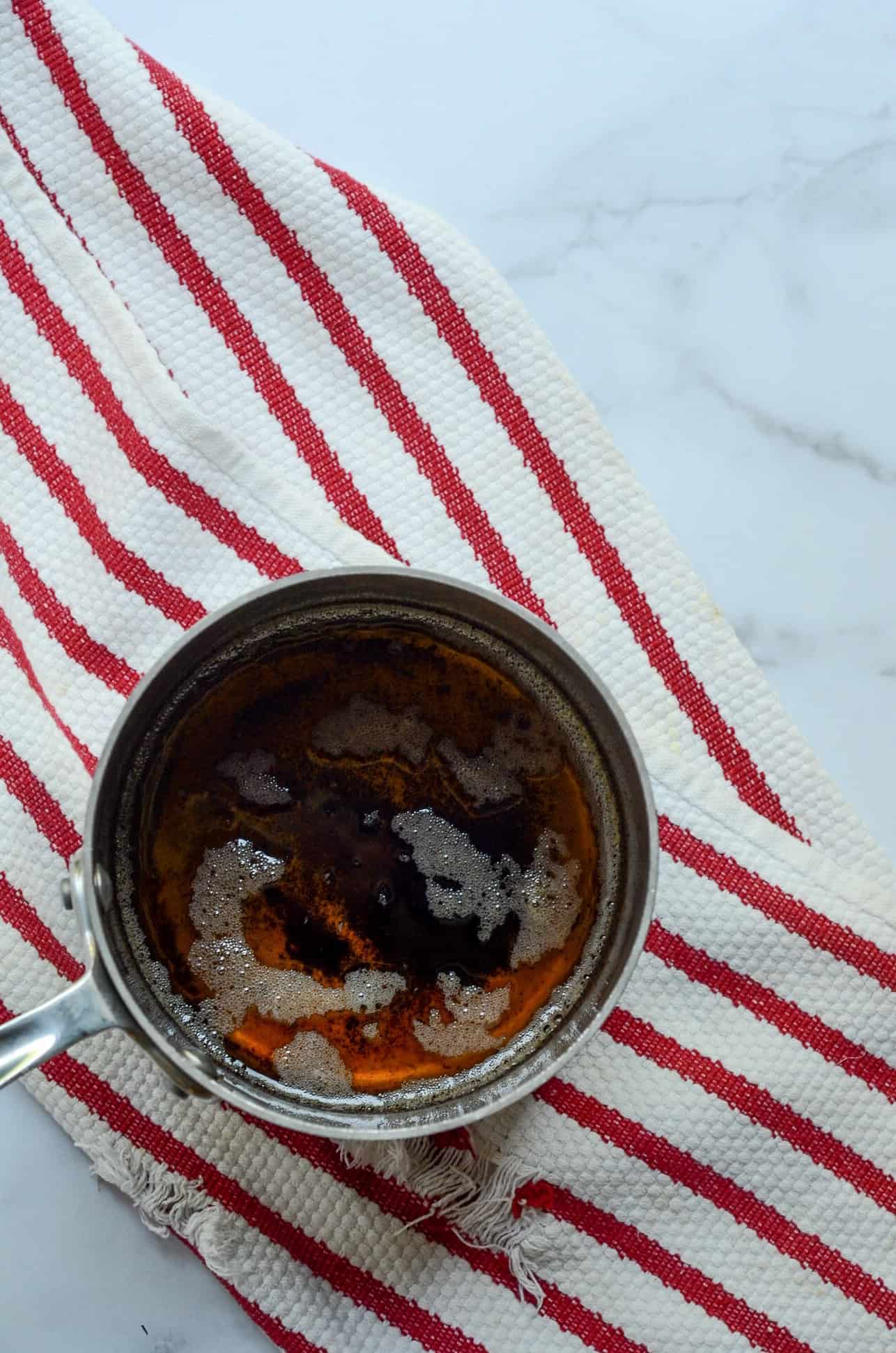 Other Amazing Qualities of Brown Butter Chocolate Chip Cookies
Bread flour. The recipe uses bread flour in addition to regular all-purpose flour. See below for why I did this.
No mixer or special equipment required. This recipe doesn't require you to break out the mixer. You'll build the dough by hand so you don't jack up your cookies in the process (more about this later).
Chopped, quality chocolate instead of chocolate chips. Those pools of chocolate you see in beautiful pictures of chocolate chip cookies don't come from chocolate chips. Chocolate chips don't melt as well as a hunk of chocolate, so take one more extra step and cut a good quality chocolate bar (I get mine from the baking aisle at Whole Foods) with a serrated knife. You've added only two minutes to your prep, and it's so worth it for the melty chocolate pools when they come out of the oven (and frankly, a much higher quality chocolate than you can get with chips).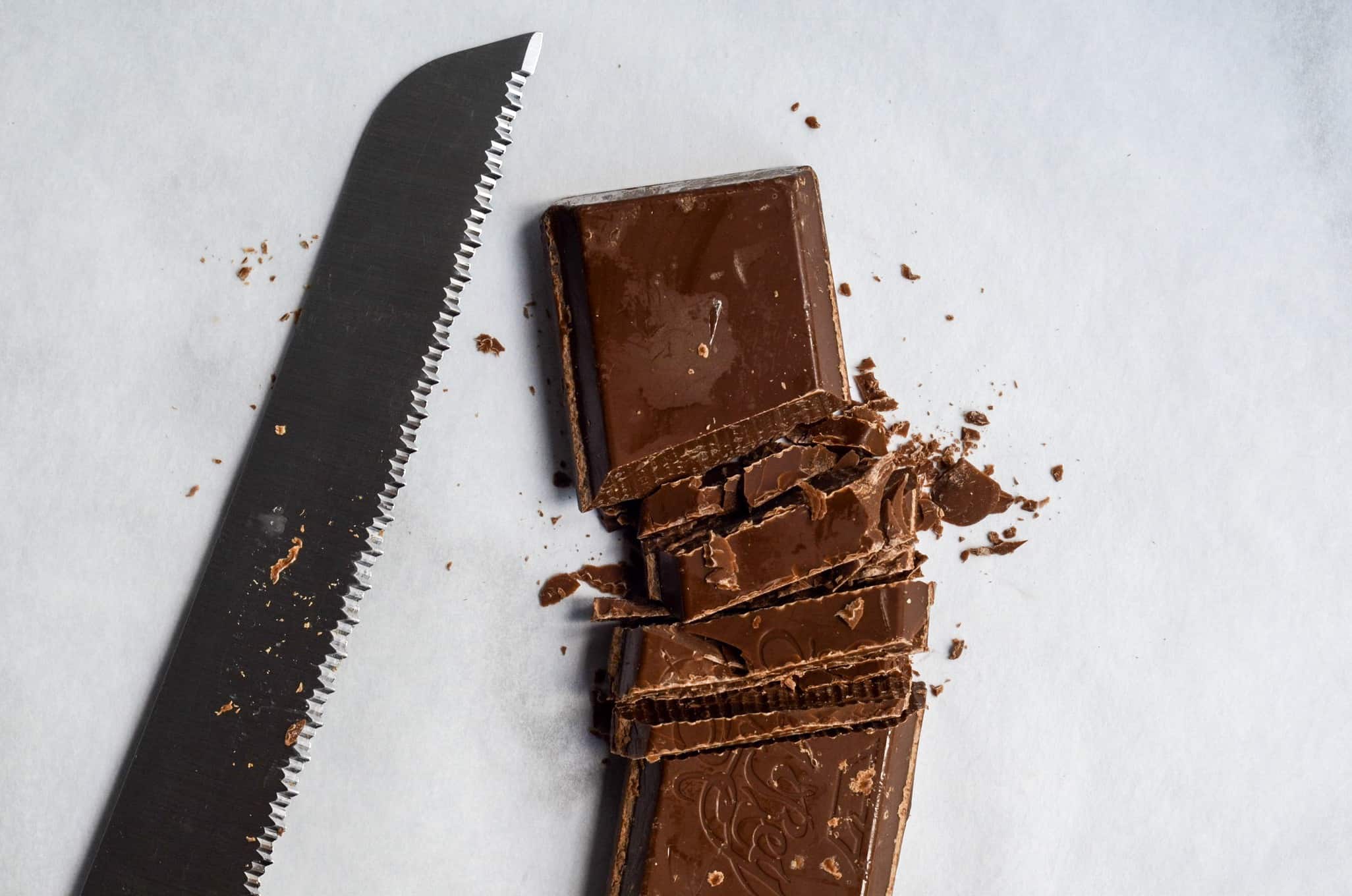 Sea salt. Don't skip the generous pinch of sea salt on each cookie. Salt and chocolate go so well together and I've lowered the salt from what I'd normally do in the batter to have more salt to enjoy on top.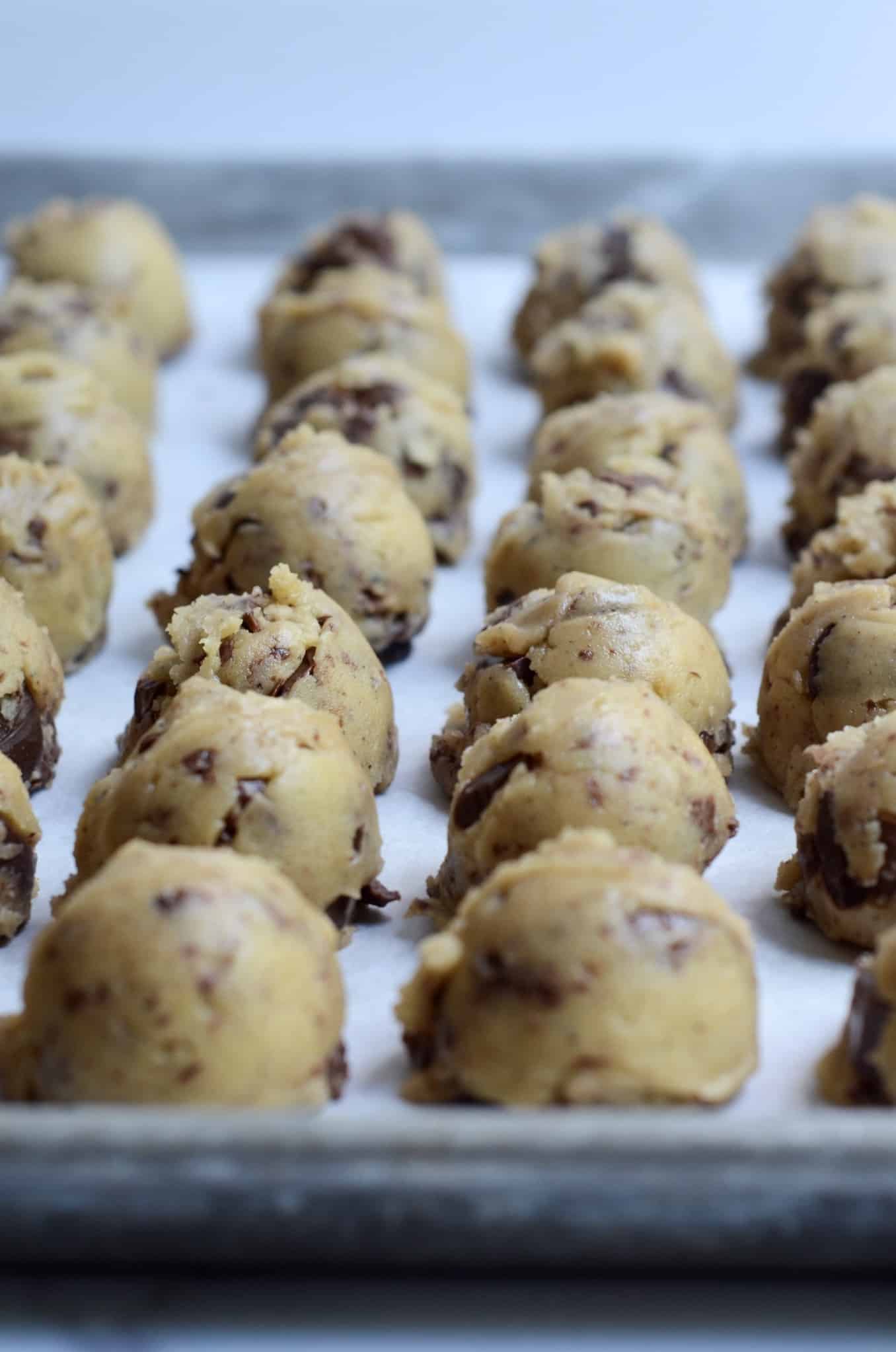 Why bread flour?
Bread flour may seem like an odd addition. What's wrong with good ole all-purpose flour? Nothing, but I've been experimenting with a lot of chocolate chip cookie recipes that leave the cookie flatter and denser than I would like. I like my cookies to have a bit of a mound in the middle. Thick and chewy. Bread flour makes this happen because it contains more protein, which means more gluten (think about how chewy and stretchy bread is when you make it). Cake flour, on the other hand, has much less gluten and is great for more delicate desserts.
I needed some additional moisture to keep the cookies soft, so I added ¼ up of oil and a tad bit of milk to make sure the cookies stayed moist and didn't become a cracker.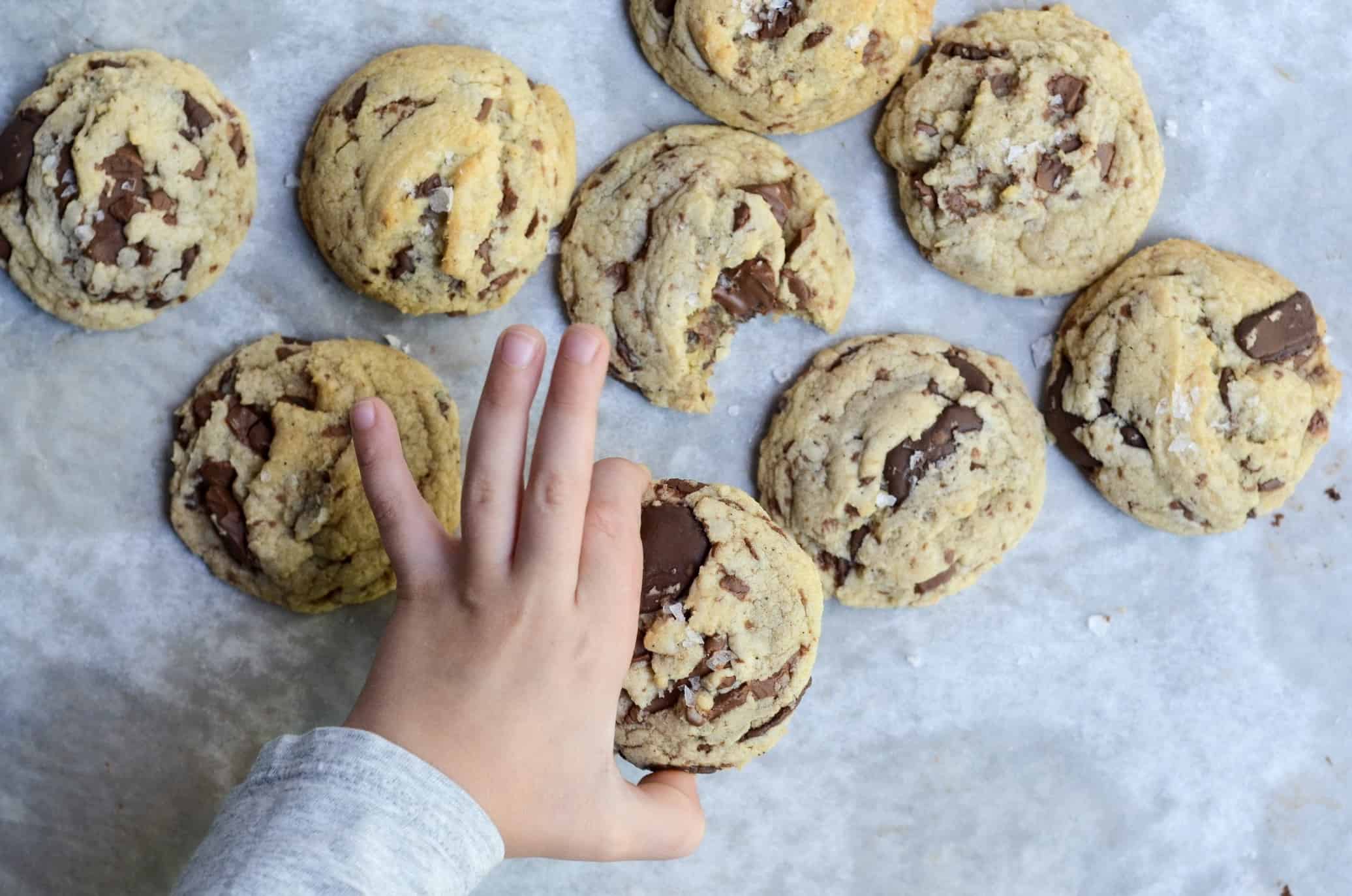 Tips for making soft, chewy chocolate chip cookies
Don't use a mixer. This'll ensure the gluten doesn't get too developed and make your cookies tough. Get ready to put a little elbow grease into these bad boys. After browning your butter, you'll build the dough with the help of a whisk first. You'll incorporate the butter with the sugars, eggs, oil, vanilla, and milk until it's liquidy and smooth.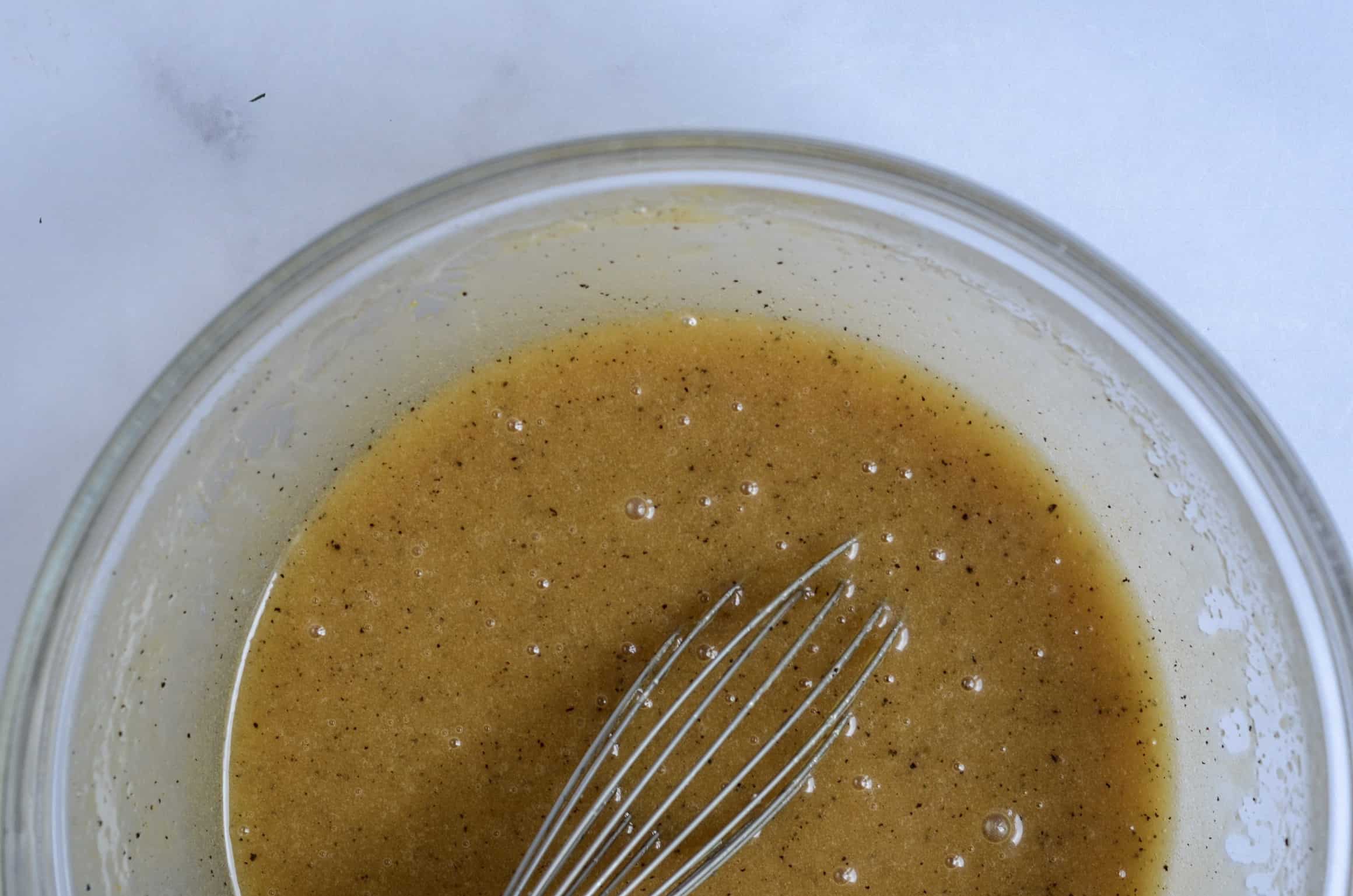 Then you'll add in your dry ingredients to the batter. But now is the time to get rid of the whisk and sub out for a spatula.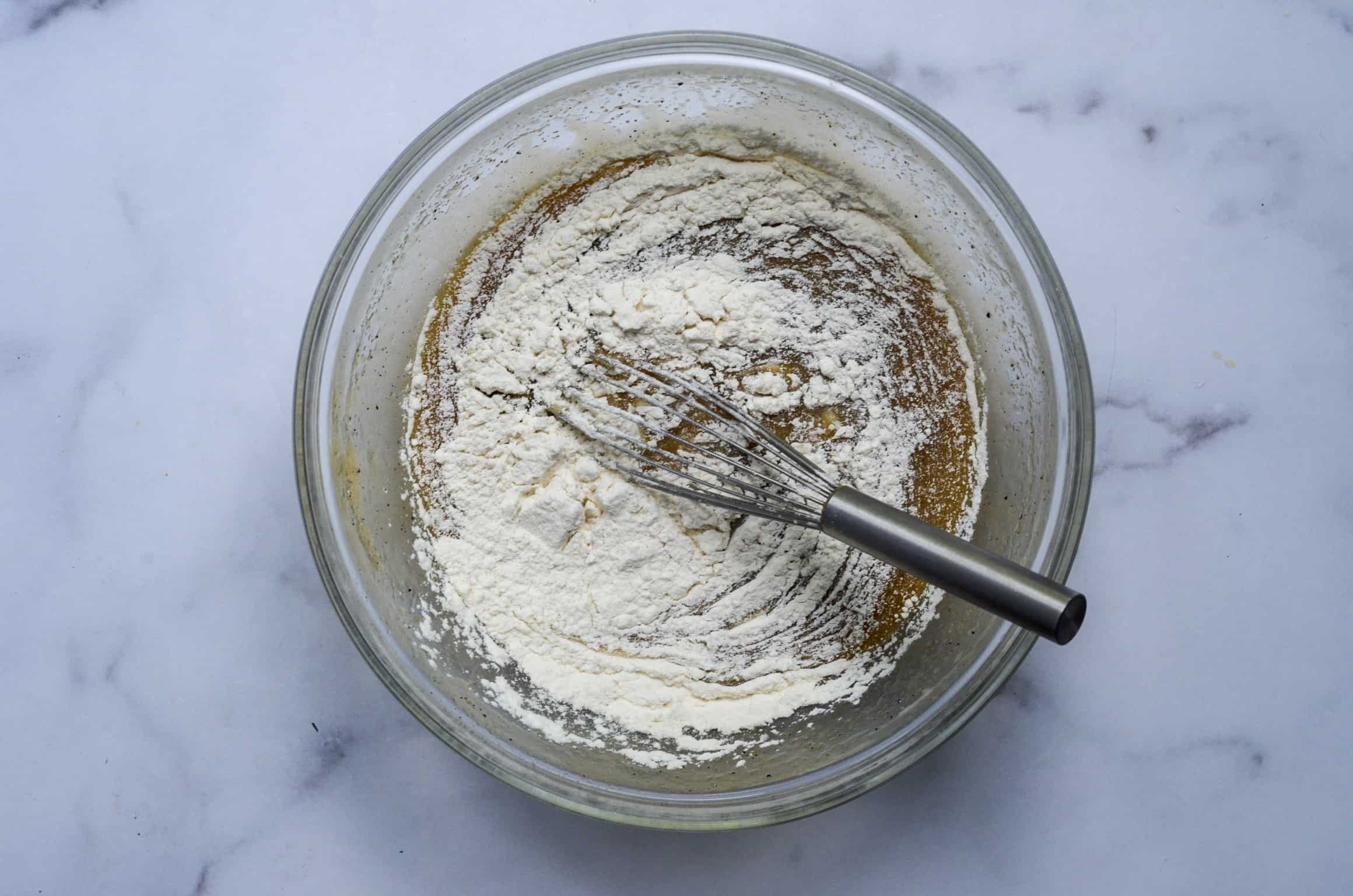 Folding the dry ingredients with a spatula will do wonders for creating soft, chewy cookies.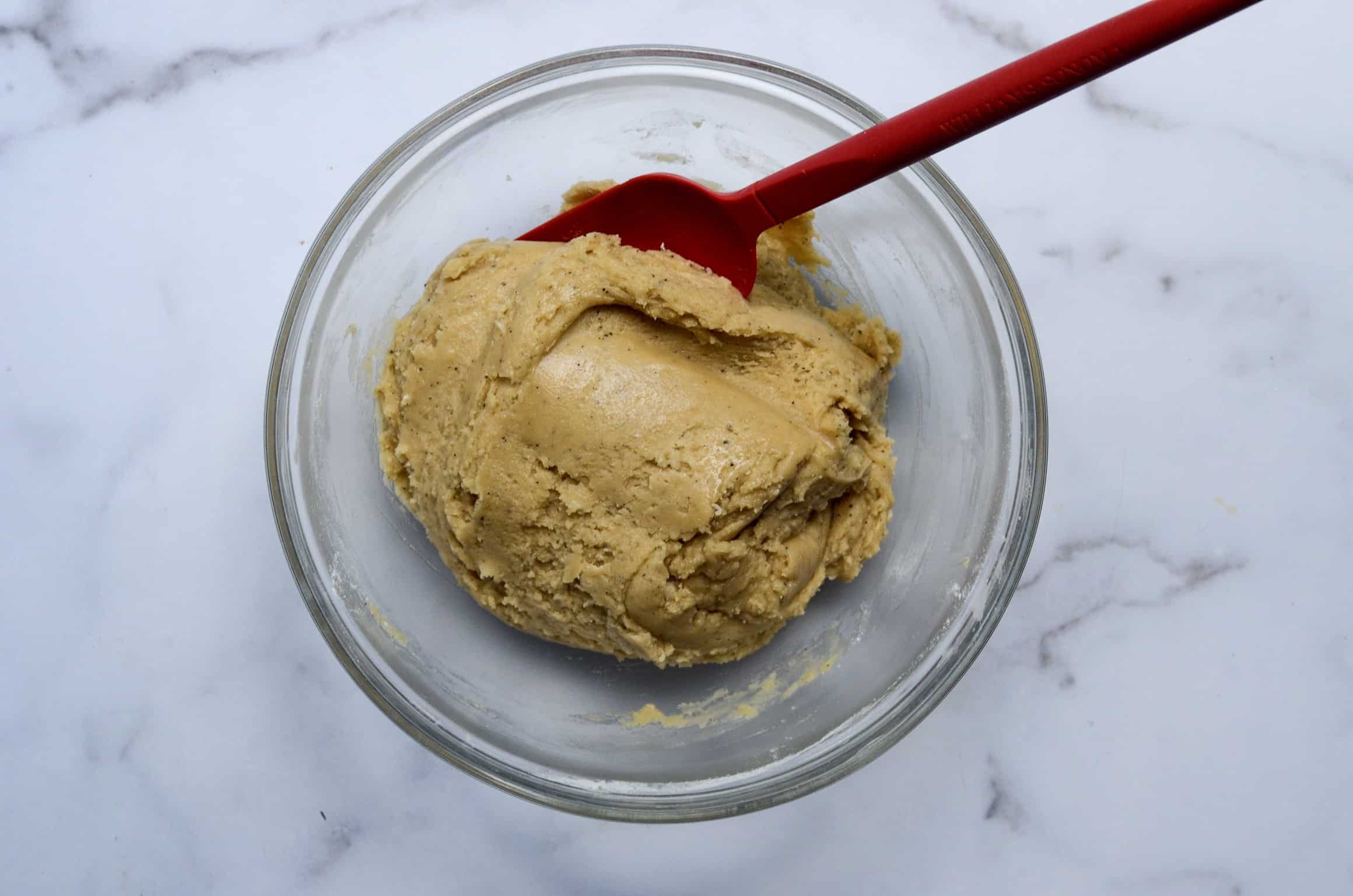 Then you'll gently fold in your chocolate, scoop the dough into balls with a cookie scoop, then add the piece de resistance: sea salt. In the oven they go.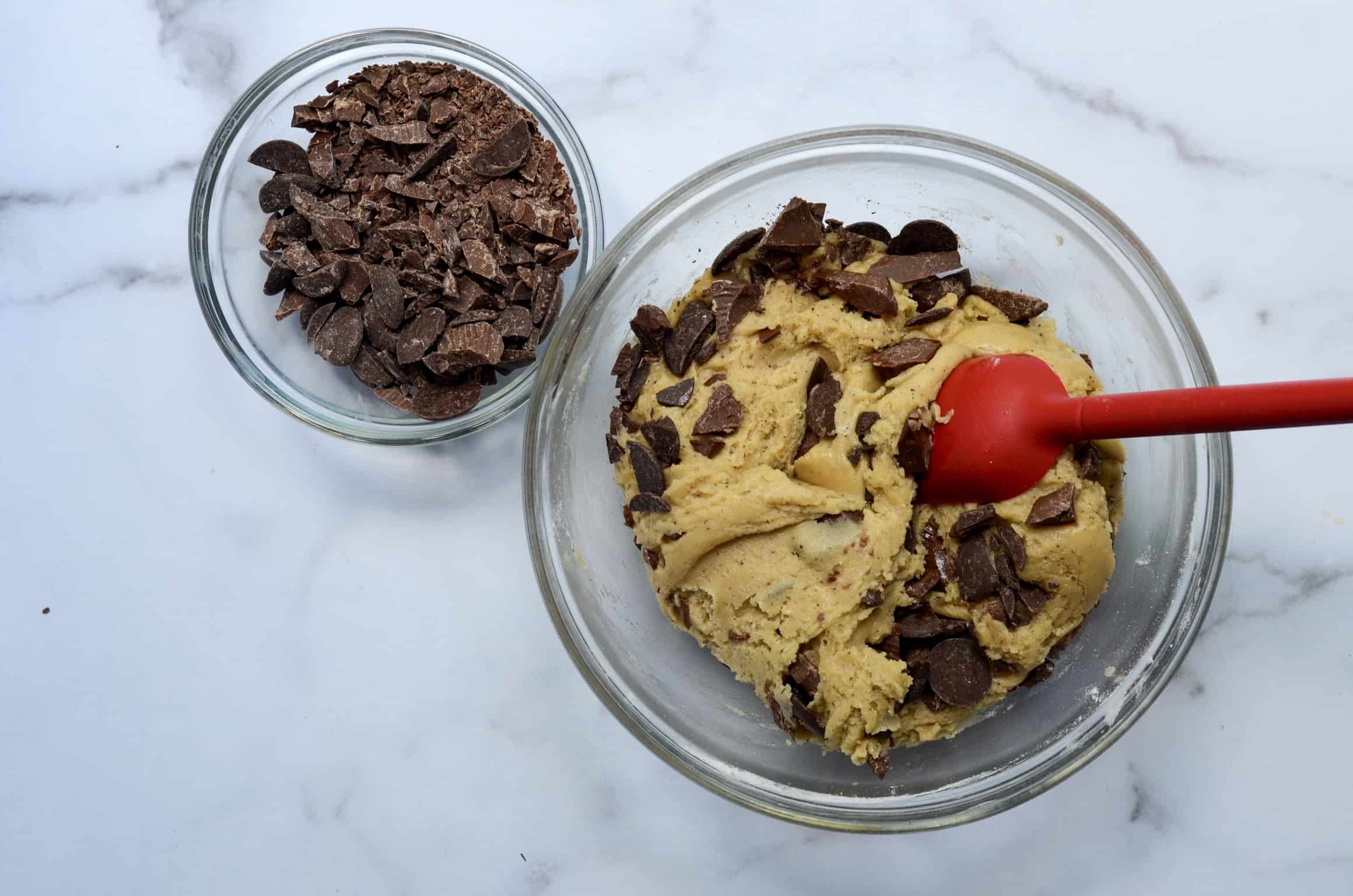 Don't over bake. I'm a firm believer any cookie can be crispy if you leave it in the oven long enough. Sure some of this is a result of the ingredients, but a lot of this is in the baking times. Watch your cookies closely when they're nearing the end of their bake time, and take them out before they get too brown to maintain the chewiness.
Looking for more cookies? Check these out.
If you make anything from the blog, be sure to let me know! I love hearing from you on Facebook, Instagram, or Pinterest!
xox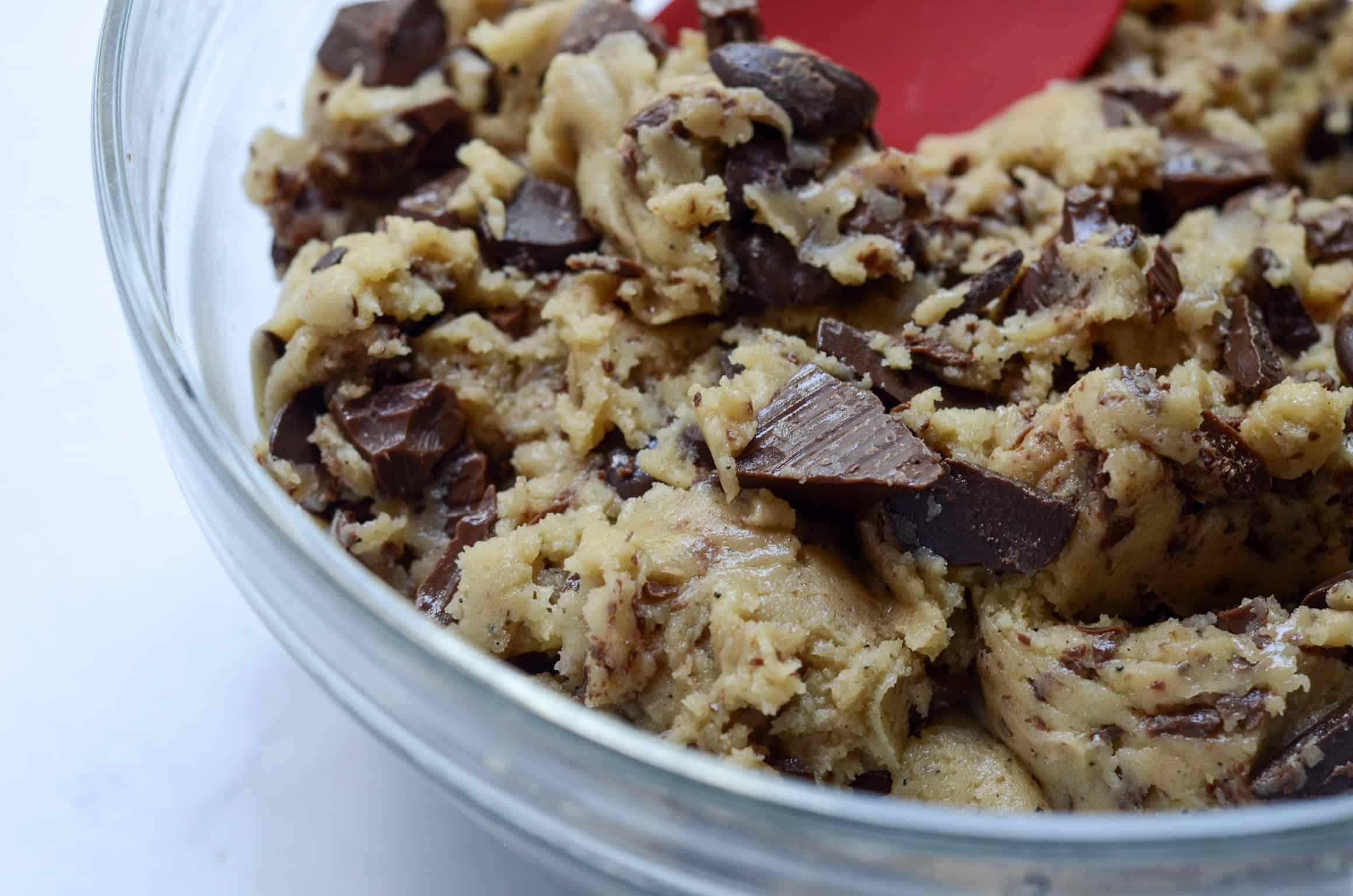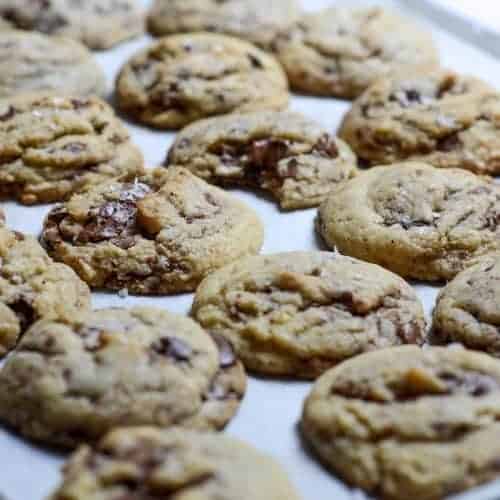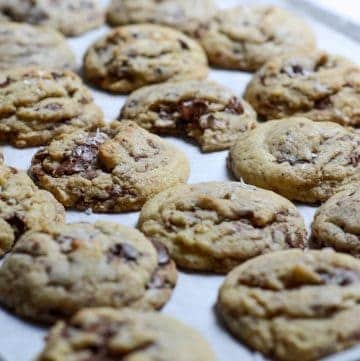 Brown Butter Chocolate Chip Cookies (Soft & Chewy!)
Soft, chewy, and oh so chocolatey, these Brown Butter Chocolate Chip Cookies need to be added to your baking list ASAP.
Print
Pin
Rate
Ingredients
12

tablespoon

unsalted butter

¾

cup

light brown sugar, packed

½

cup

granulated sugar

¼

cup

vegetable or canola oil

2

large eggs

2

tablespoon

milk

2

teaspoon

vanilla extract

2 ¼

cups

all purpose flour

¾

cup

bread flour

1

tsp

baking powder

½

teaspoon

baking soda

1

tsp

salt

2 ½

cups

chopped chocolate

sea salt flakes for sprinkling on top
Instructions
Preheat oven to 375 degrees F and line a baking sheet with parchment paper. Set aside.

In a small sauce pan, melt the butter on low heat until melted. Increase heat until butter sizzles. Continue to stir until butter starts turning brown and light specs form at the bottom of the pan. Remove from the heat and pour into a medium bowl.

Meanwhile, whisk flours, baking powder, baking soda, and salt together in a small bowl. Set aside.

Whisk sugars into the browned butter until combined. Add eggs and oil and whisk until combined. Add milk and vanilla and whisk until combined.

Slowly in 2-3 increments, stir in the flour mixture with a spatula. Stir until just combined (be careful to not over mix). Gently fold in chocolate.

Using a cookie scoop, scoop the cookies into 1- 1/12" round balls onto lined baking sheet. Sprinkle each with a pinch of sea salt. Bake for about 10 minutes. Be careful to not over bake so they don't end up dry. Then bake the remaining cookies.
Notes
Store cookies in airtight container.  They'll be good for 3-4 days if properly stored.  
You can also freeze the cookies prior to baking and take a few out at a time. 
Nutrition