This refreshing and sweet Meyer lemon curd tart boasts the smoothest lemon curd nestled in an easy shortbread crust making this tart a hit with any lemon lover. You can use regular lemons if you can't find Meyer lemons, too.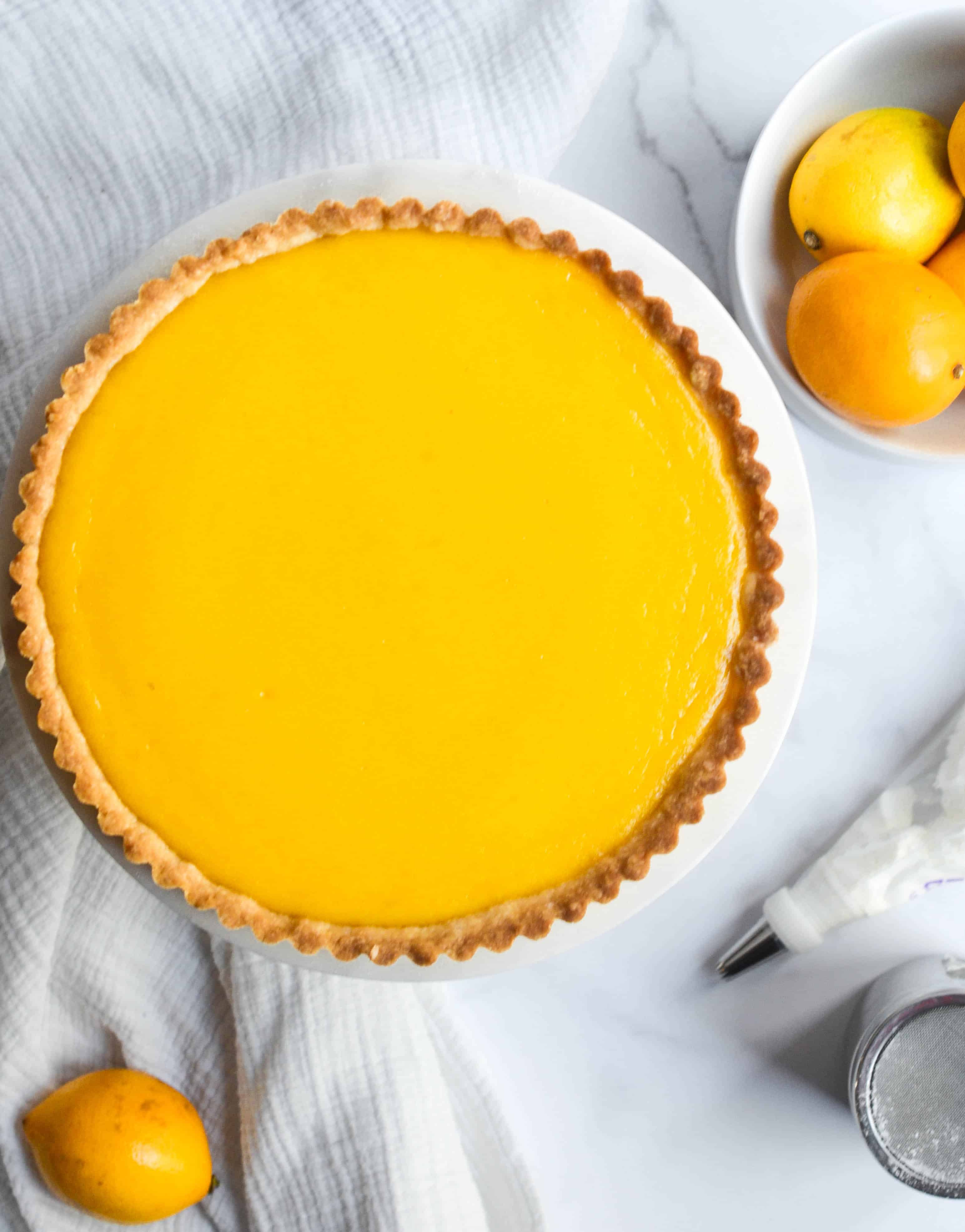 It's President's Day weekend, and we're at the beach. It may be 30 degrees but we've still enjoyed a highly competitive game of mini golf, some shopping, and our favorite restaurant here.
It's not even 8 pm and both kids are fast asleep (a family record!) thanks to some turbulent sleep you can only get after sleeping with your sibling. The hitting each other in the face and coughing into each other's ear thing really made for some less-than-ideal sleeping conditions...for all parties involved, so both kids were exhausted by 5 pm. At one point both of them were crying over different things out of pure exhaustion (B because we weren't eating pizza at the golf place and C because he didn't win a free game of golf by getting the ball into the clam shell after his sister won it thanks to John's help). The days of epic meltdowns are few and far between, but I couldn't help but LOL at how ridiculous it was. This kind of thing builds character, right?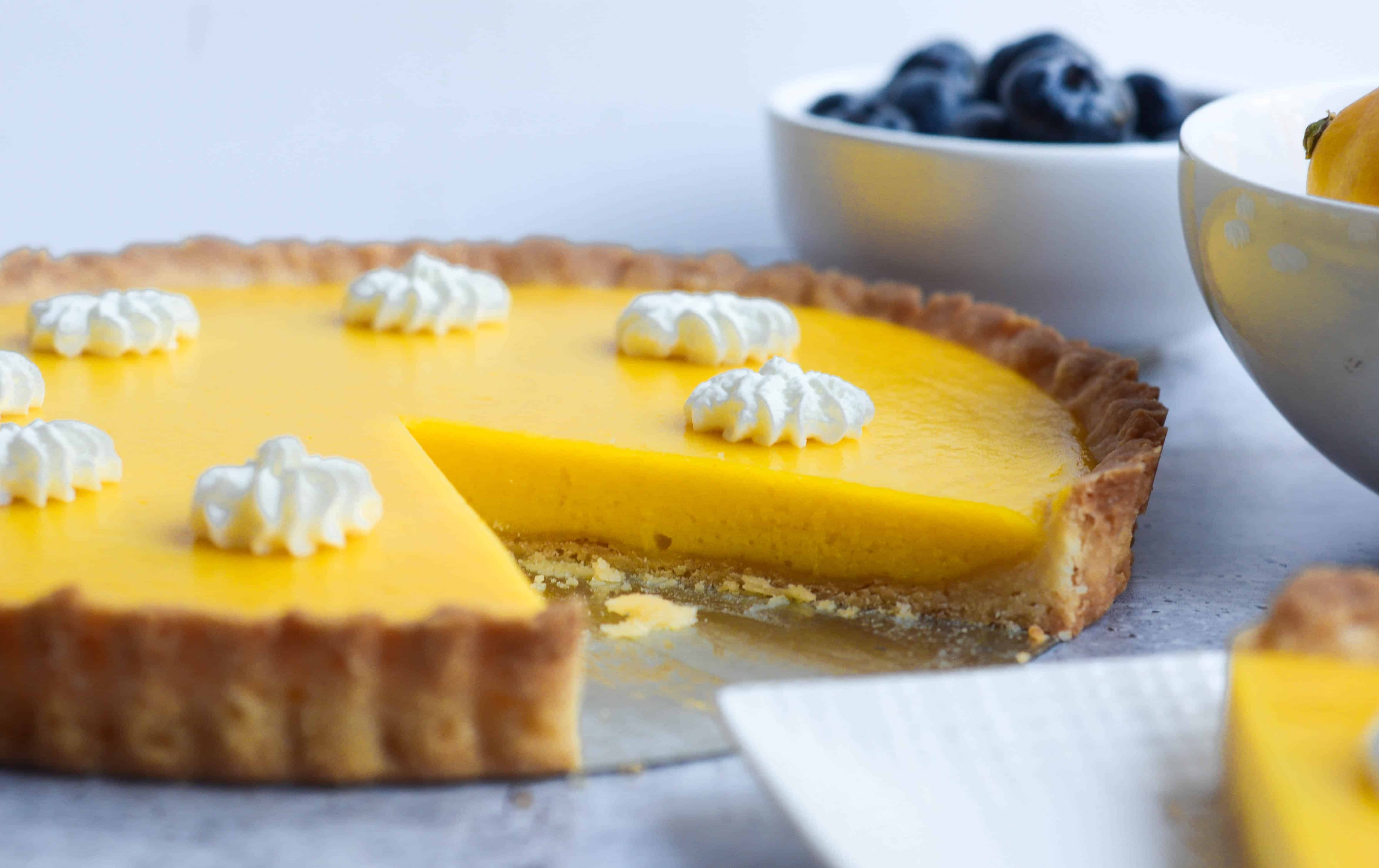 This Meyer Lemon Curd Tart is meltdown worthy when it's all gone. I made this recently for some co-workers who aren't big chocolate people (gasp!), and it was a huge hit. It's not give-you-a-cavity sweet but it's also not make-your-lips-pucker tart either thanks to the Meyer lemons. Let's chat more about the Meyer lemon. Spoiler alert: I love them.
Meyer Lemons 101
Meyer lemons are native to China and are a cross between a mandarin and a lemon. Frank Meyer brought the Meyer lemon to the United States, hence the name. We totally stole it and claimed it as our own.
So what's the difference between Meyer lemons and regular lemons? Meyer lemons are noticeably smaller and usually a deeper, slightly more orange yellow than the larger, brighter yellow of regular lemons. Meyer lemons are way less acidic and way more sweet than regular lemons. They have more of a sweet flavor and don't make your lips pucker.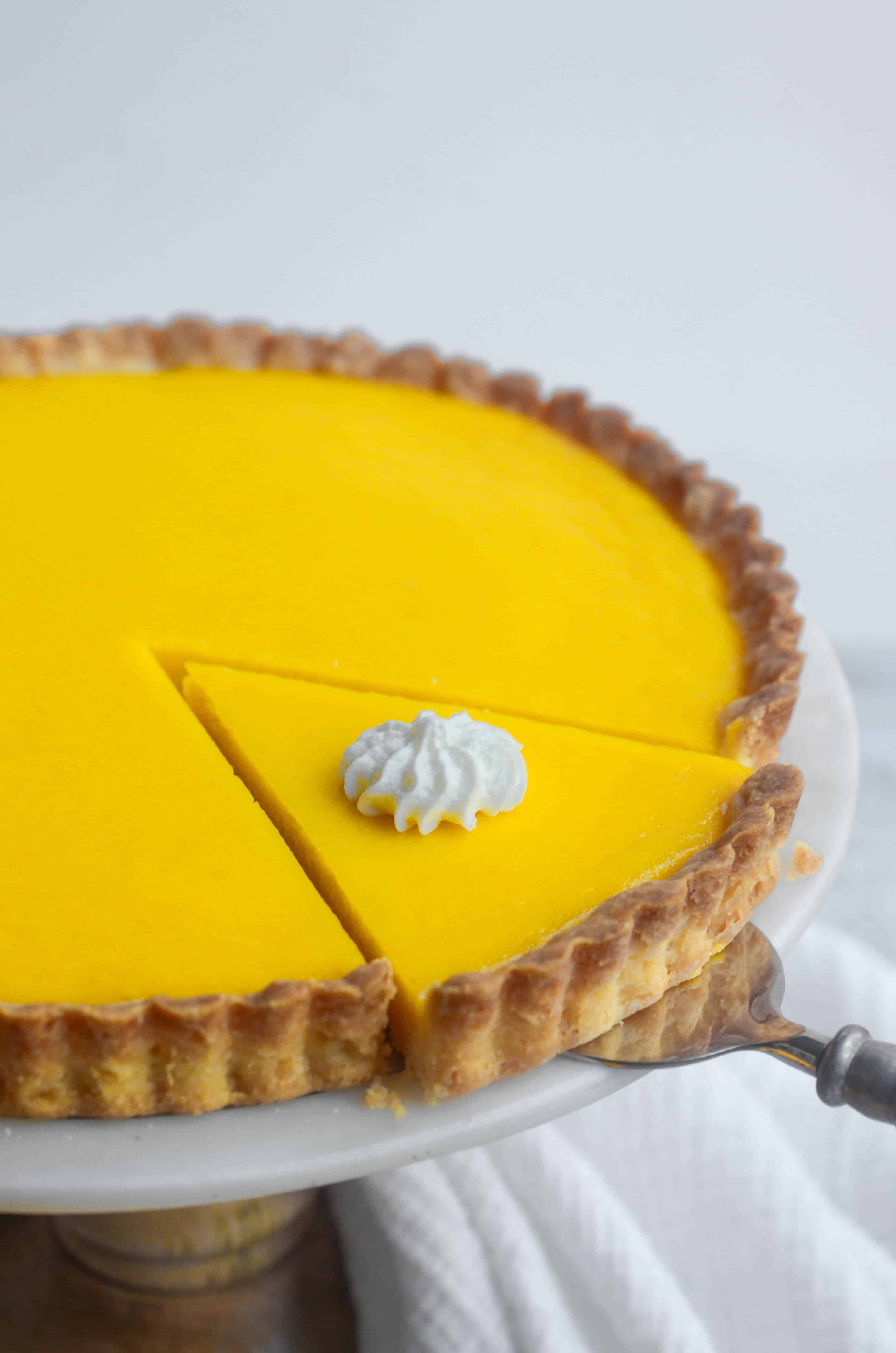 When is Meyer lemon season?
Meyer lemon season runs during the same time as other citrus fruits, so the peak of Meyer lemon season is between November and March or April. Our grocery stores around us don't really start having Meyer lemons until February though. It's kinda hard to get ahold of them 'round these parts unless you've got your eyes peeled on the citrus section. My general rule of thumb is when I see Meyer lemons, I buy them. Kinda like blood oranges for a blood orange upside down cake.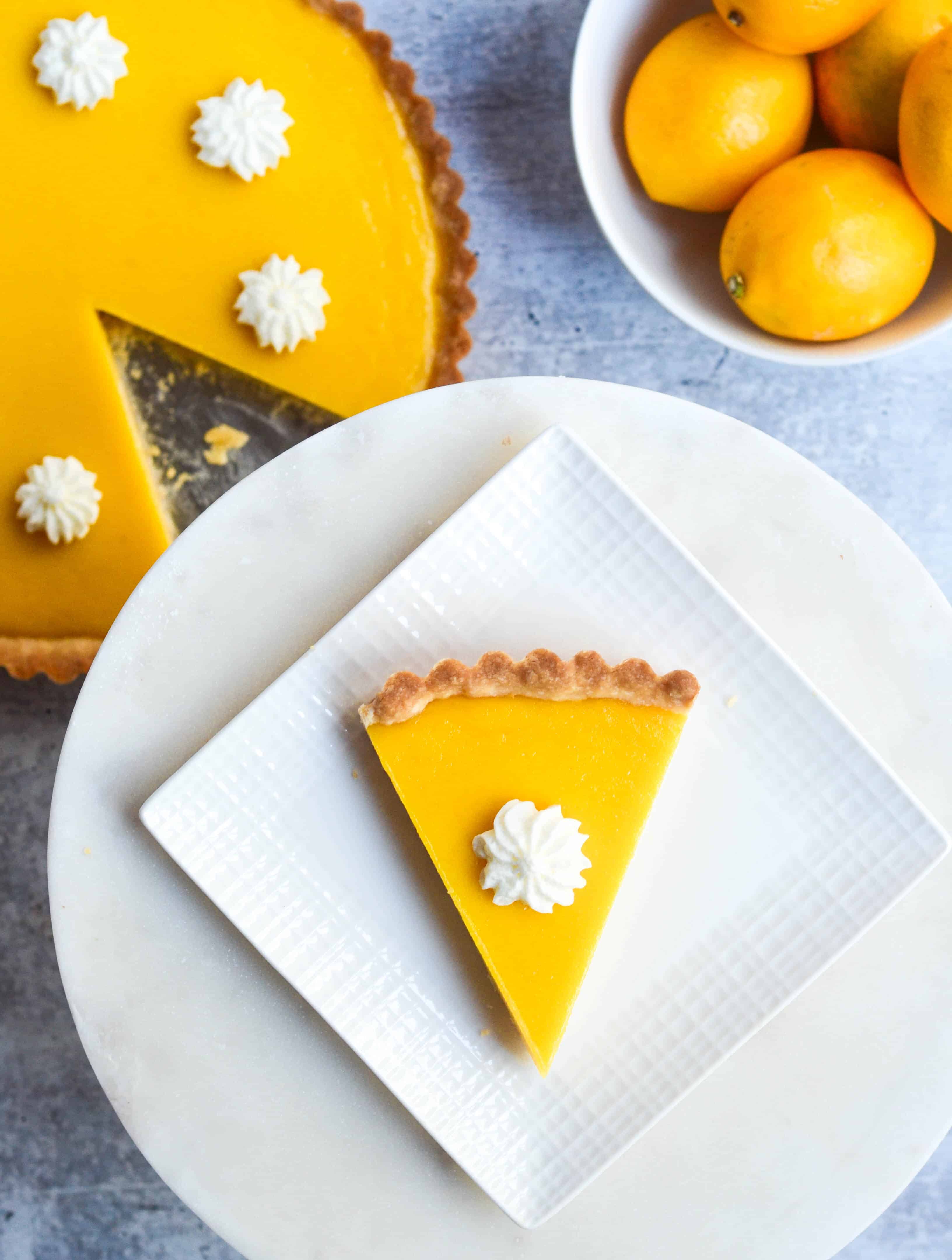 Can you substitute regular lemons for Meyer lemons in this recipe?
Yes, you totally can. You just will want to add some more sugar (I'd add around 2 Tablespoons to offset some of the pucker from regular lemons, but in a pinch, go ahead and use regular lemons.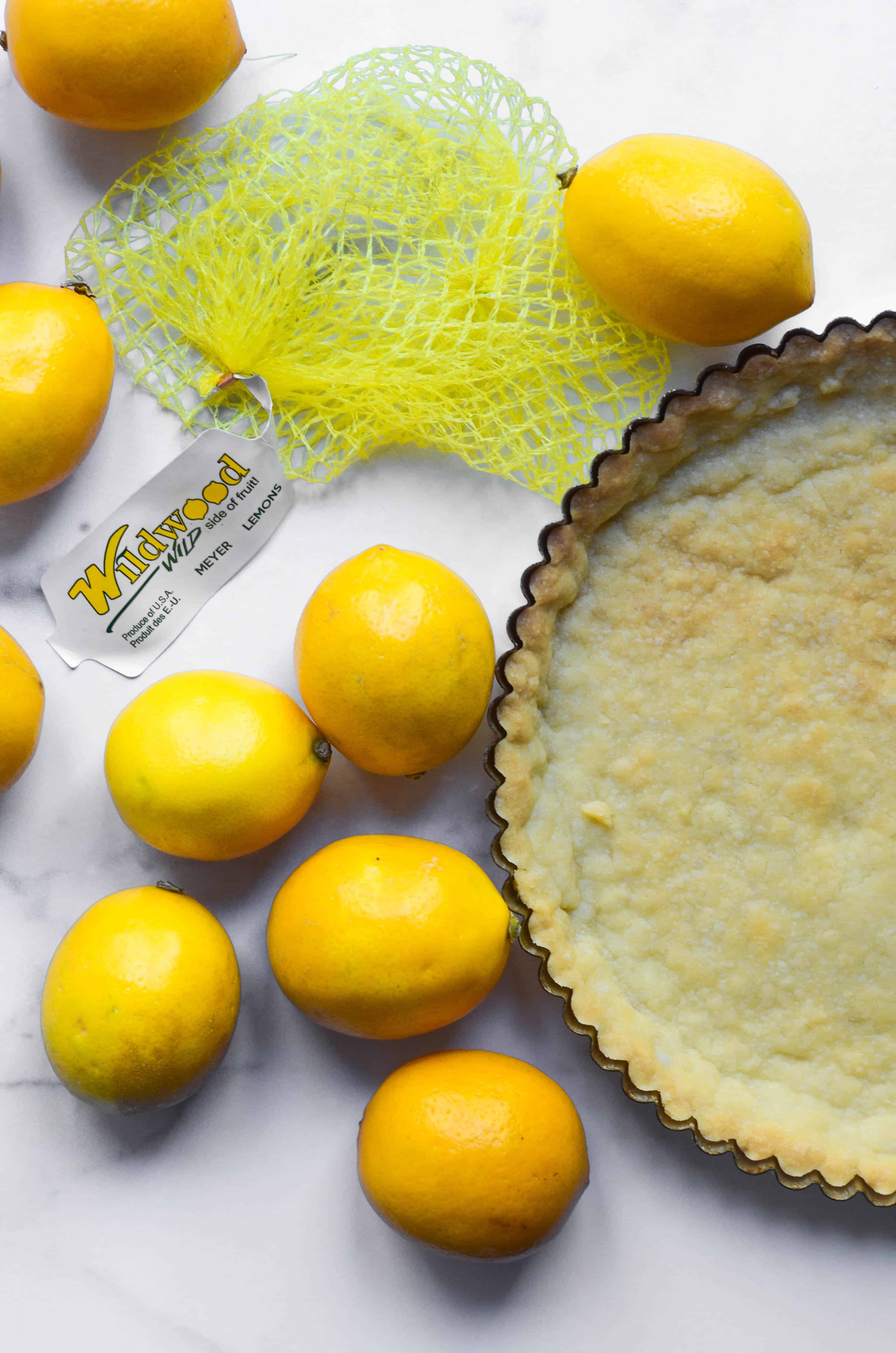 The Easiest Shortbread Crust
I've spent a lot of time here talking about the deliciousness of the curd thanks to sweet Meyer lemons, but the shortbread crust is so buttery and simple and can be put together in a small bowl. Sometimes I even throw all of the ingredients in the actual tart pan and mix it up in there if I'm being extra lazy. You only need flour, confectioners' sugar, salt, butter, and vanilla extract. Give the ingredients a good stair and then press into a greased tart pan with removable bottom before placing in the oven for 20 minutes.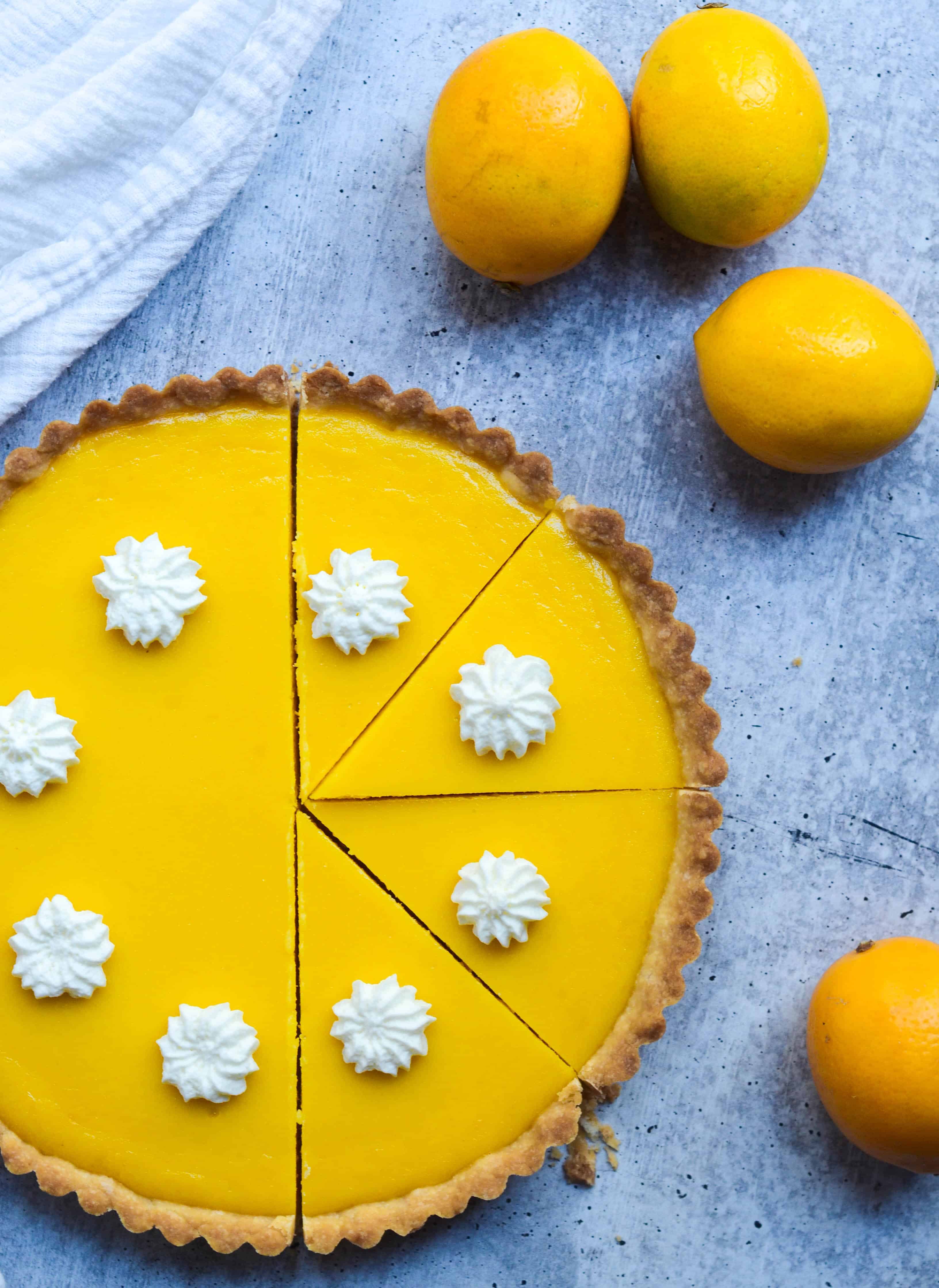 Tips for making the smoothest lemon curd
This curd comes straight from NYT Cooking because...well, there's just nothing better out there. The proportions of juice to butter to sugar are splendid, and why mess with a good thing? Here are some tips when it comes to making a good curd:
Stir, stir, stir. Lemon curd isn't one of those things you can make when you're distracted because you need 10 minutes of uninterrupted time you can be stirring the mixture constantly.
Keep the curd on low heat. That's what makes this more time consuming than it sometimes feels like it should be, but you don't ever want the curd to boil. Keep it low and show some patience.
Don't worry about any seeds or flesh. You can save some time in the beginning of juicing and zesting by not worrying too much about what goes in your pan. You'll strain everything out and make a beautifully smooth curd once it's all been cooked on low heat. (I use a spaghetti strainer for straining my curd. Nothing fancy...just make sure the holes aren't big!)
Don't use copper. Copper and other reactive pans will leak metal into your food thanks to the acidity of the citrus, so you want to make sure you use a non-reactive pot (I use stainless steel).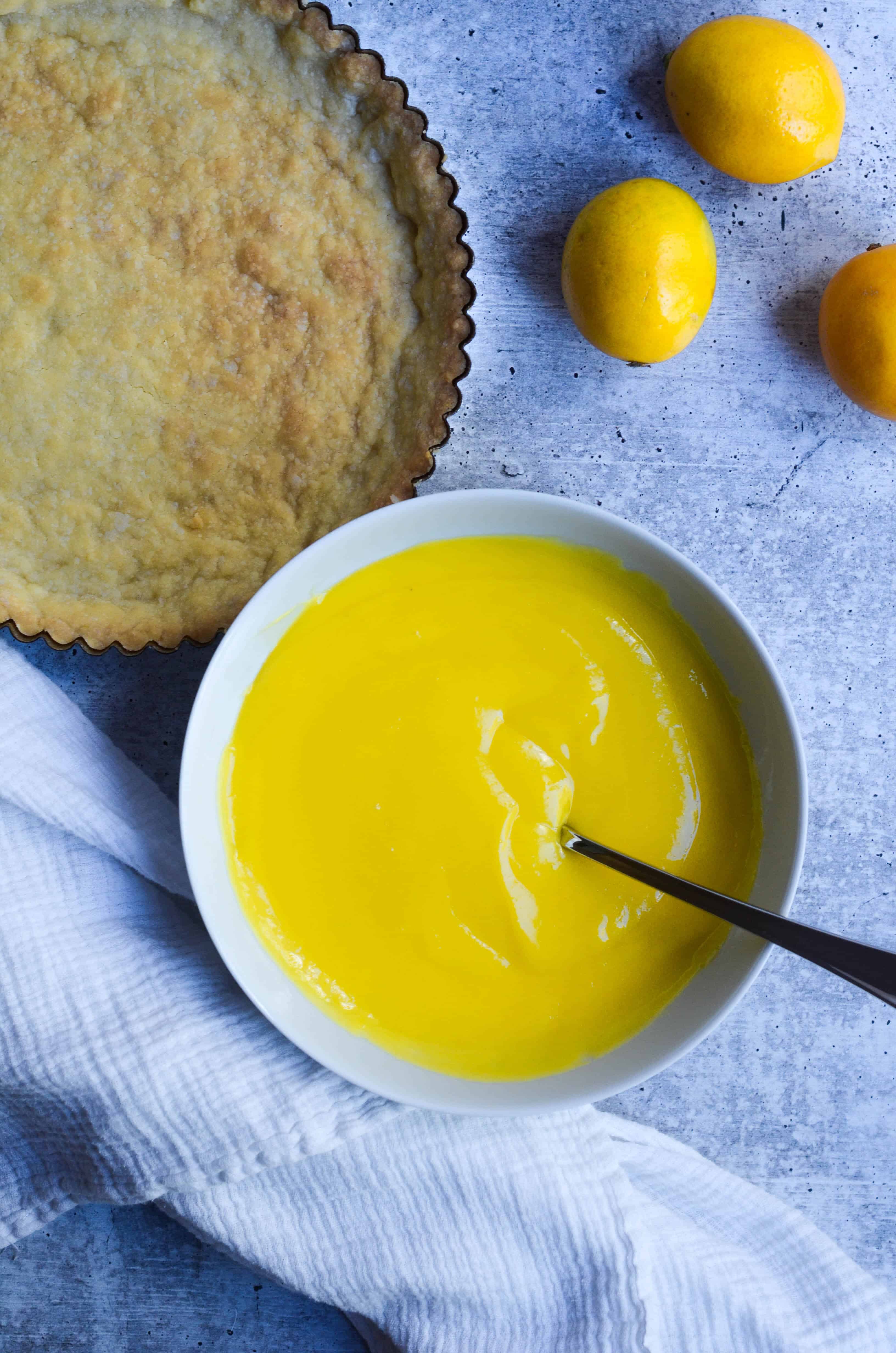 Other Meyer lemon recipes
I will use Meyer lemons in lieu of regular lemons if I have any extra, so I'm zesting them to put on pork tenderloin, squeezing some juice for my vinaigrettes, practically everything. I love making this easy lemon curd and scooping a little on my pancakes, with granola and yogurt, or as the filling on a cake. Take a look at these 100 Ways to Use Meyer lemons. There are some really cool ideas here!
Happy long weekend!
xox
kathryn
As always, if you make anything from the blog, be sure to let me know! I love hearing from you in the comments on this post below or find Worn Slap Out on Facebook, Instagram, or Pinterest!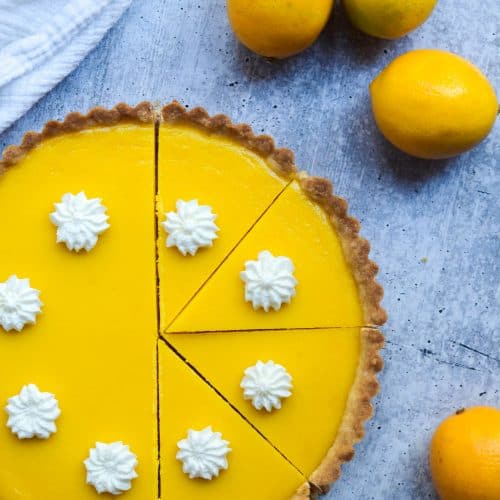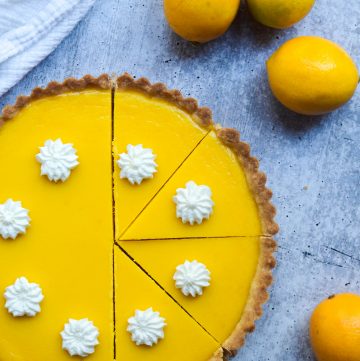 Meyer Lemon Curd Tart with Shortbread Crust
A refreshing and sweet Meyer lemon curd is nestled in a salty, buttery shortbread crust making this tart a hit with any lemon lover!
Print
Pin
Rate
Ingredients
For the shortbread crust:
1

cup

all-purpose flour

¼

cup

confectioners' sugar

¼

teaspoon

salt

½

cup

unsalted butter (1 stick)

½

teaspoon

vanilla extract
For the lemon curd:
6-7

meyer lemons, zested and juiced

1

cup

granulated sugar

5 ½

oz

unsalted butter (1 stick + 3 Tablespoons)

7

egg yolks

5

eggs

⅛

teaspoon

salt

whipped cream, optional for garnish
Instructions
Preheat oven to 350 degrees F. Grease a 9" tart pan (the kind where the bottom comes out). Set aside.

Combine flour, confectioners' sugar, and salt. Melt butter and vanilla extract in a small bowl in the microwave in 30 second increments until melted. Stir butter into flour mixture with a spoon until all incorporated. Press mixture into the sides of the pan with your fingers then work your way to the middle, using a measuring cup to make sure the crust stays flat. Bake for 20 minutes or until crust is just barely golden. Let cool.

Meanwhile, make the curd. Combine 1 cup of lemon juice with the zest from all of the lemons into a medium nonreactive saucepan. Add sugar, butter, and salt, and cook on medium heat until sugar is dissolved and butter is melted.

In a bowl of a mixer with paddle attachment, combine eggs and egg yolks until well blended. Very slowly add in lemon mixture to eggs until all blended. Return mixture to saucepan and place over low heat. Whisk constantly until the mixture turns into a pudding consistency (this takes me a good 10 minutes of constant whisking). Strain lemon curd into a bowl and cover top with plastic wrap. Let cool for about 30 minutes.

Turn up oven to 375 degree F. Spoon lemon curd into cooled shortbread crust. Bake until filling has puffed around the edges, about 25-30 minutes. You can cover edges with foil if shortbread crust starts to burn. Cool to room temperature before serving with whipped cream.
Notes
Make ahead: The crust can be made ahead and stored in the refrigerator for 2-3 days.  You can also make the lemon curd in advance and store that in a jar in the refrigerator until ready to assemble and bake.
Storage: Store tart in the refrigerator with plastic wrap tightly around it.  Lemon tart will stay fresh for 3-4 days in the fridge.