These Mummy Sugar Cookies are perfect for a Halloween baking project with kids -- and they use all the shortcuts to make it as easy as possible!
This week's dessert is Halloween themed, of course...and will hopefully last us until it's actually Halloween, when I will then have to hoard my children's candy and slowly throw it away bit by bit (or maybe I'll bring it to school).  Last year was really the first year the older one "got" Halloween, and with that understanding came much trepidation ("You want me to go knock on these random people's doors to get candy while seeing people dressed in something totally creepy?"  I'd consider this pretty healthy).  If the developmental trend continues, I'm imaging Bri will love it this year because she'll just be concerned with getting as much candy as possible, particularly if people are giving away M&Ms, her current drug of choice.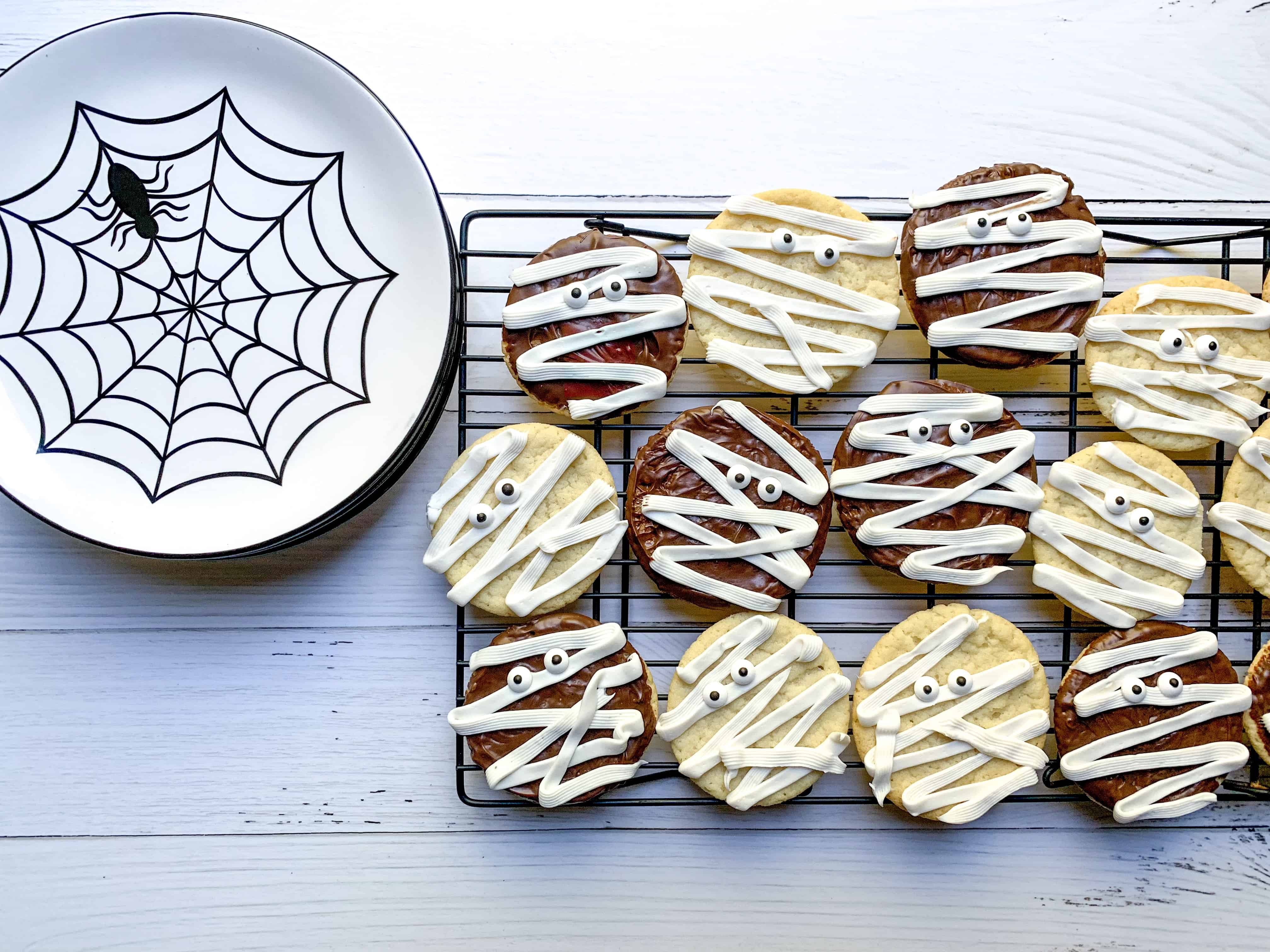 To celebrate this holiday that was a family favorite growing up, we made some mummy cookies. These are just so easy to make...especially when you buy ready-to-bake sugar cookies and a can of white frosting.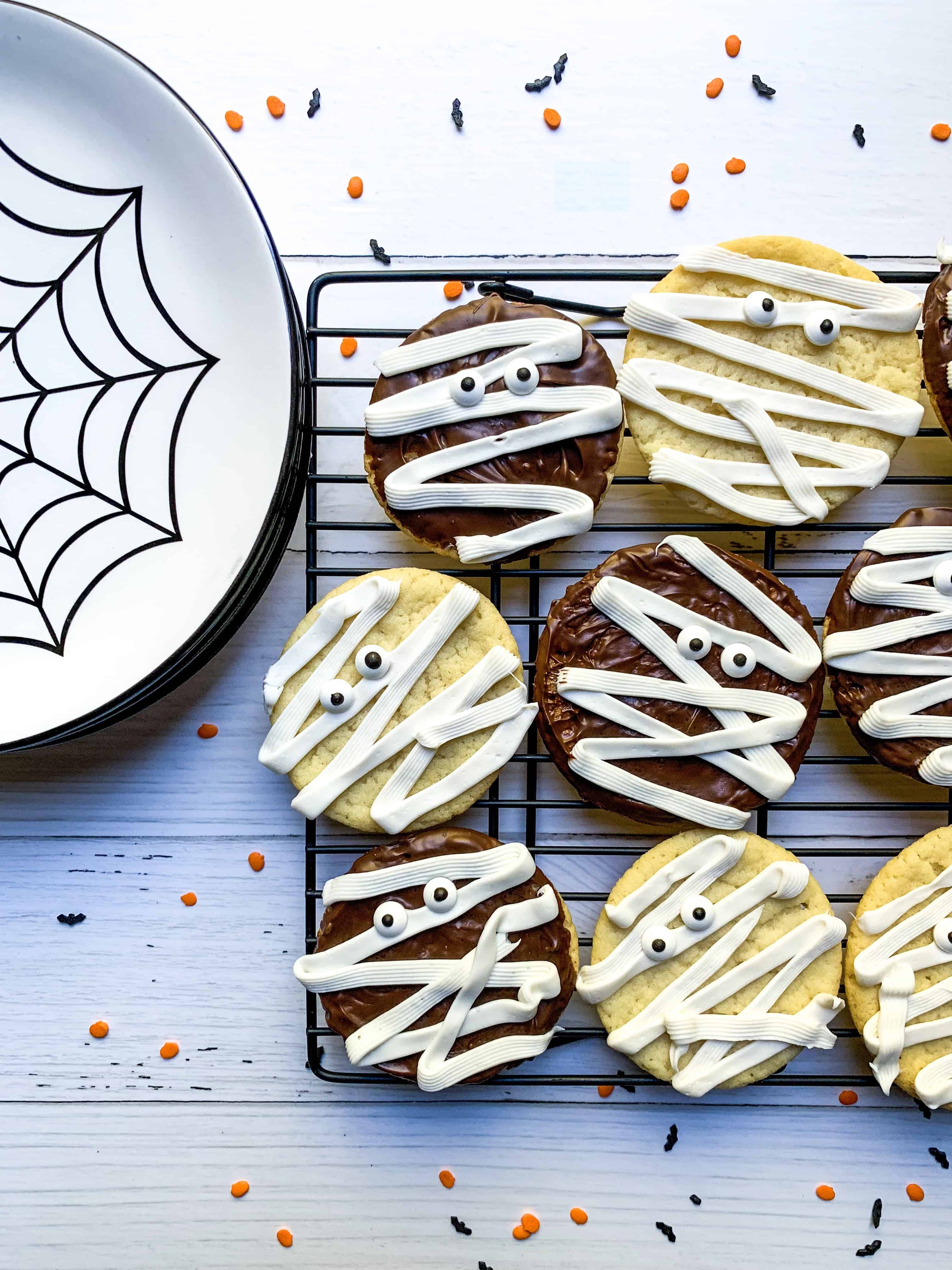 Materials you need
I used Wilton tip #47 (Basketweave) to pipe the frosting on the cookies.  You could easily use a plastic bag and cut the corner off if you didn't have a tip set or pastry bag.  If you want to invest in a set of tips, I love this one my mother-in-law bought me.
I have a million and a half disposable pastry bags to go through because I accidentally bought in bulk (oops!), so I use these Wilton bags for so many things (frosting, mousse, donut batter, basically anything I want to look clean).  Once you do it a few times, you really can have everything assembled and ready to use in 30 seconds or less.
You also need edible candy eyes. I got these on Amazon.
How to make these mummy cookies
To make the chocolate mummies, I dipped half of the sugar cookies in half of some dipping chocolate (which I also surprisingly use all the time when I need to melt just a little bit of chocolate or randomly get the craving for a chocolate covered strawberry).  I put the chocolate in a small glass bowl and melt in 30 second increments (be careful not to burn) in the microwave.  This is what I had on hand.  You could easily melt some chocolate chips with a little bit of coconut oil, too.
Then pipe your white frosting in a zigzag pattern, add your candy eyes and then enjoy!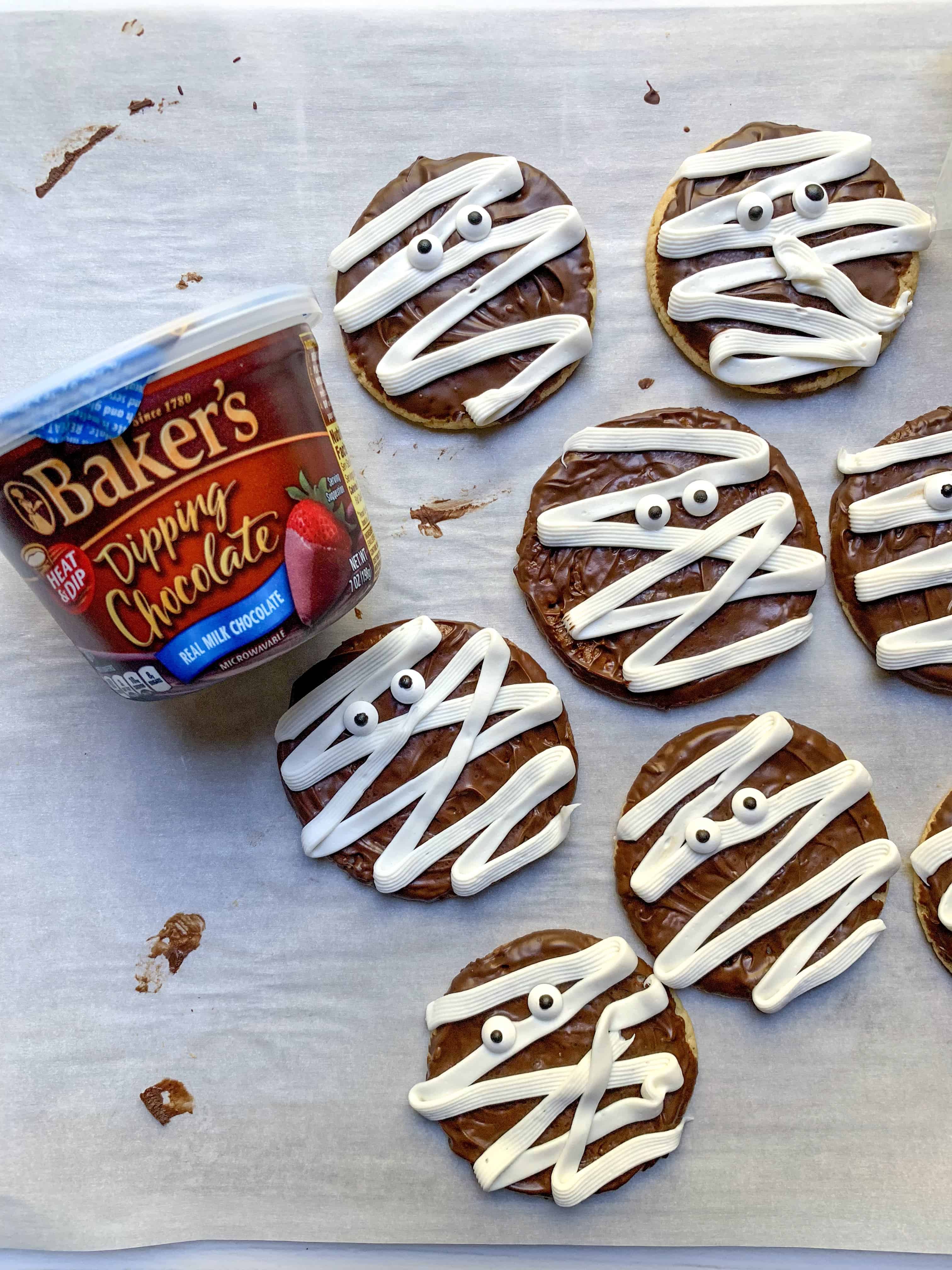 Oooooh, you could also dye the frosting green and make little Frankensteins. I bet that'd be cute.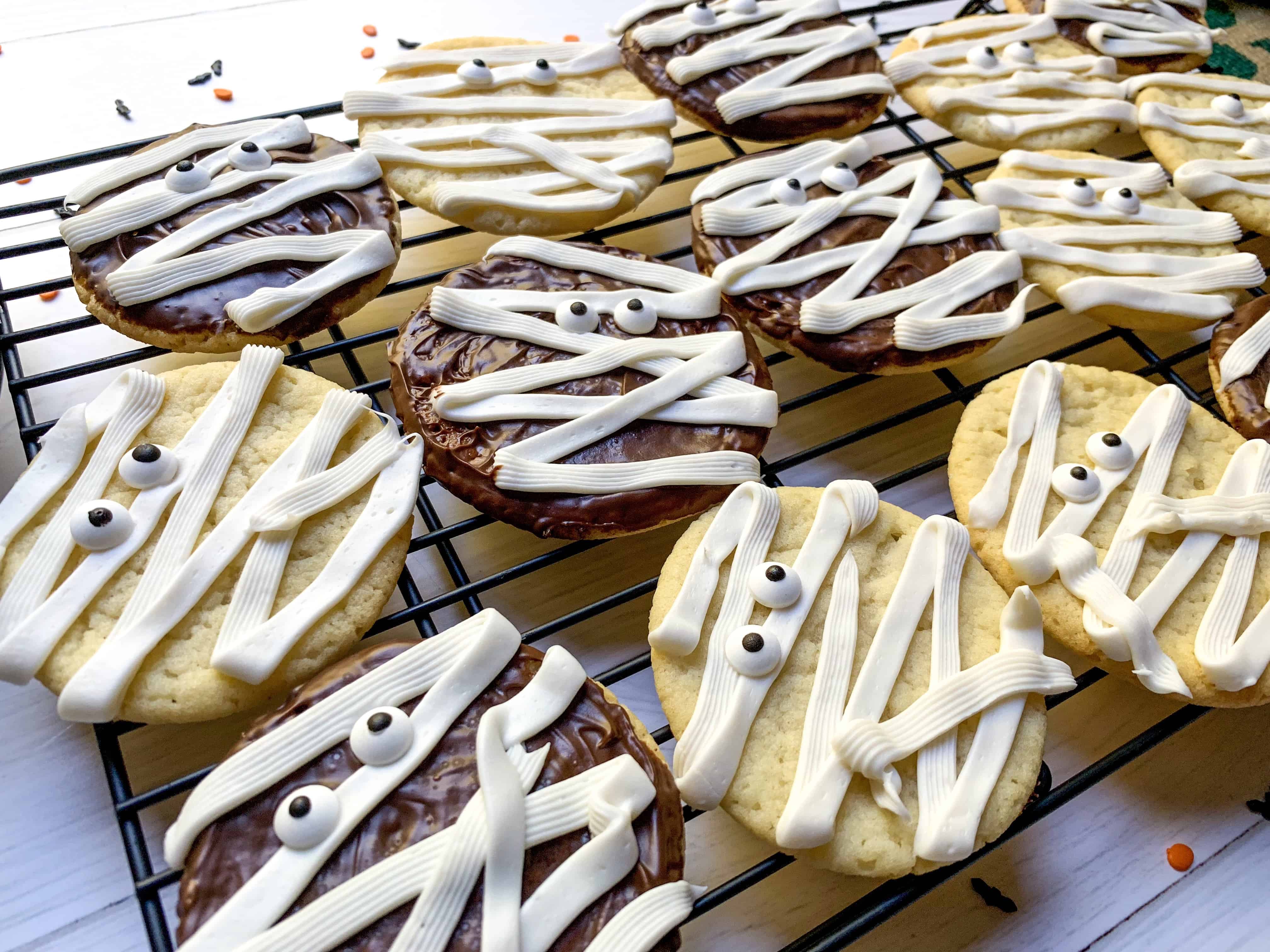 I hope everyone has a very happy and healthy Halloween. Stay safe...and don't come to our house because we haven't even bought candy yet (yikes!).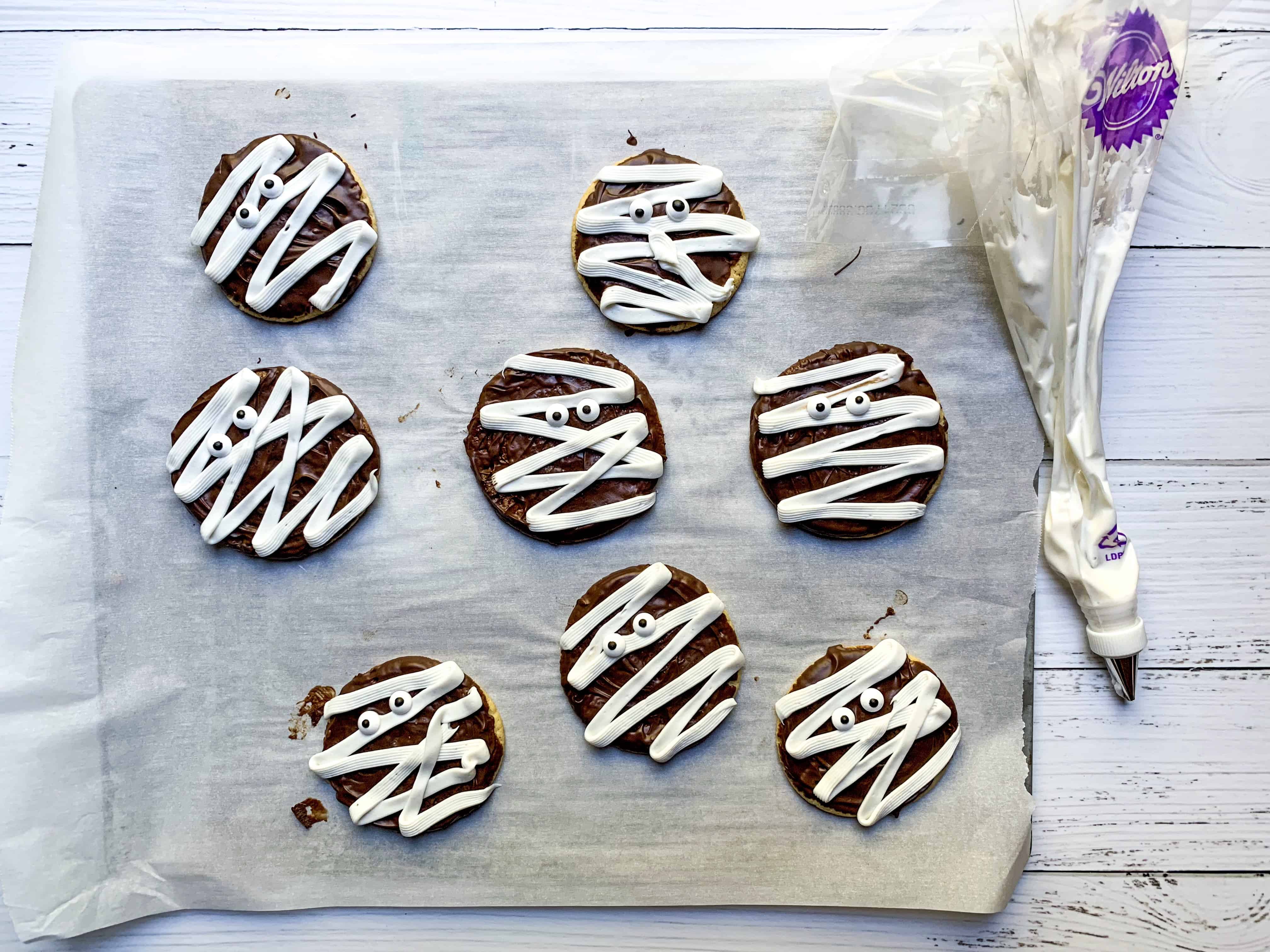 xox,
kathryn
As always, if you make anything from the blog, be sure to let me know! I love hearing from you in the comments on this post below or find Worn Slap Out on Facebook, Instagram, or Pinterest!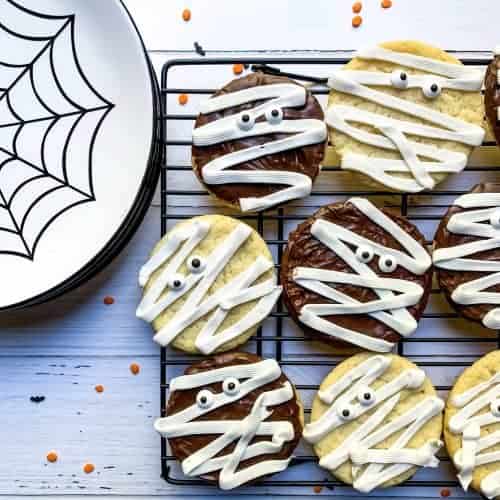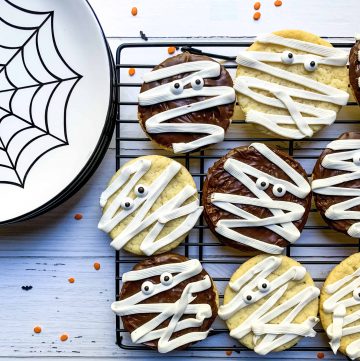 Mummy Sugar Cookies for Halloween
These Mummy Sugar Cookies are perfect for a Halloween baking project with kids -- and they use all the shortcuts to make it as easy as possible!
Print
Pin
Rate
Ingredients
1

tube

sugar cookie dough

1

can

white or vanilla frosting

48

edible candy eyes*

½

tub of baking chocolate

see pictures and note above
Instructions
Preheat your oven to 350 degrees Fahrenheit.

Roll your cookie dough into 1" balls and place about 2-3 inches apart on parchment paper-lined baking sheet. Bake according to package directions (about 12 minutes).

Let cool on a rack for a few minutes (they'll cool pretty fast). Meanwhile, place your frosting in a piping bag with Wilton tip #47 (or similarly wide and flat shaped tip). You can easily use a Ziploc bag if you don't have a piping bag.  Frost in back-and-forth sheets to create the mummy look. Give the mummies some googly eyes.  Eat up!
Notes
*bought mine here on Amazon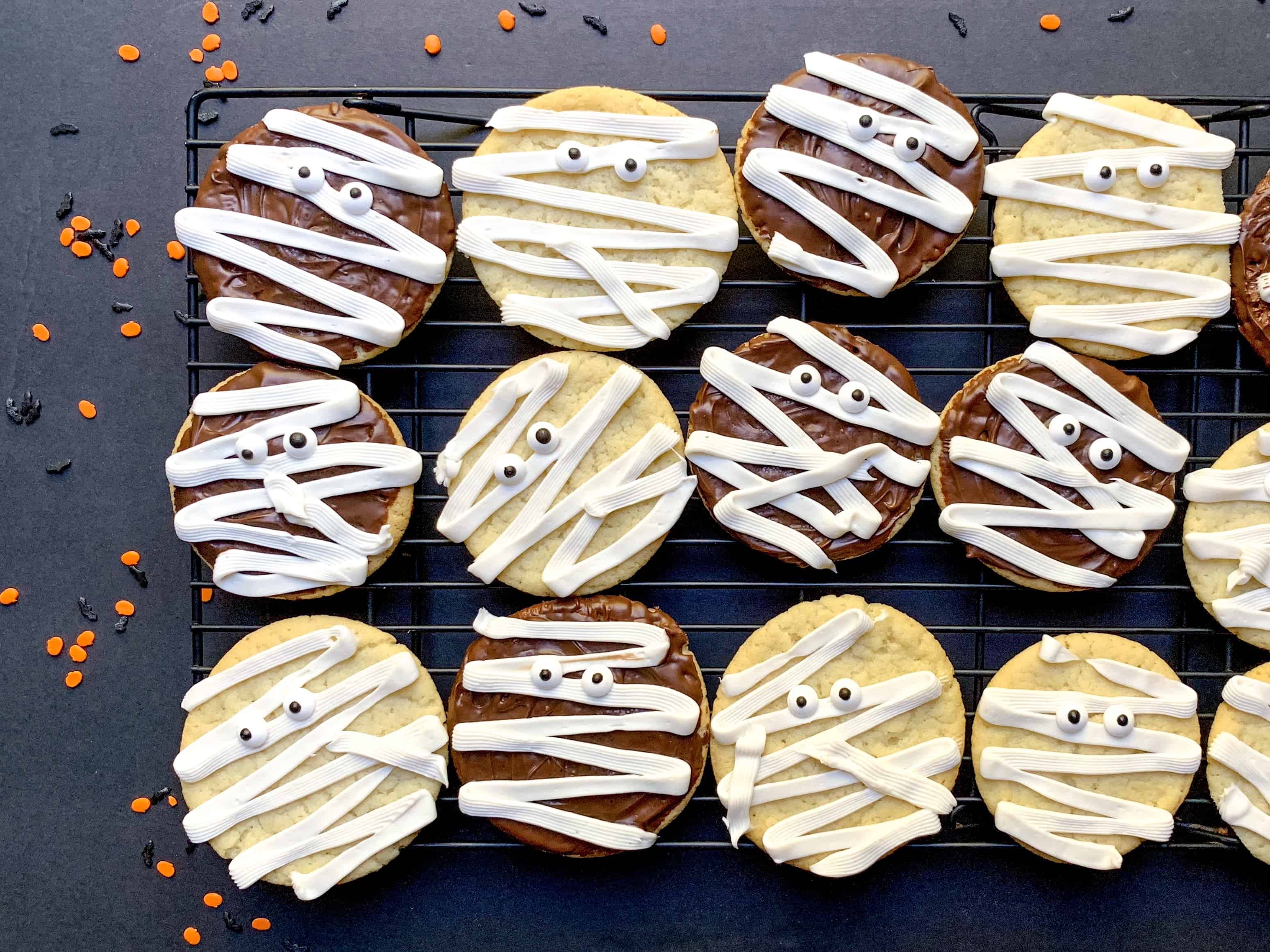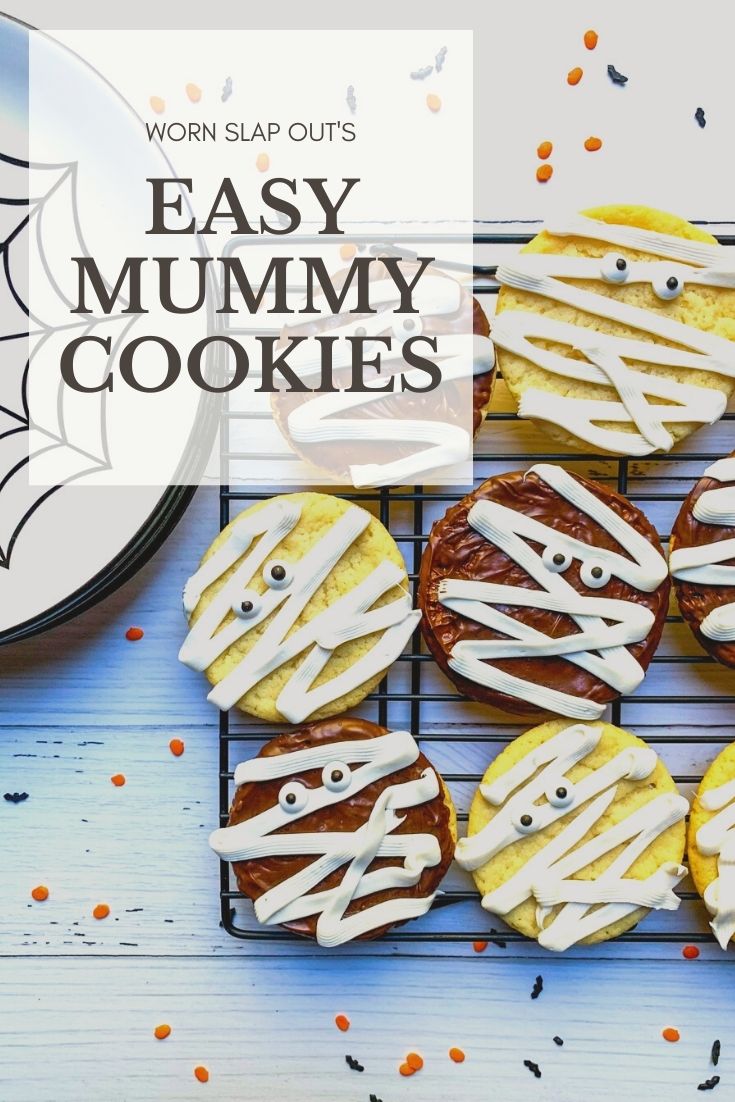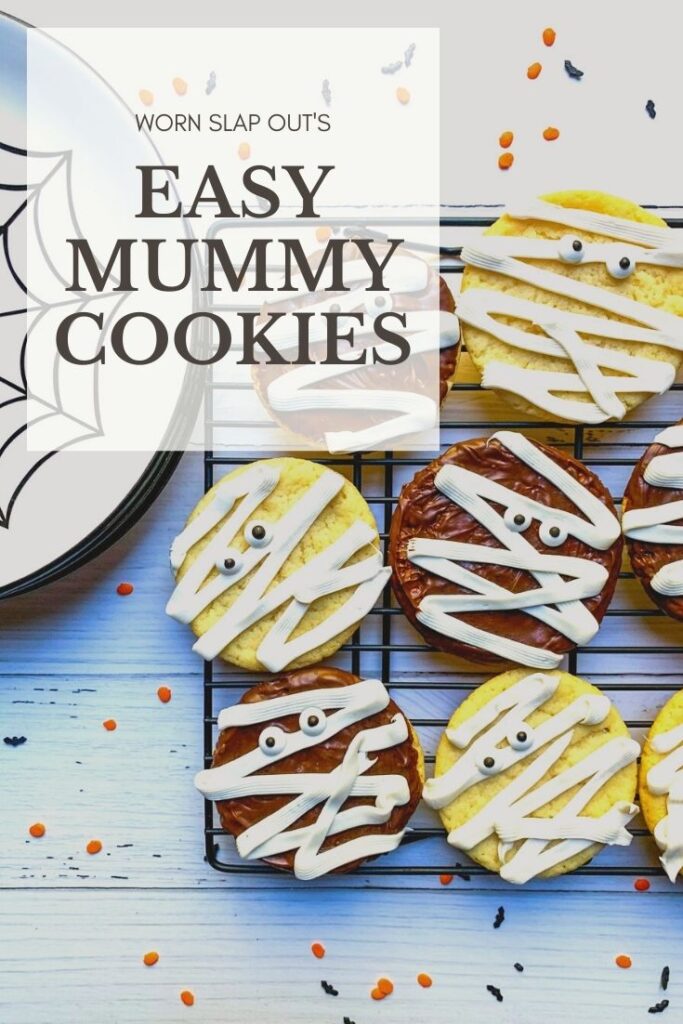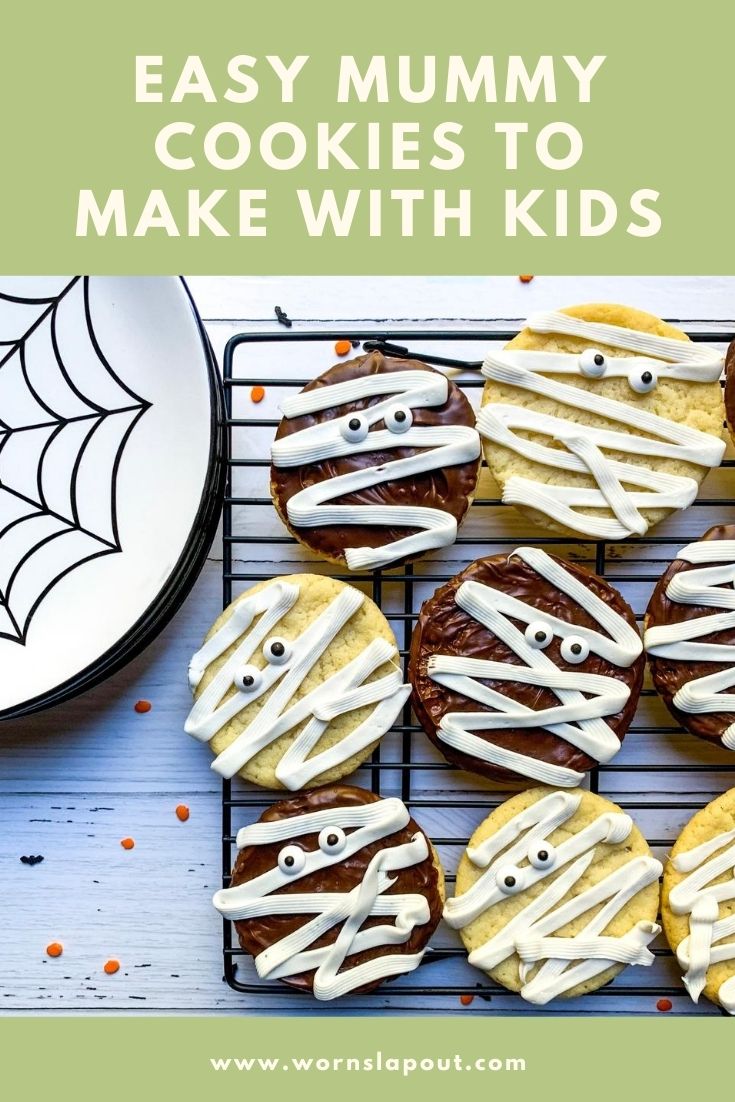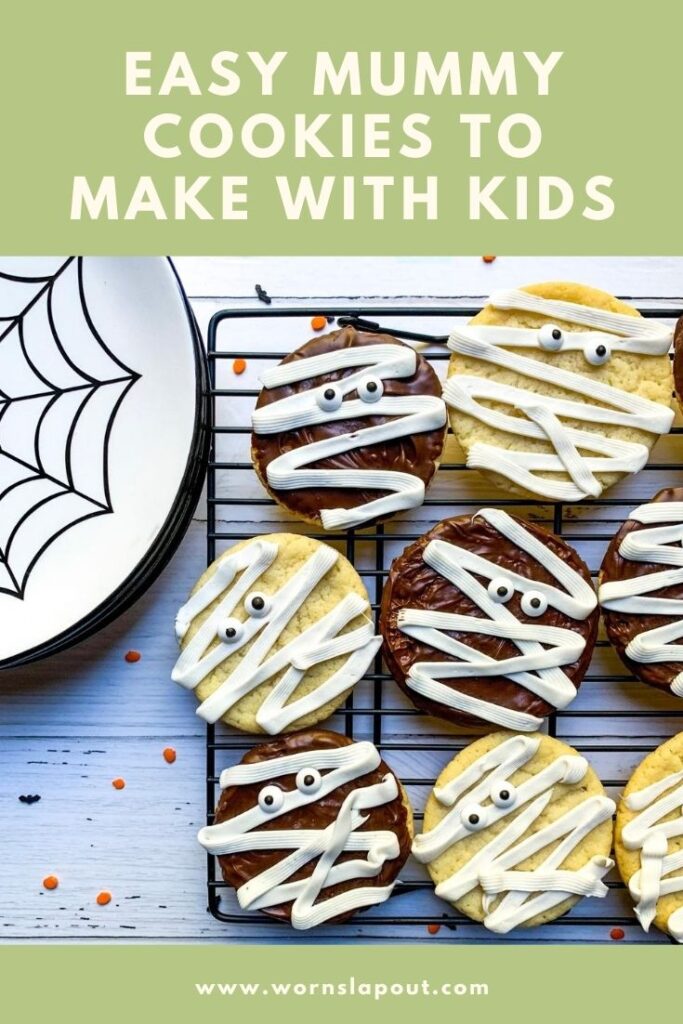 Side note: As an Amazon Associate, I earn a very, very small portion from qualifying purchases to help maintain this site. Think of it like a commission bonus for referring a product to you. It doesn't cost anything to you though.