This chickpea tikka masala is full of warm, cozy spices and is filling in the healthiest of ways. This is a perfect weeknight dinner!
This one pot chickpea tikka masala is vegan, dairy-free, soy-free, and gluten-free.  Basically, it's perfect for all you January dieters out there and is packed with immune-boosting ginger and a concoction of warm, Indian spices.  And let me tell you -- we need all the immunity support we can get our hands on.  We've all just passed around different viruses since the beginning of December, and we're not even to February.  Lord, help us!
Amongst all of our sicknesses, we were supposed to take Bri's paci away from her this weekend.  She only uses it during nap time and bedtime, but it's getting to the point where it's jacking up her teeth.  The only problem is there's just never a "right" time.  She's been sick, brother's been sick, then one of us has been sick, and there's just no way I'm taking away the thing that makes her so happy at night when she's not feeling well.  And when I'm not feeling well, there's no way I'm taking away the only thing that keeps her sleeping until 9 am every morning.  So when Friday came around and we were supposed to bite the bullet, neither of us mentioned it to the other.  Avoidance is the answer.  Either way, we're doing AWESOME at this parenthood game.
Ingredients for Chickpea Tikka Masala
The ingredient list does look a little daunting for sure, but half of the list are spices:
olive oil
onion diced
fresh ginger grated
garlic
salt
garam masala
ground cumin
ground turmeric
curry powder
paprika
red pepper flakes (optional)
tomato paste
diced tomatoes (regular or fire-roasted)
vegetable broth or water
canned chickpeas
unsweetened coconut milk
basmati rice, full fat yogurt fresh cilantro or parsley, and naan (optional for serving)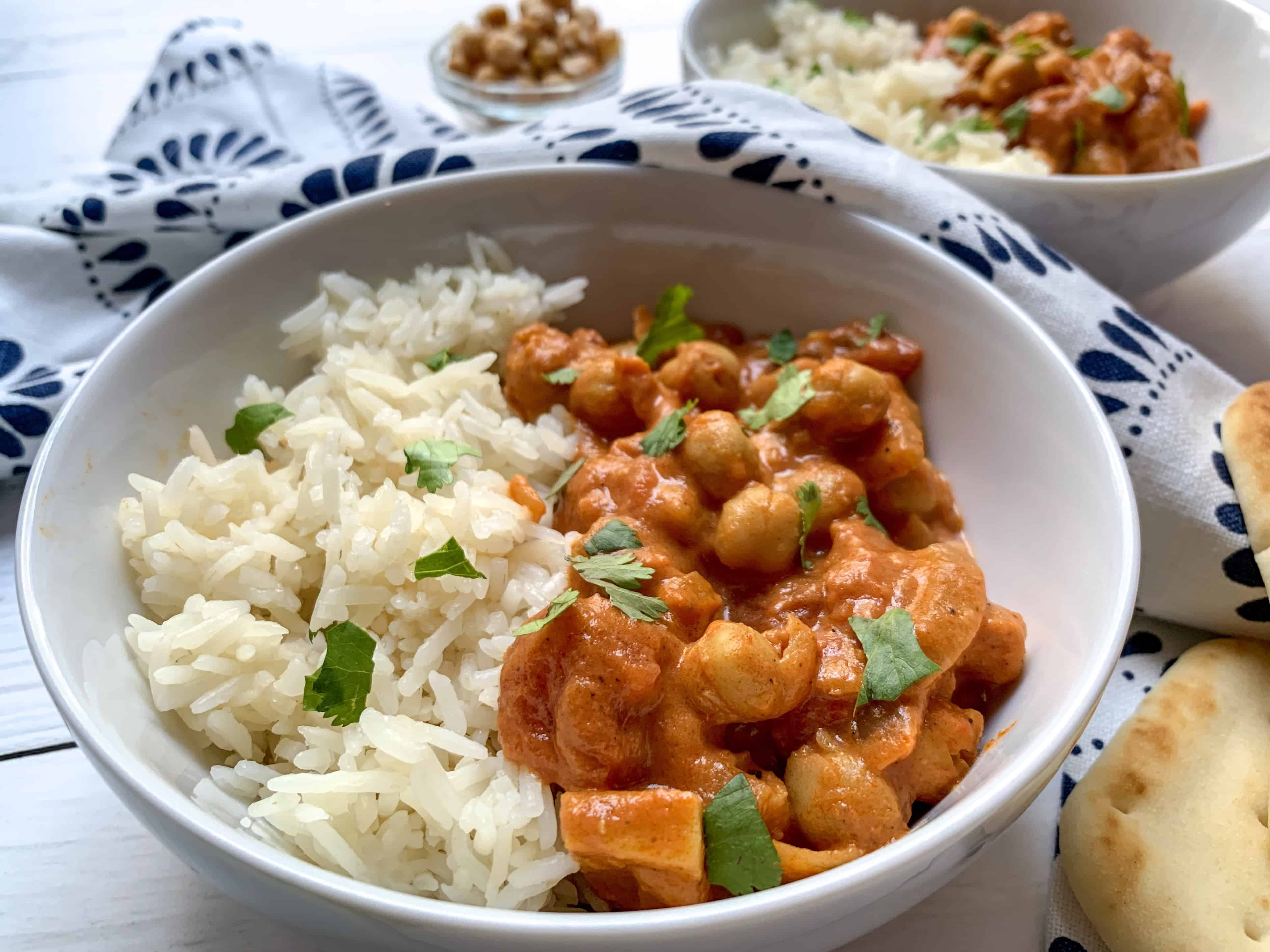 Diet Variations
If you wanted to not make this a Meatless Monday meal, I'd just pan sear some chicken thighs and add the chopped chicken into the mix instead of the chickpeas.  If you aren't a chickpea lover though -- you're missing out.  I'll roast Bri chickpeas in the oven (400 degrees for about 10 minutes) with some olive oil and salt and she'll pop them like popcorn.  It's a great way to get some protein and iron in the little ones, I've realized.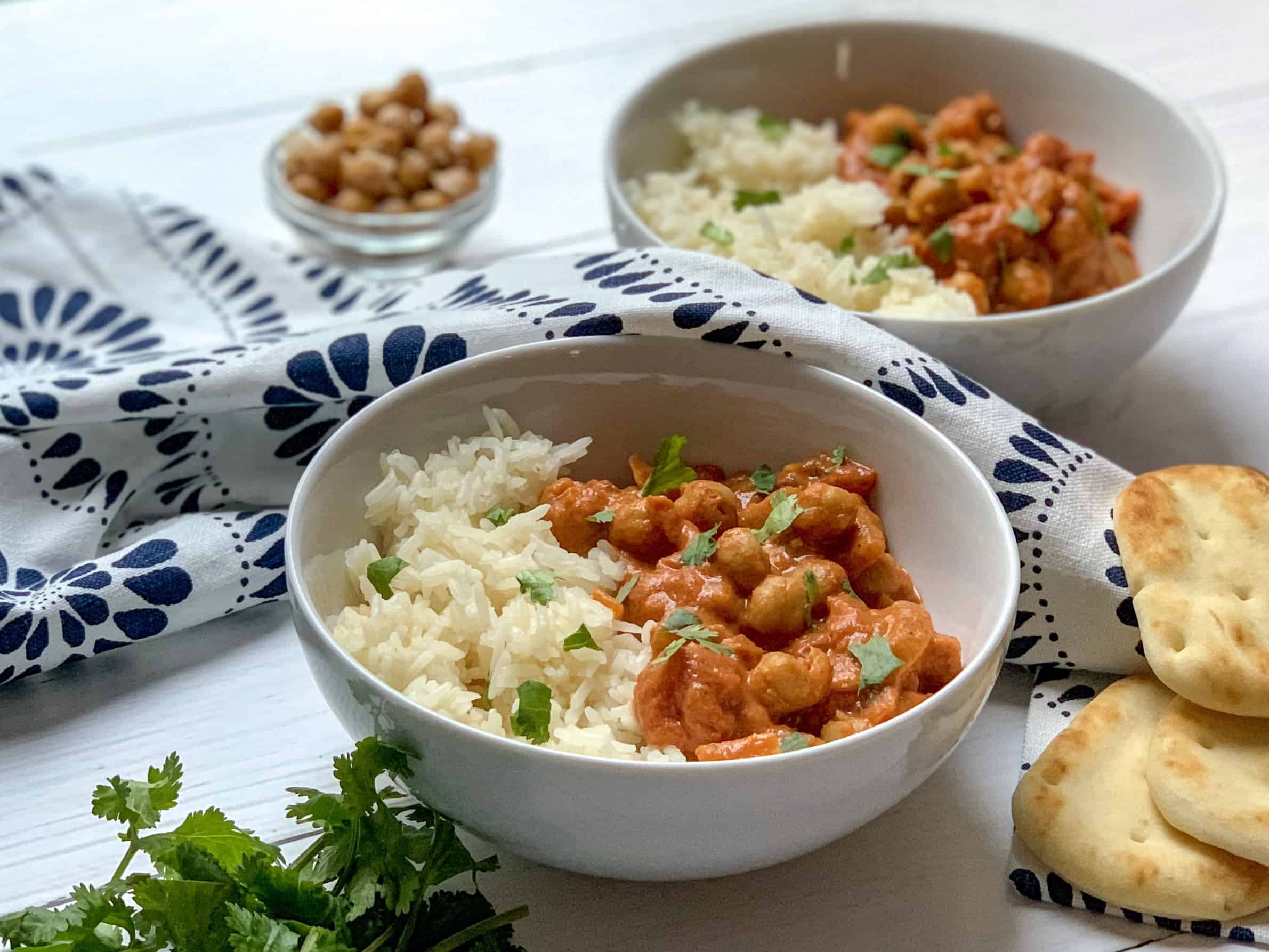 Enjoy!
xox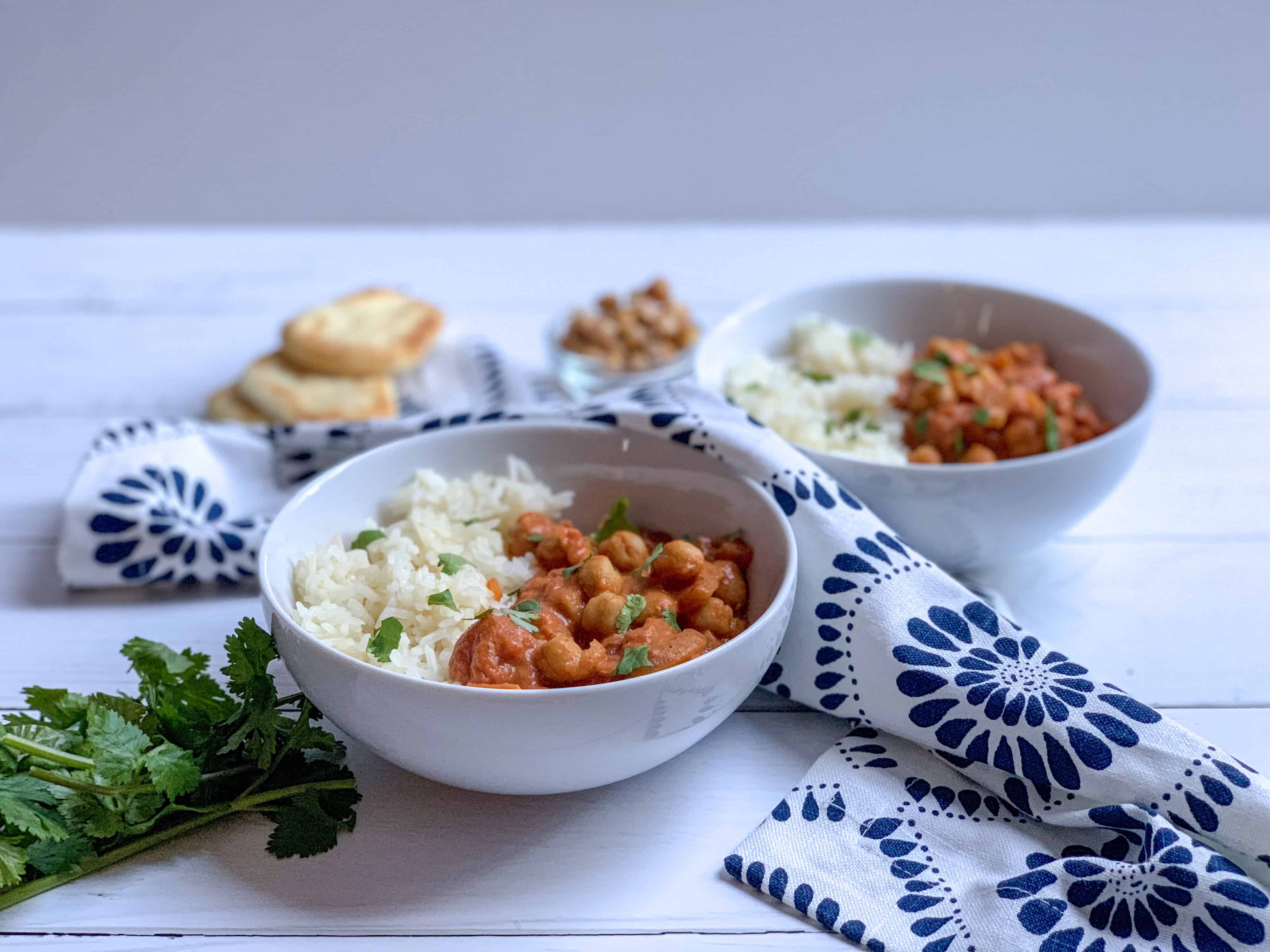 xox,
kathryn
As always, if you make anything from the blog, be sure to let me know! I love hearing from you in the comments on this post below or find Worn Slap Out on Facebook, Instagram, or Pinterest!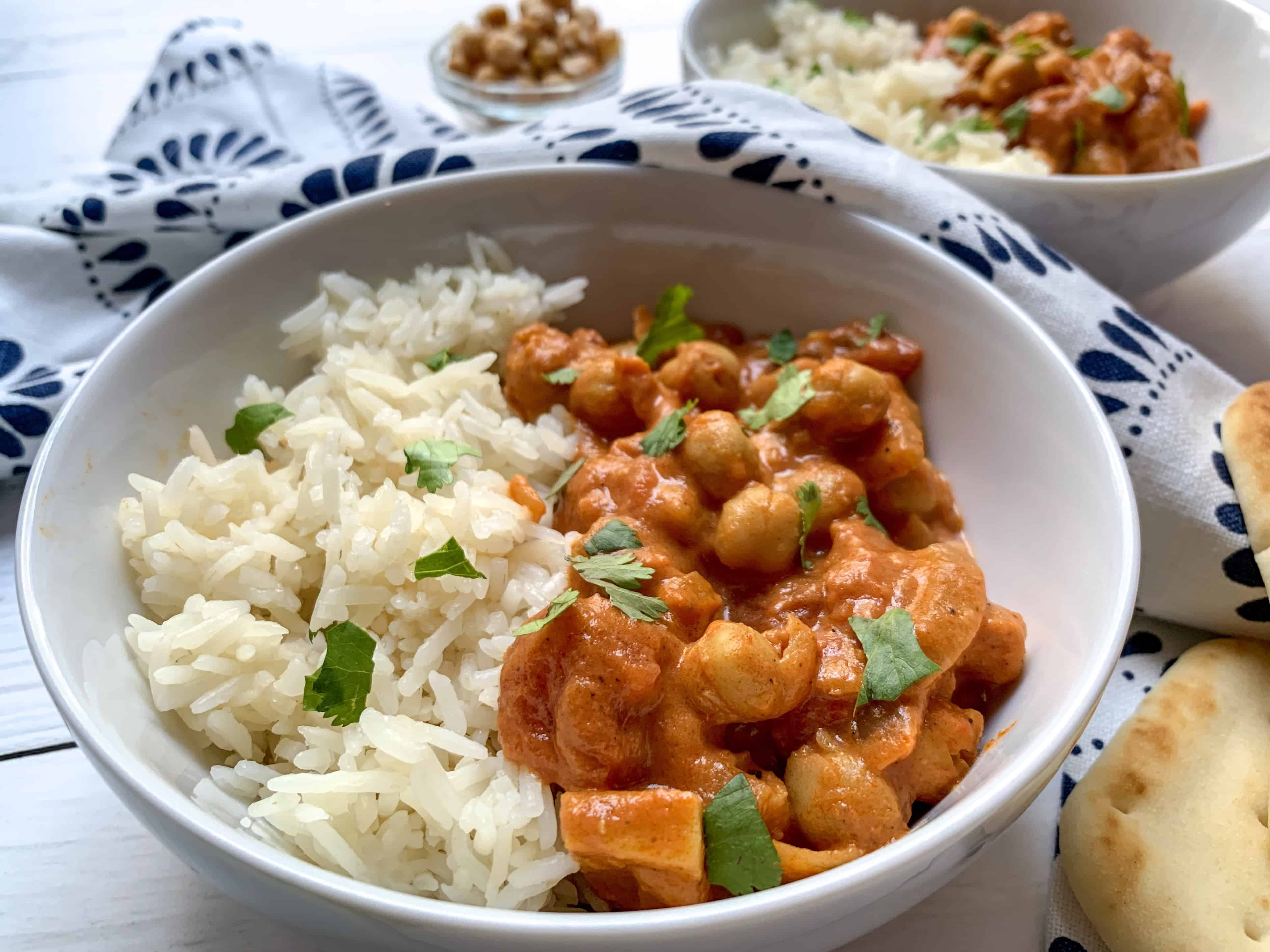 One Pot Chickpea Tikka Masala
This one pot chicken tikka masala is the perfect weeknight dinner -- full of flavor and spices that will have you feeling so cozy.
Print
Pin
Rate
Ingredients
2

tablespoons

high quality olive oil

1

medium onion

diced

2-

inches

fresh ginger

grated (about 1 tablespoon)

5

garlic cloves

minced

1

teaspoon

salt

1

teaspoon

garam masala

1

teaspoon

ground cumin

1

teaspoon

ground tumeric

1

teaspoon

curry powder

1

teaspoon

paprika

½

teaspoon

red pepper flakes

optional

2

tablespoons

tomato paste

2

15-ounce cans diced tomatoes*

1

cup

vegetable broth

or water

1

15-ounce can chickpeas, drained and rinsed

¾

cup

unsweetened coconut milk

basmati rice, full fat yogurt (if you're not dairy-free), fresh cilantro or parsley, and naan (optional)
Instructions
In a large pot, warm the oil over medium heat.  Add onion and cook for 3 minutes.  Add the ginger, garlic and salt then cook for 2 minutes.  Add all spices (garam masala, cumin, tumeric, curry powder, paprika, red pepper flakes) and tomato paste.   Stir and cook a couple more minutes.

Pour the cans of diced tomatoes (with juices) and 1 cup vegetable broth into the pot. Bring to a boil and cook for 10 minutes, stirring occassionally.

Reduce heat to a simmer then stir in the coconut milk and chickpeas. Cook until warm. Serve warm with basmati rice, naan, parsley, dollop of yogurt...whatever your favorite fixins are!