This falafel platter is one of the easiest and healthiest dinners you can make -- either for entertaining or a hassle-free weeknight dinner.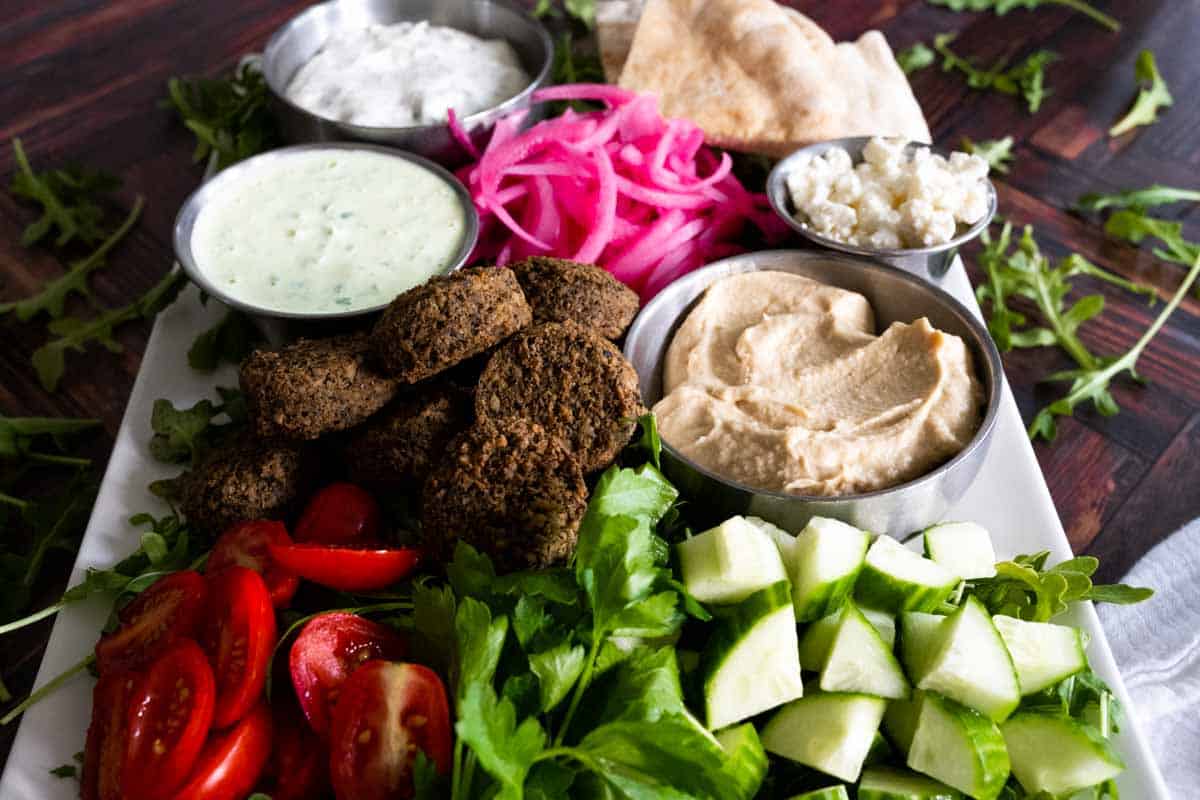 Give my kids a platter of food with a variety of different options for them to choose from, and they'll be happy as clams. They'll even try foods I didn't even think they'd consider but because of a fun arrangement(?), low-stakes snacking(?), safe fall-backs(?), they're into it. Regardless of the reason, it makes this mama very happy.
I must say when I first told the family what we were having for dinner when I inevitably answer the same question every day at approximately 5:30 pm, the kids and my husband were less than enthused. A plant-based meal?! Do we have to? I think they thought they were going to starve. Then this beautifully arranged platter came along and BOOM! The whole family is choosing what they want. I'm making a falafel salad with the ingredients, my daughter is eating the falafel like a mezze palte, and my husband and son are making pita sandwiches.
Something. For. Everyone.
Secret confession: I bought everything and repackaged in glass bowls, including the falafel (there are some really good frozen falafel brands out now).Sometimes when you're worn slap out, these are the lifesaving meals you need.
Why You'll Love This Recipe
Let's chat more about the reasons why this needs to be in your weeknight rotation:
Easy Peasy: This recipe is a breeze to whip up, even on those busy weeknights when time is of the essence. With a few simple steps, you'll have a mouthwatering platter ready in no time.
Versatile Ingredients: The beauty of a falafel platter lies in its versatility. You can mix and match various ingredients, making it customizable to suit everyone's taste preferences. Whether you're a meat lover, vegetarian, or vegan, there's something for everyone.
Healthy and Nutritious: Falafel is a protein-packed dish made from chickpeas and an assortment of herbs and spices. It's a great option for those looking to incorporate more plant-based meals into their diet without compromising on taste.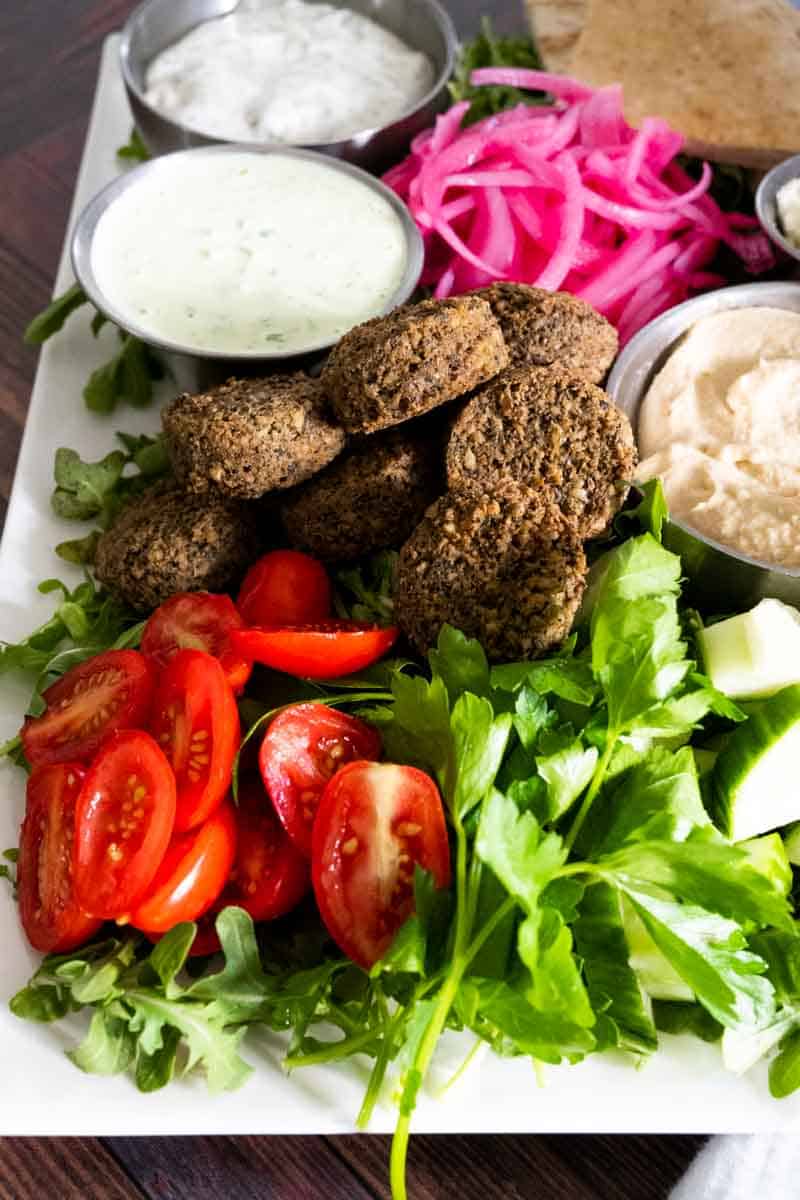 What is Falafel?
Falafel is a traditional Middle Eastern food made from chickpeas or fava beans, spices, and herbs. Small patties are formed from this mixture and then deep fried to make falafel that's crispy on the outside and soft on the inside. Falafel is typically served with other mezze plates, or small portions of food that's meant to be communally shared. Falafel is a great alternative to meat because it still feels hearty and filling, especially for those of us used to eating meat at every meal.
As much as I eat falafel out at restaurants (it's me, Moby Dick!), I don't make it at home nearly as often as I should. I buy the frozen falafel from Whole Foods. Afia is the brand I typically buy -- either the original or garlic and herb falafel.
If you're into making homemade falafel, try Downshiftology's Falafel recipe.
Possible Ingredients for the Falafel Plate
Pita bread or flatbread
Arugula
Hummus
Tzatziki sauce or yogurt sauce (this one is vegan also!)
Tabouleh salad
Sliced tomatoes or cherry tomatoes
Cucumber slices
Olives
Feta cheese
Lemon wedges
Fresh herbs for garnish (e.g., mint, parsley, dill)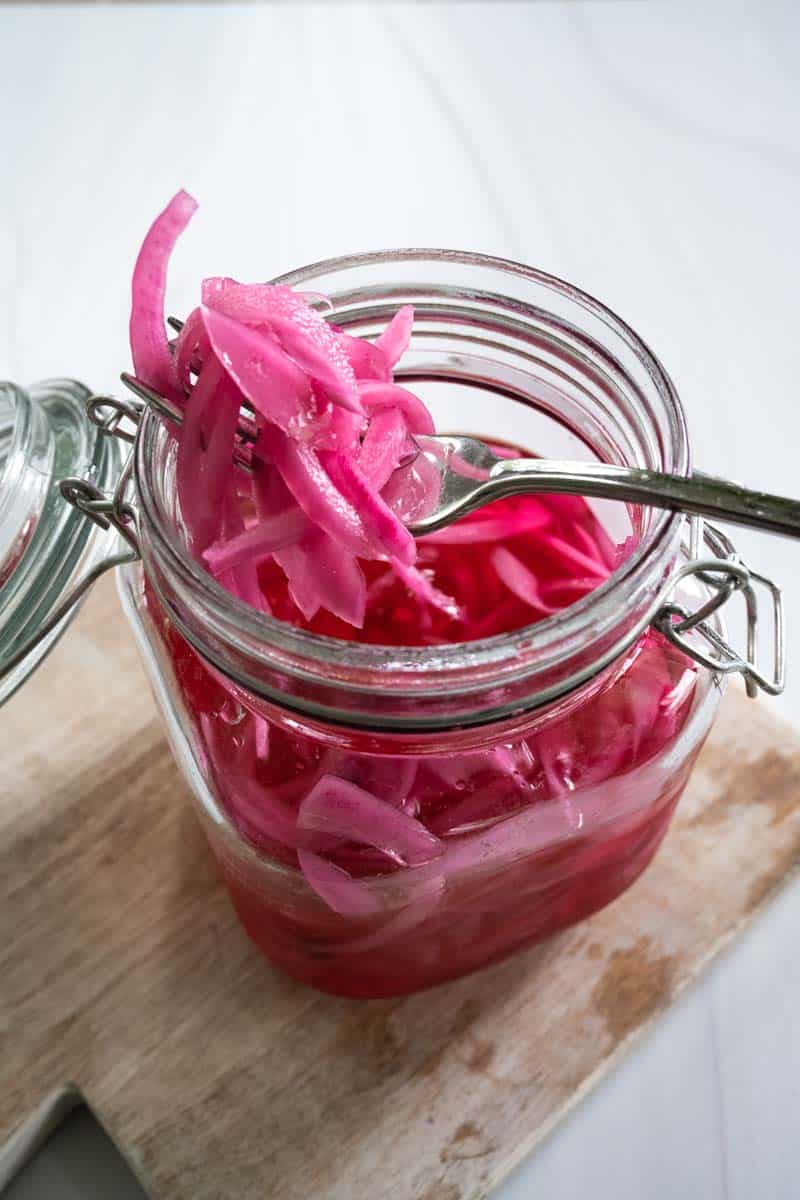 It's All About the Sauces
Don't forget about the sauces! For the falafel platter, I typically buy hummus and tzatziki from the grocery store and make a tahini-based sauce. The light green sauce pictured is a cilantro tahini sauce I threw together in 5 minutes. I used tahini, garlic, tons of cilantro, touch of honey, salt, pepper, and olive oil all in a food processor until it's the right consistency. The sauce was delicious and so easy to throw together.
Arranging a Beautiful Platter
We all know food is so much about how it tastes, but it's also in how visually appealing the plate looks. Here are my tips for creating a beautiful falafel plate that will leave your family excited to build their own falafel platter:
Start with a bed of arugula. Not only does arugula look nice, but it's ideal for people who want to make a salad from the ingredients.
Add a few small bowls of your favorite dips. Consider tahini, tzatziki, and hummus. You could also do a baba ganoush or toum, too.
Add your freshly baked falafel. You'll want this to be central somewhere on the platter since that's the main source of protein.
Add in your bread. I like pita bread, but you could use whatever bread you prefer here.
Arrange the rest of the ingredients around the falafel. Place the tabouleh salad, sliced tomatoes, cucumber slices, pickled vegetables, olives, and optional feta cheese in separate bowls or piles, creating a vibrant and colorful platter.
Garnish the platter with fresh herbs or lemon wedges. Fresh herbs always brighten up a meal.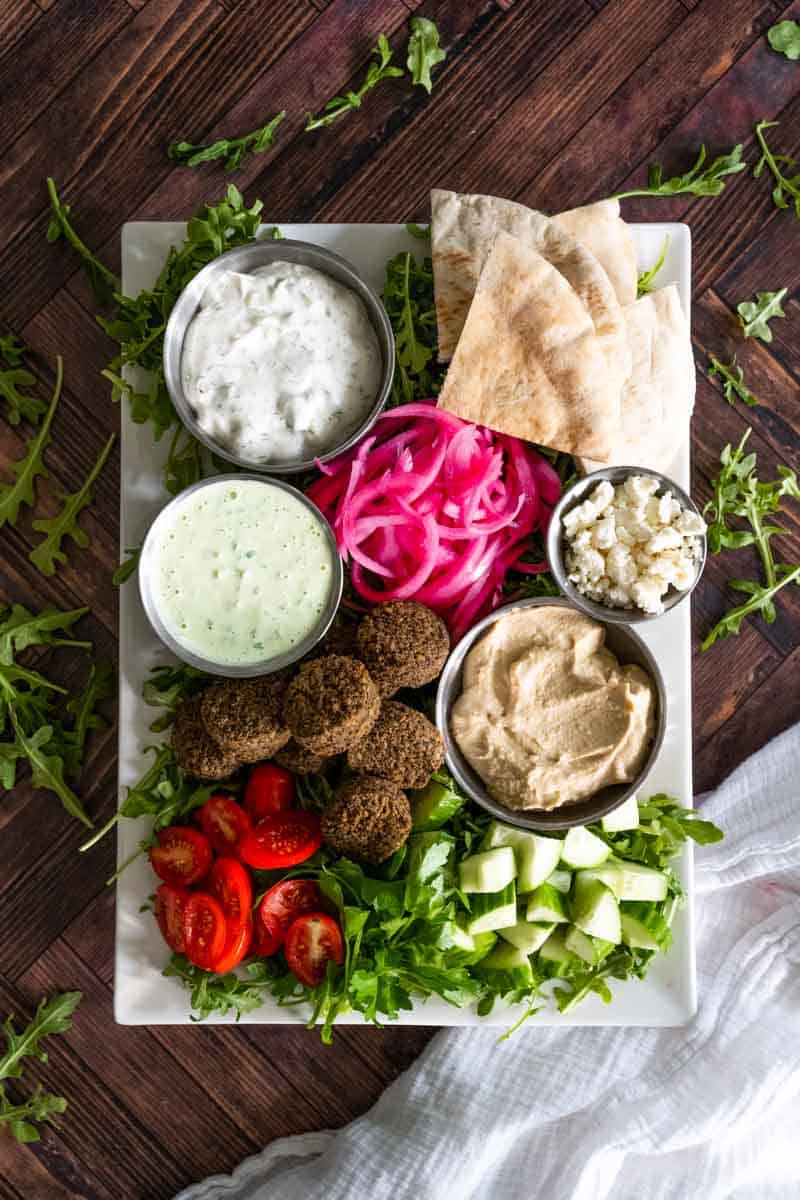 Frequently Asked Questions
Can I make my own falafel?
Of course. See the note above to make your own delicious homemade falafel.
Can I make the falafel ahead of time?
Absolutely! You can prepare the falafel mixture in advance and refrigerate it. Shape the falafel just before frying to ensure they stay crispy.
Is this recipe suitable for vegetarians and vegans?
Yes! This falafel platter is perfect for both vegetarians and vegans. Just ensure that the accompanying sauces and toppings are vegan-friendly.
Is falafel high in carbs?
Afia falafel (the frozen falafel found at Whole Foods) has 6g of carbs per three falafel patties. That's only about 2% of your daily value. Falafel is high in protein thanks to the chickpeas!
Is falafel vegan and gluten free?
Most falafel is both naturally vegan and gluten free. It's always a good idea to double-check on the type of flour used and the oil used for frying. Typically chickpea flour is used rather than all-purpose.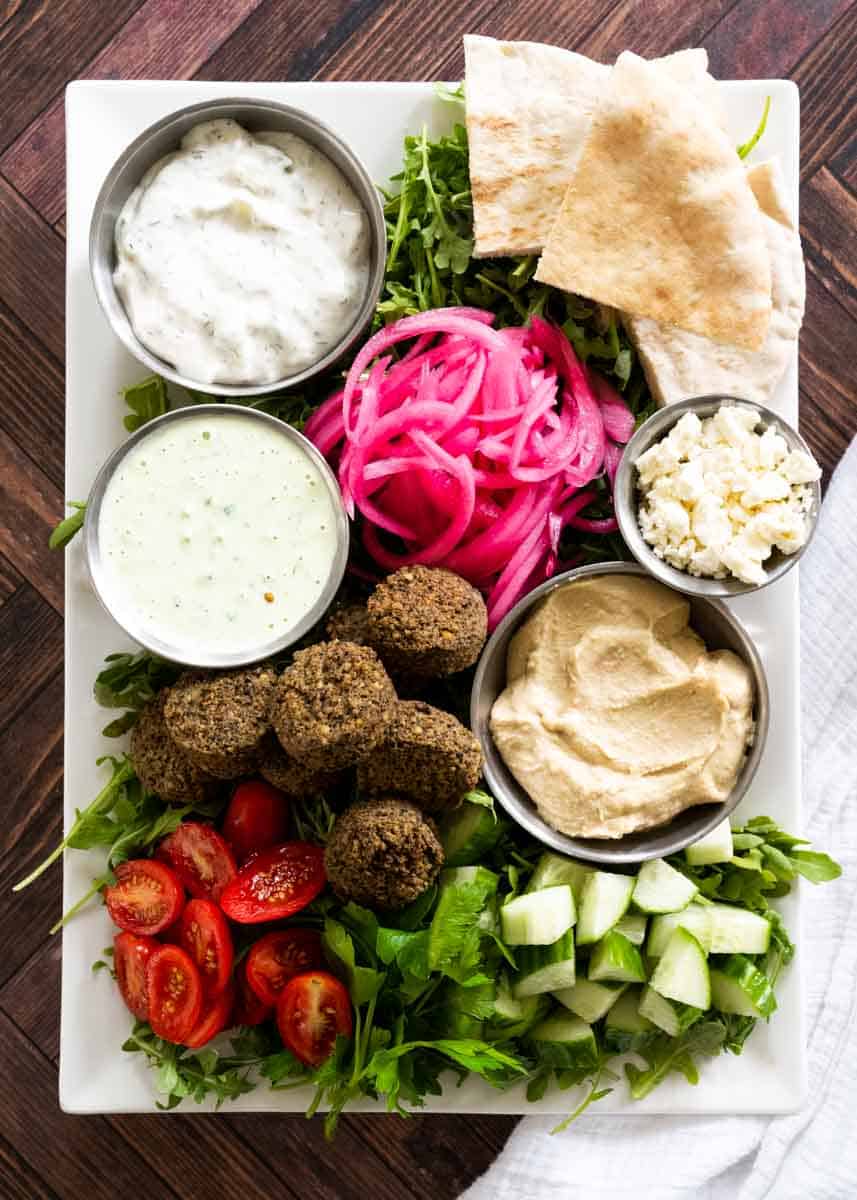 And that's all folks -- a no-cook meal turned into a falafel platter buffet that all people -- even the grumpy kids -- will enjoy. With its ease of preparation, versatile ingredients, and mouthwatering flavors, this dish is perfect for both entertaining and quick weeknight dinners.
Other Easy Weeknight Favorites
15 Minute Creamy Boursin Pasta
Easy Chicken Pot Pie with Bisquick
Perfect Pan-Seared Chicken Breast
---
Happy eating more plant-based stuff every now and then!
xox,
kathryn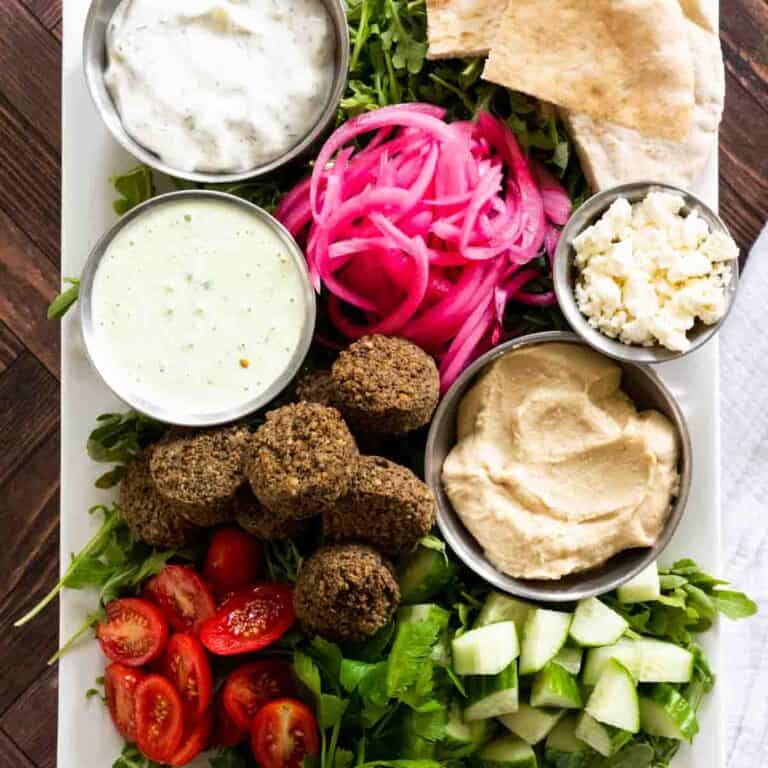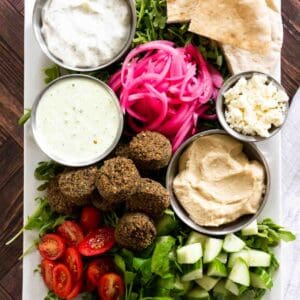 Easy Weeknight Falafel Platter
This no-cook falafel platter is one of the easiest and healthiest dinners you can make -- either for entertaining or a hassle-free weeknight dinner.
Print
Pin
Rate
Ingredients
6

cups

arugula

2

cups

falafel

frozen

1

cup

cherry tomatoes

halved

½

cup

pickled onions

1

cup

cucumbers

¼

cup

feta cheese

crumbled

¼

cup

cilantro tahini sauce

½

cup

tzatziki sauce

½

cup

hummus

8

slices

pita bread
Instructions
Re-heat falafel according to package directions.

Arrange platter, starting with a bed of arugula, Place dips and sauces in small bowls and arrange around the arugula.

Add the rest of the ingredients around the bowls.

Serve with warm pita bread and enjoy!
Nutrition
Calories:
160
kcal
|
Carbohydrates:
11
g
|
Protein:
6
g
|
Fat:
11
g
|
Saturated Fat:
3
g
|
Polyunsaturated Fat:
3
g
|
Monounsaturated Fat:
3
g
|
Cholesterol:
9
mg
|
Sodium:
267
mg
|
Potassium:
276
mg
|
Fiber:
3
g
|
Sugar:
3
g
|
Vitamin A:
717
IU
|
Vitamin C:
11
mg
|
Calcium:
121
mg
|
Iron:
2
mg