This pie crust is made quickly in a food processor (think 5 total minutes!) and then quickly rolled out to make enough for two galettes or one full pie crust. You'll definitely want to take advantage of peach season though -- and make this perfect peach galette ASAP.
I went to the grocery store yesterday...and let me just tell you, the gall of some people! My four year old still runs head first into walls, but I still think he has more self-awareness than some of the adults in Giant today.
It was pouring outside, and one of the Giant workers was having to collect all of the shopping carts in the parking lot. This lady gets out of her car and comes up to him with his 10000 cart train and wants a shopping cart from him. RIGHT THERE! The man is already struggling trying to maneuver this cart caterpillar, he's blocking all the traffic, it's pouring, there's an abundance of carts in front of the store...and this woman is concerned about grabbing one right then and there? She wasn't rude...just unaware of her surroundings and other people's feelings. Then, this ladybrings her heaping full cart (I should have taken a picture because it was a mountain of food) to the self check-out lane and slowly scans her items. Yogurt container by yogurt container. Lawd help me!
Regardless of some seriously crazy people, it's time you made this peach galette if you haven't done so already.
Why choose galettes over a pie?
I hate making pie crusts. I absolutely hate it. To make a pretty pie crust it takes more patience than I have most days. I don't like that you have to be precise with rolling the dough out evenly so that you end up with enough pie crust for an actual pie. That sort of thing. Galettes are like the second and third child a pie had. They're chiller, more flexible, and just don't freak out when things don't go perfectly. It's okay if your peach galette doesn't look symmetrical. It's cool like that.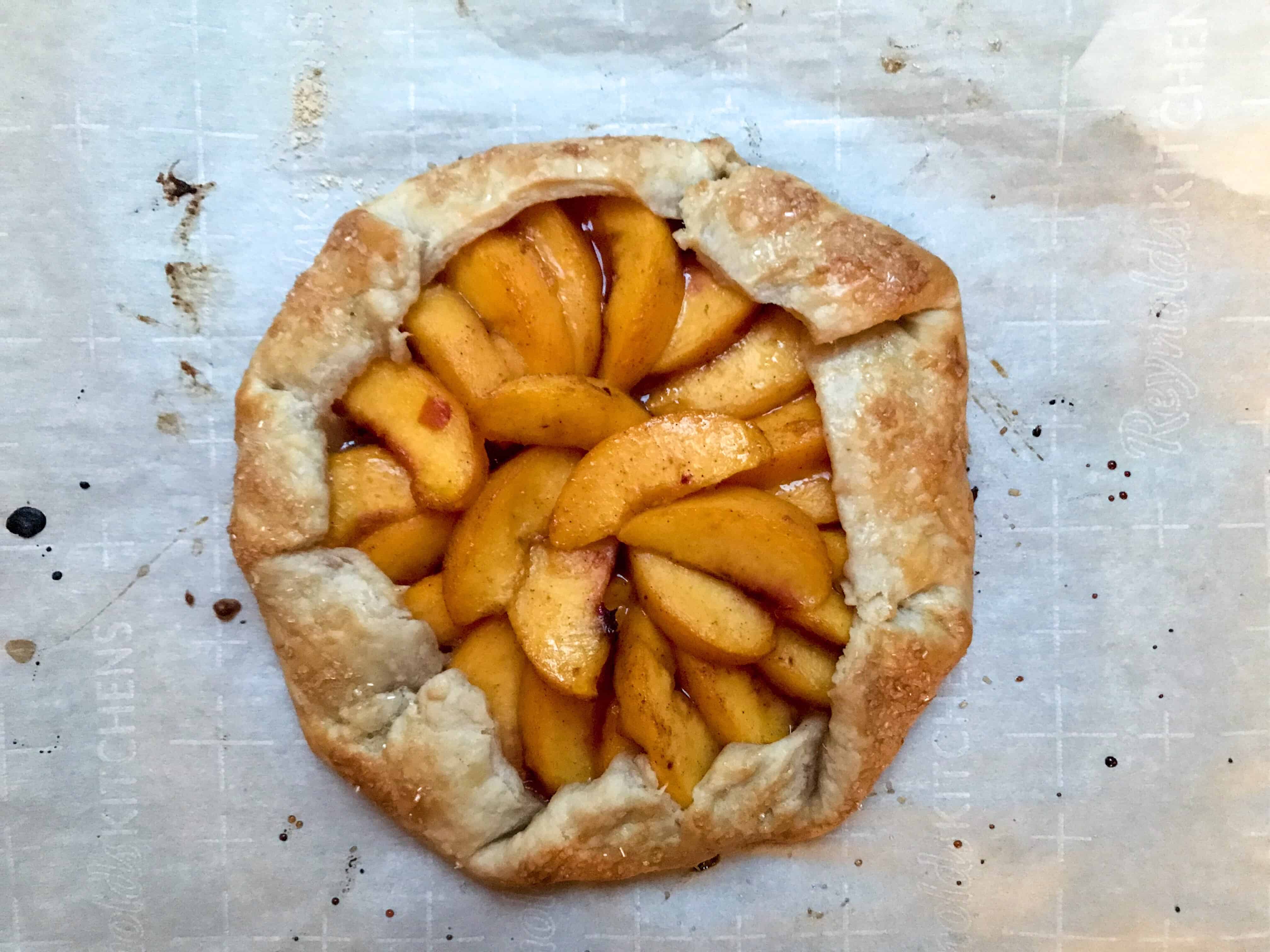 I need a peach galette and a bottle of wine.
Regardless of these oblivious individuals, I managed to buy some peaches. They're still being sold...so I'm still buying them to make another peach galette. This is a great summertime or early fall dessert. It doesn't have a ton of sugar in it, it's fairly fast, and if pie crust makes you anxious, starting with a galette is the way to go because it doesn't need to look perfect. It does require that you make the pie crust in advance though. The pie crust takes about 10 minutes total. It has to chill for at least 30 minutes thought.
How much pie dough does this recipe make?
Note that this recipe makes TWO galette pie crusts or ONE full pie crust (that would include a top and a bottom crust, if you're into that sort of thing). You can always freeze your second disk and make another one when the moment strikes you. You'd just defrost it over night.
What other things can I make with this pie dough?
You can certainly make another galette Consider this savory tomato and goat cheese tart, which is perfect for a night on the porch sipping on some white wine or rose.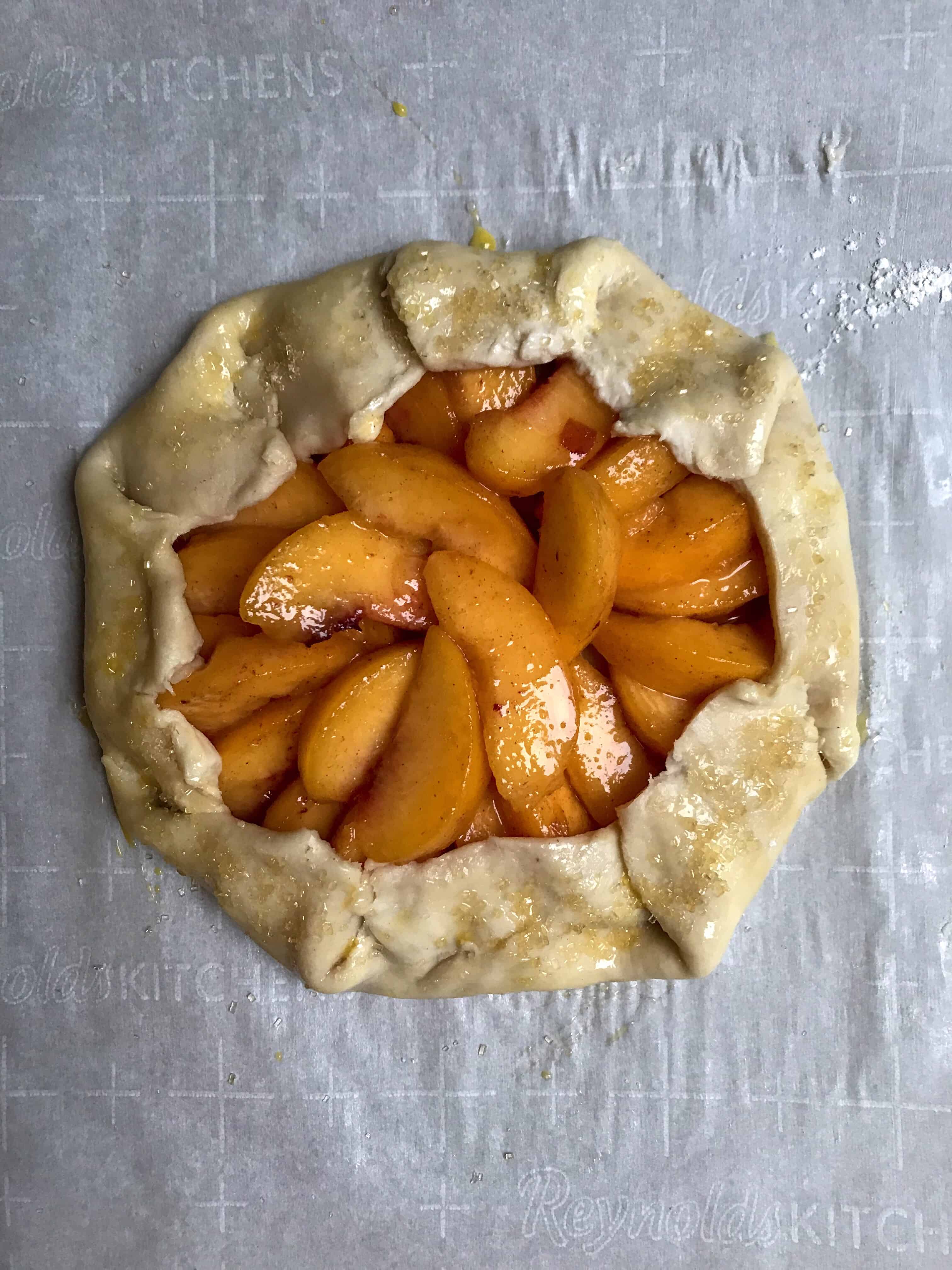 Now let's soak of the last few days of summer right!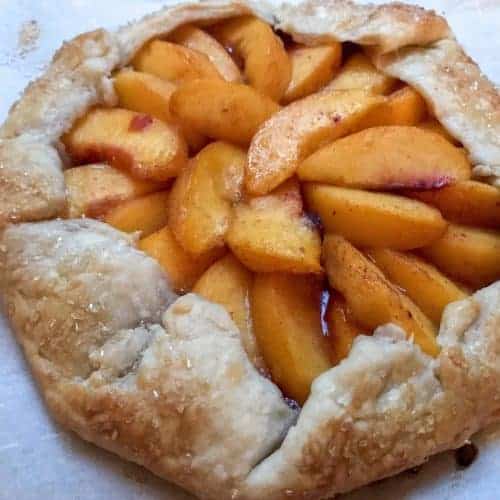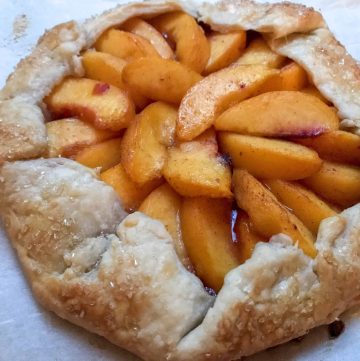 Perfect Peach Galette
This perfect peach galette is easy and doesn't require making a whole pie. Fast for a weeknight dessert.
Print
Pin
Rate
Ingredients
For the dough
2 ½

cups

all-purpose flour

1 ½

teaspoon

salt

6

tablespoon

unsalted butter,

chilled and cut into cubes

¾

cup

vegetable shortening

cut into small cubes

½

cup

ice water
For the filling:
⅛

cup

sugar

¼

teaspoon

cinnamon

pinch

salt

1

tsp

fresh lemon juice

3

ripe peaches, cut into ½" wedges

⅛

teaspoon

vanilla extract

1

tablespoon

turbinado sugar,

optional

1

egg

beaten
Instructions
Make the pie crust.
Combine the flour, salt, butter, and vegetable shortening into a food processor. Pulse until just combined (be careful to not overprocess). Add ice water and pulse until the dough comes together.

On a floured surface, form the dough into a ball by rolling it around on itself a couple of times. Divide the two into two smaller balls and flatten out the balls to form two disks. Cover in plastic wrap and place in the refrigerator to firm up for at least 30 minutes.
Make the filling.
Preheat oven to 375 degrees Fahrenheit.

In a medium-sized bowl, combine all of the filling ingredients together.

Take one of your galette crusts out of the refrigerator and on a floured surface, roll out dough to a 14" circle that's about ⅛" thick. Don't worry if the edges are scraggly. That's perfect for a galette! Place dough on parchment paper-lined baking tray.

Place your peach mixture in whatever design you'd prefer or toss them all in the middle, leaving about a 1-1 ½" border on the outside. Fold the crust border over peaches about ½" to an inch, crimping the ends together as needed to hold the dough in place.

Use pastry brush to coat crust with egg wash and sprinkle with turbinado sugar on edges.

Bake for 25-30 minutes or until crust is golden brown and peaches are bubbly. Let cool for a few minutes before slicing and enjoying!
Notes
This is best served hot with a dollop of whipped cream or a scoop of vanilla ice cream; however, if you store it in an airtight container over night, it can also be delicious for breakfast the next day.  Eat cold - or stick in the microwave for just a few seconds.
Enjoy!