This savory galette is what your belly needs on a porch with a glass of white wine. The tartness of the goat cheese and the juiciness of fresh tomatoes are a great match with this flaky, buttery pie crust.
There's no more inspiring foodie season than summer, IMHO. Food tastes better outside. It just does. And this tomato and goat cheese galette is no exception. As with most of my recipes, it's incredibly easy to make. And if you aren't an expert pie maker (I hate making pies and go into a rant on my Perfect Peach Galette recipe), galettes are a great place to start.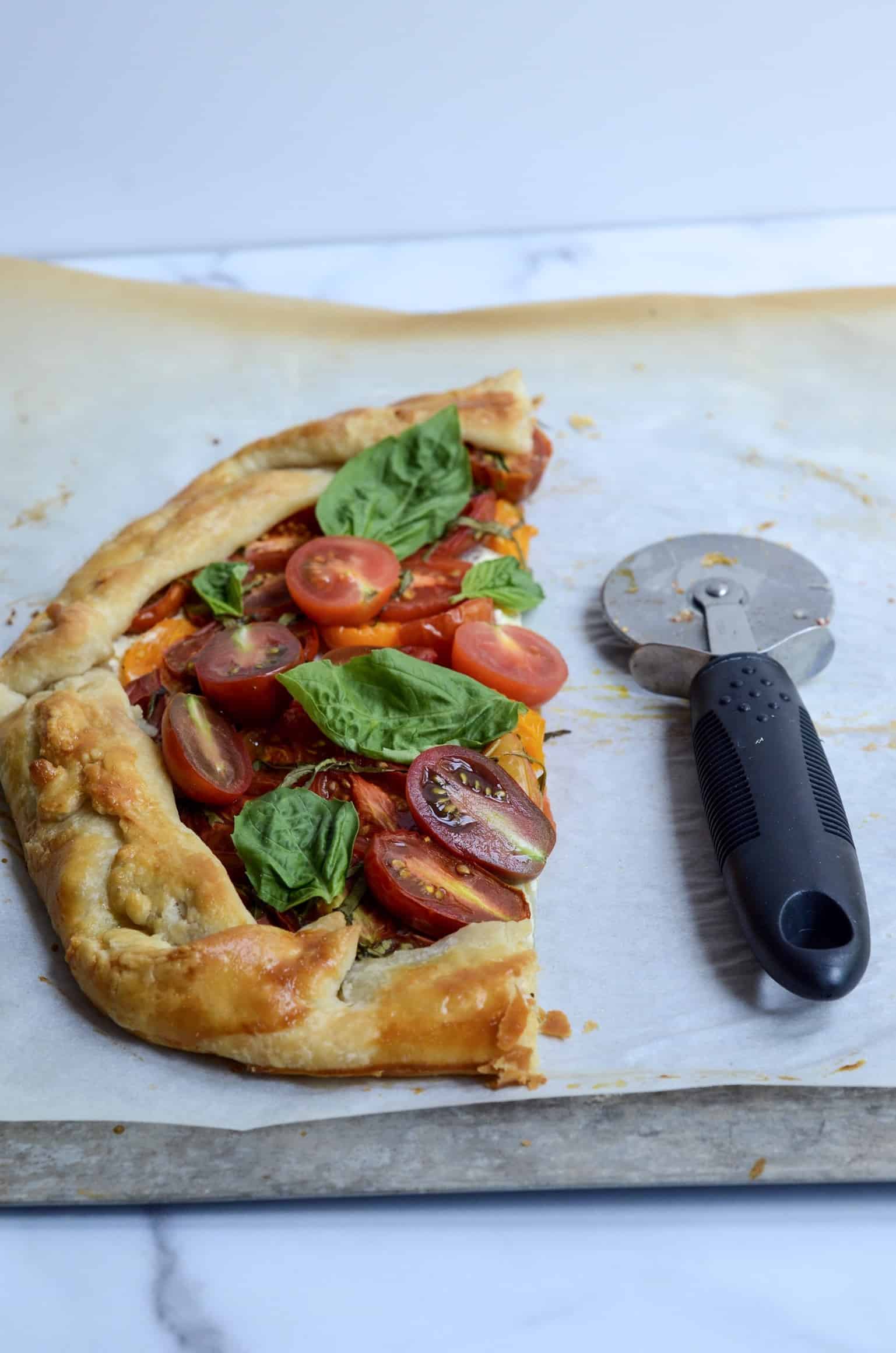 Let's talk pie crust.
This one uses shortening AND butter. It's just the way you get the most delicious, flaky, buttery crust. Trust me. And do you see those chunks of butter on the crust? Yep -- they're no biggie. That's actually what you want in order to create a flaky, buttery crust.
It's important to note this is the pie crust I use to make the bottom and top of a pie. If you're making this galette, that means you get to make not one but TWO crusts if you call in the next 20 minutes.
Let's review the steps:
Step 1: Make your galette crust and refrigerate.
I know I've already said this but it's SO EASY to make the crust for this tomato and goat cheese tart. I usually make it in a food processor. Just be careful to not over process. If you have more time, you can always mix everything by hand with a fork or pastry tool, but the food processor is what I use 70% of the time for pies and 100% of the time when making galettes. If you have time, don't forget to stick the two discs in the refrigerator because dough is always easier to worth with when it's cold...and cold dough cuts down on shrinkage.
Step 2: Roll your galette crust out.
Roll your pie crust on a floured surface so that your dough doesn't stick to your counter or table (that always pisses me off), and roll it out in something that resembles a circle. That's the extreme beauty of a galette. It's not supposed to be perfect. It's what we'd call "rustic."
Step 3: Spread your goat cheese and halved tomatoes on top. Top with basil.
Self-explanatory, right? You've already salted your tomatoes generously and given them a good pat dry with paper towels, so you don't have a lot of excess liquids. And don't be shy with the basil.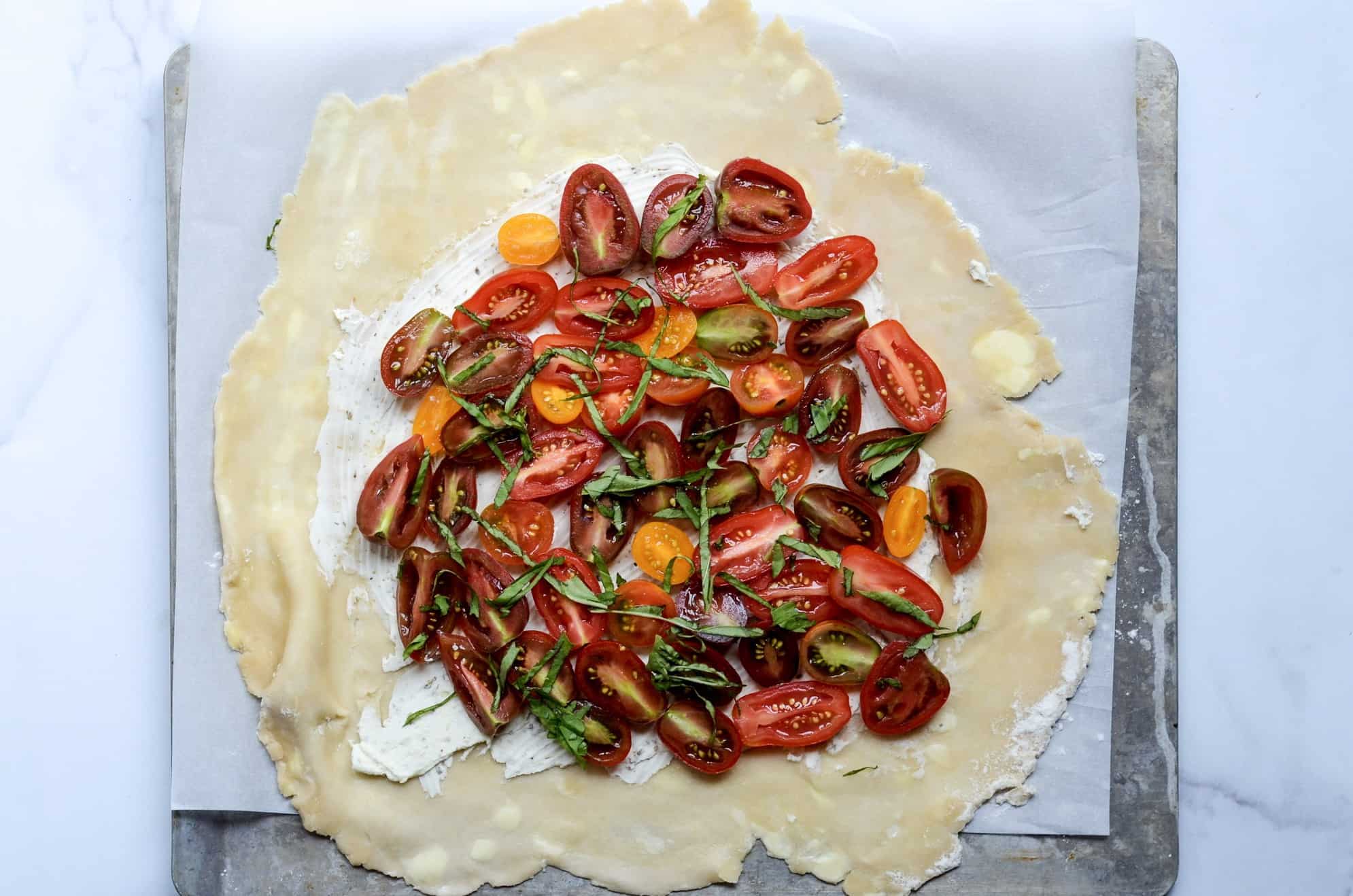 Step 4: Fold the edges and brush crust with egg wash.
Fold the pie crust just slightly over the tomatoes on the periphery, crimping the dough in any place you need the dough to shape and stay. Brush the edges of the crust with an egg wash.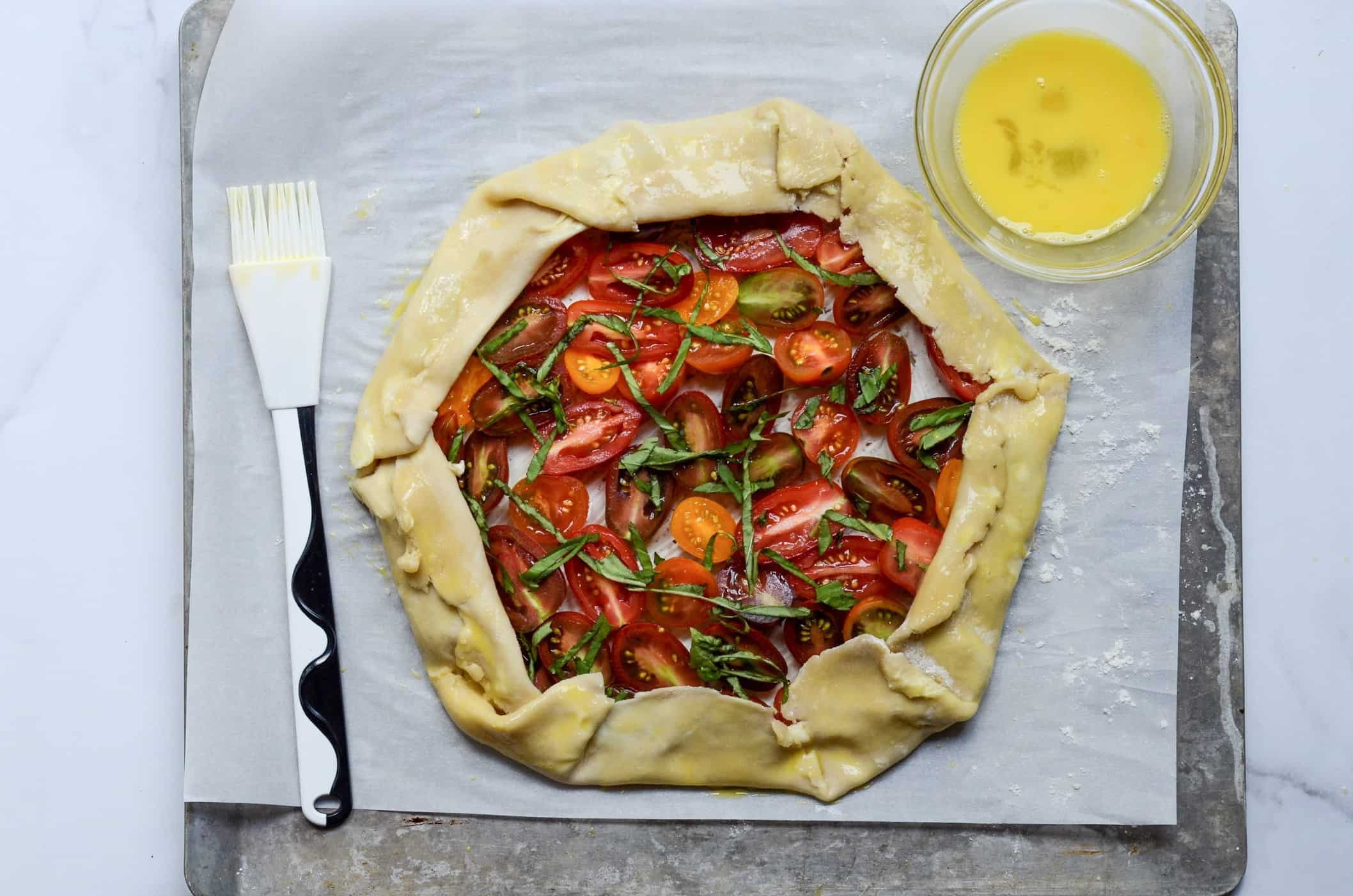 And voila! That's it! You can also put fresh tomatoes on top of the fully baked galette after it comes out of the oven along with basil leaves. This is purely for aesthetic reasons, but it makes the galette look all the prettier to devour since the cooked tomatoes shrink in the oven.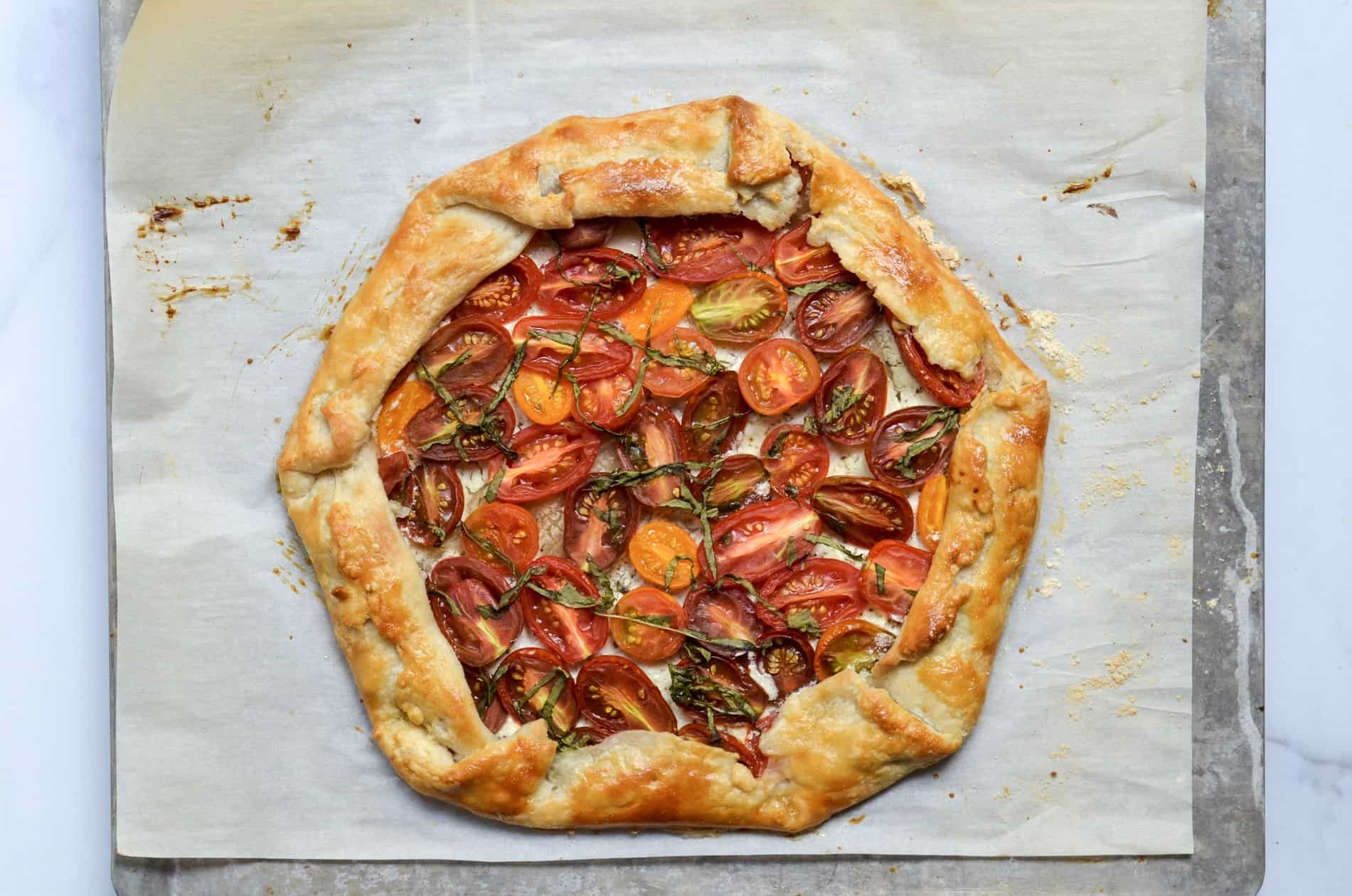 Need some other summer inspo?
Enjoy!
xox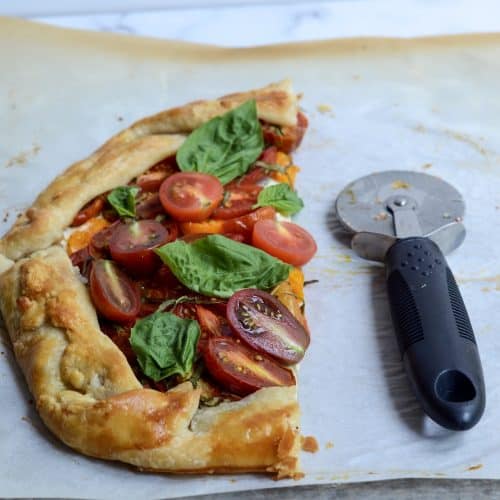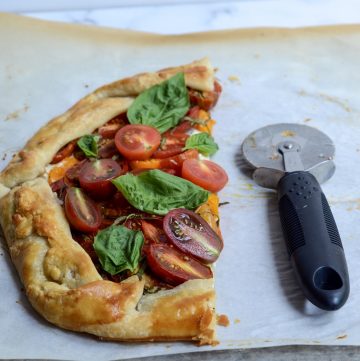 Quick Summer Tomato and Goat Cheese Galette
Tomato and goat cheese go together like peanut butter and jelly in the summertime (or anytime).
Print
Pin
Rate
Ingredients
For the dough
2 ½

cups

all purpose flour

1 ½

tsp

salt

6

tablespoon

unsalted butter,

chilled and cut into cubes

¾

cup

vegetable shortening, cut into small cubes

½

cup

ice water
For the filling
4

oz

herbed goat cheese, room temperature

*

2

cups

cherry tomatoes, halved

1

teaspoon

salt

½

teaspoon

pepper

8

large basil leaves

julienned
Instructions
Combine the flour, salt, butter, and vegetable shortening into a food processor. Pulse until just combined (be careful to not over process). Add ice water and pulse until the dough comes together.

On a floured surface, form the dough into a ball by rolling it around on itself a couple of times. Divide the two into two smaller balls and flatten out the balls to form two disks. Cover in plastic wrap and place in the refrigerator to firm up for at least 30 minutes.

Meanwhile, place tomatoes on a plate and generously salt them. Let them rest for a few minutes until they sweat a little bit then pat tomatoes dry with a paper towel.

Preheat oven to 425. Line baking sheet with parchment paper.

Roll galette dough out in about a 16" circle that's about ⅛" thick. Spread goat cheese on middle of galette, Line with tomatoes, then fresh basil. Fold edges slightly over the tomatoes. Brush crust with egg wash.

Bake for 20-25 minutes or until crust is golden brown.
Notes
*I buy the garlic and herb goat cheese from Whole Foods, and it's amazing.  You need it.