This Coconut Lime Sorbet requires three simple ingredients and is the official sorbet of summer. It's deceitfully easy to make and perfect for a hot day.
One of the things I like least about myself is my ability to lament the loss of something I love before it's even gone. I think I've always possessed this character flaw trait. I can trace this feeling back to first grade when my friend Melissa Robeiro (if you went to Suisun Elementary School in the late 80s, hey, girl, hey!) used to give me her red and orange fruit snacks at lunch. I'd store them in my pocket all day and slowly, very slowly, eat them throughout the day because I didn't want them to be gone. We're talking about, what? Maybe 5 fruit snacks that would have been red and orange in a package? And I'd savor them all day? Yea...I have problems.
Fast forward 28 years later, and I'm still lamenting the loss of things -- this time it's summer. ONE week after school ended I was in a total work craze and was irritated my summer was nearly over. Now that it's almost August, I guess I should start panicking? No, no, that's old Kathryn. New Kathryn is going to stay cool, calm and collected and prioritize what she'd like to accomplish in the remaining weeks of summer.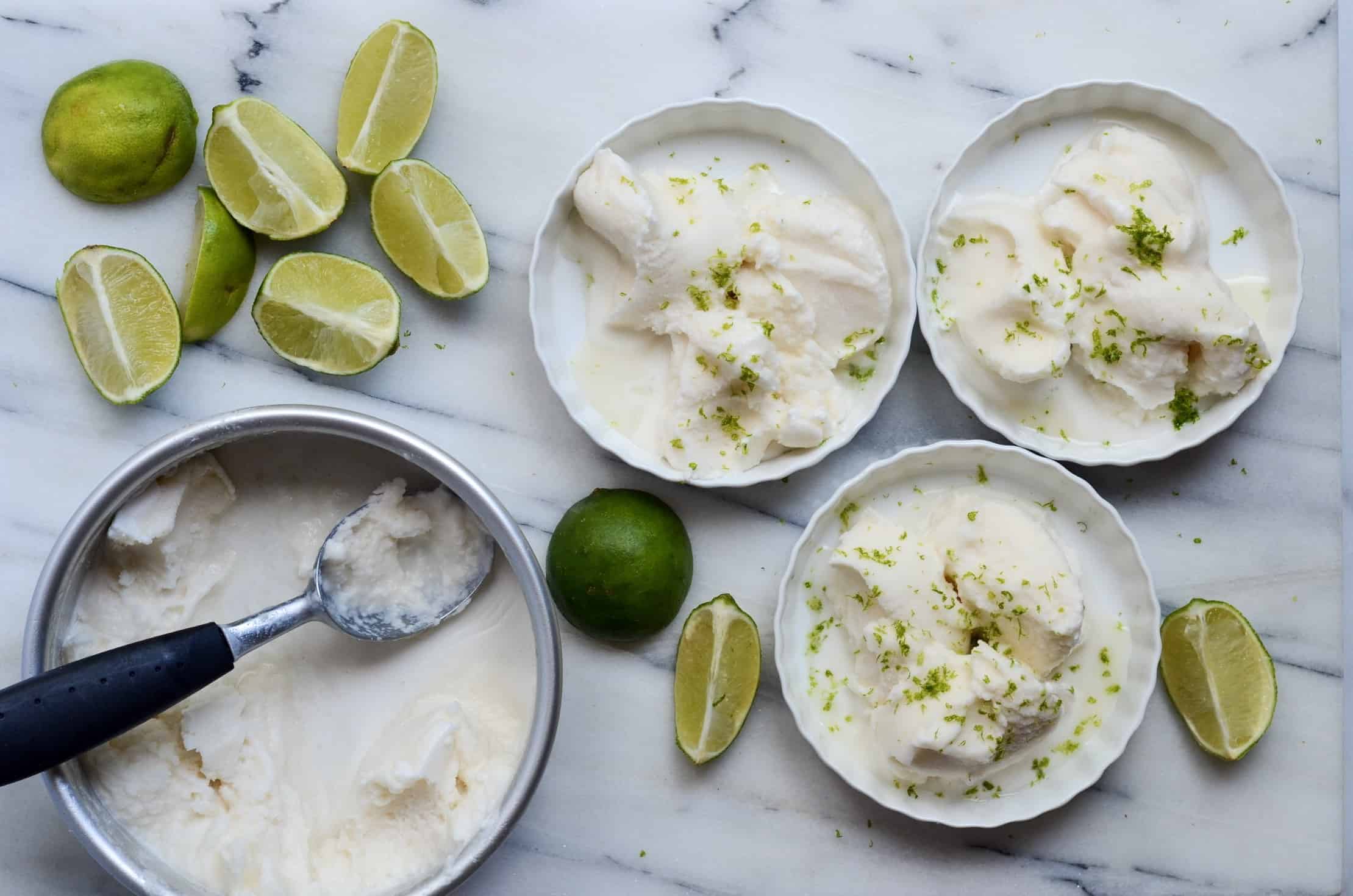 Summer ain't over!
There's still pool parties to host, night swimming to enjoy, vacations to be savored, trips to the ice cream store to be taken, and more of this coconut lime sorbet to be eaten. This sorbet screams vacation in the Caribbean to me...and who doesn't want to think about that?!
This refreshing coconut lime sorbet uses only 3 ingredients (yes, it really is that simple): cream of coconut, limes, and water. Think pina colada but in sorbet form. The only special equipment you need is an ice cream maker. Mine has lasted for over a decade and is just getting to the point where I need to invest in a new one because it's starting to not freeze well. It's a solid purchase if you want to start making homemade ice creams and sorbets. The only tip that is absolutely essential to the success of this easy sorbet is to make sure your mixture is incredibly cold when it goes in the ice cream maker. That's a must to make sure the mixture firms up sufficiently when churned.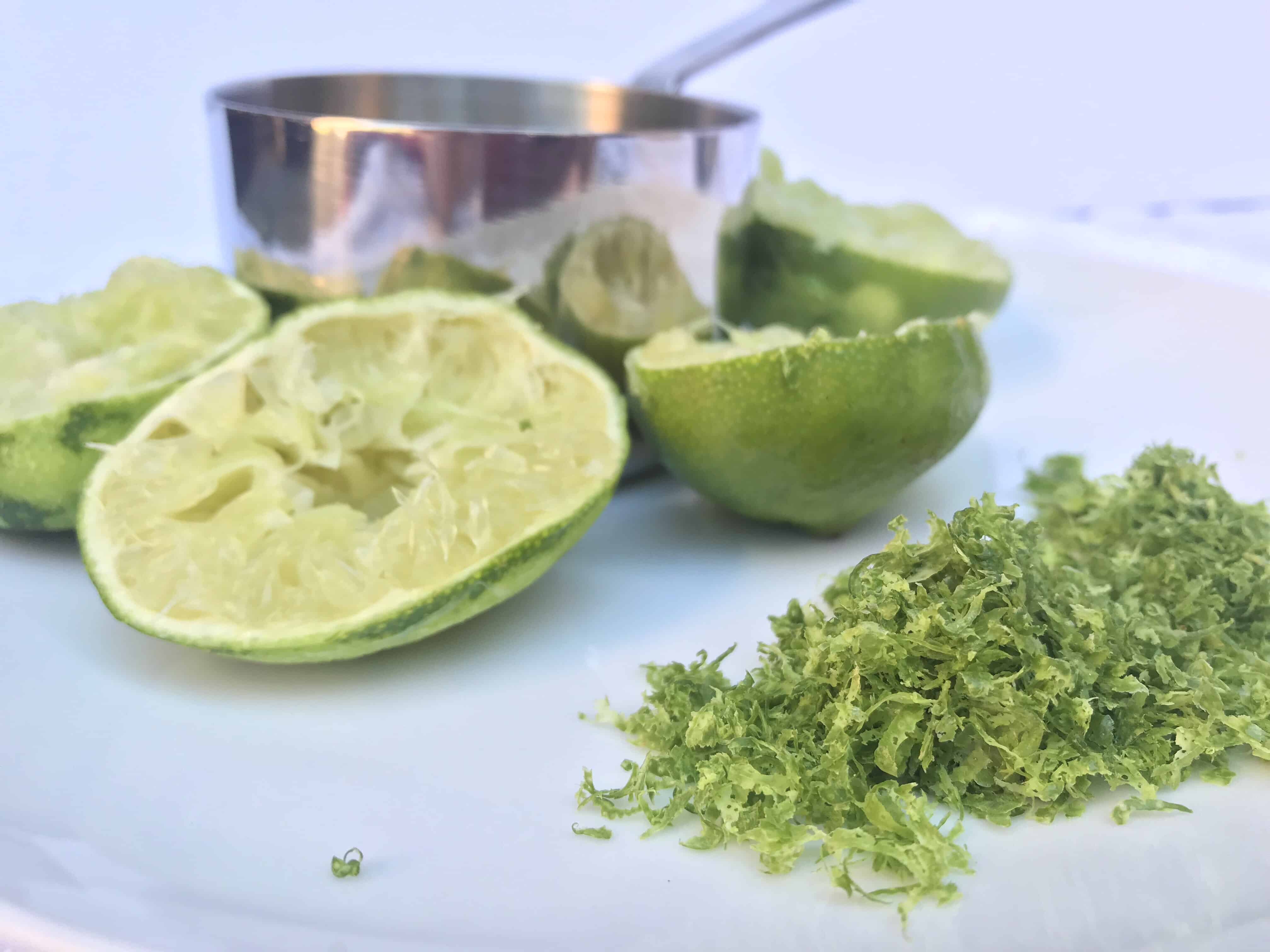 Take a look at our virtual pool party for more summer inspo!
Need some more ideas to soak up the rest of summer? I've teamed up with some awesome ladies for some other fun pool party inspo: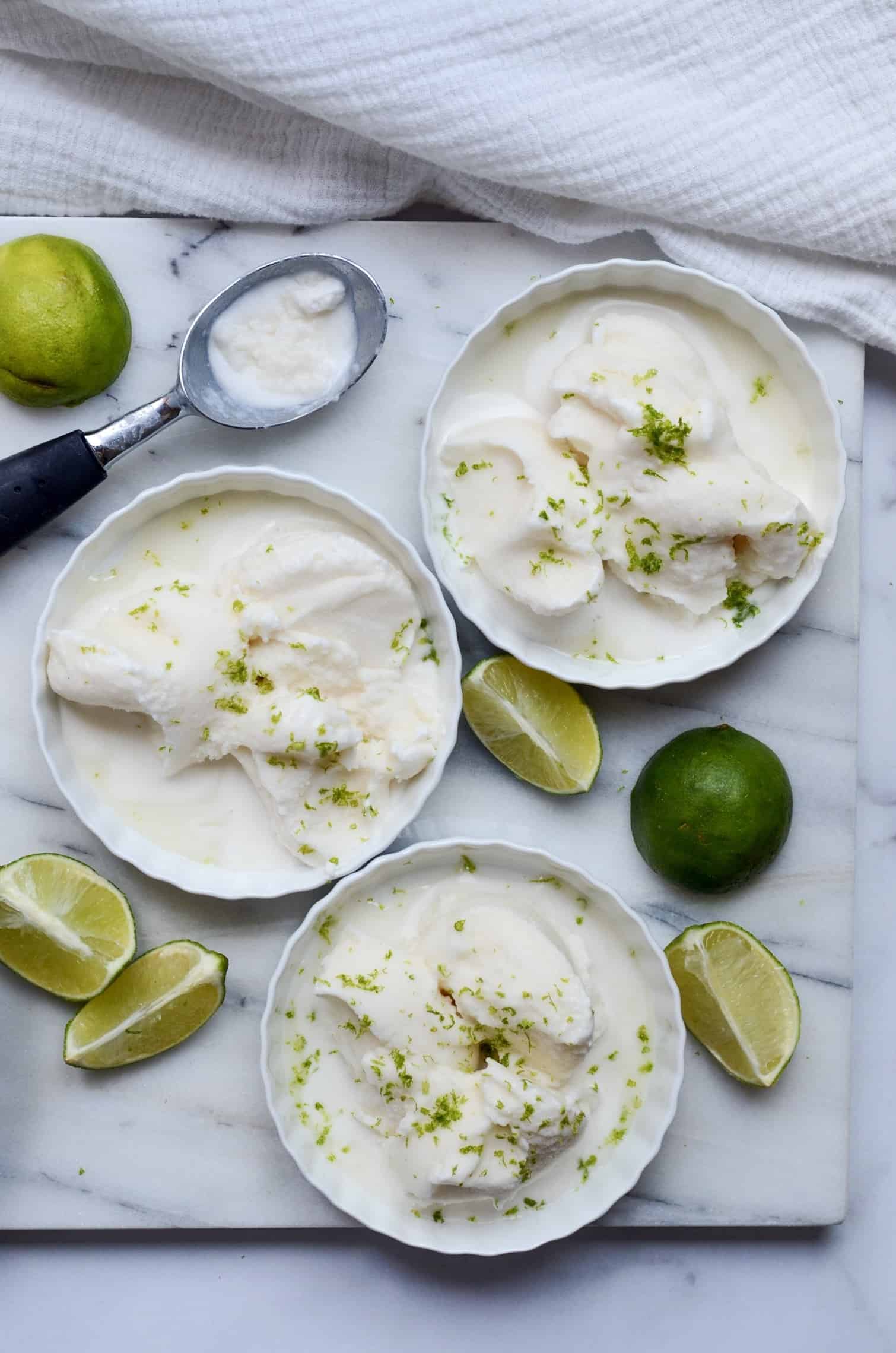 The many uses of limes.
As somewhat of a side note, I have limes and lemons on hand at all times during the warmer months. There are so many uses for limes, some of which are obvious but others not.
Lime vinaigrette on your summer salad? Yes please! Take a look at this one from DownShiftology.
Fish tacos are the official dinner of summer, aren't they? These are our favorites.
Clean out the disposal by putting in a half of a lime. The citrus over powers the fishy smell...and won't leave your kitchen with a funky smell days later (which happens to be a personal pet peeve of mine).
The same can be true of your microwave smells. Place some water and lime juice in a bowl and microwave on high for 5 minutes. Wipe the microwave clean with the steamed water. Yay citrus smell instead of whatever-gross-thing-was-in-there-this-week.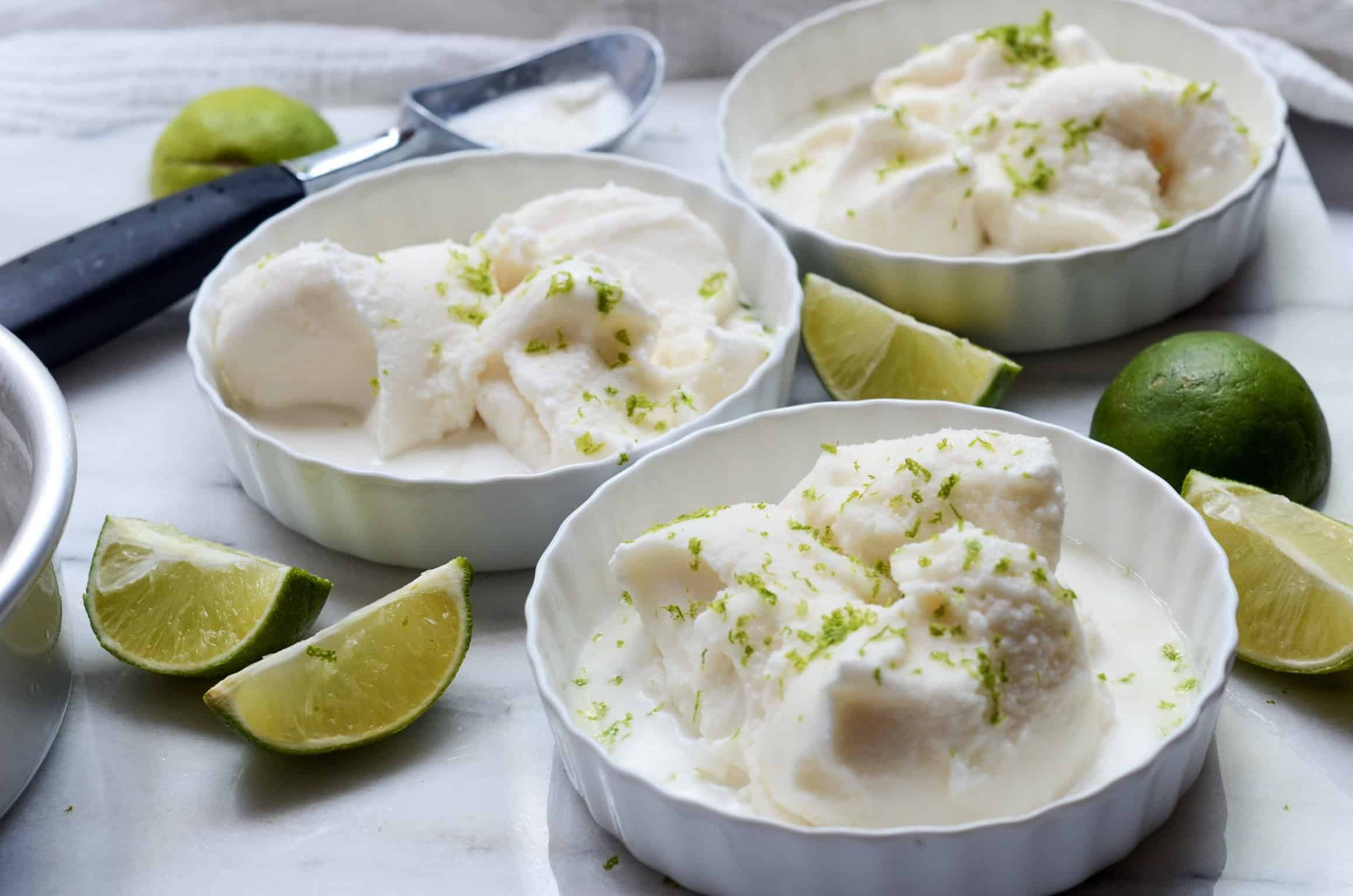 Hope y'all enjoy! As always, if you make something from the blog, be sure to comment below or tag me on Insta @wornslapout. I love seeing/hearing about all of your creations!

xox
Kathryn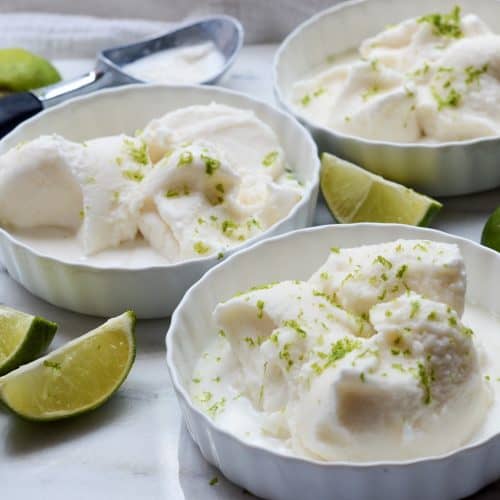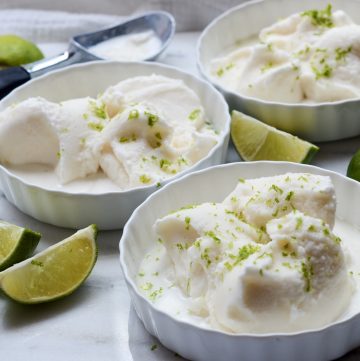 Refreshing Coconut Lime Sorbet
This Coconut Lime Sorbet requires three simple ingredients and is the official sorbet of summer. It's deceitfully easy to make and perfect for a hot day.
Print
Pin
Rate
Ingredients
15

ounce can

cream of coconut (I love Coco Lopez)

¾

cup

water

½

cup

fresh lime juice (from about 6 large limes)
Instructions
In a bowl whisk together ingredients.  Stick bowl in freezer for 30 minutes (but not any longer) or in the refrigerator for at least 3 hours.

Freeze mixture in an ice-cream maker accordingly to manufacturer's instructions. Eat immediately for a soft texture or place in an airtight container and freeze for a harder, more typical sorbet texture.
Notes
Store in an airtight container in the freezer.  This'll last for 2-3 weeks in the freezer.