Just so you don't get it twisted...it's still summer.  Heirloom tomatoes are still at Whole Foods.  Corn is still being sold.   Peaches are abundant.  There's no reason to panic, people.  It's totally summer for a couple more weeks.  I refuse to go all fall on y'all until it's officially fall.  I feel like starting to cook with pumpkin and apples in early September is equivalent to Christmas music playing in October.  It just ain't right.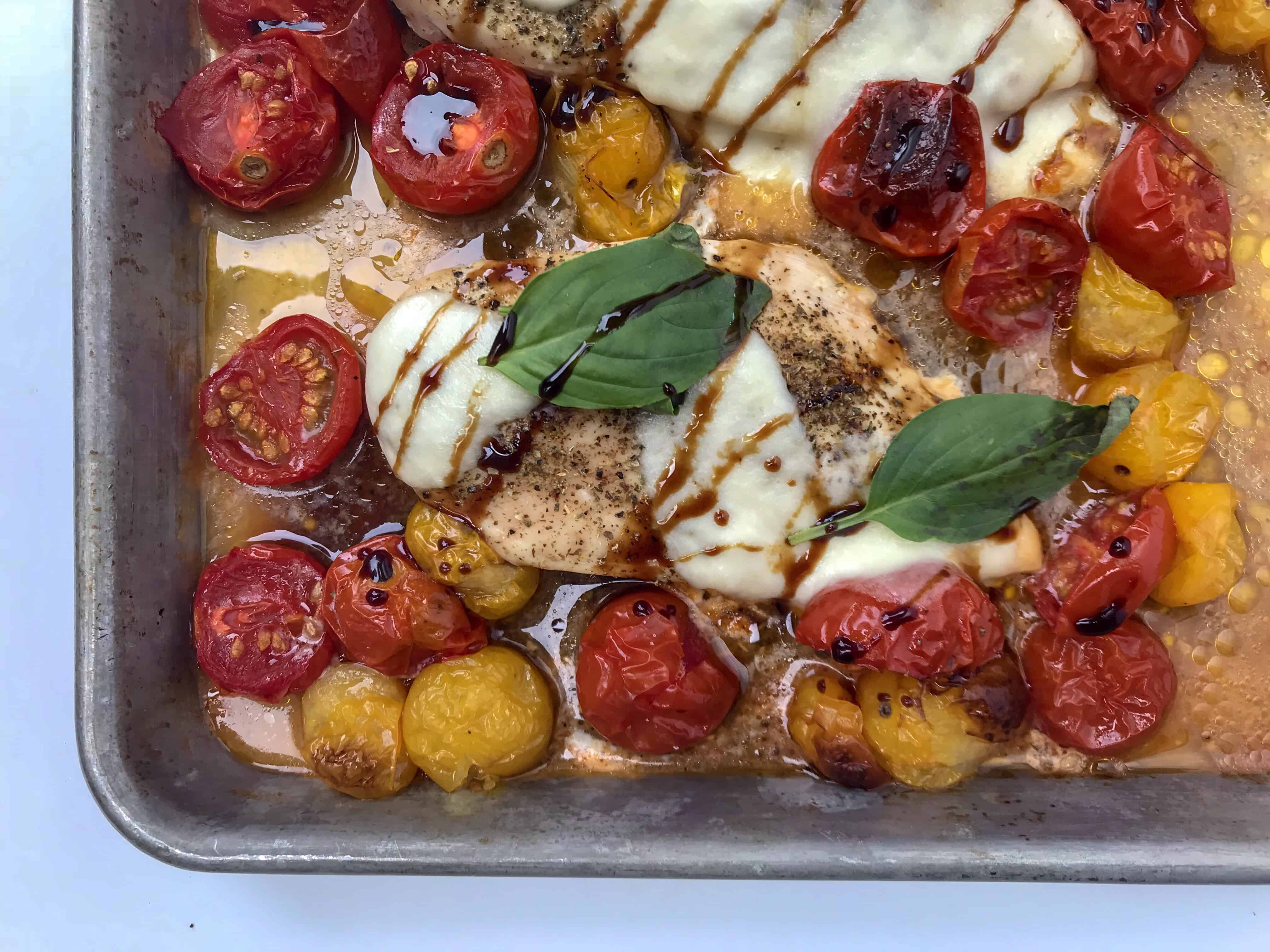 There's so much quiet in this house it's eerie.  Both babies are sleeping (yes, C still takes naps on weekends and we couldn't be prouder), and it's nearly 4 pm and no one has stirred.  It's been raining all weekend, so it's a perfect afternoon for a nap while I'm over here cooking and baking away.  Sundays are also when I try to think about meal planning and prep for the week to come.  I will usually plan for three nights at a time because that's all that's really possible to plan for around here.  More often than not, something comes up where one of us has work late, we have an evening function to attend, or we just don't feel like expelling energy on making something.  Planning for three nights means that even if we go off the rails one night, the food is not wasted ...t's just postponed.  I also don't like freezing meals, but that's a post for another day.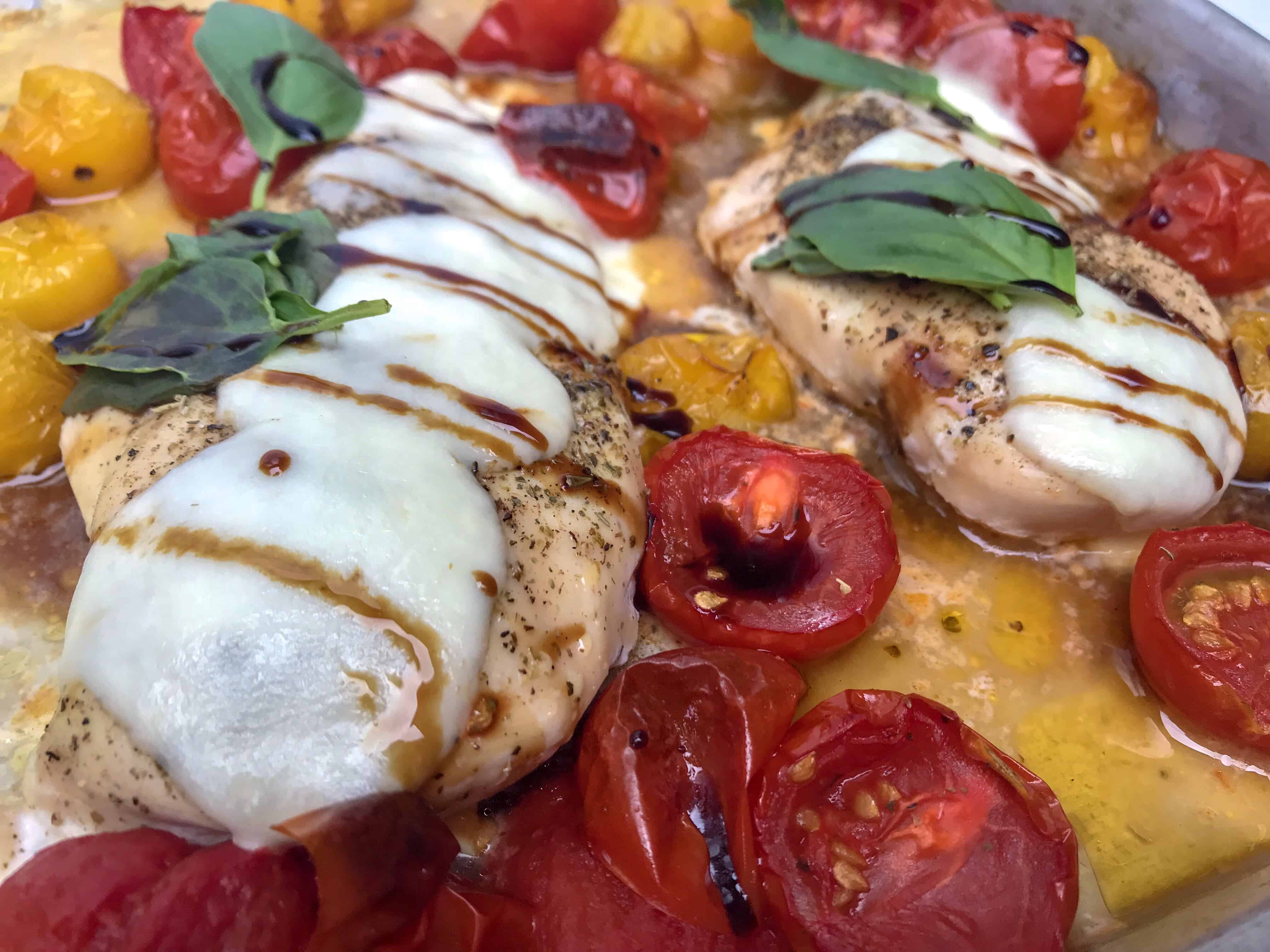 This sheet pan chicken caprese is a great weeknight dinner (or, for us, any night dinner).  It's incredibly easy (little to no chopping, depending on what kind of tomatoes you buy), little clean-up (one sheet pan!), and tastes fresh and satisfying.  It's great for a summer night.  AND.  IT'S.  STILL.  SUMMER. <<repeat over and over again until you believe it>> You simply bake the chicken with some Italian seasoning, salt and pepper.  Take it out of the oven, drape the chix with some fresh mozzarella and stick back in the oven for a few more minutes.  Add basil and drizzle some balsamic reduction when it comes out, put it over a bed of arugula...and done.
I recommend doubling the balsamic reduction and drizzling over this prosciutto, melon, and mozzarella salad the next day.  In that post I talk about all of the ways you can use balsamic vinegar...it's a good thing to have around when you don't have time to do much.   You can put it over everything.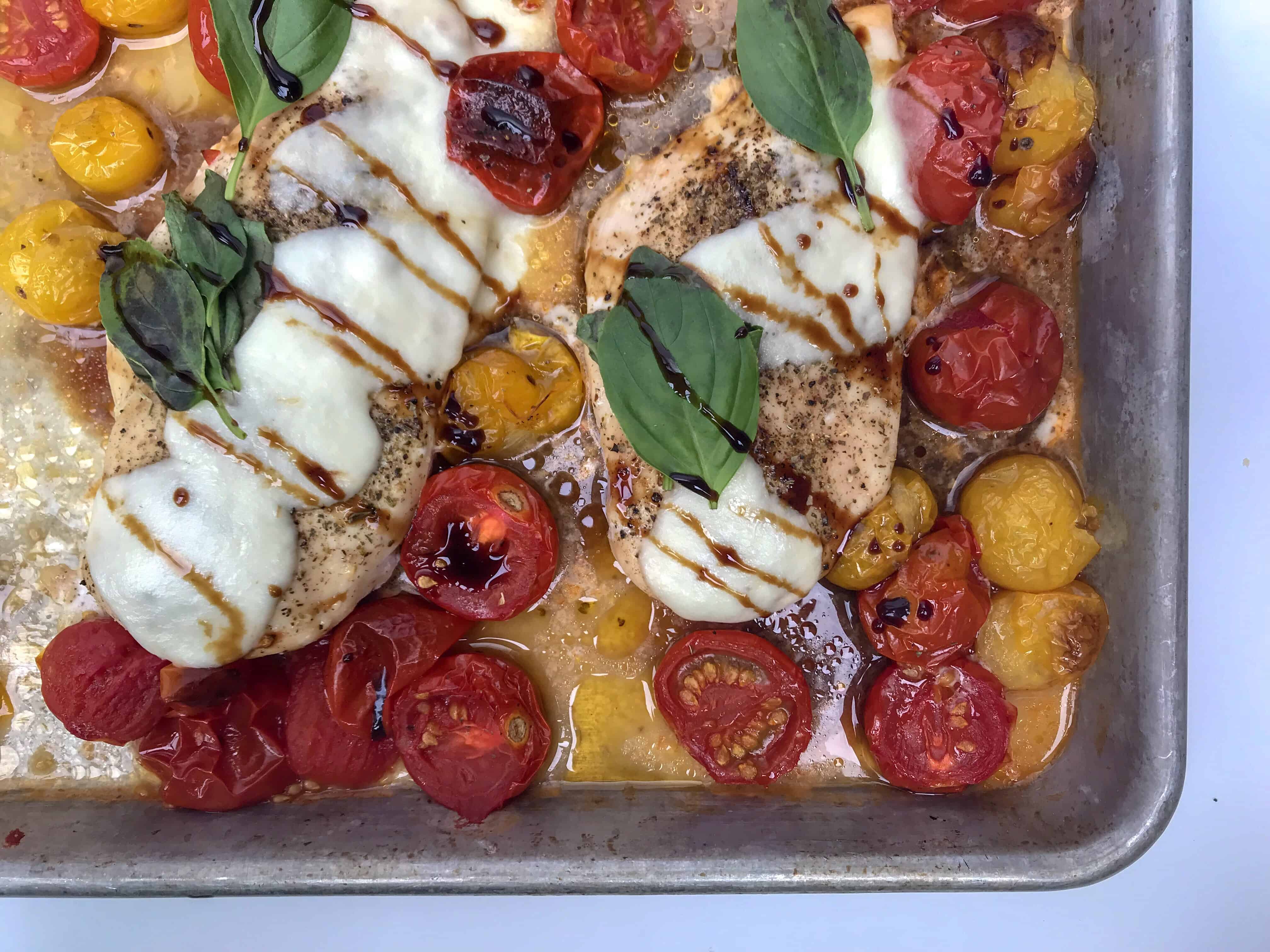 Yields: 4 servings
Active Time: 15 minutes
Total Time: 30 minutes
2 tablespoons olive oil
1 tablespoon Italian seasoning
2 teaspoons salt, divided
2 teaspoon pepper, divided
1 pint cherry tomatoes
4 boneless, skinless chicken breasts
½ lemon, juiced
½ cup balsamic vinegar
Fresh mozarella, sliced
8 fresh basil leaves, torn
Baby arugula, for serving
Directions:
Preheat the oven to 400 degrees F.
Drizzle the cherry tomatoes with 1 tablespoon of olive oil, a little salt and pepper, and spread them out on a sheet pan.
Sprinkle chicken breasts with the fresh lemon juice, Italian seasoning, salt and pepper. Arrange the chicken around the tomatoes.
Bake until the tomatoes are juicy, about 20 to 25 minutes.
Meanwhile, add vinegar to a small saucepan and bring to a boil over medium-high heat.  Lower the heat to medium and simmer until the vinegar is reduced by half and is thick enough to coat the back of a spoon (about 7-8 minutes).  Don't let vinegar get too hot or it'll turn into a rock.
Remove the sheet pan from the oven and  cover the chicken breasts with slices of fresh mozzarella.  Put back in the oven for another 5 to 7 minutes (or until chicken is fully cooked).
When the chicken is out of the oven, drizzle with balsamic reduction and fresh basil.  Serve on a bed of arugula.
Enjoy!
And nothing makes me happier than people trying out to my food, adapting it to meet their needs, and/or giving me some feedback!