It may be sweltering outside but this shortcut cookies and cream ice cream cake is the perfect dessert to cool you down. This cake includes a chocolate base and cookies and cream ice cream all with a whipped topping and chocolate fudge on top.
It's so freakin' hot. I took the kids to meet up with my friend and her five year-old daughter in the 100 degree heat. Maybe it was the heat, maybe it was over-exhaustion, or maybe it was the crack in Shake Shack's burgers, because these kids were insane. Sara and I basically were over adulting for the day, so we fully accepted the fact that someone would cry, someone would likely get a minor injury, and another someone would be angry about something. But, y'all, it was pure survival.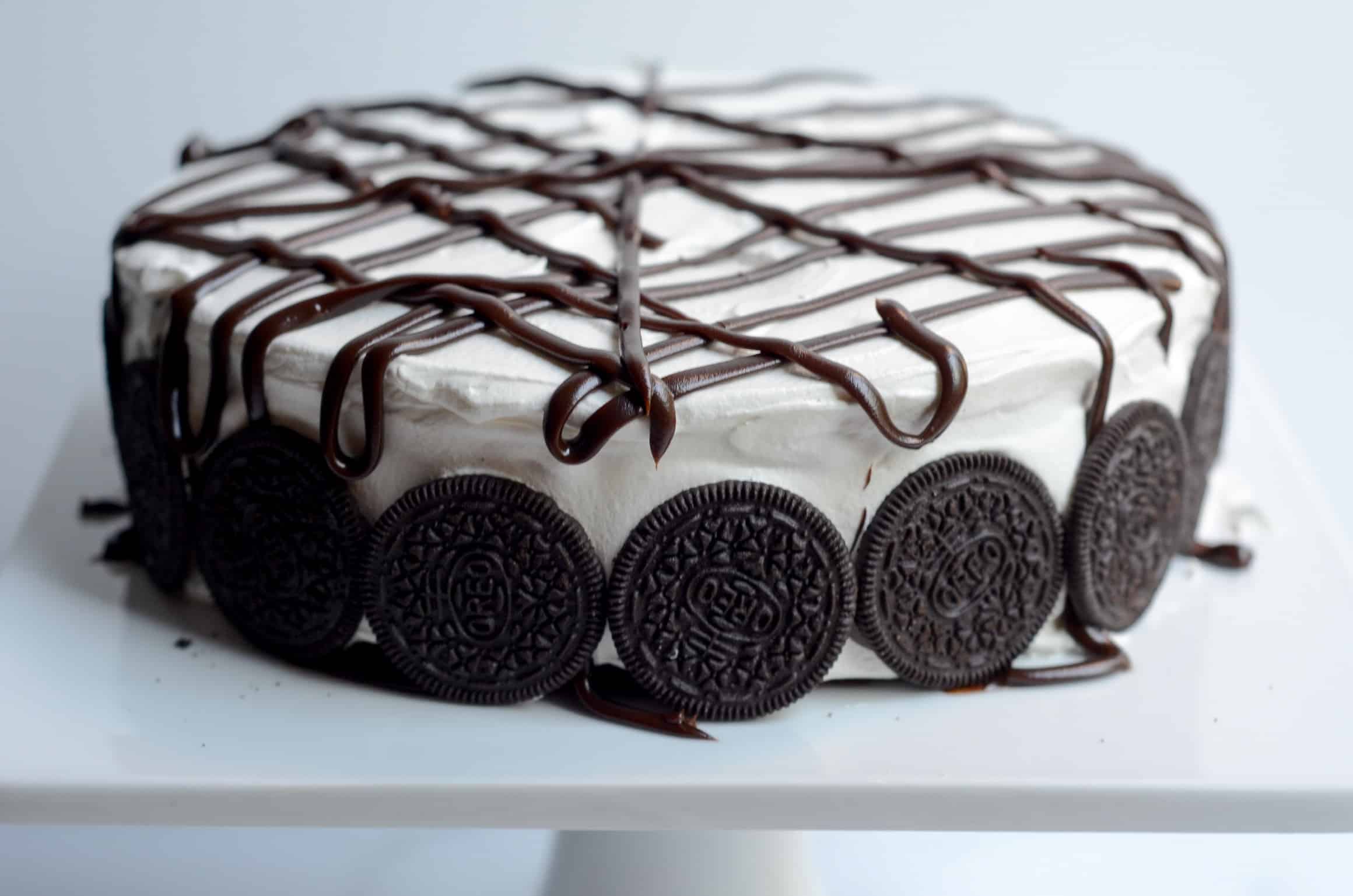 And you know what? It didn't get better as the night wore on. We got home and Bri refused to do anything that was asked of her. It was all of her stubbornness and defiant behavior combined with me repeating myself a thousand times until my proverbial pot was boiling over. And then I yelled. In fact, I got so worked up I slammed my fist on the floor so hard my Apple watch thought I had fallen. No, watch. I didn't fall. I'm just trying to discipline my 3 year old who refuses to listen to anything I say. If you called the ambulance on me though, I wouldn't be mad. Maybe they'd put Brianne to bed and haul me off for a pleasant night's sleep.
Bri eventually had to cry herself to sleep in her crib for a few minutes because she was crying over nothing and wouldn't allow me to comfort her. I think this is the point where I'm supposed to feel guilty, but you know what? I didn't. You know why? Because being a parent is really hard, and there are just times when I have to accept that I'm going to lose my cool. Instead of getting worked up, I texted Sara a picture of me guzzling a bottle of wine. She knew. We knew. We're in this together.
This cookies and cream ice cream cake uses all the shortcuts. Like all of them. And guess what? I don't feel bad about it for one second. Like losing your cool, sometimes you need short cuts. I'll take them where I can get them and when I need them most. And maybe me and this cake will text pictures to each other late at night to commiserate, too.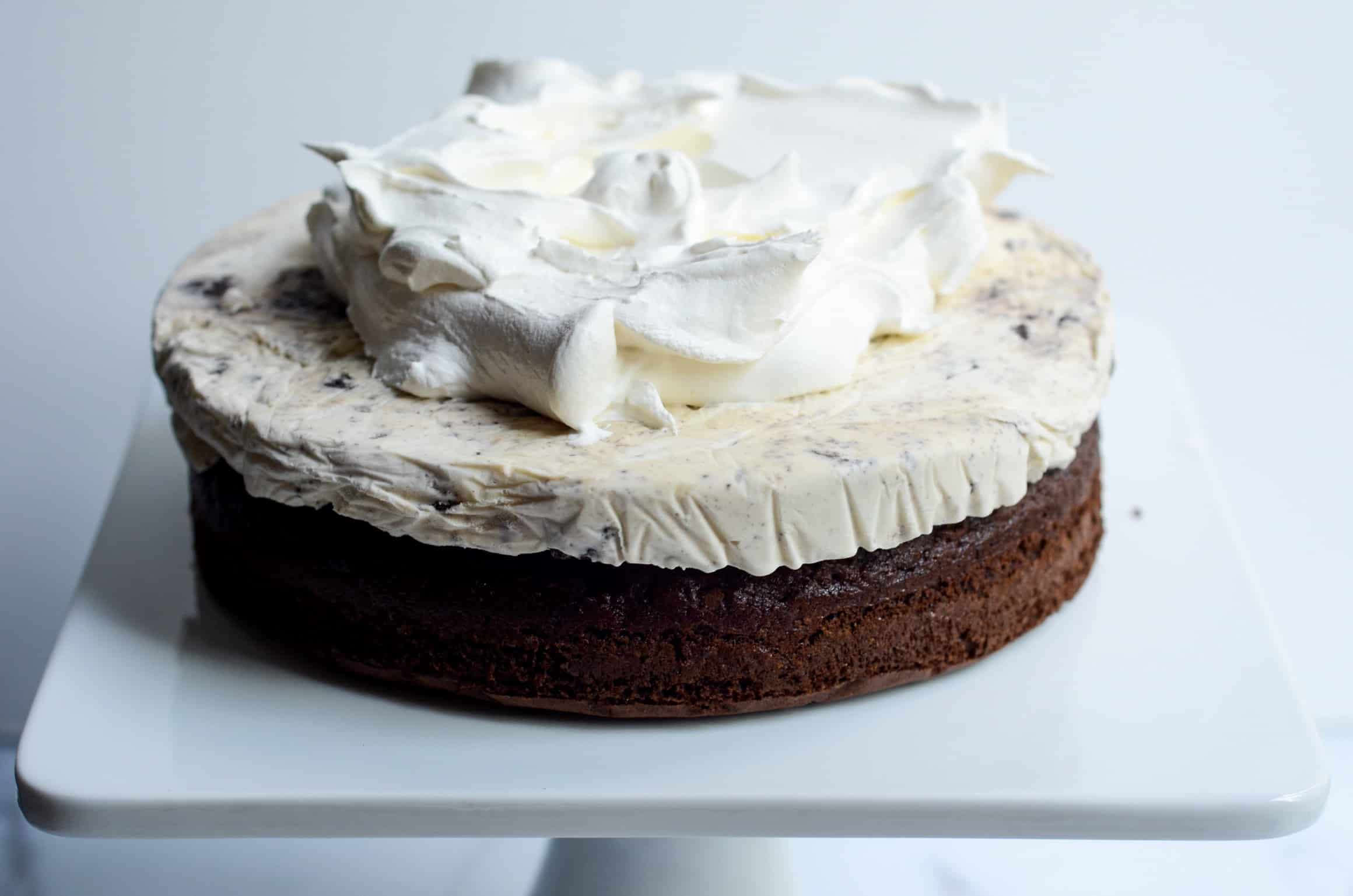 Step-by-Step Directions
If we have to make food in this heat, can't it at least be this shortcut cookie sand cream ice cream cake to cool us down? I mean I'd be perfectly happy with this thing for breakfast, lunch or dinner if it meant I didn't have to turn on the oven more than once. This ice cream cake uses all of the short cuts, including boxed cake mix and ice cream from the frozen section of your fav grocery store. Cheating? No way. If you're going to make thsi cake for your family and want it quickly, this is the way to do it. However, if you want to make this from scratch, I seriously recommend David Lebovitz's chocolate icecream. He's the ice cream God and if I'm just making plain old ice cream, I really enjoy making home made ice cream. Today ain't one of those days.
What special equipment do you need?
Do you have two 8" round cake pans? Or two 8" square pans? Great. That's all you need for this recipe. That and some plastic wrap. Let me walk you through how simple this is.
Step 1: Bake the cake.
This is easy, especially if you use boxed cake mix like I do here. There are some things that I love making homemade. Cake is actually one of them. But when I'm assembling an ice cream cake with a few additional steps, 90% of the time I'll be working with a boxed cake mix to take shortcuts where I can. THAT'S OKAY. Let go of this notion everything has to be homemade.
It'll take you approximately 3 minutes to mix the cake batter from a box (don't ever put boxed cake mix in a mixer because it's completely and totally unnecessary. Just mix with a spoon). Then pour only about ¾ of the cake batter into the pan. The rest of the cake mix can be used for 5-6 cupcakes or tossed. After baking, take it out of the pan to cool completely on a wire rack, trim the top so you have a nice, flat top, wrap in plastic wrap, and stick in the freezer.
Step 2: Spoon ice cream in same cake pan.
The cake pan you just baked your cake in is the same pan you want to use for your ice cream. Line the cake pan with plastic wrap so the ice cream will easily come out of the pan. Let your ice cream sit for 5-10 minutes until it's decently soft and pretty easy to spread. Spread the ice cream all around the pan in an even layer. Stick in the freezer for 30 minutes or so.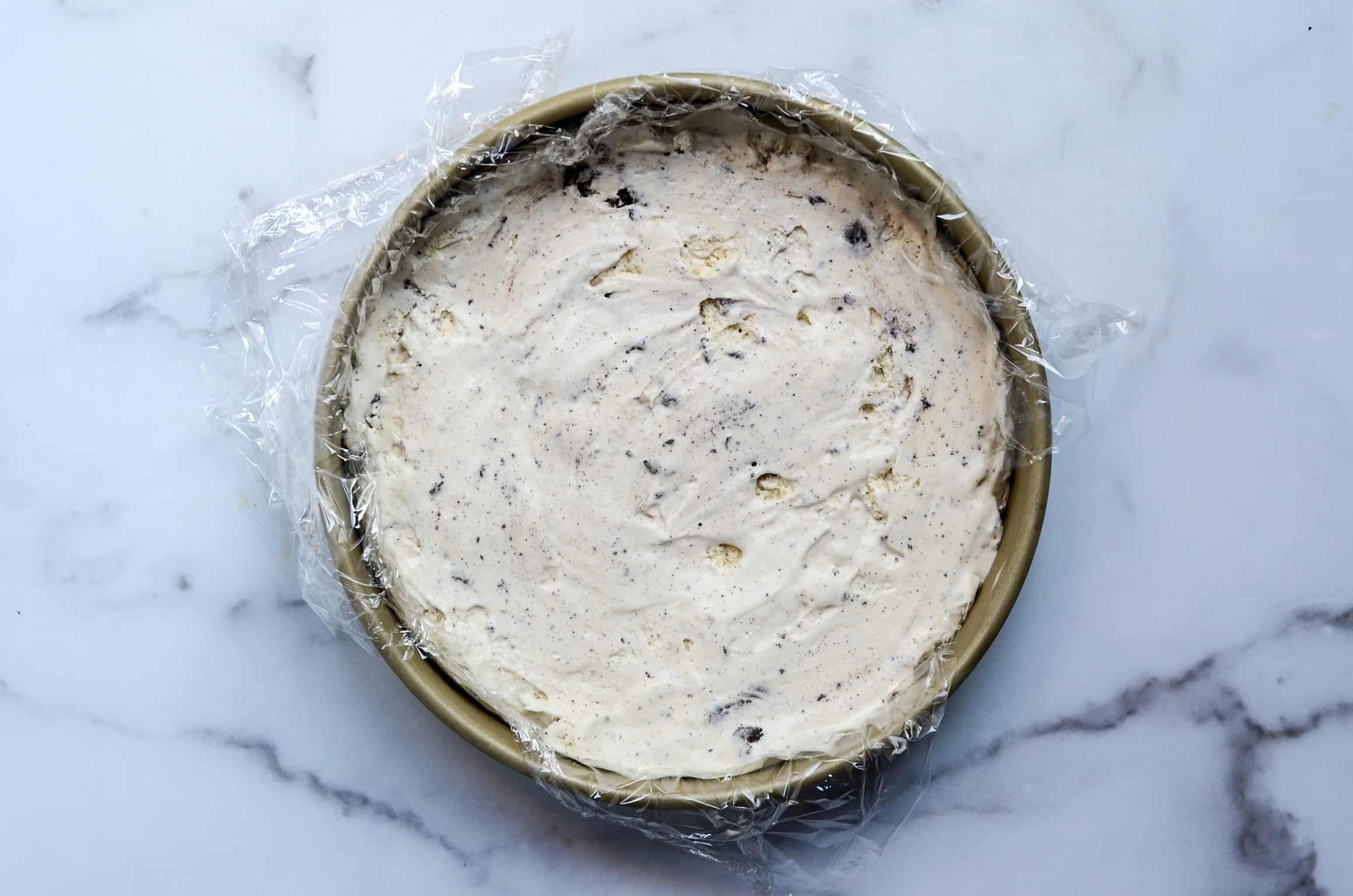 Step 3: Frost the cake with a whipped topping.
Assemble cake, starting with the cake layer on the bottom, then ice cream layer. Spread whipped topping all over the cake until it's sufficiently coated to your liking. I use one 8 ounce container of Cool Whip. You could easily make your own very simply by doubling the recipe for this one on my key lime pie.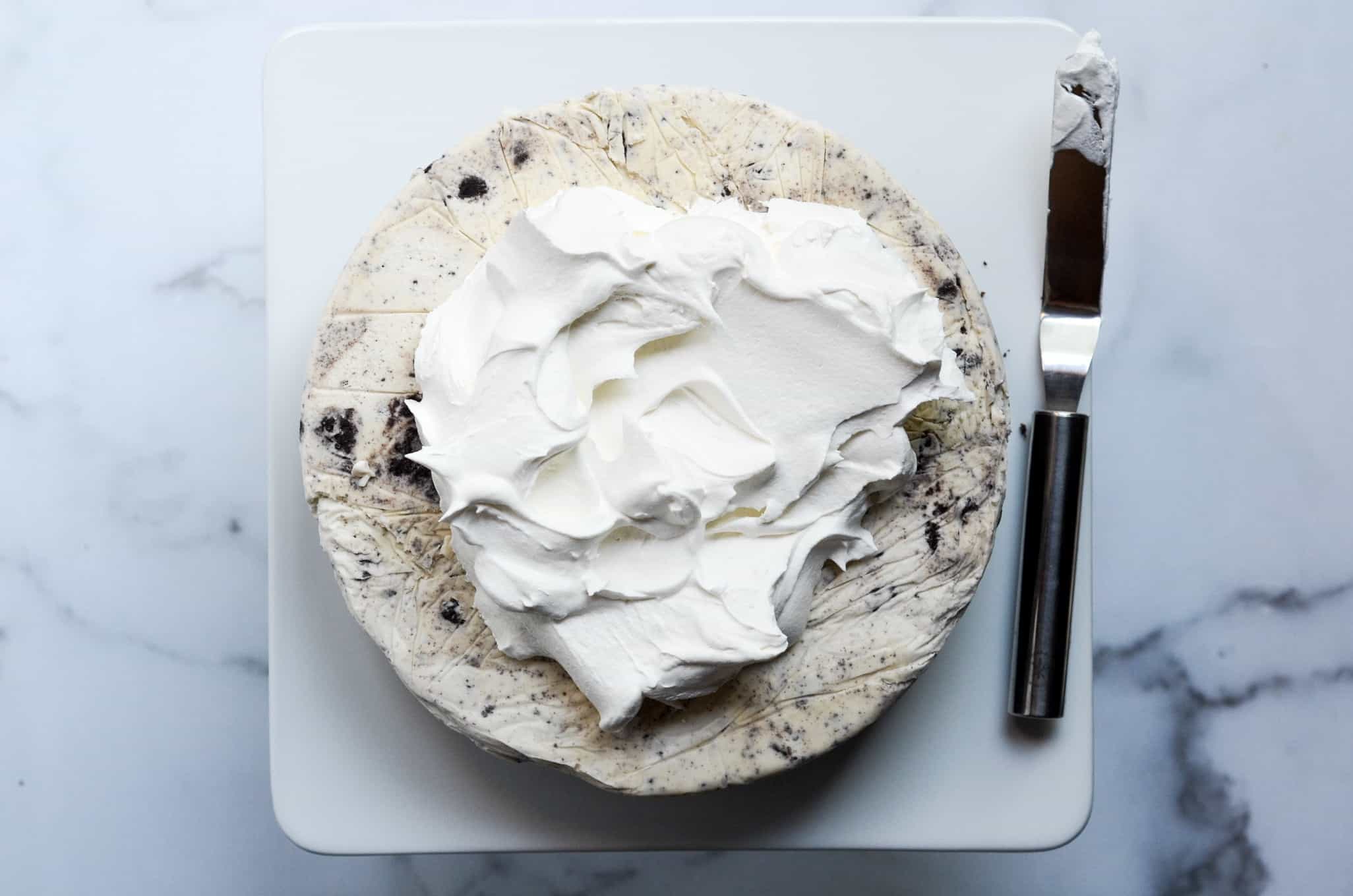 Step 4: Decorate with fudge and Oreo cookies.
Place fudge (NOT hot) topping (I used Smuckers fudge found in the aisle with the ice cream sprinkles and such) in a small plastic bag and cut the tip off one of the ends. Then drizzle the cake all over with the fudge in whatever pattern you'd like. Then place halves of full-size Oreo cookies around the perimeter of the cake. Immediately put cake in the freezer for at least 30 minutes to firm back up.
Some other pro tips:
After having made this shortcut cookies and cream ice cream cake a few times, here are some things I've learned:
Make sure you have enough space in your freezer to put this cake once you're done frosting it. No joke. The top of the cake hit the top of my freezer when I was shoving it in on its cake stand, and I have had fudge stalagmites on my freezer ceiling since then.
Work fast. This thing melts quickly in 100 degree heat despite our thermostat being jacked up to a cool 69.
Let the cake sit out for 15 minutes or so before you want to eat it. It needs some time to soften up because it's really difficult to cut.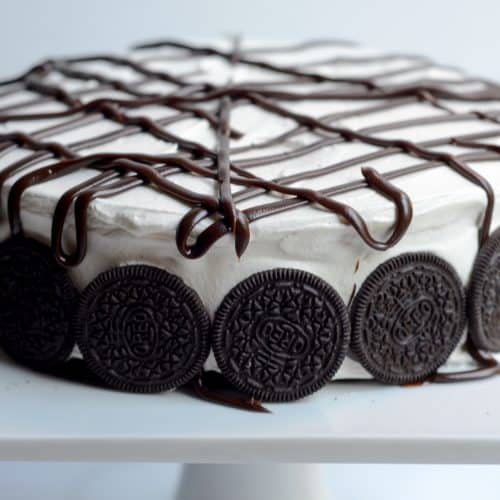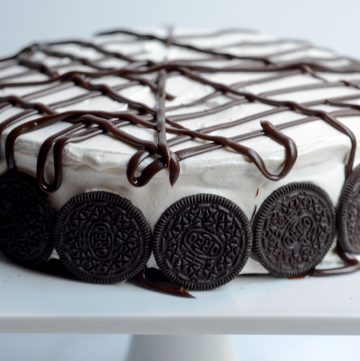 Ingredients
For the cake:
1

box

your favorite chocolate cake mix

(whatever ingredients cake mix calls for)
1

quart

favorite cookies and cream ice cream
For the whipped topping:
1

tub (8 oz)

whipped topping

(I used Cool Whip)
For the decorations:
1

jar

chocolate fudge

14

Oreo cookies
Instructions
Bake ONLY ¾ of cake mix in a 8" or 9" round cake pan according to package directions. Let cool completely before trimming the top until it's completely level with the rest of the cake. Wrap in plastic wrap and stick in the freezer.

Line the same cake pan with plastic wrap. Spread slightly melted ice cream into the cake pan until it's smooth and flat. Stick in the freezer for at least 30 minutes, ideally at least an hour.

Meanwhile, put about ⅔ cup of fudge topping in a plastic bag (NOT hot...just room temperature) and cut one of the tips off one of the corners. Have that ready to go.

Assemble the cake by quickly, putting the chocolate layer on the bottom of a cake stand then the hardened ice cream layer on top. Cover with whipped topping. Decorate with fudge icing in whatever pattern you'd like. Then break apart Oreos and place them at the base of the cake all the way around.
Enjoy and stay cool!
xoxox