This classic key lime pie is the dessert of summer -- zesty, sweet, creamy, and it makes the best dessert to eat on a hot day!
I hope everyone had a great Fourth of July!  While we didn't do incredibly much yesterday, we did go to the beach this past weekend with John's parents...our first beach trip of the season!  The things we do seasonally -- like ride the train at our local park, participate in various holiday traditions, and go on trips to the beach -- all remind me how quickly time passes.  Last time we went to the beach, B refused to touch the sand.  Any part of her -- foot, arm, whatever -- was completely unacceptable to be touching.  She waded in a baby pool the entire time.  This year, she was at least receptive to walking in the sand, but only in small doses.  She actually ventured out to the water's edge to dip her toes in the ocean when she saw C do it, too, but was done when the current pushed her down.  She spent the remaining time moving water from one bucket to another.  The thrill of being two!  C was much more adventurous this year, too.  He spent most of the time playing chase with the current, collecting seashells, and playing in the sand.  This is a seriously sweet age.

One thing I really took for granted was how easy it is to go to the beach before kids. Now you're packing a huge, heavy bag full of diapers, wipes, cold water, snacks, toys, towels, sunscreen and then carrying two sweaty toddlers on your sweaty thighs through sand that's burning your feet. Maybe next summer they'll be able to walk in the sand and/or be able to walk in flip flops (are flip flops hard for everyone else's toddlers, too? C shuffles in them).
John and I did get some alone time on Saturday night to grab dessert together at Liquid Assets while the grandparents were nice enough to watch the kiddos. I had a piece of Smith Island double chocolate cake and OMG...I had forgotten how much I missed their cake. When it's fresh...man, it's perfection! I need to add that to my baking queue and see if I can make my own version until we can get back over to the beach soon. John had a cherry pie, which was unbelievable, too. I created my own version and threw in some other fruit we had. I'll post it soon.

In the meantime, I made one my husband's favorite desserts. I experiment with a lot of different versions of desserts but not key lime pie. Nope. This recipe is tried and true and I'm sticking with it because it's the perfect amount of everything for me, so I'm not going to mess with a good thing. If you can't find key limes in the grocery store -- NO PROBLEM. Use regular limes. It really tastes delicious either way. The key limes have a sweet, less sour taste to them, so it's really a personal preference. And sometimes I need key lime pie more often than my grocery store has key limes. This doesn't make me a bad person. Don't use bottled lime juice though -- I do have my standards.

Get your slightly sweetened whipped cream done, and voila! You can make it all fancy like I did or you can dollop some whipped cream in the middle of the pie, sprinkle some lime zest over it, and have at it. Either way, the important part is that the fork reaches your mouth quickly (but do let the pie chill...I can't imagine key lime pie warm)!
Word to the wise: Don't use a deep dish pie pan for this recipe. This makes about ¾" worth of filling once it's in the pie shell, so a deep dish will not work unless you double the recipe!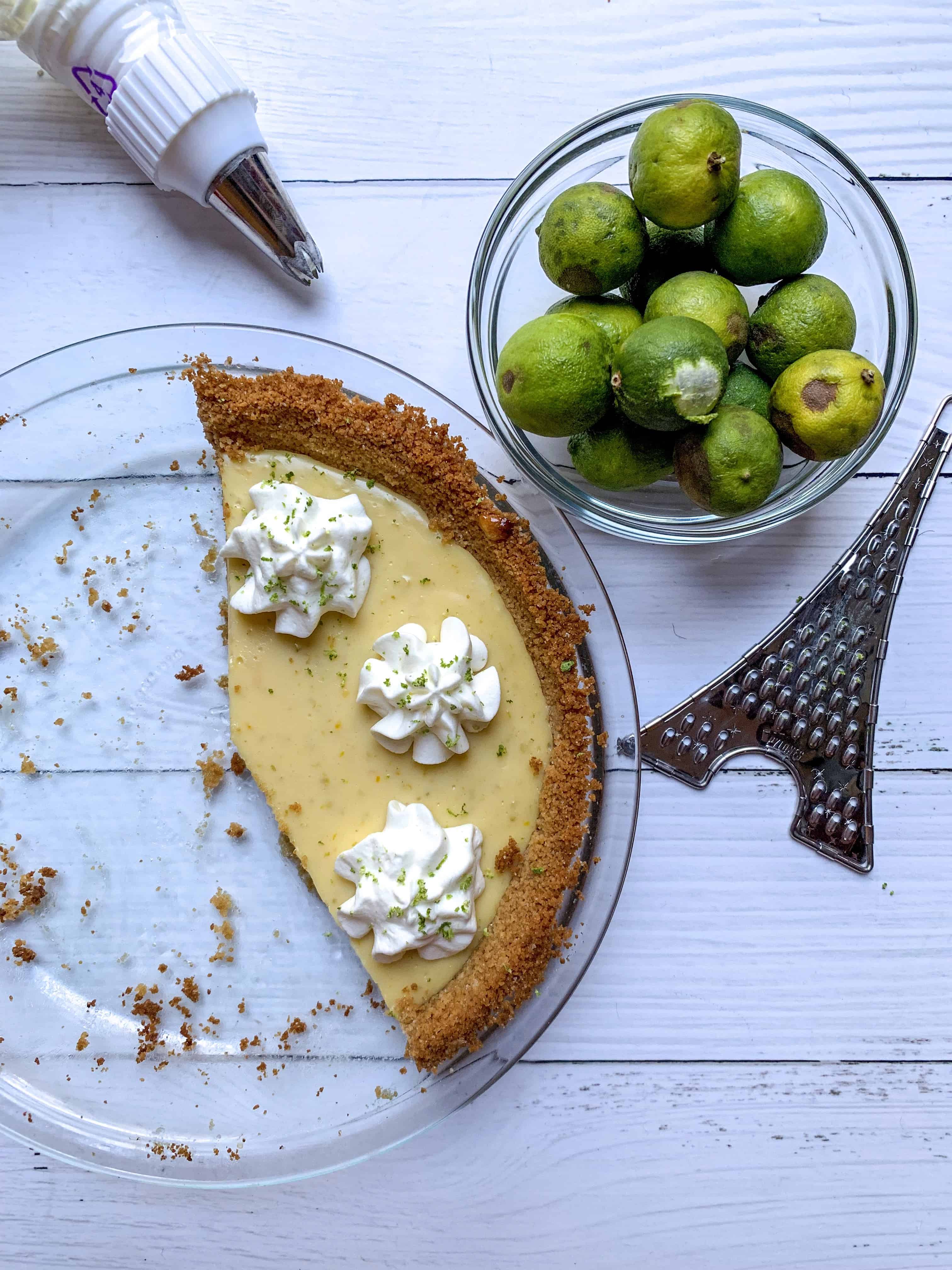 xox,
kathryn
As always, if you make anything from the blog, be sure to let me know! I love hearing from you in the comments on this post below or find Worn Slap Out on Facebook, Instagram, or Pinterest!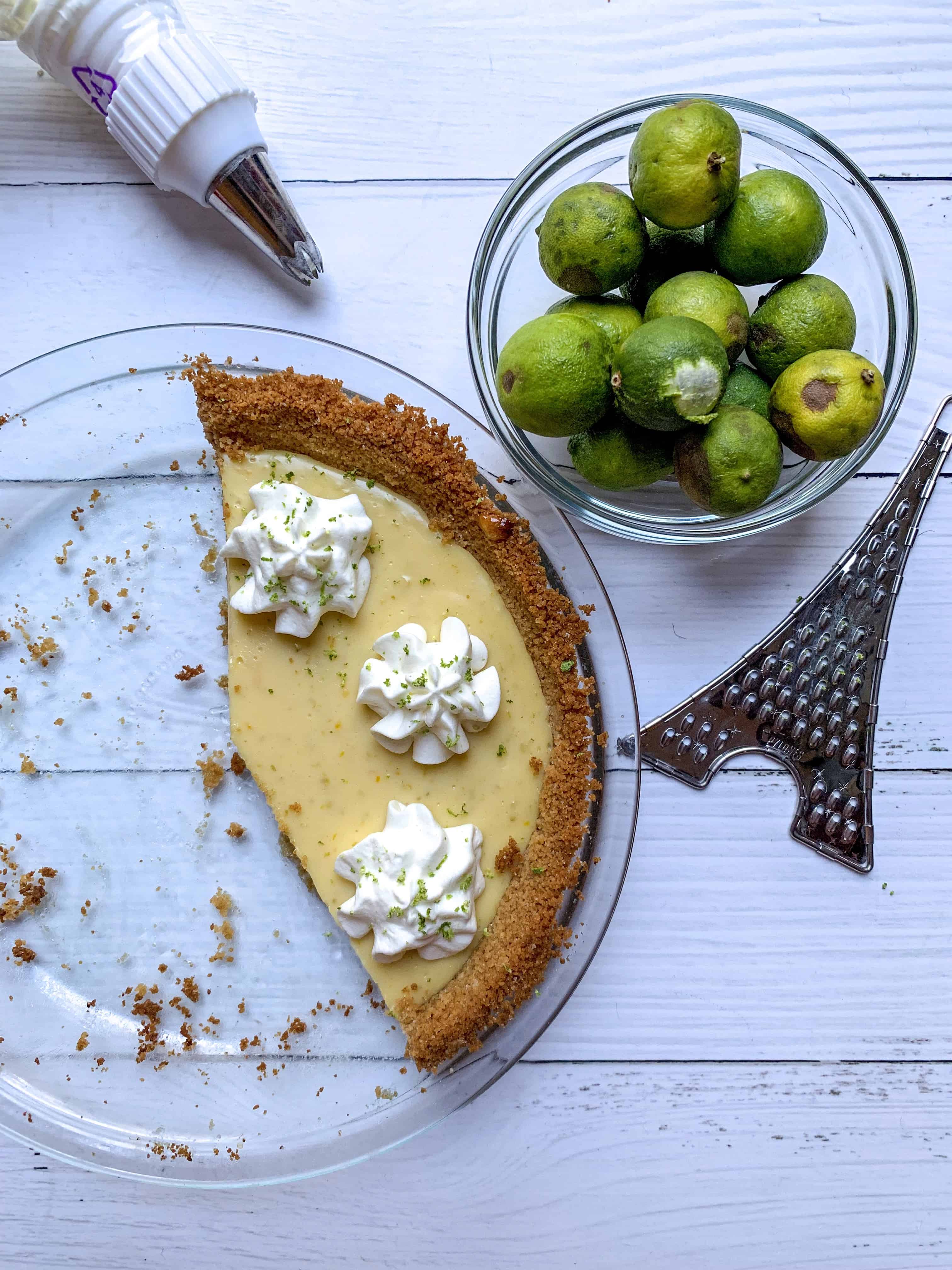 Classic Key Lime Pie
An easy classic -- who doesn't love a good key lime pie?
Print
Pin
Rate
Ingredients
For the graham cracker crust:
5

tbs

butter

melted

9

full graham crackers

one of the three packs that come in a package

¼

c.

sugar

pinch

of salt
For the filling:
1½

heaping tablespoons lime zest

plus more for garnishing

2

egg yolks

1

can

14 oz. sweetened condensed milk

½

c.

lime juice

from approximately 5 limes
For the whipped cream topping:
1

c.

heavy whipping cream

1 ½

tablespoons

sugar
Instructions
Preheat oven to 350ºF

Process graham cracker in processor until they turn into crumbs or crush with a bottle in a plastic bag

Add the melted butter, sugar, and salt and pulse until combined

Line pie dish* with your graham cracker crust, including up to to the edges of the dish

Bake for 10 minutes or until lightly browned; allow to cool

Meanwhile, mix lime zest, lime juice, and egg yolks in a mixing bowl.  Add the sweetened condensed milk and mix on high until creamy and thick

Pour mixture into crust and bake for 15 minutes or until set.

Allow to cool at room temperature for about 30 minutes, then chill in refrigerator for at least an hour (more is preferable if you can contain yourself).

While pie is chilling, whip heavy cream and sugar for a few minutes until soft peaks form.  Top the pie with whipped cream and remaining zest before serving.