We are a brussels sprouts family, and we're not embarrassed to admit we eat them about 2 times a week.  But what I am really embarrassed about is that I didn't know the word brussels was plural in brussels sprouts.  I've been getting that wrong my whole life.  Most of the time we simply roast them with olive oil, salt and pepper at 425 degrees F for about 30 minutes.  When I'm tired of that preparation though, I remember the smashed and roasted version and get really excited.  After topping your blanched and smahsed brussels with salt, pepper, paprika, and garlic powder, baking them, then topping with parmesan, they come out so smooth and creamy — and *almost* taste like creamy mashed potatoes.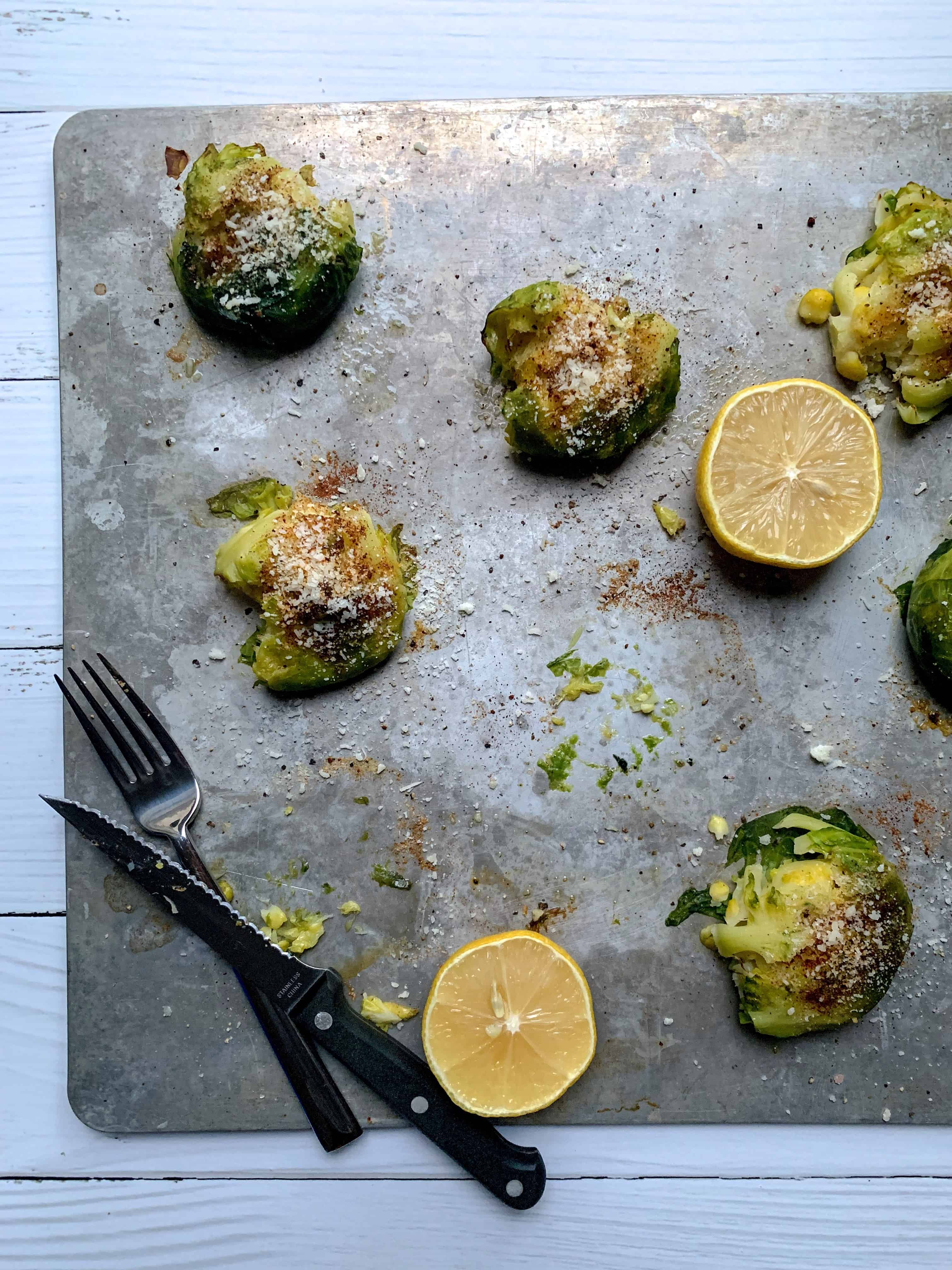 Brussels sprouts are super easy to prepare.  Just remove the stems at the bottom (I usually cut about 1/2″ off (depending on how big they are, of course).  You'll also want to remove the outside leaves for this one, too.  It's as simple as that.
These were literally the largest brussels sprouts I've ever seen from Whole Foods, and this kind of preparation for them in perfect.  Excuse my ugly finger in the picture, but I needed to give you a sense of just how big these suckers were.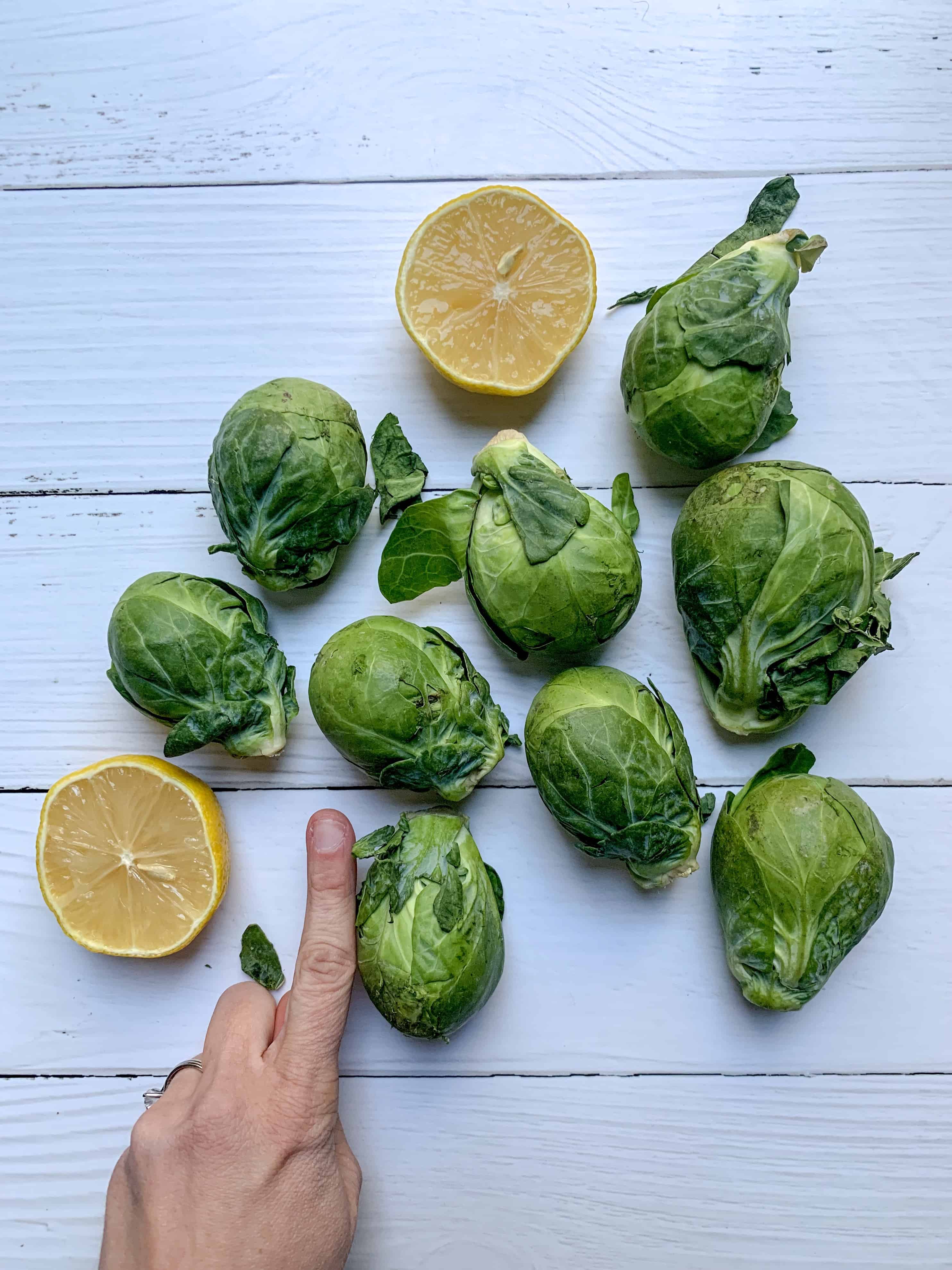 After you've boiled them for 10 minutes, you'll give them a good ice bath for just a minute to stop the cooking.  They'll still keep their vibrant green color.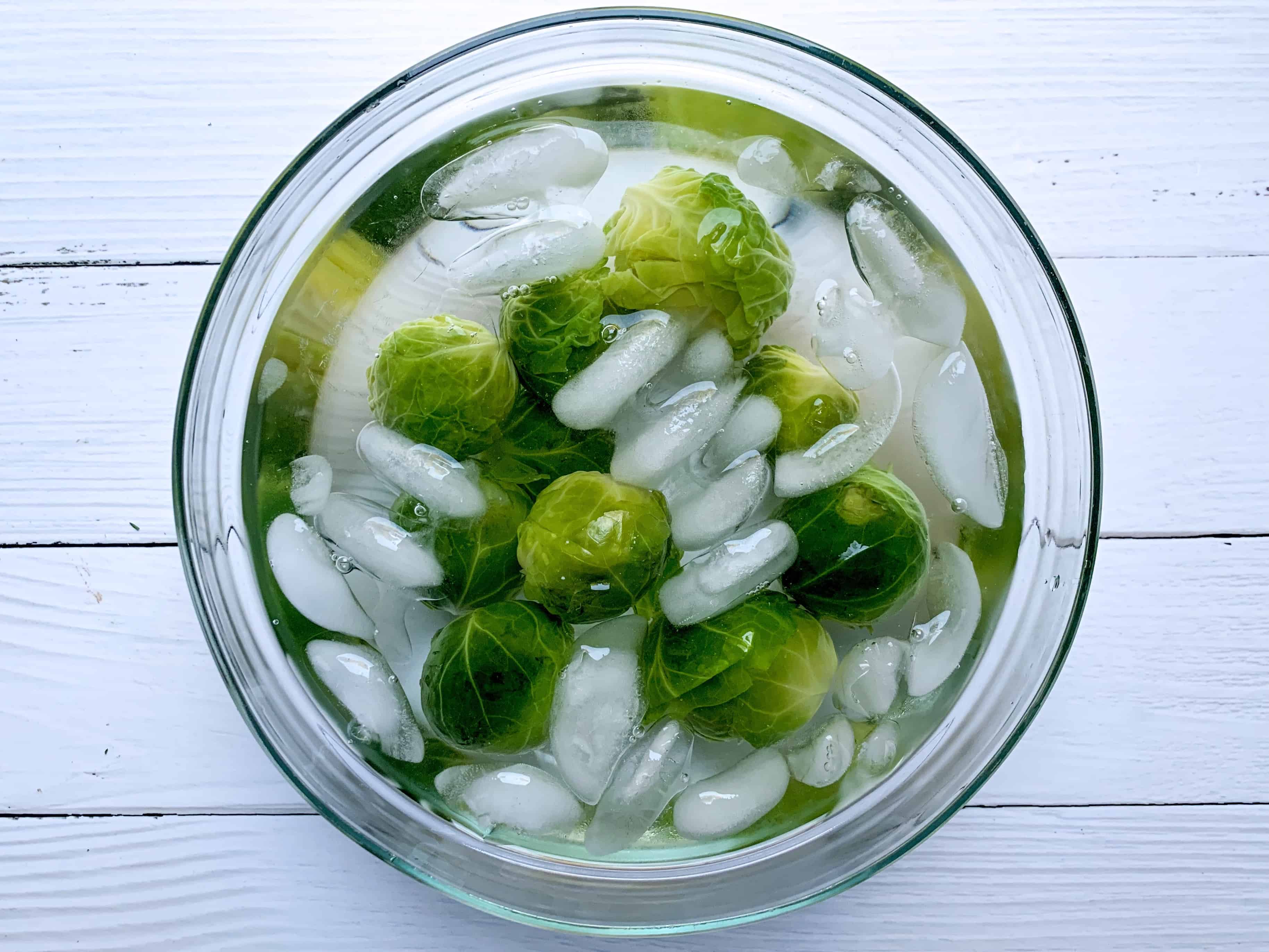 Then you'll take a cup or mason jar or anything heavy and smash them on a baking tray.  Then sprinkle some olive oil, salt, pepper, garlic powder, and paprika over these suckers.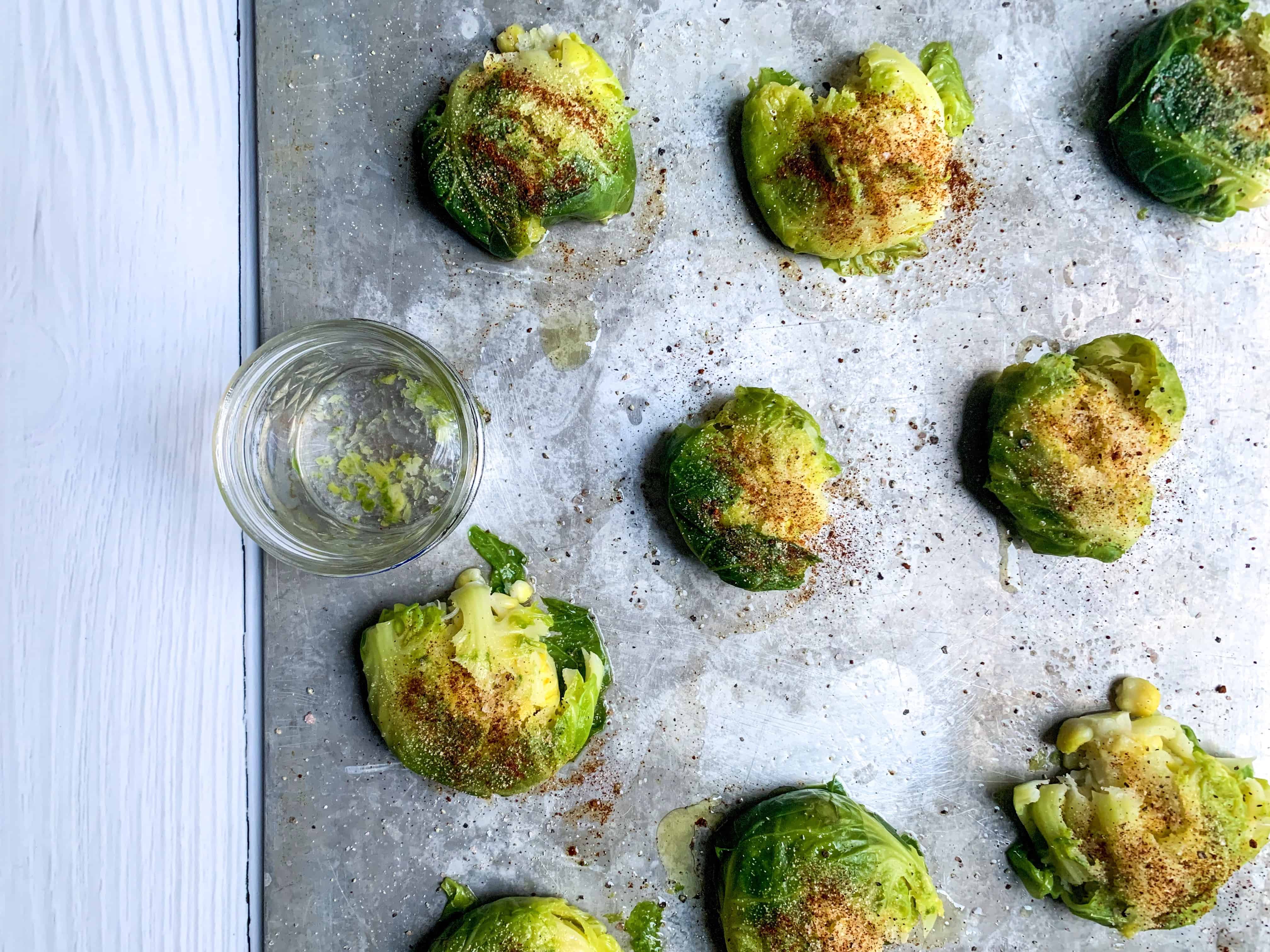 Bake them at 425 degree for another 10 minutes.  I love a little parmesan on top of mine when I have it in the fridge as well as some fresh lemon juice.  Then you'll want to eat immediately because these are best served piping hot.  OMG.  They're so delicious hot…I just can't even describe the creaminess when they're hot.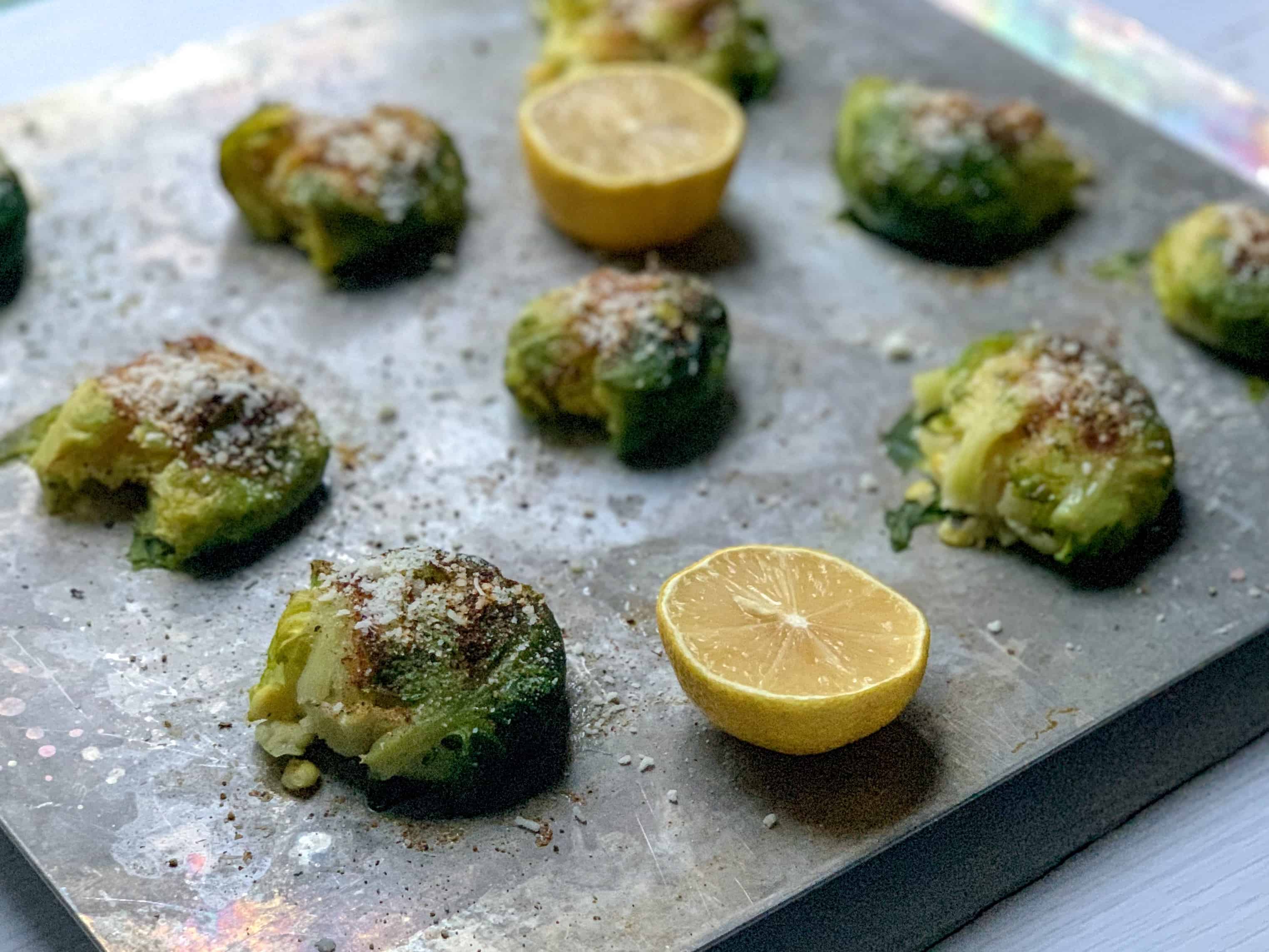 Hey, you.  Get in my belly.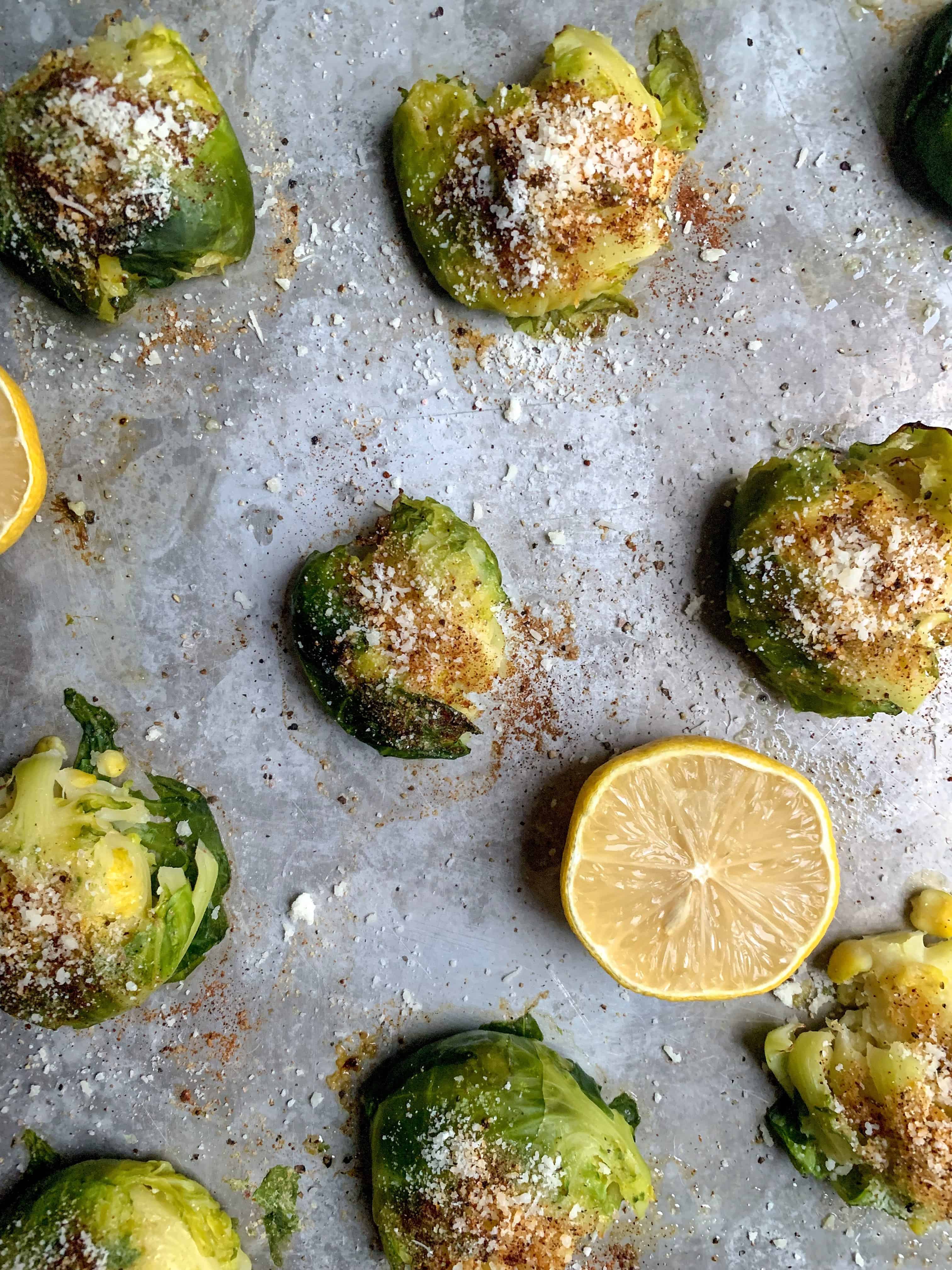 Active Time: 5 minutes
Total Time: 35 minutes
Yields: 4 servings
Ingredients:
1 lb brussels sprouts, stems trimmed and outer leaves removed
i tbsp olive oil
1/4 tsp salt
1/8 tsp black pepper
1/4 tsp paprika
1/4 tsp garlic powder
lemon juice from 1/2 lemon
1/4 cup Parmesan cheese (optional)
Directions:
Preheat oven to 425 degrees F.
Bring a medium-sized pot of water to a boil.  Add brussels sprouts and boil until fork tender (about 6-8 minutes…unless you have huge ones like this particular batch, in which case it took about 12 minutes).
With a slotted spoon, immediately remove from the water and dunk in an ice water bath.  Let them soak for 1 minute to stop the cooking.
Remove from the ice water and transfer to a baking sheet.
With the bottom of a cup, gently smash the brussels until somewhat flattened (they may not flatten entirely…that's okay).
Drizzle olive oil, salt, pepper, paprika, and garlic powder over the brussels.  Bake for 10 minutes.  (If you like yours crispy, put them in the broiler for the last minute or two.)
Remove brussels from the oven.  Squeeze lemon juice on brussels and top with parmesan (if you'd like).
Enjoy!
xoxo
I kid you not.  When I took pictures of the brussels, I couldn't stop eating them.  And because we hadn't even sat down for dinner, I ended up bringing only 4.5 brussels back to the table with me.  Ooops!