Unlock the juicy flavor with this Dutch Oven Pulled Chicken. This chicken can be used for so many different meals!
Worn Slap Out, LLC is a participant in the Amazon Services LLC Associates Program, an affiliate advertising program. As an Amazon Associate, I earn from qualifying purchases. Each of your purchases via Amazon links supports Worn Slap Out at no additional cost to you.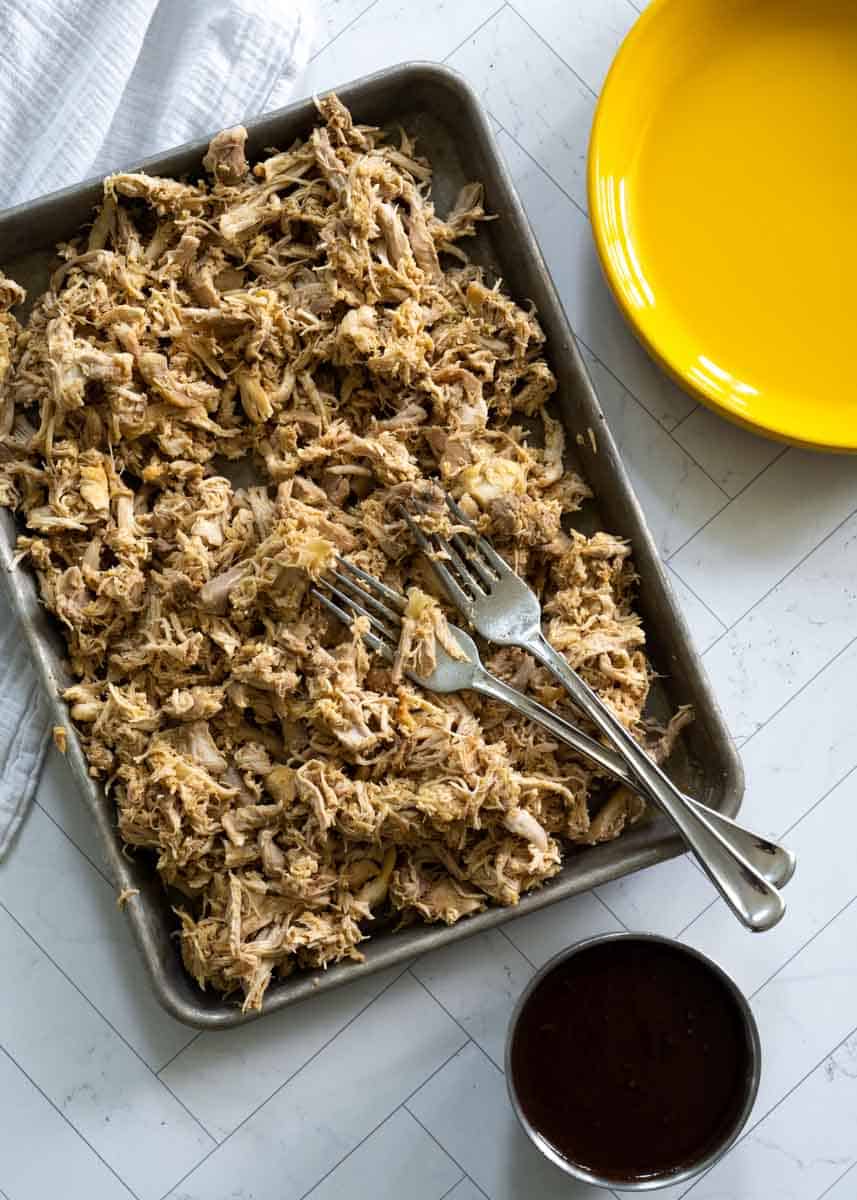 We've been soaking up as much of summer as possible, sitting for long summer nights outside while the kids play with friends, going to the pool, and making some trips to our local favorite hang-out spots with friends. The other week we went to WIndridge Vineyards, and despite not being the most kid-friendly place, it was still fun to bring our own food, sip on some wine, and enjoy some adult company. I made both this pulled chicken and my pulled pork recipes, and we sat until the sun went down, making BBQ sliders, listening to good music, and catching up with friends.
This recipe is very similar to my Dutch Oven Pulled Pork, which is one of my all-time top posts. That pulled pork gets so much love and I'm hoping this shredded chicken will get the same kind of love, too! I've kept the same spices but lowered the quantity significantly as not to overpower the chicken. The chicken then braises in chicken stock along with some natural juices from the chicken and onions. It doesn't go in the oven, so it's faster than the pork shoulder without compromising on the flavor.
When it comes to cooking chicken, there are various methods to choose from, but none can quite match the juicy results of using a Dutch oven. This versatile and reliable piece of cookware allows for even heat distribution and excellent moisture retention, resulting in tender, flavorful pulled chicken. Read on!
Why Choose a Dutch Oven?
The Dutch oven's unique design and construction make it an ideal choice for cooking chicken. Its thick walls and tight-fitting lid create an environment that traps and circulates heat effectively, ensuring even cooking throughout. This characteristic is especially important for larger cuts of meat like chicken, as it helps prevent overcooking or drying out. The heavy material also retains heat exceptionally well, allowing for consistent and gentle simmering.
Additionally, the Dutch oven's versatility extends beyond cooking on the stovetop. It seamlessly transitions from stovetop to oven, making it suitable for a wide range of recipes. Whether you're sautéing, braising, or slow-cooking, the Dutch oven's multi-functionality makes it an invaluable tool in any kitchen.
I have an oval 6.75 quart Dutch oven and a round 9 quart Dutch oven that's a big boy. I got the round one this past Christmas and the oval one was a wedding present that's still going strong 12 years later. A Dutch oven is an investment but something that's well worth it, IMHO.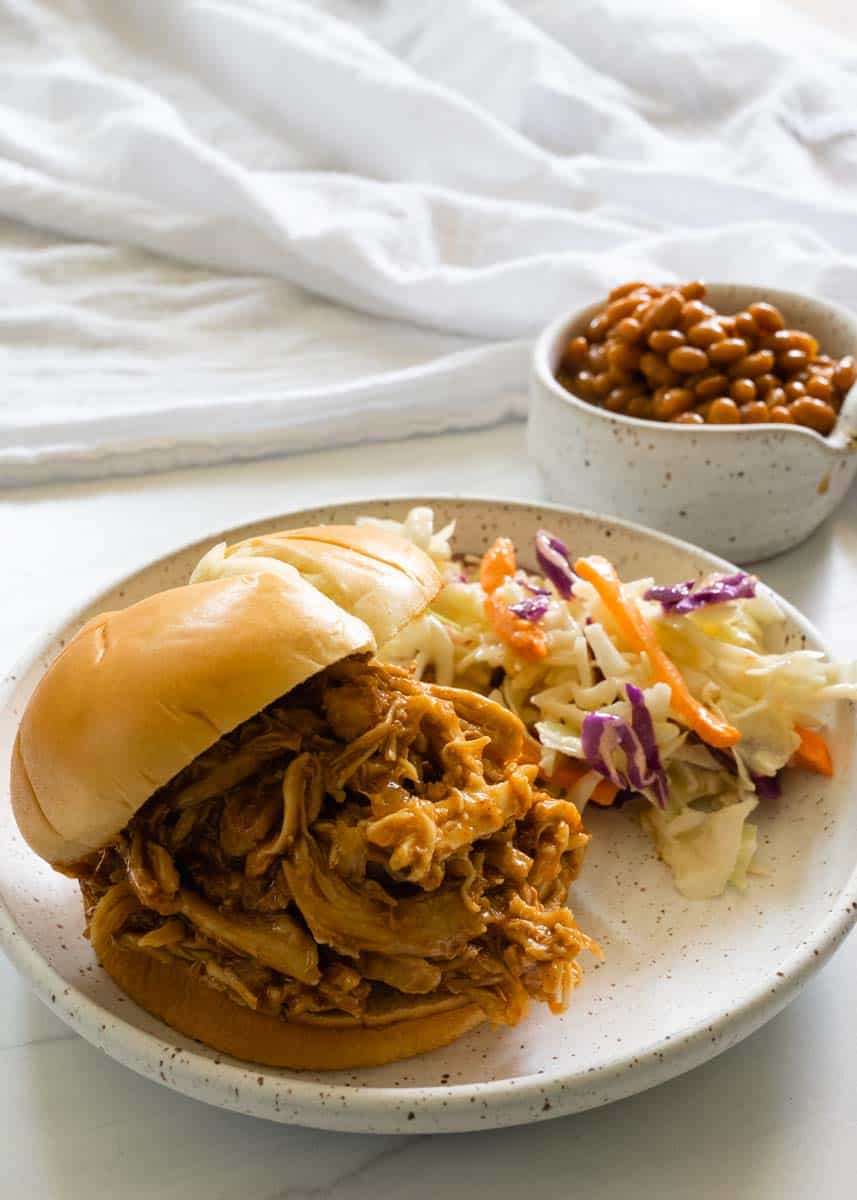 Why You'll Love this Recipe
Dutch oven pulled chicken is a perfect choice for spring, summertime, or fall gatherings and parties. Here's why:
Simplicity: The recipe is straightforward and requires minimal hands-on time, allowing you to spend more time enjoying the company of your guests.
Versatility: Pulled chicken is incredibly versatile. Serve it as a filling for sandwiches, tacos, or sliders. You can even use it as a topping for salads or baked potatoes. The options are endless!
Crowd-Pleasing: The tender, flavorful chicken, combined with the smoky and tangy BBQ sauce, is a crowd-pleaser that will satisfy a variety of palates.
Make Ahead: Dutch oven pulled chicken can be prepared in advance, making it a convenient choice for larger gatherings. Prepare the dish a day ahead, refrigerate, and reheat when needed. The flavors will further develop, and the chicken will remain tender and delicious.
Essential Ingredients for Dutch Oven Pulled Chicken
To create a mouthwatering Dutch oven pulled chicken, you'll need the following ingredients:
Chicken: Opt for boneless, skinless chicken thighs for lots of flavor and tenderness. Aim for about 3-4 pounds of chicken to serve a crowd.
Seasonings: Create a well-balanced flavor profile by using a combination of salt, pepper, garlic powder, paprika, and any additional herbs or spices of your choice. This recipe is my standard base. If I'm making the chicken exclusively for tacos, I'll adjust the seasoning to make it more Tex-Mex style with cumin and oregano, for example.
BBQ Sauce: Choose your favorite BBQ sauce, whether it's smoky, tangy, or sweet, to give your pulled chicken that classic, finger-licking taste.
Liquid: Enhance the chicken's juiciness and tender texture by adding chicken broth or stock to the Dutch oven. This will help create a flavorful cooking environment. Alternatively, you could deglaze with beer or white wine.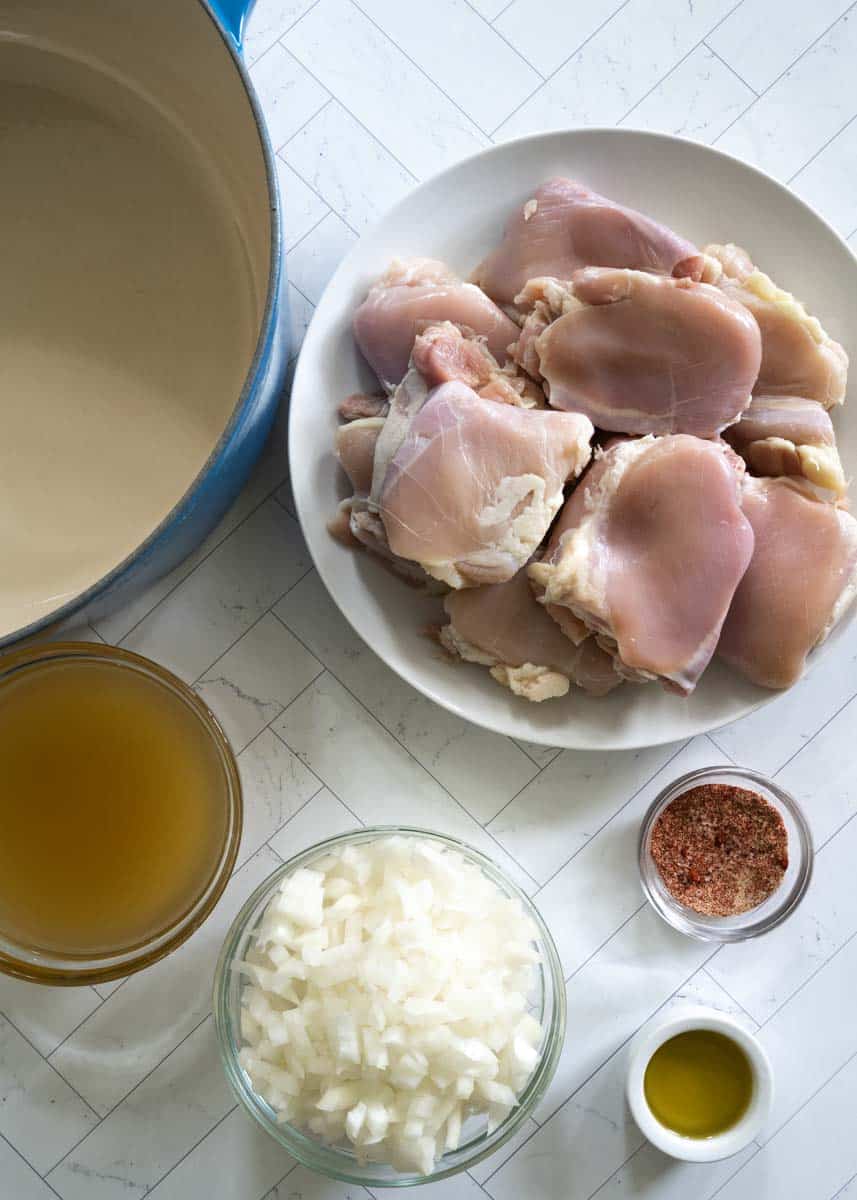 How to Make Pulled Chicken in a Dutch Oven
It's as easy as a few simple steps before you have flavorful shredded chicken ready for your belly.
Step 1: Season the chicken
Pat the chicken dry with paper towels. Then combine all of the seasonings together and coat all parts of the chicken.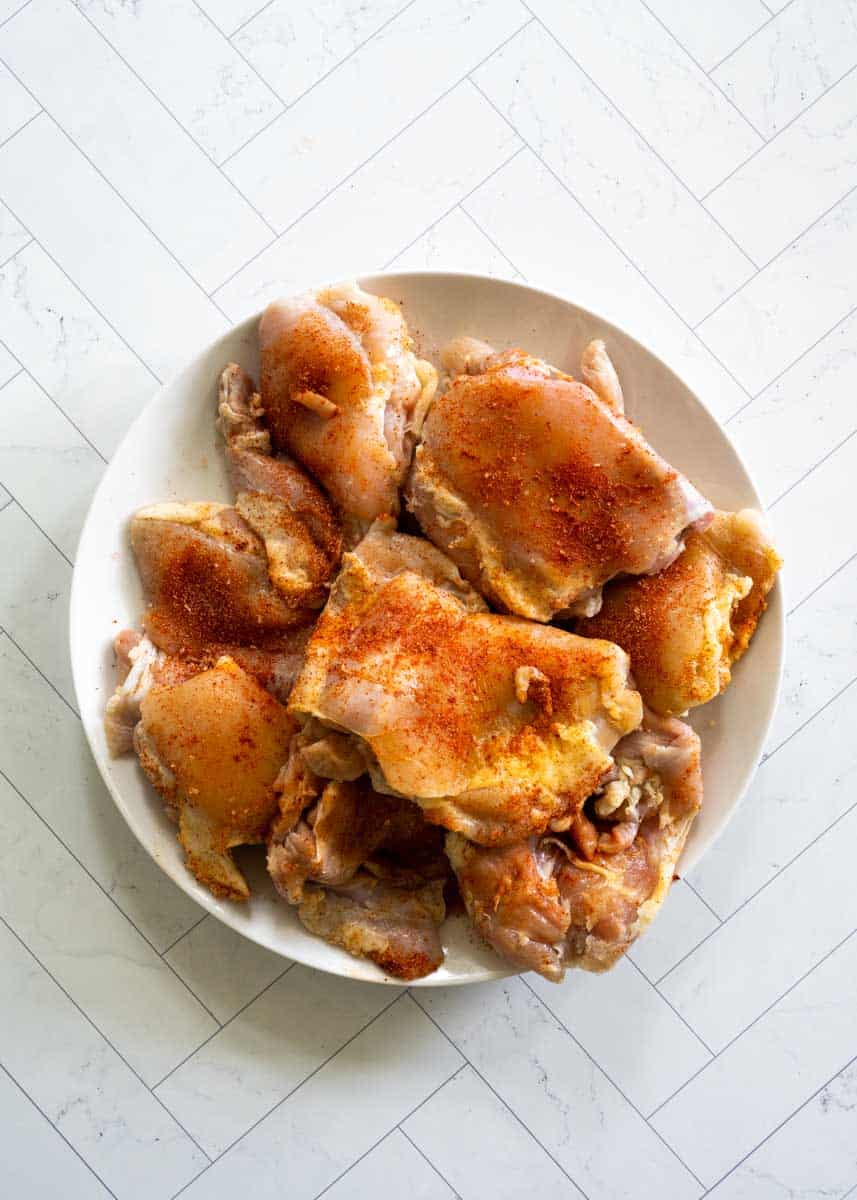 Step 2: Sear the Chicken
Using a bit of olive oil over medium heat, sear half of the chicken until one side is golden brown, about 2-3 minutes (picture 1). Flip and brown the other side for 2-3 minutes (picture 2). Remove the chicken to the plate you started on and do the same for the second batch.
Step 3: Cook the onions
Remove the second batch of chicken from the Dutch oven and cook the onions in the chicken juices. You may have to add a bit more olive oil if the pan is dry (picture 3). This will take about 5 minutes.
Step 4: Add chicken stock and simmer
Once the onions are tender and translucent, add the chicken stock, scraping up any brown bits of chicken from the bottom of the pan. Bring the chicken stock and onions to a boil, add the chicken back to the Dutch oven, cover with a lid and lower the heat to a simmer. Simmer the chicken for 20-25 minutes or until the chicken is cooked through to 165˚F (picture 4).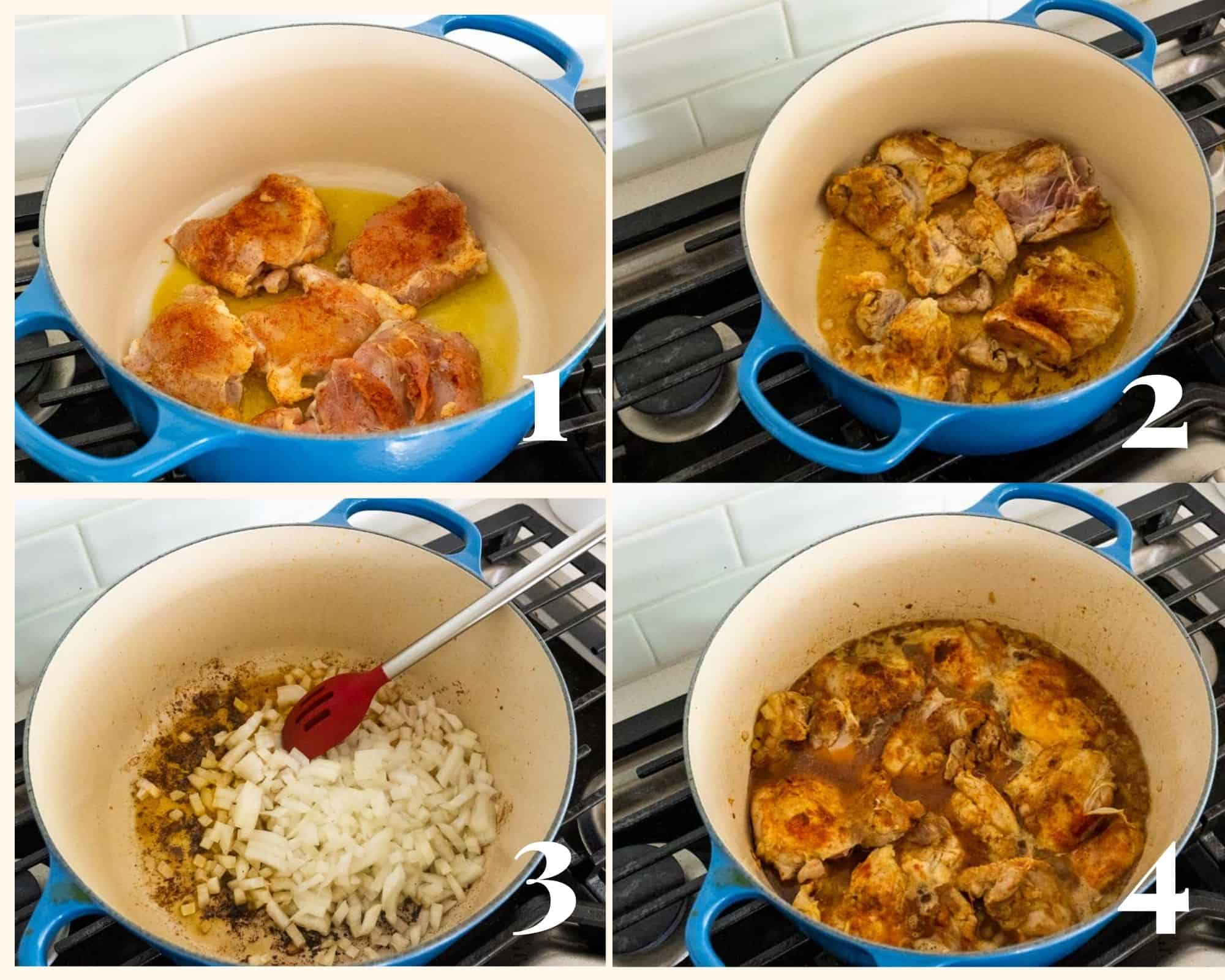 Step 5: Shred, baby, shred
Remove chicken from the Dutch oven and immediately shred on a platter or using a hand mixer. Toss in BBQ sauce, teriyaki sauce, eat plain, add to tacos, a salad, nachos, you name it! Enjoy!
The Trick to Shredding Chicken
First, make sure you shred while chicken is still hot. Waiting until the chicken cools off will make it next to impossible to get a true shred. You'll have to just cut the chicken at a certain point.
Second, use a stand mixer with the paddle attachment, if you have one! All of the chicken thighs go right in the mixer, you mix that bad boy on the lowest speed and VOILA! You have shredded chicken in 30 seconds. If you don't have a stand mixer handy, shred with two forks.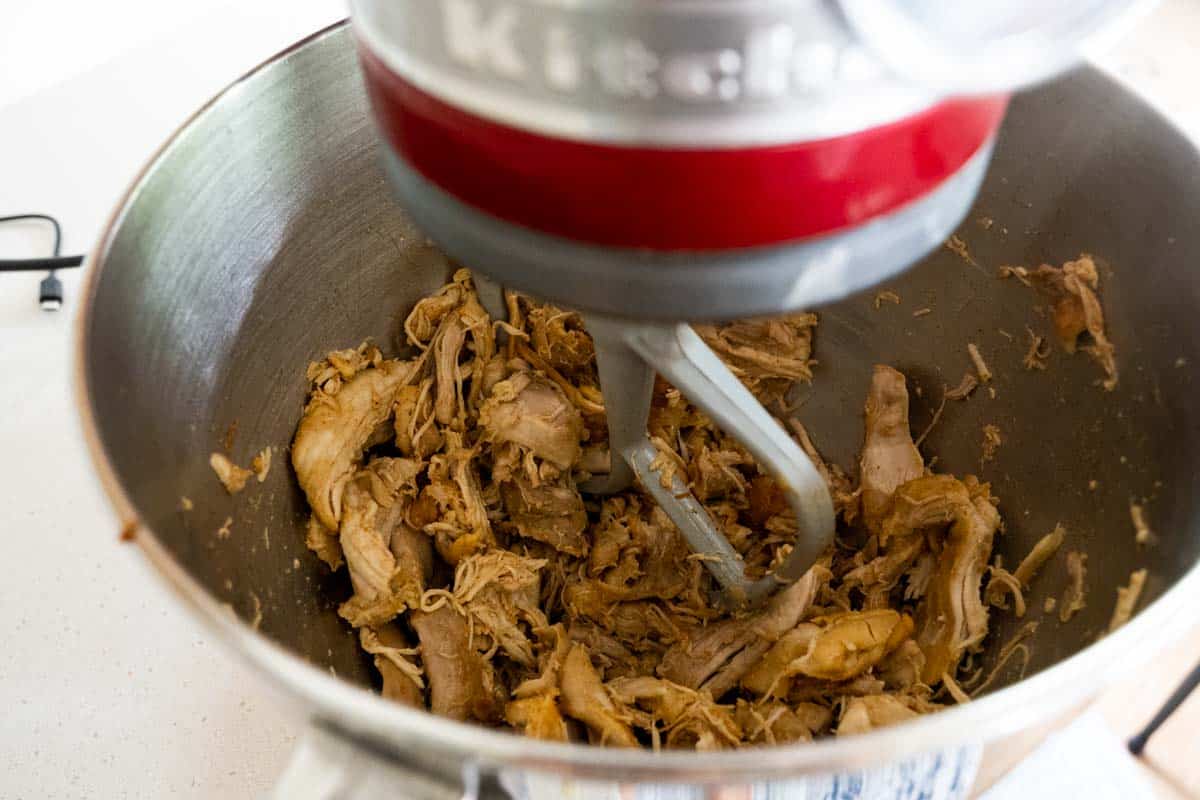 Uses for Dutch Oven Pulled Chicken
This shredded chicken is great for chicken tacos, quesadillas, just plain with some BBQ sauce, sandwiches, pulled chicken BBQ sandwich, Pulled Chicken Nachos, you name it! Add the pulled chicken on your salad or even a baked potato. You can also add the chicken to a simple pasta dish like a Creamy Boursin Pasta or an Easy Rose Sauce.
Frequently Asked Questions
Can I use bone-in chicken thighs with skin for this recipe?
Absolutely. However, keep in mind that you'll have the extra step of taking the chicken off the bone at the end while you shred. It's incredibly flavorful and delicious though.
Can I use chicken breasts?
Chicken breast can absolutely be used for pulled chicken -- but keep in mind it won't be as flavorful without the darker meat and extra fat. It'll need a tad bit longer to cook (more on the 25 minute side).
How long should I cook the chicken in the Dutch oven?
Cook the chicken at a low simmer for approximately 20-25 minutes, or until the meat easily pulls apart with a fork and the internal temperature of the chicken reaches 165˚F. The cooking time may vary slightly depending on the size and type of chicken pieces used. A chicken breast, for example, will take a bit longer.
Can I use a different sauce instead of BBQ sauce?
Absolutely! Feel free to experiment with different sauces, such as teriyaki, buffalo, or honey mustard, to customize the flavor according to your preferences.
Can I freeze the leftover pulled chicken?
Yes, you can freeze the leftover pulled chicken. Store it in an airtight container or freezer bags for up to three months. Thaw in the refrigerator overnight before reheating.
What do I do with the remaining liquid?
Don't throw it away! When you're storing the chicken, store the chicken in an airtight container, adding about ½ cup of the liquid that's remaining in the Dutch oven. This will keep the chicken moist until you're ready to heat it up for the next leftover meal.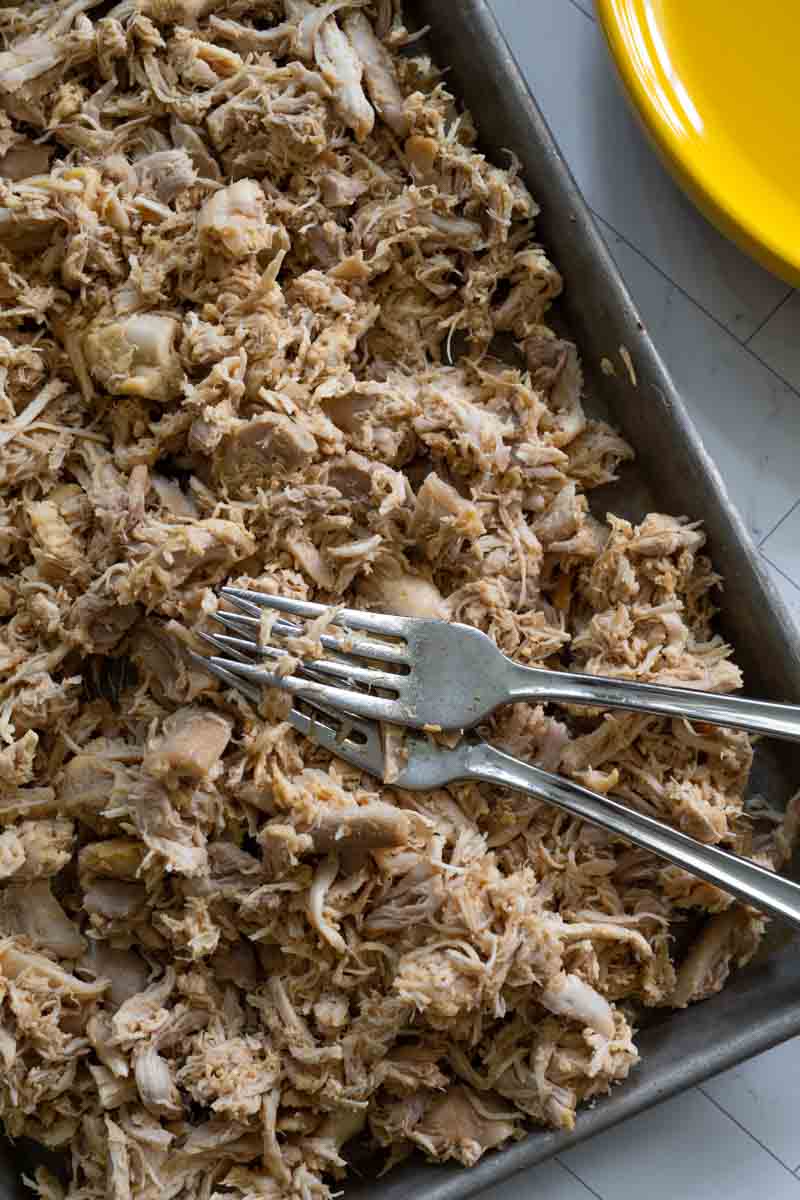 Sides to Go With the Dutch Oven Pulled Chicken
Copycat Chick-Fil-A Cole Slaw - because this is DELICIOUS with some BBQ shredded chicken!
Continue the Southern theme with this Southern Corn Pudding.
Brussels Sprouts on the Stalk would be a beautiful presentation with pulled chicken sliders!
Peach Burrata Salad with Pecans and Balsamic Glaze is just one of my favorite sumemrtime salads ever.
---
Dutch oven pulled chicken is an excellent choice for both its superior cooking capabilities and its ability to feed a crowd anytime of year. Whether it's a backyard BBQ or a potluck gathering, Dutch oven pulled chicken will leave your guests impressed and hungry for more.
Happy summering/simmering!
xox,
kathryn
---
As always, if you make anything from the blog, be sure to let me know! I love hearing from you in the comments on this post below or find Worn Slap Out on Facebook, Instagram, or Pinterest!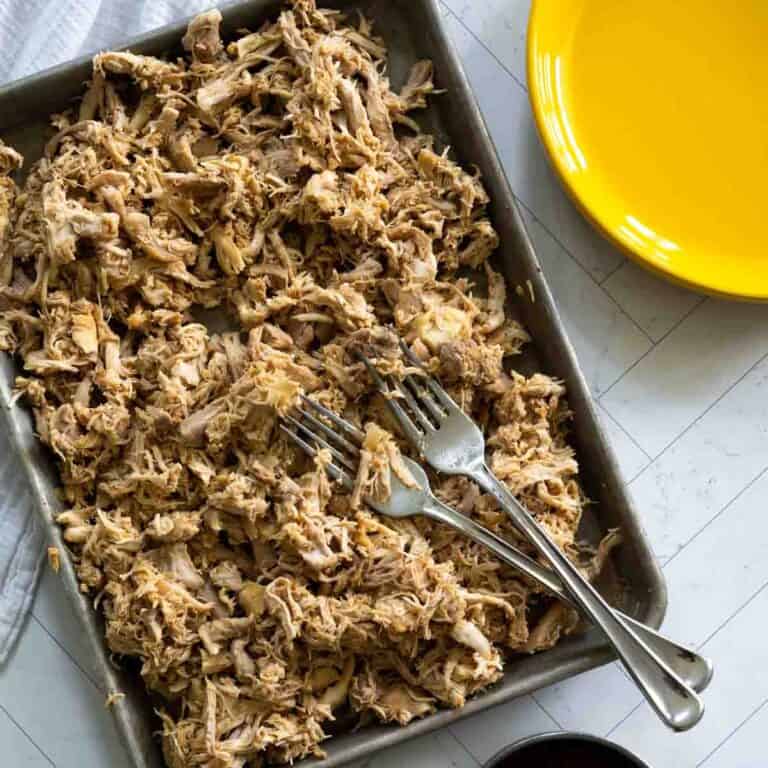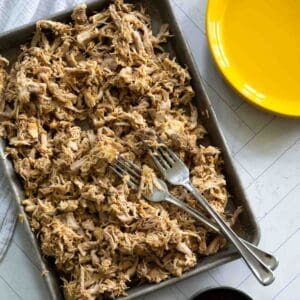 Dutch Oven Pulled Chicken
Unlock the juicy flavor with this Dutch Oven Pulled Chicken, which can go with so many meals and is sure to be a crowd pleaser!
Print
Pin
Rate
Ingredients
2

Tablespoons

olive oil

3

lbs

boneless, skinless chicken thighs

1

teaspoon

salt

1

teaspoon

paprika

regular or smoked

1

teaspoon

garlic powder

¼

teaspoon

black pepper

1

large onion

diced

2

cups

chicken stock
Instructions
Place the chicken thighs on a plate and pat dry with a paper towel. Combine the salt, paprika, and garlic powder in a small bowl. Coat the chicken generously with the spices, getting all sides of the chicken.

Heat the olive oil in a Dutch oven over medium heat. The pan will be ready when a bit of water dropped in the pan starts to sizzle. Add half of the chicken (you'll want to do this in two batches so the chicken will sear and not steam), cooking each side of the chicken for about 2-3 minutes. Flip and cook for another 2-3 minutes. Both sides should be golden brown. Transfer chicken back to the plate and sear the second batch of chicken the same way.

With the chicken out of the Dutch oven, add the onions to the pot and cook for 3-4 minutes until the onions become translucent. Deglaze the pan with chicken stock, scrapping up the bits of brown from the chicken.

Bring to a boil before turning the heat to low and adding the chicken to the pot. Cover and simmer for 20-25 minutes until the chicken is fully cooked (internal temperature of 165˚F)

Transfer the chicken to a platter and shred with two forks or place chicken in a stand mixer and mix on low speed until shredded (about 30 seconds). Toss with barbecue sauce and enjoy!
Notes
Storing Leftovers: Store leftovers in an airtight container in the refrigerator, adding about ½ cup of the remaining liquid to keep the chicken moist until you're ready to reheat. Chicken will last in the refrigerator for 3-4 days. 
Reheating: Reheat the chicken over the stove (keeping some of the liquid) or in the microwave in 30 second increments until heated through. 
Freezing: Freeze chicken in a freezer-safe bag once the chicken is completely cool. Freeze for up to 3 months. 
Nutrition
Calories:
232
kcal
|
Carbohydrates:
4
g
|
Protein:
35
g
|
Fat:
8
g
|
Saturated Fat:
2
g
|
Polyunsaturated Fat:
2
g
|
Monounsaturated Fat:
3
g
|
Trans Fat:
0.03
g
|
Cholesterol:
163
mg
|
Sodium:
529
mg
|
Potassium:
511
mg
|
Fiber:
0.4
g
|
Sugar:
2
g
|
Vitamin A:
166
IU
|
Vitamin C:
1
mg
|
Calcium:
22
mg
|
Iron:
2
mg