With a phyllo dough base, salty gruyere with caramelized onions, and tender asparagus, this Asparagus and Onion Tart will hit just right.
Spring has sprung, y'all, and I am so excited that slowly...very slowly the cold is leaving us and will soon replaced by warm, sunny skies.   And FLOWERS!  I almost forgot what colorful flowers look like!  Maybe I have SAD, but I was literally going to combust from the winter blues if signs of spring didn't start popping up.  Our magnolia tree in our backyard just started to bloom this week (hallelujah!), and it's officially asparagus season!  It's the pencil-thin asparagus that's in season, not the greenhouse ginormous variety that are an inch thick and require a hacksaw to cut.   No, these suckers are delicious.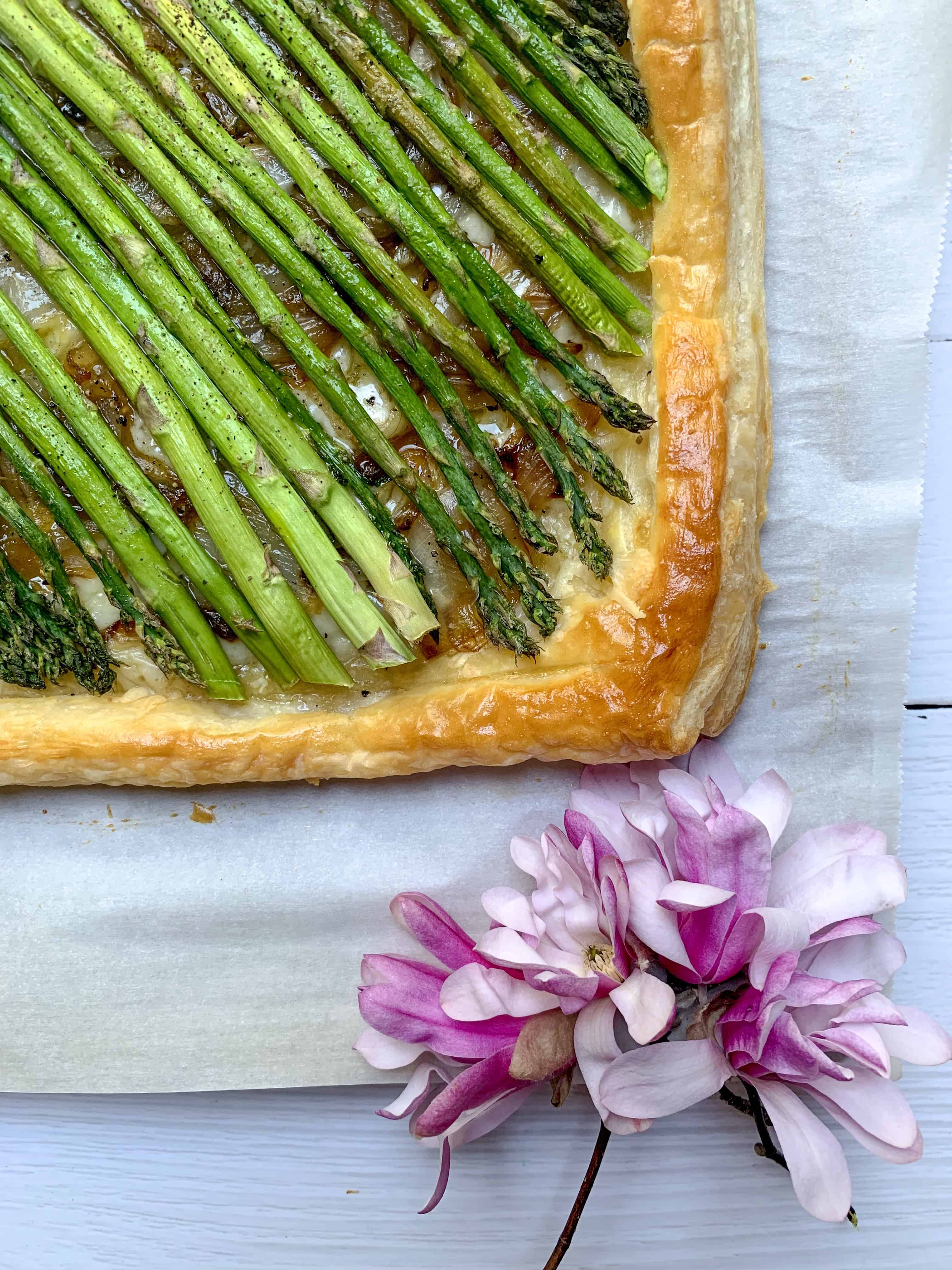 And can we talk about how easy puff pastry is? I try to keep a sheet of puff pastry in my freezer so I can make something random with what's in our fridge. Mushroom and goat cheese? Yes, please. Fresh berries and chocolate? Yep. Spinach, egg, and gouda? Give it to me now!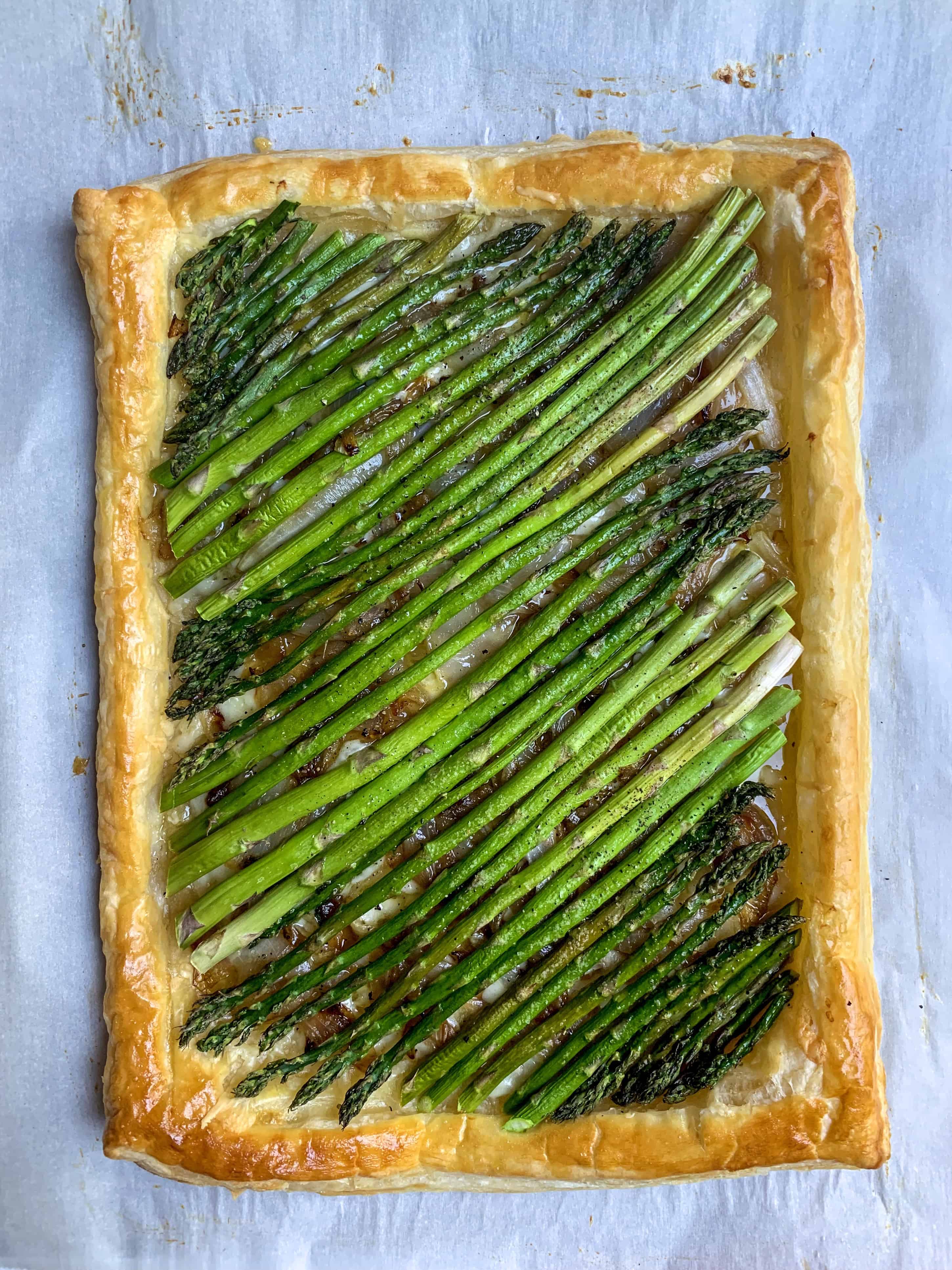 Not only is puff pastry so perfectly flaky and buttery, but it's so incredibly easy to make.  Well, the puff pastry is literally already made.  You just need to score it and add some stuff on top.  Then it bakes and comes out beautifully with little effort and no skill required.
How to Make an Asparagus Onion Tart that Hits
Step 1: Put your onions on right away. 
If you have time, caramelize them by sauteing on low heat for about 45 minutes.  I don't have time for that during the week, so I just saute them on medium-high for 8-10 minutes.  Either way, they'll be delicious.  Carmelizing creates optimal flavor but who has time for that.  Kids, y'all.
Step 2: Prepare your pastry.
Roll out pastry and score it by running your knife around the inside perimeter of the pastry.  You'll want to leave a ¾" perimeter, and be careful to not cut through the pastry.  This is how the puff pastry makes a nice, puffy and flaky crust on the outside.  Then you'll want to score the inside with tiny little marks all over.  This minimizes the puffiness on the inside.
Step 3: Brush your pastry with a beaten egg. 
And the remainder of the egg wash?  I scramble the egg in the same pan as I cooked the onions, add some leftover gruyere, put the eggs on a plate with some plastic wrap over it, and call it a fast breakfast before work the next morning.  Use your resources.
Step 4: Pre-bake your puff pastry for about 8 minutes. Let cool.
Step 5: Add the toppings
Add your gruyere cheese (keeping all ingredients inside your scored perimeter), then your onions, then your asparagus.  Don't feel like you have to be neurotic like me.  You can just lay the asparagus vertically and call it a day.  That's what normal people would do.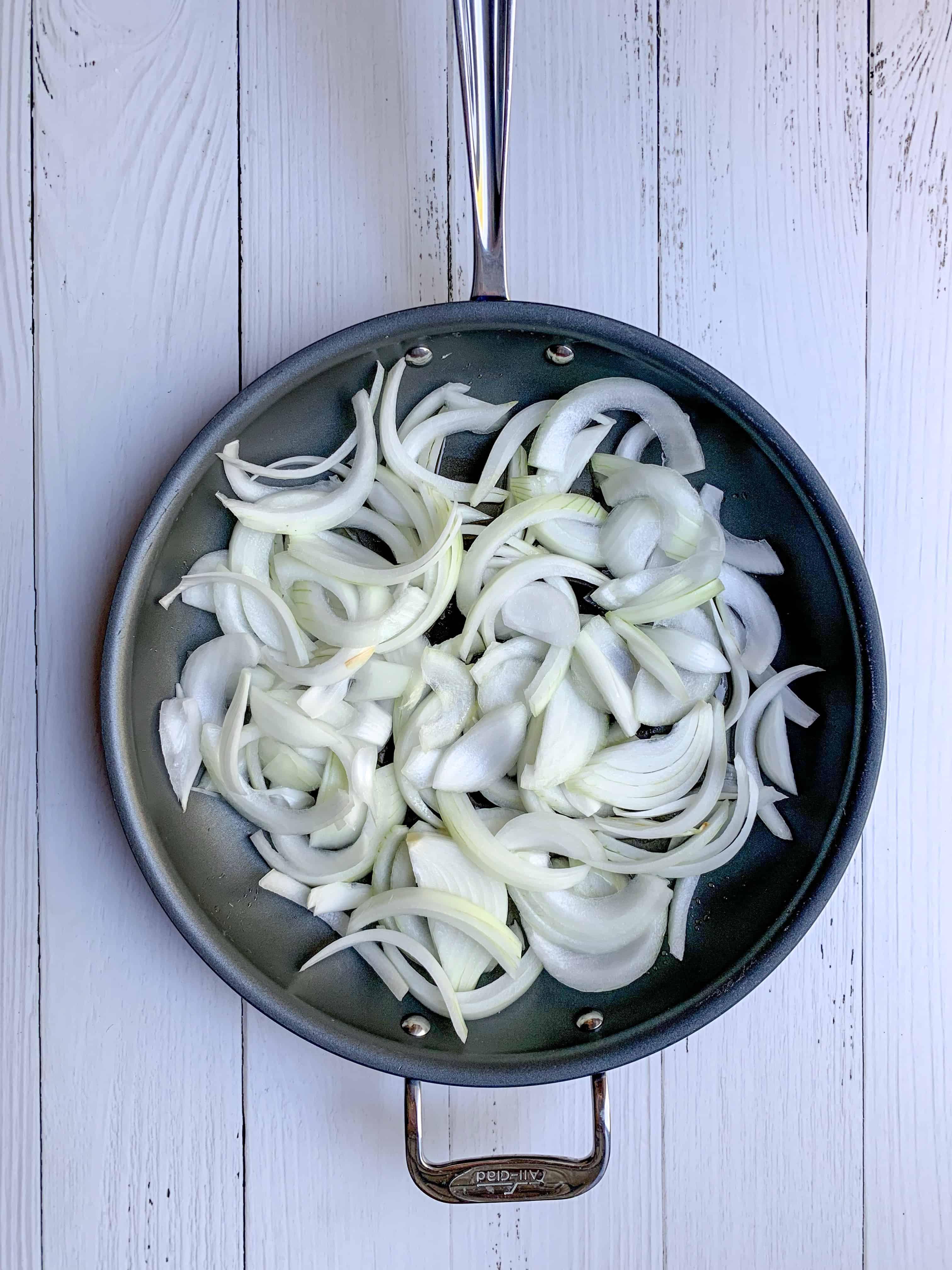 This is what it looks like right before you put it into the oven for the second time. I totally had to cheat and not cut some of the tips off the longest asparagus so I could make the diagonal lines work. Afterward, John was like, "That was the most amazing thing I've eaten in a long time. If I could give one suggestion though? Maybe cut the tips off the asparagus?" Oops. I probably should have told him I had to sacrifice his enjoyment for the art of the tart.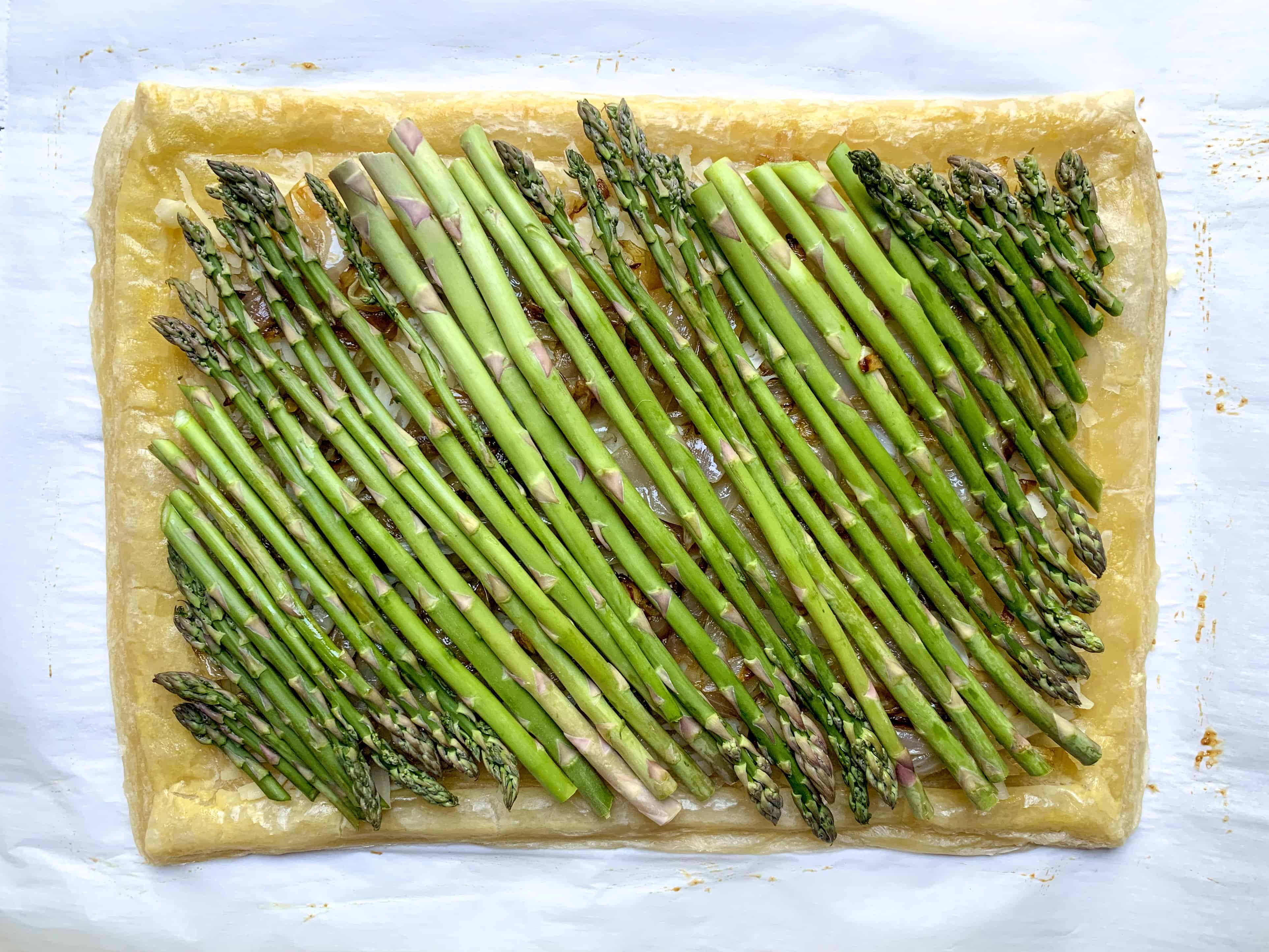 Flowers blooming and asparagus make me happy.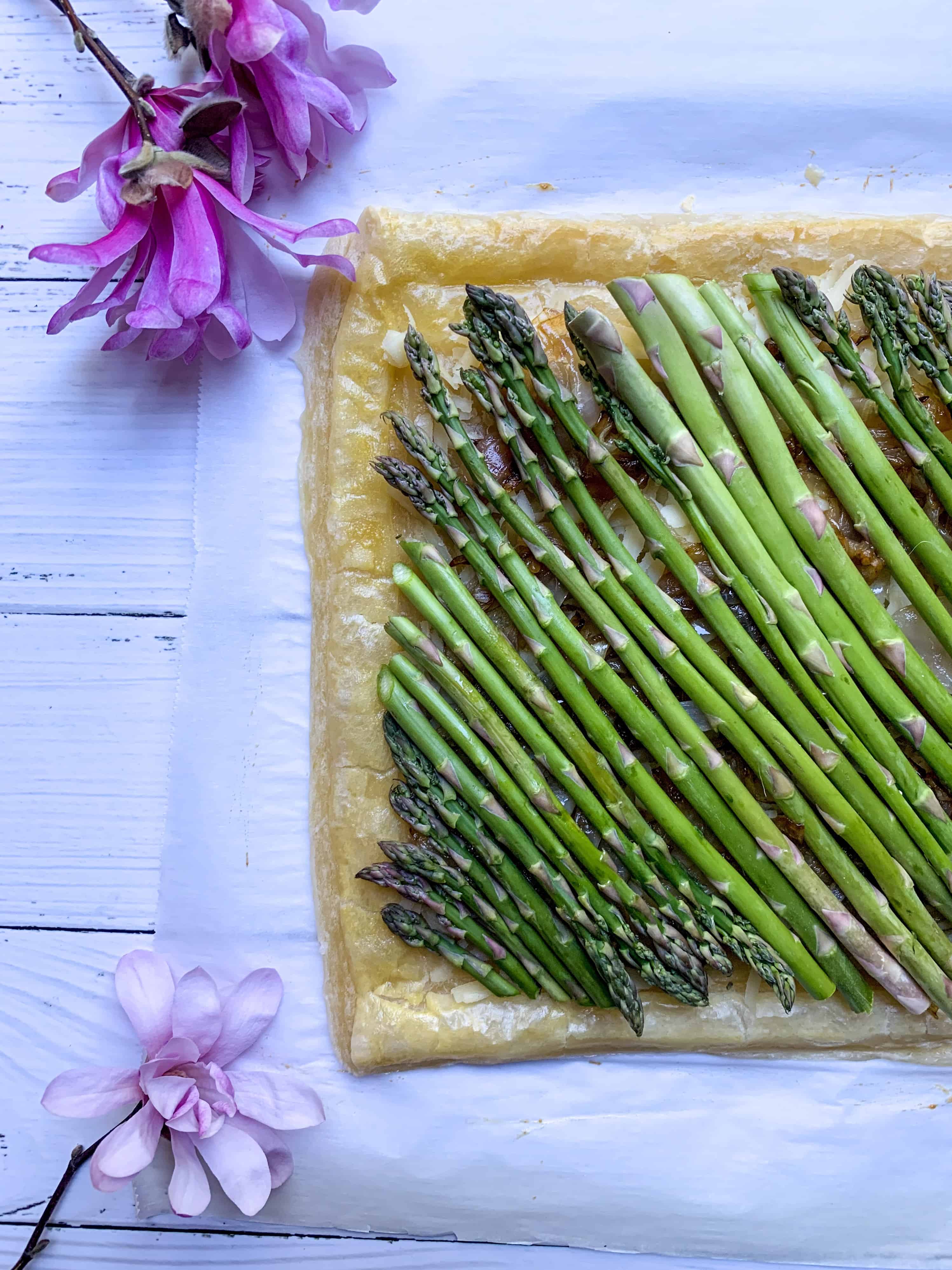 I like to finish the tart by squeezing a half of a lemon on top of the asparagus. Feel free to add some jammy eggs to finish the deal, too. I don't know if you've seen my Instagram, but I love an asparagus salad with jammy eggs, prosciutto, topped with a dijon and shallot champagne vinaigrette. That's a great way to eat asparagus, too.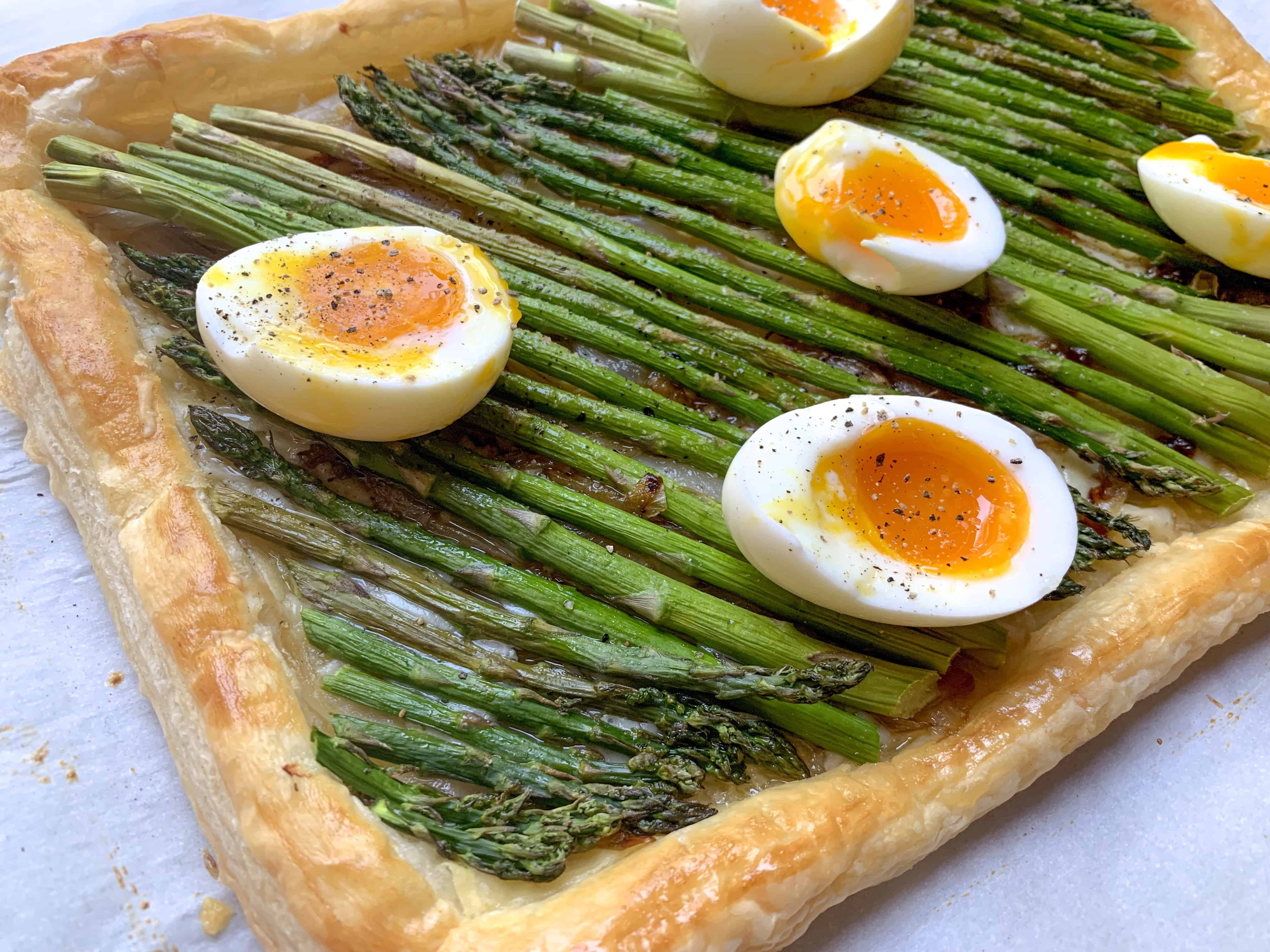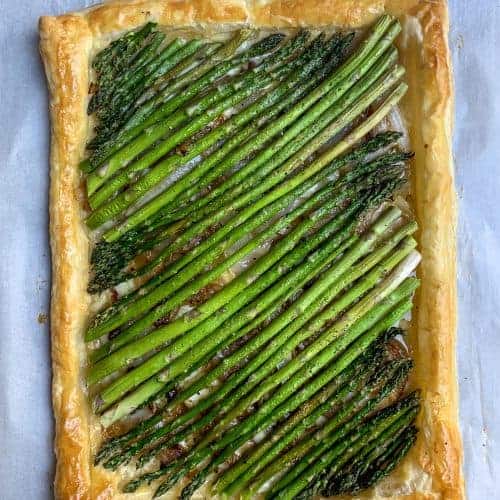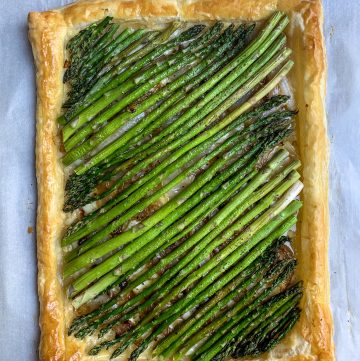 Asparagus and Onion Tart
With a phyllo dough base, salty gruyere with caramelized onions, and tender asparagus, this Asparagus and Onion Tart will hit just right.
Print
Pin
Rate
Ingredients
3

tablespoons

olive oil

divided

1

large onion

sliced

1

egg

lightly beaten

1

cup

gruyere cheese

shredded

frozen puff pastry sheet

thawed

1

pound

asparagus spears

ends cut off

¼

teaspoon

salt

⅛

teaspoon

pepper

juice from half a lemon
Instructions
Preheat your oven to 400 degrees Fahrenheit.

In a large pan, saute your onions with 2 tablespoons of olive oil.  If you're in a hurry, turn the heat up to medium-high and saute for 8-10 minutes.  If you have awhile, saute them on low heat for about 45 minutes until they're caramelized.  Set them aside to cool.

Roll out your thawed puff pastry with a rolling pin on a parchment-lined baking sheet (or don't roll if you don't mind the crease).  Score your puff pastry on the outside edges of your rectangle to leave a ¾" frame that will get nice and puffy.  Be careful to not cut through the pastry.  Make little scores in the middle of the puff pastry so pasty doesn't puff up in the middle as much.

Using a pastry brush or your hands, lightly brush puff pastry with beaten egg.  Bake for about 8 minutes.

By this time your onions should be done and cooling.  Let puff pastry and onions cool a little bit more.  They don't need to be fully cooled...just enough to not melt your cheese immediately.

Brush asparagus spears with remainder of olive oil.  Salt and pepper spears.

Line the inside of the puff pastry (avoiding the outside crust) with shredded cheese then onion.  Lay asparagus horizontally, certically, or diagonally as your heart desires.  Bake for another 15-18 minutes or until puff pastry is flaky and golden brown.

Squeeze half of a lemon all over asparagus when it come out of the oven.  Serve immediately.
Nutrition
Serving:
1
slice
|
Calories:
139
kcal
|
Carbohydrates:
4
g
|
Protein:
7
g
|
Fat:
11
g
|
Saturated Fat:
4
g
|
Polyunsaturated Fat:
1
g
|
Monounsaturated Fat:
6
g
|
Trans Fat:
0.003
g
|
Cholesterol:
39
mg
|
Sodium:
200
mg
|
Potassium:
156
mg
|
Fiber:
1
g
|
Sugar:
2
g
|
Vitamin A:
615
IU
|
Vitamin C:
4
mg
|
Calcium:
187
mg
|
Iron:
1
mg
This isn't something you want to make in advance. You can certainly assemble in advance and then bake right before you're ready to eat though.
Enjoy!
xox