It's quiet in my house. The husband is still in bed...and so are my kids and it's FREAKING ME OUT. It's also Easter...so instead of lying in bed staring at the ceiling like I usually do if I wake up before my kids, I'm busy baking things for the Easter gathering we're having at Auntie Anne's house. I've got chocolate babka, meringue bites, and chocolate chip and Cadbury egg cookies to bake. Thank God I did the prep on Friday and Saturday so this is the easy part of baking everything. I must say though, as someone who isn't an early riser, I've been waking up earlier and earlier before the kids. Maybe I should give this whole "get out of bed" thing a try. It's quite peaceful and calming to be in a quiet house with no distractions. Why is it so hard to just get out of bed though?!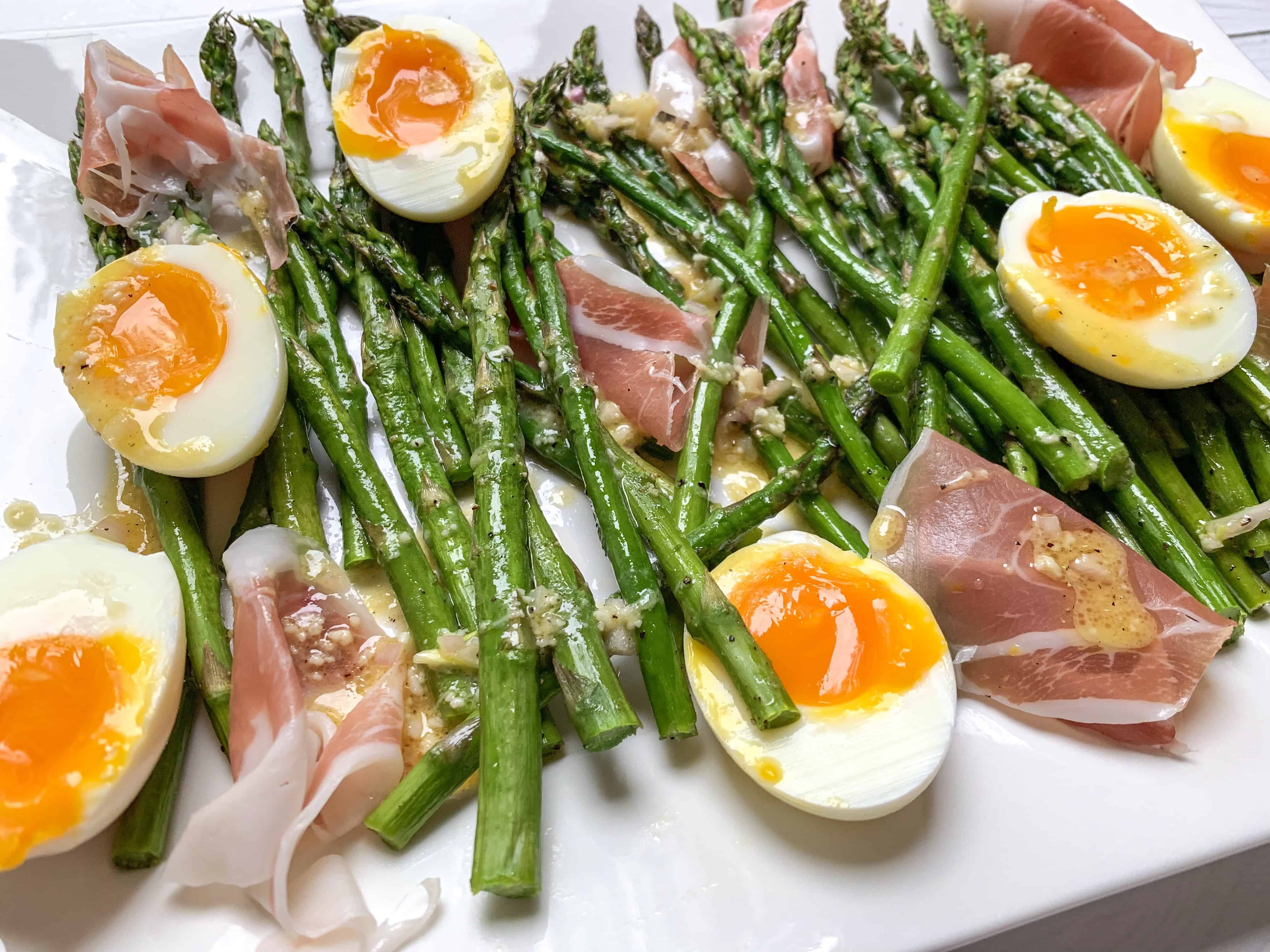 This is the recipe for the vinaigrette and jammy eggs y'all have been asking about, and I've been so slow about it.  I'm so sorry!  It's been a hell of a couple of days since getting back from vacation, but I'm back and sharing one of our favorite ways to have asparagus in the spring.  I love fresh, spring asparagus!  If you do, too, you should also check our this asparagus and onion tart.  It's heavenly (and so easy!), too.
There's something about the crunch of the asparagus, the saltiness of the prosciutto, the creaminess of the jammy eggs, and the tang of the Dijon vinaigrette that goes so well together.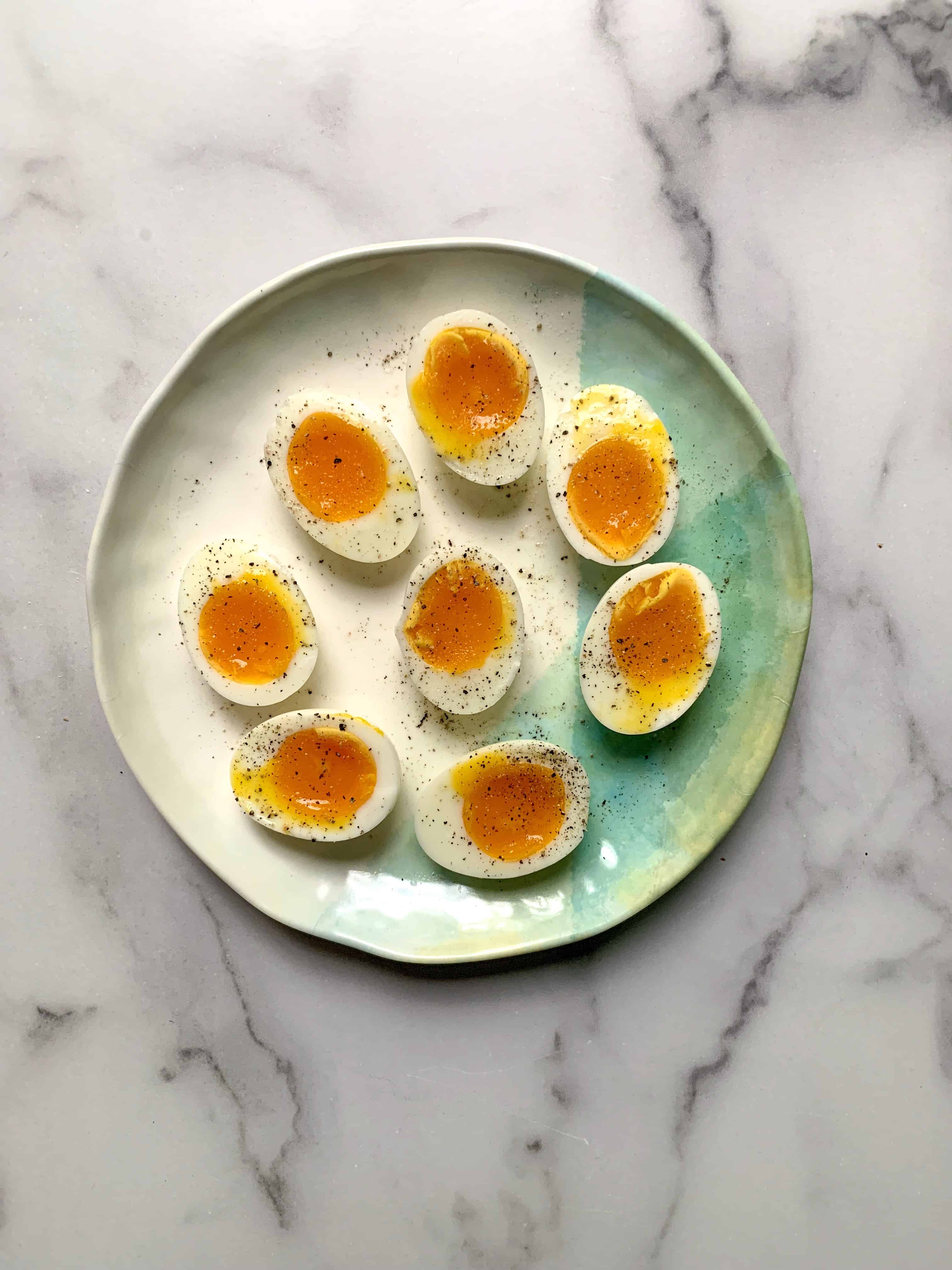 A couple of notes about this:
I buy prosciutto from Whole Foods -- the Cremenelli brand.  Or you could get prosciutto from the deli counter, but it only lasts a couple of days, so the pre-packaged stuff is best for us.  All prosciutto is not created equal.  Some of the pre-packaged stuff can be chocked full of preservatives, giving it a really slimy texture.  Prosciutto shouldn't be slimy.  If yours is, definitely consider upgrading.  You won't regret it.
Jammy eggs are so versatile and delicious.  They can be put on some avocado toast for breakfast, can be put in a salad, used in ramen, or in this asparagus side dish, of course.  Simply lower your eggs in a pot of already-boiled water with a large spoon and set the timer for exactly 6.5 minutes.  That's exactly 6 minutes and 30 seconds.  Not 6 minutes.  Not 7 minutes.  6 ½ minutes.  Then dunk eggs in an ice bath for a minute or two right after the timer goes off.  Peel by first cracking the bottom of the egg gently on a hard surface, then rinse with water to get all the shell remnants off and slice with a sharp knife.
Use good quality eggs.  It's absolutely amazing the difference eggs can be in quality, and I had no idea until this year when John purchased Vital Farms eggs from Whole Paycheck by accident.  It was love at first taste.  The yolk is a more vibrant orange, and they taste so much fresher and creamier.  Isn't it amazing how good food can taste when we don't mess with plants or animals and let them just do their thang?  The picture below is using Vital Farms eggs.  The picture all the way at the bottom is from using Land O'Lakes eggs (the highest quality our local Giant sells).  You'll pay a premium for Vital Farms eggs, so I don't use them with everything, but when egg is the star of the show, you'll want to use your top quality variety.
Hope y'all have a very Happy Easter to all those who celebrate!
---
Active Time: 5 minutes
Total Time: 20 minutes
Yield: 4-6 servings
Ingredients:
1 bundle of asparagus, ends trimmed
pinch of salt and pepper
2 teaspoon olive oil
3-4 good quality eggs
1 package of prosciutto or 5-7 slices fresh from deli
For vinaigrette:
1 tablespoon Dijon mustard
2 tablespoon white wine vinegar
1 tablespoon shallots, sliced thin or minced
2 teaspoon honey
2 tablespoon olive oil
salt and pepper to taste
Directions:
Preheat oven to 425 degrees Fahrenheit. Line a baking tray with parchment paper or aluminum foil.
Place trimmed asparagus on baking sheet with olive oil and a little bit pinch of salt and pepper. Place in oven for 5-15 minutes (this will totally depend on the thickness of your asparagus).
Meanwhile, place eggs gently in already-boiling water. Set timer for 6 ½ minutes. When timer goes off, use spoon to take eggs out of hot water and into ice bath for 1-2 minutes. Peel eggs and cut into halves, quarters, or eighths.
Stir Dijon mustard, shallots, honey, salt, pepper, and white wine vinegar in a small bowl. Slowly pour olive oil into mixture while whisking quickly until emulsified.
Add jammy eggs and prosciutto to the done asparagus and drizzle with honey mustard vinaigrette.
Enjoy hot or at room temperature!
xox