Roasted Brussels Sprouts on Stalk makes an impressive but simple side dish for any gathering, and it's perfectly paired with a smoky aioli packed with garlic and paprika
The kids were blown away a few weeks ago when I came home with Brussels sprouts on the stalk. They didn't know what the heck it was despite them eating Brussels sprouts nearly every week for their entire lives. It's almost like when they realized thier steaks come from the cows they see in the pasture. Yes, this is where Brussels sprouts come from. They don't come from green plastic netting that we buy them in at the grocery store.
These Brussels Sprouts are roasted to crispy but tender perfection and can be served directly on the stalk or cut off after they come out of the oven. Then, dip the Brussels in a smoky aioli that's packed with a punch of garlic and paprika.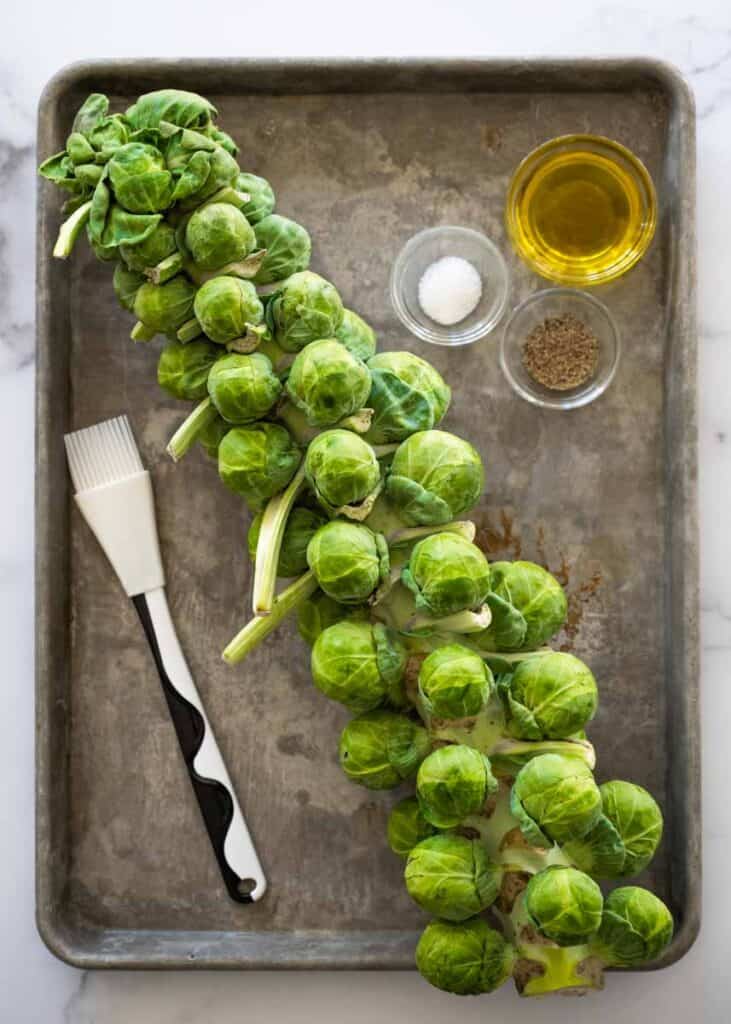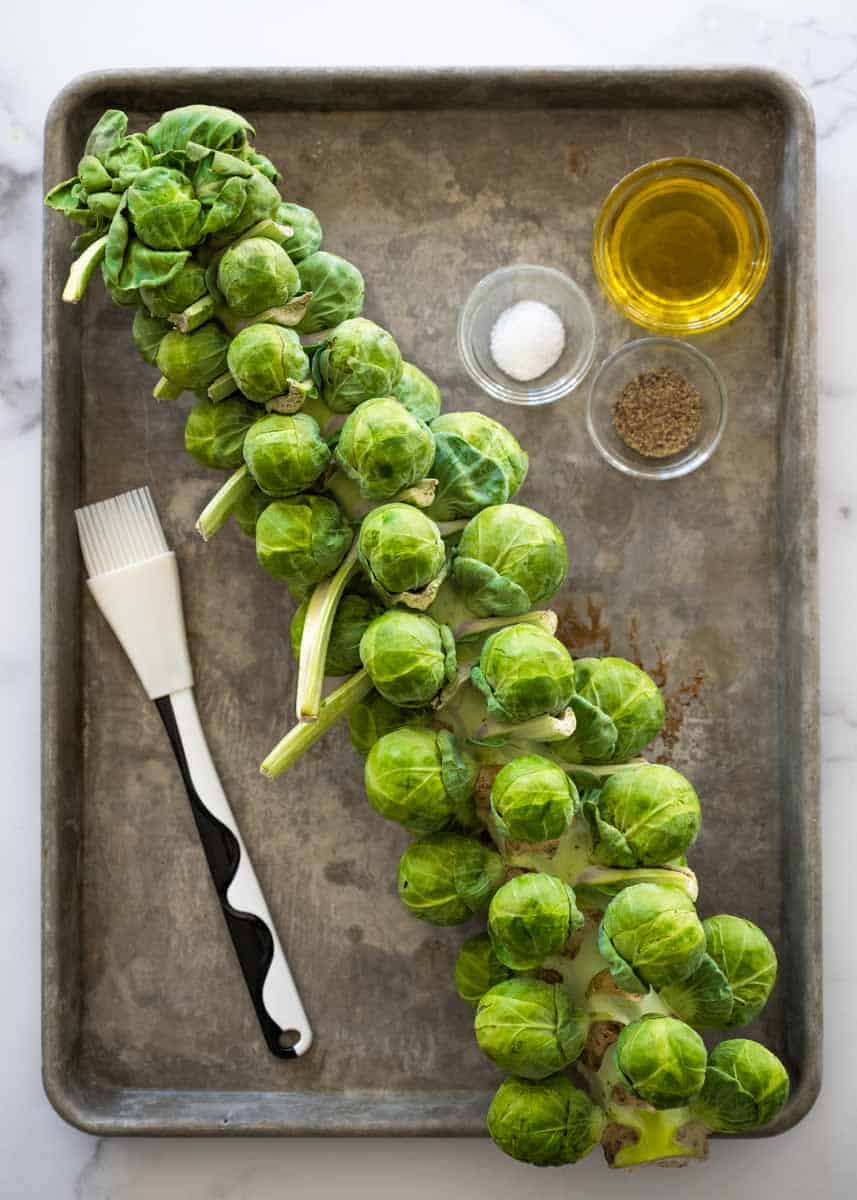 Why Make Brussels Sprouts on the Stalk?
It's an impressive presentation -- with the long, strong stalk that has these little knobs all over it (aka the sprouts). The Brussels sprouts stalk is quite the conversation starter and fun to get people to pick at something that's healthy (hint, hint, family!).
Also, Brussels sprouts on the stalk requires no cutting. You can stick the whole thing in the oven with olive oil, salt, and pepper, and never cut and trim the sprouts. I'm all about anything that doesn't require me to cut.
It's also usually cheaper than buying already cut Brussels sprouts. There are a ton of sprouts on the stalk. One stalk will easily feed 6 folks.
Where Can I Buy Brussels Sprouts on the Stalk?
Whole Foods or Trader Joe's carry Brussels sprouts on the stalk. I got the one pictured at Trader Joe's for only $5, which is almost half as much as a I pay for organic Brussels sprouts normally. I usually see the Brussels sprouts on the stalk during the holidays -- especially before Thanksgiving or Christmas. This is when most people are desirous of a pretty presentation.
Brussels sprouts have a long season, lasting late August through March, so it's not unusual for you to see them outside of the holiday window, too.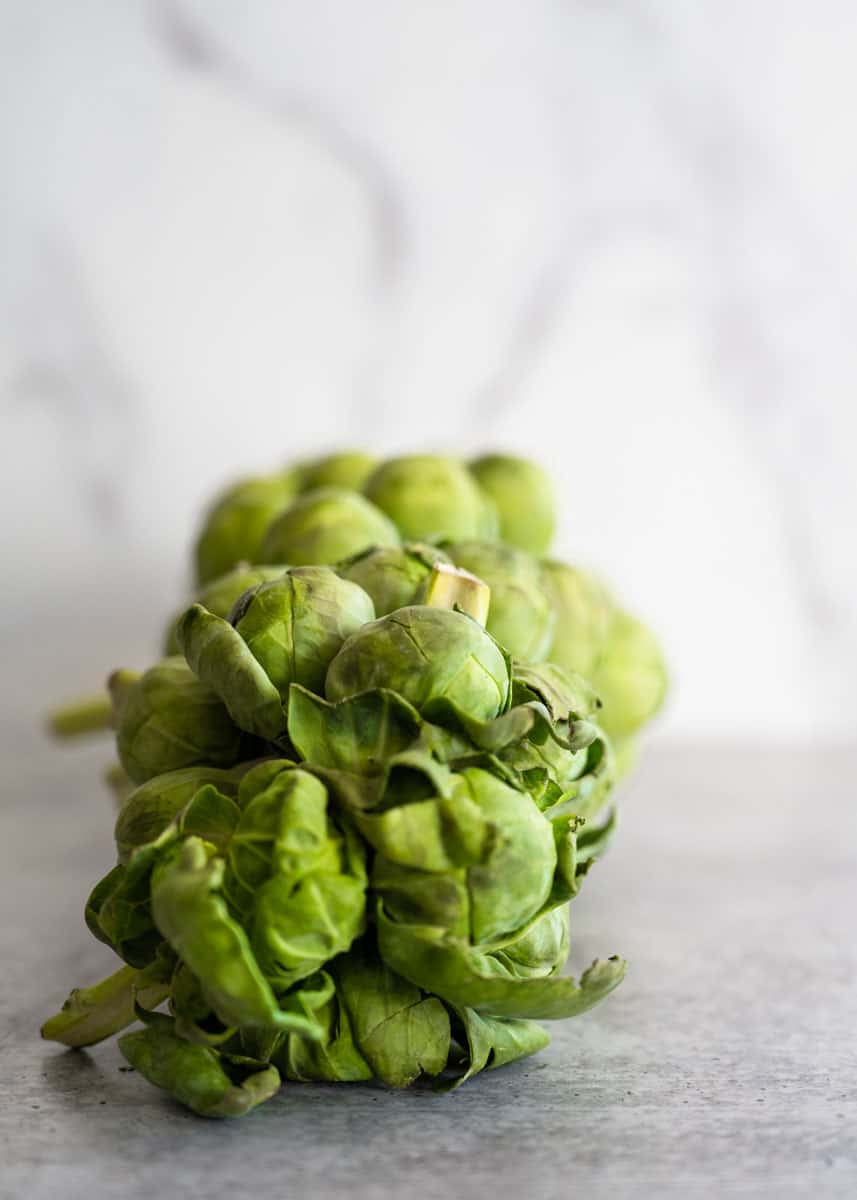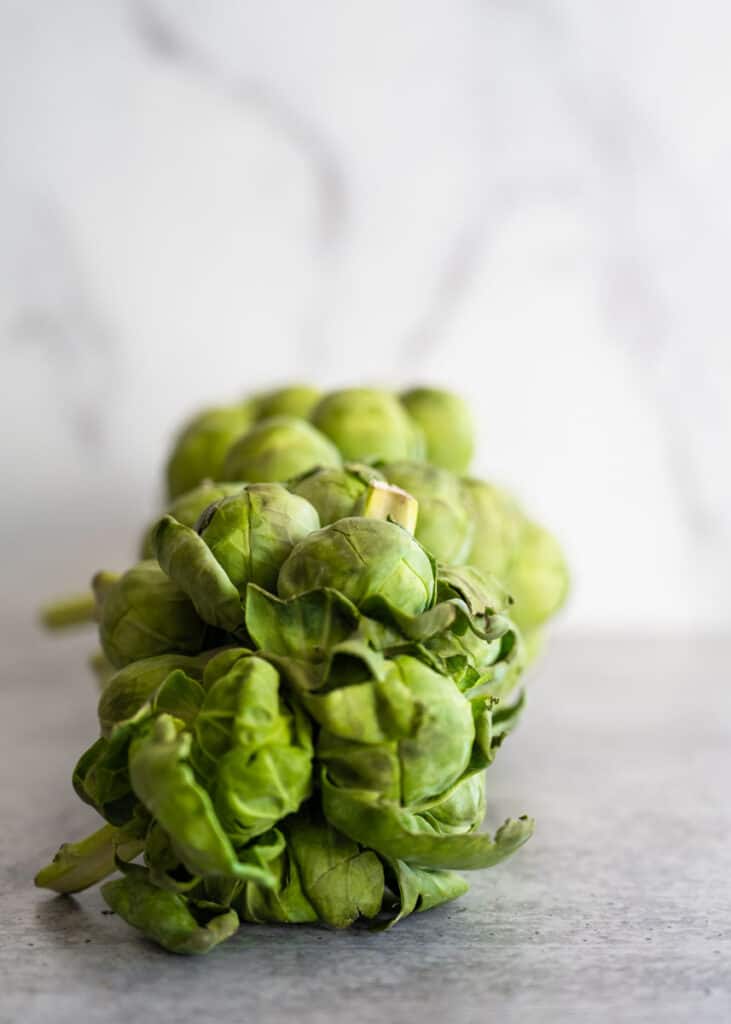 How to Cook Roasted Brussels Sprouts on the Stalk
First, wash and dry the whole stalk really well. If you keep excess moisture on the Brussels sprouts, it will steam in the oven rather than roast. This is an important step you don't want to skip over!
Second, place the Brussels sprouts on the stalk on a big, rimmed baking tray. Rub the stalk with olive oil, getting all of the little nooks and crannies of the stalk.
Finally, roast in the oven at 425ˆF for about 20 minutes, turning halfway through to ensure there's an even roast on all sides of the stalk.
Remove from oven and let cool for just a couple of minutes before enjoying with the smoky aioli.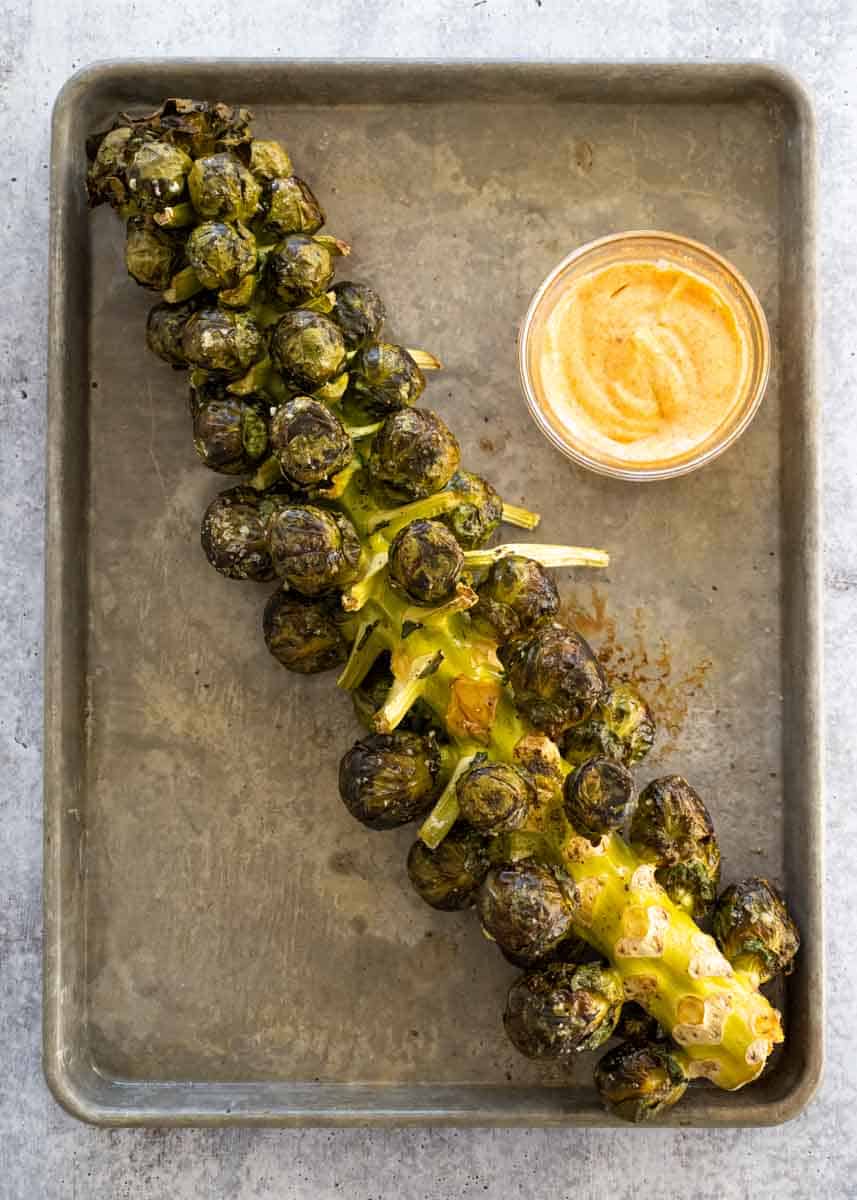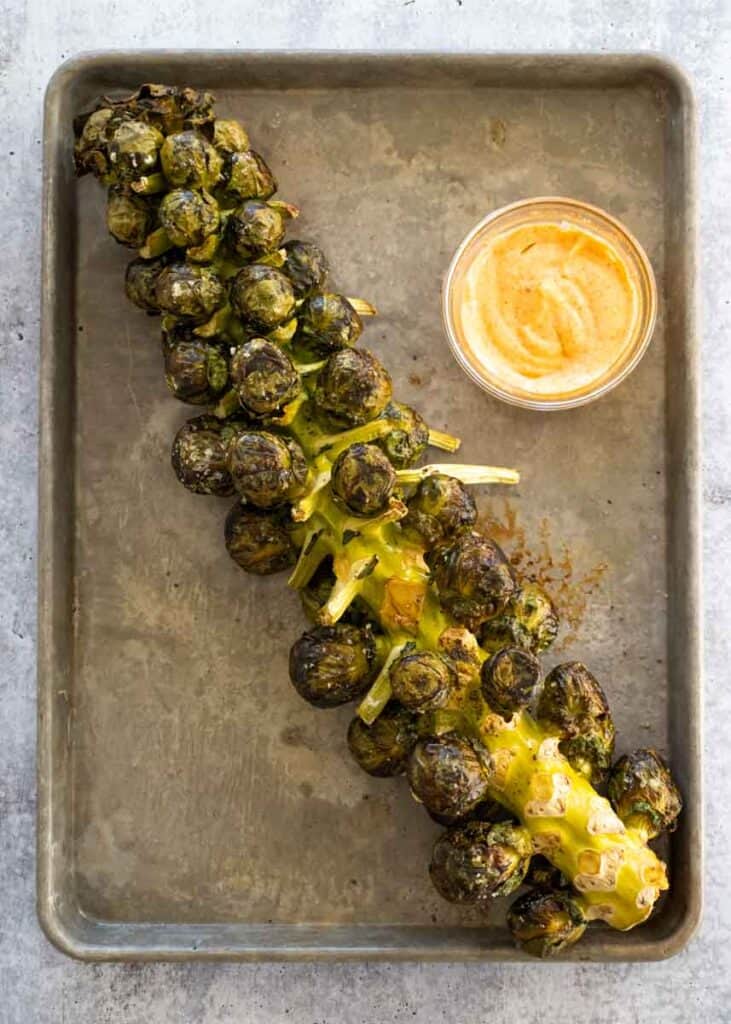 Crispy or Tender Brussels, Your Call
We like our Brussels sprouts c-r-i-s-p-y. That means they aren't the prettiest things to look at when they come out of the oven because the outer layer is pretty toasty. If you'd prefer the Brussel sprouts be more tender, even on the outside, roast at a lower heat (375˚F) for about 18-20 minutes. You'll get greener Brussels sprouts at this temperature rather than the crispy brown exterior as shown.
Make them how you like them...and if you're not sure, experiment with both ways!
How to Make a Smoky Aioli - The Best Dipping Sauce for Brussels Sprouts
This dipping sauce for Brussels sprouts is enough flavor to be interesting and add some spice as you're eating the vegetable but not something that takes long to make. In fact, the smoky aioli is made in under 2 minutes. Brussels sprouts really lend themselves to aiolis because of how sturdy they are. They can stand up to a thicker dipping sauce, and this smoky aioli is the perfect pairing.
All you need is mayonnaise, sherry vinegar, smoked paprika (plenty of this!), and garlic powder. Stir these four ingredients together in a bowl to have people dipping right away.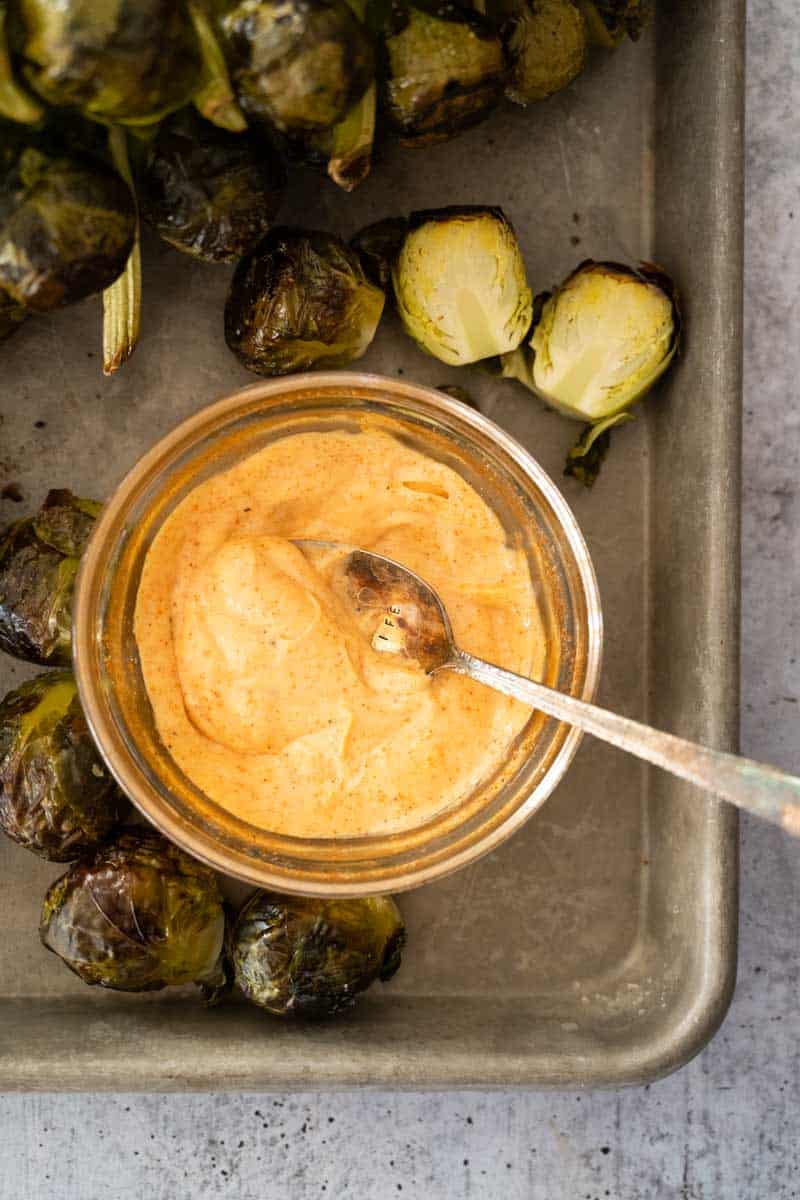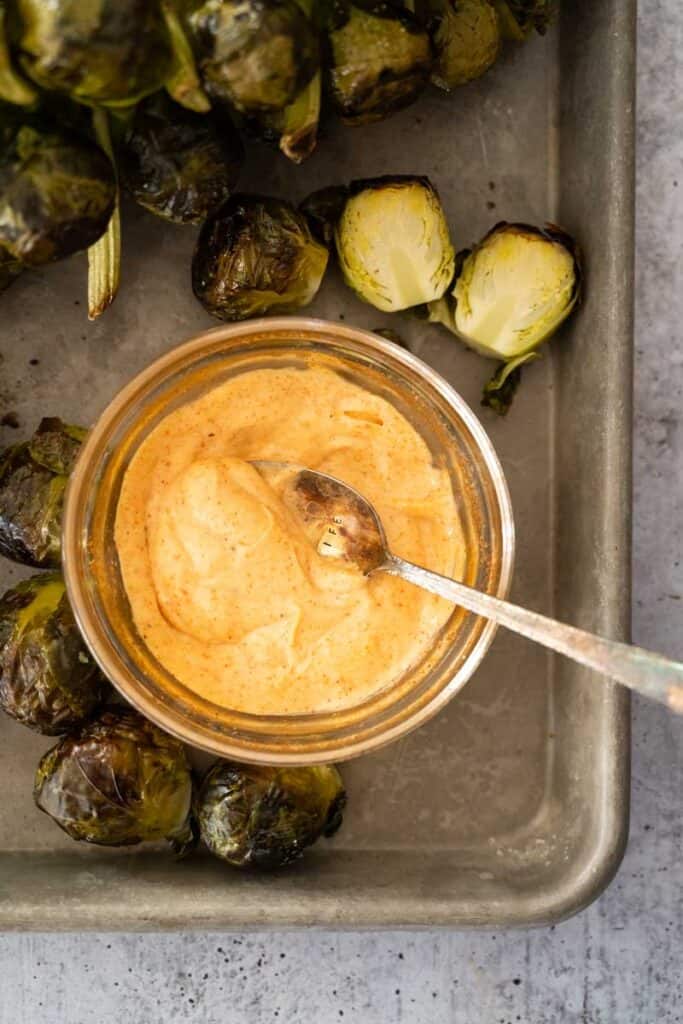 Frequently Asked Questions
How long do cooked Brussels sprouts last?
Uncooked, fresh Brussels sprouts last around 4-5 days in the refrigerator.
Cooked Brussels sprouts can last 2 days in the refrigerator but be forewarned -- they lose their crispiness. The longer they sit in the refrigerator, the mushier they get. I highly recommend cooking them fresh when you're ready to eat them.
What if my stalk doesn't fit in the oven?
If your Brussels sprouts stalk doesn't fit on your baking tray, cut the stalk in half and place both halves on the baking tray.
Can you eat Brussels sprouts stalk?
Yes, technically you can but you'd have to roast it for quite some time for it to be palatable. Roast for at least another 20 minutes and stab the stalk with a knife to see if stalk is tender. I've never tried the stalk, and I'm not sure how I would even serve it. It's always just gone right in the trash (or better yet, compost).
Can you eat Brussels sprouts raw?
Yes, you can eat Brussels sprouts raw. They are in the cruciferous family with other cabbages, broccoli, and collard greens, so they are not the easiest for your stomach to digest.
What can I serve with Brussels sprouts stalk?
The options are endless. I'd go with a Juicy Bacon-Wrapped Pork Chop, Perfect Pan-Seared Filet Mignon, or let people pick at this Versatile Dutch Oven Pulled Pork. I also adore Ina Garten's Perfect Roast Chicken recipe as well.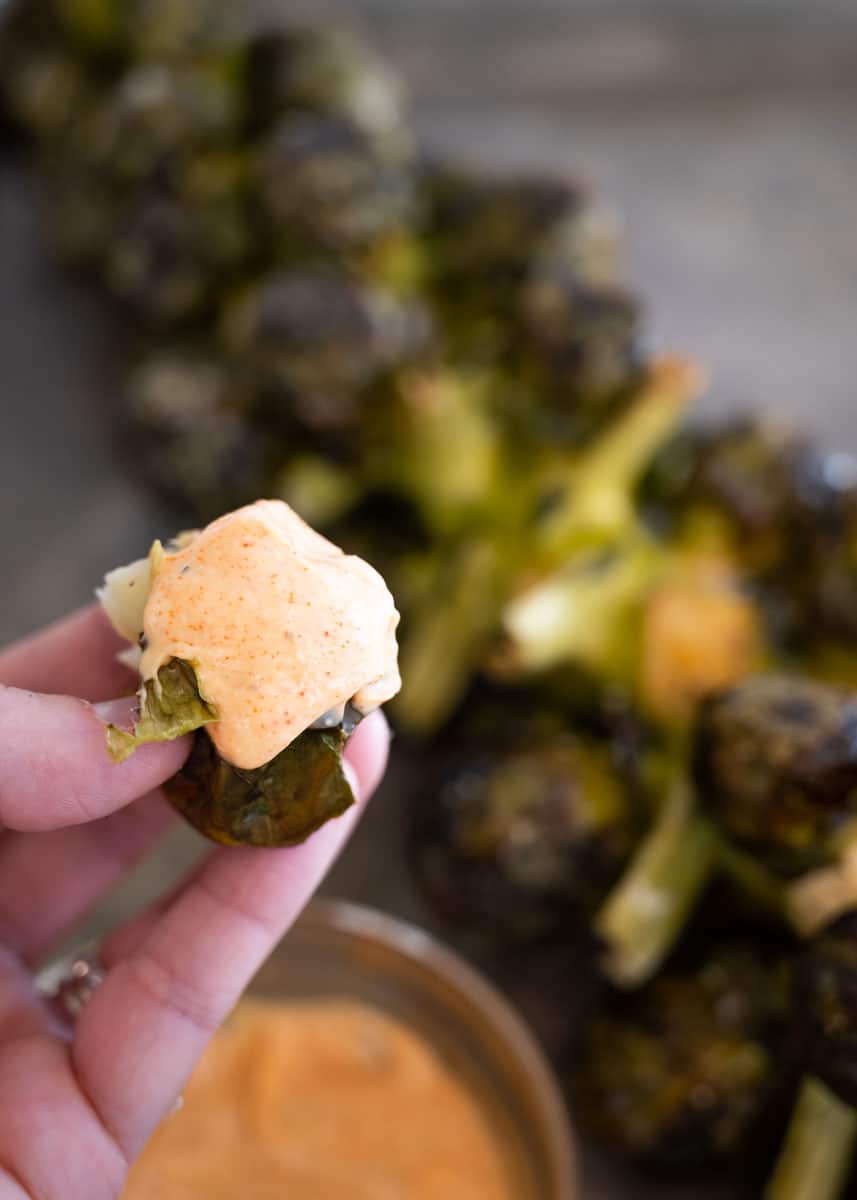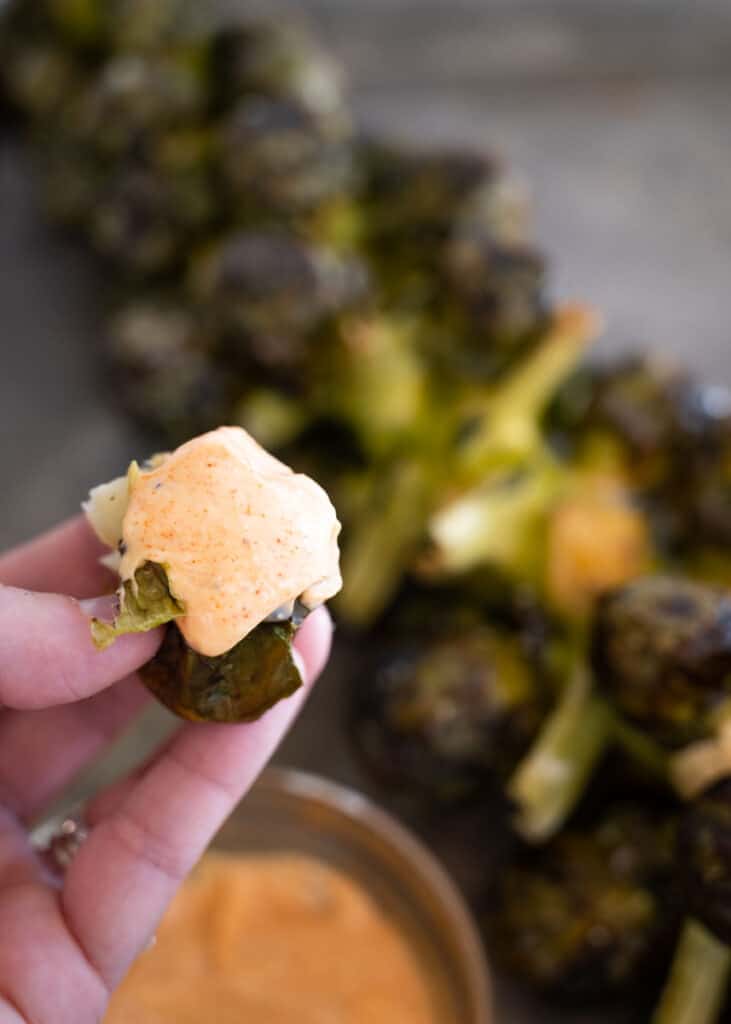 ---
May your new year be filled with lots of good veggies (and definitely some indulgent desserts!
xox,
kathryn
As always, if you make anything from the blog, be sure to let me know! I love hearing from you in the comments on this post below or find Worn Slap Out on Facebook, Instagram, or Pinterest!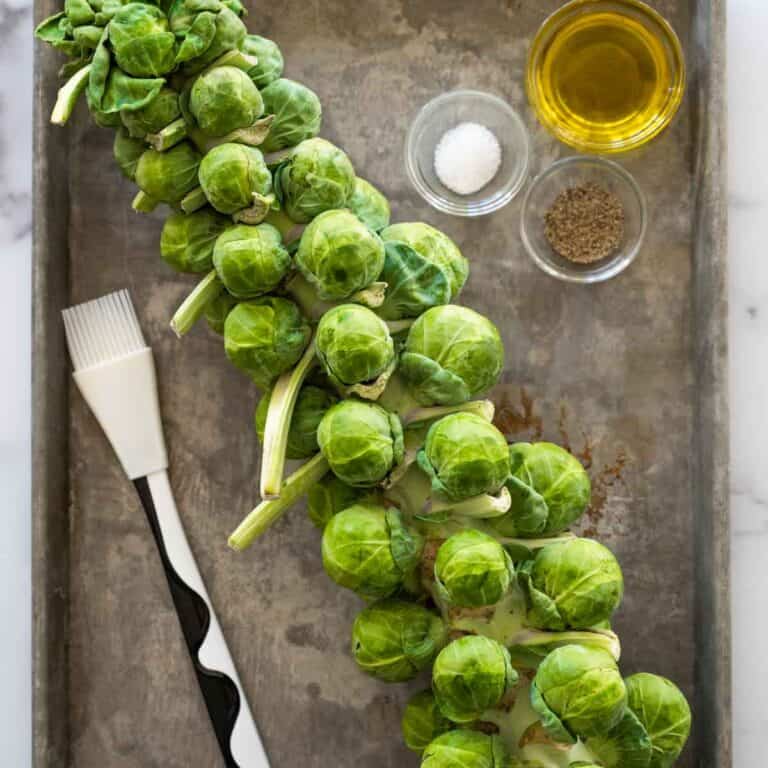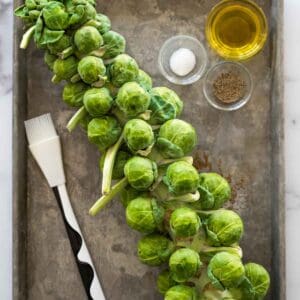 Brussels Sprouts on Stalk with Smoky Aioli
Roasted Brussels Sprouts on the Stalk makes an impressive but simple side dish for any gathering, and it's paired with a smoky aioli thats so easy and flavorful.
Print
Pin
Rate
Ingredients
For the Brussels:
1

large stalk of Brussels sprouts

2

tablespoons

extra-virgin olive oil

¼

teaspoon

salt

¼

teaspoon

ground pepper
For the smoky aioli:
¼

cup

mayonnaise

1

teaspoon

sherry vinegar

½

teaspoon

smoked paprika

¼

teaspoon

garlic powder
Instructions
Preheat oven to 425˚ F.

Brush Brussels sprouts with olive oil and generously salt and pepper, turning the stalk over to get all around the stalk.

Transfer stalk to a large rimmed baking sheet. Roast for 20 minutes, turning the stalk over halfway through to get all sides browned.

Meanwhile, combine aioli ingredients in a small bowl. Serve the warm Brussels sprouts with the aioli.
Notes
Notes:
To make it easier to serve the Brussels sprouts, you can take a knife and cut the Brussels sprouts a little bit off the stalk so it's easier to pull off. Reheating:
I highly recommend to eat these Brussels sprouts as soon as they come out of the oven. Brussels sprouts tend to get mushy the longer they sit.
Nutrition
Serving:
6
sprouts
|
Calories:
107
kcal
|
Carbohydrates:
1
g
|
Protein:
0.2
g
|
Fat:
12
g
|
Saturated Fat:
2
g
|
Polyunsaturated Fat:
5
g
|
Monounsaturated Fat:
5
g
|
Trans Fat:
0.02
g
|
Cholesterol:
4
mg
|
Sodium:
157
mg
|
Potassium:
21
mg
|
Fiber:
0.2
g
|
Sugar:
0.1
g
|
Vitamin A:
112
IU
|
Vitamin C:
3
mg
|
Calcium:
3
mg
|
Iron:
0.1
mg