This pan seared filet mignon is restaurant quality without the price tag -- and SO easy to make no matter your skill level. No more being intimidated by filet!
Cooking filet mignon used to really intimidate me, and I made John cook every filet for the longest time because I was so nervous I'd screw it up. After all, it's not a cheap piece of meat. It's one of the cuts you buy for a special event or celebration...where you have additional pressure to not screw it up. Don't let the cut fool you though. It's so crazy simple to prepare -- and requires no special skills. Just follow some of these basics.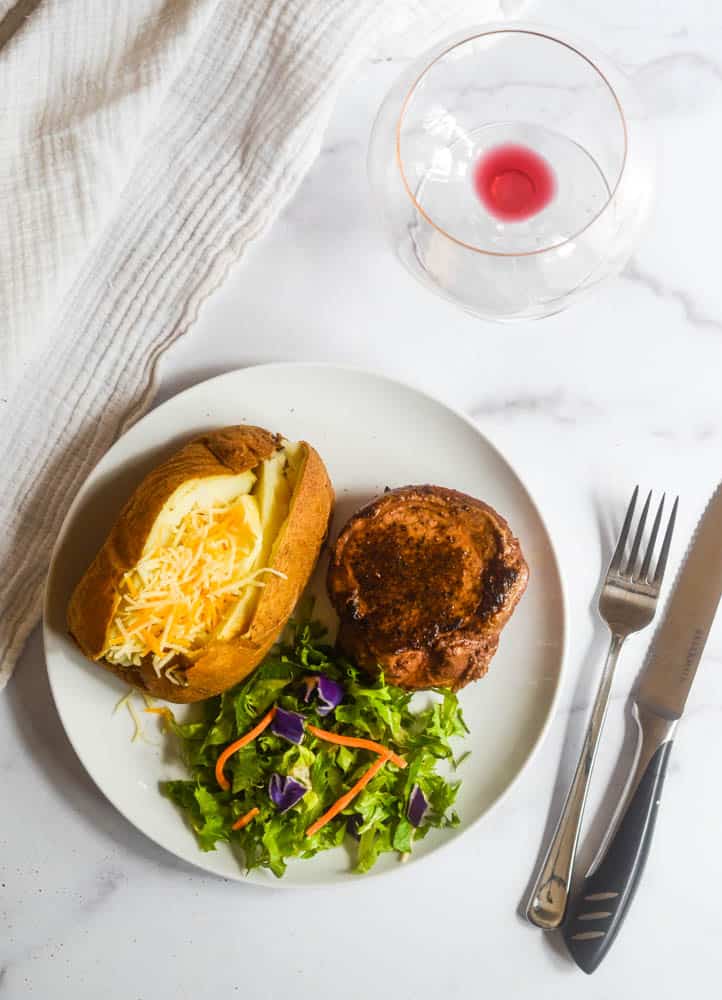 Where's the best place to buy filet?
Costco is the best place to buy filet mignon (did that answer surprise you?!). We've gotten cuts from specialty butcher shops (which are great, too) all the way to filet from your average grocery store, but Costco has the most beautiful filets and is definitely the most economical. USDA Prime tenderloin steaks from Costco are just under $100 for about 8 huge filets. That's so much better than the ones I just bought at Whole Foods which were wildly different in sizes and a little junky TBH. I paid $60 for 3 of those.
What Makes a Good Filet?
Filet mignon is a cut of beef taken from the smaller part of the tenderloin. It's the most tender (the best filet melts in your mouth like butter) -- making it the premier cut for most people. This obviously comes with a price tag compared to other cuts like beef shoulder, for example, but it's the texture that makes it a step up from your average meal. And who doesn't like filet mignon? It's a very safe meat to cook for people who are picky eaters.
When you're looking for a filet, look for...
Meat that is a vibrant red color
Slight marbling (there shouldn't be a ton of fat or a ton of marbling, but you want some)
Smooth tops. See how the second steak below is not very smooth? That's not ideal for aesthetics or to get a great sear.
Cuts that are roughly the same size and thickness for even cooking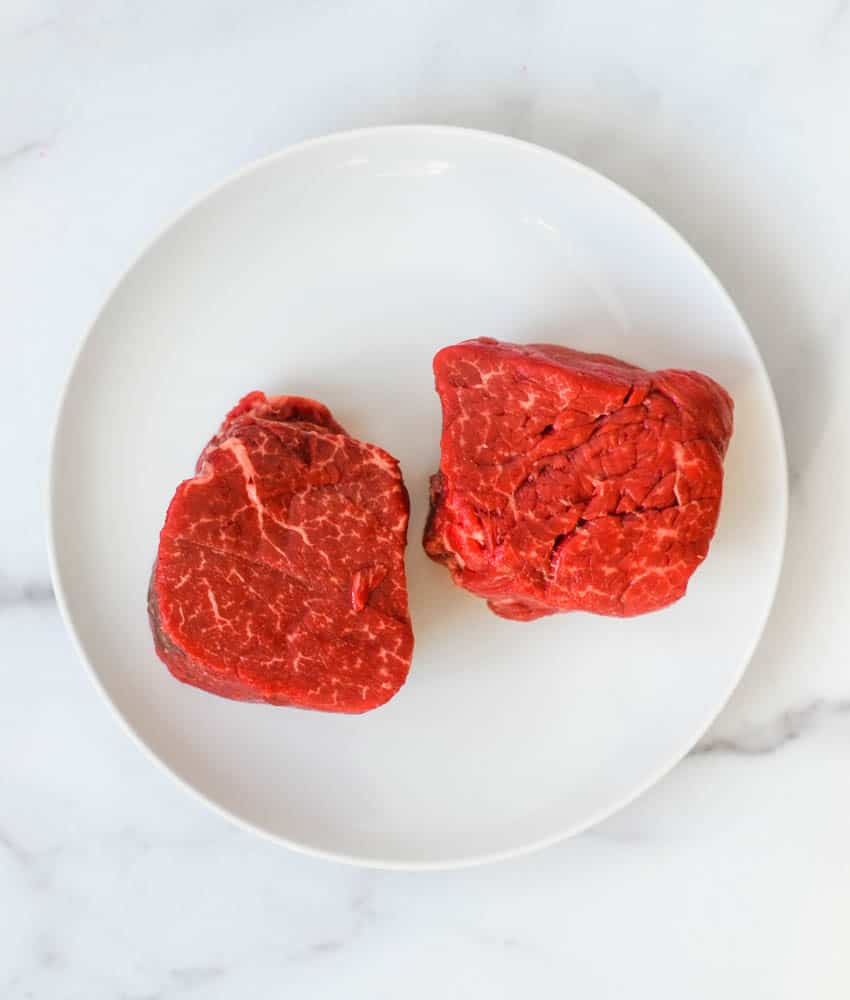 How to Cook Filet Mignon
Filet mignon is a cut of beef that doesn't necessarily have a lot of flavor because there's not a lot of fat. It's very different than a ribeye, for example, that has a lot of fat, and, therefore, a lot more flavor. This is why this simple filet recipe adds a little bit of fat (butter) and fresh herbs to give it a boost of flavor. It's already got the texture.
Step 1: Heat cast iron, non-stick, or regular pan (must be oven-safe) over medium-high heat with a little bit of olive oil very hot. While pan is heating up, generously salt and pepper both sides of the steak.
Step 2: Place filets onto the pan and sear for 2 minutes. Do not touch the filet at all while it's searing. Set the timer and forget about it.
Step 3: Just before 3 minutes is up, add butter, garlic, fresh herbs (use whatever you have lying around...I had lots of rosemary), and swirl butter in the pan so it makes it's way to the steak.
Steap 4: Add worchestire sauce then flip steaks and sear for another 2 minutes.
Step 5: Place steaks in 425˚F oven for 7 minutes or until desired doneness (see below). Take steaks out of oven and onto plate to rest for 10 minutes before cutting. The steaks will continue to cook a bit as they rest.
Tips for Making Pan-Seared Filet Mignon
Buy quality steaks. Your meat quality matters a ton. Go to Costco, a local butcher, or another place you know that sells beautiful cuts of meat.
Let your meat get to room temperature. Take the filets out of the refrigerator and let rest for about 1 hour before cooking. This gives the meat greater ability to
Get your pan hot before you add the fillet. The pan should sizzle if you add a drop of water to it.
Resist the urge to touch the steak while it's searing. Let the meat sear without you moving it one bit. You'll know it's ready because it'll easily come off the pan to be flipped.
Let your meat rest after it comes out of the oven. The meat will continue cooking a bit -- so you don't want to cut into the steak right away.
How Long Should I Cook Filet Mignon?
Here's the general guidelines for how long you shoudl cook your average cut of filet (which is a little over an inch and a half thick):
6 minutes will give you medium-rare steak
7 minutes will give you medium steak
8-9 minutes will give you well-done steak
How to Grill Filet Mignon
You can easily skip the pan-searing and the oven if you want to just use your grill. At 500˚F on a gas grill, cook the steaks about 6-7 minutes per side. Let the meat rest once it comes off the grill for 10 minutes before cutting.
Variations to This Recipe
There's a million different ways you can jazz up this recipe to suit your needs. This is the basic way we cook ours most of the time. We do mix it up and either go through the extra step of making garlic butter (just simply chopping up your fresh herbs and mixing with softened butter) or give the meat more flavor in the beginning by adding Lawry's salt seasoning instead of salt.
Other Easy Meat Recipes
Check out some of these other awesome recipes that are so versatile:
xox,
kathryn
As always, if you make anything from the blog, be sure to let me know! I love hearing from you in the comments on this post below or find Worn Slap Out on Facebook, Instagram, or Pinterest!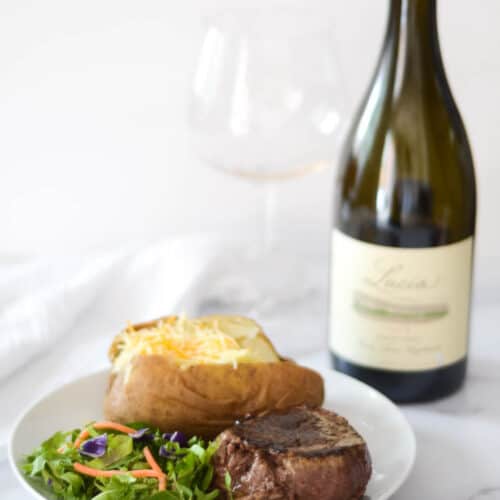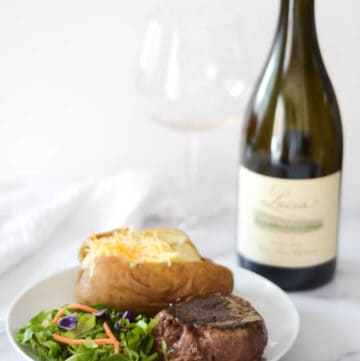 Perfect Pan-Seared Filet Mignon
This pan seared filet mignon is restaurant quality without the price tag -- and SO easy to do no matter your skill level. Don't be intimidated by filet -- it cooks up so nicely on the stove top then finishes in the oven.
Print
Pin
Rate
Ingredients
2

beef tenderloin filets (filet mignon)

2

tablespoons

olive oil

1

teaspoon

salt

⅛

teaspoon

black pepper

2

Tablespoons

unsalted butter

4

cloves

garlic, minced

2-3

sprigs

rosemary (or whatever fresh herbs you have on hand)

2

tablespoons

Worcestershire sauce
Instructions
Preheat oven to 425˚F. Heat a cast iron, non-stick skillet or regular skillet (as long as it is oven safe) with olive oil over medium high heat until the pan is very hot. Pan should be sizzling.

Pat your steaks dry with a paper towel and add salt and pepper to all sides of the filet. Place on the pan and sear for 2 minutes. During the two minutes, add butter, garlic, and fresh herbs to the pan. Swirl around to make sure the butter makes its way to the steak.

Pour Worchestire sauce on top of each of the steaks and flip. Sear other side for 2 minutes.

Place the whole pan in the oven for 7 minutes for medium steak. Remove from the pan and place steaks onto a plate to rest for 10 minutes before cutting.