Super simple to make and incredibly versatile for breakfast, appetizers, or dessert, this cherry compote is a perfect condiment!
Remember when we used to entertain -- and have large groups over to dine, drink, and shoot the sh*t? Ahhh...those were the days! Sometimes John and I still pretend and make ourselves a charcuterie board loaded with good cheeses, fruits, nuts, breads, and spreads. It's more than enough to make a full meal.
My husband loves cherry compote on top of a thinly slice piece of baguette with some Humboldt Fog cheese. It acts as an awesome spread on any type of cracker or break you could imagine, but it's equally as delicious on your pancakes in the morning (or yogurt!) or on top of some vanilla ice cream like David Lebovitz.
Until we can entertain in large groups again, I'm going to just be over here making small batches of some of my favorite appetizer foods and Zoom my life away.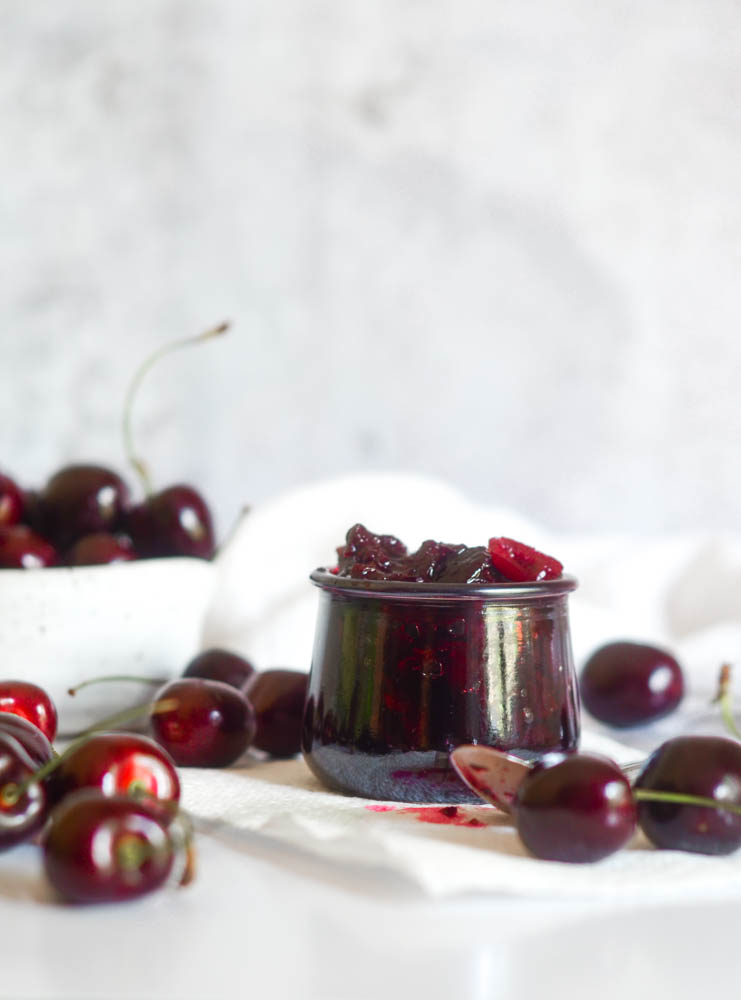 How to Make Cherry Compote
The halved cherries get stewed over medium heat with the orange juice and sugar until the cherries break down from the sugar, making a deliciously sweet sauce.
About halfway through the process, you'll want to mash half of the stewing cherries and continue reducing the cherries until the liquid begins to thicken. You know it's ready to come off the heat when the sauce coats the back of the spoon.
The vanilla extract is added at the very end for a touch of additional flavor.
A Note on Consistency of Your Compote
Compote, by definition, is made using whole fruit, so it's typically pretty chunky compared to a jam or jelly. I prefer to mash half of my cherries and leave the rest halved. If you want your compote to be less chunky, you can mash all of your cherries. It's really just a personal preference.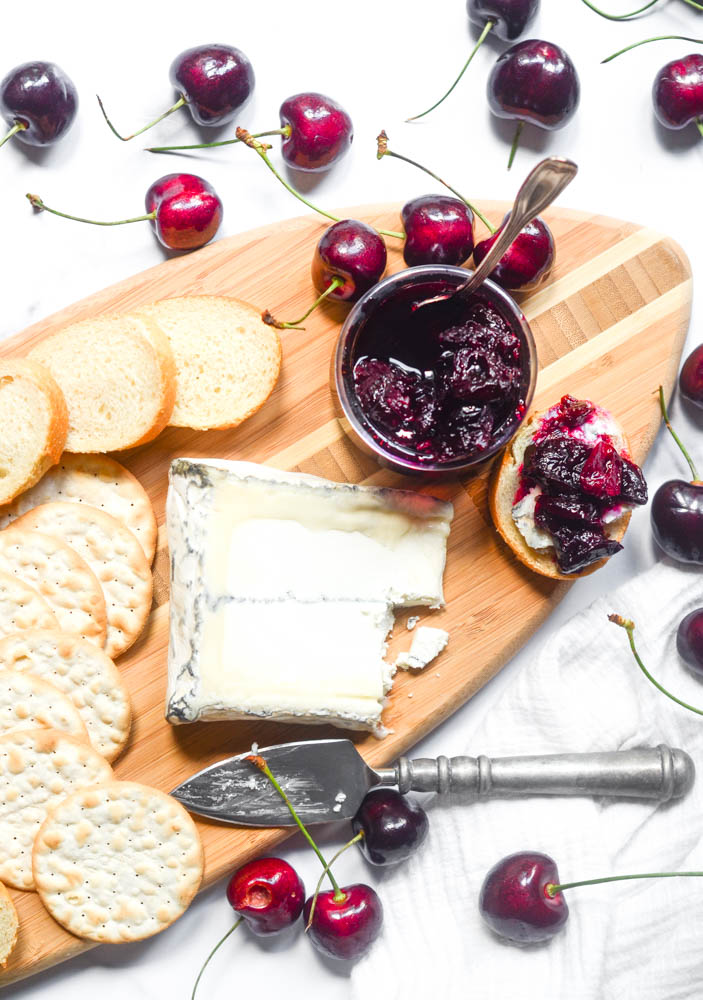 Variations on this Recipe
Although this recipe is insanely easy, there are so many ways you can switch the recipe up depending on your preferences (or what's available in your kitchen).
Want more hints of orange? Zest a half or full orange and add to the compote at the very beginning. It gives the compote a zesty kick.
Substitute bourbon instead of orange juice to give your compote an extra kick! We may not always have orange juice, but we ALWAYS have bourbon.
Finally, try adding almond extract instead of vanilla extract at the very end. Cherries go really well with almonds, too (think cherry pie!).
What should I eat with my cherry compote?
I've already mentioned that cherry compote on a fresh baguette and some good quality cheese is one of the greatest pleasures in life, but try the cherry compote with vanilla ice cream, too. It's like the fancy, adult version of those sour cherries in the can you put on your ice cream sundae. This cherry spread is also delicious for breakfast -- on pancakes, waffles, or yogurt. It's a sweet way to start or end your day.
Fruit compotes are also such a perfect topping for cheesecakes, with my favorite being this no-bake one. Zero fuss that usually comes with cheesecake and yet all the deliciousness.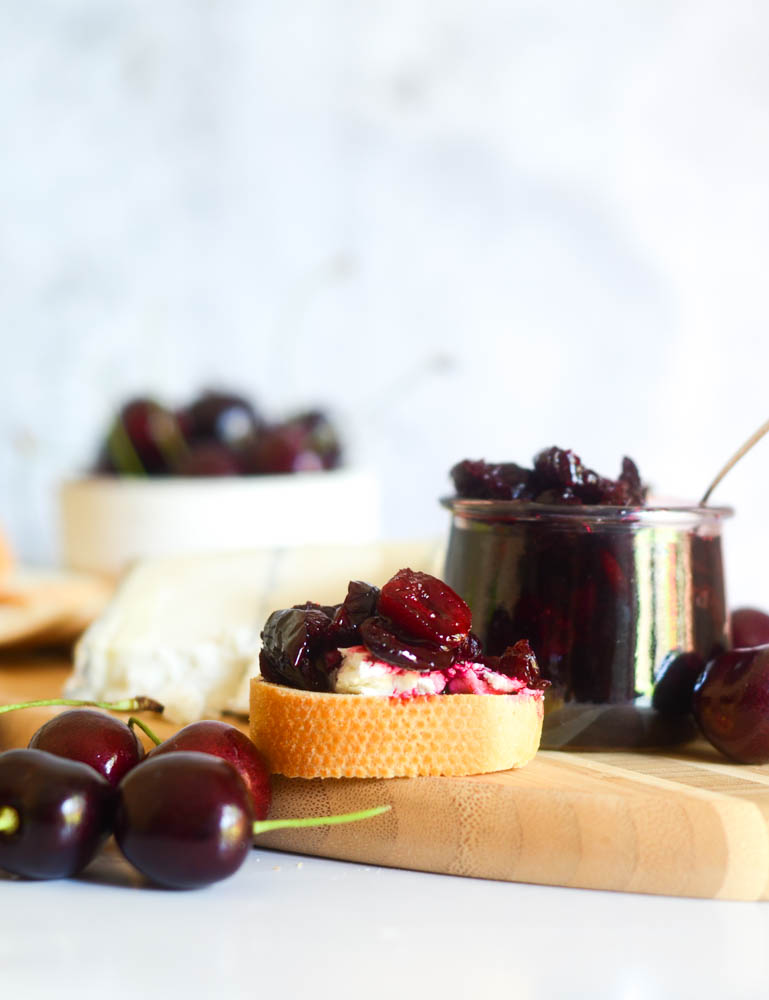 Other Compote and Jam Recipes
Happy pretend entertaining (for now!) until we can go back to doing it right!
xox,
kathryn
As always, if you make anything from the blog, be sure to let me know! I love hearing from you in the comments on this post below or find Worn Slap Out on Facebook, Instagram, or Pinterest!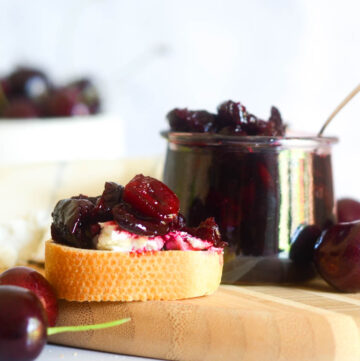 Simple Cherry Compote
Super simple to make and incredibly versatile for breakfast, appetizers, or dessert, this cherry compote makes for one fine condiment!
Print
Pin
Rate
Ingredients
3

cups

cherries, washed, pitted & halved

½

cup

orange juice

⅓

cup

granulated sugar

¼

teaspoon

vanilla extract
Instructions
Place cherries, orange juice, and sugar in a saucepan under medium heat. Cook for 7-8 minutes until cherries begin to soften.

Using a fork or potato masher, mash approximately half of the cherries (or more depending on your preferred consistency). Cook on medium heat for another 10 minutes or so until juices start to thicken. Stir occasionally.

Remove from heat, stir in vanilla extract, and either serve warm or wait until completely cool before sticking in the refrigerator. You can eat warm, room temperature, or cold. Compote will store well in a glass jar for up to 10 days.
Notes
Storage: Store in a sealed glass jar in the refrigerator.  This compote will be delicious up to 10 days later. 
Variations: If you want to add more orange notes, add the zest from half an orange into the compote at the beginning. If you prefer almond extract, you can also add this instead of vanilla extract at the end. Finally, you can substitute bourbon instead of orange juice if you want to have a cherry compote with a little kick!