When the going gets tough for coffee lovers, the tough get going with a red eye coffee. This coffee will give you a coffee shop-worthy jolt of caffeine you need to get your day started.
Worn Slap Out, LLC is a participant in the Amazon Services LLC Associates Program, an affiliate advertising program. As an Amazon Associate, I earn from qualifying purchases. Each of your purchases via Amazon links supports Worn Slap Out at no additional cost to you.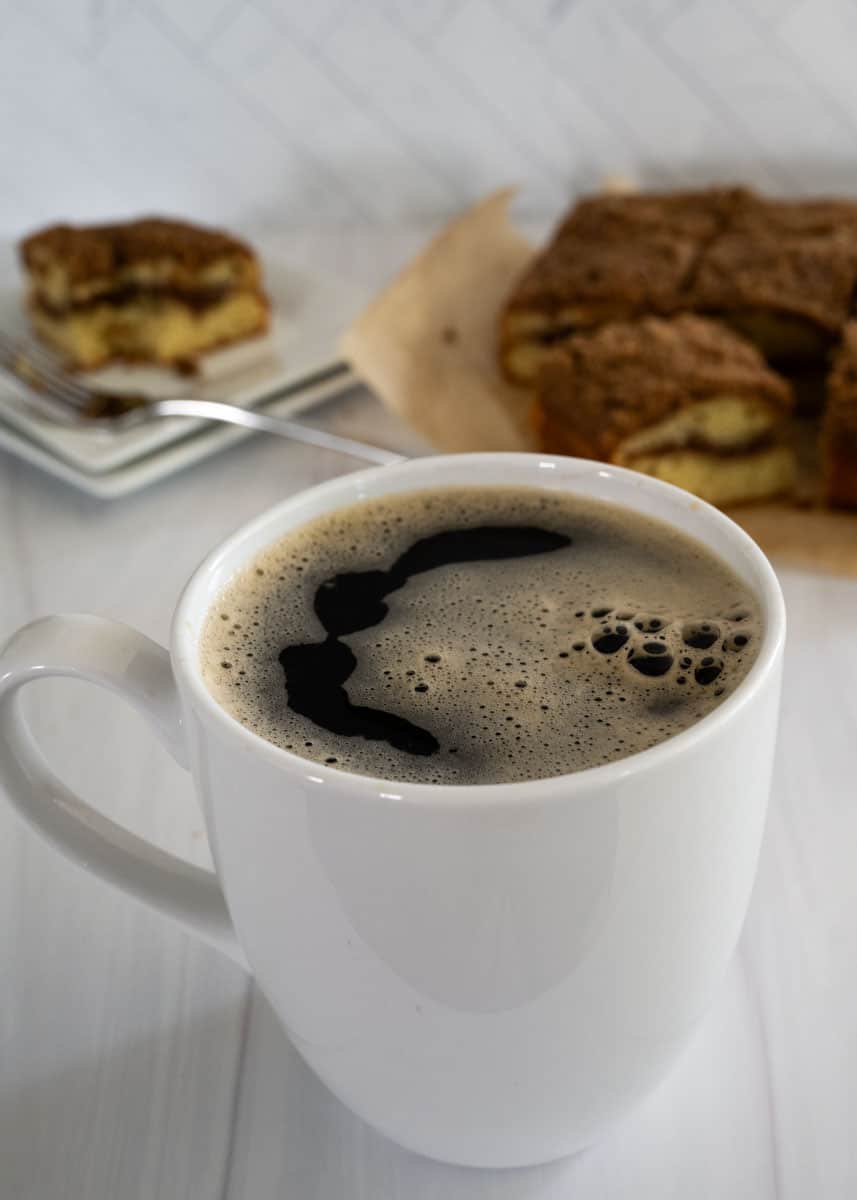 I'm not the biggest lover of coffee, mostly because coffee suppresses my appetite, and I really like to eat. I also don't love when I've had too much caffeine and my heart rate increases, but I find myself in seasons of life when strong coffee is necessary. It's funny because this often corresponds to the time in my life when I need more wine. Admittedly, this season of life is beating me up, and I'm fighting back by giving myself a little extra boost of caffeine to keep going.
No matter how you take your coffee - whether it's a single shot of espresso or a cup of regular coffee, you've got to try this cup of red eye coffee that will give you the best of both worlds.
Where the Red Eye Gets Its Name
This coffee is named after a red-eye flight that leaves at night and arrives at its destination in the morning. These are overnight flights where you try to get as much sleep as possible, but you know it's not going to be enough to get you through the whole next day, so what do you need? A strong cup of coffee, of course. A red-eye coffee originated in the United States. (Am I weird if I actually enjoy a red eye flight? I like getting to my destination and enjoying a full day!)
Red Eye vs. Black Eye vs. Dead Eye Coffee: What's the difference?
There are a couple different names or variations of red eye coffee. Red eye coffee, black eye coffee, and dead eye coffee all refer to the number of shots of espresso added to your coffee. Red eye has one added shot of espresso, black eye has two added espresso shots, and dead eye has three.
There are some regional differences you may also hear. West coast folks may refer to a "shot in the dark" instead of a red eye coffee. It seems that red eyes, black eyes, and dead eyes are East coast terms. You also may hear the term "sludge cup," "oil spill," "black hole," and "depth charge." This is an intense amount of variations.
Starbucks also calls a dead eye a "green eye" coffee. A green eye coffee can be found on their secret menu. I don't know why it's a secret though if everyone knows what's on it.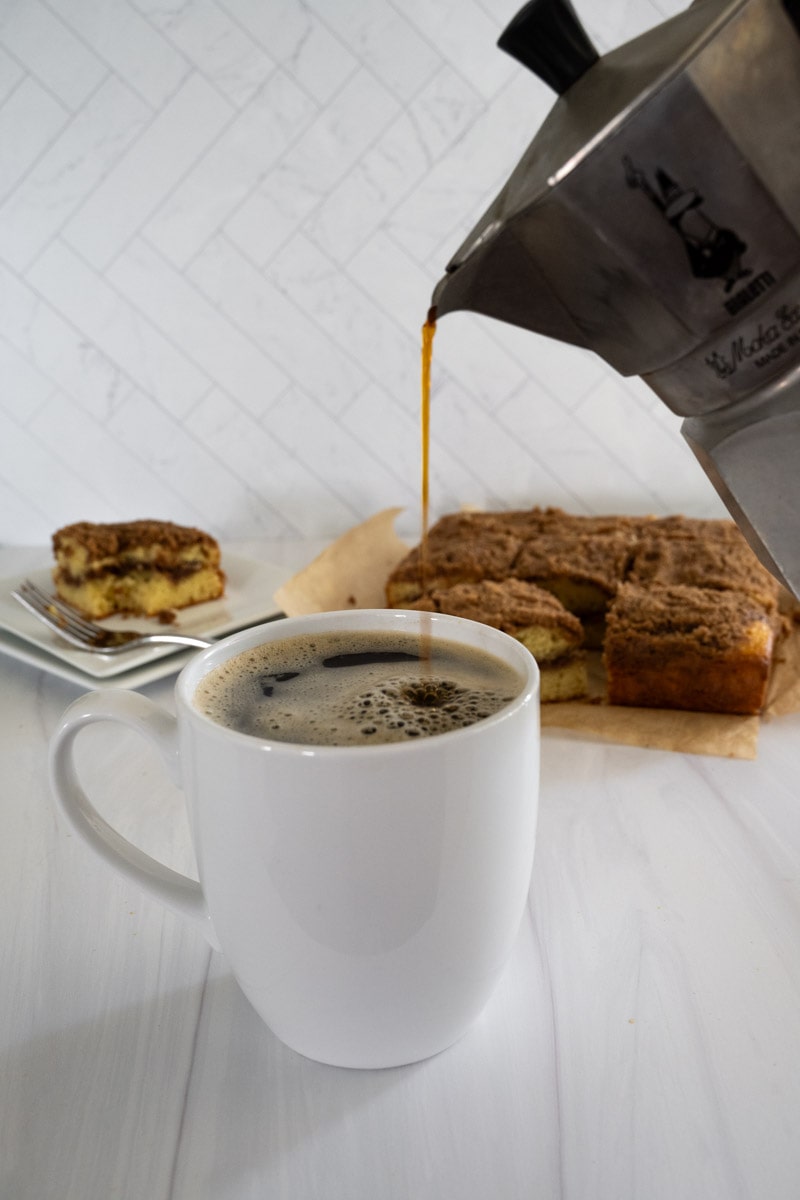 How To Make
It's very simple to make this coffee. First, choose good coffee beans. There are a lot of junky coffee beans out there, so you have to find what you like. My husband's favorite beans are Kicking Horse Coffee beans.
Then, brew your favorite normal drip coffee. This can be done from a fancy machine, coffee pot, or French press.
Next, pull a shot of espresso via an espresso machine or moka pot on the stove-top and pour on top of the cup of coffee. This creates a strong and more flavorful than a regular cup of joe that will perk you right up.
What's It Taste Like?
A red eye drink will satisfy your taste buds first thing in the morning. The red eye coffee taste is a strong, bold, and unique flavor – with a hint of bitterness thanks to the espresso. Many think it's the hot version of a cold brew coffee because of the extra jolt of caffeine. An Americano is made by adding hot water to espresso. A red eye is made by adding a shot of espresso to a cup of drip coffee.
Red-Eye Coffee Variations
Add shots - Need more than one shot? If it's a two or three shot kind of day, don't hesitate.
Add milk, cream, or sugar - if you want to cut the bitterness of the coffee, feel free to add milk, cream, or sugar to your coffee.
Brew your favorite flavored coffee – Pumpkin spice kind of person? Make it happen. Like Hazelnut flavored beans for added nuttiness? Want black coffee so thick it brews in shoestrings? The sky is the limit.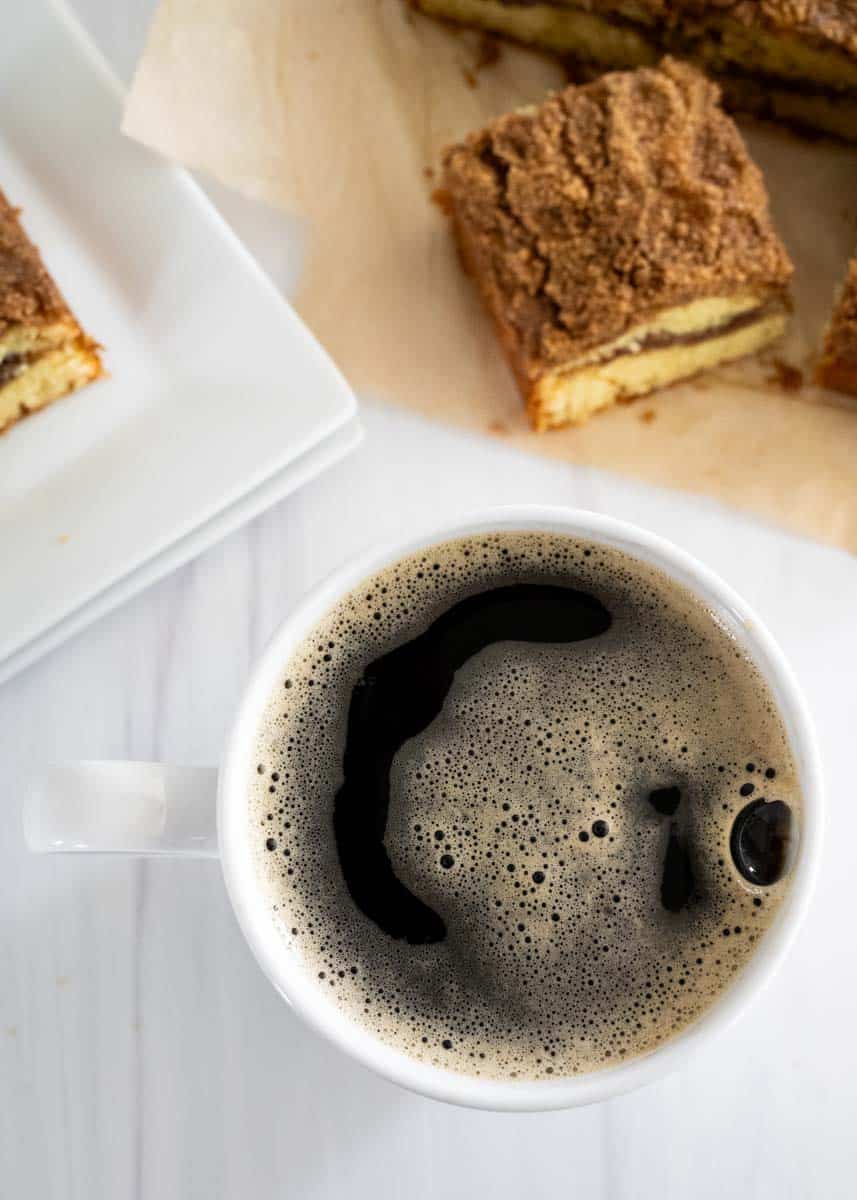 How much caffeine is in a red eye coffee?
There's about 250 milligrams of caffeine in a red eye coffee that uses 8 ounces of brewed coffee and one shot of espresso. This varies by your drip coffee and espresso though, ranging from 200-400 mg of caffeine.
Breakfast Foods to Pair with Your Coffee
Coffee pairs well with so many amaing breakfast foods. Here are some of my favorite breakfast favorites:
Happy caffeinating!
xox,
kathryn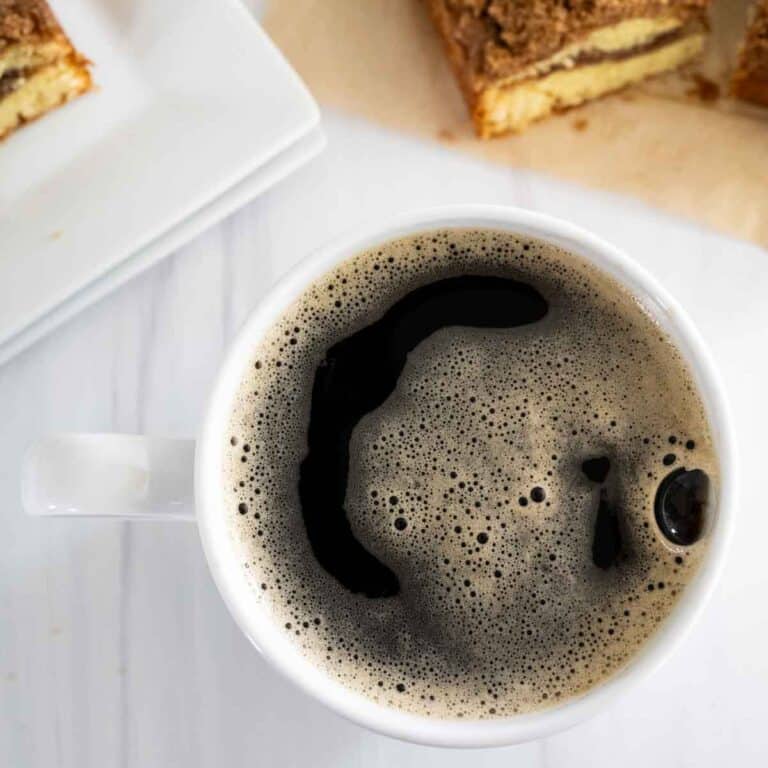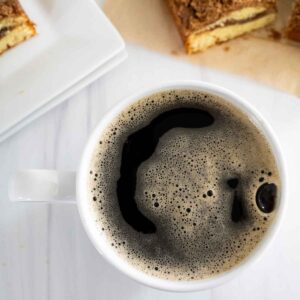 Red Eye Coffee Recipe
When the going gets tough for coffee lovers, the tough get going with a red eye coffee. This coffee will give you a coffee shop-worthy jolt of caffeine you need to get your day started. 
Print
Pin
Rate
Ingredients
1

cup

brewed drip coffee

1

shot

espresso
Instructions
Brew your coffee with either a machine, coffee pot, or French press.

Pull a shot of espresso using a machine or moka pot on the stovetop.

Pour the shot of espresso into your cup of coffee and enjoy!
Notes
Variations: Feel free to brew coffee that you love -- whether that's flavored coffee beans or the natural beans. 
Nutrition
Calories:
5
kcal
|
Carbohydrates:
1
g
|
Protein:
0.3
g
|
Fat:
0.1
g
|
Saturated Fat:
0.03
g
|
Polyunsaturated Fat:
0.03
g
|
Monounsaturated Fat:
0.04
g
|
Sodium:
9
mg
|
Potassium:
151
mg
|
Vitamin C:
0.1
mg
|
Calcium:
5
mg
|
Iron:
0.1
mg