Like a hug on a plate, this homemade chicken pot pie ie easy to throw together thanks to Bisquick. It's full of vegetables and chicken all in a creamy gravy and my favorite part -- the buttery biscuit crust on top.
I was talking with a friend the other day about how our eating habits have changed since the pandemic began and it really got me thinking how drastically this whole ordeal has altered my favorite past time. There are fewer trips to the grocery store and more organization needed for meal planning as a result of fewer grocery trips. There's also significantly less "survival" cooking because of the level of multi-tasking that can be done when you work at home. I'm not saying it's necessarily preferable, but there are certainly perks to listening to a conference call while roasting a chicken you'll need later for dinner. I'm also not as tired after work. Running around in a car from one place to another, picking up a kid here and another one there, running an errand with kids, and having an after-work schedule that is planned to the minute really takes its toll on you.
Pandemic cooking has also made me appreciate some of my cozy cooking roots -- the meals that require just a little bit of butter or that little tablespoon of heavy cream. This used to be indulgent to me (and I'm sure I'll get back to this time), but now these meals are essential, especially in these cold months. I crave more warm, hearty meals than I ever did. Part of this is because of survival cooking being over (when Zero Effs Chicken is on the table at least two times a week, for example), and part of this is because we all need a little comfort on a plate these days. Thank God for the Peloton.
This chicken pot pie was one of the first meals I learned to cook on my own. This meal is hearty, simple, and seriously is like a hug on a plate. Aside from some butter and a can of cream of chicken soup, there's really nothing that unhealthy about this meal. And it doesn't take a lot of time. You're ready to go in 40 minutes (and only 5 of those minutes are hands-on.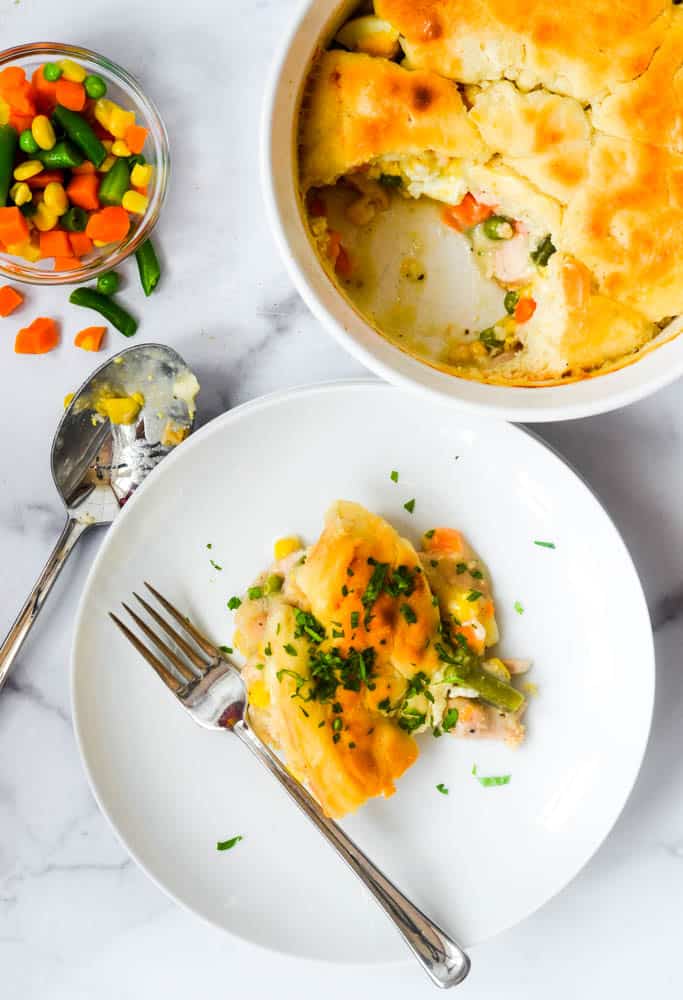 Other Things I Love about This Meal
Perfect for leftovers. Do you have leftover turkey after Thanksgiving? Make a turkey pot pie.
Perfect to take shortcuts with. Buy rotisserie chicken and you're really cutting down on the time needed.
Perfect to double or triple for big gatherings. Not that those happen anymore, but when we're back, it's something easy to bring to a work event.
Delicious the next day. The biscuit crust doesn't get soggy. Just pop in the oven for 350 for 30-40 minutes or until warm.
Ingredients You Need for Chicken Pot Pie with Bisquick
cooked chicken
hard boiled egg (see below)
mixed vegetables (I use frozen but you could always use fresh vegetables here, too)
can cream of chicken soup
chicken broth
salt and pepper
instant biscuit mix like Bisquick
milk
butter
Different Ways to "Biscuit" Your Chicken Pot Pie
Bisquick is something I don't use often, but it's one of the most convenient things to have on hand for random meals. If you don't have Bisquick on hand to make a biscuit crust, there are some other things you can do:
Chicken Pot Pie with Biscuits: Use Pillsbury Grands biscuits. These biscuits can be placed on top and baked the exact same way. Just watch them closely because they might
Homemade biscuits: Make some homemade biscuit dough and place the rounds on top as you would the canned biscuits.
The Most Polarizing Ingredient: Hard Boiled Eggs
Do hard boiled eggs belong in a chicken pot pie? If you ask me, the answer is most definitely YES. This seems to be the ingredient that throws so many people off though. I guess hard boiled eggs aren't typically seen in casserole-type dinners, but I grew up thinking hard-boiled eggs were a must in chicken pot pie, so here we are.
The good news is that if you don't like hard boiled eggs in your chicken pot pie, leave them out. No problem.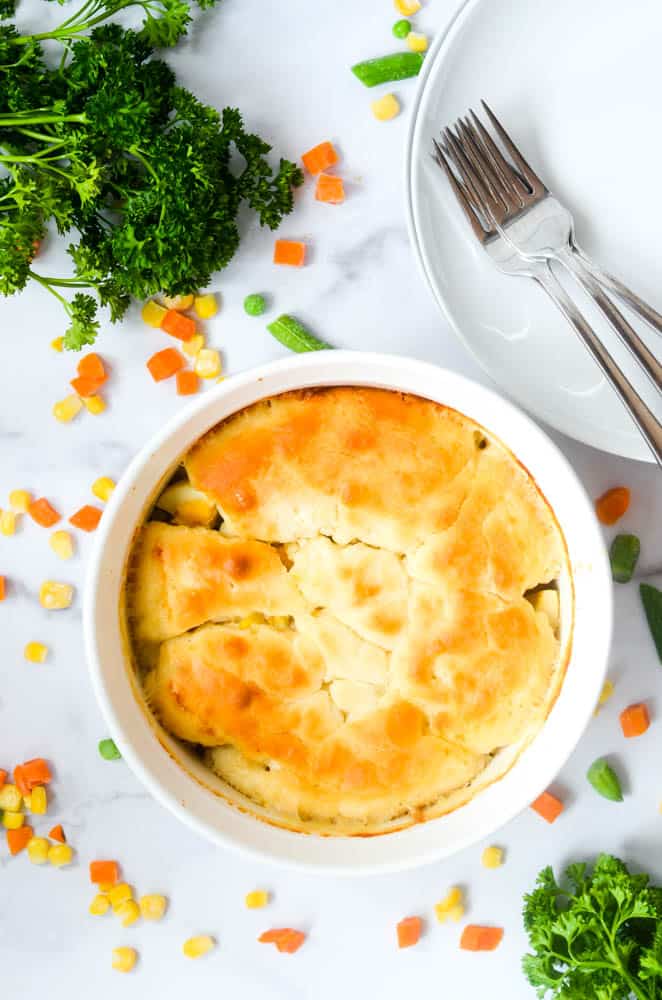 May you have many warm and cozy meals on your table this winter!
xox,
kathryn
As always, if you make anything from the blog, be sure to let me know! I love hearing from you in the comments on this post below or find Worn Slap Out on Facebook, Instagram, or Pinterest!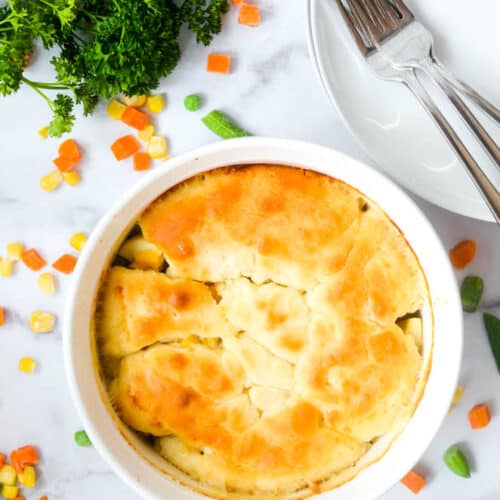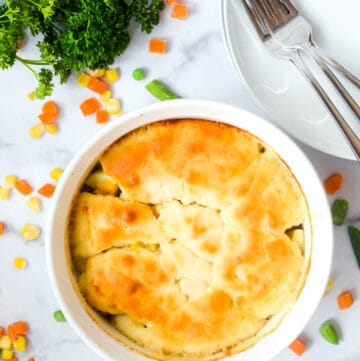 Easy Chicken Pot Pie with Bisquick
Like a hug on a plate, this homemade chicken pot pie ie easy to throw together in 40 minutes. It's full of vegetables and chicken all in a creamy gravy and my favorite part -- the buttery biscuit crust on top.
Print
Pin
Rate
Ingredients
2

cups

cooked chicken

cubed

3

hard boiled eggs

diced

2

cups

mixed vegetables

can be kept frozen

1

10.5 oz.

can cream of chicken soup

1

cup

chicken broth

salt and pepper

1 ½

cups

instant biscuit mix like Bisquick

1

cup

milk

4

tablespoon

butter, melted
Instructions
In a 2 quart casserole dish, layer chicken, vegetables, and hard boiled eggs.

In a small bowl, combine chicken stock and cream of chicken soup. Stir until combined. Pour over chicken, vegetables and eggs.

In a small bowl, stir together the Bisquick and milk until combined. Pour this over the rest of the mixture, spreading out until the top is completely covered. Drizzle melted butter on top and place in the oven. Bake for 30-35 minutes or until top if golden brown. Garnish with parsley and serve immediately.