When you have absolutely zero effs to give but still want a delicious meal on the table for your family, this Zero Effs Chicken is here for you with a juicy interior and crispy exterior packed with flavorful spices. It's an easy chicken dinner that's also healthy and delicious.
If you've ever read The Subtle Art of Not Giving a F*ck, you know Mark Manson discusses there being a certain amount of f*cks we have to give on any given day. F*cks (or effs as I call them) should be treated as a commodity that can easily be depleted if you're not careful. Some situations take a lot of our effs while others are simply not worth the energy drain. I think about this all the time in my professional life. Is this issue worth getting me all riled up about? 9 times out of 10...nope. I'd rather save my cares for something more important and conserve. It's really been quite a life-changing philosophy.
The same is true when I think about making food. When I started this blog a little over a year and a half ago, I wanted to create a space for good recipes that didn't have complex ingredients, require too much time in the kitchen, or long preps because at the end of the day, I'm worn slap out. My effs are nearly depleted.
This easy chicken dinner is here for you. I always keep chicken thighs on hand so when I'm at zero -- and this happens usually once a week -- I can pull these suckers out and make them without expelling hardly any energy. And let me tell you -- they are SO FLAVORFUL AND JUICY. You won't regret making this any night, but especially on a night when you're toast.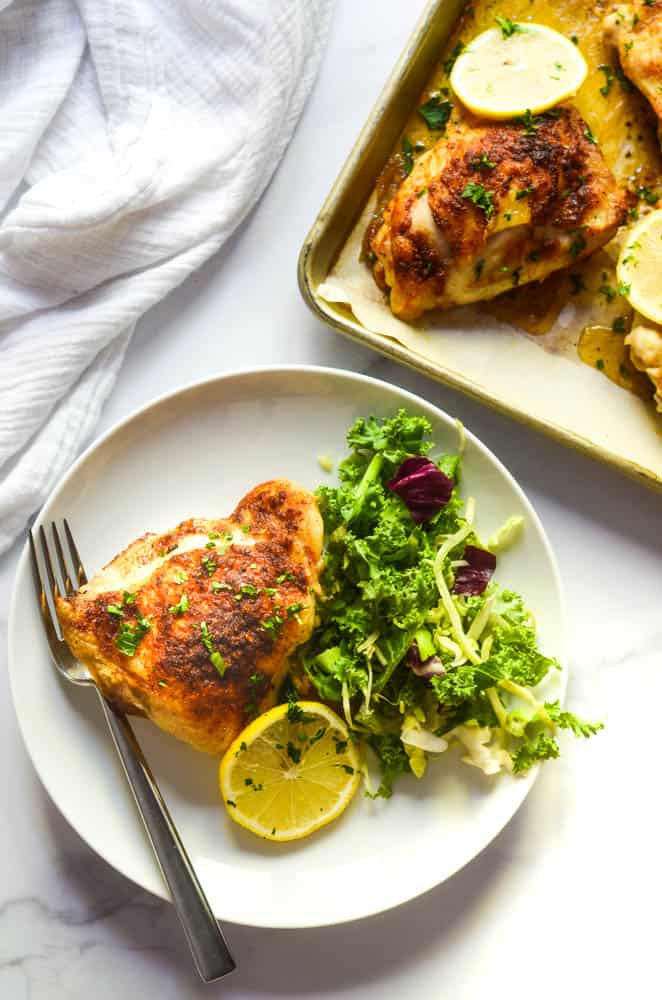 How Many Effs Do I Have to Give Tonight for Dinner?
If I could design this website however I wanted, I'd organize all my recipes around this f*cks framework because that's how I naturally design our family's meal plans. Some days I can anticipate having more energy, more time, less noise to create a space where I can spend an extra 10 minutes peeling something or making homemade crust. This never occurs at the start or end of the week though.
All of my recipes on this site should really be rated according to the following scale:
Maximum Effs: These are recipes that require maybe a special ingredient or a significant amount of chopping, which might put me over the edge depending on said number of effs. The goal is to stay out of the red (see negative effs below). These slightly more complicated recipes are few and far between because I am worn slap out after all, but this pomme puree or a homemade quiche are just two examples. Some recipes require maximum effs in order to net zero effs a couple of nights later (see Make Ahead Meals).
Minimal to Moderate Effs: These are most of the other recipes on Worn Slap Out that are easily made in 30 minutes or less and require little prep (see Weeknight Dinners). This is the zone I'm in about 80% of the time.
Zero Effs: When you're in the negative, these recipes will you pull you through because they require almost zero prep work. Recipes include this chicken or roasted salmon.
Negative Effs: Just pack the kids in the car and go through the McDonald's drive-thru or call for Domino's delivery. It's eat-to-survive mode.
You get the picture. Sometimes it's good to just acknowledge where you are on the lunacy continuum.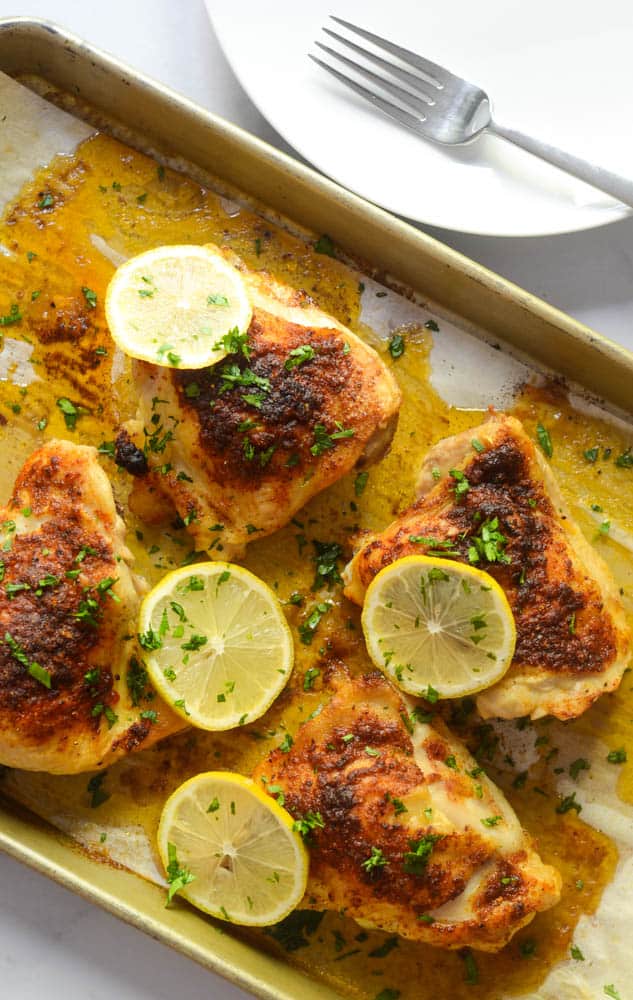 The Easiest Chicken Dinner
When I'm building out my grocery list of the week, I always start the week with fish because I can buy fresh fish and cook it that night without a lot of fuss and end with the week with chicken because 1. Chicken seems to last forever and 2. The end of the week, like the beginning, is always chaotic. That's where this Zero Effs Chicken fits in.
Bone-in, skin-on chicken thighs are my usual go-to because they're so juicy on the inside yet so deliciously crispy on the outside. Chicken thighs are also an economical choice for families. You can get chicken thighs for just a couple of dollars a pound, so they are a great thing to keep in the freezer or to make a double-batch.
See also Za'atar Chicken, Zero Effs' cousin.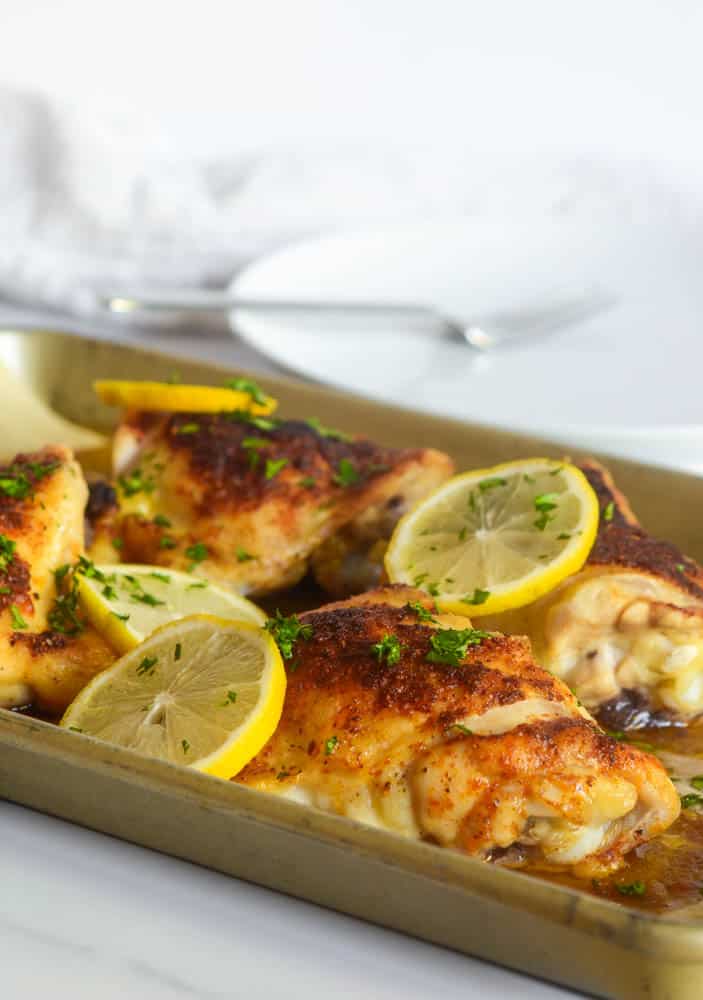 How to Make the Juiciest Chicken in the Oven
First, pat the chicken thighs dry with a paper towel. This is essential to take all of the moisture off so you can get a nice crisp.
Then sprinkles the spices on top of each thigh. Give it a good rub to make sure the whole top is covered. Then add a dollop (about 1 teaspoon) of olive oil, and again, use your hands to spread the olive oil with the spices until it almost forms a paste. (Sometimes I'm so low on effs I just take the spice bottle and sprinkle it directly on to the chicken thigh...this works, too.)
Roast in the oven at 425˚F for 30-35 minutes or until chicken is cooked through. If you want your skin extra crispy, place the thighs under the broiler for an additional 1-2 minutes.
Garnish with fresh parsley and lemon slices if you have them on hand and serve with something easy -- like a side salad or other roasted vegetable that you can put in at the same time like sweet potatoes, brussels sprouts, or carrots.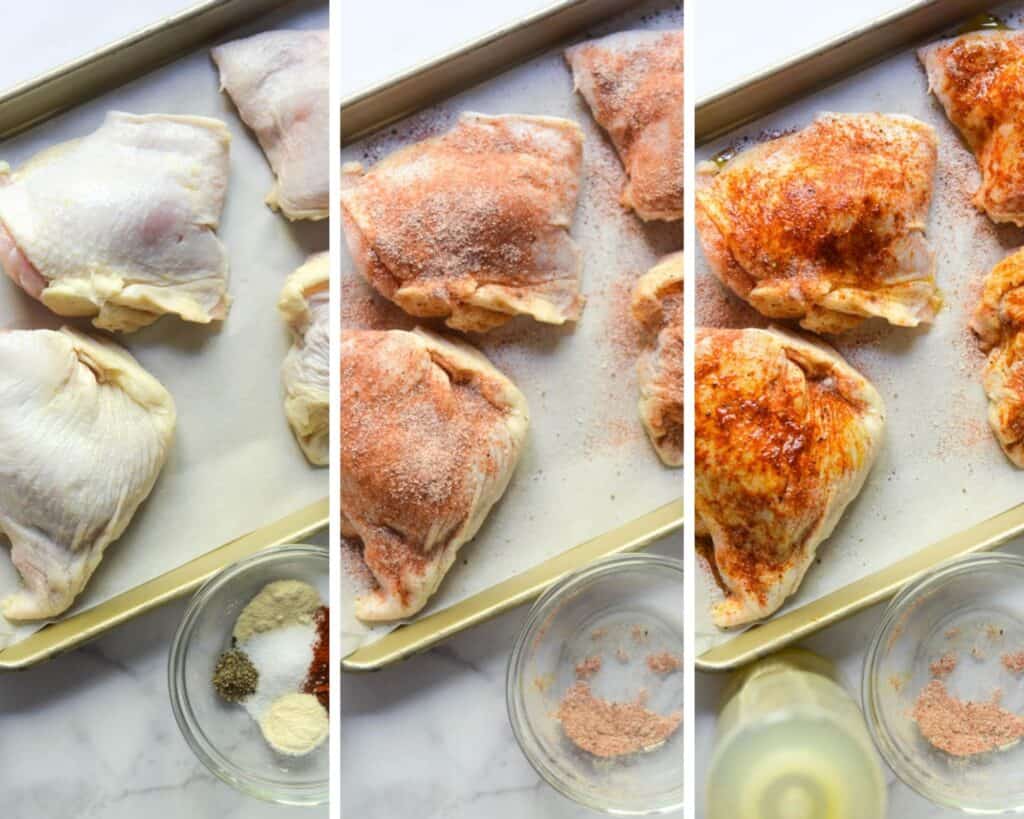 Let's help each other keep it together -- I know I'm holding on by a thread!
xox,
kathryn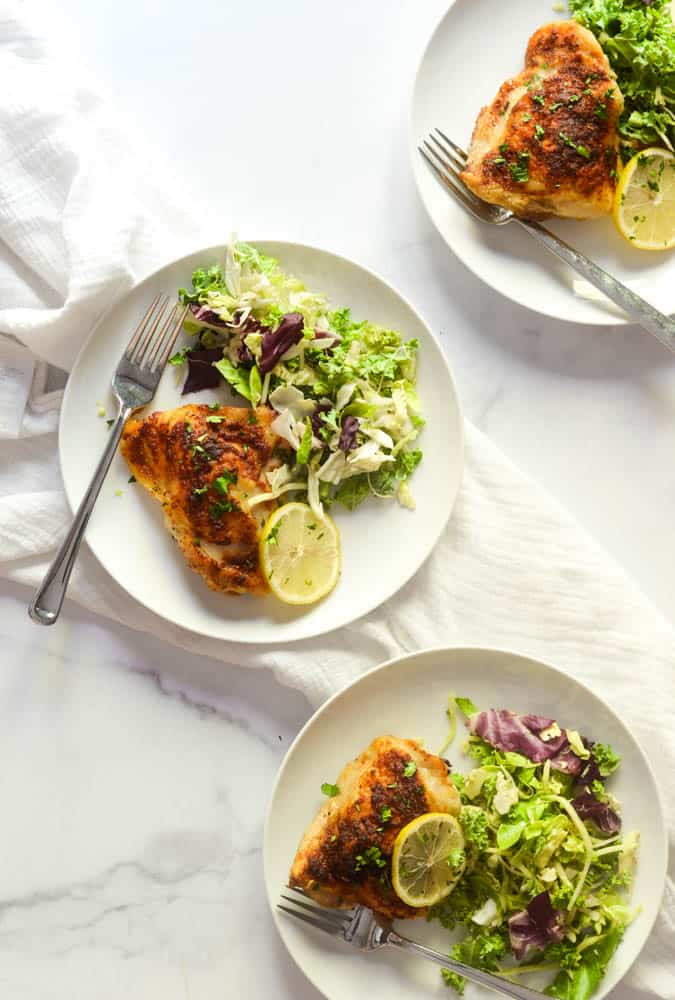 As always, if you make anything from the blog, be sure to let me know! I love hearing from you in the comments on this post below or find Worn Slap Out on Facebook, Instagram, or Pinterest!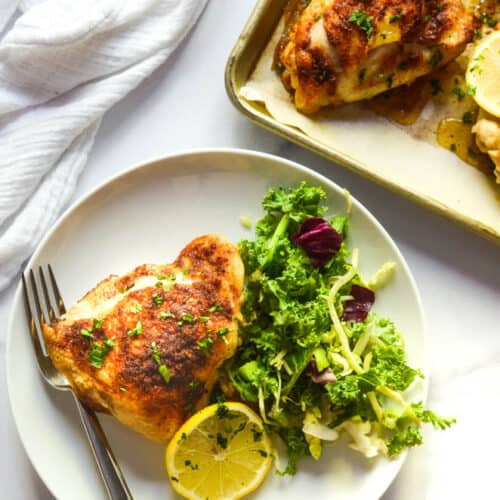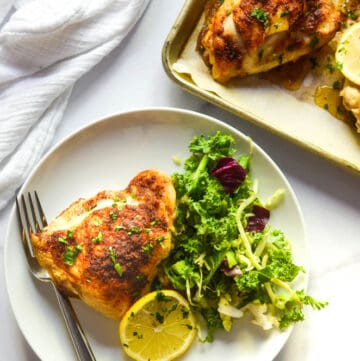 Zero Effs Chicken
When you have absolutely zero effs to give but still want a delicious meal on the table for your family, this Zero Effs Chicken is here for you with a juicy interior and crispy exterior packed with flavorful spices. It's an easy chicken dinner that's also healthy and delicious.
Print
Pin
Rate
Ingredients
4-5

bone-in, skin-on chicken thighs

1

teaspoon

salt

½

teaspoon

garlic powder

½

teaspoon

smoked paprika

½

teaspoon

onion powder

¼

teaspoon

black pepper

1 ½

Tablespoons

good quality olive oil

parsley & lemon slices, optional for garnish
Instructions
Pre-heat oven to 425˚F and line baking sheet with parchment paper or aluminum foil. Pat chicken dry with paper towel and place on baking sheet.

Combine salt, onion powder, garlic powder, smoked (or regular) paprika, and black pepper in a small bowl. Sprinkle evently over chicken.

Dollop the top of each chicken thigh with about 1 teaspoon of olive oil and rub with your fingers until the spices turn into a bit of a paste on top.

Roast on middle rack of oven for 30 minutes or until chicken is cooked through at 165˚F. If you want skin to be extra crispy, place under the broiler for 1 additional minute. Take out of oven, top with fresh parsley and lemon slices and serve with your favorite sides.