Biscuit heaven is made of up of these Southern Buttermilk Biscuits that are buttery, flaky, and use good ole all-purpose flour.
I have a lot of weaknesses when it comes to food, and one of those weaknesses are biscuits. The fluffy, but slightly gummy biscuits that can only be made by your own two hands -- those ones. I could eat a biscuit with eggs for every meal, really. It takes me instantly back home, eating the biscuits bigger than your face from Mama's Boy or the scraggly kind from Big City Bread with their fresh raspberry jam.
Making homemade biscuits doesn't need to be complicated or take forever. These ones are just as good as the ones that are more labor intensive, require self-rising flour, and need to chill before baking. These Southern buttermilk biscuits are quick (10 minutes of preparation), require no special equipment or ingredients, and go right into the oven once cut.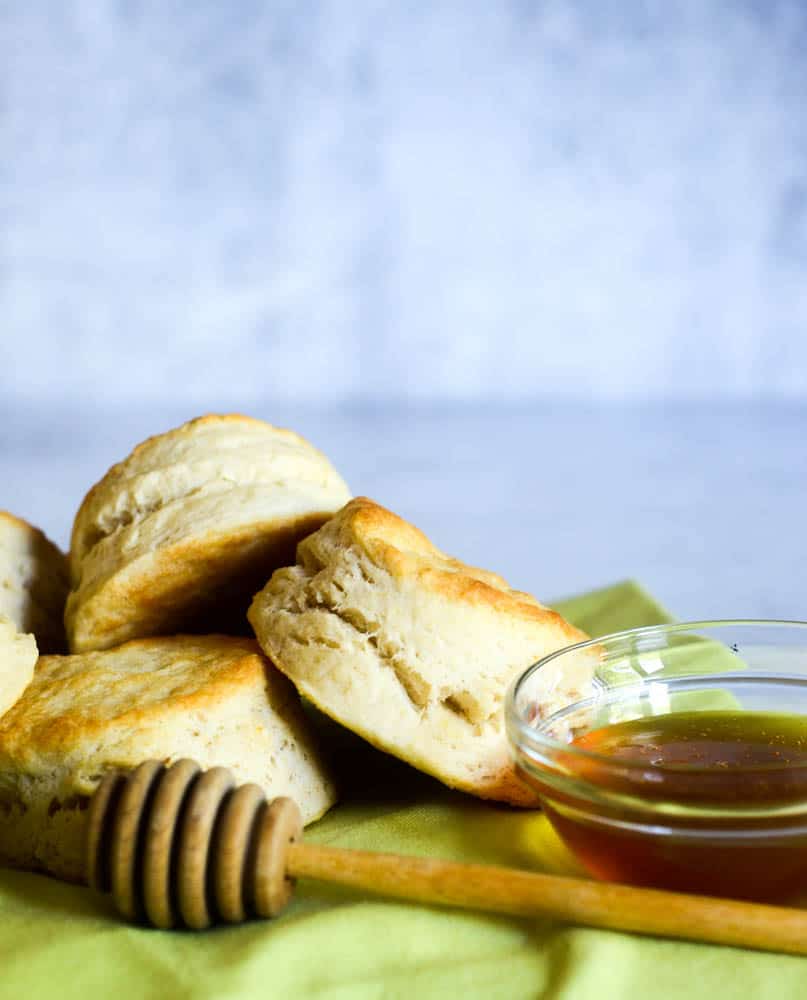 Ingredients for Southern Buttermilk Biscuits
You don't need much to make a beautiful, fluffy biscuit. All it takes is 6 (or 7) ingredients:
all-purpose flour -- ain't nobody got time to go out to the grocery store to buy self-rising flour! This recipe uses good ole AP flour.
baking powder
salt
shortening or unsalted butter -- make sure it's chilled
buttermilk -- you also want this very cold!
butter (for brushing on top)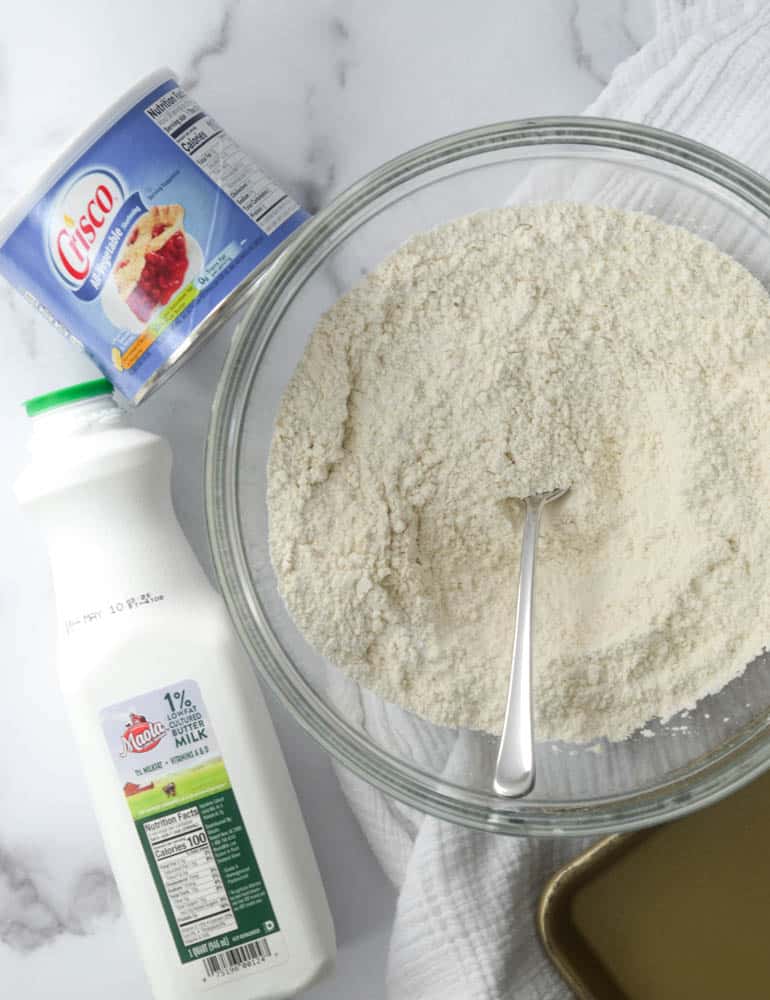 Shortening v. Butter: Which one is better for biscuits?
Does the type of fat used in biscuits matter? It's more of a personal preference. The dough is easier to work with when you use shortening, but the little pockets of butter you get in your biscuits are just so delicious when they melt in the oven.
I would encourage you to make these biscuits with both and see which one you prefer!
How to Make Southern Buttermilk Biscuits
No worries -- it's easy and I've got a step by step guide for you (with visuals!).
Step 1: Combine ingredients, then cut in shortening or butter
Combine flour, baking powder, and salt in a large bowl. Using a pastry cutter or a fork, cut in the chilled shortening or butter until the mixture is grainy (see picture 1 below).
Step 2: Add your buttermilk.
Make a small well in the center of your flour mixture. Pour the buttermilk in the middle and quickly stir with a fork until the buttermilk is incorporated. The mixture will be very crumbly...and you'll think you can't possibly make this into a dough. You can -- that's perfect!
Step 3: Gather dough together and form a rectangle.
Place dough on a lightly floured surface and form a rectangle with the dough, getting all the loose flour now incorporated with the rest of the dough.
Step 4: Fold and flatten, fold and flatten.
Fold the right side of the rectangle over to the left side of the rectangle, then flatten the dough with your palms. Then fold the bottom of the rectangle over to the top and flatten with your hands. You're creating the flaky layers by doing this. Continue folding different sides of the dough 5-6 more times.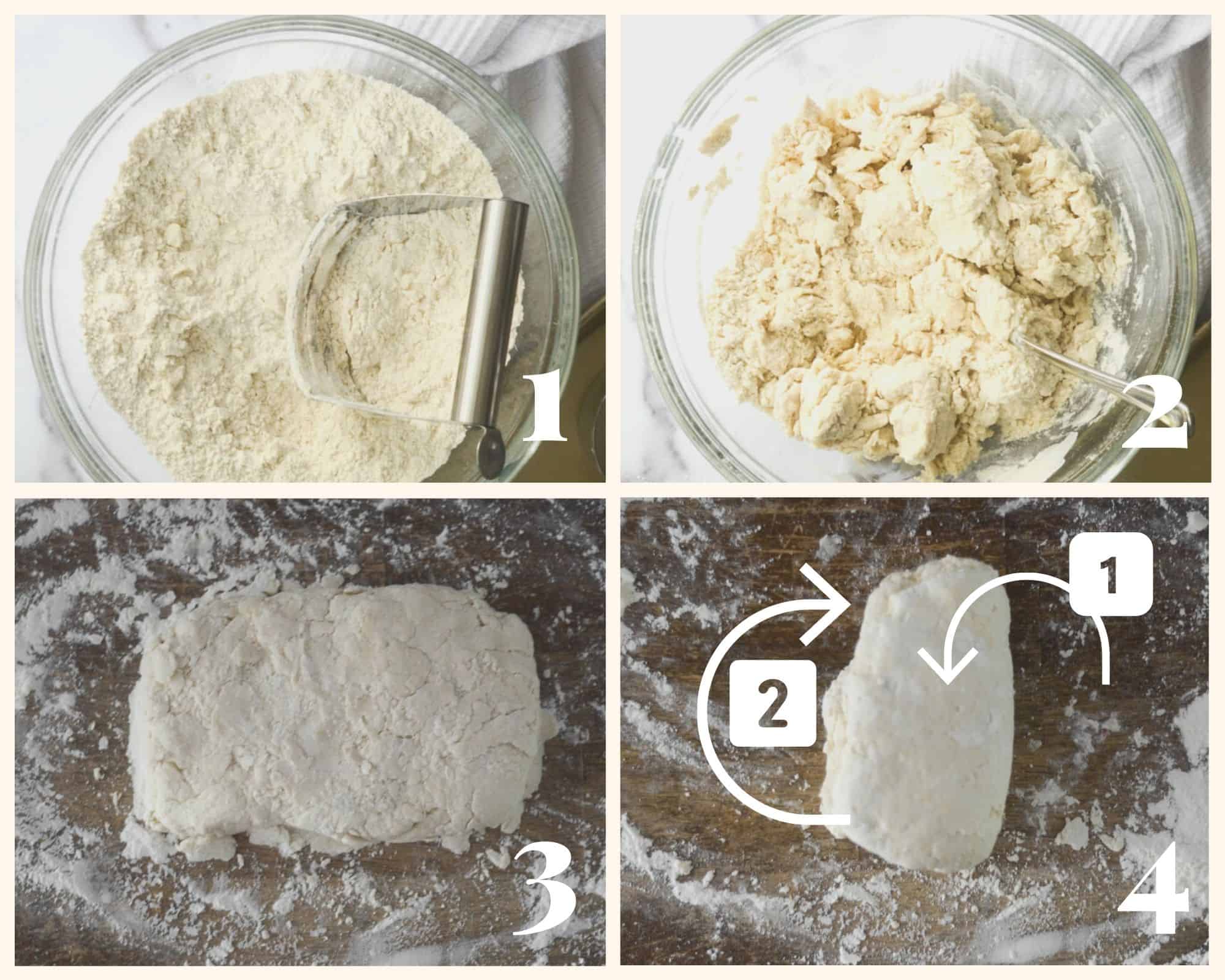 Step 5: Roll and cut.
Using your hands or a rolling pin, roll out the dough until it's about ¾"-1" thick. Using a 2.5" biscuit cutter or the top of a glass that's roughly the same diameter, cut out your biscuits (you should be able to cut about 8 biscuits).
Step 6: Butter and bake.
Place biscuits on a parchment lined baking sheet and make sure they're touching. Brush with butter, then bake at 475˚F for 5 minutes. Turn off the oven and let them sit in the oven for another 5 minutes.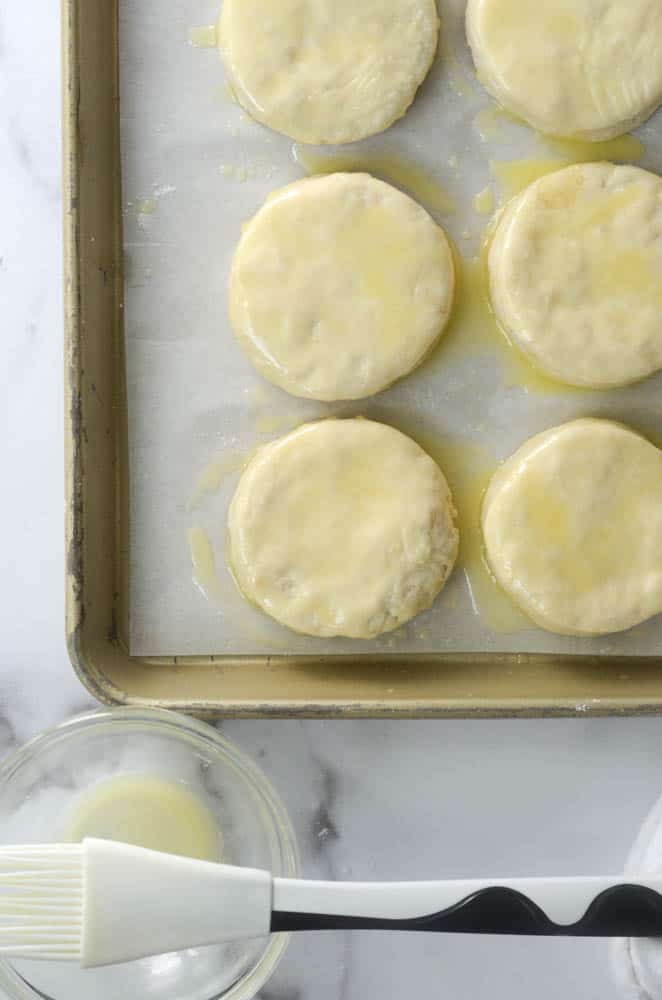 Crank Up the Heat
I learned this trick from the back of the Bakewell Cream container. I've always baked my biscuits at a lower temperature for longer, but a much higher temperature for a shorter period of time makes the tops perfectly browned without drying out the inside. It may seem crazy high, but 475˚ is the way to go!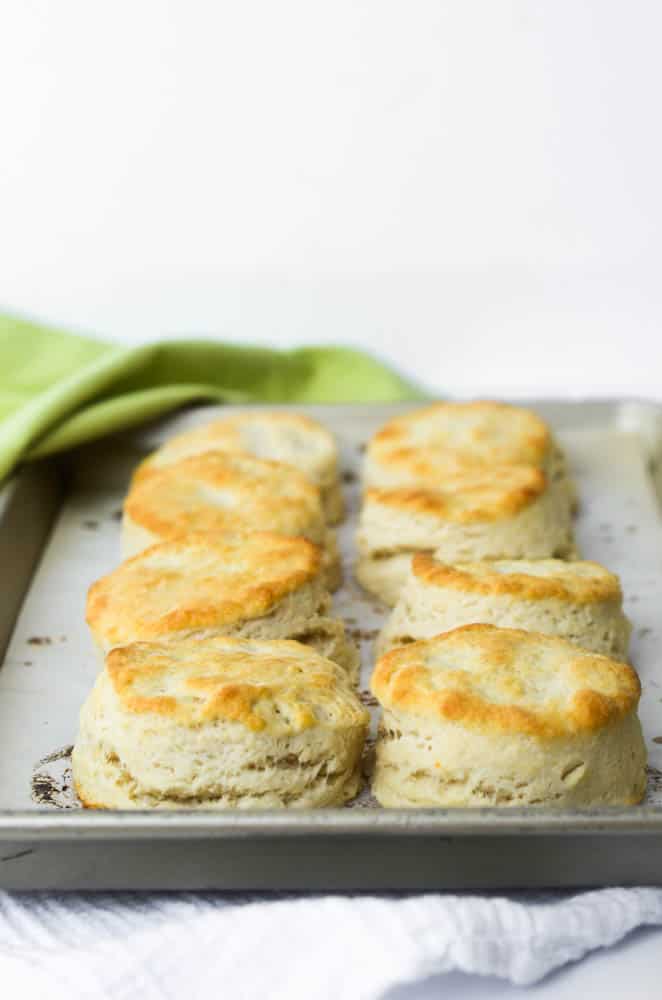 Tips for Making the Best Southern Buttermilk Biscuits
Use cold, cold, cold ingredients. Make sure shortening or butter is chilled along with your buttermilk. You don't want the ingredients to soften before you put them in the oven.
Use parchment paper under your biscuits to prevent them from sticking.
Biscuits love to touch. Before you bake, make the biscuits touch one another. This will help them rise as high as possible.
Don't twist the biscuit cutters when cutting. Just cut the biscuits and pick the cutter right up instead of twisting it. Twisting seals the biscuit edges, which will cause them to not rise so much.
Don't be shy with the butter. Coating the biscuits with butter makes them so beautiful and buttery, so have a heavy hand when you're brushing on the butter.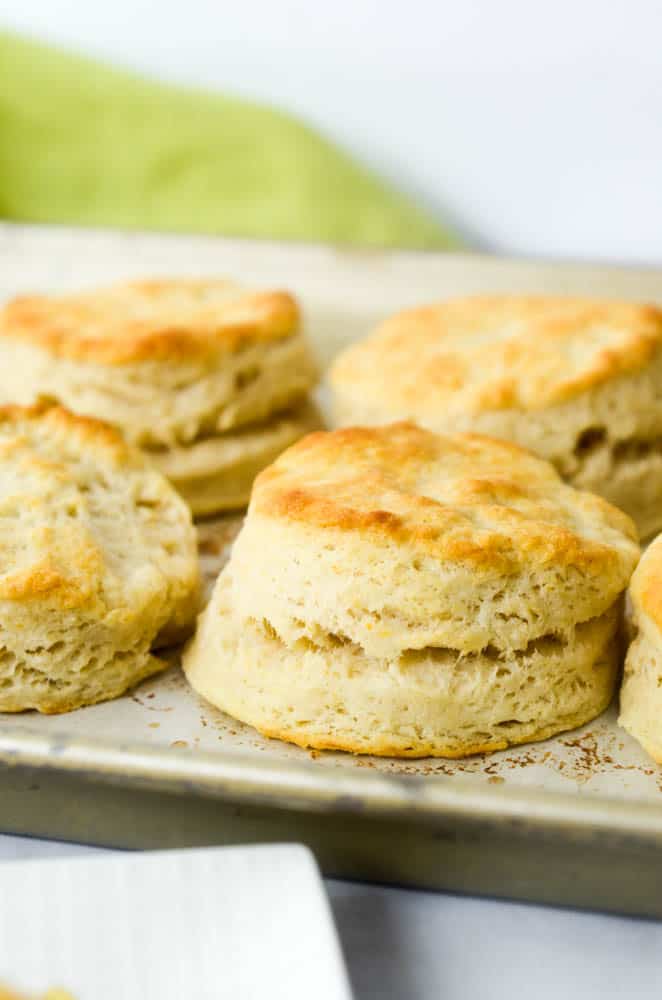 More Quick Biscuit Recipes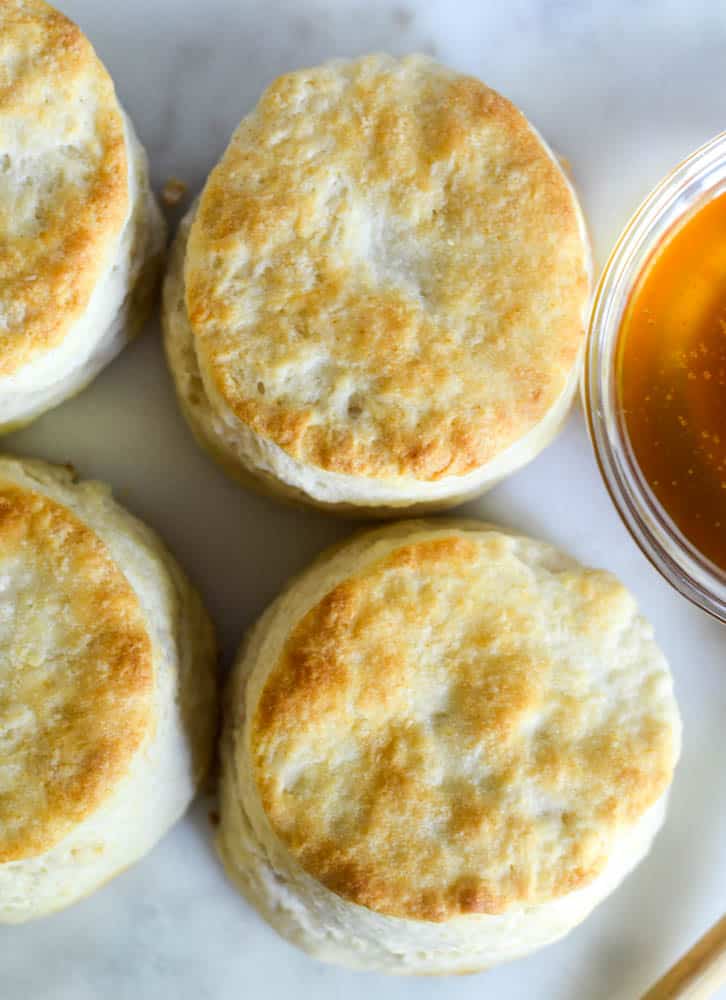 Eat your biscuits with scrambled eggs, gravy, fresh fruit, honey, butter, jam...OMG the options are endless and all amazing.
xox,
kathryn
As always, if you make anything from the blog, be sure to let me know! I love hearing from you in the comments on this post below or find Worn Slap Out on Facebook, Instagram, or Pinterest!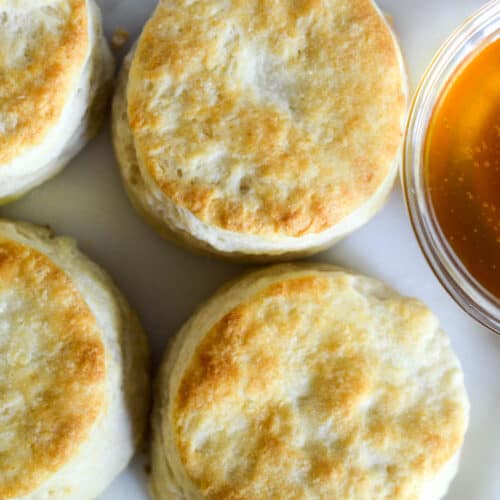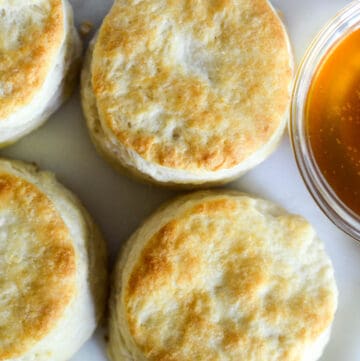 The Best Southern Biscuits (with All Purpose Flour)
Biscuit heaven is made of up of these Southern Buttermilk Biscuits that are buttery, flaky, and use good ole all-purpose flour.
Print
Pin
Rate
Ingredients
2 ½

cups

all-purpose flour

2

Tablespoons

baking powder

1 ½

teaspoons

salt

½

cup

shortening or unsalted butter

cold and cubed if using butter

1

cup

buttermilk

1

Tablespoon

unsalted butter, melted
Instructions
Preheat oven to 475˚ F. Line a baking sheet with parchment paper. Set aside.

In a large bowl, combine flour, baking powder, and salt. Add shortening (or butter) and cut in using a fork or pastry blender until mixture is slightly grainy. Make a well in the center of the mixture and add buttermilk. Quickly stir with a fork until buttermilk is combined. Dough will be super crumbly...that's okay!

Turn out dough on floured surface, bringing the loose flour all together. Make a rectangle with the dough. Fold the rectangle in half from right to left, then smoosh down with your palms. Fold again, this time from the bottom to the top and smoosh down. Repeat this process 5-6 more times (be careful not to over-work the dough).

Roll out the dough until it's about ¾"-1" thick. Using a biscuit cutter 2.5-3" in diameter (or the top of a glass), cut out the biscuits and place on parchment paper so they all touch. Brush tops of biscuits with melted butter.

Bake for 5 minutes. Turn the oven off and let sit in the oven for another 5 minutes. Take biscuits out and enjoy with honey, butter, or whatever your favorite accompaniments are!