What's happier than a hot fudge sundae -- hot fudge sundae CUPCAKES! This recipe makes a dozen chocolate cupcakes with a whipped cream topping, chocolate syrup, sprinkles, and, of course, a cherry on top!
I turned 34 this week, y'all.  Thirty.  Freakin'.  Four.  It feels good...but also weird to be in my mid-30s because I still consider myself to be perpetually 24.
10 Things I've Learned in the Last Year
In honor of this celebratory day my mother pushed me out with everything she had, here are the top 10 things I've learned this year:
Education has always been a passion for me and I'm imagining it will continue to be, but it's been so liberating to explore some other passions of mine, too...like this little blog on my little corner of the internet that has challenged me to get back in the kitchen and create after a long hiatus having babies.
It's okay to spend a shit ton of money on expensive face lotions/serums/cleansers/elixirs/potions/whatever you want to call them.  I've made peace with this, and I fully expect my face to look 34 when I'm 84.
We all have something in common with just about everyone.  This has been an important reminder when the world seems so chaotic these days.
I thought maybe this one would wait until I was at least 40 -- but "comfortable" and "cozy" has definitely replaced "sexy" and "cute" in my wardrobe.  I went shopping last weekend and all I ended up buying was three Nike zip-up sweatshirts. It's cool.
I'm more cognizant of my time.  I don't want to do something?  I say no.  I don't like going out?  I'm not going to go out.  Can't go to happy hour?  Sorry.  Want to curl up on the couch with chocolate and my husband at 9 pm instead of going out?  Yep.
Energy is a resource.  I don't have enough energy to spend on people who don't deserve the energy put into them.  And I'm not referring to one person specifically but rather people in general.  It's just that there're a lot of people who need your attention, but not everyone can get it, and I'm at peace with that now.
Pour love into those who deserve your energy.  The people in my life who are so supportive and loving are the people I need to be pouring my love and attention into.
My blood doesn't circulate as well as it used to.  For real.  My normal sleeping positions often cut off the circulation to my legs.  Please tell me this is normal.
Hiring someone once a month to clean our house zoo was the greatest decision we've ever made.
I feel way better when I exercise.  It allows me to do something for myself, and it produces the much needed endorphins to get me through the rest of the evening. As much as I want to skip Pure Barre after a long day of work, nope.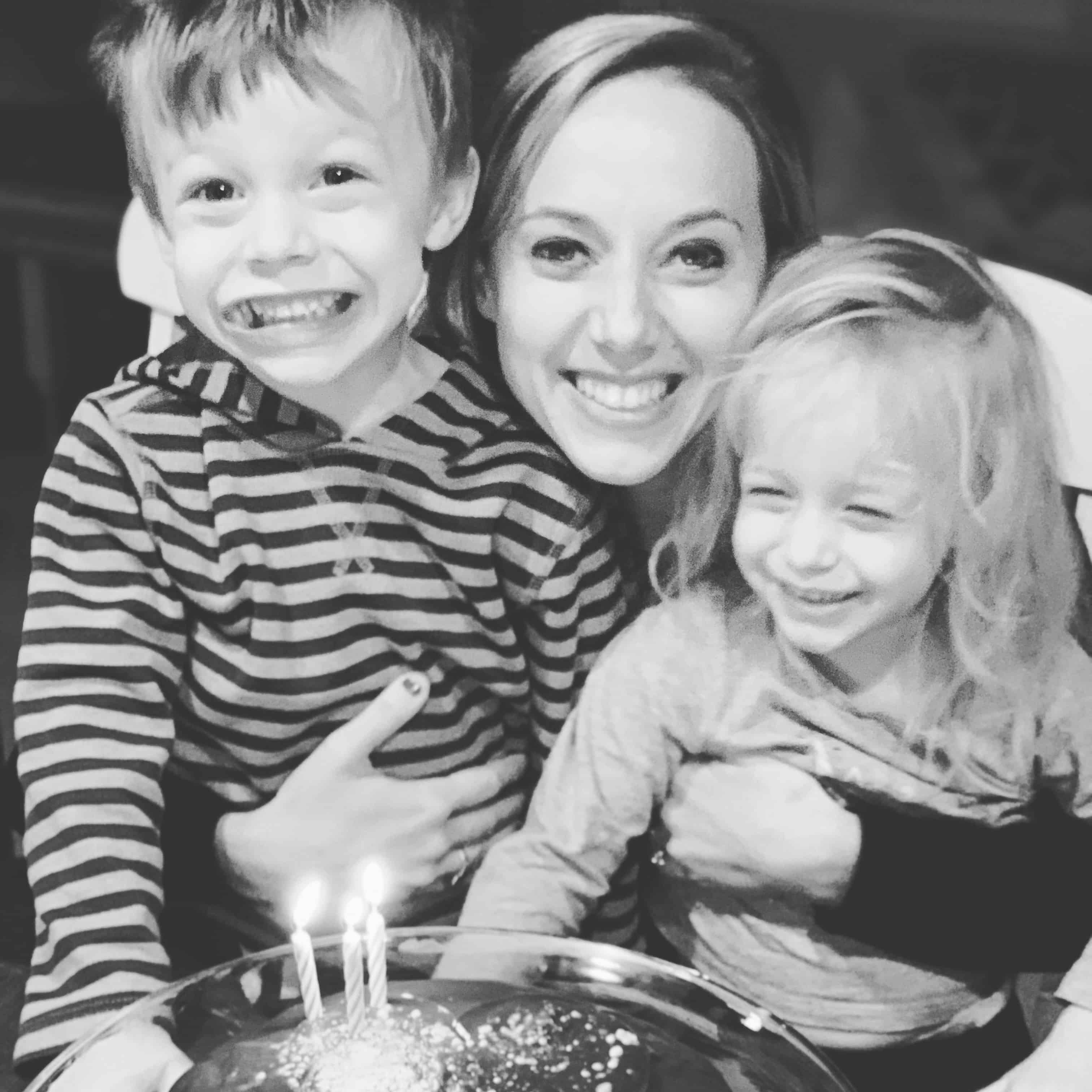 Okay...let's get to the Hot Fudge Sundae Cupcakes. 
I made these chocolate hot fudge sundae cupcakes because I was craving chocolate cake all week and I couldn't think about anything else (a common theme with me).  The birthday was a good excuse to make these...and Bri goes BONKERS for sprinkles.  She'd have sprinkles on her brussels sprouts if we let her.  So basically this dessert was a win-win all the way around.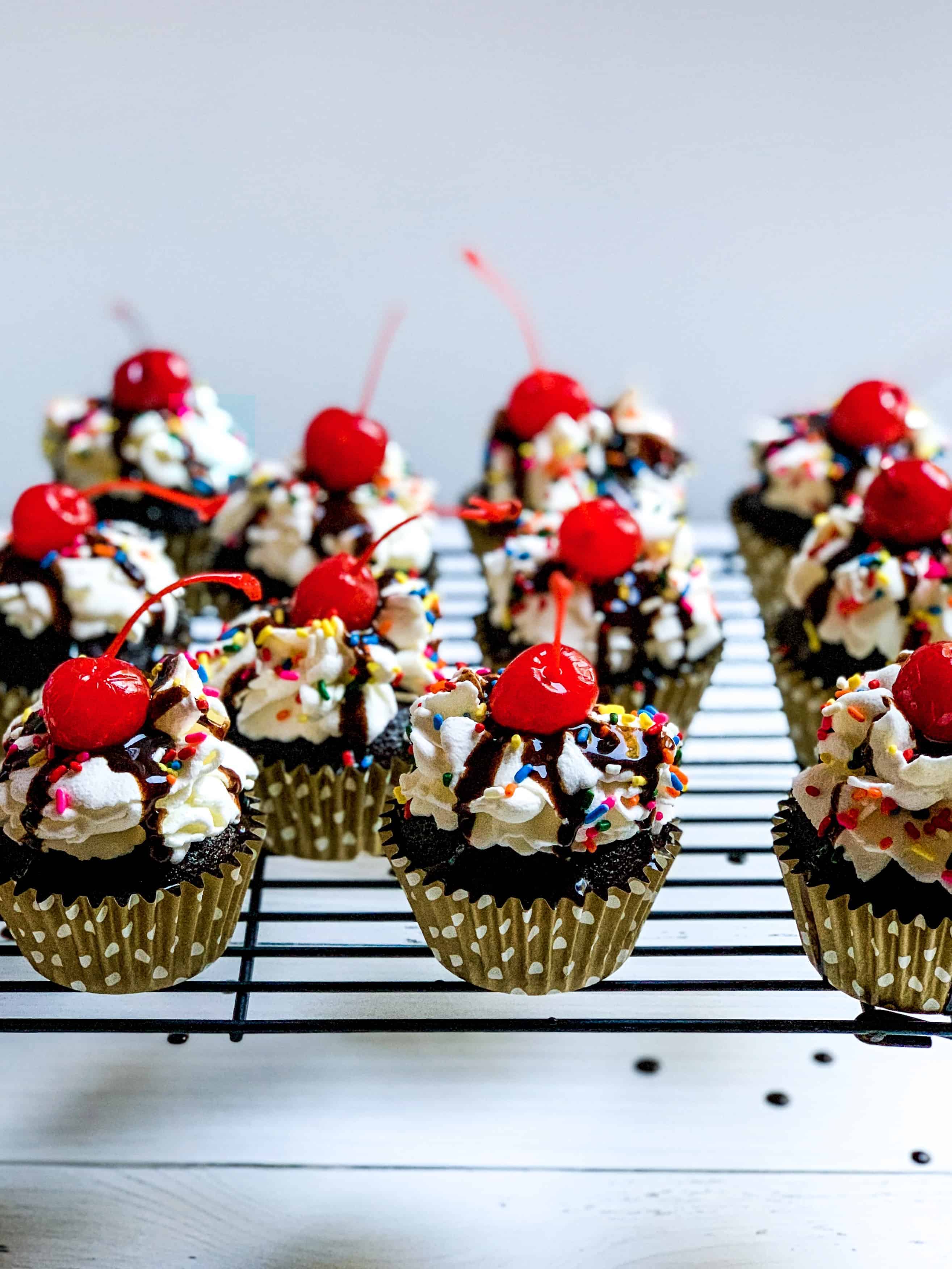 Also, it's important to note this recipe makes exactly 12 cupcakes, which is more than enough for a family of 4.
The Hot Fudge Sundae Topping
I made a really light whipped cream frosting for the cupcakes to mimic the lightness of whipped cream you would have on top of a sundae.  I put the whipped cream frosting in a pastry bag with a Russian ball tip (I have this set) and quickly frosted each of the 12 cupcakes.   Then I added some sprinkles, decorated with some chocolate syrup (I used Hershey's chocolate syrup we bought to store to get C to take his medicine one time...didn't work), then topped with a bourbon-soaked maraschino cherry.
Shhh...the "hot" part is a lie. You don't want the chocolate syrup to be hot because it'll melt your whipped cream.
Make Your Own Chocolate Syrup
Don't have chocolate syrup? No problem. Make your own by combining ⅓ cup chocolate chips and ¼ heavy whipping cream and melt in the microwave in 30 second increments.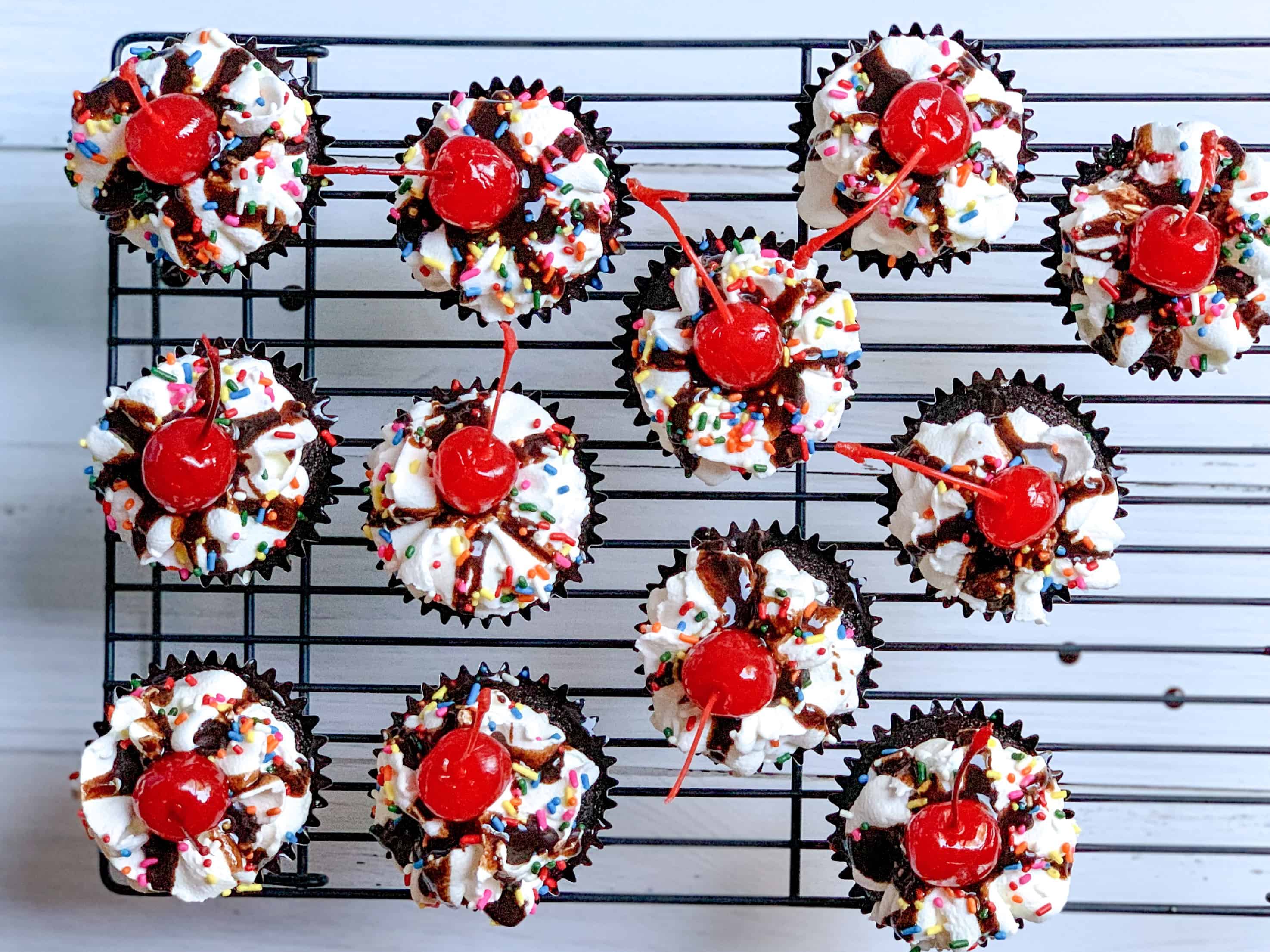 Quality Chocolate is the Best Baking Secret
And I beg you, if you shop at Whole Foods, pick you up some Valrhona cocoa powder.  It's packaged in a plastic container like the pre-cut fruit comes in and is found on the baking aisle.  It's really not that much more expensive than other decent quality cocoa powders.  I paid $5 for ⅓ of a pound.  It will bring your chocolate desserts to the next level.  I can't really go back to any other cocoa powder, and it is my new goal in life to go visit the Valrhona in Tain-l'Hermitage in France.  OH MY GOD!  They have a place in Brooklyn, too according to the Google Box.  I guess I'll start there.
More Cake Recipes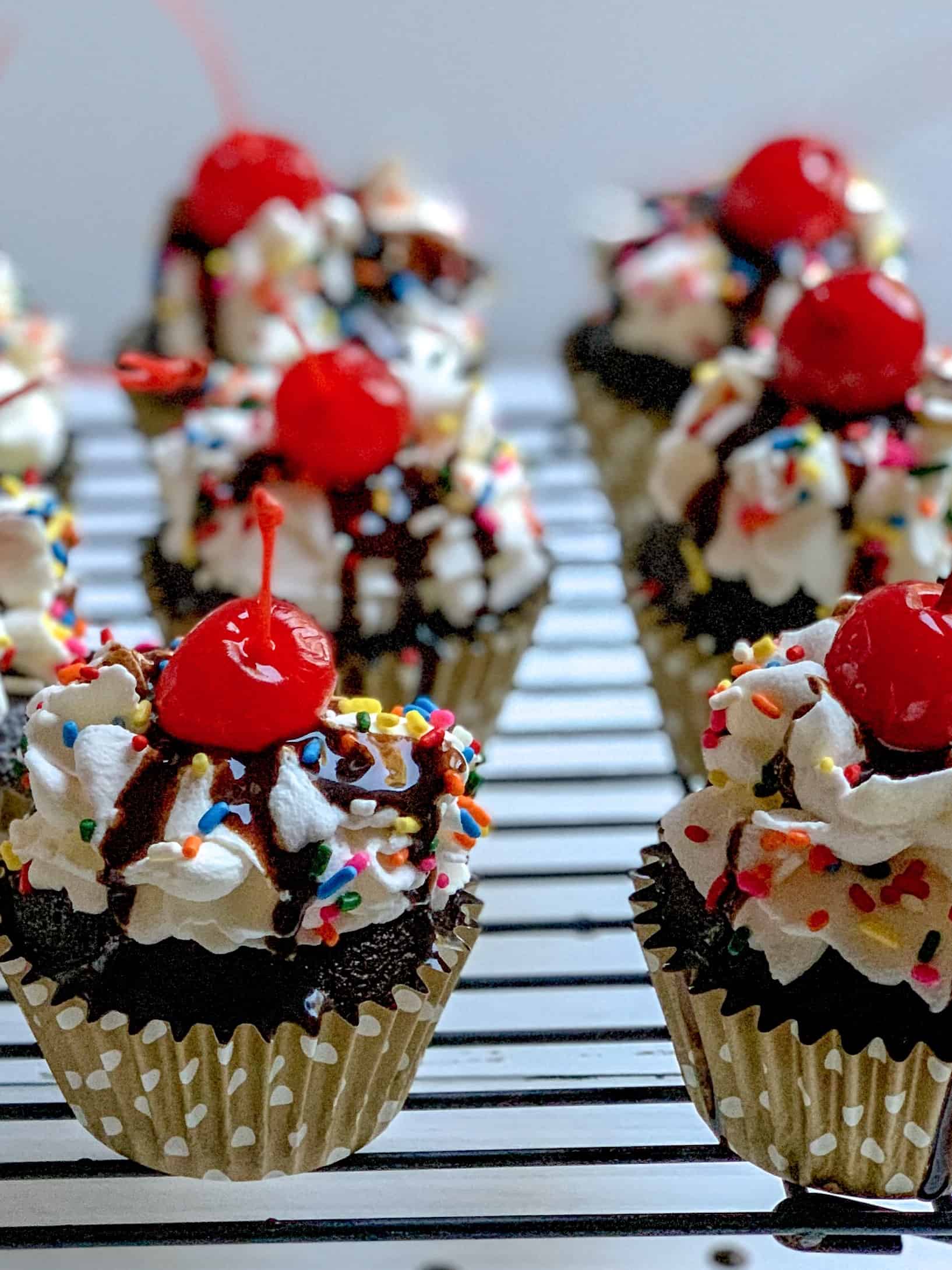 As always, if you make anything from the blog, be sure to let me know! I love hearing from you in the comments on this post below or find Worn Slap Out on Facebook, Instagram, or Pinterest!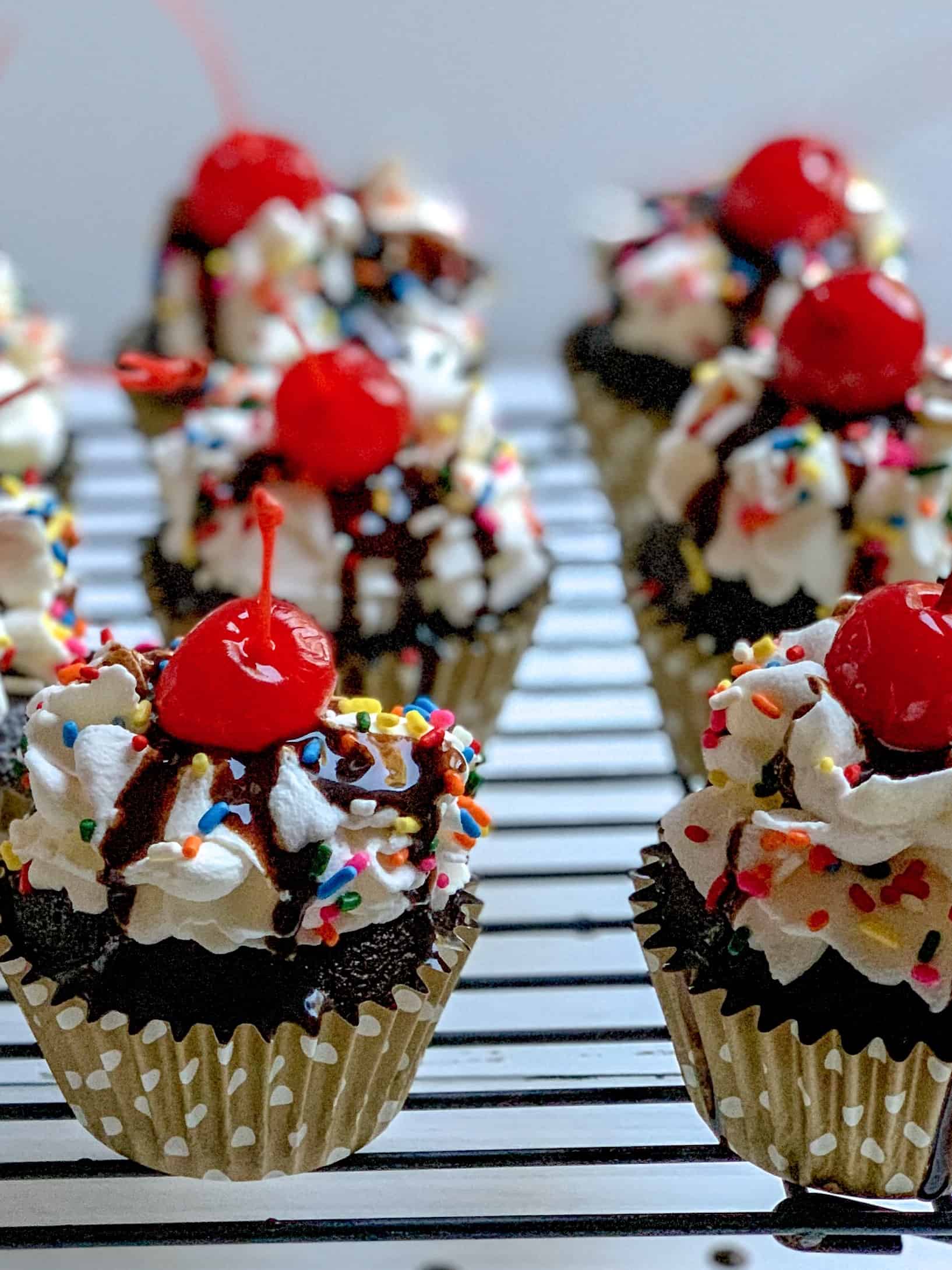 Hot Fudge Sundae Cupcakes with Whipped Cream Frosting
What's happier than a hot fudge sundae -- but in cupcake form? This recipe makes a dozen chocolate cupcakes with a whipped cream topping, chocolate syrup, sprinkles, and, of course, a cherry on top!
Print
Pin
Rate
Ingredients
For the cupcakes:
¾

cup

granulated sugar

¼

cup

light-brown sugar

packed

¼

cup

plus 2 tablespoons unsweetened cocoa powder

I prefer Valrhona cocoa from Whole Foods

½

teaspoon

baking soda

¼

teaspoon

salt

½

cup

boiling water

¼

cup

plus 2 tablespoons canola or vegetable oil

1

large egg

1

large egg yolk

1

teaspoon

vanilla extract

1

cup

all-purpose flour

2 ½

teaspoons

milk

3

tablespoons

sour cream
For the frosting and toppings:
1

cup

heavy whipping cream

½

cup

powdered sugar

sprinkles

chocolate syrup

(or ⅓ cup chocolate chips and ¼ heavy whipping cream)

12

maraschino cherries with stems
Instructions
Preheat the oven to 350 degrees. Line a cupcake pan with 12 cupcake liners, and put your mixing bowl in the refrigerator (this'll come in handy when you make the frosting).

In a large, heat proof bowl, whisk together both sugars, then whisk in cocoa powder, baking soda, and salt.   Pour boiling water into mixture then whisk quickly to blend well.  Allow to cool for a few minutes.

Once mixture is slightly cooled, whisk in vanilla extract, then canola or vegetable oil, then eggs.  Whisk until well combined.

Then add your flour, only stirring until combined (beware to over stir from this point on).  Add milk and sour cream and stir until just combined.

Fill cupcake liners with about ¼ cup of cupcake batter (until they're ¾ of the way full).  Bake for about 18-20 minutes or until a toothpick or knife comes out clean.  Cool for about 30 minutes before frosting.

Meanwhile, take the mixing bowl out of the refrigerator and add the heavy whipping cream.  Using a whisk attachment, whip the cream on medium-high until cream starts to form.  Slowly add the powdered sugar.  Stop mixing immediately when stiff peaks form (or else you'll get butter!).

Place the frosting in a pastry bag and the tip of your choice (I used a Russian ball tip for these).  Decorate your cooled cupcakes with the frosting.  Add sprinkles, then chocolate syrup, then top it with a cherry.
Notes
Don't forget to store these cupcakes in the refrigerator until you eat them.  They're absolutely delicious right out of the fridge...or you can let them sit for an hour or so to get to room temperature.  The powdered sugar is a good stabilizer so that it doesn't just melt and wither after being out of the refrigerator for a little bit.